Interview: Godfried Donkor Examines The Relationship Between The Transatlantic Slave Trade & Boxing
Led by co-founders Michelle Gayle and Dennis Marcus alongside Artistic Director Ashley Shaw Scott Adjaye, the wife of Ghanaian-British architect David Adjaye, The World Reimagined, launching on 13 August and running until 31 October 2022, is a UK arts education project seeking to transform the ways in which we understand the transatlantic slave trade and its impact on world histories. Spanning seven host cities across the country, the initiative will transform the nation's streets with one hundred globes. Artists including Yinka Shonibare, Godfried Donkor, Nicola Green, Julianknxx and Vashti Harrison are among the artists designing globes to better understand our shared histories. At the end of the campaign, the sculptures will be auctioned to raise funds that will create a grant-making programme for projects and organisations across the UK that work to make racial justice a reality. To mark the project's imminent launch, contributing artist Godfried Donkor, whose multidisciplinary practice examines the socio-historical relationships of Africa, Europe and the Caribbean, spoke with Something Curated.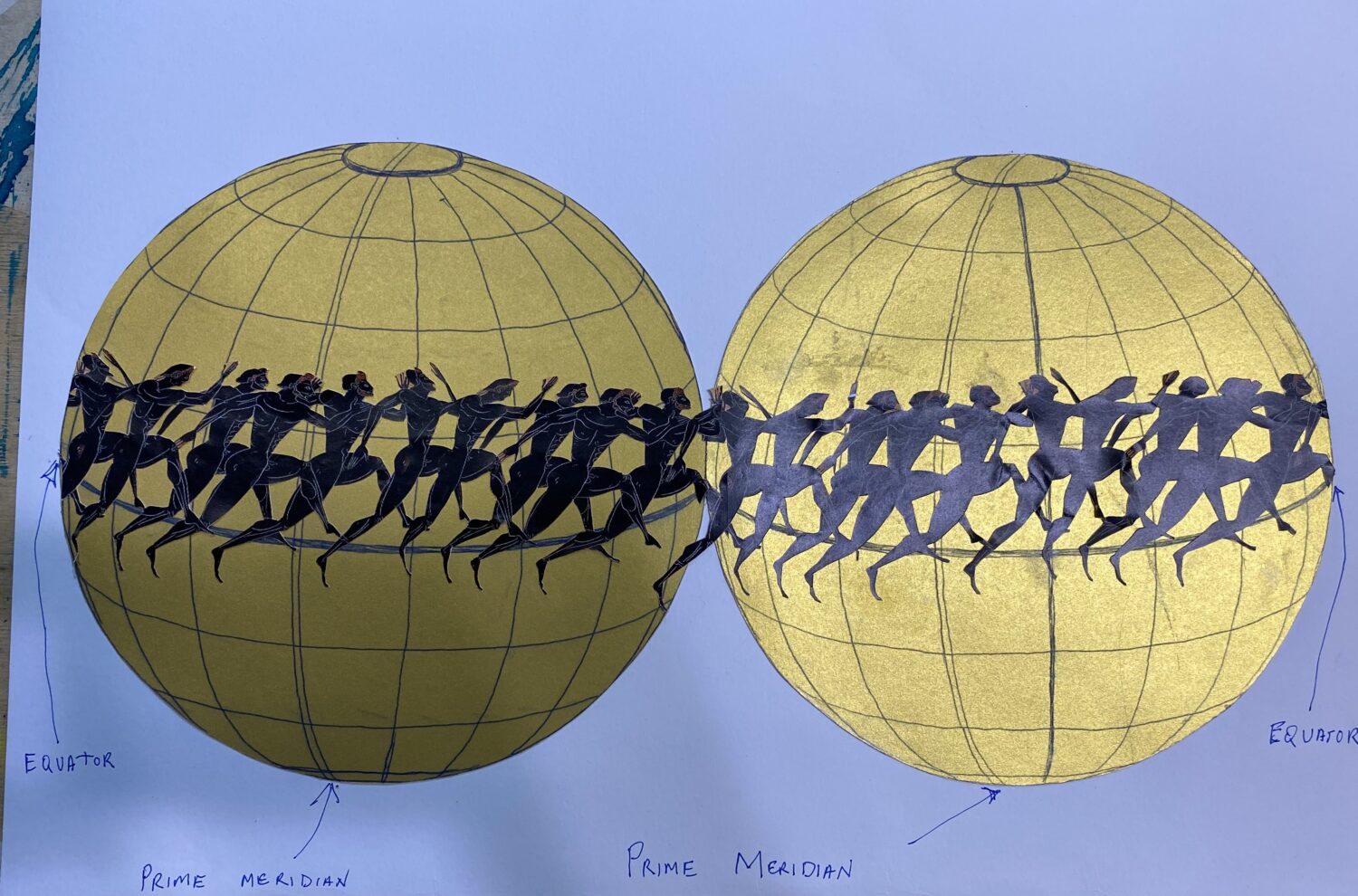 Something Curated: Can you tell us about your involvement with The World Reimagined?
Godfried Donkor: I was invited to the project by the Artistic Director Ashley Shaw Scott Adjaye. The theme of my work is "The Reality of Being Enslaved." At the time I was working on a number of projects that had similar themes so I used one of them as an inspiration for my globe. The image presents a group of figures, running on a golden background. The idea was to present an escape to freedom in whatever form and by any means necessary and to show how all people are equal.
SC: Your works oftentimes appear like religious imagery — what interests you in depicting the figures you paint in such a way?
GD: My interest in religious imagery is rooted in a fascination with icons and early Byzantine, Roman, Russian and Ethiopian paintings. For me, these images capture the early representation of image painting. They inspired my practice and I continue to use certain elements from icon imagery, for example, by painting various figures as saints with halos and surrounding them with gold in a simplistic fashion. The study of early religious imagery gave me a scope to develop composition and style in my paintings.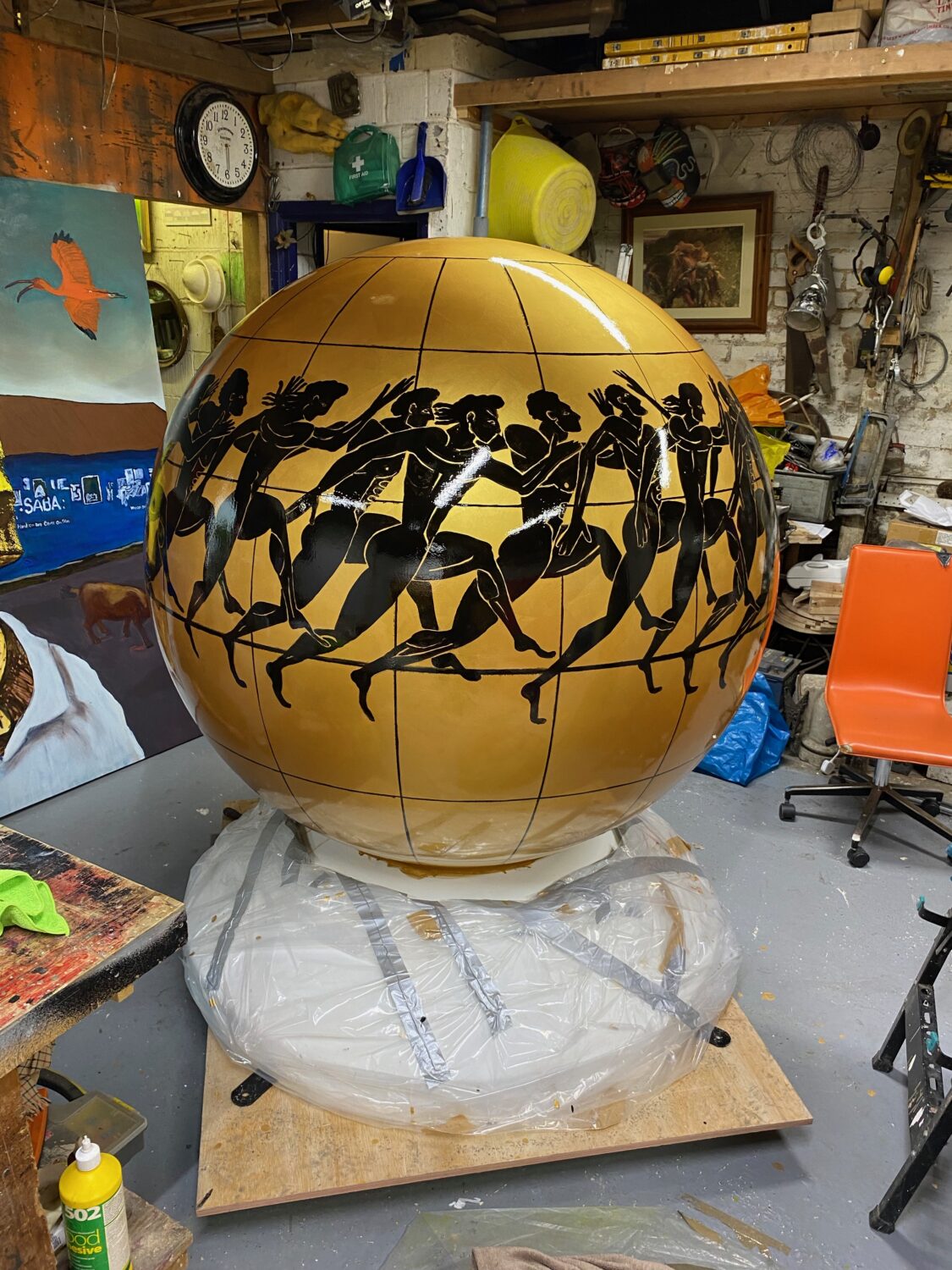 SC: Could you expand on your study of the slave trade in relation to boxing?
GD: Through my study I quickly discovered parallels between boxing and the gladiators of ancient time. From the beginning, boxing was a brutal spectacle that became a foundation for many sports and the betting culture as we know it. In many ways, it evolved out of the slave trade with slave owners across the Americas and Caribbean and later English aristocrats and landowners putting slaves and peasants forward for these games. What I found interesting is that despite its brutality, boxing used to be and still is considered a classic sport, as it has been practiced since Ancient Greece.
It fascinates me that to this day boxing continues to be a predominantly masculine sport, a representation of endurance and fineness balancing vulnerability and finesse. Similarly as gladiators, young boxers are perceived as celebrities and experience a quick and sometimes short-lived rise to fame, with the greatest of them all being of course, Muhammad Ali. In my paintings I draw parallels between prize fighters of different times and periods of history and saints – as for many they will be seen as saints or martyrs.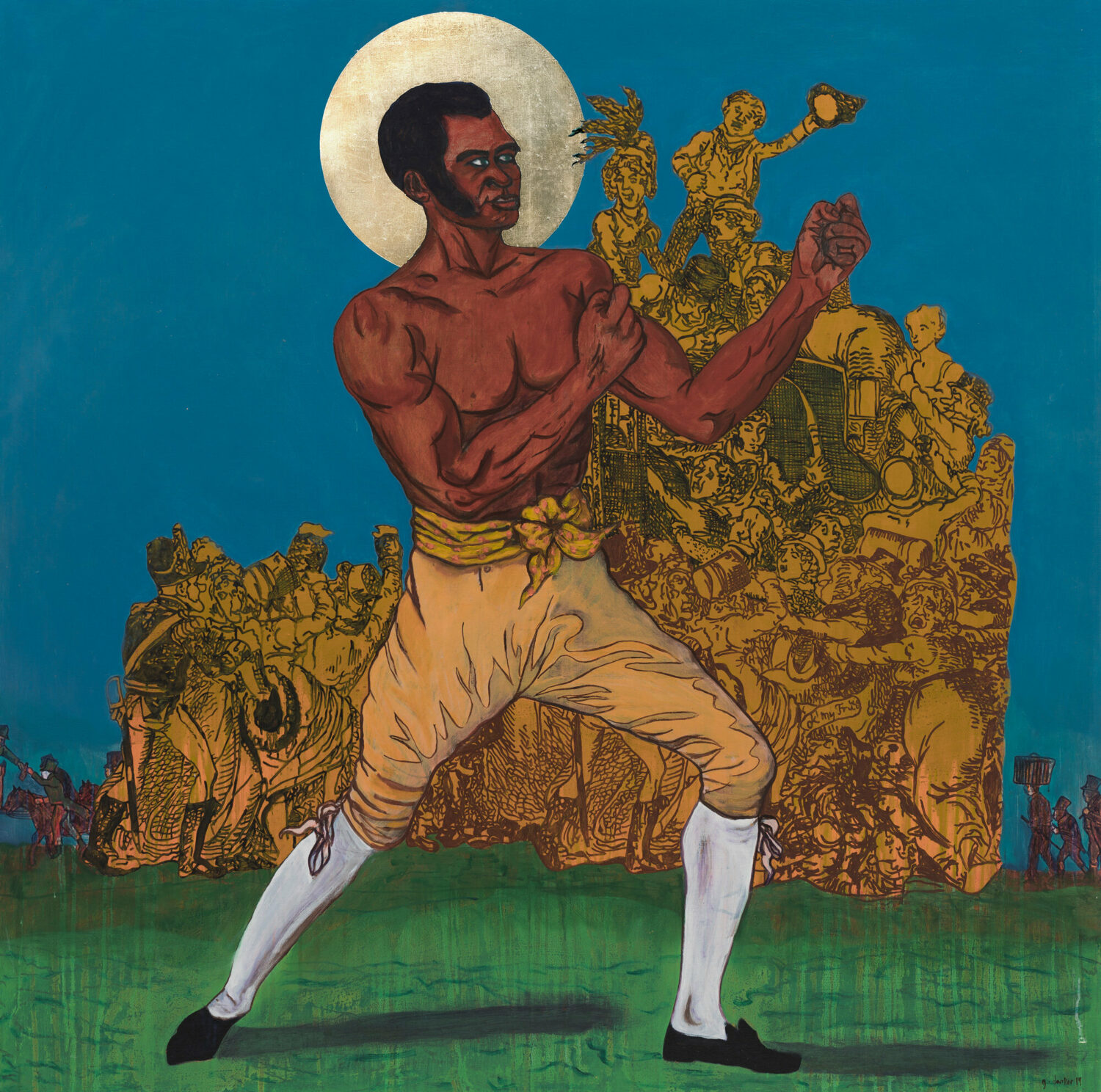 SC: How would you describe your approach to utilising materials in your work?
GD: The approach I take when it comes to utilising materials in my work is based predominantly in research and skill, with research being the starting point. My ideas and stories often develop from research. Next step is usually composition and materials, which I see as important tools that assist me in the process.
SC: What are you currently reading?
GD: Because of my various projects I have been reading and listening to a multitude of books and audio literature at the same time, many of which are related to myths, proverbs and fables. Some of those include: The Travels of Marco Polo, The Art of War by Sun Tzu, The Man in The Iron Mask and The Count of Monte Cristo by Alexandre Dumas, Eugene Onegin by Alexander Pushkin, Cotten Come to Harlem and The Rage in Harlem by Chester Himes, Aesop's Fables, The Anarchy by William Dalrymple, The Twelve Caesars by Suetonius, and Alexander Hamilton by Ron Chernow.



Feature image: Godfried Donkor, Financial Times Mill of the Century, 2019. Courtesy of the artist and Gallery 1957