Interview: Basel Abbas & Ruanne Abou-Rahme On The Search For A New Language
The Common Guild in Glasgow is imminently set to present May amnesia never kiss us on the mouth (2020–ongoing) by the New York and Ramallah-based artists Basel Abbas and Ruanne Abou-Rahme. An evolving, multi-part project featuring sound, digital film installation and live performance, and existing in both physical and digital form, the presentation will launch on 8 September 2022. The project foregrounds Abbas and Abou-Rahme's remarkable personal archive of found video clips and ephemeral recorded footage, collected by the artists since the early 2010s and the beginning of the Arab Revolutions. Posted online and on social media by ordinary people living in and around Palestine, Iraq and Syria, the video clips, often ad hoc and recorded on mobile devices, focus on song, dance, protest and performance – affirmative acts of vocalisation and physical gesture. This will be the most substantial presentation of the work of Abbas and Abou-Rahme in the UK to date. Previous iterations of this project have been co-commissioned by MoMA and the DIA Art Foundation, New York, as well as having been presented at Zurich's Migros Museum. To learn more, Something Curated spoke with Abbas and Abou-Rahme.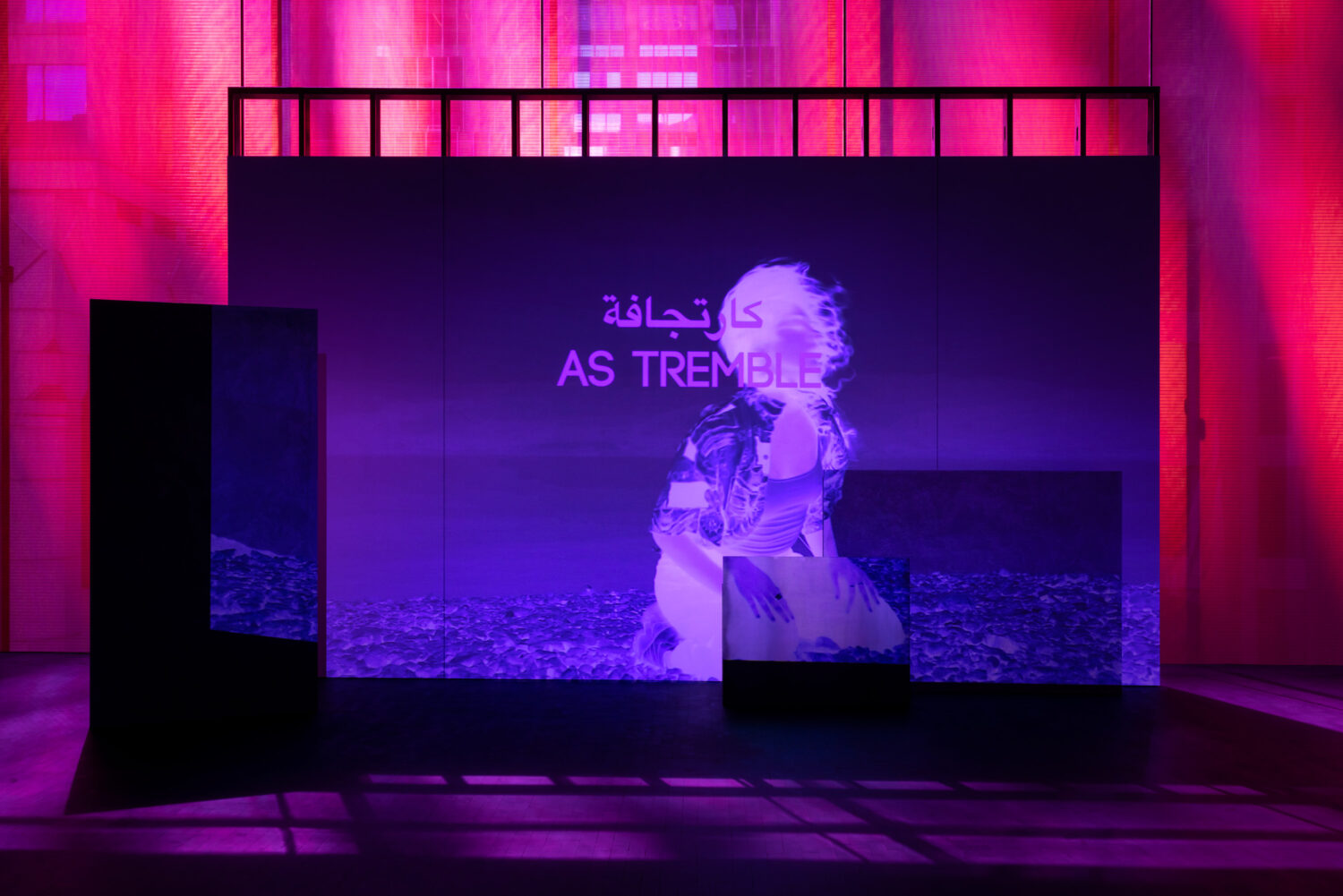 Something Curated: Can you give us some insight into your respective backgrounds and journeys to art-making?
Basel Abbas: I come from more of a music background. From my perspective, as a Palestinian, growing up I have always been engaged politically within my community. I felt that the music I was making, which was more electronic-based and instrumental, had something missing that I couldn't really express. Maybe it was too abstract. So I was searching for another language – a way to bring my interests together. And I met Ruanne in London – well, I actually met her in Jerusalem first when we were really young – so we met again when we were both studying in London. Ruanne came from more of an image and film background, and I think we were both asking the same questions. I think that's how we arrived at the practice that we have today.
Ruanne Abou-Rahme: Similarly, I studied New Media and Film and was always searching for a different kind of language to think about the conditions of living and being in Palestine as it connects to global conditions. I am still constantly searching for what kind of political, aesthetic and aural language we can create and formulate to think through these questions that, in a way, formally renews the ways in which we approach and consider these issues.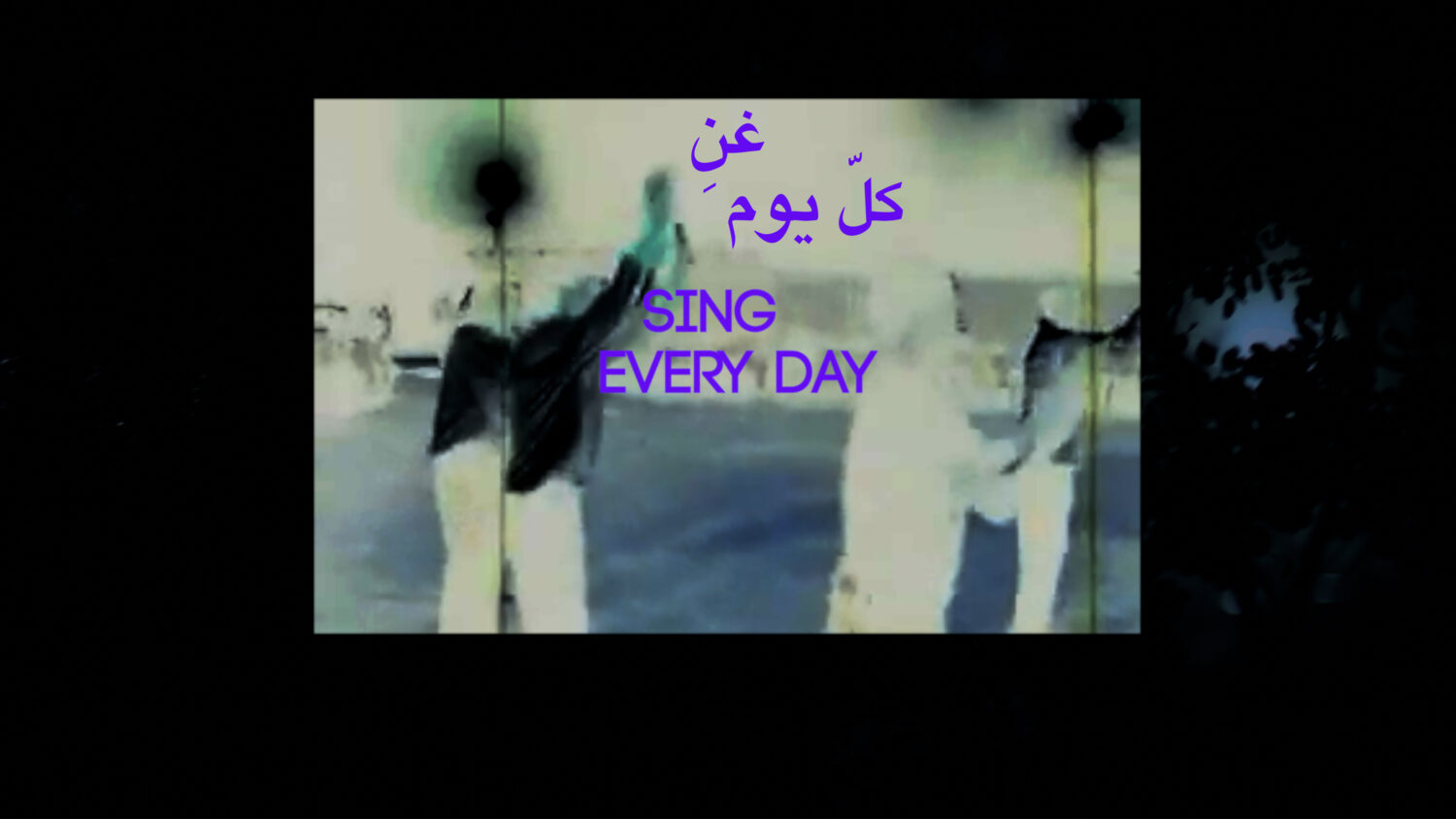 SC: How did your collaborative relationship first come about?
RA: We were both studying in London and became friends – and then we found that we were both very much searching for a different formal and political language to, as I said, think about the conditions of Palestine in relation to global conditions. And so it really came from the fact that we both were interested in new media – we both had a need to move away from the existing aesthetics around Palestine. We wanted to think about sound, about music, about performance. It was a very strong meeting between our formal interests but also in the way that it connects more to conceptual or content-based issues that we are dealing with. I think for us, you can't really separate the content and the form. It's a very intimate back-and-forth relationship between the two. I think that's what really brought us together. We started out working on live performance together in the beginning.
SC: Tell us about May amnesia never kiss us on the mouth (2020–ongoing).
BA: May amnesia never kiss us on the mouth essentially looks at people's resistance practices and how people circulate these modes of resistance. It really starts as a collection of material that we essentially collected online, mostly from Iraq, Syria and Palestine, of people resisting their own erasure through song and dance. We basically spent the last ten years collecting this material and we then worked with electronic musicians based in Palestine on thinking about this material and what it means. We took fragments and gestures from this material to create new performances, which we then filmed. The project also includes an online index of all this material that we collected – maybe not all of it but certainly a large selection of it, which we have transcribed and translated materials from. Really, the project tries to think about song and dance as a form of resistance especially from Palestine, Syria and Iraq and Yemen as well. It's an on-going project that right now consists of an installation, and website that will also have an album, essays and other aspects that will continue to come out of it.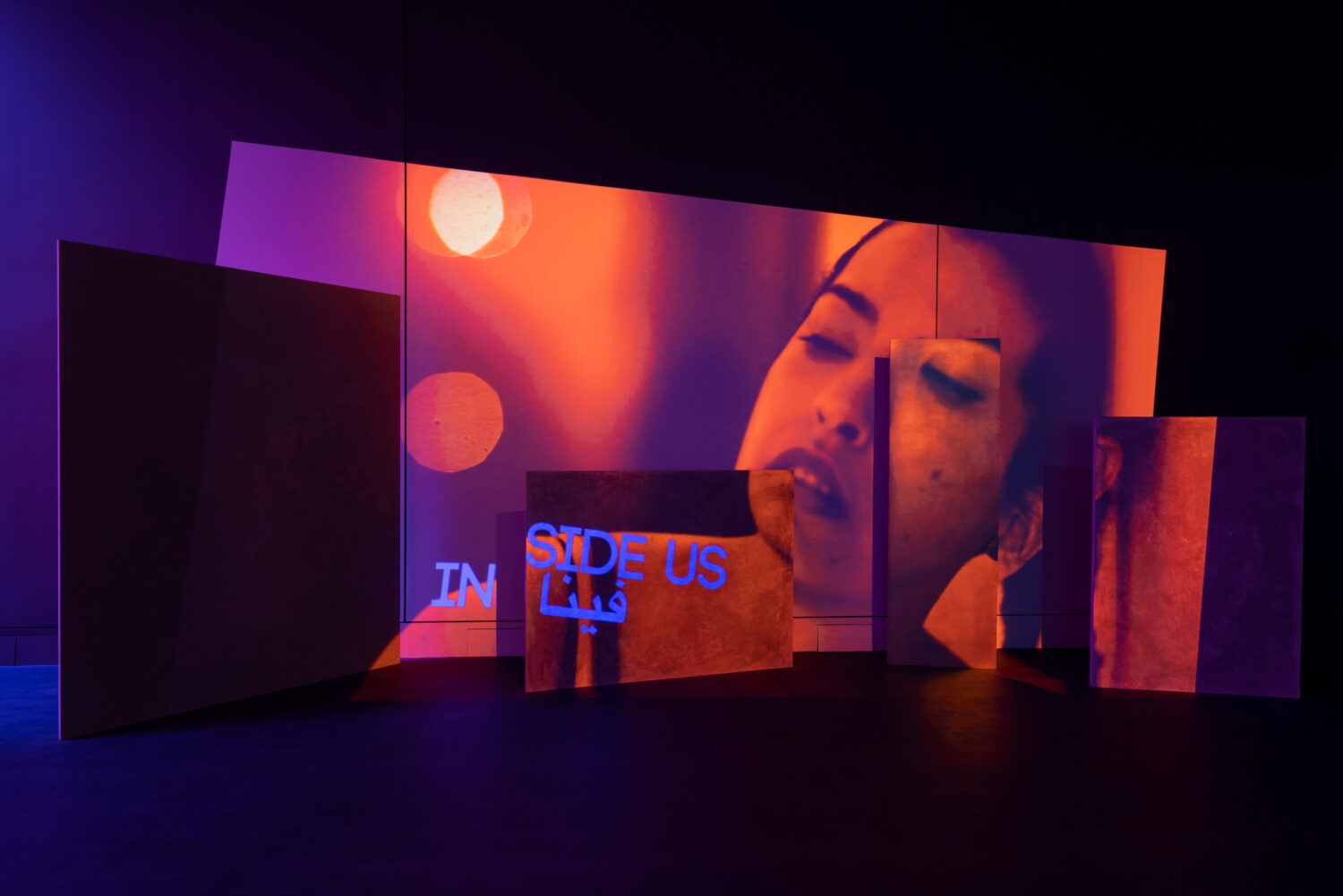 SC: What is the thinking behind the selection of video clips and recorded footage included in the work?
BA: The way we work is very much thinking about many different aspects at once, and the many different things we are trying to say in the work. There were several selection processes happening at different times and at different moments. For example, when we were selecting material for the musicians that were working in Palestine to create new material, we made selections around those artists' practices and how we thought they might react and respond. It wasn't like we came with the entire collection for them. And similarly, when we make selections online, not everything is for us – there is that gaze that you have to think about. Obviously all this material is already online but there are some things that we maybe feel are not for translation.
SC: I understand for the presentation at The Common Guild, the installation will be activated with a live performance — could you expand on this?
RA: Performance is a very big part of this project and initially the performers that are in the installation were meant to be doing a live performance with us and that has proven to be very difficult post Covid and due to a lot of visa restrictions. So we have had to think about the performance in a different way – a part of what we did at MoMA was to invite performers that were based in New York to respond to the work, either through using something from the work or just conceptually. And then we created our own performance that really focuses on the idea of the echo that's in the projects. So we're very much thinking about how sound resonates or how testimonies between different places and times resonate as an echo that gets picked up by different people or communities – and in that process also shifts and changes. The performance really focuses on that and uses live video, sound and vocals to do so. 



Basel Abbas and Ruanne Abou-Rahme's May amnesia never kiss us on the mouth runs from 9 September – 9 October 2022 at The Common Guild, Glasgow. (Preview: Thursday 8 September, 6–8pm / Performance: Saturday 10 September, 7pm — book tickets here)



Feature image: Installation of Basel Abbas and Ruanne Abou-Rahme's May amnesia never kiss us on the mouth at MoMA, April 2022. Photo: Jonathan Muzikar