Ivorian-Canadian Artist Ramata Cissé's Decolonial Dinner Takes Over Fonderie Darling
On Friday 21 October 2022, Ivorian-Canadian multidisciplinary artist Ramata Cissé presented her performance installation Wondane at Montreal's Fonderie Darling. Curated by James Oscar and Fabienne Parisien, the presentation comprised a performative video installation, alongside the artist's inaugural sculptural works, taking the form of imposing bronze utensils, accompanied by a series of photographs. Cissé, recently an artist-in-residence at Grand Cayman estate Palm Heights, takes inspiration from her West African roots, childhood memories, and the ways in which food impacts her life, driven by an urge to reshape cultural and political conversations with art and autochthonous cooking. Via immersive performances and films, Cissé utilises food as a tool to comprehend and unpack complex issues including racism, violence, and expansive approaches to postcolonial African identity. To learn more about her presentation at Fonderie Darling and the evolution of her work, Something Curated spoke with the artist.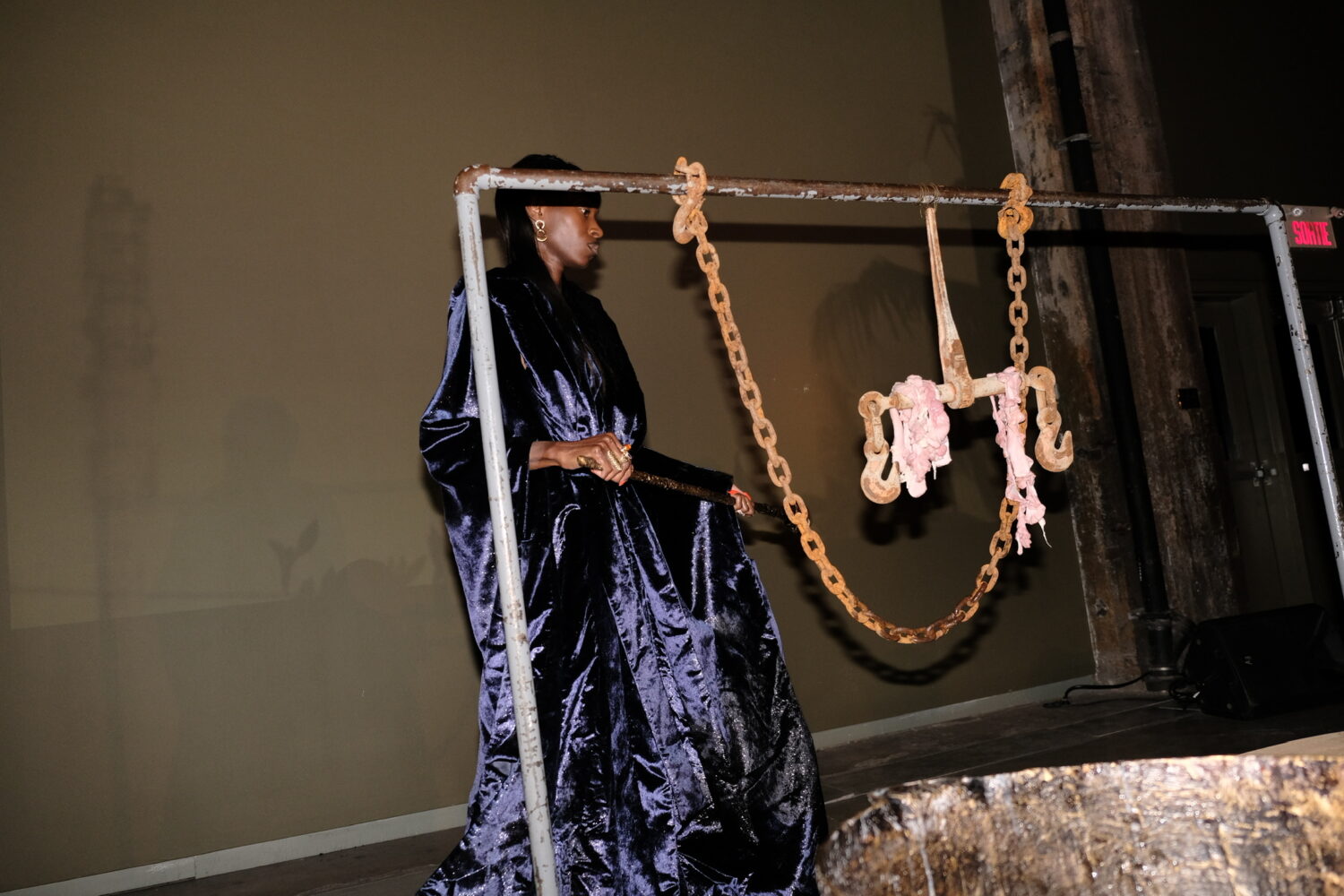 Something Curated: Can you tell us about your presentation at Fonderie Darling?
Ramata Cissé: Wondane is a multidisciplinary performance which includes video installations, photographs and three bronze sculptures. It's curated by James Oscar and Fabienne Parisien. It's a very important performance for me as I will debut my bronze sculptures. The performance is embodied in a four-course Ivorian rooted meal and seeks to provide reflection on the present day post-colonial age in Africa and give way to more generalised concerns regarding colonial and post-colonial conditions that permeate our contemporary society. These reflections will explore contemporary forms of cultural identity where colonial structures persist.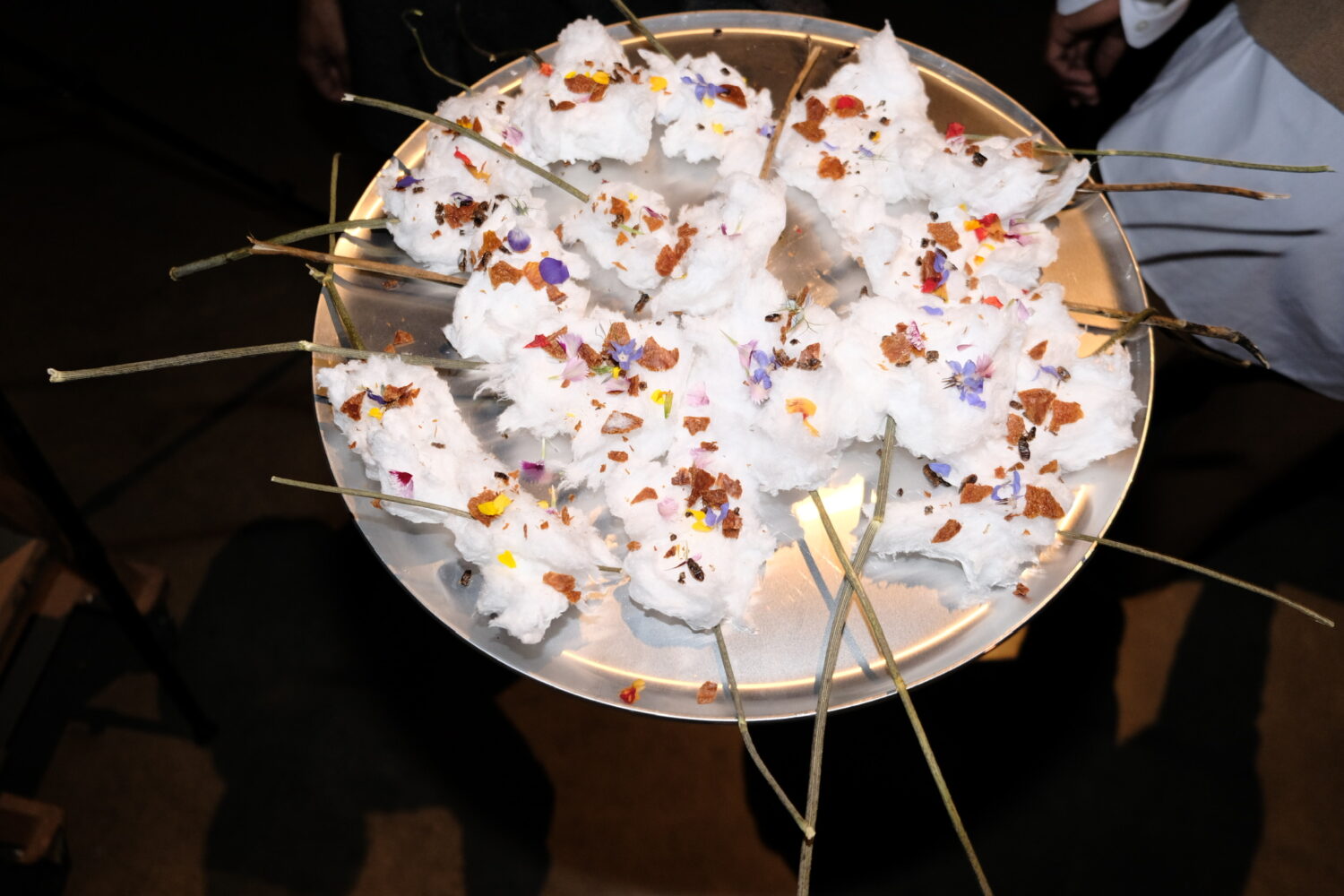 SC: What is the significance of the project's title, Wondane?
RC: First of all, Wondane means liberation in Senufo, an ethnolinguistic tribe, with roots to my dad and a big influence in my work. The significance of my performance is by applying decolonial strategies in my performance; I wish to initiate a conversation that addresses past and present structures of colonial control, and thus ultimately offering views into what forms of mental and cultural "liberation" can look like. Each course of this meal-performance is guided by an accompanying narrative of historical events through the expression of particular sacred codes that are invaluable to our West African region. Traditions that have been trampled by past and current colonial hegemonic cultural systems of power. The performance starts with the first course discussing the birth of a new colonised nation through religion accompanied with the motion of washing the meat.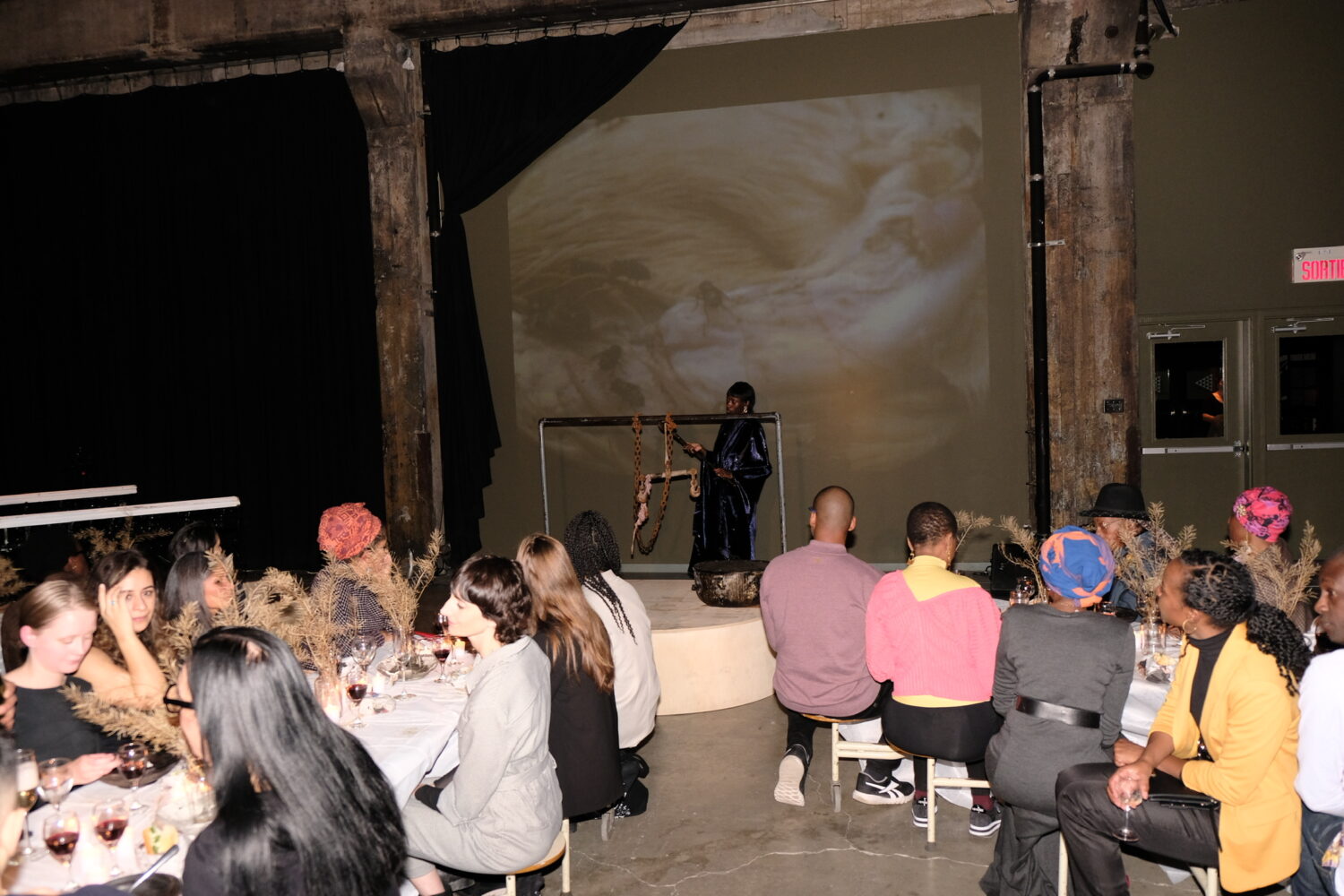 The power's foreign religion has to create its own narratives for Africa. The self-sacrifice of our traditional beliefs leaves us weakened, worshiping religious figures who don't represent us, stories that aren't adapted for us, abolishing our legacy. This leaves us more vulnerable to chaos, war, poverty and corruption. Our resources are exploited and our lives sacrificed for greed. The second course discusses growth. The global cultural, spiritual and economical appropriation of our land. I express this through the movement of rubbing and massaging the meat. The third course discusses the degradation of a culture corrupted, through the movement of beating the meat with my large bronze spoon. The loss of our political independence. Our corrupt leaders are failing us. We lack proper infrastructure, electricity and water distribution, education facilities and hospitals. The fourth course discusses the future. What's the best regimen for Africa?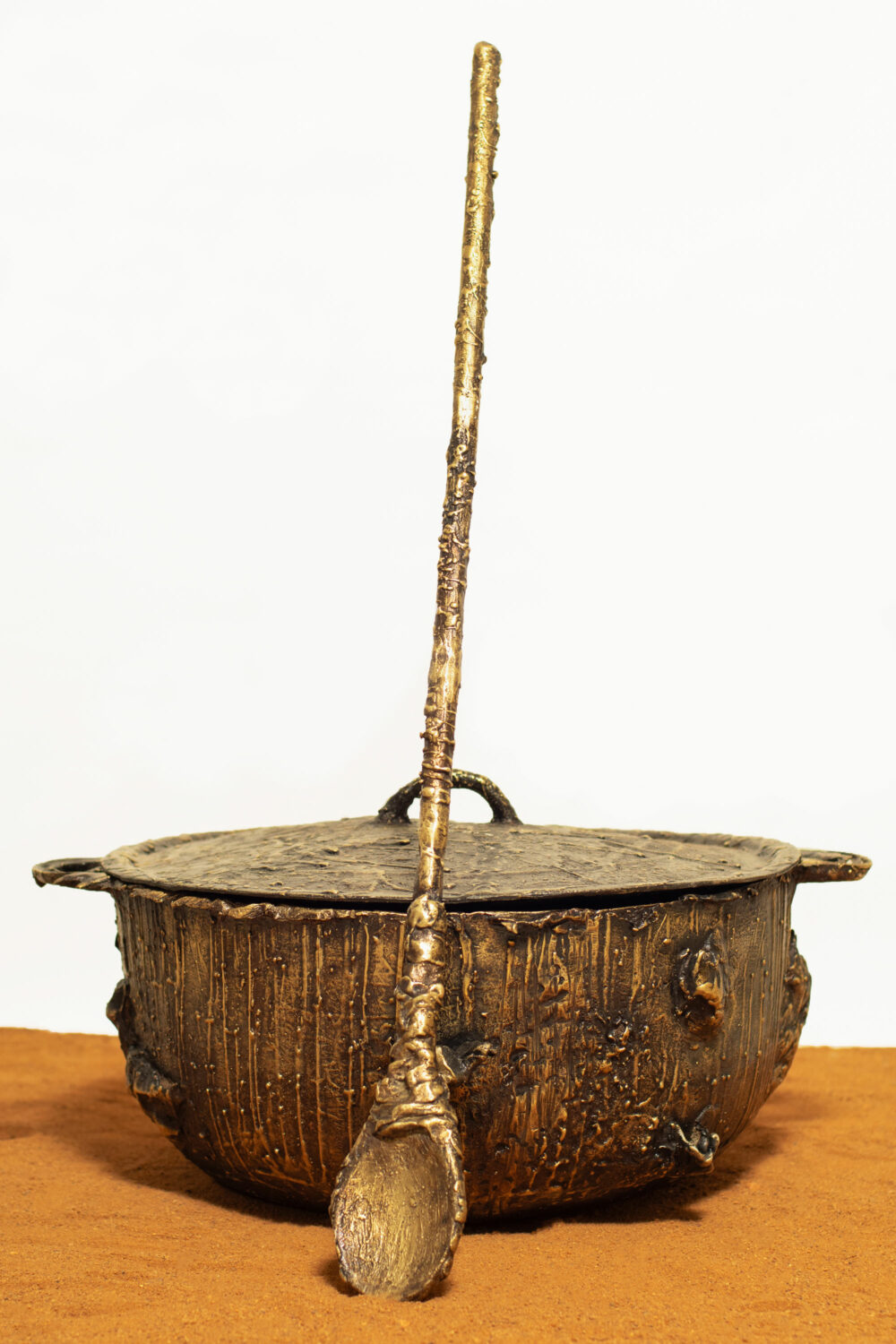 SC: What interested you in working with bronze on this occasion?
RC: One of my curators, James Oscar, suggested that I should start doing sculptures – he really believed in my abilities to do it well and with meaning. Reluctant at first but after doing my research, I came to the realisation that in Côte d'Ivoire, especially when it comes to working with bronze, women sculptors have been excluded which leads us into the deprivation of the possibility of creating major patrimonial sculptures. We aren't part of the narrative. Bronze is such a strong, heavy and powerful material, which can help communicate my stories. I fell in love with it. I've created three sculptures, two heavy casseroles and a large spatula spoon (Keloid) under the mentorship of the first bronze Ivorian sculptor in Bassam.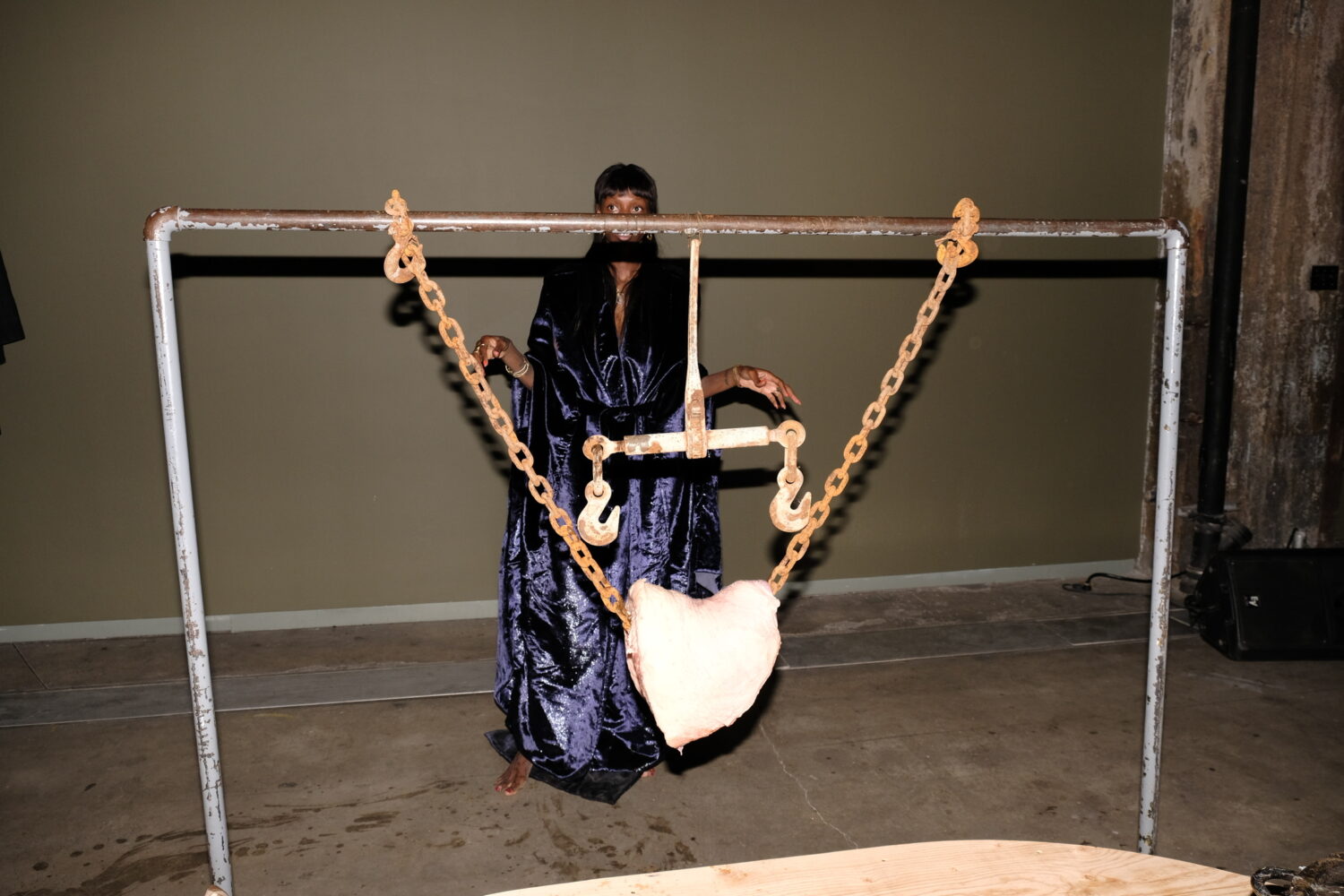 SC: Could you expand on your exploration of food in relation to conversations around systemic and structural racism?
RC: I'm taking ownership and empowering the traditional methodology of providing care and sustenance through food within my native community. I'm trying to incorporate the way females are perceived throughout our society. Within our African communities, the woman is the glue that holds the community together. From a Western gaze, our style of preparing cuisine is often viewed as primitive so my practice is about empowering the entire process. Just like systemic and structural racism, the way West African food has been perceived, whether visually, the smell, the taste, the ingredients have been looked down upon. I'm trying to shine a light on the inherent strength the cuisine of my region inhabits. As an African, I'm using ingredients that may be seen as damaged or odd but are highly valued and cherished in my community. Through my performance, I strive to regain the power back through a meditative process in order to connect with my ancestral traditions. The audience is a part of the process and hopefully they connect too. Food demands attention.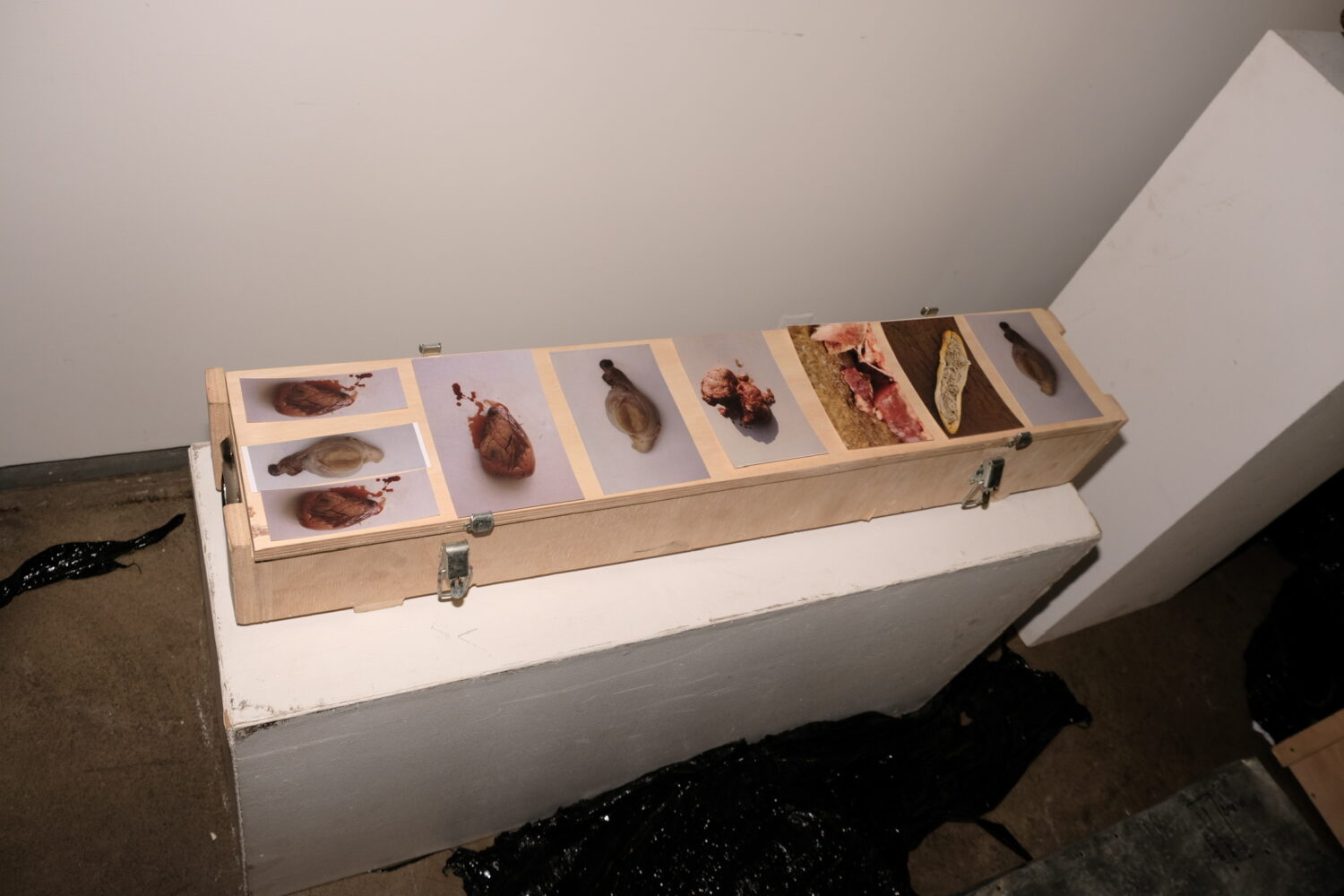 SC: How important is participation in your work?
RC: Very important if not the most important. Everyone comes together, using all senses to connect – the surrendering, the visuals, the motion, the sounds, the smell, the taste and repetitive movements. I'm inviting people into something so personal and they need to help me stay connected. We are empowering each other; everyone surrounding me in meditation really helps my process.




Ramata Cissé @chez_ramata
Curated by James Oscar @jamesoscarjr and Fabienne Parisien @fabienneparisien
Fonderie Darling @fonderiedarling
Dress in collaboration with artist Rad Hourani @radhourani_foundation
Photos by Nico Stinghe @anothersidewalk