An Afrovisualist Call-And-Response Essay On The Black Continuum
The below essay, written by Justin Smith, is part of the Image Frequency Modulation series curated by Palm Heights artist-in-residence Ethel Tawe. Smith is an artist-curator, writer-researcher, theorist and designer from Richmond, Virginia. He is the founder and curator of Afrovisualism – his curatorial platform and continual studio practice.
Within my Afrovisualist practice, Black Aesthetic Continual Theory highlights the importance of 'artistic research as active sites', 'theorizing as practice' and 'knowledge production as process'. These methods of practical theorization and continual engagement of Black aesthetics place artists and theorists in conversation across time and space. Black Aesthetic Continual Theory considers Black artists as knowledge producers on an individual and collaborative level. Afrovisualism furthers this notion of 'crate-digging as continuum' by establishing the latent continuity of 'the dig', a rhythmic integration of research, curatorial, and multidisciplinary artistic practices. Crate-digging is a colloquial term in hip-hop from the 1970s referring to the process of digging through old records to sample. The term has been expanded by academics and for me has come to represent a continual research practice. This latent continuity is a form of dot connecting: the artist is the griot in how theory and knowledge is produced in tandem.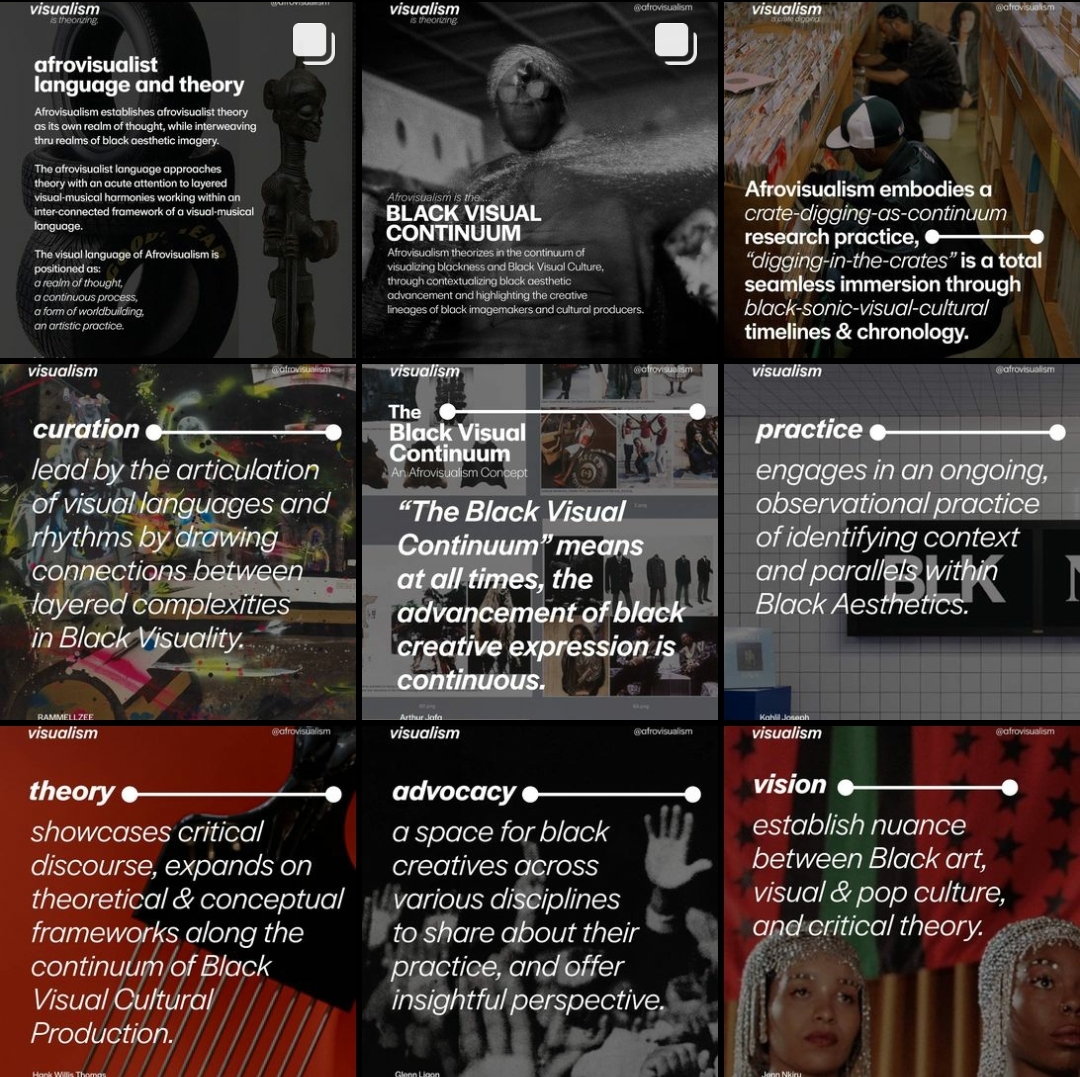 As originator of the Afrovisualist practice and Black Aesthetic Continual Theory, I am attuned to a 'crate-diggers impulse', culminating as a seamless immersion through Black-sonic-visual-cultural timelines and chronologies. It is a methodology that contextualizes Black aesthetics and its parallels with Black cultural production along a visual-sonic continuum: the Black continuum. In the African oral tradition of call-and-response, I have been invited to offer 3 'verses' on my encounters and reflections on the work and artistic practice of one of my co-conspirators Ethel Tawe. Her iterated project Image Frequency Modulation, abbreviated IFM, investigates the haptic frequencies of images. Frequency modulation, or FM as popularly known in radio, is the encoding of information in a carrier wave, in this case, ancestral memory and transmission. Her work is situated within a wider discourse of thinkers who connect both our practices; not a lineage per se but a rhizomatic boundlessness of interconnected thoughts, with particular attention to the sonic. 

Listening to Images: The Artist as Theorist
Upon encountering Ethel's time-traveling image based practice, many threads formed, emerging particularly through her curatorial experiment @listening2images. When I saw her feed for the first time I let out an audible gasp; a Black Telepathic Convergence had occurred. Ethel is very much in the pocket of this work, her careful consideration of cultural custodians, thinkers, and image practitioners of the diaspora is acutely intuitive. Black visual frequencies run concurrently through her practice, especially by way of Black visual culture theorist Tina Campt, whose critical work we exchange as a frame of reference. The work lies within the framework of Black Aesthetic Continual theory which positions the "artist as theorist". This connectivity is where collaboration happens, an extension of the dialogue. Reading these works is a method of practical theorization and continual engagement. 
In @listening2images, Ethel's inquiry remains: how do we listen to images digitally? The very resonance of these visuals are situated in the medium of digital assemblage and montage, mostly black and white, sepia, and occasional drops of color. What is astounding is the array of black-skinned figures, silhouettes, shadows, blurs, collages, piercing gazes of faces with bright eyes and teeth. Her curation is like the circularity of a vinyl record, the deep Black recesses in a modulated spiral groove are affective continuums weaving in and out of the mix. The captions cite the image with a series of the hashtags that lay down the modes of thought that precede them: #ListeningToImages #Archives #SonicFrequency #Moodboard #HapticImages #ArchiveOfArchives.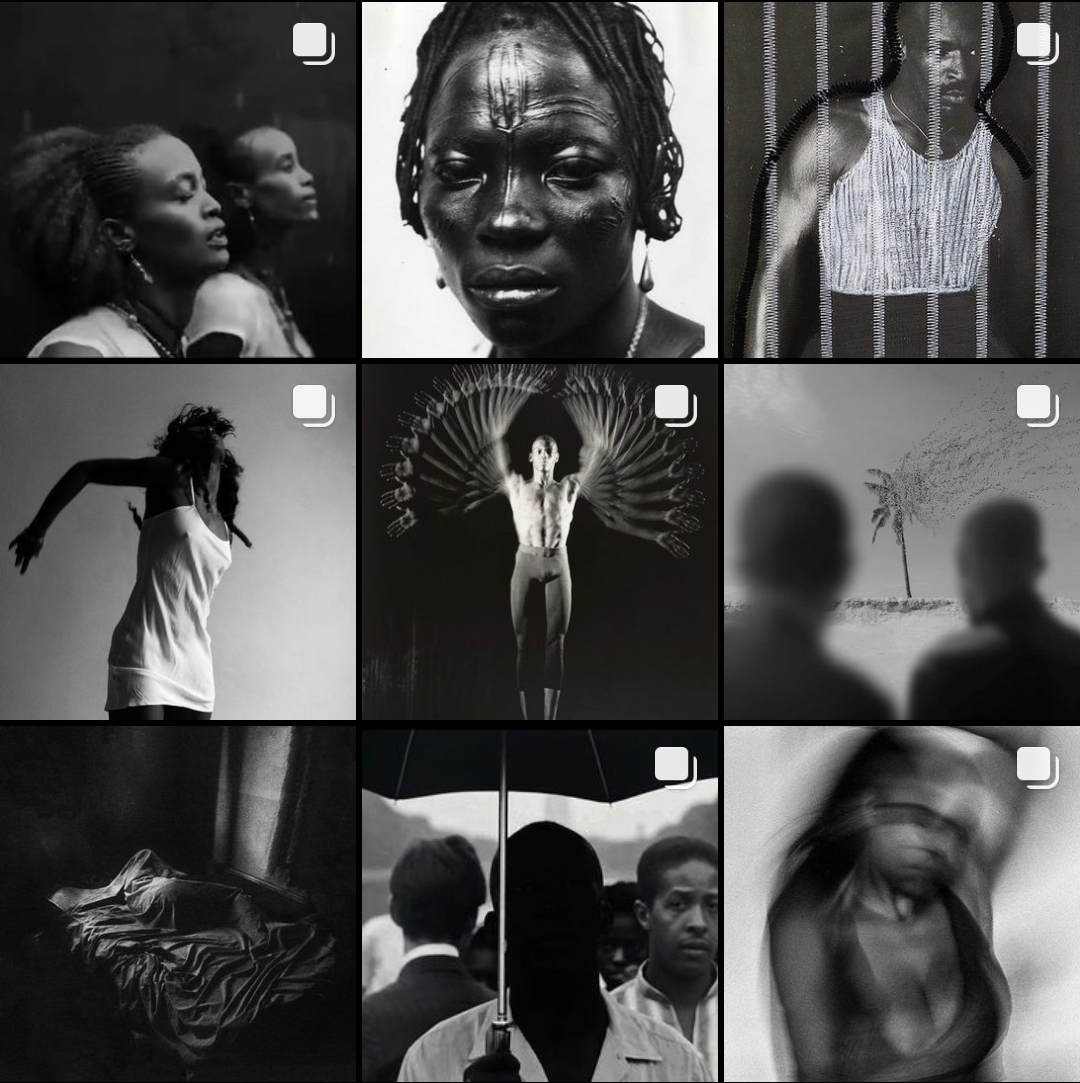 In a hurried space like Instagram, Ethel states her experiment @listening2images operates algo-rhythmically, conjuring a rhythm of its own. In the intuitive gathering of imagery and video works this repository functions as a 'vision-board'. The Afrovisualist practice considers moodboards in a design and curatorial sense, but also as a device. Her curation has a pulse, a haptic potency as she crate-digs for the works. I call Ethel, The Motherboard. I am constantly transported while scrolling through every image slowly. In that, I too, an interpreter of visuals, am responding to the hapticity of 'still-moving-images' within the Black Interior. This encounter feels fast and slow simultaneously, the velocity of slowness perhaps? Ethel Tawe and Tina Campt have landed on this idea of resonance. Not only does the image hold weight but we, as viewers of those images, have a say too, we have questions and answers. 

Nonlinearity & Sampling Theoretics
The question of listening to images permeated my mind further as I dove into her project Image Frequency Modulation. The project was born from a referential-based curation into an iterative body of work that "samples" itself. In her first IFM iteration she asks "How do images hold memory over time? How do we reactivate African visual archives?" There is a nonlinear thread in the search to retrieve and reactivate memory.
Nonlinearity is deeply embedded in Black experimental film, collage, and montage. John Akomfrah's 'The Last Angel of History' (1996), tells the story of the data thief searching for lost codes, through first-hand insight from artists and theorists on the histories of techno, Afrofuturism and Black Music. Deana Lawson's 'Centropy' (2021) features a 'twinning' narrative with her sister and fellow artists she's in dialogue with. In a similar parallel, Ethel's inquiry into her father's archive in the first iteration of IFM as a point of departure, prompts us all to ask what ways we can call back to ourselves by tapping into our ancestral and creative lineage. These artists' commentaries are samples in how they are in proximity to each other and form affective registers between us.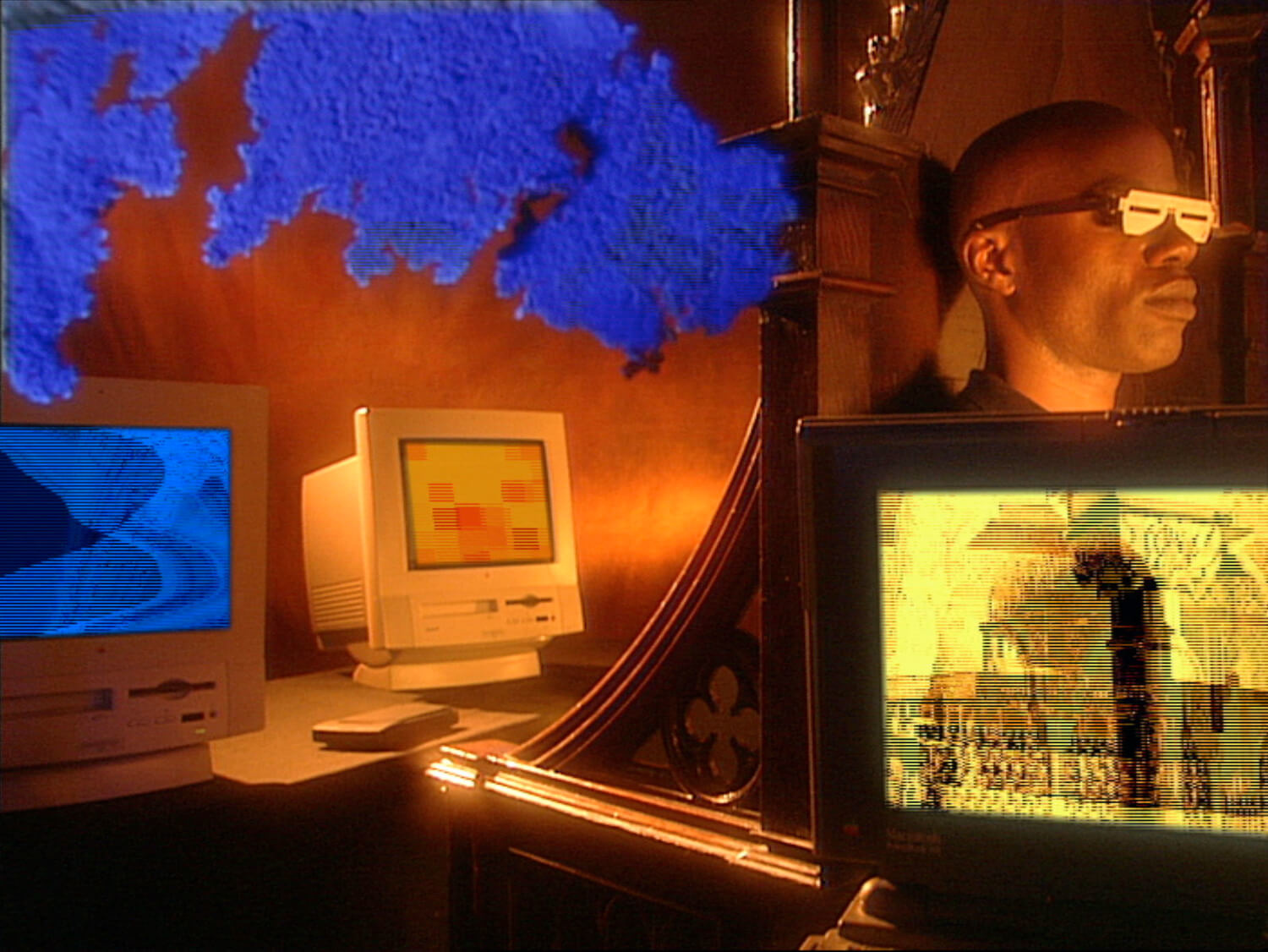 Afrovisualism is heavily concerned with the continuum of theoretical mixmaster; the engagement of visual theory and DJ culture in the way that DJs sample 'in the mix'. In the context of IFM and @listening2images, these threads of artistic research are in fact instances of crate-digging as a continuum, weaving in and out of multiple visualities, contexts at once. The artist is both the listener and transmitter of the research, curation, and outcome. The works oscillate off each other much like radio carrier waves and ocean waves.

On Water and A Black Atlantic Constellation
In the 'sankofic' cross-continental exchange in digital space between Ethel and I, lies the power of transmission embedded in Image Frequency Modulation. It is part of a Black Atlantic Constellation as Ethel calls it. And so I ask myself: How does this intuitively complex system of layering cross-continental consciousness bridge us across the Black Atlantic?
Ethel and I have engaged in a cypher of beat-juggling imagery and references, tracing our creative and ancestral lineages that instead break us free from linearity. From the captivating work of British-Nigerian filmmaker Jenn Nkiru to the 'Black Visual Intonation' embedded in American artist Arthur Jafa tableaus, our affinity for Black Atlantic synergies are reflected back to us. Nkiru and Jafa are both practitioners who have advanced the music video medium in remixing and bending Black cinematic frequency through montage and assemblage across timelines. Their theoretical cinematic languages encourage intuitive processing and constellating thought. 
Water is a prominent element in Jenn Nkiru's films 'Rebirth Is Necessary' (2017) and 'Black To Techno' (2019) as well as Arthur Jafa's films 'Aghdra' (2021) and 'Dreams Are Colder Than Death' (2013), as seen in my Afrovisual Boards: Water (Part 1) and Water (Part 2). I articulate nonlinear curatorial threads and explorations in response to the layered continual consciousness throughout the Black Continuum.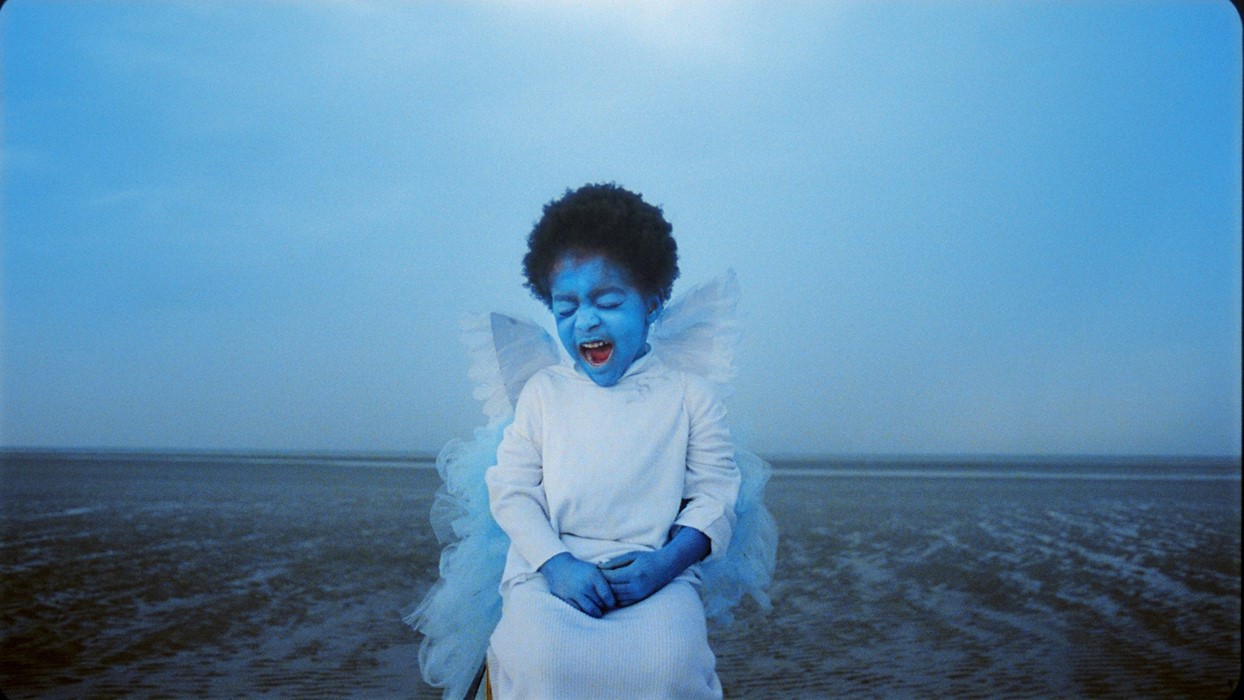 Ethel has described the physical body as a "repository of knowledge and memory." Similarly, Nkiru's practices this intuitive embodiment through her cosmic archaeological approach, breaking the archive apart. Through what she calls 'sonic mimesis', Nkiru balances soundscapes with a curation and construction of images with visceral intensity in her work and creative collective consciousness with The Ummah Chroma. She has questioned how far can aspects of the archive be reused to work in a continuum? On 'transposed African powers' she asks: how can we access latent memories in ways that are visually and sonically familiar?
Arthur Jafa often unpacks the power, beauty and alienation of Black music. His work 'APEX' (2013), dubbed as "dynamic black visual phenomena", is a montage of images in a proof-of-concept style film. It comprises hundreds of images from his notebooks, assembled to function like flip through a picture book, to Robert Hood's 'Minus' playing in and out of time. These artists continue to teach us to simply listen to the work and adopt the necessary mediums. Their crate-digging practices and investigations into Black cognition across the Atlantic are undoubtedly guiding lights in my work and Ethel's practice.

Conclusion: The Sonic Continuum
Image Frequency Modulation takes particular interest in the sonic continuum with radio references embedded throughout the work, and the notion of listening beyond what you audibly hear while looking beyond what you see. The second interaction in development, requires meditative listening to 'FM channels' that instill a deeper ancestral connection through image and sound. The IFM Playlist has already offered insight to the sonic processing that becomes the work. Threading in the acoustic vocals, live drums and electronic pulses is a result of music being a grounding point of connection that supports this work. It is imperative to note the family archives being activated are not bound to an institution but an expansive energetic reservoir alongside the thinkers that make up the work. In its reading through the Afrovisualist griot methodology, from a practice of exchange with Ethel, I am driven by a nuanced continuum of sonics, visuals, and haptics across timelines and chronologies. 



Feature image: Arthur Jafa, 'Untitled notebook', 1990 – 2007, Museum of Modern Art, New York. © Arthur Jafa