Interview: Yunchul Kim On Pythagoras, Poetry & Representing Korea At The Venice Biennale
By Something Curated
South Korean visual artist and music producer Yunchul Kim imagines a reality beyond the realm of human experience, founded on his rigorous explorations into the essence of materials. Navigating a dynamic world of undulating light and flowing matter, the artist's works often represent a moment where the physical properties of materials, typically seldom seen up-close, become manifest in new ways. Kim refers to this as the "world of materials" – a universe perceived as an embodied, tangible precursor of linguistic expression, one in which humans, objects, materials, and matter interact in active entanglement. Kim, who represented Korea at the 2022 Venice Biennale, is now showing a series of his works with Barakat Contemporary at Frieze's permanent London space, No 9. Cork Street. Presented alongside the works of fellow Korean artists Chung Seoyoung and Sojung Jun, the exhibition will run until 17 December 2022. To learn more about Kim's fascinating practice, his Korean Pavilion, and the new group show, Something Curated spoke with the artist.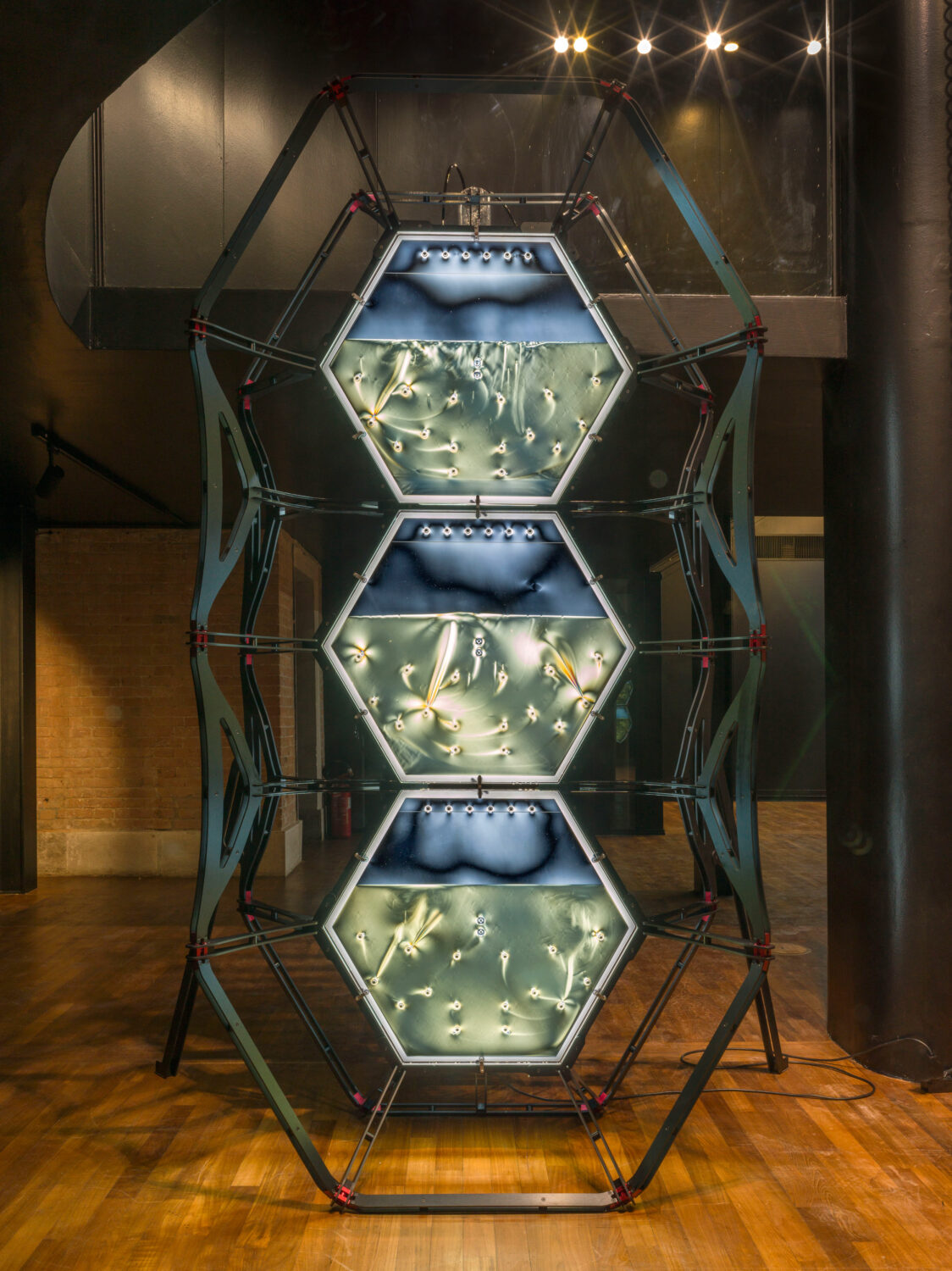 Something Curated: Can you give us some insight into your journey to art-making?
Yunchul Kim: I am inspired and stimulated, both directly and indirectly, by a variety of subject matters including literature, music, philosophy, architecture, fashion, mythology, natural science, anthropology, and so on. But I would say I am most inspired by poetry and music. In fact, I wonder if any other art genre could be as closely related to the artist's life and works as poetry. I think the imaginations and emotions that poetry creates are very personal, but they also transcend generations and contemporary culture. The title of my triptych drawing, Dawns, Mine, Crystal, is inspired by a chapter of Michel Foucault's work Death and The Labyrinth.
Music is an event composed of sound. Music is a time-based art that allows us to experience the event of creation and extinction of countless notes. I listen to all kinds of music, from the almost sacred abstract music of Bach, to Pop and Electronic music. When I plan and produce new works, I often listen to one song over and over again. It's not because I am listening to a particular musical melody, but because the music itself creates another space-time, transforming my studio into an unfamiliar space.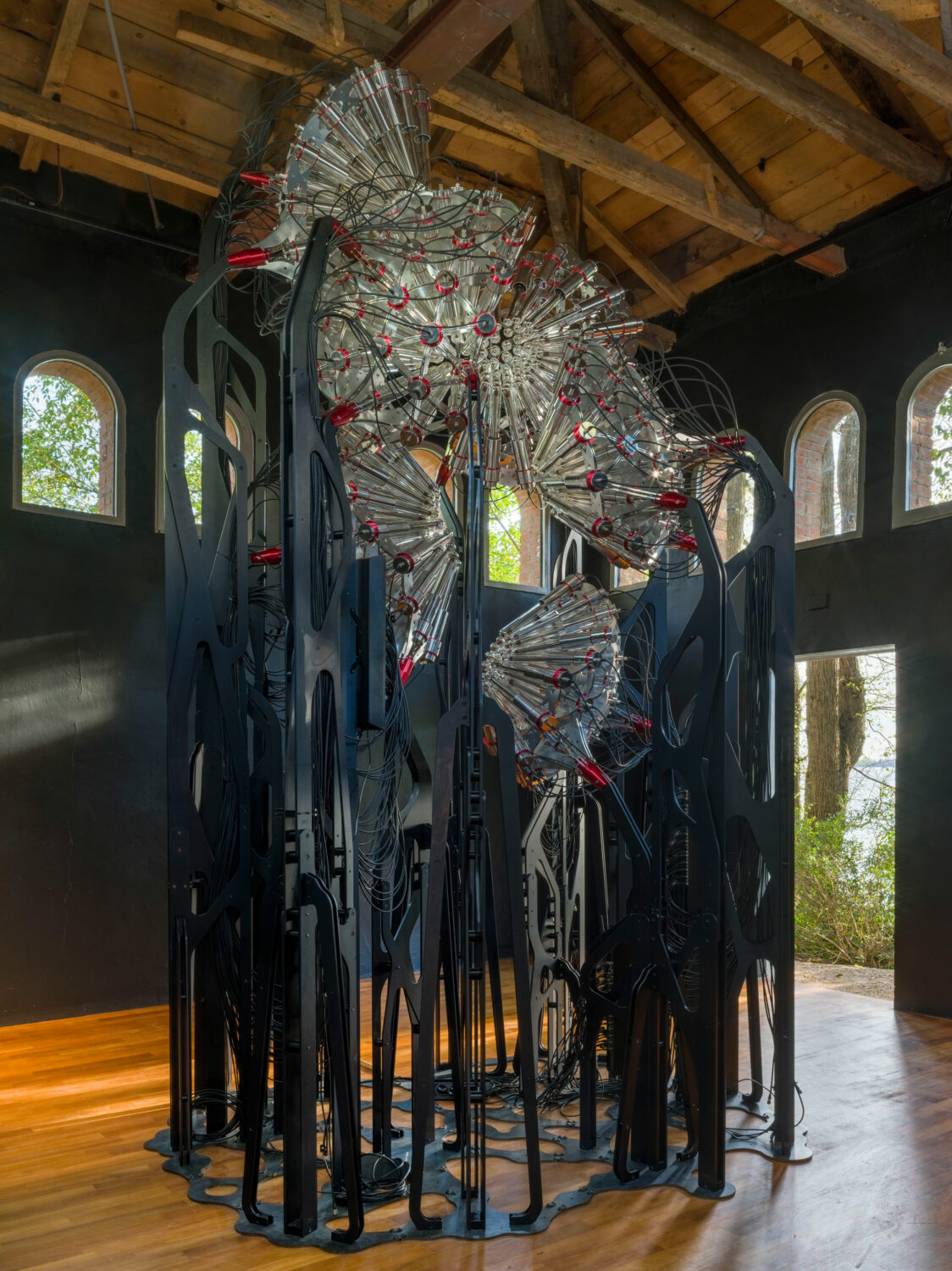 SC: Could you expand on how your experience as a musician has permeated your material practice?
YK: I think all my work starts with music. I studied composition and studying contemporary music composition was like thinking about music with other disciplines, like natural sciences such as mathematics, physics and astronomy, and humanities like philosophy, aesthetics, architecture, and art. Perhaps this multidisciplinary approach and practice has become the biggest part of my work. There is also a lot of evidence supporting that Pythagoras in Greece and Confucius in China also devised ways to tune notes. Interestingly, I have more interactions with scientists than artists, and personally, I think it is an important element to have a variety of perspectives on a single topic alongside other fields. Often, I find when mathematicians, philosophers, and artists talk about the infinity, there are many layers of fascinating stories, and they create a depth that we don't even think of. I believe working in this way allows me to traverse freely across various fields such as matter, machinery, sound, and so on.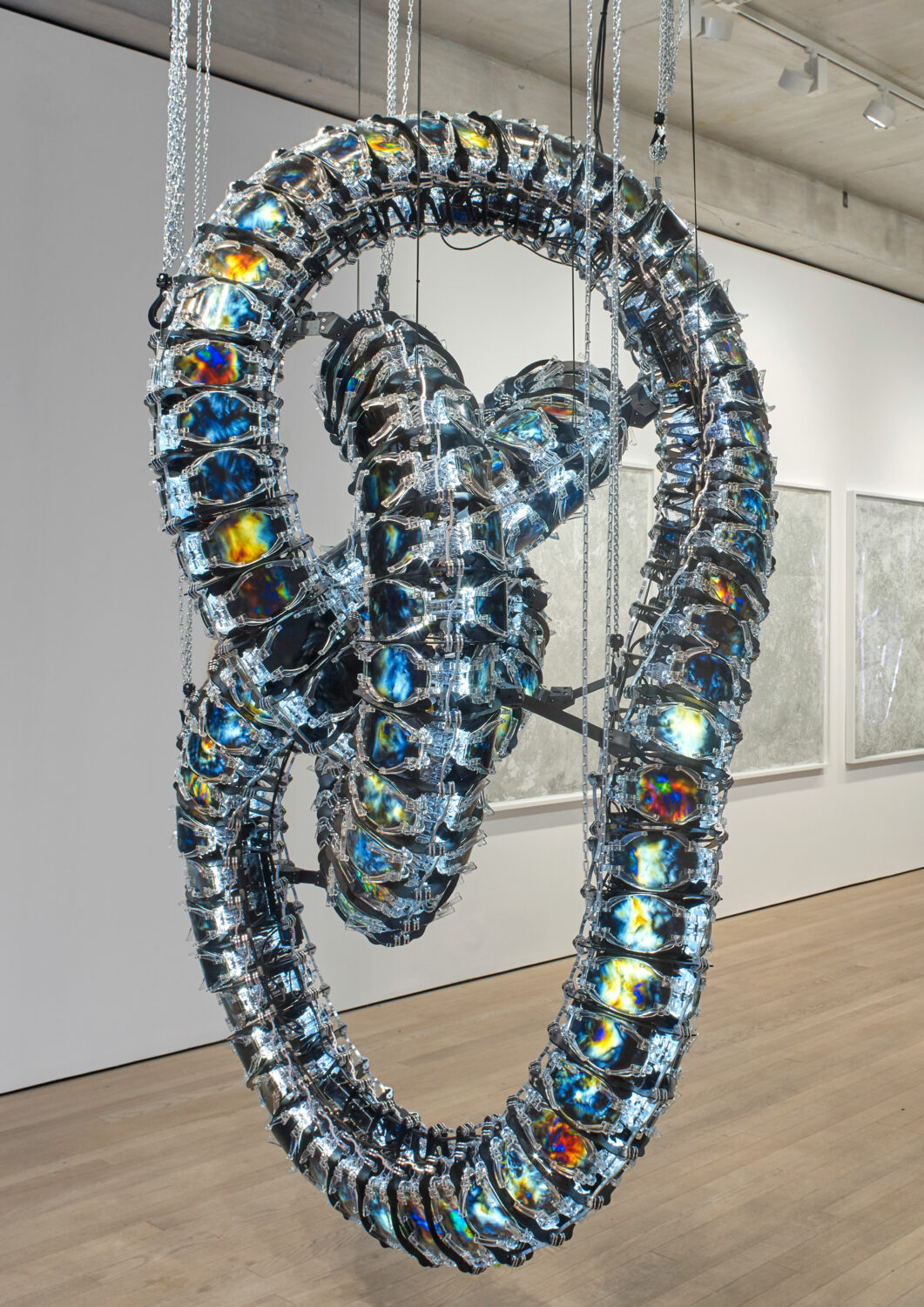 SC: Congratulations on your brilliant presentation at this year's Venice Biennale — how did you approach creating works for the Korean Pavilion?
YK: Gyre at the Korean Pavilion, Biennale Arte 2022 was my first show in Venice. Three out of the six works were newly produced for this exhibition and in particular I considered the size and shape of the works with the architectural structure and environment of the Korean Pavilion. Each work requires a number of experimental and research processes. My process involved humanistic research related to the subject matter and working closely with production methods to create the works that were displayed.
Chroma, a kinetic installation consisting of 382 cells, is a huge knot structure. When I planned it, I was inspired by Descartes' "Plenum," which is an imaginary space that is completely filled with particles, an ancient ouroboros that depicts a snake devouring its own tail, and the knot theory of mathematics and biology. The knot at the centre of Chroma was generated by a computer, while the curve was created through the gravity and collision algorithm which was converted into a parametric structure. Each knot contains a single kinetic device, which causes multiple layers of transparent polymers to bend, producing various spectrums and patterns. Intuitive decisions and sometimes scientific methodologies are met in these technical processes. For me the process of creating a work is a result of a number of processes that lead to new processes as if branching out. When one piece is finished, this process does not stop, but becomes a potential idea for the next new piece.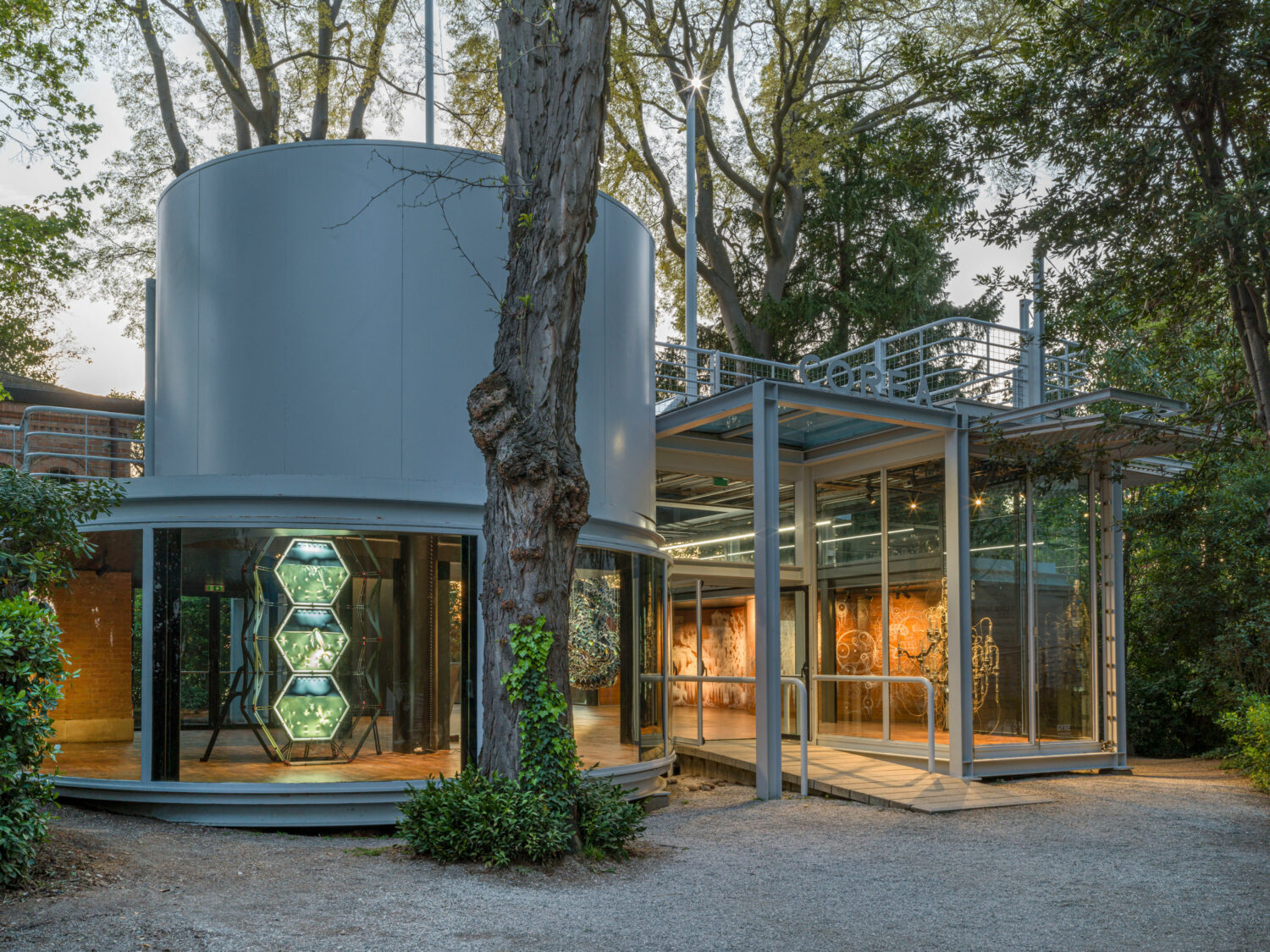 SC: What is the thinking behind the selection of works included in your current presentation at Frieze's No.9 Cork Street?
YK: La Poussière de Soleils (The Dust of Suns in English) is a fluid kinetic installation where nanoparticles allow the dispersing fluid to flow. Through these flows, the invisible pressure is shown to us in various colours like a prism. This fluid was produced in the laboratory in my studio after a long period of experimentation. It is a very long process to make the stone, with various minerals and metallic components, into tiny nanoparticles that flow around the work – including heating, chemical reactions, and treatments with ultrasonic waves. My concept revolved around making stone, which has been on Earth for so long, into active agents in the artist's laboratory that invoke colour and light. This is why I titled this work The Dust of Suns, with its metaphorical meaning. As a metaphor, "Dust of the Suns" refers to the new relationships that are created between humans and non-human beings through materials. So my work shows small particles made from stones that are visualising flows with new materiality. 
SC: Liquid and its mesmerising qualities seem to be a consistent point of fascination in your work; what interests you in exploring this particular state of matter?
YK: When working in an immersive manner with materials in my studio, I feel I am part of the material. Perhaps it is an Asian way of thinking about the relationship between humans and nature. In an East Asian thought, if you want to understand the tree, you must be a tree. Once again, when you work with a material you lose your mind and become part of the material itself. Perhaps painters or sculptors have a similar feeling of becoming one with their creations. The French philosopher Gaston Bachelard, who wrote about "material imagination" with four elements of fire, water, air, and earth, also wrote a similar thought that I am fascinated with, particularly bringing materiality into poetry and literature. 



Feature image: Yunchul Kim, Chroma VI, 2022. Courtesy of the Artist. Photograph: Studio Locus Solus