Interview: Zandile Tshabalala Challenges Art History's Depictions Of Black Womanhood
South African artist Zandile Tshabalala's paintings are an ode to young Black women like herself, celebratory, dynamic and self-confident. The commanding presence of her characters, whether reclined reading a book, convivial in the company of friends, or perhaps in an intimate situation, are rooted in the artist's everyday reality. Contrasting who the Black woman is and how she has historically been represented in, or absent from, the artistic canon is central to the artist's practice. Creating sumptuous and vivid works that feel immersive in their ambition, Tshabalala belongs to a new generation of artists that have reinterpreted figurative painting as an opportunity of human expression for themselves. To learn more about the artist's journey and work, her upcoming presentation at the Cape Town Art Fair, and her favourite spots to visit in Johannesburg, Something Curated spoke with Tshabalala.
Something Curated: Can you give us some insight into your background and journey to art-making?
Zandile Tshabalala: I was born and raised in Soweto. We moved around and eventually settled full time in Soweto in 2008 – I believe at this time I was about 9. I did well in most of my subjects and enjoyed bringing creativity into my learning, sketching and colouring first term pages of each of my schoolbooks. My hobbies at the time were making paper dolls, drawn and designed by me. I was becoming aware of this ability and love to make art and when I was in high school, during my 10th grade, I decided to enrol into visual arts classes. It was then that I learned about many creatives who were working and living as full time artists both internationally and locally. It was during these classes that I made a subconscious decision that I was going to be a painter and that I would continue learning despite not knowing any painters in my immediate communities.
I furthered my art studies, undertaking a BA in Fine Arts, despite not getting full support from my parents due to the anxieties of what I would become in the unknown future. My university career was filled with unknowns, blind passion and plenty of exposure to what else art can be. It was during my second-third year – I had to repeat some modules so from this point until I finished school I was doing two years at once each year, story for another day – that my breakthrough happened. Through the virtual guidance and studying of contemporary Black artists such as Kerry James Marshall, Njideka Akunyili Crosby, and Cinga Samson, I found art I enjoyed seeing and wanted to make. I had found what is known as my style today, which is figuration, storytelling and centralising Blackness and womanhood through my experiences and relationships.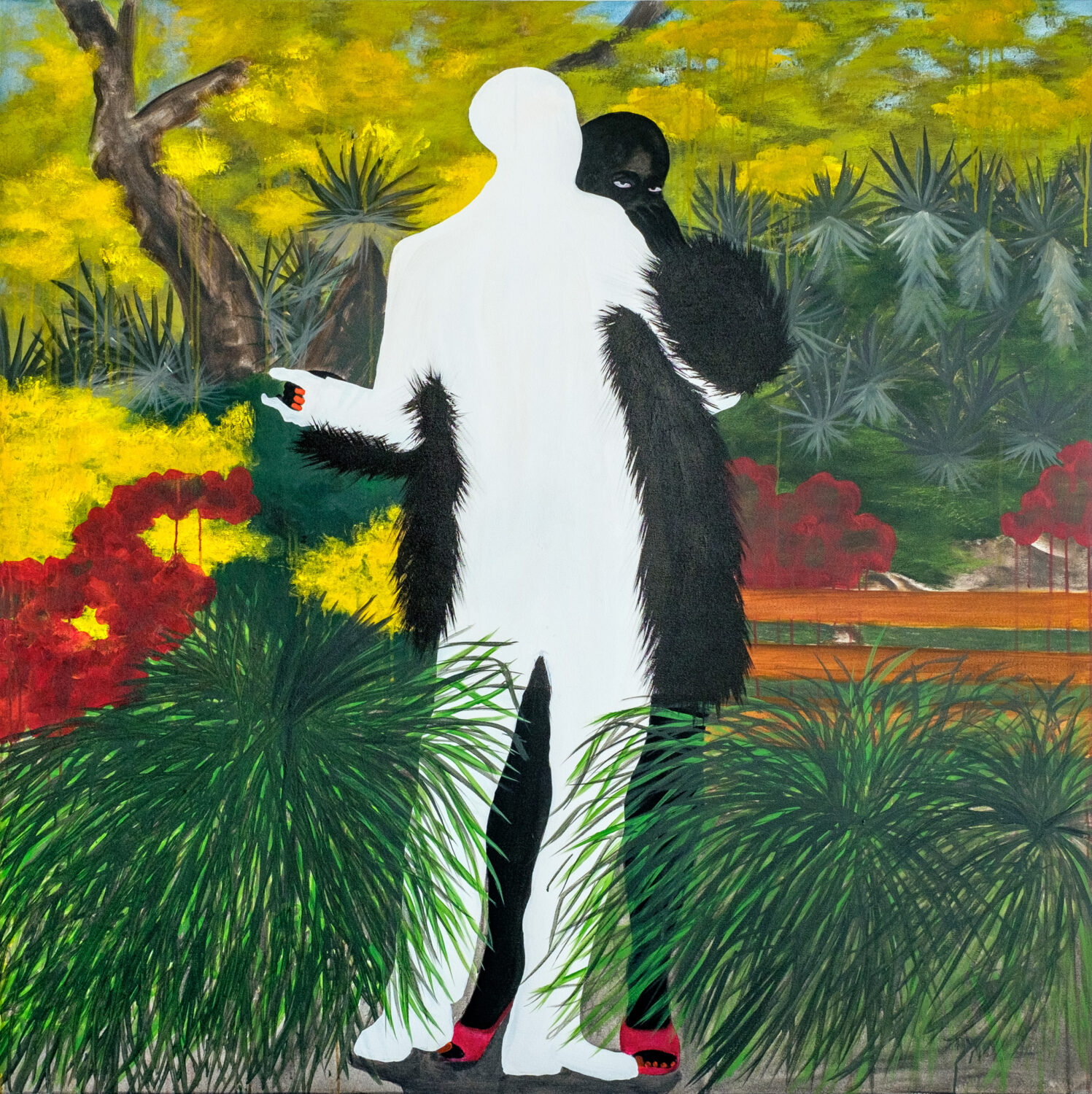 SC: Could you expand on the compelling figures you depict in your works — what influences their forms and the sumptuous environments you place them in?
ZT: In the early stages, my practice was heavily influenced by a lack I felt I experienced during my art history lessons and my own life at the time. The lack was of Blackness, women and an overall presence. I was not too sure where to place myself in all of the art movements and histories I was learning about. I desired to see imagery of bold Black women who are comfortable in just being as they are and are keen to explore their multiple interests and interactions in their everyday life. Wary of putting every Black woman under one umbrella and assigning an assumed way of being I have resorted to self portraiture and telling narratives of desires, love, experiences I have gained outside of my spaces of familiarity, relationships both romantic and platonic and overall just simple curiosities. I think this approach and lack of linearity is a true reflection of what it means for me to be a Black woman and what kind of access, whether it be spaces, knowledge or people, is available to me in the world today – so that is what I depict in my work.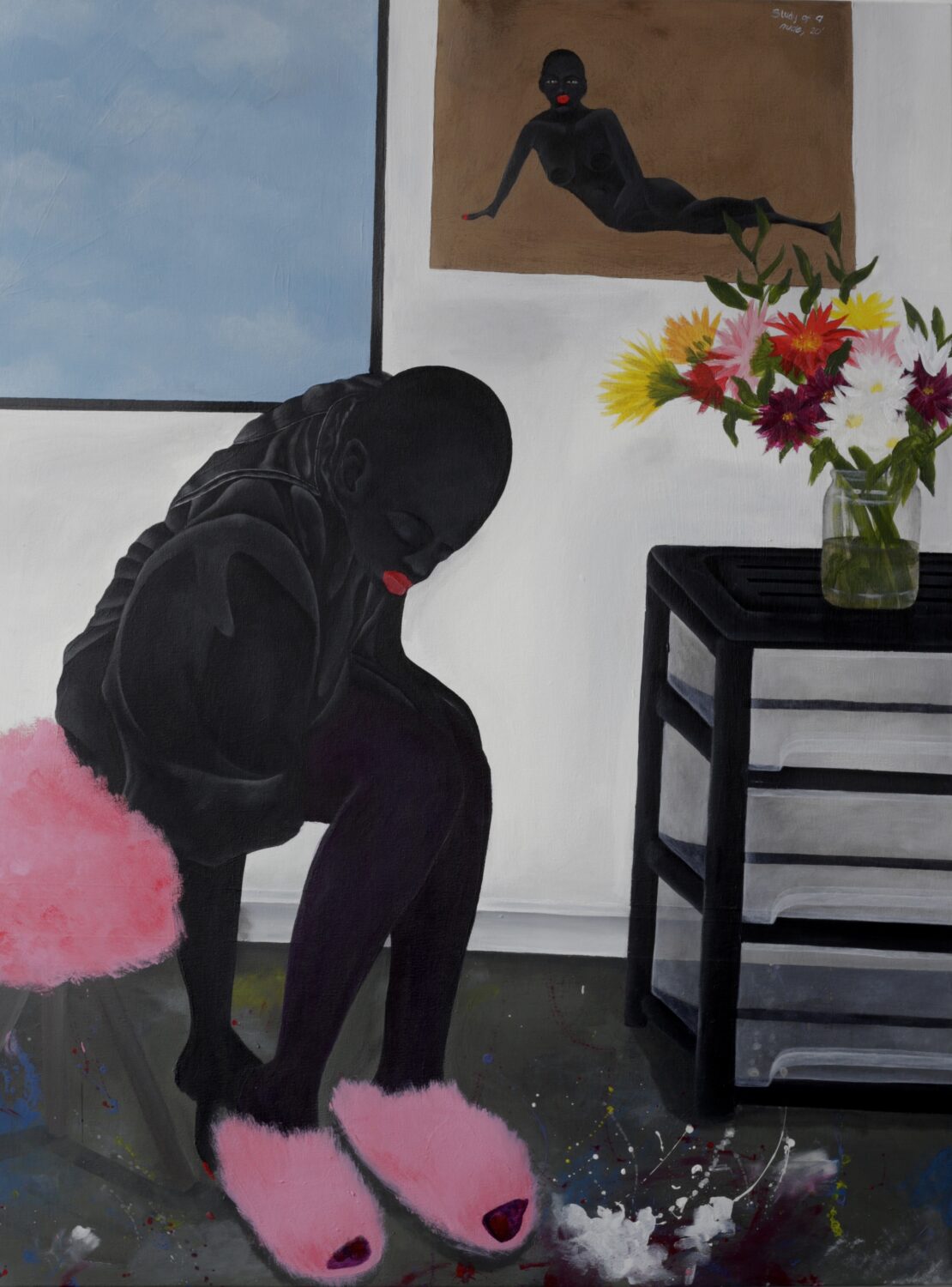 SC: You work with a very particular palette — how do you approach colour?
ZT: Colour for me is another way of exploring curiosity and working outside my boxes. In my real life I live and surround myself with simple palettes of black and white. In my work I truly let my imagination run free. I suppose that is the joy of narration – there are no boundaries or one approach methods of thinking and working so I take advantage of that. I think colour and the vibrancy it brings contrasts the blackness of the figures very well and adds dimension to the stories I depict. Typically the palette is initially influenced by the reference imagery. If I am working from modern photographs that I take myself and not archived photographs, I pay a lot of attention to the design and interior choices of the space I use, considering how it works with the narrative. This can result in patterned and heavily sensual compositions or contrasts of greens and foliage found outside. It's a very intentionally spontaneous process for me.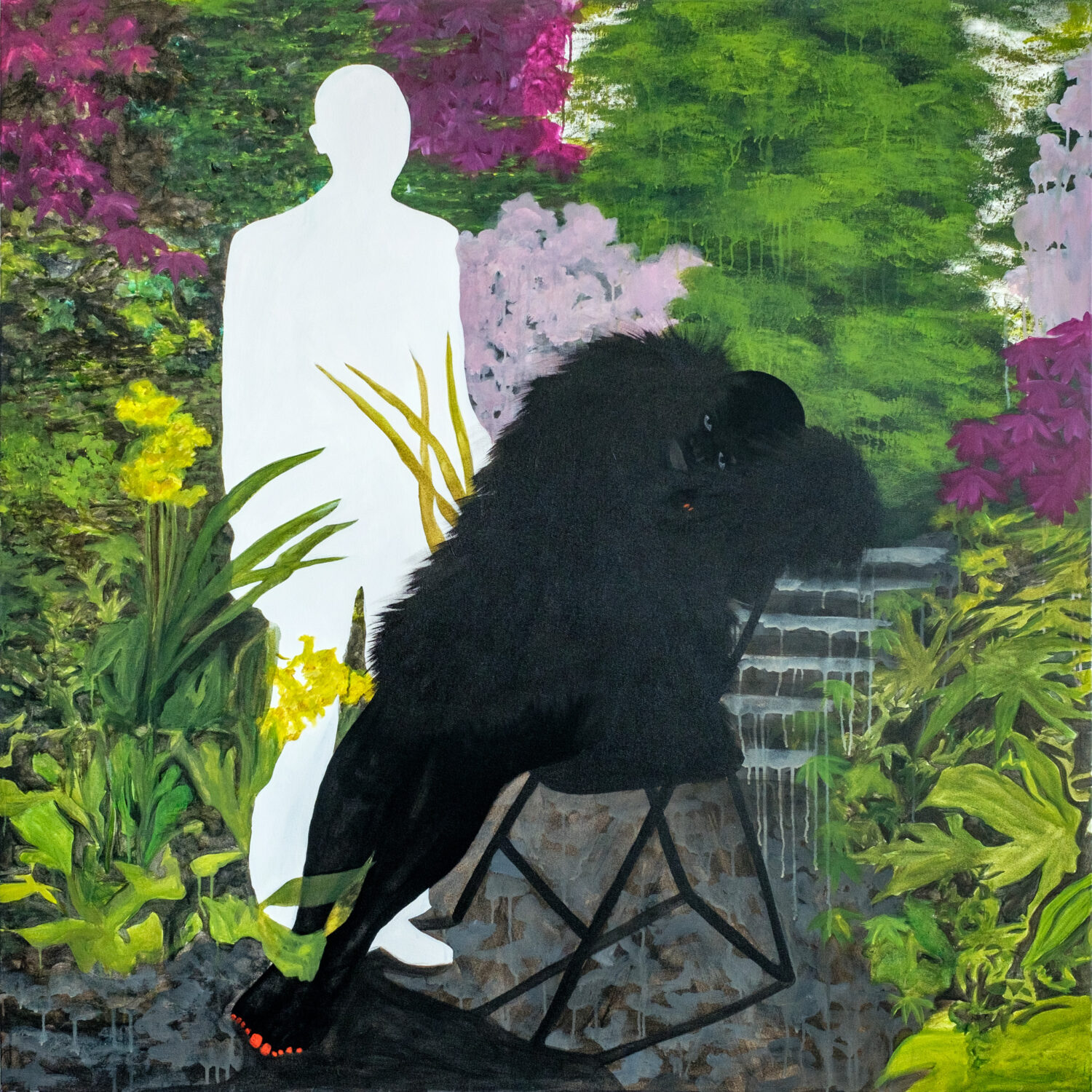 SC: Are you able to tell us about your plans for the upcoming Cape Town Art Fair?
ZT: For the Art Fair I intend on throwing a 21st birthday party. To give some context, a 21st birthday party in South Africa is a significant time in one's life – it signifies a kind of rite of passage into adulthood. I have been obsessed with turning 21 since teenhood but unfortunately could not do the whole celebratory ceremonies and key passing rituals due to the financial situation at home during that time. I have had the fortune of re-living and experiencing e'21st – as we would call it back home – through my mother's archives. I have also learnt that there is more to the actual day than the party.
There is the aspect of community and the elders of the family that come together to assist the young adult – uMiss party in my mothers case – transition into adulthood, there is the wait and anticipation that happens years before this time, and there are the influences of the geographic which play a role in how these ceremonies are conducted. So for the fair I would like to share this moment and hopefully encourage nostalgia, conversation and curiosity for those that are still to go through this time. The Cape Town Art Fair will be my first big fair in the country and first solo show in the Province so I am a bit nervous and excited to see how people engage with the work.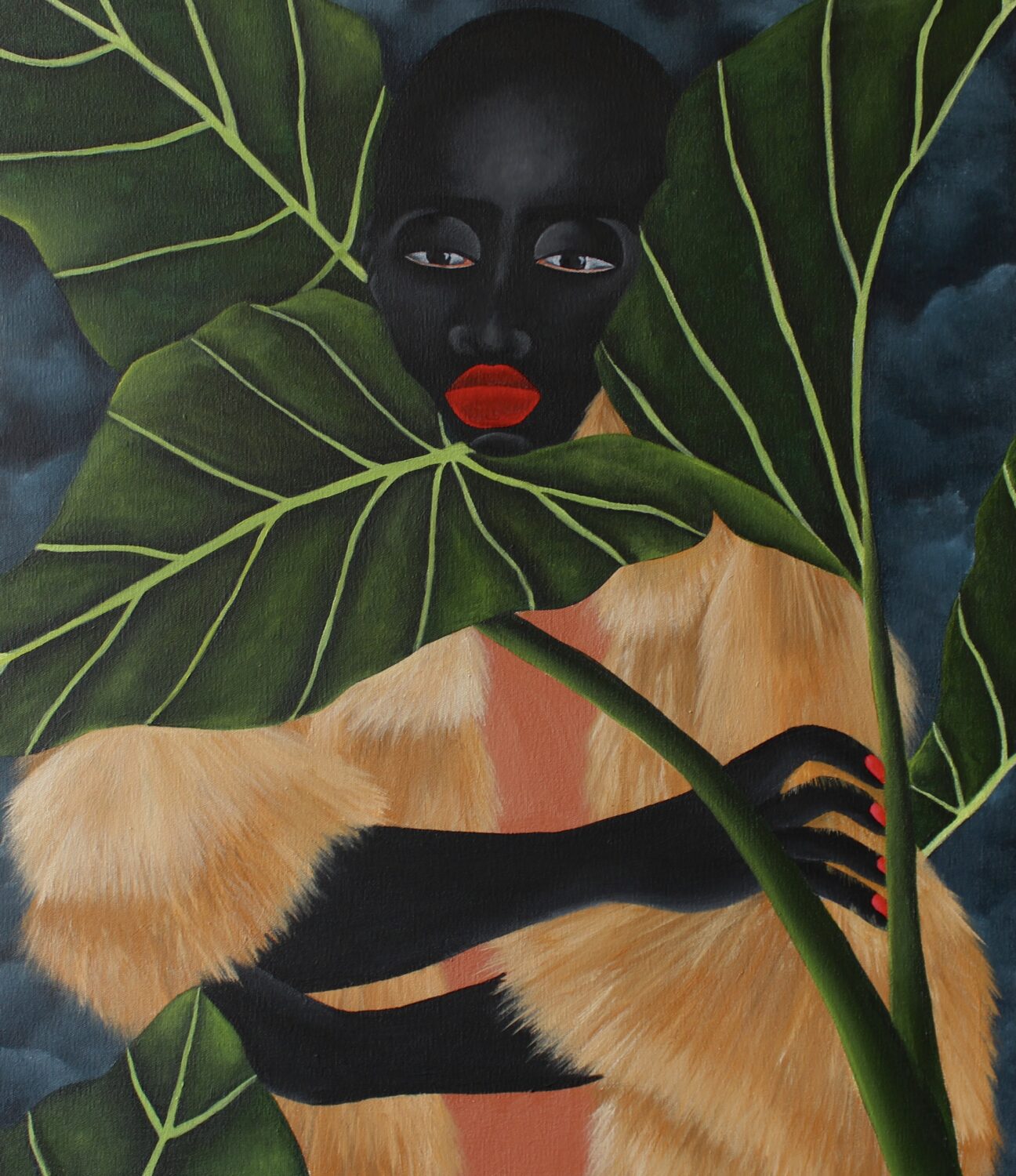 SC: What are some of your favourite cultural spaces in Johannesburg?
ZT: Firstly true to being an art girl, I am a big fan of our gallery spaces and artist studios with some of my favourites being BKhz Gallery, Johannesburg Art Gallery (JAG), Nirox Foundation, Constitutional Hill, Stevenson, and Ellis Art House. Being from Soweto some of my favourite hang out spots when I am home are The Galleri store in Zondi, Thesis in Mofolo and the popular Vilakazi Street. If one is looking for a more engaging food experience in Joburg, Food I Love You and the Yeoville Dinner Club are the perfect intimate spaces for that.



Feature image: Zandile Tshabalala, Lovers Dance I, 2022. Courtesy the Artist and BKhz Gallery