5 Contemporary Artists Using Found Textiles To Tell Their Stories
Textile making traditions connect diverse global cultures as one of the earliest human technologies. As well as providing shelter, warmth and holding goods, textiles have and continue to serve decorative purposes, maintaining a significant place in arts and crafts traditions of various societies around the world. Over the centuries, textile art has garnered labels from "high art" to "feminine craft," with shifting perceptions and aesthetic trends. Imbued with value and association, cloth has always been a powerful means of storytelling. From Louise Bourgeois and Ernesto Neto, to Tschabalala Self and Do Ho Suh, contemporary art has enthusiastically embraced the conceptual potential of the material as a potent medium. Exploring five contemporary artists' practices that have a particular focus on utilising found and reclaimed materials, Something Curated takes a closer look at five contemporary artists working with textiles today.



Faith Ringgold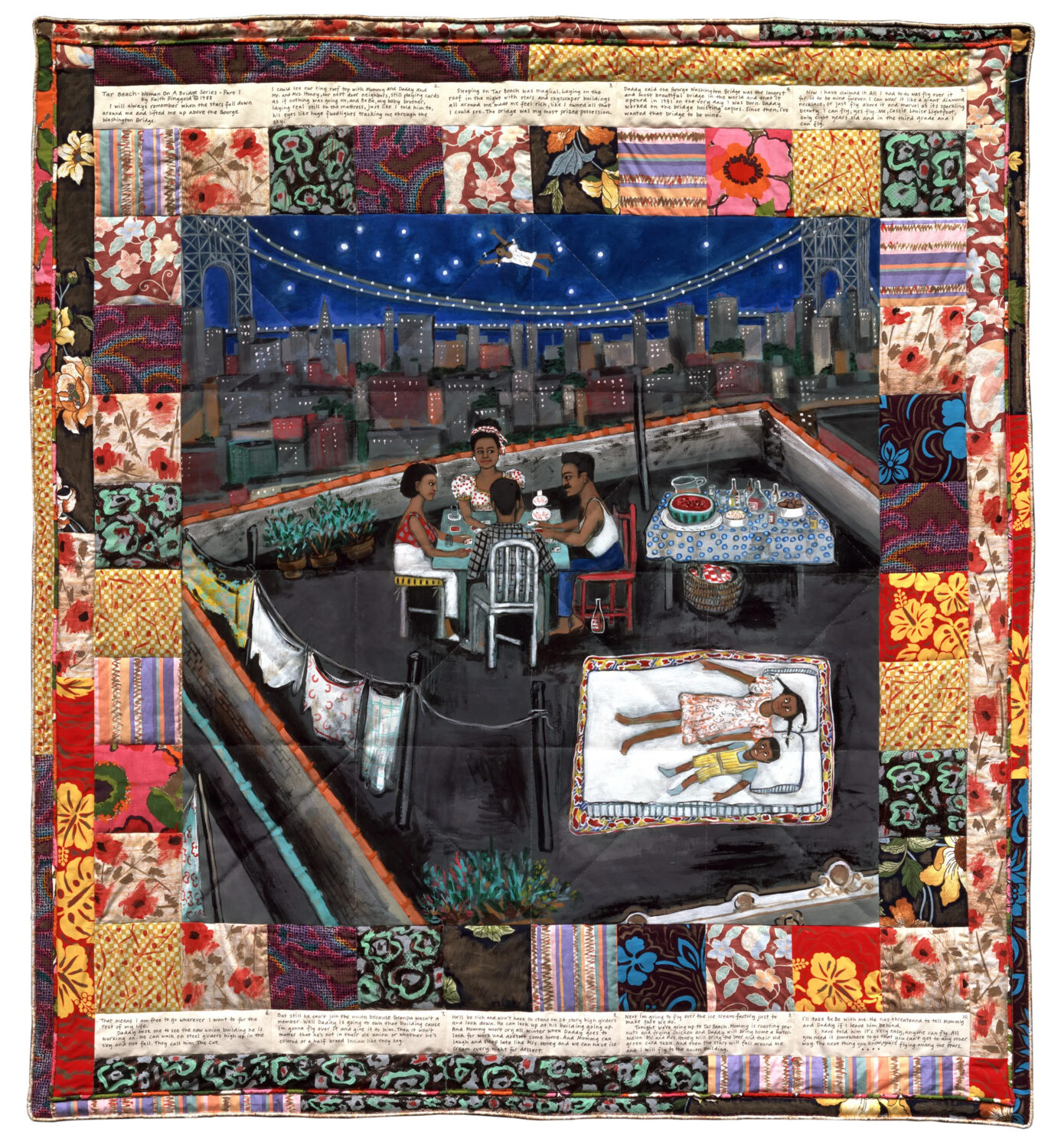 Born in Harlem, New York, Faith Ringgold is an interdisciplinary artist best known for her painting, narrative quilts, and illustration. Greatly inspired by the artistic traditions of Nigeria and Ghana, Ringgold's practice illuminates narratives of power, history, and identity as part of the African American experience. The pioneering artist made her first quilt, Echoes of Harlem, with her mother, Madame Willi Posey, in 1980. She was inspired to pursue quiltmaking as a vehicle for her art after hearing her mother's stories of their ancestors, who were slaves trained to make quilts on their plantation. In an interview with the Crocker Art Museum she stated, "In 1983, I began writing stories on my quilts as an alternative. That way, when my quilts were hung up to look at, or photographed for a book, people could still read my stories."



Kamruzzaman Shadhin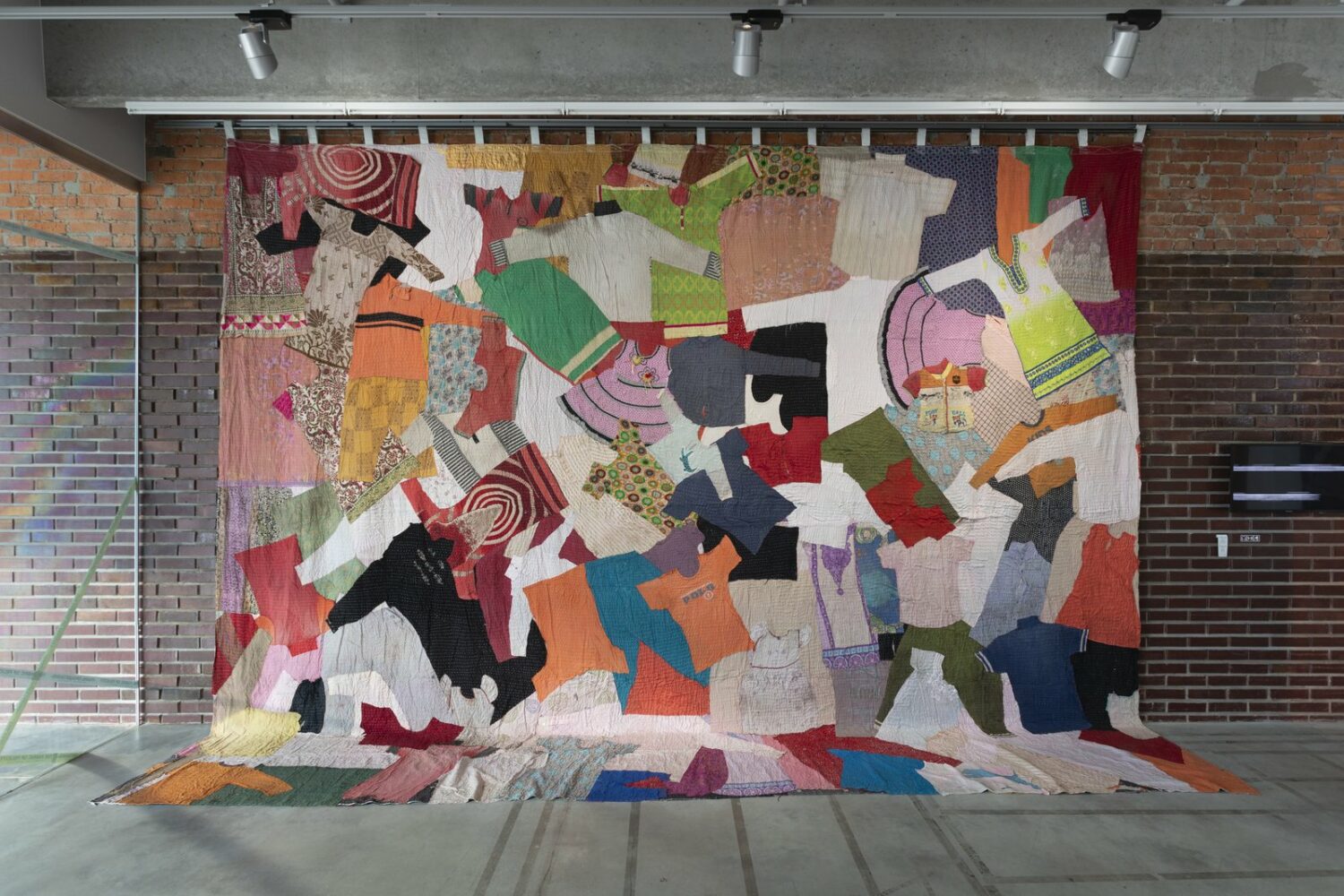 Kamruzzaman Shadhin is a visual artist born and based in Bangladesh working across installation, video and performance. His work, Haven is Elsewhere, embodies the common quest of most migrants and refugees. For the piece, internally migrated people in Thakurgaon in Northwest Bangladesh created a quilt from the used clothes of displaced people from Southern Bangladesh. Many of these items were left behind by illegally trafficked labourers, collected over a period of a year and a half by the artist. Sewn together in Thakurgaon, the textiles were then embellished with traditional Bengali kantha embroidery techniques. During the Dhaka Art Summit 2018, these monumental quilts formed a projection surface for video documentation that attempted to capture the stories of displacement through these once-used clothes.



El Anatsui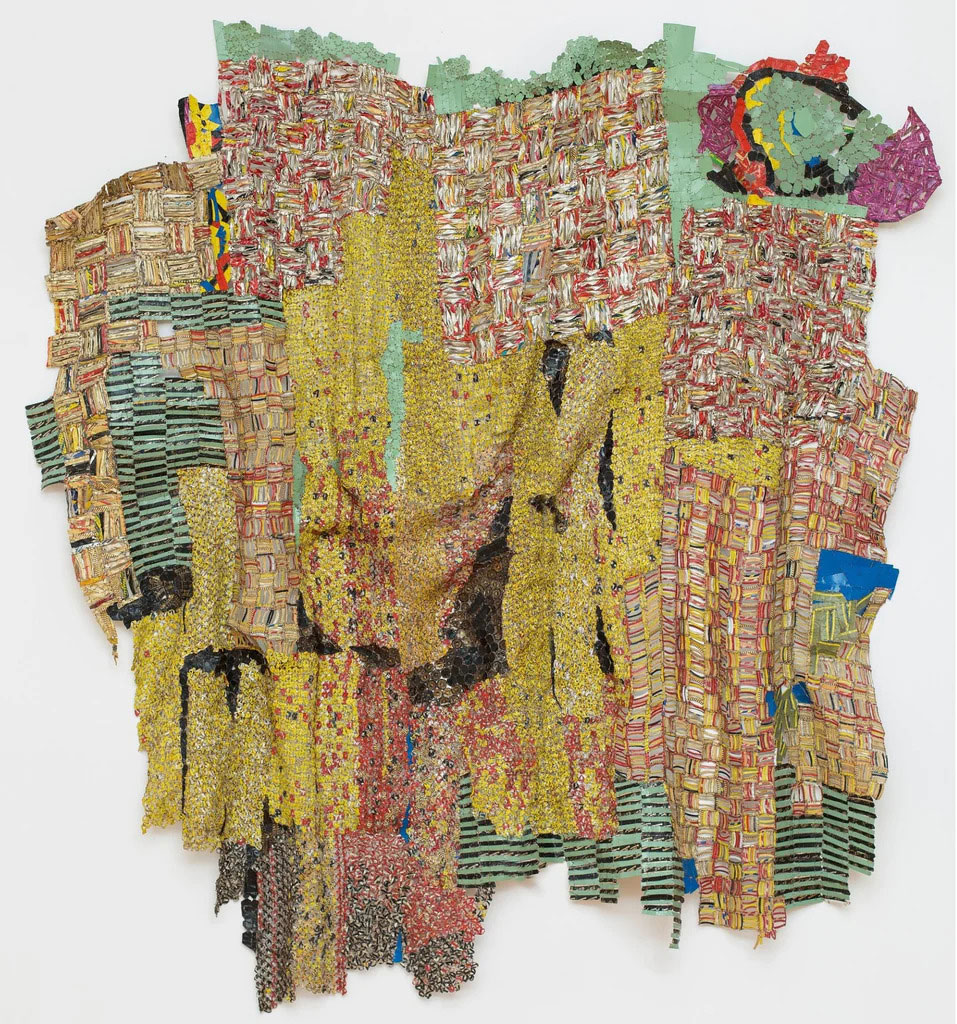 Hailing from Ghana, and presently living and working in Nigeria, artist El Anatsui weaves colourful metal tapestries from materials including reclaimed bottle caps and wire. His practice finds inspiration in Kente cloth, the traditional fibre produced by the Akan people of the Ashante Kingdom, and reinterprets the important history of textiles in West African culture. Woven from metal liquor bottles, the tapestries reference the tradition of venerating and honouring ancestors with a libation of alcohol. The use of found materials also reflects his beliefs in repurposing and transformation, thus transcending the limitations of place while simultaneously referencing colonialism, consumption and waste.



Eric N. Mack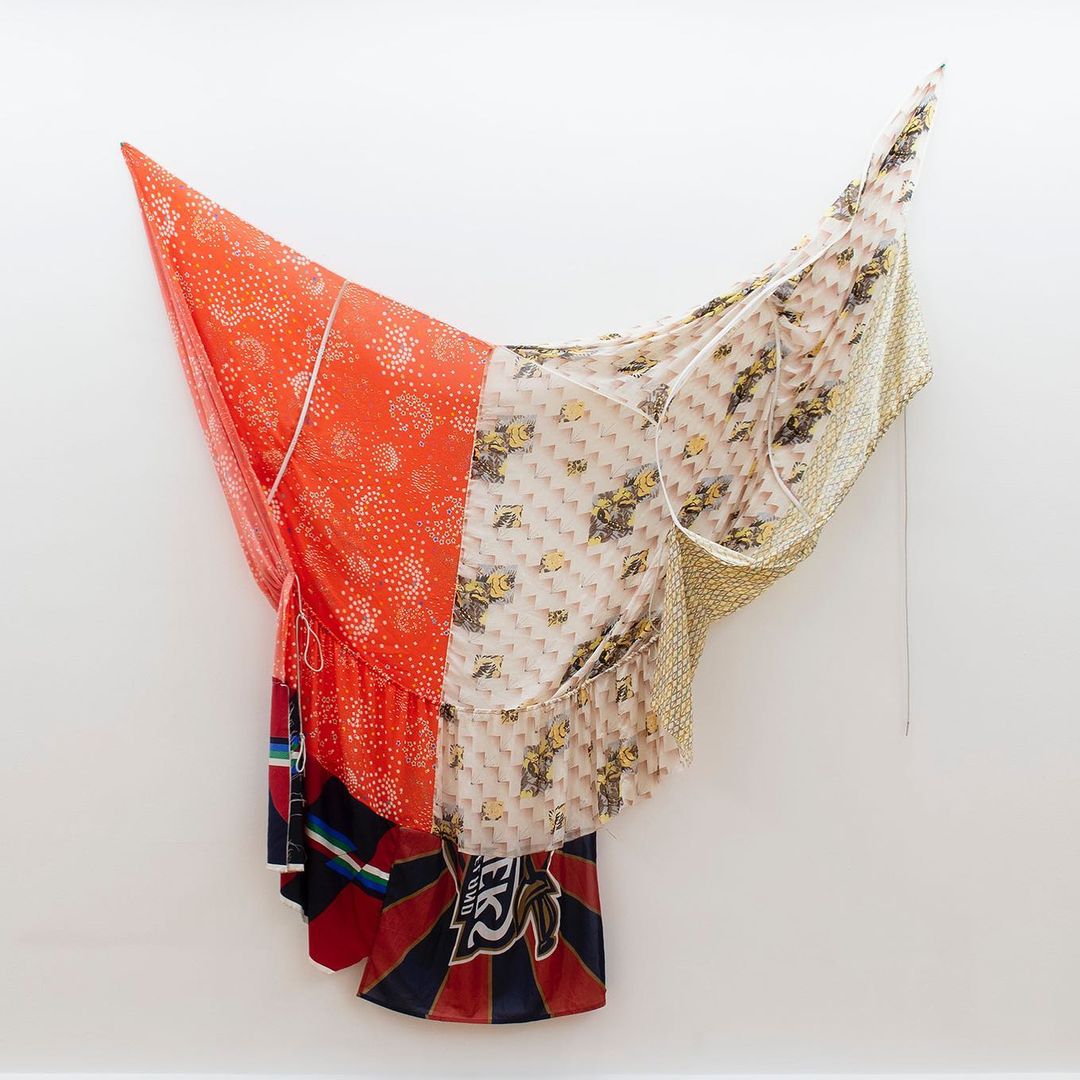 New York based artist Eric N. Mack's work oscillates between sculpture, installation, wall pieces and works on paper. His practice explores a very specific approach to tactility, often utilising familiar items, predominantly those related to clothing. Readymade elements, such as garments, blankets, pegboards, magazine pages, and grommets, recompose and transmute via the artist's usage of mediums like acrylic paint, glitter, and dye. Mack's visual language speaks through these materials, as well as through colour and texture, optics and flux. His works flow and shift, alive with a spectrum of hues, irregular shapes, and poetic drama. References to the fashion industry and the figure impart a seductive quality, connecting to identity or a material fiction of desire and intention.



Tau Lewis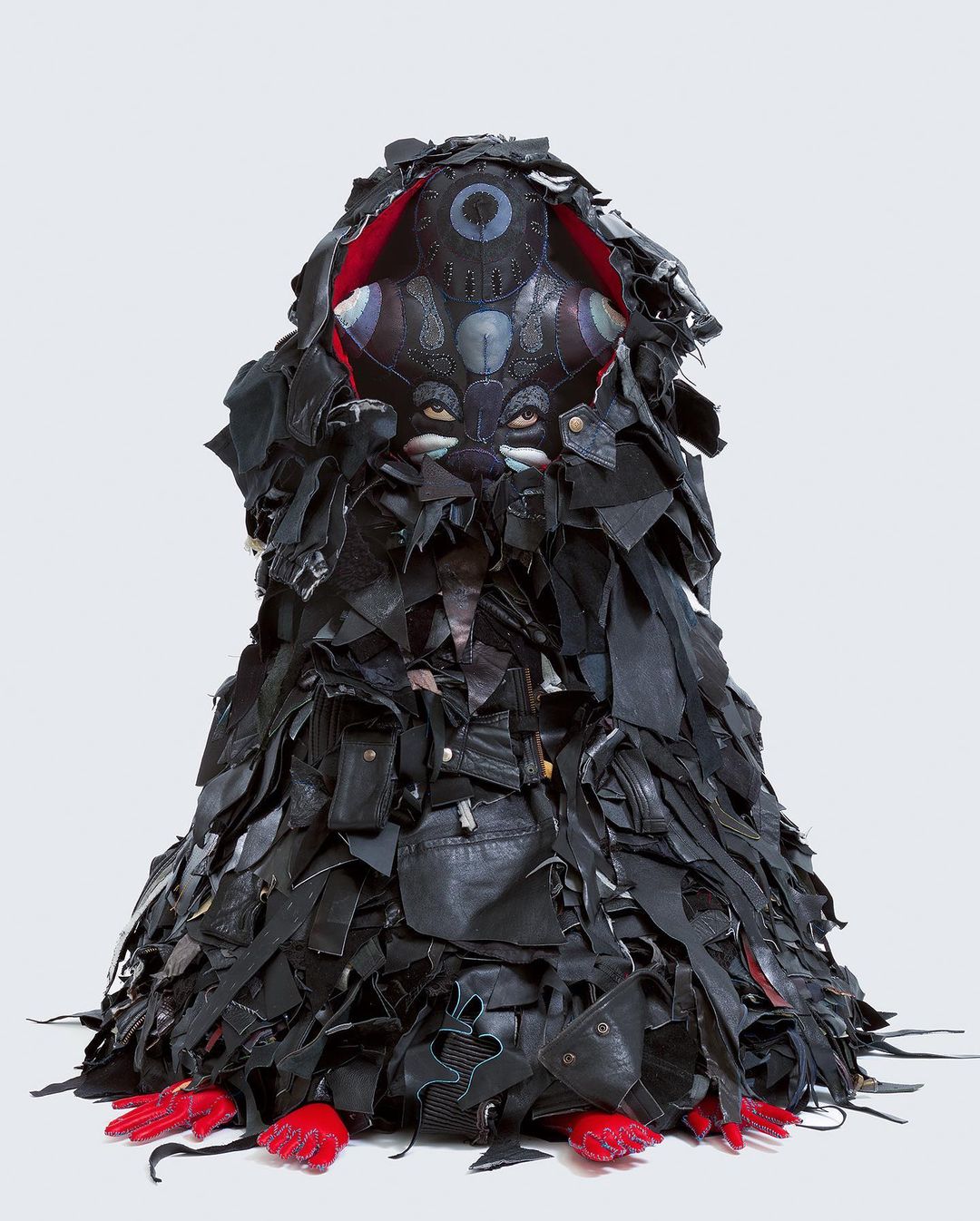 Tau Lewis transforms foraged textiles and artefacts through painstaking processes of sewing and quilting into imaginary talismans and magical beings who inhabit sci-fi worlds. Recalling the works of Gee's Bend quilters, the textiles of Ringgold, the assemblages of Betye Saar, and the dreamlike "shack" sculptures of Beverley Buchanan, Lewis creates subversive monuments, paying tribute to philosophies of material ingenuity as an act of agency across diasporic communities. Activating the ideological malleability of textiles and their historical association with feminised labour, Lewis also dissolves the space between artistic and political poles, especially between practices traditionally delineated as craft, ritual, or art.



Feature image: Tau Lewis, Harmony, 2019. Courtesy Tau Lewis and Cooper Cole.