Material Power: Curator Rachel Dedman On How Palestinian Embroidery Became Protest
Opening on 8 July and running until 29 October 2023, Kettle's Yard is set to present Material Power: Palestinian Embroidery, an exhibition exploring the historical life and contemporary significance of Palestinian embroidered craft. This ancient practice is characterised by exceptional beauty and intricacy – some of the finest dresses, known as thobes, carry over 200,000 stitches. It remains an important living tradition, and the most prominent cultural material of Palestine today. More than 40 dresses and other embroidered objects, loaned from important collections in Jordan and the West Bank, will be on display for the first time in the UK. The ambitious presentation seeks to offer audiences an opportunity to engage with Palestinian cultural heritage through the intimate lens of clothing. Throughout the exhibition, historical objects will sit in dialogue with rarely seen archival material and artworks by contemporary artists Mona Hatoum, Khalil Rabah, Mounira Al Solh, Aya Haidar and Majd Abdel-Hamid. To learn more about the evolving significance of embroidery in Palestine and the thinking behind the upcoming show, Something Curated spoke with Material Power'scurator, Rachel Dedman.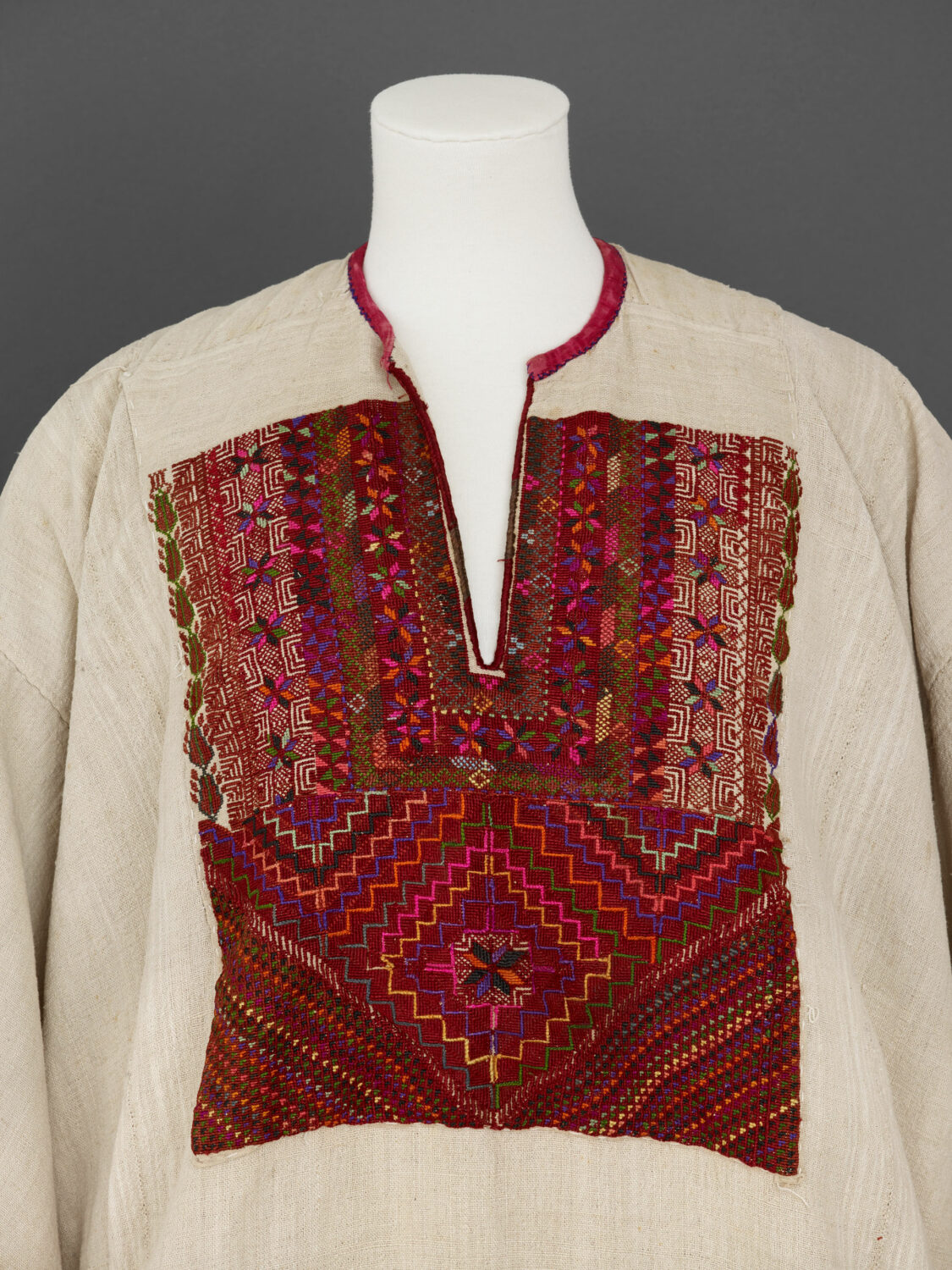 Something Curated: The exhibition includes pieces of clothing from Palestine spanning 150 years – what was the process like selecting and gathering these articles?
Rachel Dedman: Material Power has grown out of two larger-scale exhibitions I curated for the Palestinian Museum – At the Seams, in 2016, and Labour of Love, in 2018 – so most of the objects in this exhibition were discovered in the process of curating those exhibitions. My research involved travelling across Palestine, Lebanon and Jordan meeting collectors, visiting museums, and interviewing women living in camps and villages who continue to embroider today. The experience was often an intimate one: many collectors are individuals who are deeply passionate about embroidery, who dedicate rooms in their houses to their collections. They threw open their wardrobes and archive boxes for me so we could explore garments piece by piece. I was seeking objects that told stories, which resonated with different moments in history.
Spending time with Widad Kawar was particularly formative. She is perhaps the most important collector of Palestinian embroidery, an activist for its preservation, and a legendary font of knowledge about the craft. I spent time with her in her home and in Tiraz, the Centre for Arab Dress that she runs in Amman, and learning from her, as well as all the other collectors, curators, and embroiderers that I met, was a beautiful process. The exhibition's contents, both historical and contemporary, unfolded from these encounters.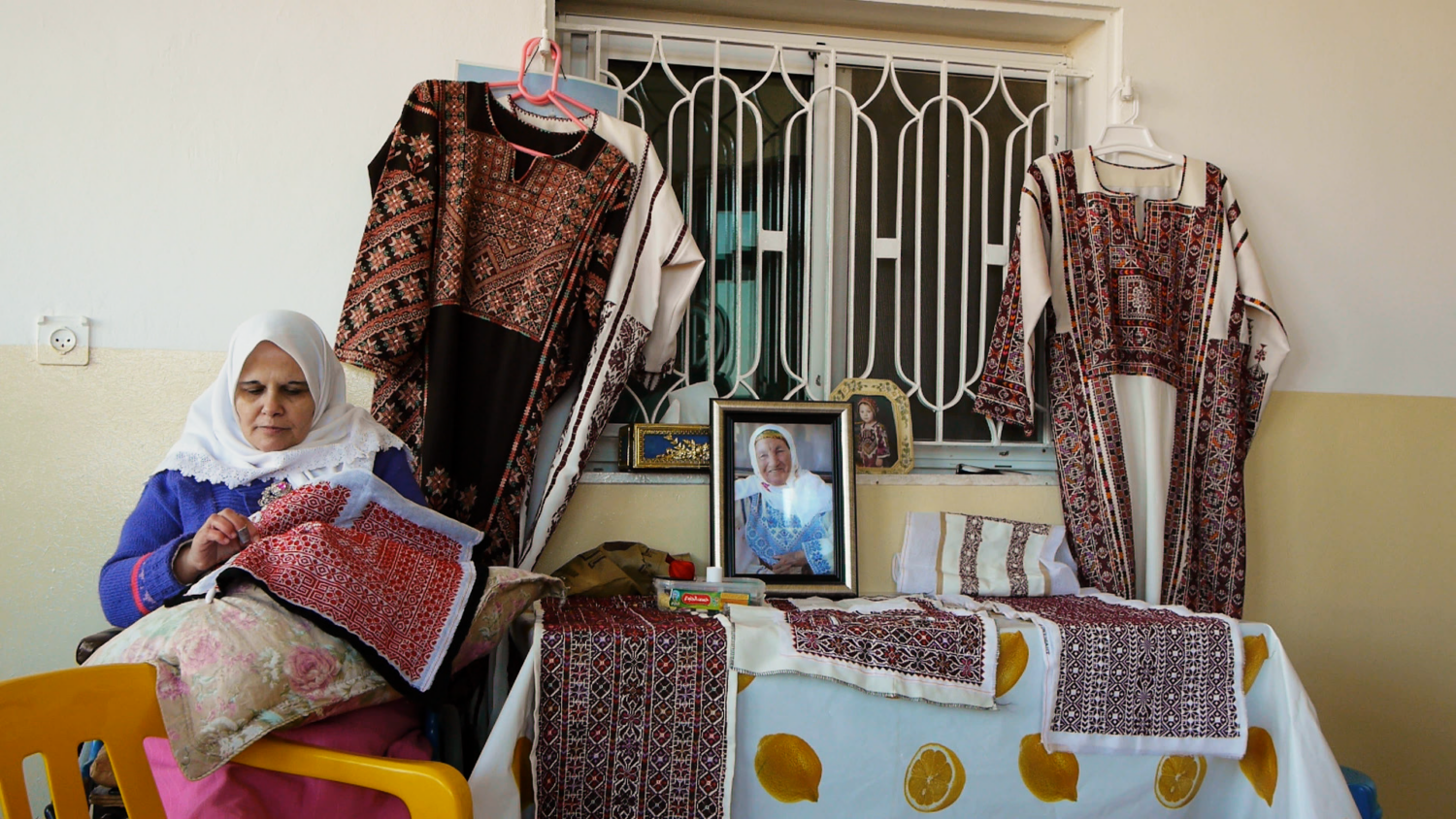 SC: Can you expand on the politicisation of embroidery – particularly in relation to the contemporary artists contributing works to the show?
RD: The politicisation of Palestinian embroidery after the Nakba of 1948 was a process in which artists played a key role in the 1960s and 1970s. 'Liberation Artists' such as Suleiman Mansour and Nabil Anani celebrated Palestinian heritage in painting in the decades following the Nakba, and their work (and its popularisation in poster-format) contributed to embroidery's shift into an iconographic register. Embroidery became emblematic of Palestinian history, land, endurance, and resistance, taken up as symbol for the nation.
The contemporary artists in Material Power are engaging critically with embroidery's history and meaning today—some in terms of this specific legacy in Palestine, others with the practice more broadly, as a feminised craft and mode of story-telling. Khalil Rabah's Hide Geographies series, for instance, patchworks pieces of found embroidery into large swathes of fabric. When displayed flat they feel cartographic, their shapes clear and defined, their outlines reflecting territories familiar and fraught. When slung over poles, however, they resemble something closer to animal skins or unflying flags, their territorial reference blurred. The works make visible the ways in which embroidery is intimately connected to Palestinian land, while treating with ambivalence its instrumentalisation in the assertion of nationalism.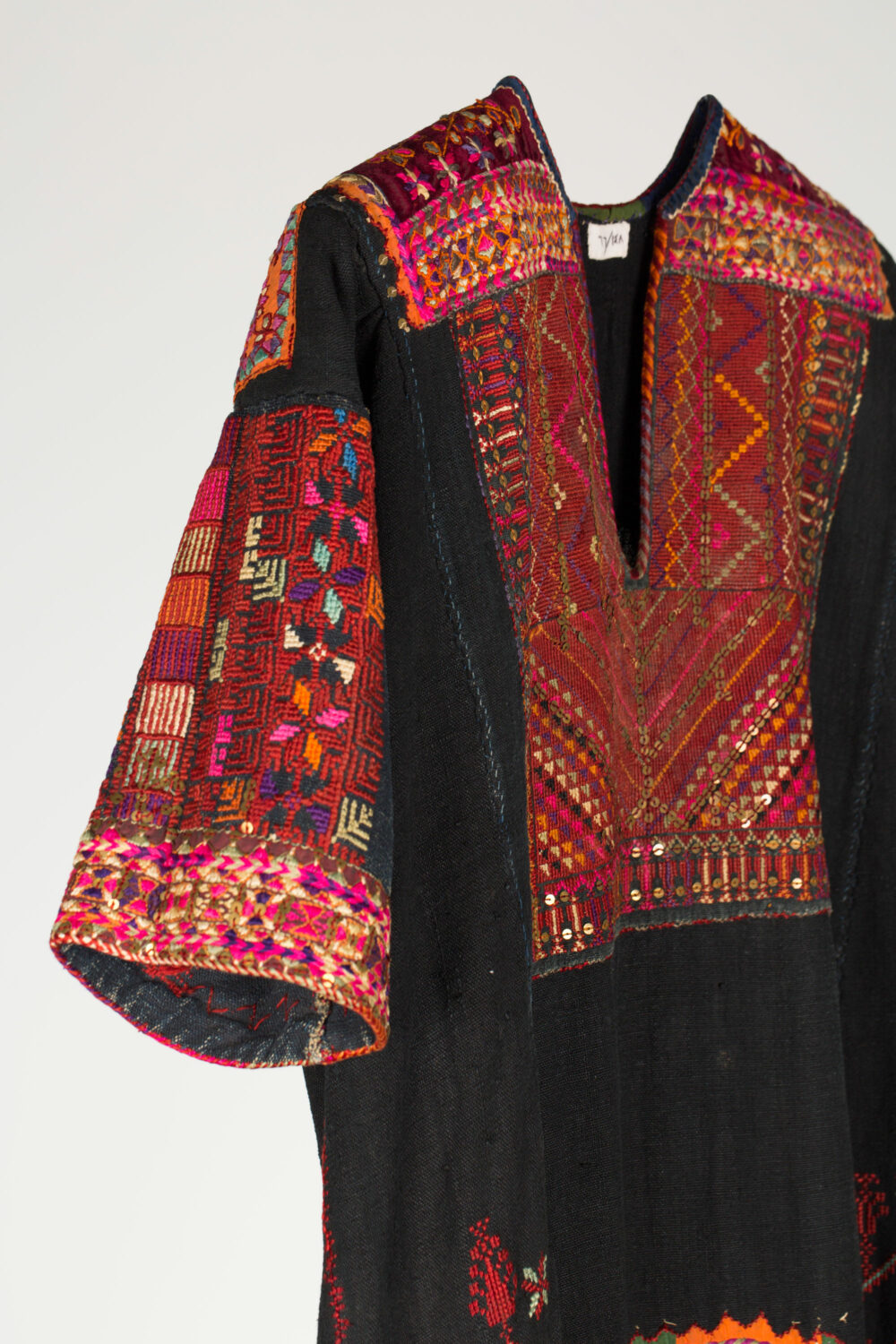 SC: How have you thought about placing historic pieces and contemporary works in dialogue? 
RD: This dialogue between historic and contemporary is central to Material Power. Our aim is to reflect embroidery as a living craft, one that is continually evolving, rather than something static or locked in the past. Contemporary artists working with thread reflect the continuation of embroidery's legacies, and offer a critical lens to the ideas and dynamics raised in the historical material. They also offer an expanded view of its potential as practice—embroidery is not unique to Palestine and the Middle East, but common to cultures the world over.
To give a couple of examples: the exhibition posits that historical embroidered dresses offer us a portrait of their maker, as the embroidery on each garment tells us something about the woman who wore it—where she was from in Palestine, her personality and character, her social status, her day to day life, and the way she wielded a needle. Alongside these early twentieth century dresses sits new work by artist Mounira Al Solh, in the form of two embroidered portraits of important women from Arab history. Their names, faces, and key symbols of their life and work are stitched onto hangings, of the kind borne between standards at marches. Al Solh's portraits offer testament to those women who shaped history, celebrated through the simple intimacy of needle and thread.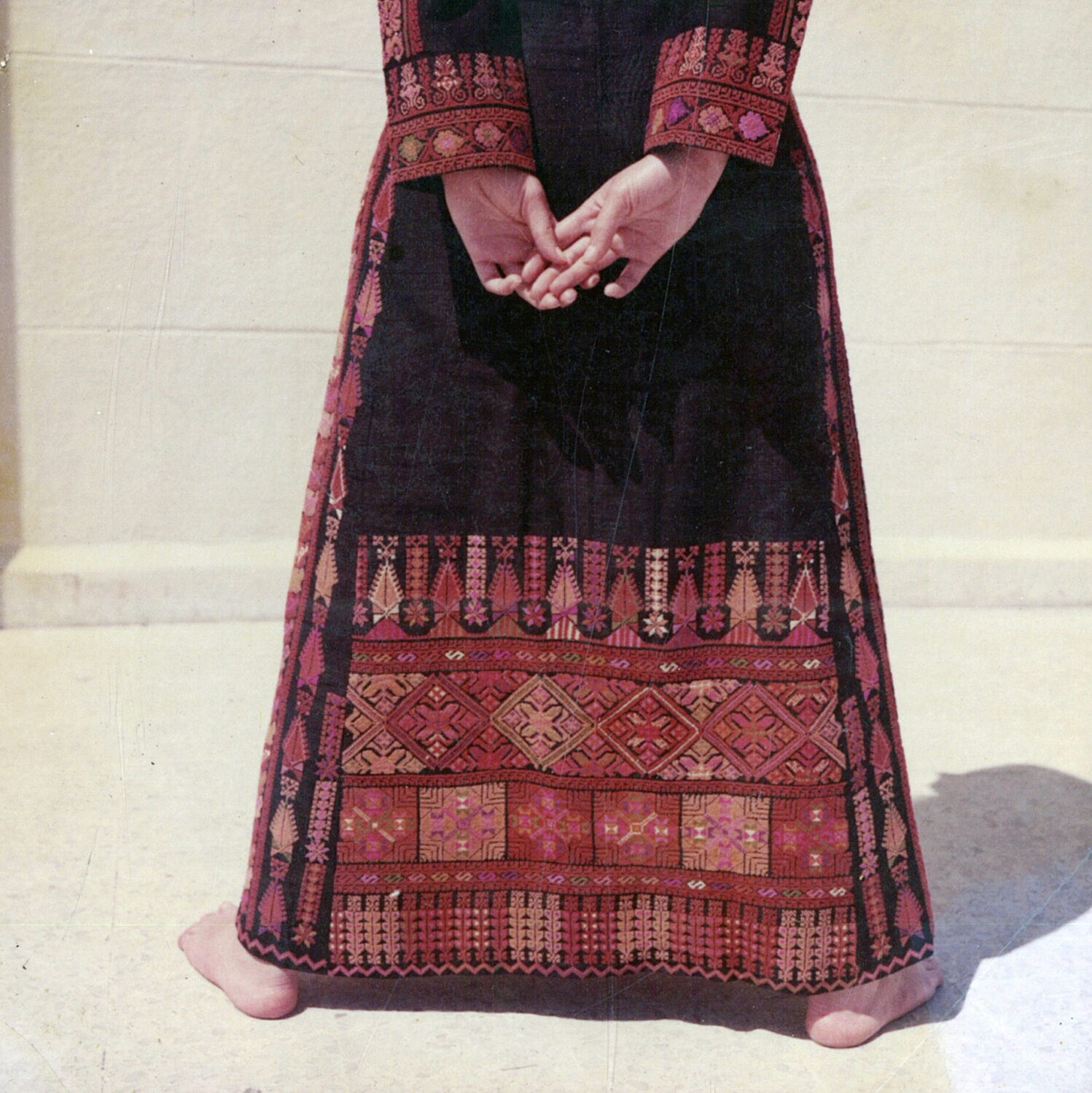 An embroidered dress from Ramallah, made in the 1930s, speaks to the lived experience of the Nakba. Donated by its maker to a woman who was forced to leave her home in 1948, and walked into the West Bank as a refugee, the dress has been enlarged to fit its new owner using sacking from the UNWRA-issued bag of flour. It sits in conversation with work by artist Aya Haidar, which captures the artist's memories of growing up during the civil war in Lebanon. On a series of domestic embroidery hoops she has stitched scenes illustrating the gestures her family took to stay safe at home from snipers and bombs. Pots are worn on the head while watching TV, furniture is piled against the windows, children sleep under beds in case the ceiling caves in. Haidar's work, as much as the historical garment it speaks to, reflects the particular ability of textiles to capture lived experience, and embroidery's embodiment of resilience.
SC: Do you have any personal favourite works that will be displayed or pieces that you are particularly excited to be able to include?
RD: I'm particularly excited that we are showing several 'Intifada dresses', loaned from Tiraz, in the exhibition, none of which have ever been displayed in the UK before. These are dresses made during the First Intifada, in the late 1980s, when embroidery took on fresh power as an instrument of Palestinian resistance. This was a period when the Israeli authorities banned the display of Palestinian colours in public and confiscated Palestinian flags at protests. In this charged context, women in the West Bank embroidered motifs of Palestinian nationalism onto dresses of gunmetal greys, blues and blacks. The typical motifs of historical dresses—geometric patterns inspired by nature, flora, architecture and everyday life—mingle among a new vocabulary of symbols: doves taking flight with rifles held between their claws, the Ship of Return sailing along the hem, the word 'Palestine' in English and Arabic, and the Dome of the Rock and Al-Aqsa Mosque stitched in national colours.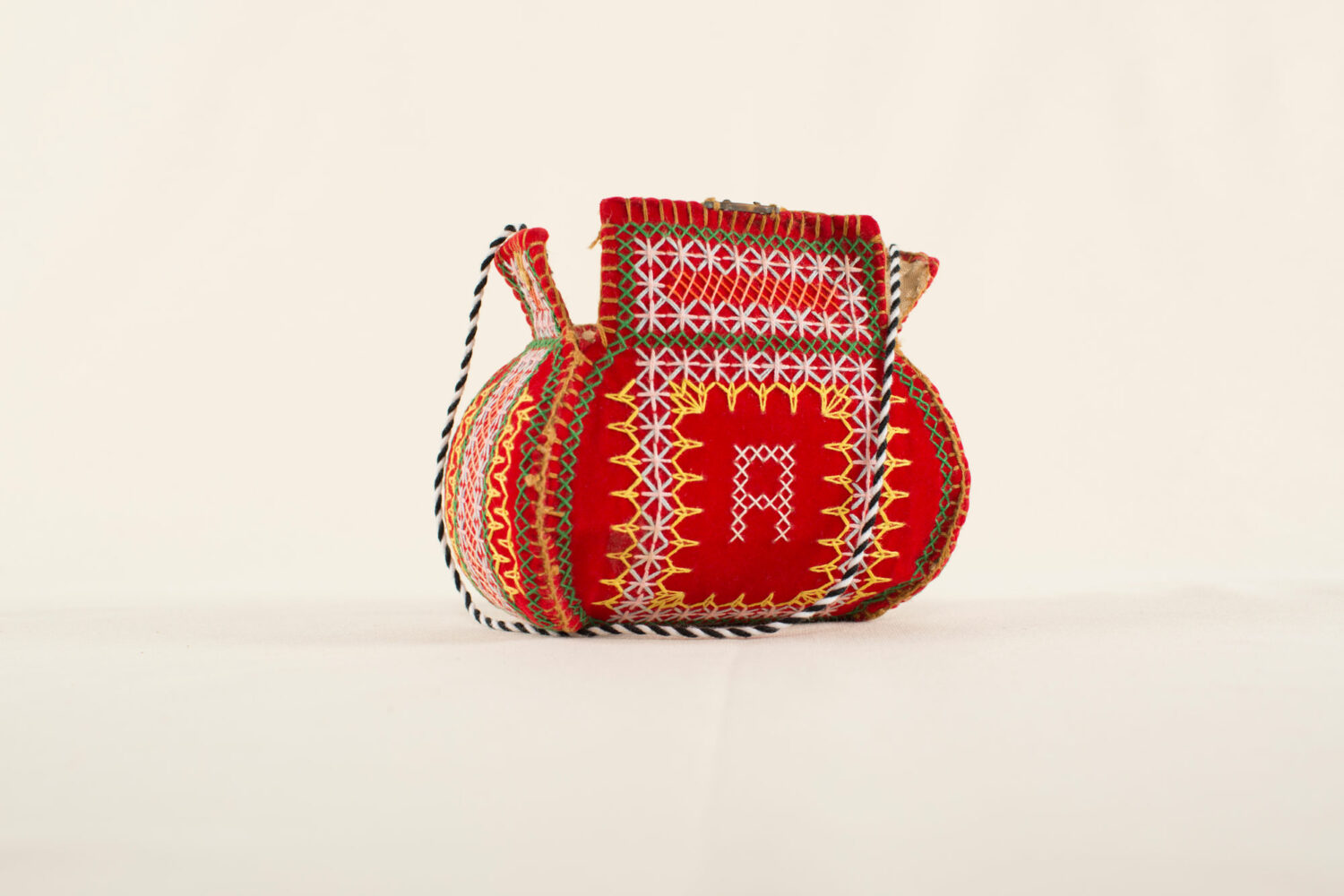 Intifada dresses rendered women's bodies sites of active political resistance; they could not be confiscated from the body, acting as both medium and message. Embroidery, however, is an unlikely tool of protest. The things one usually does for a demonstration tends to be quick and spontaneous: street graffiti, a painted banner, scrawled signs. These hand-stitched dresses are the antithesis; embroidery is by nature laboured and slow. Each dress would have required months if not years of work, under difficult conditions, stitched in secret. These garments are extraordinary, not least in their reflection of the notion of sumud—steadfastness—and the ongoing, extended nature of Palestinian resistance.



Feature image: Everyday dress from Gaza or Hebron, 1935-1940, from the collection of Tiraz: Widad Kawar Home for Arab Dress