Discovering Pope.L: 5 Groundbreaking Works You Need to Know
Pope.L is an American artist whose work in performance art and interventionist public art has established him as one of the most influential artists of his generation. Pope. L's work challenges society's closest-held preconceptions of gender, consumption, social class and race. Although Pope.L has worked across many mediums, he is best known for his performance works. Whilst these performances have since been enacted in various prestigious institutions, many first took place on the street, where they called into question the significance of public space and actively engaged onlookers in the evolution of each piece. Below, we delve into five seminal works by Pope.L that provide insight into his artistic practice. These works continue to shape and inform our contemporary understanding of these themes and remain increasingly relevant.



The Great White Way (2001-2009)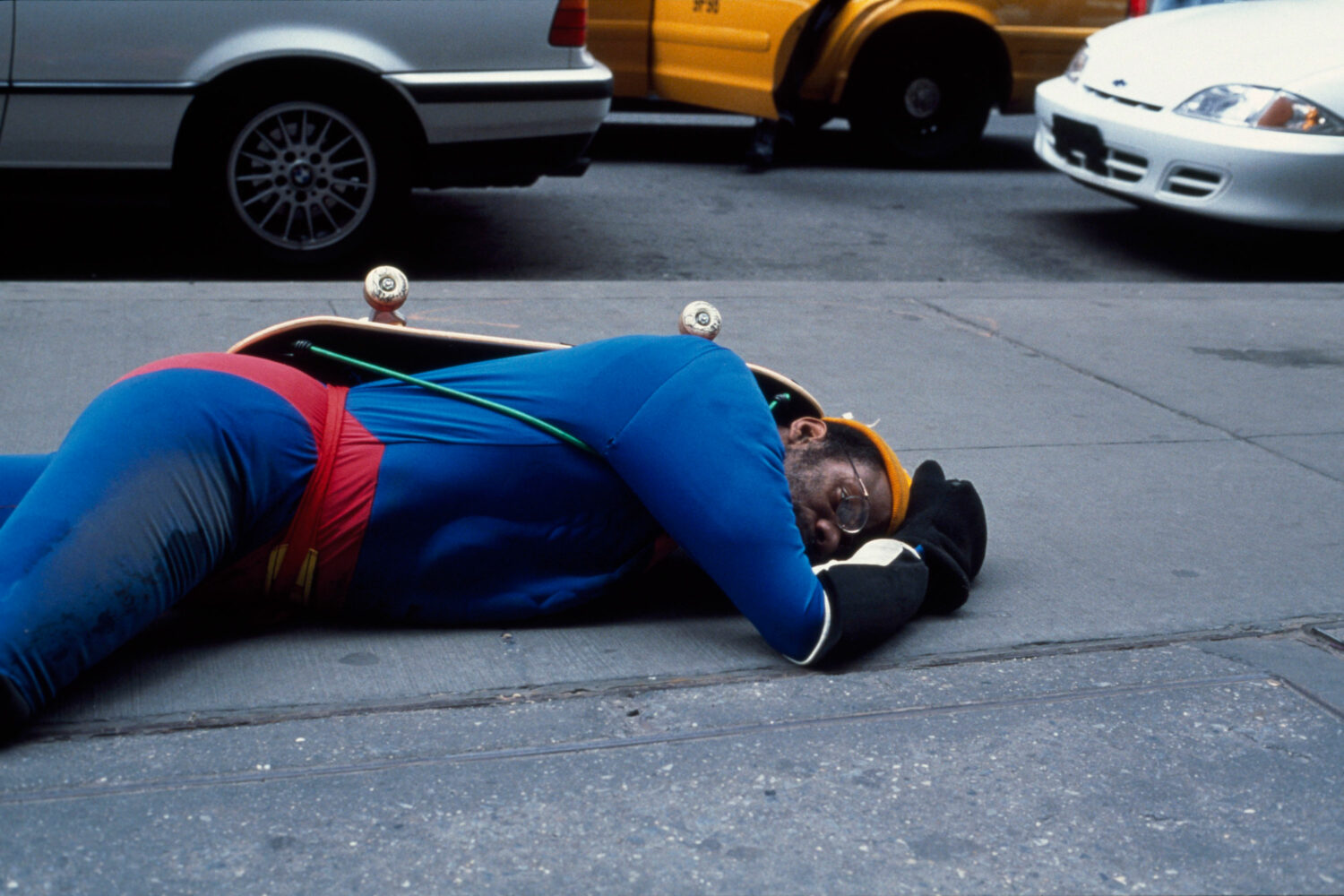 The Great White Way combines grim humour and grinding resilience- two staples of Pope.L's work. This piece saw Pope.L crawling the entire length of Broadway (twenty-two miles from The Battery to his mother's house) over a series of performances, wearing gardening gloves, a skateboard tied to his back and a Superman Costume. The Superman costume adds a sense of irony to this piece, yet it does not feel light-hearted or comedic. Instead, it only reinforces the degradation of this act, making it more uncomfortable, not less. The act of crawling represents the impossibility of escaping the stereotypes assigned to us from birth.



Eating the Wall Street Journal (1991)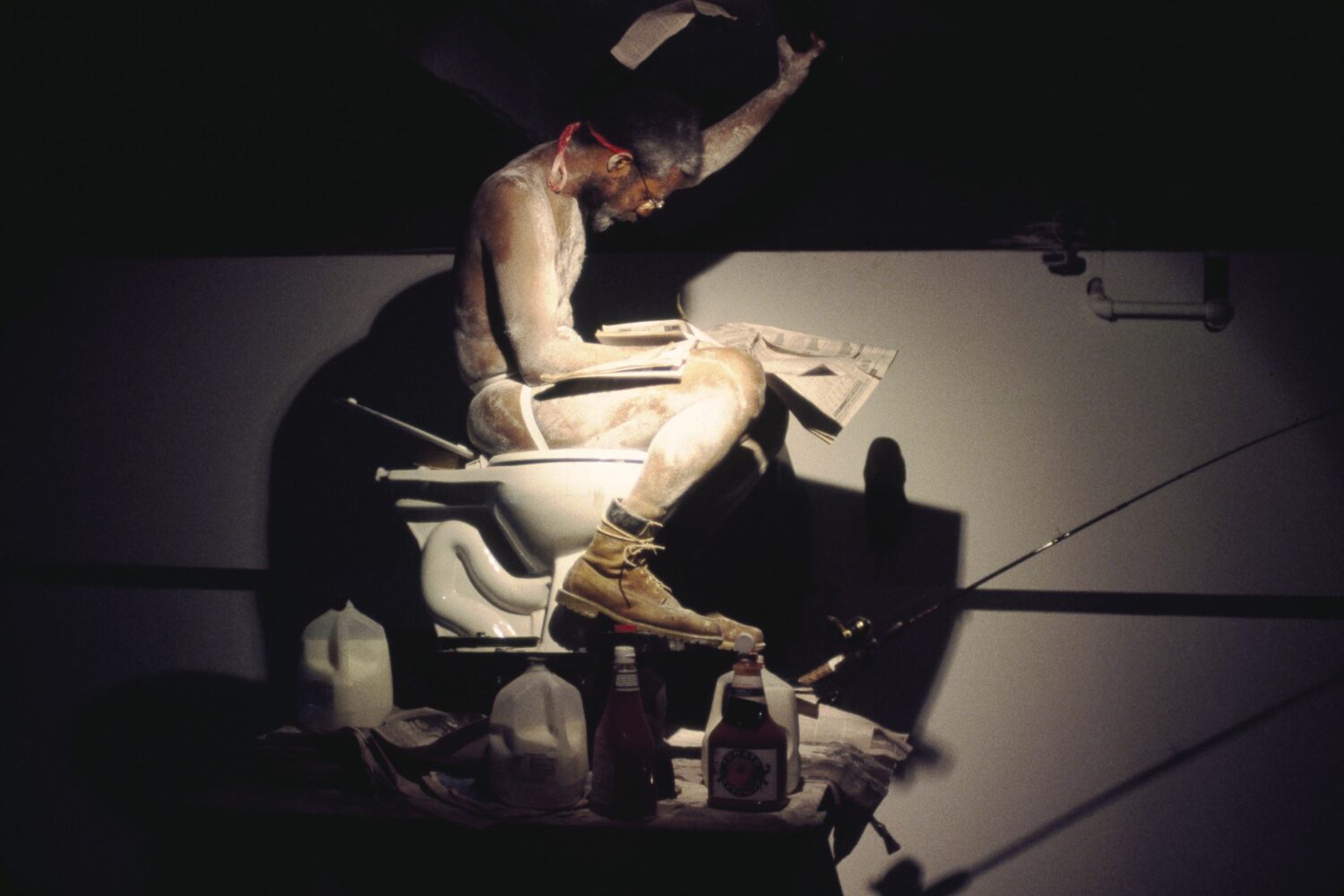 The Wall Street Journal is one of America's best-known financial newspapers, and in Eating The Wall Street Journal Pope.L, as the title suggests, ate it whilst sitting on an American flag. This shocking piece was a scathing critique of America's consumerist culture under capitalism. Pope.L would then perform several iterations of this work. However, in later performances, he would spit out the paper rather than swallow it- due to his realisation after the first performance that the chemicals used in newspaper ink were unsafe for human consumption.



ATM Piece (1997)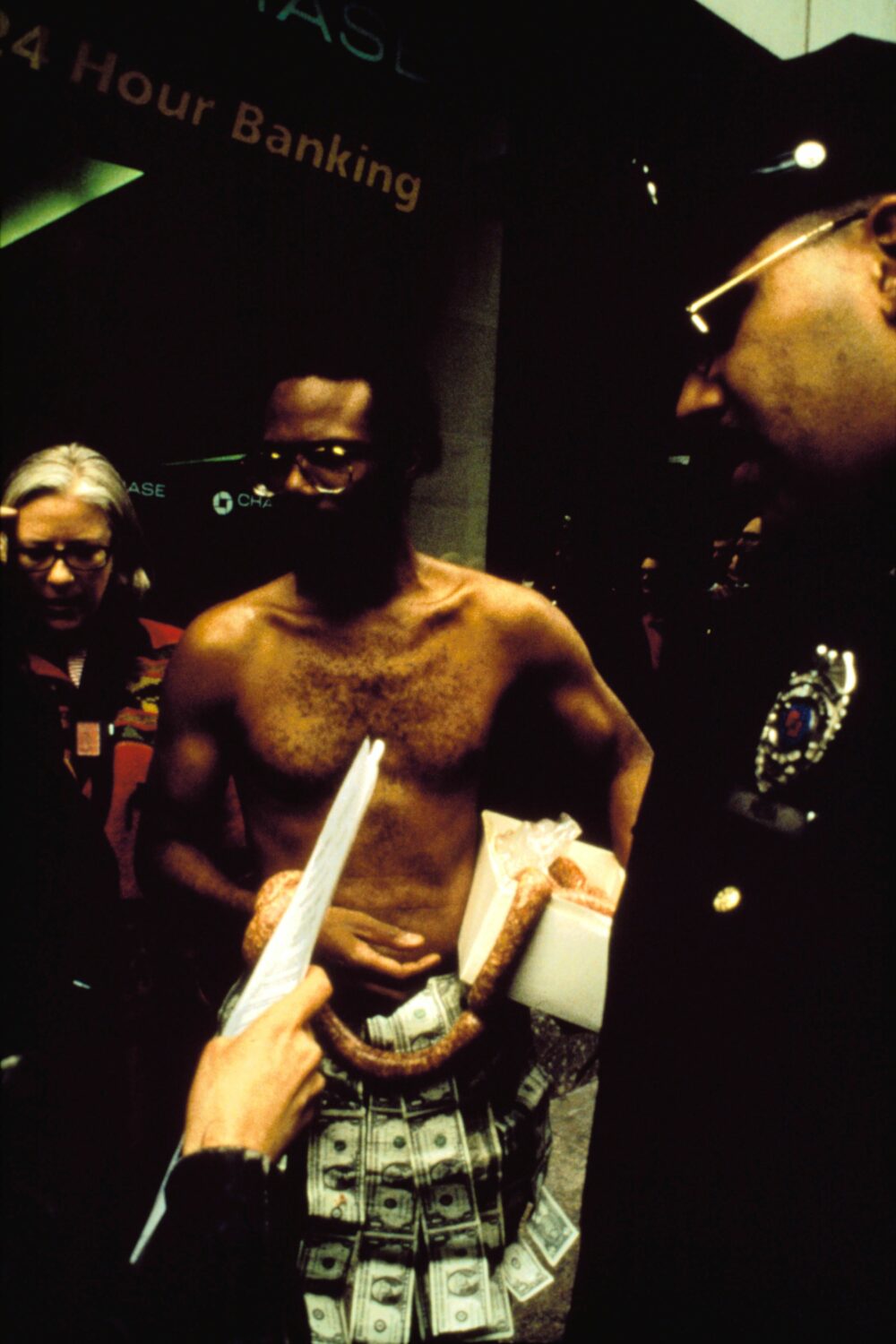 In ATM Piece, Pope.L chained himself to the entrance of a New York bank using sausage chains. Throughout this provocative performance, Pope.L wore only a pair of Timberlands and a hula skirt made of detachable dollar bills. He slowly took this precarious outfit apart as he began handing the dollar bills from around his waist to onlookers. However, the bank's security almost instantaneously called the police- a reaction Pope.L predicted and intentionally provoked. This piece again addressed the stereotyping of people of colour, directly referencing a law passed in 1996 that prohibited panhandling within ten feet of the ATM.



Thunderbird Immolation a.k.a Meditation Square Piece (1978)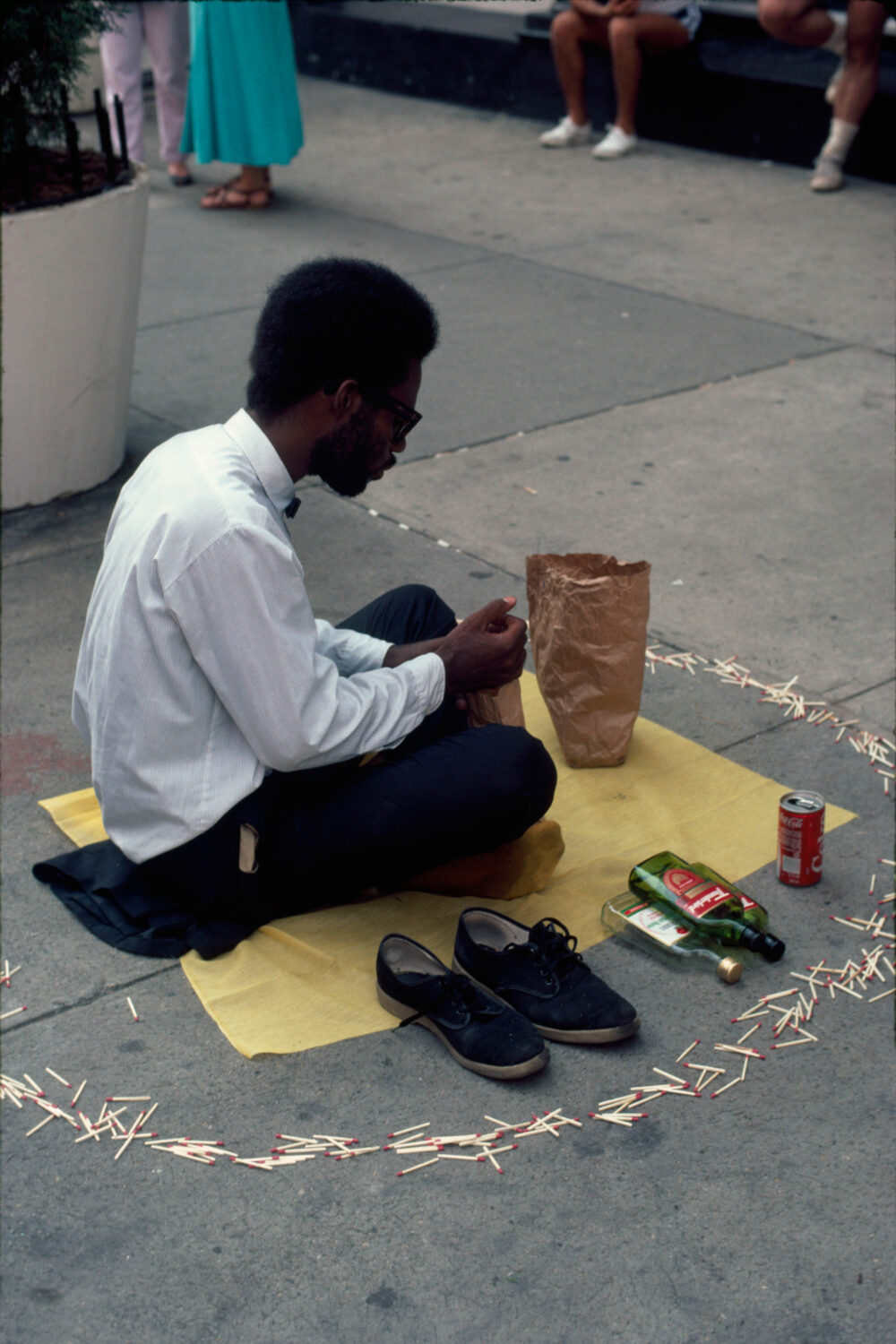 Pope.L performed Thunderbird Immolation a.k.a Meditation Square Piece, in 1978 when he sat in the street in the lotus position, on top of a yellow blanket, and surrounded by matches. This piece referenced the monks who had burned themselves alive to protest the Vietnam War, and here, Pope.L explores the tenuous boundary between performance art and activism.



Trinket (2015)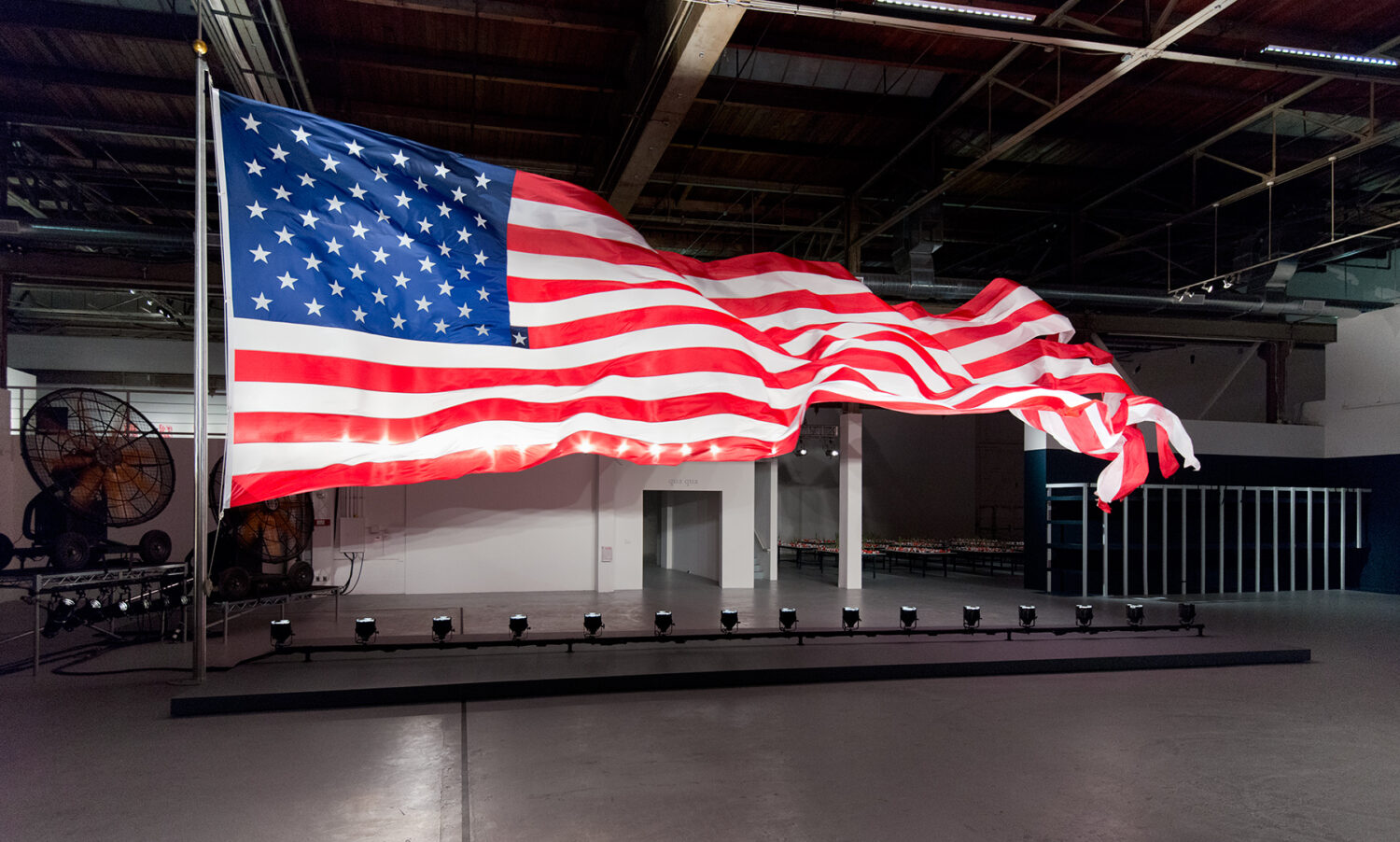 In 2015, The Museum of Contemporary Art at the Geffen Contemporary in Los Angeles presented Pope.L's Trinket exhibition. The exhibition was named after the central artwork, a gigantic 16×45-foot American flag illuminated by spotlights and blowing in the wind of four industrial-sized fans. Throughout the exhibition, this flag eventually began to disintegrate, worn out by the perpetual blowing of the fans. Eventually, despite the enormity of the flag and the spotlights surrounding it, the billowing American flag began to look exhausted and undone. A not-so-subtle criticism of America, Pope.L once again takes aim at the myths of American democracy.



Words by Emily Burke | Feature image: Pope.L, Thunderbird Immolation a.k.a. Meditation Square Pieces, 1978. © Pope.L / Courtesy of the artist and Mitchell-Innes & Nash, New York