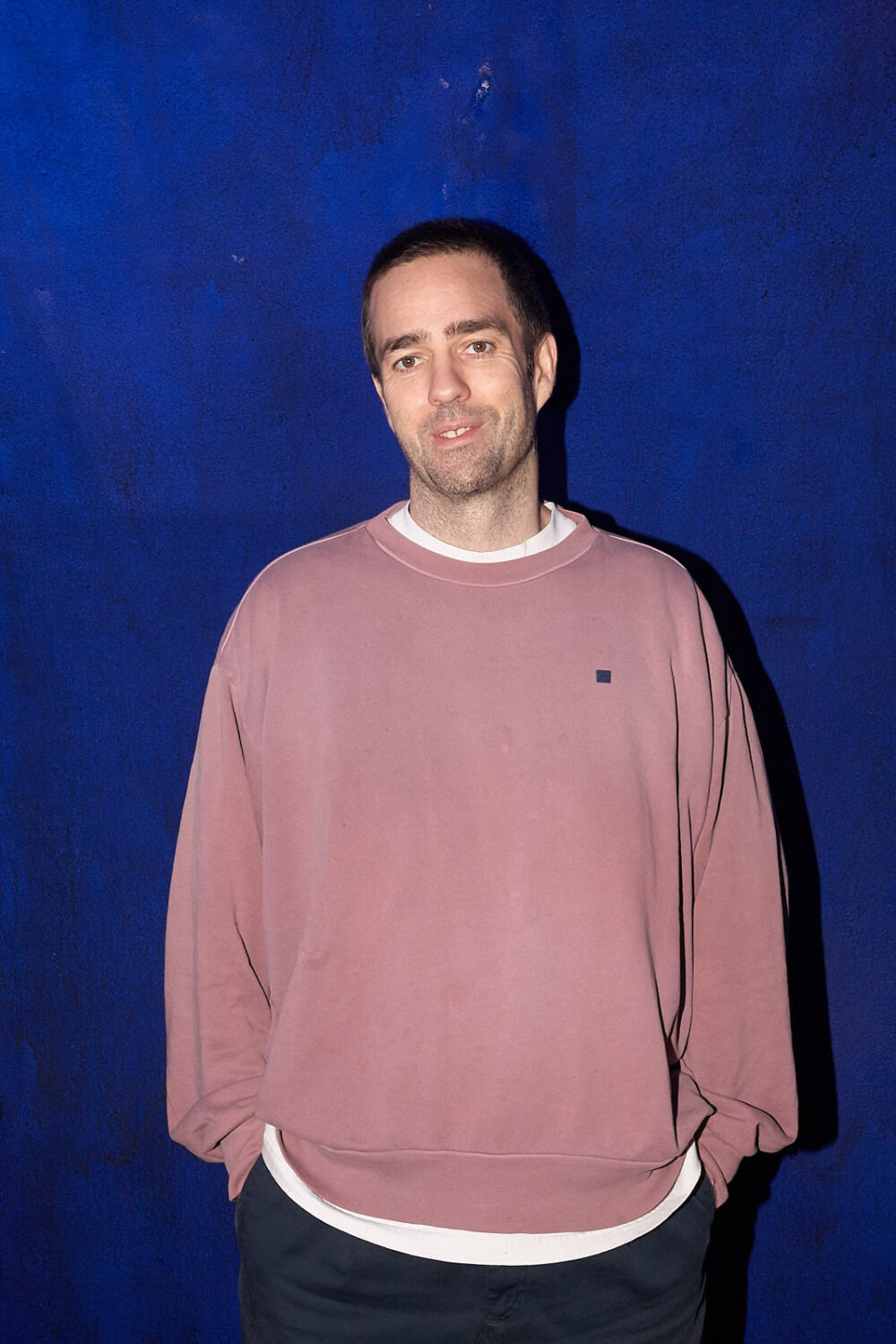 Jonathan Alphandery is the wine-collector-turned-restaurateur behind lauded Modern European restaurant Planque which he opened with chef Seb Myers in Haggerston, east London in 2021.
Alphandery was born and raised in Paris. In 2009, he moved to Sydney to be with an ex-girlfriend, who was studying in his hometown. "Pretty classic," he says. For the majority of the nine years he spent in Australia, Alphandery worked for the macaron brand Ladurée which he believes taught him a lot: "It made me realise everything I didn't like about the corporate, global food industry."
Before opening the restaurant in London, Alphandery spent a year in the French capital with his wife and their son. It wasn't right. Culturally, London was the best of both worlds; gastronomically, they felt it was much more inspiring and compelling than Paris.
Planque, which is necessarily oriented around the wines that Alphandery has spent the last decade and a half amassing, is an extension of the man and his tastes. The list spans his favourite regions, including the Jura, Champagne, Burgundy, the southern Rhone, and Barolo. "I've only ever bought stuff I really loved," he told me during a phone call in October. "It wasn't intended to be anything more than something to drink with friends – which it still is, in some ways."
Alphandery lives in north London with his wife Bianca and their son Auguste.
This is him and his chosen things, in his own words.
---

Contax T3 camera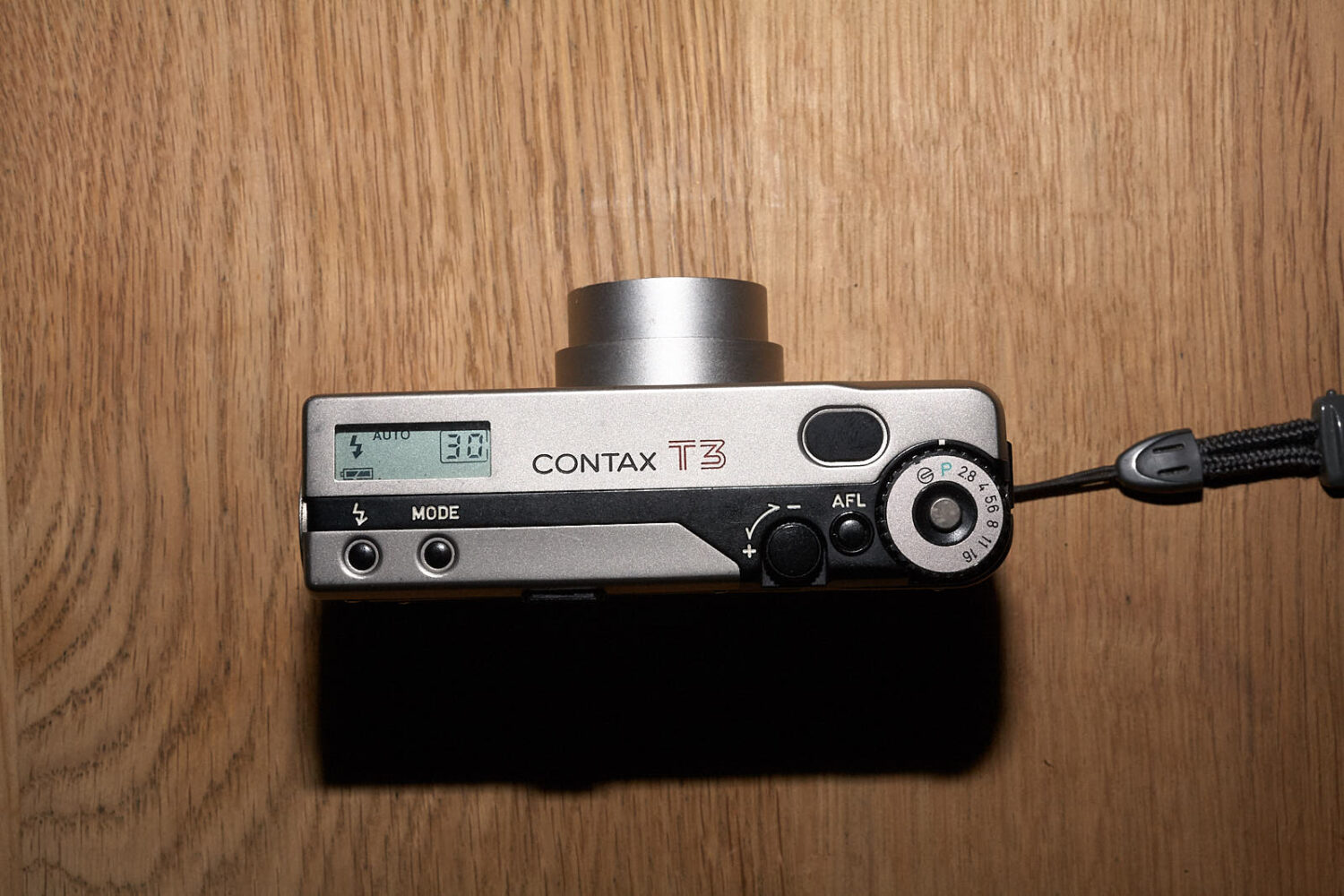 Everything about the film camera is magical. This is a staple, which I've had since 2016, when I bought it on eBay from Japan when I was living in Australia, before the model was made famous by Frank Ocean and the price shot up!
Shooting on film is a hobby, but it's become part of the Planque aesthetic, some of which are a bit blurry and imperfect. But I love the analogue aspect: not knowing what you just shot. I use it to take photos of food, my son, landscapes, wine trips.
My mum's partner was a photographer so I got an early taste for the whole process.
---

Clay bust by Bianca Pina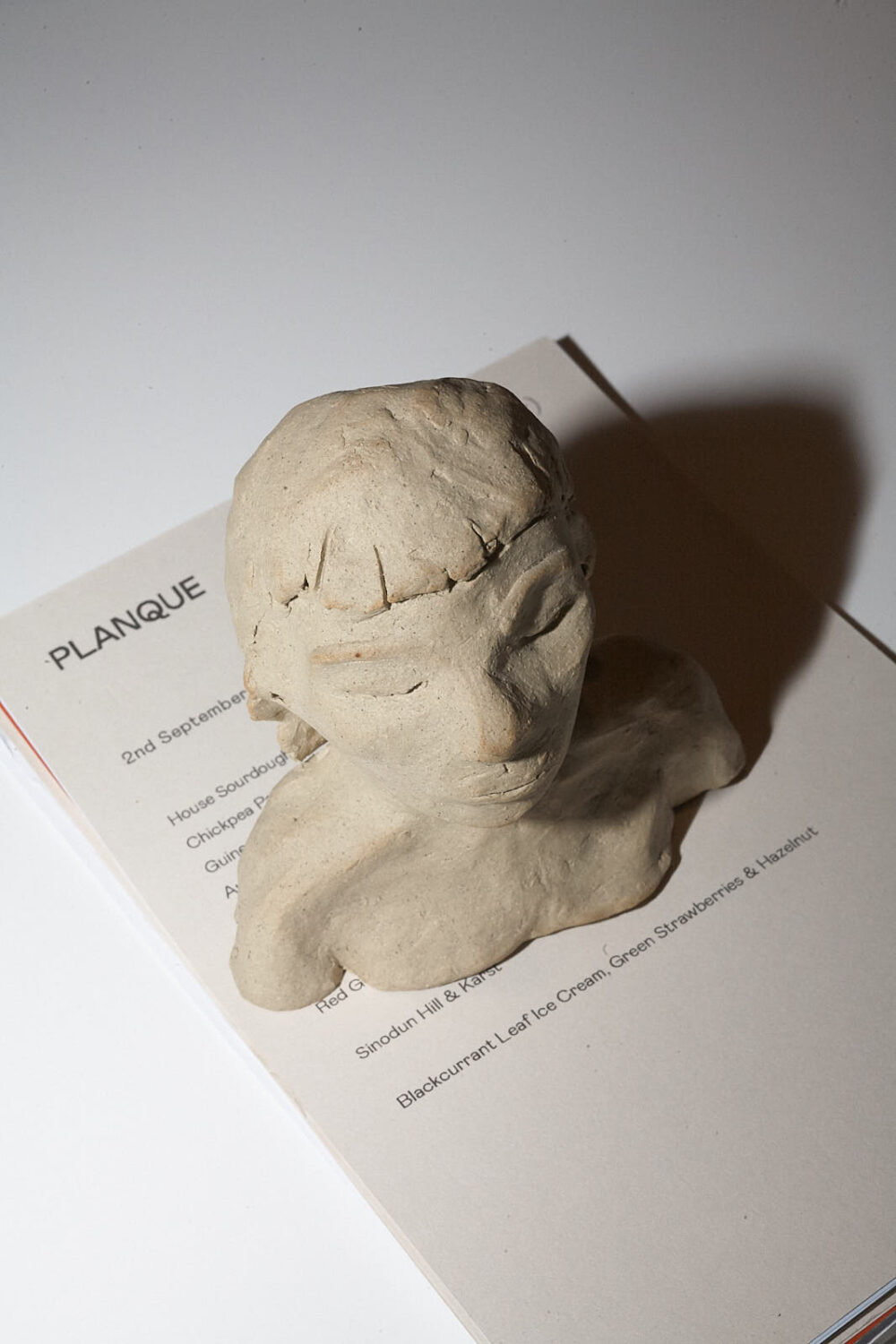 My wife made this hand-formed bust, but she didn't like it. I do. I just took it one day, and it's been on my desk since.
It reminds me of Bianca while I'm at work – it's peaceful with its eyes closed. I like the size of it, and it's a little wink to her involvement in the restaurant: she built the website, did the branding, the logo, and was involved in the build.
Bianca was involved in Planque's creation by default: she's always had a vision that is apart from the exclusive food and wine industry. I often think it would have been [a very different restaurant] if had just been me and my vision. Her non-hospitality brain meant she steered it away from becoming just another east London restaurant or boys' wine club.
She's hard to please when it comes to her own work. At least she's happy for me to have this sculpture.
---

Nancy & Lee by Nancy Sinatra and Lee Hazlewood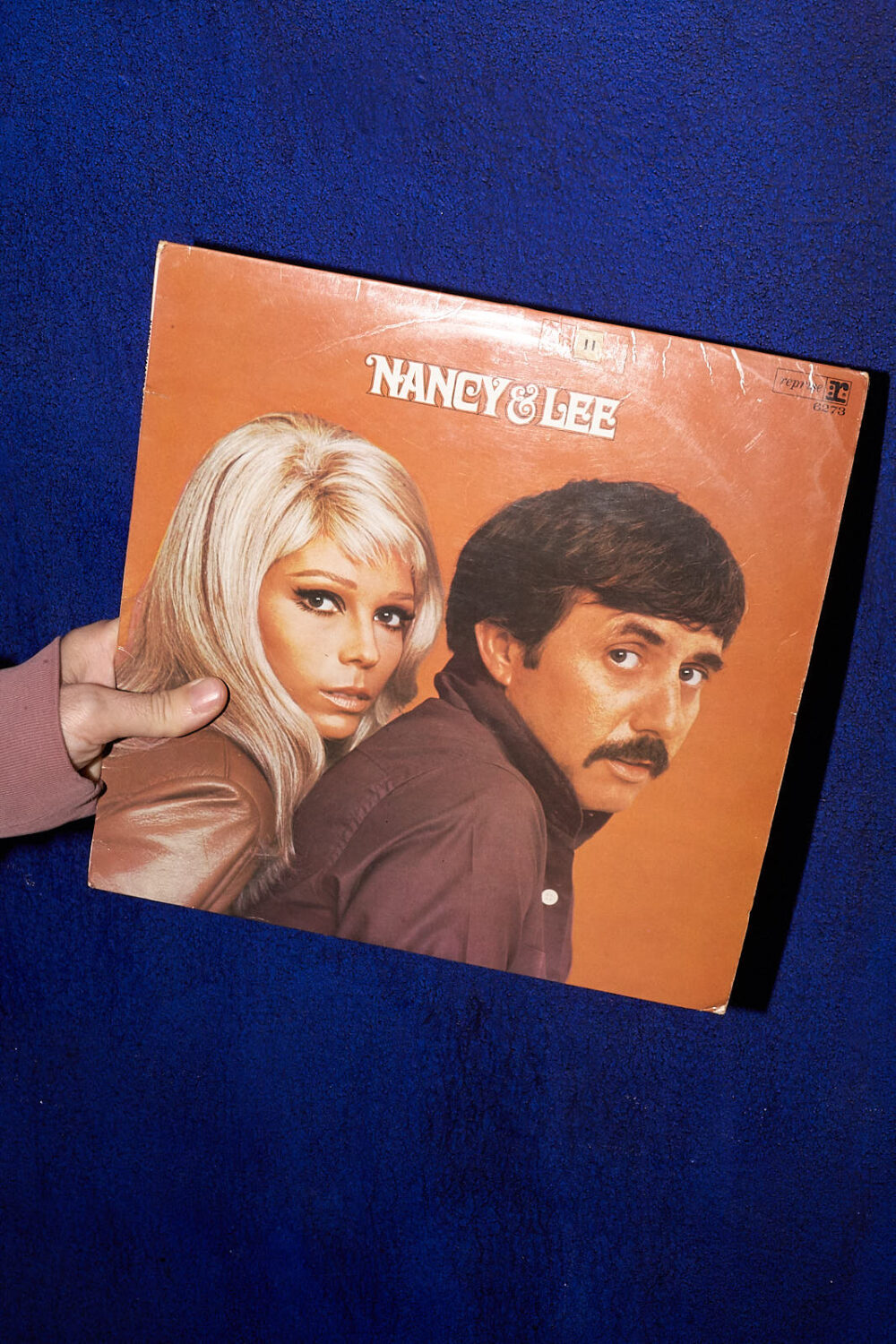 This is very much Bianca as well.
It features a track called "Summer Wine" which has this incredible video from the 1970s.
When we met and got together in Australia in 2016 we listened to it a lot and it's always remained an anthem to the early stages of the [Planque] project – and a reminder of the early days of our relationship.
We bought this record when we were in New York City together in, I think, the late spring or early summer of 2018 – somewhere in Soho or the West Village.
---

La Lune Noire sticker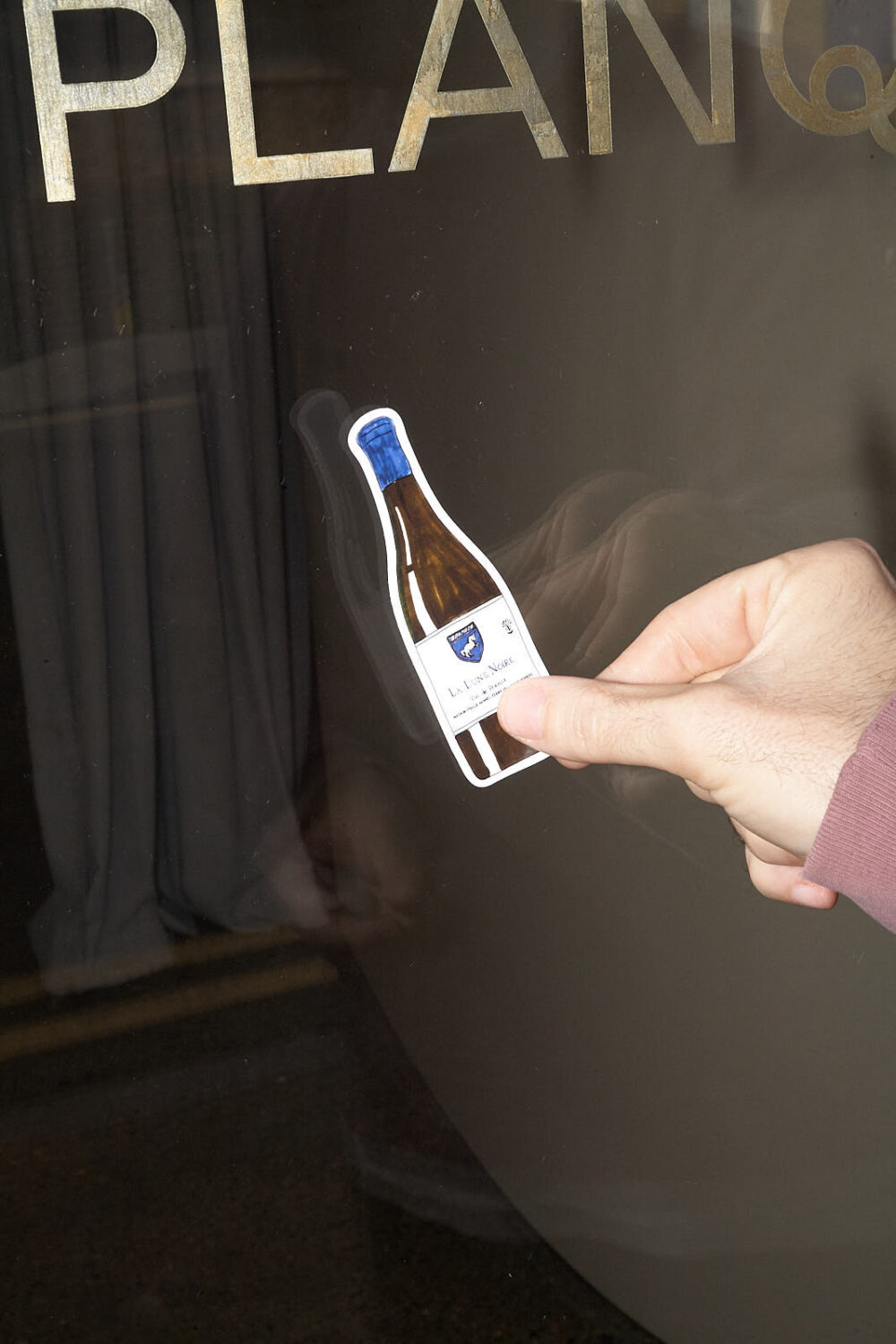 We have an illustrator friend called Anna Vu who lives in Paris and does these food and wine bottle drawings under the name Good Food Crap Drawing. So we commissioned her when we opened the restaurant to do sticker packs and postcards. This one is from the latest collection.
This one is of a bottle made by a winemaker friend called Martial Angeli who has been making wine in the Loire since the early 1990s – incredible chenin blanc from in the thick of chenin blanc heaven. The unicorn and text is old-school style, but the wine is all biodynamic and is quite close to my heart.
I also love stickers and I love merch – there's something tactile about these. And Even though they're not obviously "Planque", they're not branded; they've become recognisable as by Planque.
---

Menu book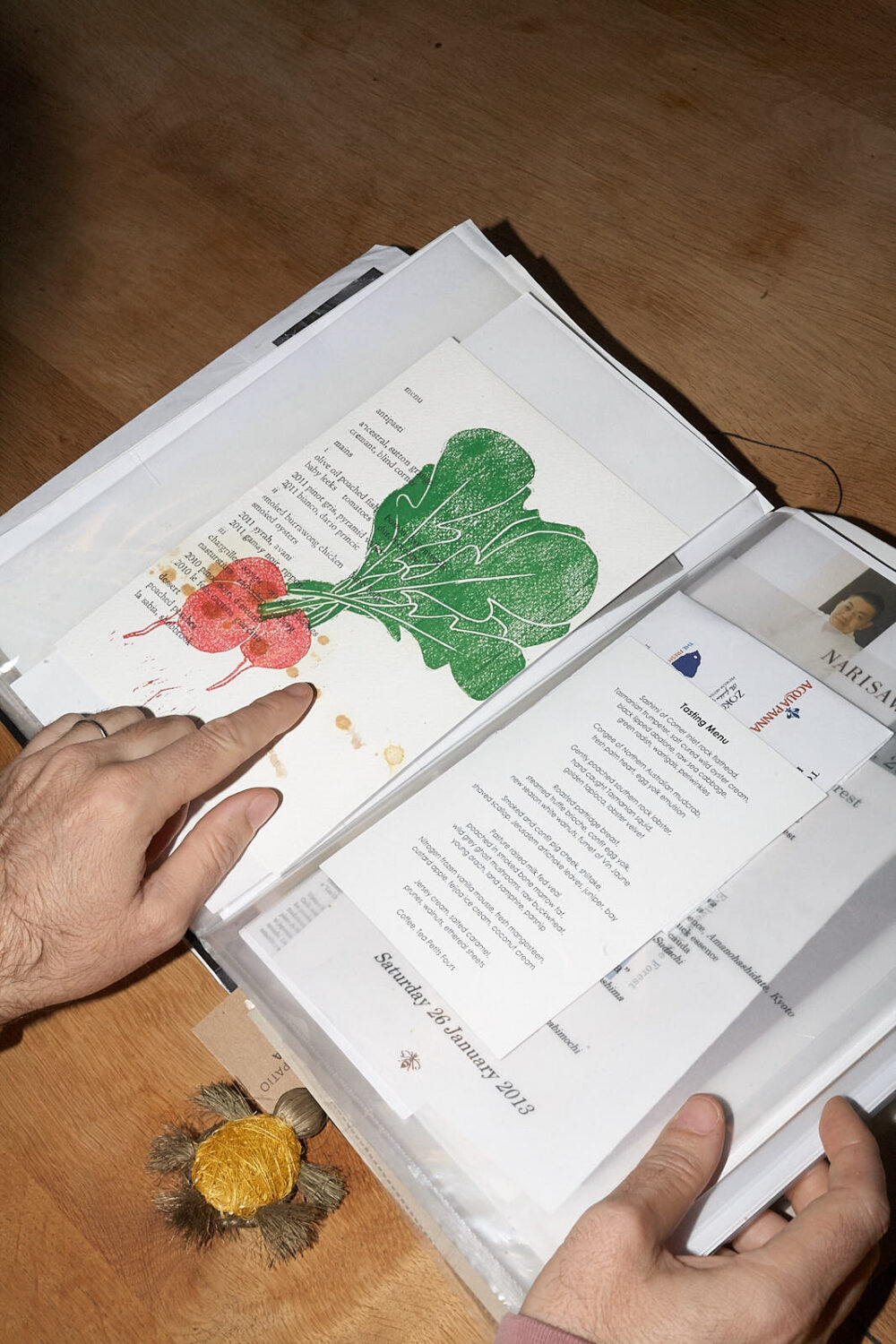 This a collection of all the most important menus, since 2010, when I first really got into restaurants.
It started with a Sydney Food Festival David Chang pop-up in the absolute heyday of Momofuku — then the most exciting place to eat in NYC. I won a reservation in a lottery and was surrounded by 99 percent hospitality people, including this new generation of Sydney chefs. It was epic, amazing energy.
I made friends, exchanged numbers, and it was also around the time of Twitter becoming a thing. From then on I was obsessed with food.
This folder has menus from Japan, the US, Momofuku Australia, Garagistes in Hobart.
It's a memory book: of meals and of friends made along the way. And it reflects my journey, from that meal in 2010 to opening a restaurant in London 11 years later.
---

"No Barrique, No Berlusconi" Barolo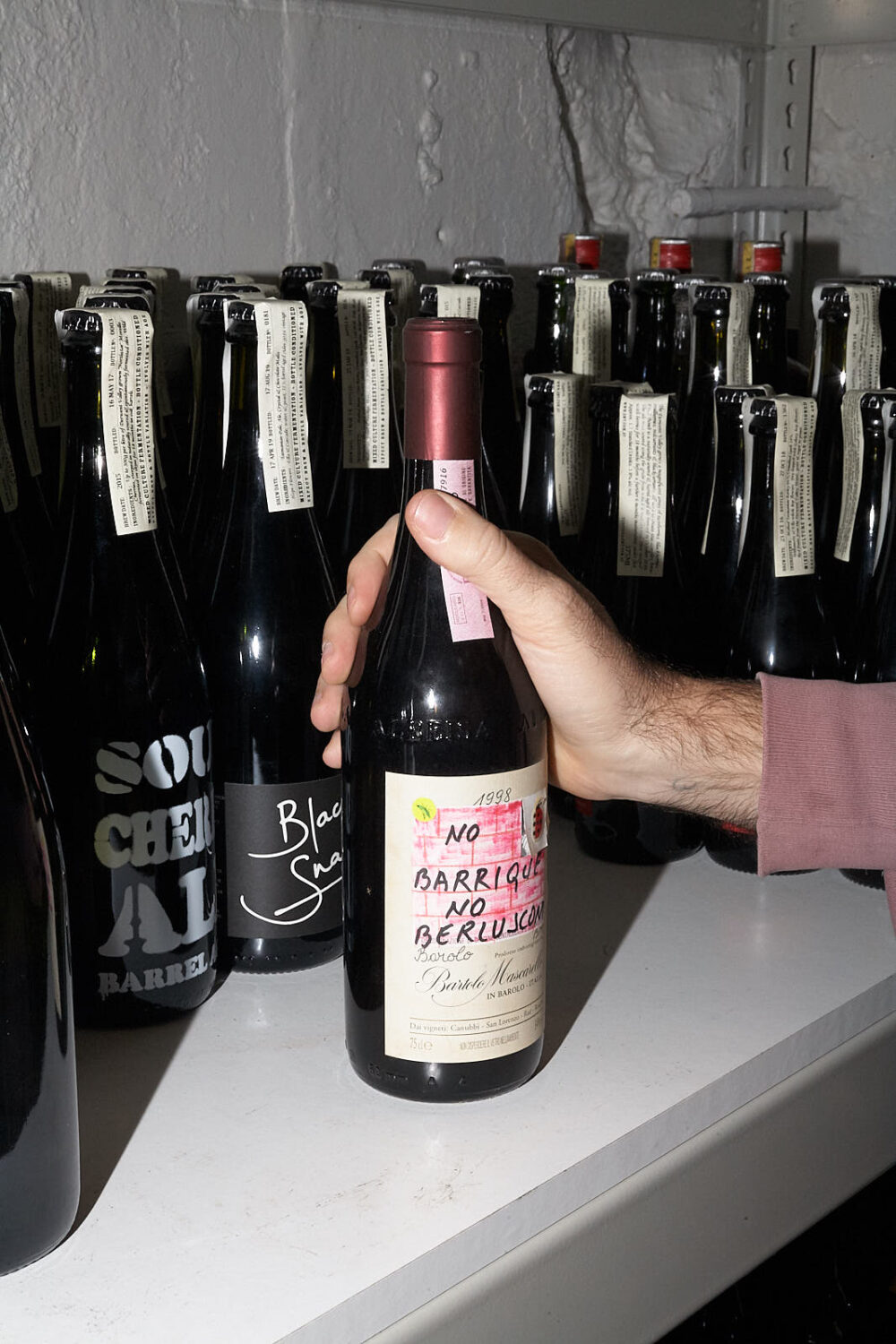 I wanted to include a bottle of wine in this feature, but had to find one iconic enough.
This comes from one of the greats of the traditional Barolo school, Bartolo Mascarello.
He was very political at the time (this vintage is from 1998) in winemaking and in politics itself, in opposition to Prime Minister Silvio Berlusconi.
Around this time there was a movement in Piedmont from traditionalists who were rejecting the changes winemakers were making to suit the palate of influential American wine critic Robert Parker, and the oak-forward styles that were getting all the plaudits.
"No barrique" refers to the oak barrels being used to achieve this modern style. Big barrels ("botti") are the traditional ones. The bigger (and older) the barrels, the less oaky the wine becomes as the impact of the wood is lesser. Small new oak barrels are what the modernists introduced, to appeal to the Parker taste. Mascarello was a leader of one side of this movement, the guru.
This also fits with the wine ethos at Planque: traditional versus modern, which we use more than, say, natural versus conventional.
Around this time, Mascarello was also very vocal about Berlusconi; he loathed him to death, but it was illegal to have his face appear on goods and was classified as defacing the Prime Minister. This is why his face sits behind the little peek-a-boo ladybird flap.
These hand-drawn labels are rare, and this one in particular is a pretty all-time bottle.
---

Faber Castell Connector Pens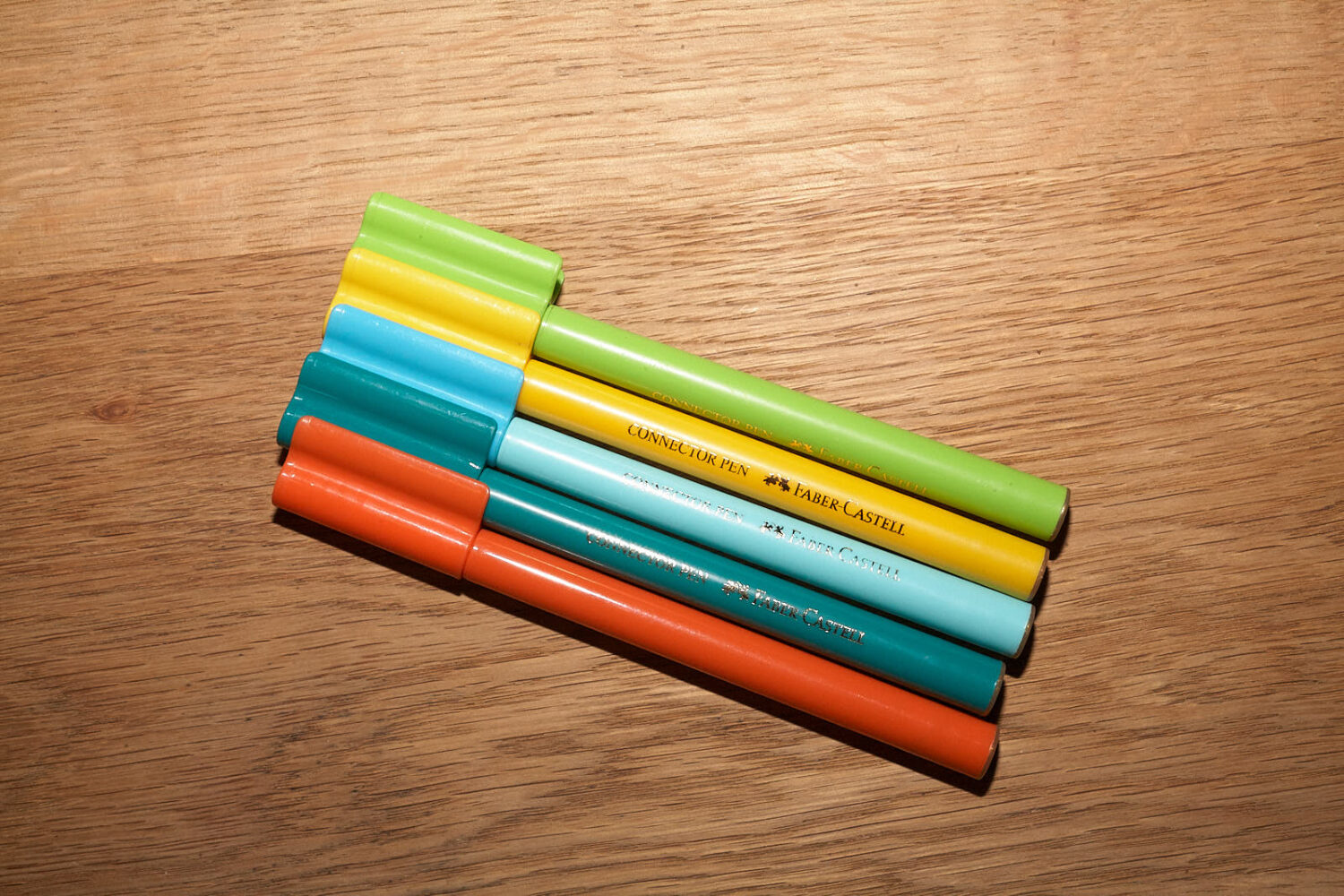 These are a nod to my son, Auguste.
They're in the restaurant, leftover from a workshop we did with Anna, the illustrator. A load ended up at our house, but there are a handful here, too, which we give to kids when they come to the restaurant.
They reflect the importance of being welcoming and not having kids frowned upon – we're kid-friendly, dog-friendly(!), the "French way", where they go out with the kids, and don't hide them.
---
Photography by Michaël Protin; Alphandery's words have been edited for clarity.