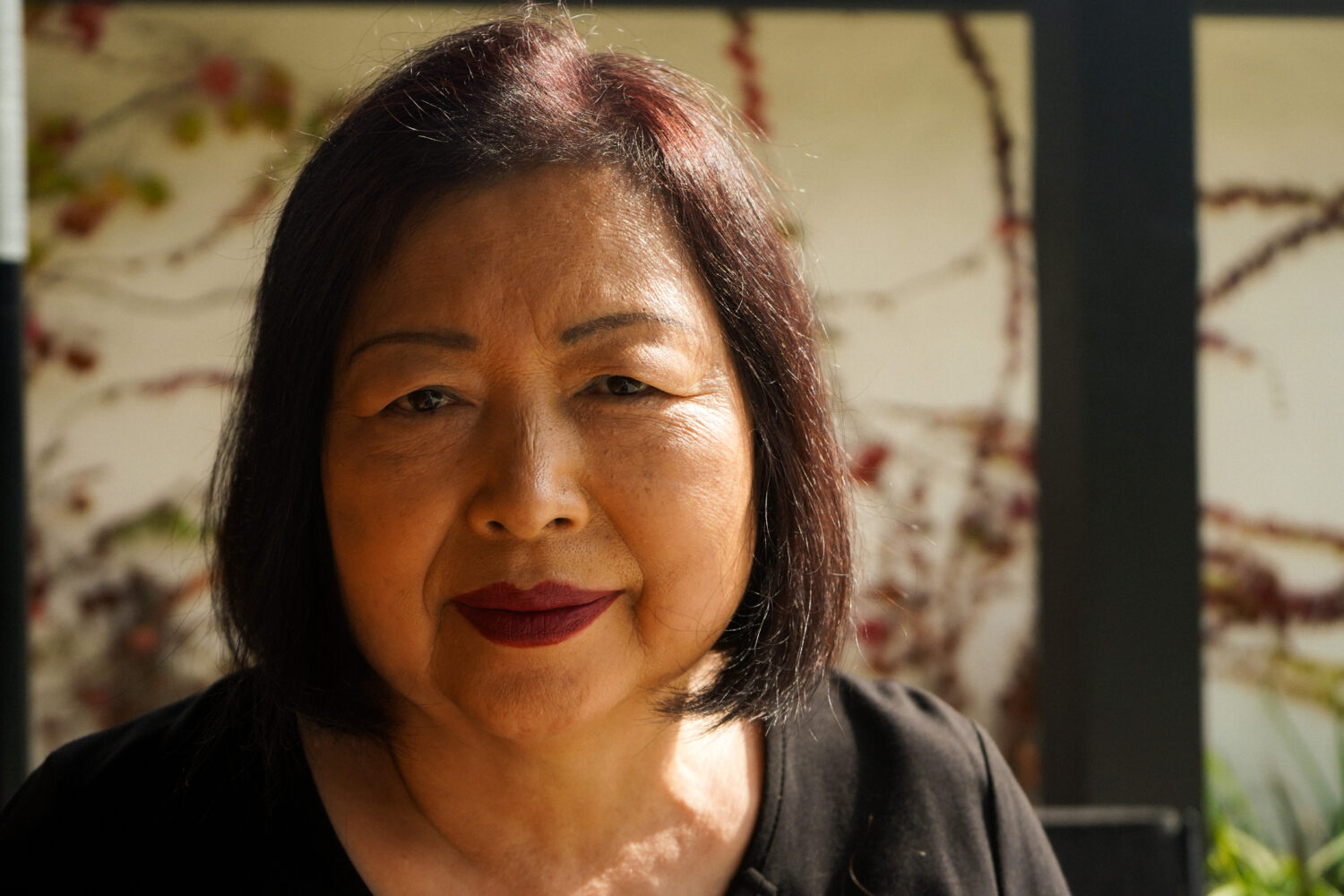 Three years after Monica Lee closed her legendary Los Angeles restaurant, Beverly Soon Tofu, she still gets calls about green onions. Lee, who is 70, used to wake up at 4 am to call the big produce markets and secure the best ingredients, rather than rely on a delivery. If she found a good deal on green onions, an ingredient any Korean, Chinese, or Japanese restaurant would use, she would buy a pallet. Ten minutes of calls to her fellow restaurant owners is all it would take to find a home for the rest, and those friends still trust her to know how to find the best. Her intense commitment to quality wasn't limited to her restaurant; she was out to support the Koreatown community. It's not for nothing that she was the longtime vice president of the Koreatown restaurant association.
Lee immigrated from Korea to Los Angeles in 1977, and originally had trained as a nurse. When she opened her restaurant in 1986, it was one of the first in Koreatown to specialize in a particular dish: soon tofu chigae, a hot, spicy soup served with meltingly soft hunks of tofu. Lee says that in Korea, the dish was usually served out of one big pot, but her experience cooking it at home led to make single-serving versions, which allowed customers to choose their spice levels and kept the tofu fresh and soft.
Over the decades, her restaurant achieved legendary status, hosting celebrities, earning the ardor of the late LA Times restaurant critic Jonathan Gold, and appearing on Anthony Bourdain's Parts Unknown. Lee closed Beverly Soon in the fall of 2020, a COVID loss mourned by many.
This fall, her first cookbook, Sohn-Mat, was released, which includes all of the recipes she'd perfected over the decades at Beverly Soon. "After I closed my restaurant, [I thought], what will I do? I could spend time with my two daughters. But also, I opened all my Beverly Soon Tofu recipes to my customers. Right now, I'm so satisfied. If I hadn't written the cookbook, maybe I would have gotten depressed."
Sohn-Mat is a Korean phrase that translates to "flavor in the hands;" the closest analogue in English might be the idea of a green thumb, or a good hand for bread. Lee inherited her skill as a cook from her grandmother, but she believes anyone can have sohn-mat. "Just pay attention, get more experience, and taste more. Then you will have sohn-mat," she says.
She has no plans to open a new restaurant, but in addition to maintaining her ties in Koreatown, she's exploring developing a soup mix, so even those still growing in their sohn-mat can enjoy her soon tofu chigae. Lee is currently renovating her home, so we met at her daughter CJ's house, in the El Sereno neighborhood. Lee and CJ spoke about the cooking tools and other objects most important to her.
---

Copper bulgogi grill pan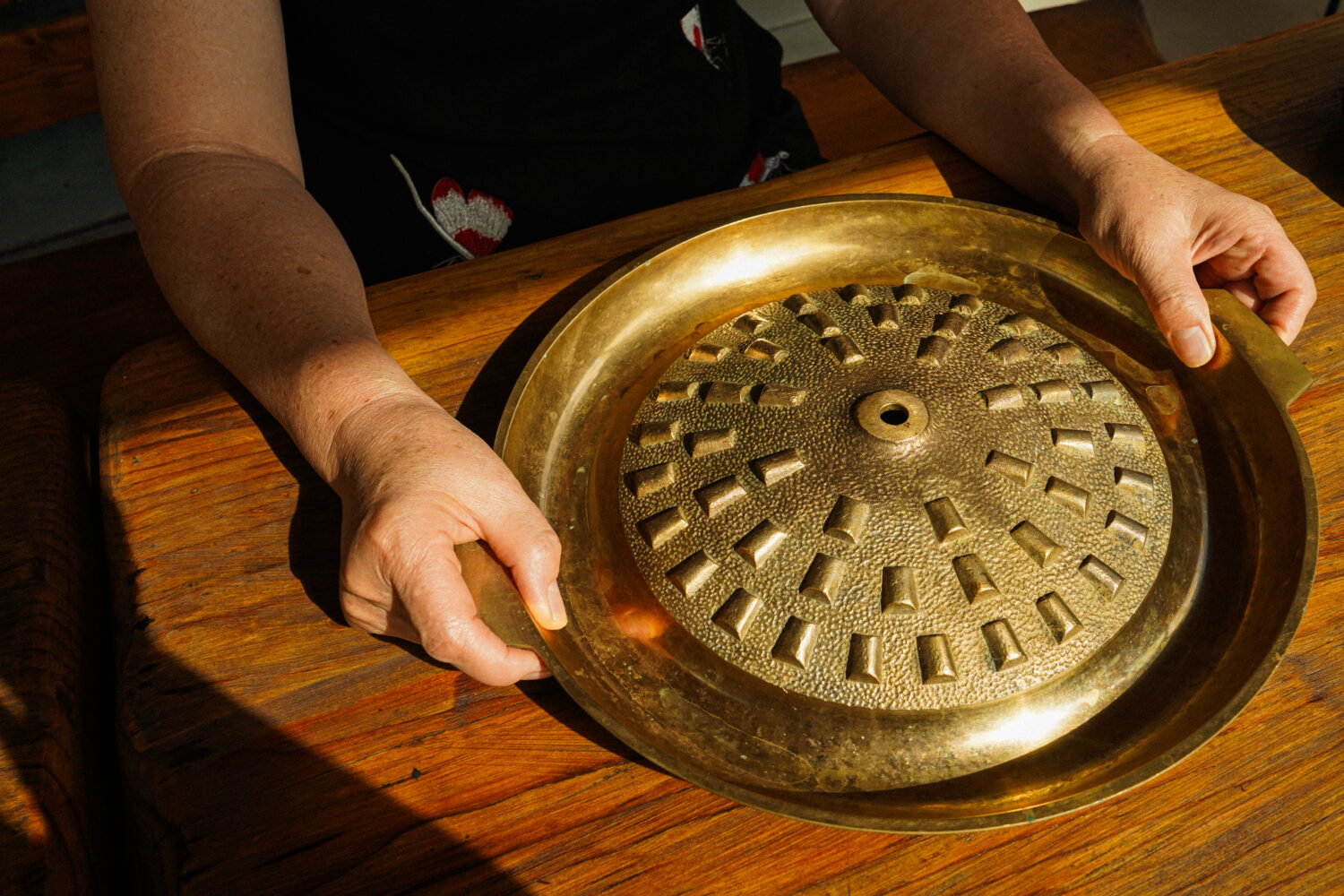 Monica: This is very hard to find here. It's copper. This has been in my family for maybe 60 years. It belonged to my grandmother. It's very thick and keeps food warm without burning anything. Maybe in Korea, you could find it in a kitchen supply store, but nobody will buy it, it's so expensive.
---

Square and round grill pan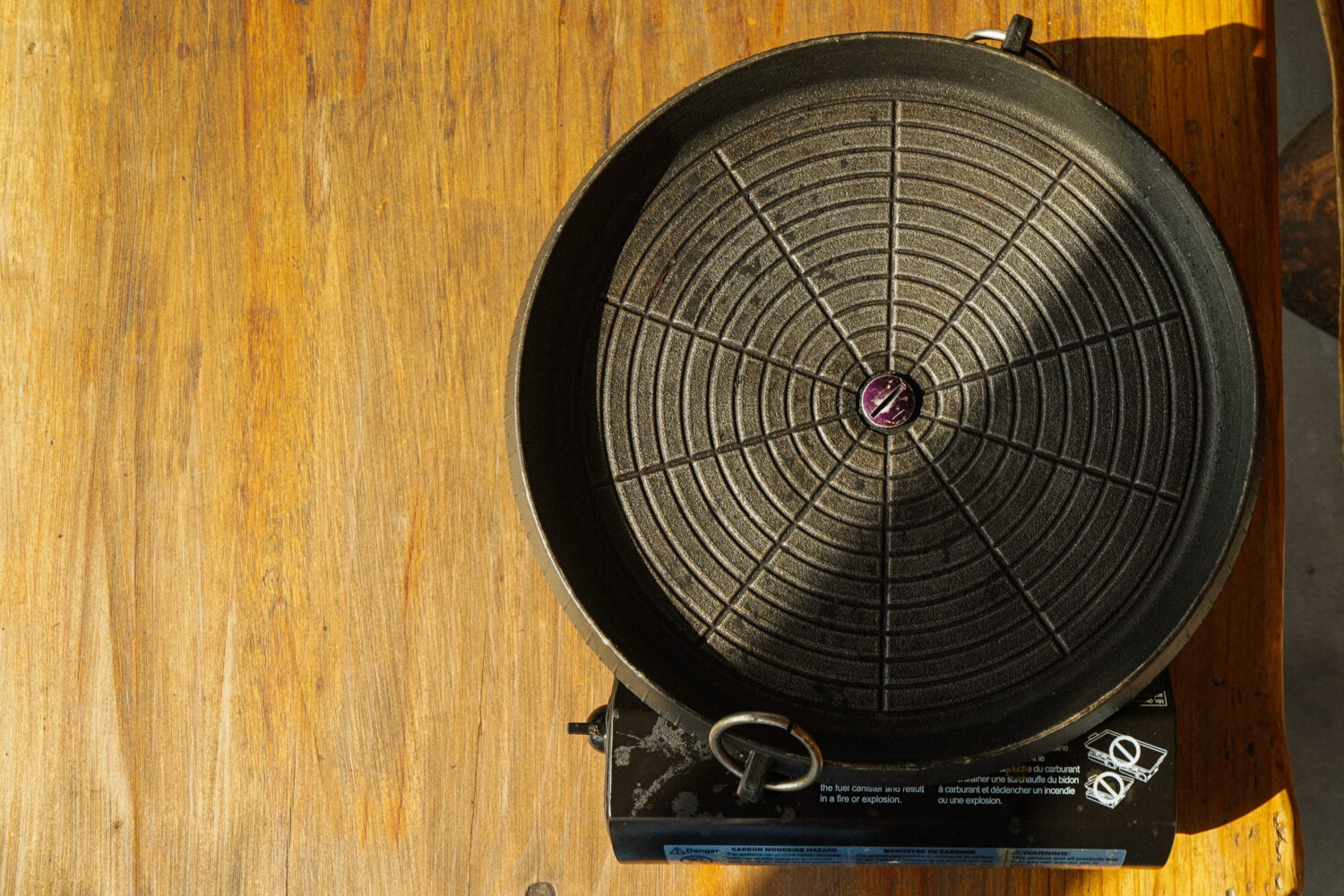 CJ: Depending on the type of Korean barbecue we have, we use these two. The square pan is for unmarinated meats. It's solid cast iron, so you get a hard sear.
Monica: Beef, pork, and seafood, too.
CJ: The round one is better for making the rice after you eat, and the fat drains through here. We put them on a portable butane burner we use for Korean barbecue. We usually have two-to-three out in the backyard.
---

Dosirak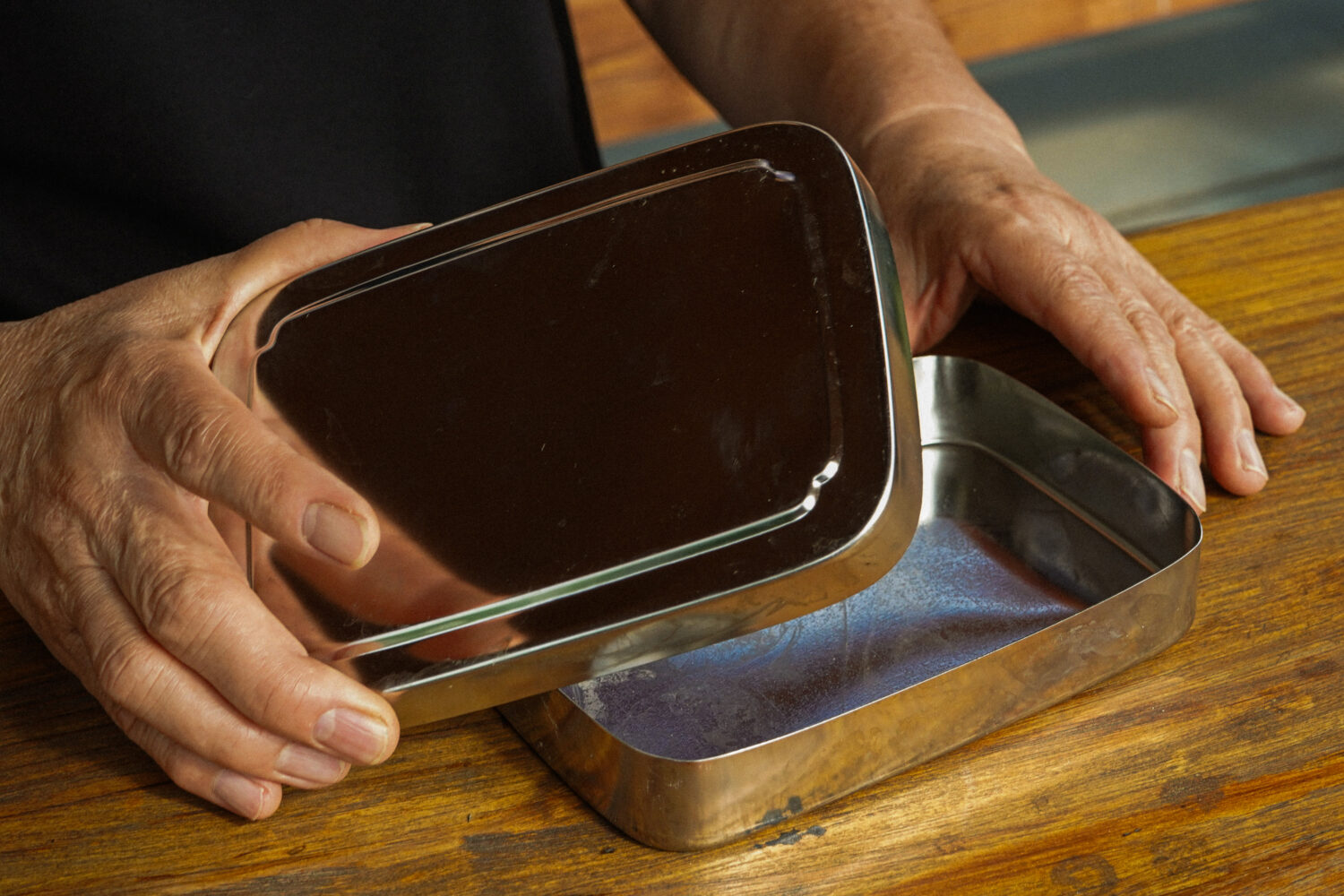 Monica: This is a lunch box from Korea. Right now, it's hard to find these, because nobody eats this small an amount. This one is from when I had a barbecue restaurant in 1995. We served rice with a fried egg on top of it.
---

Dried gourd candle holder painted with Beverly Soon's menu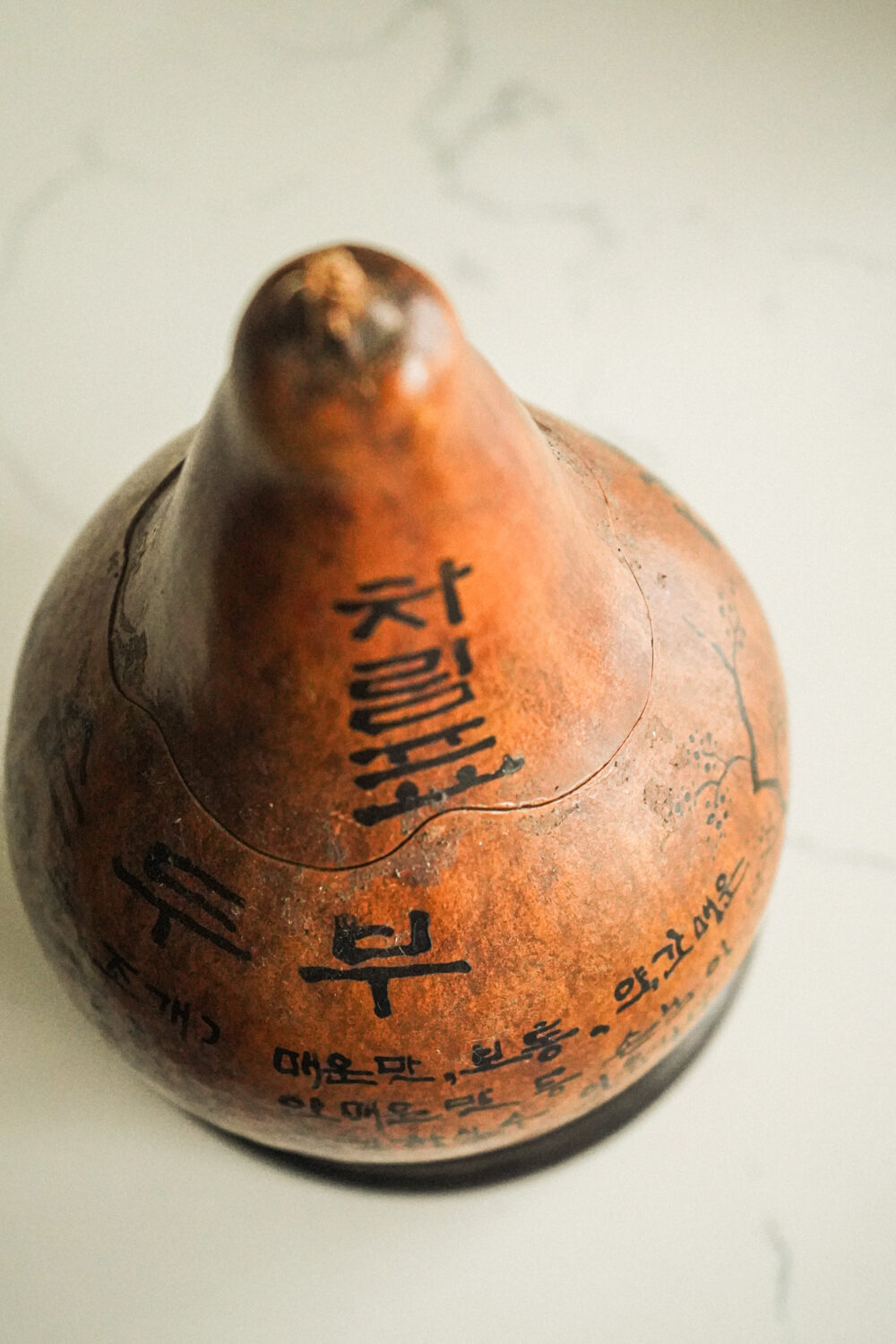 Monica: This is the only one I have left. People, they took them, they stole them. There was a candle inside. The artist who made [the restaurant's] tables made these, too. At the time, he made 20 of them. It was so expensive! He never made any more because it's a gourd that he had to take all of the seeds out of and then dry it, and he couldn't find more the same size.
---

Industrial wrench for lifting Ttukbaegi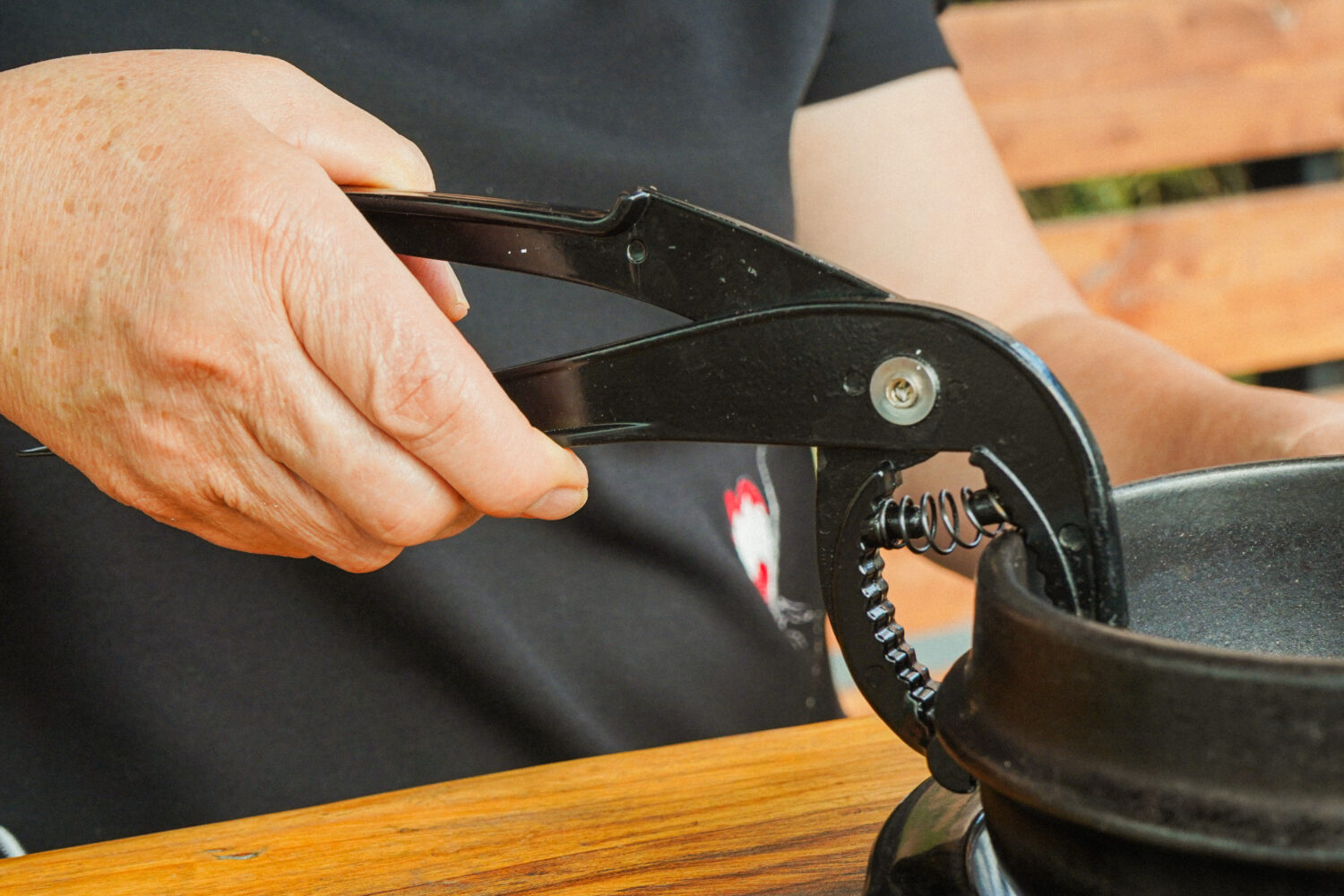 Monica: This is good for small, or medium sized bowls.
CJ: You can't use regular oven mitts because it's too hot. It's gonna stain your gloves. This is the only thing I recommend using for transferring to a trivet or table.
Monica: It's boiling at over 210 degrees. I have scars all over my arms from bubbling tofu. I still make it for my family. My two daughters, they're addicted.
---

Ttukbaegi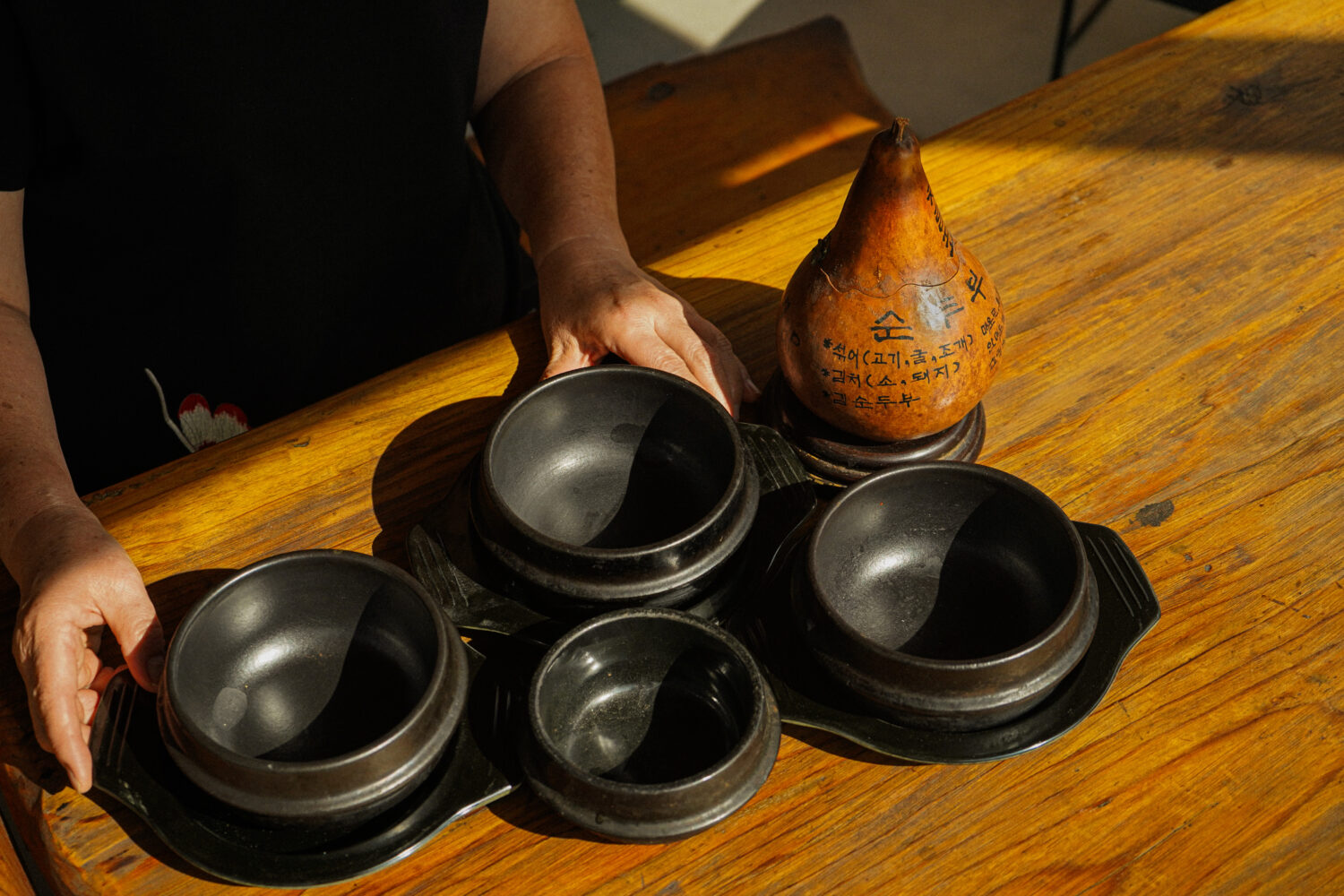 From Sohn-mat: "Made of earthenware, these are the only vessels I use for cooking and serving soon tofu. They retain heat very, very well, so they will keep your soon tofu hot until the very last bite."
---

Rice pot from Korea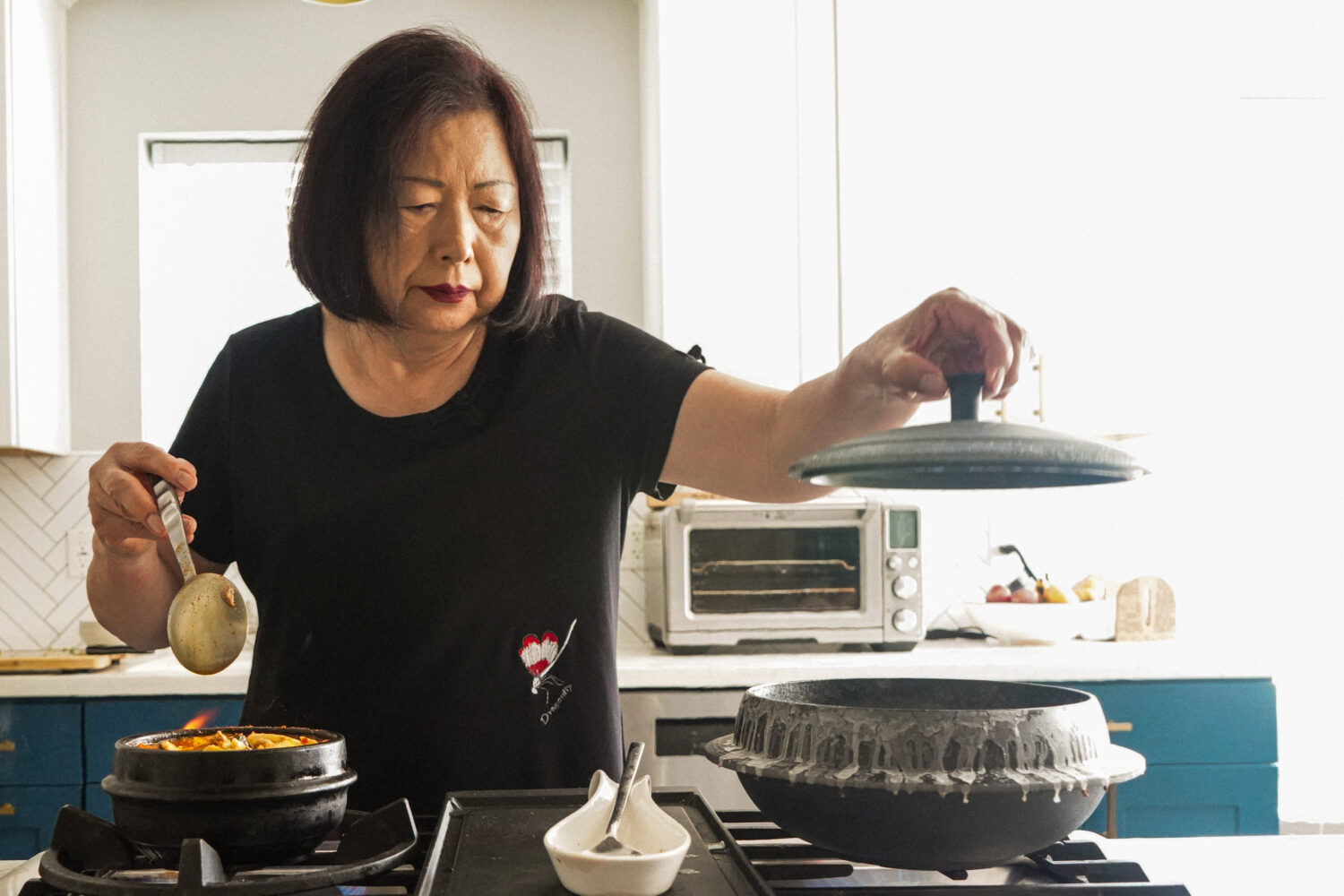 CJ: You use this (rice pot; right) to make a single portion of rice on the stove. It's super easy, and takes about 15-20 minutes. She used to serve this dish that's a rice specialty made to order. It had lots of nutritious things in it, like beans and different kinds of rice varieties. It was one of the only additions to my mom's original menu [at Beverly Soon].


Meghan McCarron is an award-winning journalist and writer who lives in Los Angeles. All photography by Meghan McCarron.