In French cities like Paris and Marseille, the cuisines of Senegal and Cote d'Ivoire appear in decent numbers, from their centres out to the perimeters. While recently in London, a handful of names – mainly Nigerian in influence – have crossed the threshold into the esteemed Zone 1 rank of culinary eminence, the majority of its West African restaurants still exist in the outer reaches of the city. Germany's relationship to West Africa is much less understood than it is in France and Britain, with its empire in the African continent kept at arm's length and cut short (partly because, having lost the First World War, they were forced to cede many of their colonies.) And unlike in Britain and France, there was no meaningful attempt to invite or integrate African citizens into German nationhood.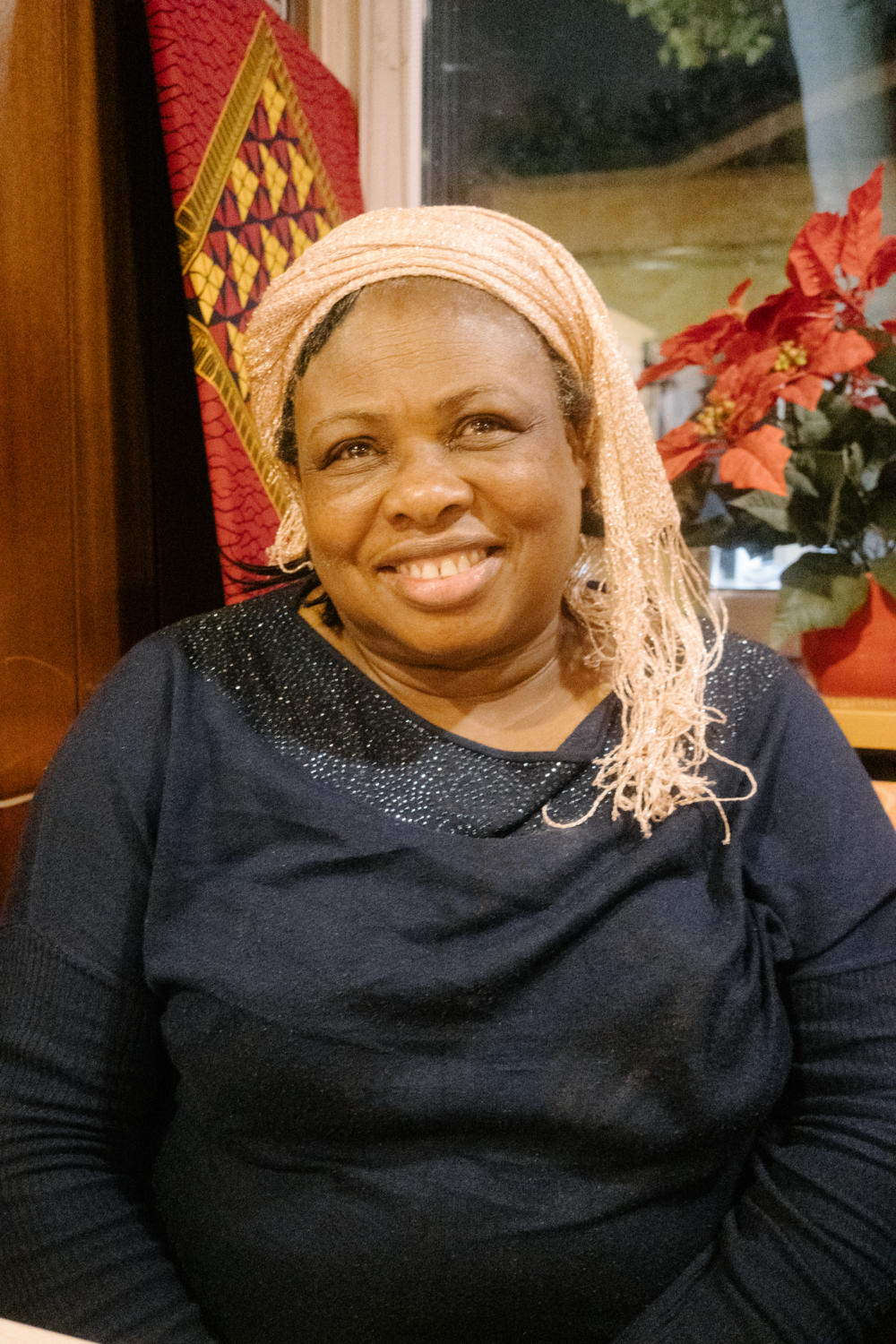 Afro-base (International Kitchen Berlin) could be considered as a metaphor for Germany's relationship with African culture: located very much on the fringes, living and sometimes thriving, visible if you're looking; veiled, hidden from the majority. Here, outside Berlin's Ringbahn, on the southern end of Karl-Marx Straße, a predominantly residential area, there is almost zero footfall. Nestled at the foot of a pre-World War One Berlin apartment block, a lit sign saying "Afro-Base" sits above another sign, one that reads "das lokal zum feiern" – "A place to celebrate."
Having rarely come across foods from the African diaspora in Germany, and having passed this apartment block many times, the word "Afro" immediately stood out. I wanted to find out more. Initially, I had thought it might be a hair and cosmetic shop, which are relatively common in the city; only after venturing closer, I realised Afro-base was a restaurant.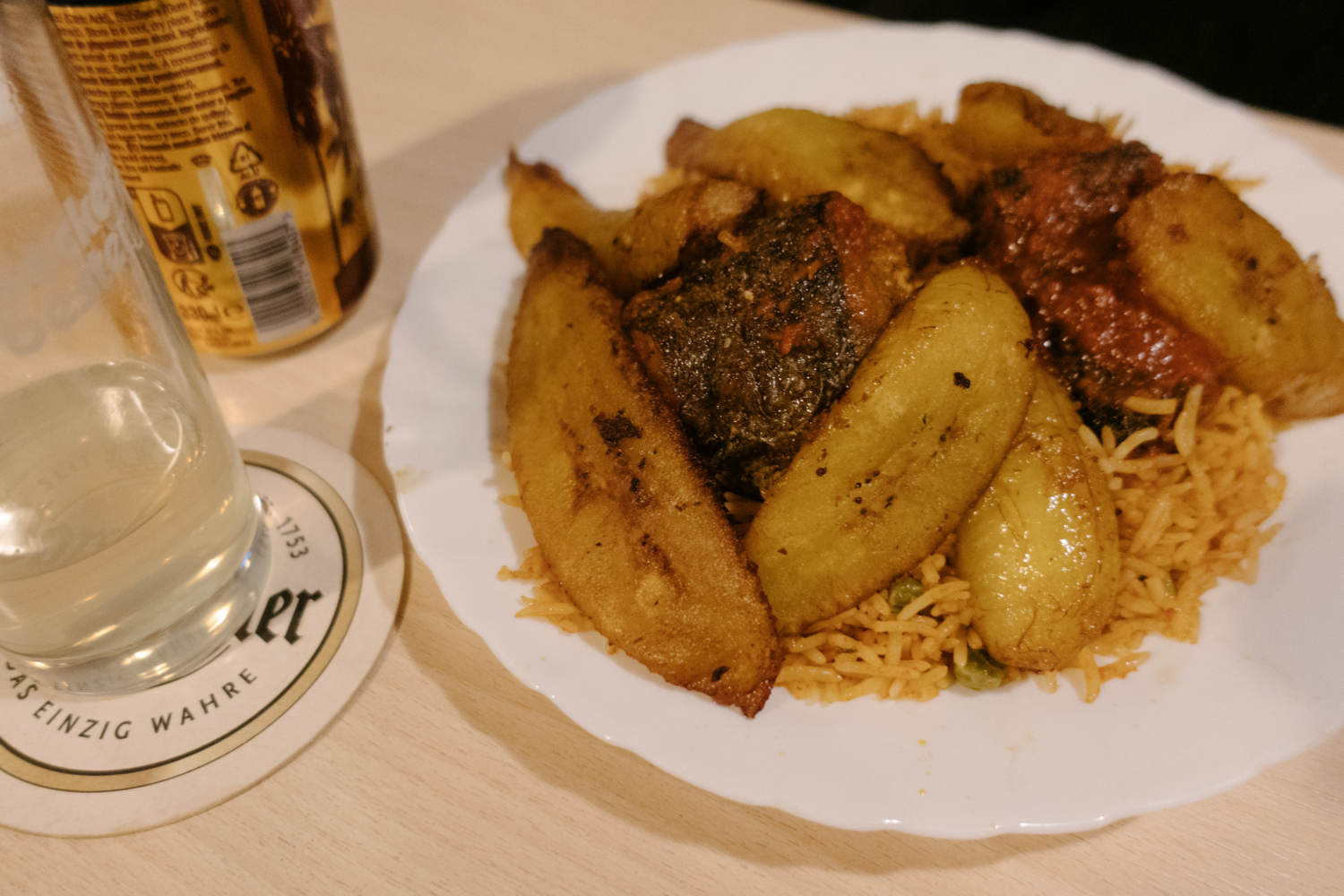 When you enter this space, all the familiar hallmarks of a Nigerian restaurant are evident. Out of the kitchen flow mounds of fiery jollof rice, fried fish and plantain. Revellers caress white orbs of pounded starch like yam or fufu, dipping them into classic Nigerian stews like the melon seed-based egusi or the spinach-based efo riro. All of this is happening in front of a TV playing an endless reel of Afrobeats music videos. Here, however, the culture reminds me of a crustacean that's found a home in a wayward shell. Relics of a German past are everywhere, from beer mats donned with olde German calligraphy, metallic alcohol branded plaques and steiner mugs piled in the corner.
Sitting at a table in Afro-base on a grey day in November, the affable and welcoming owner and chef, Nigerian-born Comfort Okezie tells me the story of how Afro-base came to be. Although it opened in October 2016, its genesis stretches back to over a decade earlier, when she migrated to Germany to study in 2004. That year, she recalls on just a few fingers the number of opportunities to dine on any West African food in Berlin. Food was often made and served at people's homes with public offerings available in less formal settings, like community centres, where people would celebrate special occasions. A few popular names in the West African food scene came and went but Okezie, having studied professional food and handling, ended up working with more than one. When the most famous of these restaurants – a spot also in Neukölln in southwest Berlin, called "50-50" – closed its doors in 2012, customers who encountered Okezie in the street in the years after would beg for a taste of her food. It was at this point she knew it was time to try and open her own joint. But in Germany a decade ago, this was easier said than done.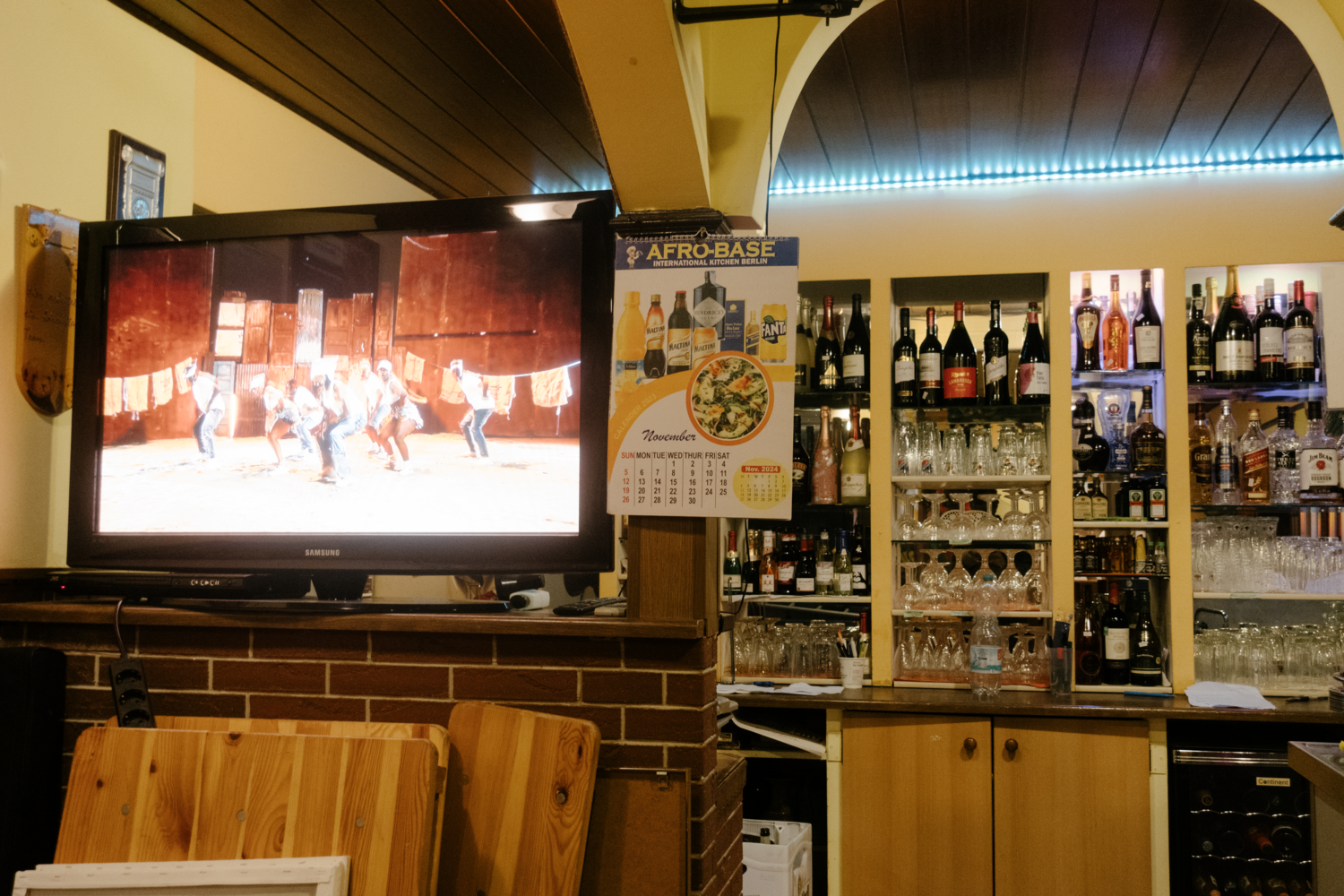 Okezie describes finding this spot in Neukölln as a "miracle." She searched high and low for lease opportunities, particularly on larger spaces. She says that using her own name bore no luck on applications, as Africans were less favoured as tenants by landlords and she says her name was an immediate giveaway. Fortunately, she was able to get a helping hand from her white sister-in-law, whose "Deutsche" name on the applications immediately drew the responses that had eluded her. After a number of meetings with the previous tenant and landlord, Okezie eventually got the deal over the line. The restaurant has operated non-stop with the same weekly opening hours since that day in 2016.
Okezie, a devoted Christian, playfully tells of an apparition that foretold she would have to do little work to the space she would eventually find, that she would simply have to carry her bags and move straight in. The previous tenants, who ran a late night dive for the local German residents dating back decades, were moving on with their lives in old age; they told Okezie she could keep everything that was there. While Okezie has added her own flair to the space, as homage to those from whom she took the space, elements of "chef Phil" remain in place, some of whose plaques still adorn the walls.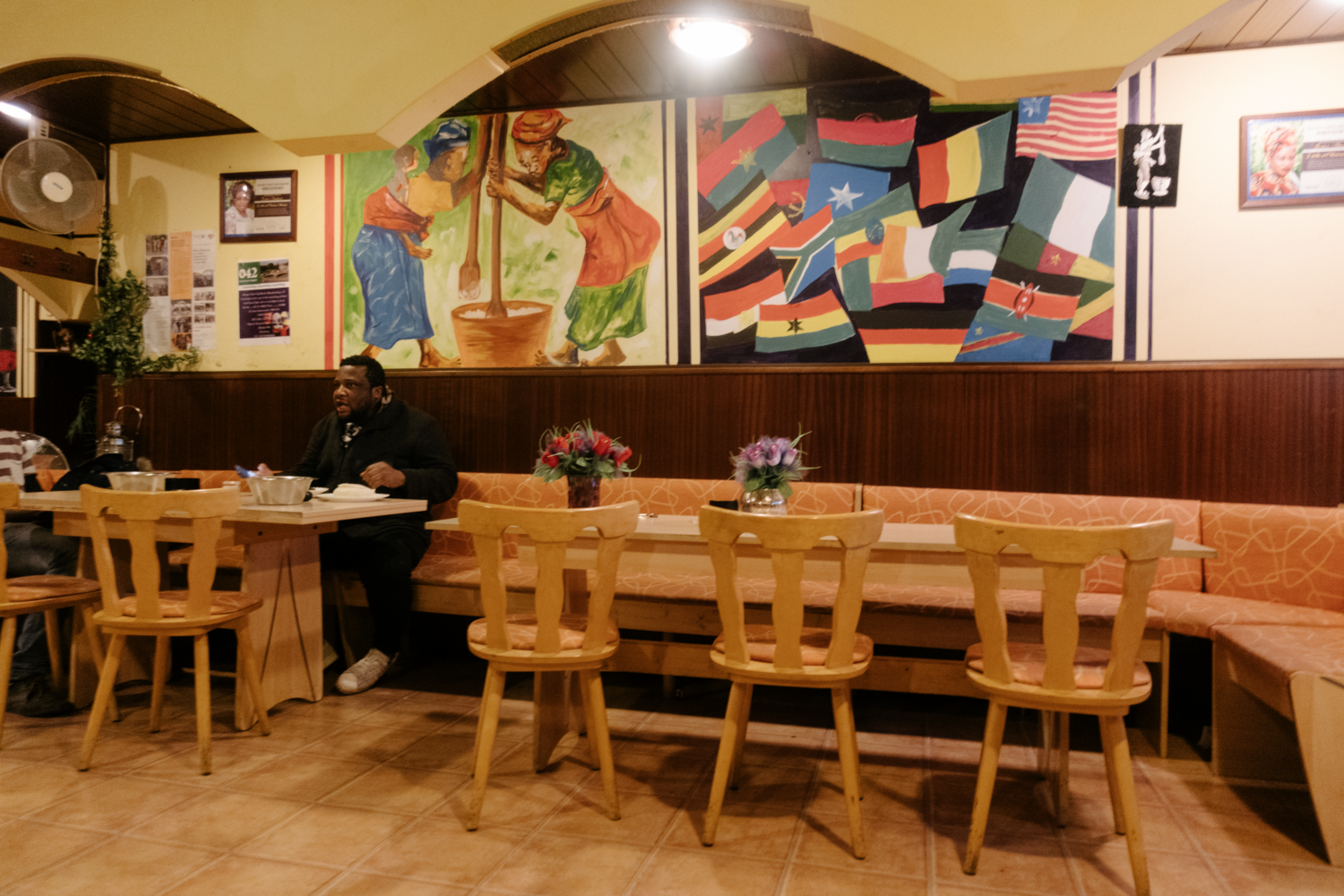 Though this is a proudly Nigerian institution, the wall you're faced with when entering features a union of African flags befitting the restaurant's name. For Okezie, after jockeying so long to find and create a safe space, this is exactly what she wanted the place to be: a space for all – whether those venturing through the doors were Nigerian, Ethiopian, Moroccan, or South African, they were welcome.
When I ask Okezie if she would ever like to be situated somewhere closer to the centre of Berlin, perhaps in one of the trendier areas like Kreuzberg, Mitte or Prenzlauer Berg, she sighs. She says retirement is not far away, when she will return to Nigeria and looks forward to having other people cook for her. And for all the trials and tribulations to find this first spot, why go somewhere new and start all over again? After all, she says, "there's no place like home."
Buschkrugallee 103, 12359, Neukölln, Berlin, DE
---
Riaz Phillips is a writer and photographer spending time between London and Berlin. Phillips is the author of several books, including West Winds (2022) and East Winds (2023), which explore the vast diversity cultures and cuisines across the Caribbean.
All photography by Riaz Phillips.