Interview: Elena Crippa, Curator of Modern & Contemporary British Art at Tate Britain
As Curator of Modern and Contemporary British Art at the Tate Britain, Elena Crippa is collectively responsible for the development of the museum's holdings of artworks from the twentieth century, crucially, engineering engaging modes of display to present the work to audiences. Having opened last month, Stan Firm Inna Inglan: Black Diaspora in London, curated by Crippa, brings together works from the 1960s and 1970s by eight photographers who documented Black communities in London, including Raphael Albert, Bandele 'Tex' Ajetunmobi, Neil Kenlock, and Al Vandenberg, among others. The photographs reveal the many and varied experiences of individuals who travelled from the Caribbean region and West Africa to live in London, from everyday family life to political engagement. Something Curated met up with the busy curator to discuss her journey into the field, her favourite art spaces in London, as well as upcoming projects at the Tate.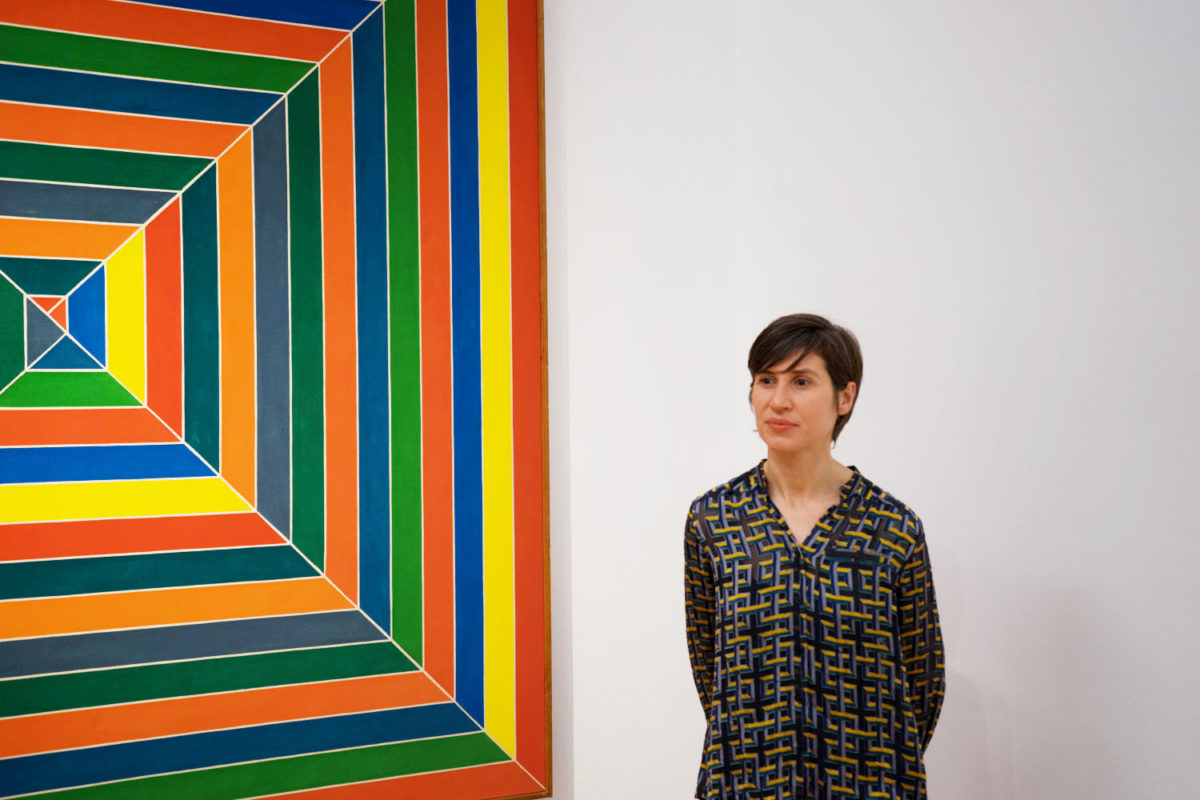 Something Curated: How did you get into this field? What was your journey?
Elena Crippa: It might be a good point of departure to mention that I am Italian and I feel in Italy art is everywhere—within the tissues of your daily life. It's traditionally a Catholic country, you have churches everywhere and you have this incredible diversity of public buildings. Art is very present within our education system, at least it was when I was growing up. I feel in this sense it's a real privilege, because you feel that art is accessible to everyone. In this sense, I developed a keen interest, but it's not something that is perceived as niche where I'm from. I've been living in Britain for nearly 15 years. It was with quite a bit of sadness that I realised that here there is a general perception that art is quite elitist, and I feel very strongly that part of my job is enabling a broad access to art and trying to communicate the fact that actually, art is for all, it's something that informs us all in the everyday. This isn't an answer in itself, but I think it provides some context.
Otherwise, my mother was a voracious book lover, we always had loads of art books at home. I went on to study humanities in Trieste and later in Paris. I graduated with a thesis in History of Art and Museology. Museums always fascinated me, at least as much as art. I have always been intrigued by the relationship between objects, the way in which they are displayed and the architecture in which they are inscribed. When I came to London I studied Curating Contemporary Art at the Royal College of Art, because I felt this would continue the trajectory of reflecting on museum and exhibition practices.
After graduating I worked in a commercial gallery for three years, the Lisson Gallery. I started as artist liaison, and then I was promoted to associate director of exhibitions. So I was primarily working with artists and organising exhibitions. I was actually slightly wary about stepping into the commercial sector, as many people are, but I actually truly enjoyed it. My director's mantra was "our major objective is to enable artists to realise exactly what they intend to achieve in their work". And this was an exciting challenge; it was an opportunity to work very closely with artists and better understand their practice. I worked with loads of artists there, including Allora & Calzadilla, Daniel Buren, Dan Graham, Santiago Sierra, Richard Wentworth, and many others. It was a great opportunity to understand the mechanisms of the art world. I wasn't really working on sales with the exception of museums acquisitions, so it was useful for gaining an understanding of the relationship between the private and public sectors, and the way artists operate between the two.
After this I did a PhD at an institute which is now defunct, The London Consortium; it was a collaborative research degree with the Tate Research department and The London Consortium which was a wonderful entity with the great ambition of work on an interdisciplinary level . So it was a very exciting place to study, we had people coming in from film, from fine arts, from literature, architecture, sometimes science. You had these very intense conversations where people were very critical about assumptions within your own discipline. I did teach a bit – I taught Exhibition Studies at masters level at Central Saint Martins. I started this at the same time as doing my PhD and continued for a year or two.
SC: Do you still teach now?
EC: No, I would love to, and to be honest this is the thing I miss the most. I do have opportunities with my job as I'm sometimes asked to meet students as a visiting lecturer, or give a talk at a university. I feel the reason I miss it so much is that I've been very lucky in my life, I've encountered many very important individuals who really guided me through life, my studies and work and teachers who felt their pastoral role was as important as their academic function. I very much feel I have a duty to take that same ethos on. I also think there is something about interacting with students which enables you to "stay young" and keep up-to-date with current cultural developments.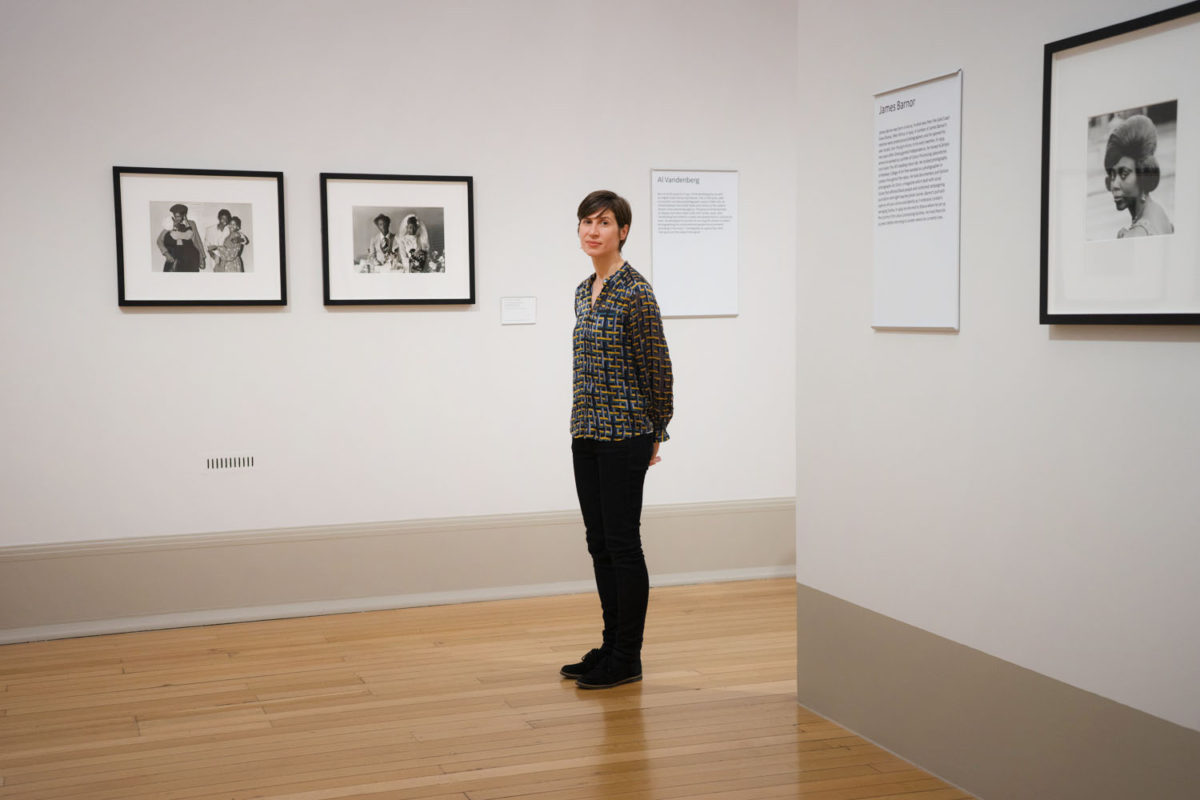 SC: Broadly speaking, how would you describe your curatorial approach?
EC: For me, curating is something that never exists on an abstract level. Curating is the meeting point of a particular kind of work, a particular context in which it is presented and its audience; in truth we never quite know our audience, but we can imagine the possibility of encounter and engagement that audiences might have. I don't feel that curating has a core, or so to speak, I think of it more like something that pulls strings and materialises at the meeting point of all these realities and constraints. This is not to say you can't work in ways that are challenging, or not necessarily by the book; but I believe that as a curator I am always responding to the work and thinking about the way you'd be encountering it in a specific space as a visitor.
SC: What projects are you currently working on?
EC: Stan Firm Inna Inglan: Black Diaspora in London, 1960-70s—this just opened 10 days ago. I've also been working on another two displays of the permanent collection, these are wonderful opportunities as you are dealing with collection work—you're constantly seeking ways to tell new stories out of a particular selection of works.
SC: Could you tell us about the current Stan Firm Inna Inglan exhibition?
EC: This particular exhibition is very special as it's combined with a major acquisition. Often at the curatorial department here we attempt to link our different tasks, which are acquisitions, displays and exhibitions. So in this particular case we had a very generous donor Eric Frank, who gifted to the Tate the majority of the photographs in this display to enable us to do an in focus presentation of documentary photography of Black communities in post-war Britain. This was very important for us for two reasons, documentary photography as a particular practice is one of the areas that have been really falling behind for a long time, we've been trying very actively to pursue. Up until quite recently we didn't actively collect photography, most of our photography was linked to conceptual practices. It's really in the past 10 years that our collection has been growing. We now have a curator of photography and have increased knowledge around the area.
And of course this is a very important display, because as a curator working in acquisition you have this other incredible duty, because you're constantly revisiting history, rewriting it and bringing back into it that which has fallen out through our collection. History is a very alive matter, all these photographers have contributed hugely to their own field and to documenting a history of British culture which resonates very much with the present. We feel privileged here at Tate Britain that this story is not getting lost, visitors can recognise themselves, young visitors can appreciate how much has been done to curb racism, and how much is left to be done and how we need to constantly stand up to discrimination and exclusion. The moment you let the guard down, it becomes dangerous.
What I love about the way we managed to select and hang these photographs is that there's a mix of intimate, domestic portraiture and beautiful street shots, as well as photographs of episodes of open racism and anti-racism activists and protests, so you have a very broad and complex portrait of the moment. I collaborated with two external researchers on this project: Allison Thompson and Susana Vargas Cervantes, who were in London earlier this year through the Brooks International Fellowship Programme. Our concern here was that we didn't want to impose a voice on the subjects of these pictures, and that's why we ended up choosing the title, Stan Firm Inna Inglan, which is actually a verse from a poem of Linton Kwesi Johnson. His poetry and singing was hugely important throughout the 70s' and 80s' in giving a voice to this need to stand up and resist intolerance in England.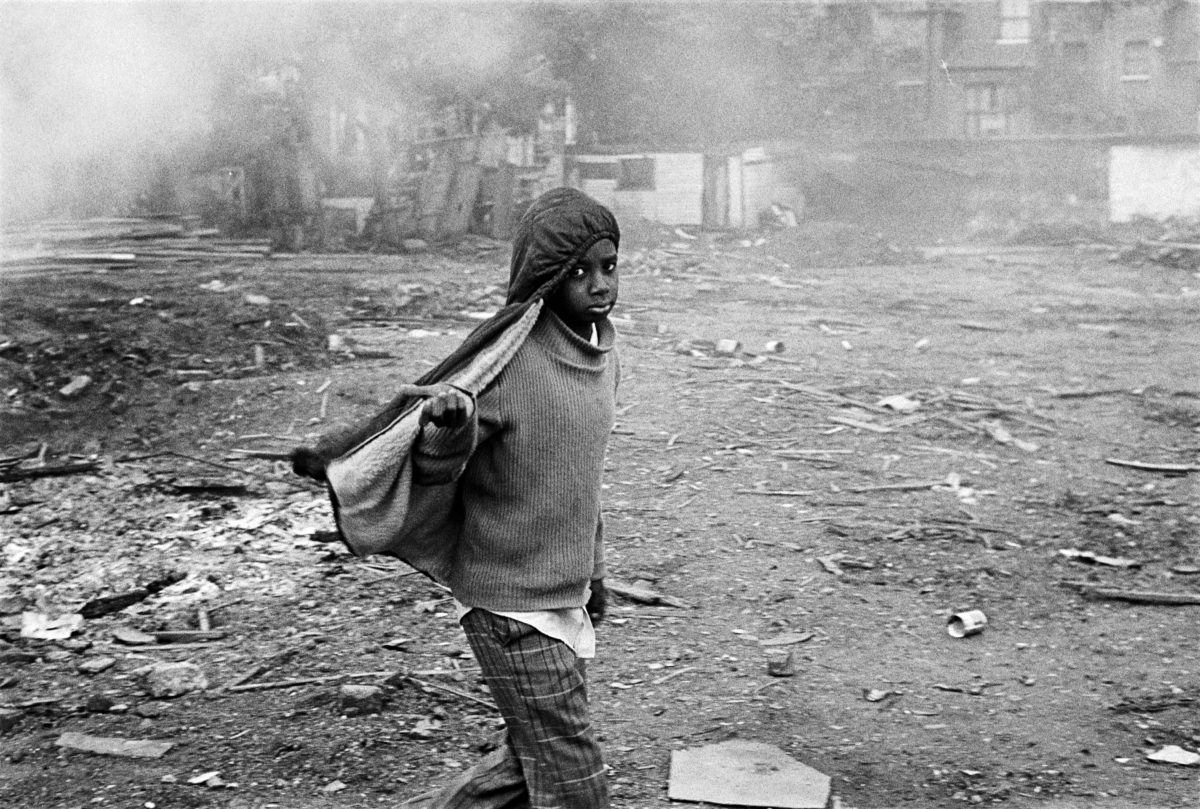 SC: What would you say is the role of the artist in documentary?
EC: James Barner is the oldest living artist who has work in this exhibition. He was born in Ghana in 1929, there are certain pictures where you could say "this is a very simple, candid picture", but actually, what he, as other photographers in this display were really doing, was constructing an identity for Black people in Britain. If we think of these photographs on a performative level, what we are looking at is an act of shaping as much as giving visibility to a hybrid culture born out of transnational exchanges. This was also an act of affirmation on the part of the men and women portrayed, here often models with this extraordinarily confident and assertive beauty. Barner tended to photograph the same individuals – h there's a certain intimacy in his images. I met him recently and was deeply struck by his warmth, cheeky humour and reassuring presence. As he confirmed, often he'd ask models to sit or stand in particular ways in unusual locations and they would trust him and follow his instructions. It's as much about documenting as it is about constructing a moment.
SC: In a digital age where artists are using Instagram and exposing work online, where is photography's place in a gallery?
EC: I'm still a strong believer that the way in which you engage with works, no matter what medium, is very different in a gallery space from the way in which you look at works online. In the early stages of the planning of this exhibition, for example, I was only able to see these pictures as digital files. In the gallery the way you're able to notice the finest details, and the time you're prepared to engage, I think this experience enables you a more intimate encounter with a work, and there's also the social dimension. People go to galleries with friends or family, this is something that's often lost when you engage with works online. I don't want to say that one should be considered more important than the other. The fact that we are able to engage with images in a variety of different ways is great. It's important for artists to be able to access, share, manipulate, and reappropriate the work of others.
SC: What attracted you to working at Tate Britain?
EC: I think there are two major things: the first is the fact that you are working towards enriching and expanding the national collection—I was really excited about this level of responsibility. You effectively have a role in the rewriting of history in the long-term. The second is that you are dealing with large audiences; I've done projects before for small project spaces and different private and public contexts, but always with a different pool in terms of audience numbers. You realise also that you have a greater level of responsibility, for example, I've always considered myself a feminist, but one that was never particularly vocal or active, and I think that through both teaching and curating and having a role working with the national collection you become aware that you will have a minimum, if nothing else, social impact, at least among your students, your peers, and your visitors. And you take the role seriously; I was thrilled when one of my students came up one day saying "this reading list only has male writers, I'm never going to read again if not from a list that's not at least 50% female", and I thought you know what, next time I'll try to do 100% female writers – and I think it's that, changing the balance of history. It is not always easy and at times I fail, but here too I am aware of my responsibility to try and readdress historical imbalances through my work.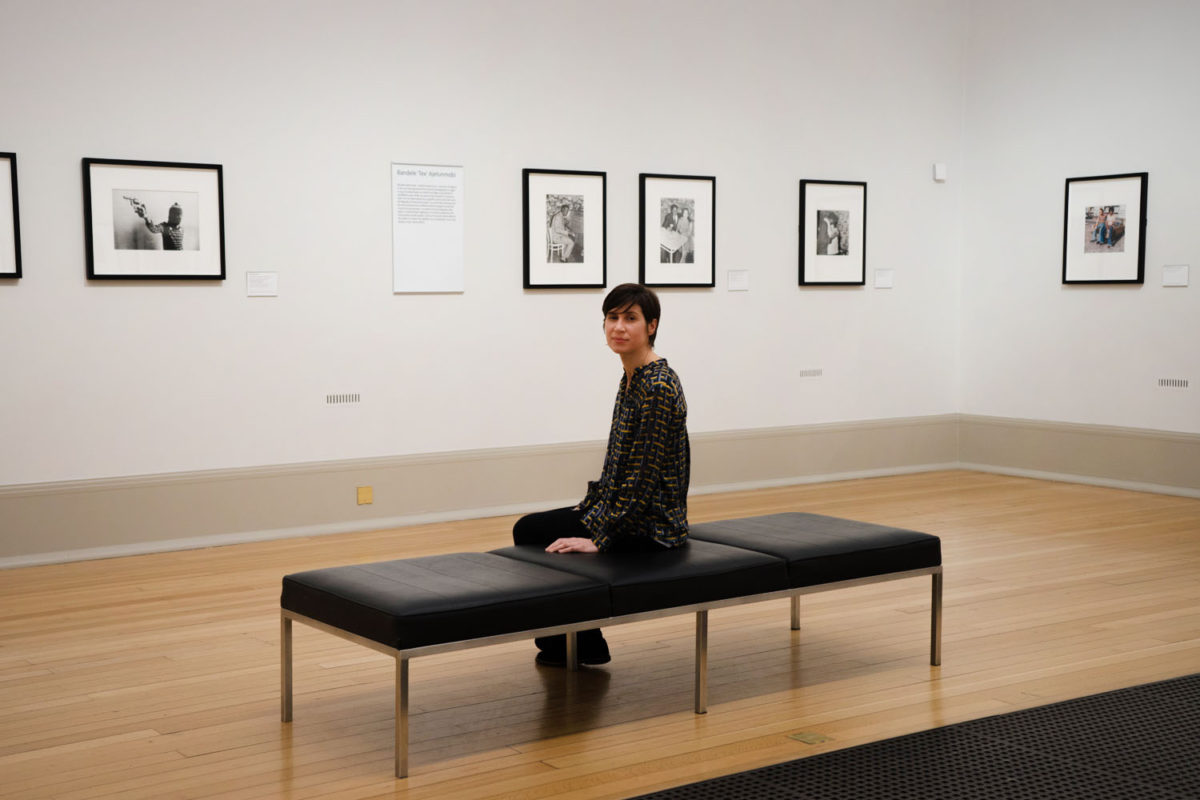 SC: You were a member of Tate's 'Art School Educated' research project team as part of your doctoral research. Could you talk to us a bit about the project and what it entailed?
EC: Looking at British art both as an insider and an outsider, I was fascinated by what appeared to be a quite sudden turn within the art schools towards what you can describe as conceptual approaches to teaching, and I really wanted to put my finger on how this happened. And of course it's an extremely complicated thing to do, as there are always many concurring causes and elements that bring about these sorts of changes. And yet, it was an interesting process to realise how particular individuals, teachers and approaches to art pedagogy were hugely influential in transforming art making from having such a strong emphasis on technique and media specificity, to opening up concept-based approaches to making. It was a specific moment in the 60s' or early 70s' to counteract what had become a very static, sometimes sterile approach to art teaching which was very conservative and unquestioning, and that sort of questioning approach that art teachers brought back to art schools was very important.
SC: What is the vision for this new season of BP Spotlights featuring works from the 1960s' onwards? Could you tell us a little about the displays themselves?
EC: In our temporary displays we always attempt to show the diversity and strengths of our collection, bringing out of storage works that have not been on display in recent times or displaying well-known work as part of selections that tell a new story, while also exhibiting new and recent acquisitions. We always try to conceive of displays that resonate with contemporary debates, artistic developments or new research. We have an outstanding moving image collection and it is wonderful to be able to show new scans of Paolozzi's early animations, History of Nothing, 1962 and Kakafon Kakkoon, 1965. They are stop frame animations that use the artist's collected, collaged and screen-printed images, creating a dense tapestry of changing images. They speak of the world as defined by the ubiquitous presence of the machine and as constantly changing through the establishment of new connections and associations. They feel extremely relevant to the way in which young artists appropriate and manipulate digital images.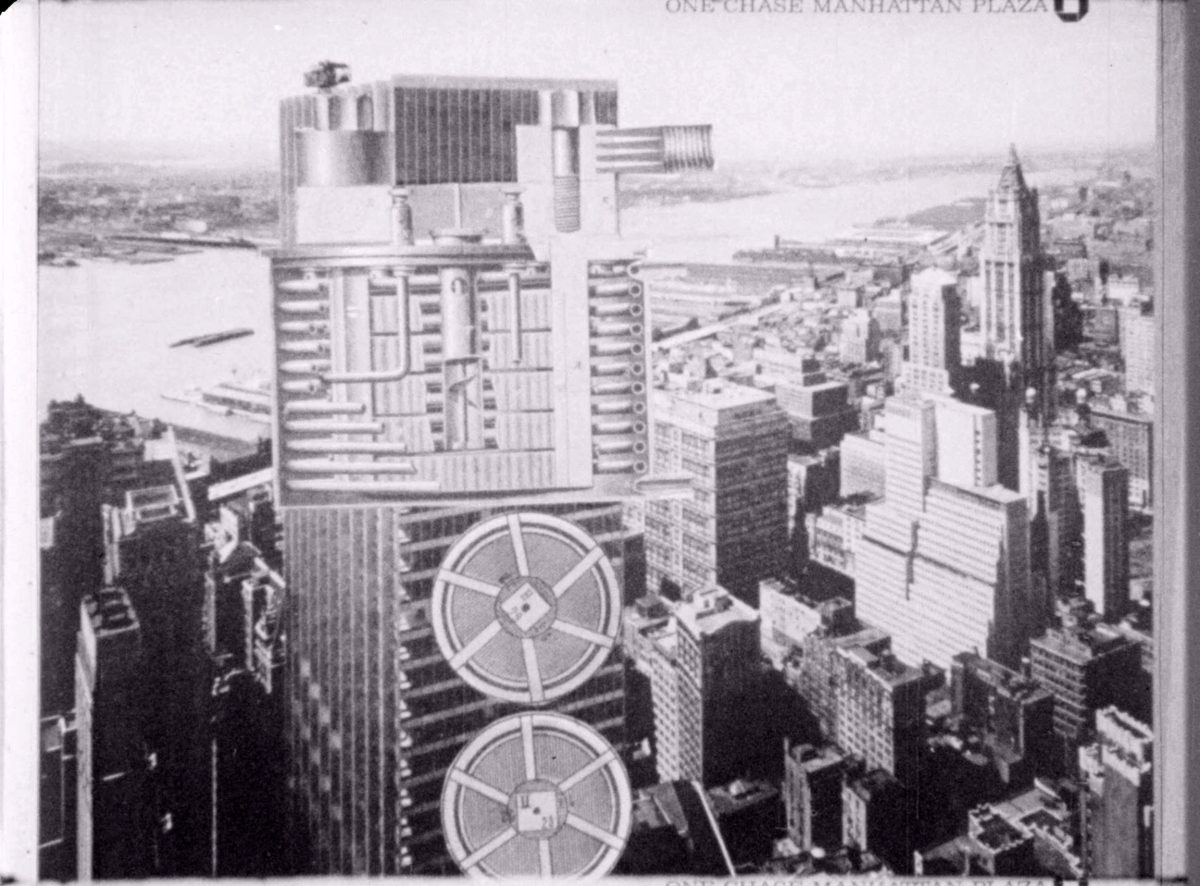 SC: What are the biggest challenges art institutions, such as the Tate, are faced with today?
EC: There is a great drive towards a certain type of populist approach in the way we communicate art. I am absolutely thrilled by having broader types of audiences coming into the museum. I also feel this is very different from levelling down the quality or nature of what you present. There are lots of other challenges, we're actually competing with various different entertainment industries, to which we are often described as equal, and we need to communicate the specific cultural and social value of the visual arts, I think we have the challenge to remain pertinent to the present, it's one of our major challenges, and to keep rethinking the way in which we engage with our audiences.
SC: Are there any particular artists or artworks that you are keen to work with in the future?
EC: You're always working on many different projects and timescales, so naturally I'm very excited about what I'm starting to work on in the next five years. Right now, I am working on a multifaceted project focusing on paintings and drawings by artists who primarily worked in London between the immediate post-war years and the beginning of the twentieth century. This is a long-term project that has and will continue to source materialise for a number of different exhibitions showcasing some of the gems of the Tate Collection, including works by Frank Auerbach, Francis Bacon, Lucian Freud, Leon Kossoff and Paula Rego. I am working on the next exhibition in collaboration with the Museo Picasso Málaga, where we will open in April 2017. The museum is stunning and the relationship with Picasso's work absolutely relevant and inspiring. The museum director, José Lebrero Stals, is incredibly knowledgeable and passionate and has been a wonderful collaborator.
SC: Tell us about some of the projects and achievements of which you are most proud.
EC: It is a very difficult question – I guess modesty was one of the dominant qualities of my upbringing. After completing a project, I am more prone to reflect on my failings and think how I would improve or do things differently the next time around. However, I am getting better with age and I have begun to allow myself some degree of celebration. Overall, what gives me the most satisfaction are the relationships built with colleagues and external partners in the development of a project. I also love taking people around the exhibitions and displays I have worked on – visitors' enjoyment and appreciation is extremely rewarding.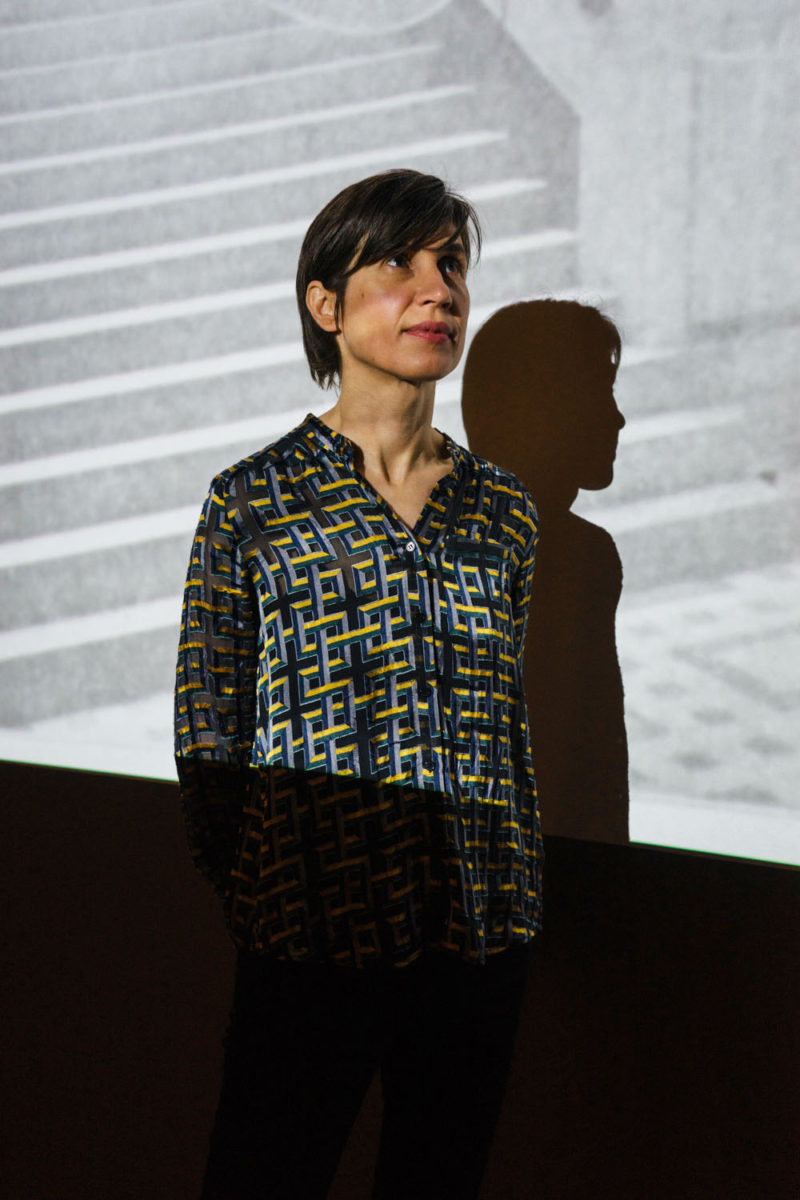 SC: What was the guiding narrative behind your recently published book in the Afterall series Exhibition Studies?
EC: In 1957, three highly different and exceptional men, Richard Hamilton, Victor Pasmore and Lawrence Alloway – two artists and one art critic – came together to realise what was a visionary and at the time unclassifiable project: an Exhibit. It was described as an exhibition, it came into fruition through a multifaceted engagement with architecture, design and new theoretical developments and would nowadays be discussed as an installation. I wanted to understand the intellectual and artistic context that led to the conception of this incredible project, which we can ultimately describe as a devise framing and visualising social interactions in a public space.
SC: What, in your opinion, are the three best museum or gallery exhibitions of the last decade and why?
EC: I don't want to claim to have travelled across the globe visiting all the new museums in the past decade: I certainly cannot provide a fully informed answer here. I love the new Tate Modern, but I certainly do not to have an impartial view on this. Internationally, among the works I have seen recently, I was certainly very impressed by the new buidling of the San Francisco Museum of Modern Art. Snøhetta's recent expansion has catered for so many wonderfully diverse spaces for the presentation and experience of different type of artworks, from outdoor sculpture terraces to large exhibitions spaces and intimate project rooms, while creating beautiful viewpoints and making one's journey through the building a truly pleasurable experience.
In London, two of my favourite art venues opened around eight years ago: Raven Row and Flat Time House. Raven Row, near Liverpool Street, is housed in a beautifully renovated building combining once domestic Georgian houses and an office building from the early 1970s. Their exhibitions are always surprising and incredibly well researched. Flat Time House, in Peckham, was the home of the late artist John Latham. I have been closely involved with its activities since it opened to the public in 2008: it is Latham's former home, which he conceived of and declared a living sculpture, and houses his extremely rich archive. It has also proven to be a unique venue for exhibitions and events of artists of the younger generation, who share Latham's visionary and uncompromising stance. Although the house is currently closed to the public, I look forward to its future developments through new activities, projects and collaborations.
SC: What other current or upcoming exhibitions in London would you recommend we visit?
EC: It's ending soon, but I was interested to see the Infinite Mix, at 180 The Strand. It's an exhibition organised by the Hayward Gallery, in association with The Vinyl Factory. It consists of film only, where music, word and image work beautifully together. I found it a very interesting way of presenting film. It was exciting to see such young audiences. The Turner Prize, here, is one of those cases where it just happens that the artists are of reasonably close generations. Despite the works being different, there is a sense of cohesion between the artists, a similar sense of fascination for the material quality of objects and the way we interact with them.
SC: What does your typical daily schedule look like?
EC: It can be very diverse, depending on what kind of project I'm working on. I spend a good portion of my time in the office, planning exhibitions, researching artworks and writing catalogue entries. Often a lot of time is spent visiting artists and their estates, travelling to see exhibitions and meeting colleagues. We also have quite a lot of meetings scheduled to bring together departments, as we are a large institution.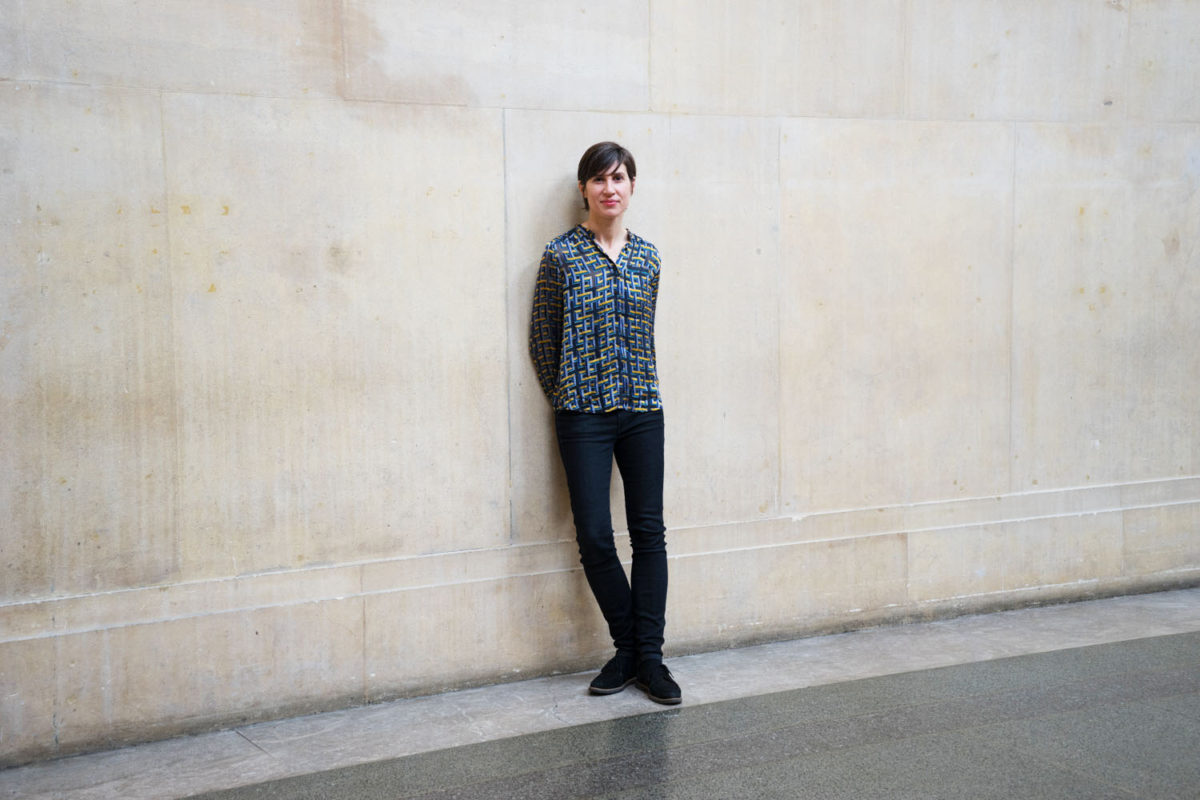 SC: One golden piece of advice to an aspiring curator?
EC: Never give up and follow your passion — it's important to find something that is meaningful to you, that you're willing to explore deeply, over time. It's not necessarily about specialisation, but about developing something you own and can develop into something personal and interesting. At the same time, don't get too bogged down following a particular path or direction. What makes life really exciting is the fact that possibilities present themselves, and they're not necessarily what you originally had in mind. No straight line in terms of life has ever been an interesting one; crooked lines are far more enriching and meaningful.
SC: What does London, and Pimlico in particular, offer the Tate Britain?
EC: The curse and privilege of Tate Britain is that you need to decide to come here; not the same multi-tasking function as other museums where you can just drop in to have a look after shopping. You have to consciously make the decision to travel to Pimlico to come to Tate Britain, though I believe there is a reward awaiting visitors here. The nature of the building, the diversity and richness of the galleries with art across five centuries is exciting. You walk through a circuit that correlates with the passing of time. You can make connections between periods and objects.
SC: Where do you live in London and what drew you there?
EC: Brockley which is in the south east. It's much cheaper than central zones and houses are more generous in terms of size.
SC: Favourite place to relax in London? 
EC: I love walking, particularly through Hyde Park and around the Serpentine lake, and from London Bridge to the Barbican on a weekend, passing through the semi-deserted city.
SC: Favourite place to shop in London? 
EC: I love markets, they are wonderful places, full of colour, bustle and interaction. Despite it having become very busy recently, I still like going to Borough market early on a Saturday morning, I love picking fruit and vegetables and my five-year-old son Lorenzo always manages to find a generously sized slice of chocolate cake.
SC: Favourite restaurant in London?
EC: My local Indian restaurant, Cinnamon, in Brockley. I tend to get take-away once a week. They do the most exquisite tandoori fish. 
SC: Any favourite places nearby Tate Britain?
EC: Chelsea Space, the wonderful, small gallery attached to Chelsea College of Arts, just across the road from Tate Britain. They consistently organise focused and impressive exhibitions across fine art, design and other disciplines. The Newport Street Gallery is a more recent, great addition to the area, only 15 minutes' walk from us.
Interview by Elizabeth Sulis Gear | Photography by Michael Vince Kim