A Brief Guide To Condo New York 2019
The third iteration of Condo New York, a collaborative exhibition by 38 galleries across 18 NYC spaces, will take place from 27 June – 26 July 2019. In 2016, Vanessa Carlos, co-founder of Carlos/Ishikawa gallery in Whitechapel, launched Condo London as a way to offer international galleries a site for creative collaboration and exchange. It has since expanded to New York, Mexico City, São Paulo, and Shanghai. The proposal offers an intelligent solution for galleries keen to present their artists to a wider public, when the costs of participating in art fairs are immense and sales remain erratic.
Carlos' scheme involves local galleries lending their spaces for a month to foreign dealers to stage collaborative exhibitions, showcasing artists from both rosters. The project is not positioned as an alternative to art fairs, but rather, as a structure enabling galleries of a similar size to unite to promote their artists and maximise on combined resources. This year's Condo New York participants include galleries from across the world, from cities as widespread as Havana, São Paulo, Oslo, Hong Kong, Los Angeles and Bucharest.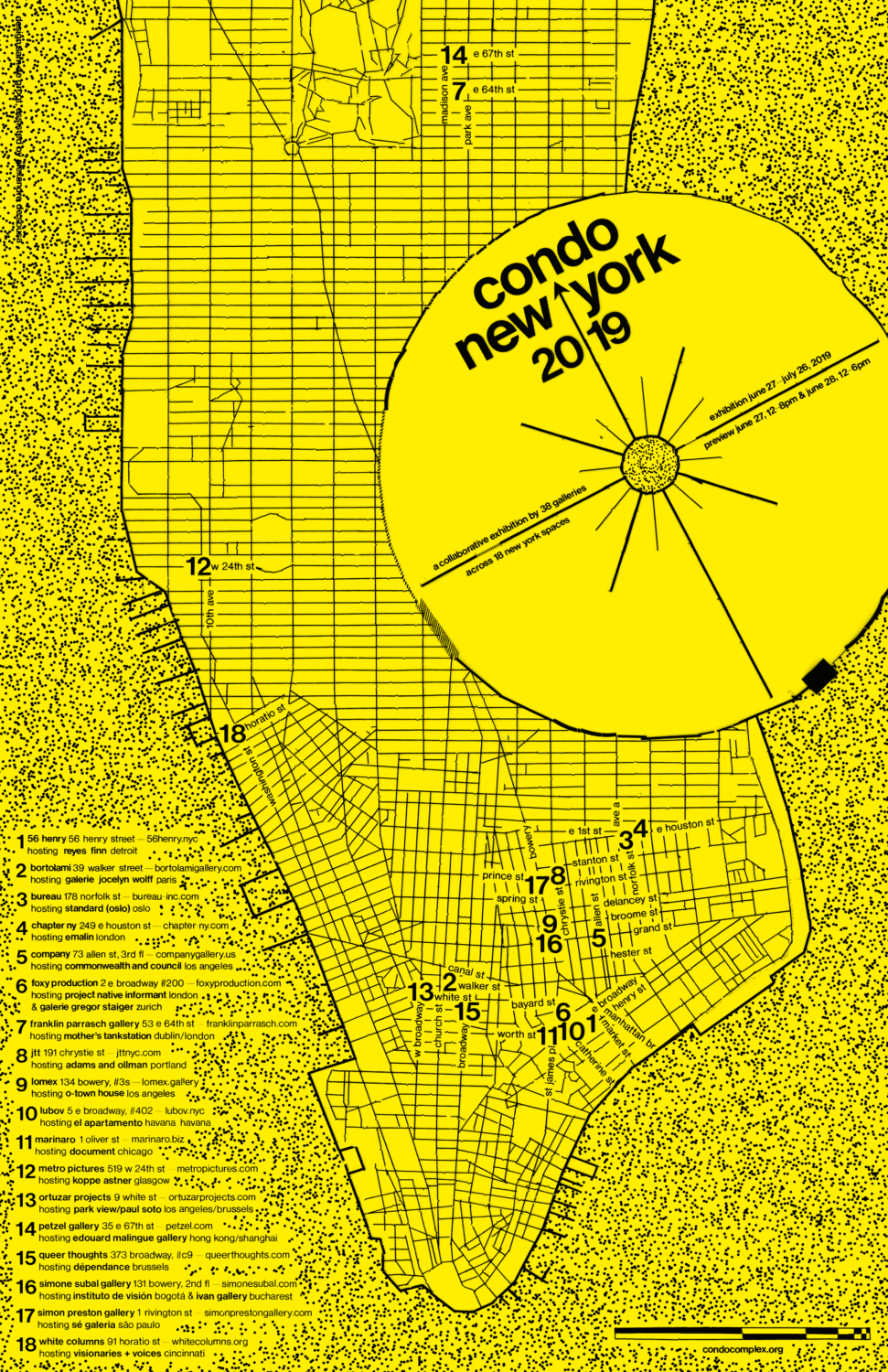 Among the collaborative presentations we are most excited about this year is Edouard Malingue Gallery's show hosted by Petzel Gallery. Taiwanese artist Chou Yu-Cheng will show new works alongside Indonesia-based collective Tromarama. Engaging with the notion of hyperreality in the digital age, Tromarama explores the interrelationship between the virtual and the physical world. Initiating as a collective in 2006 in Bandung, Indonesia, Febie Babyrose, Ruddy Hatumena and Herbert Hans create works that combine video, installation, computer programming and public participation depicting the influence of digital media on society's perception of its surroundings, while artist Yu-Cheng's practice builds, across multiple mediums, a subtle critique of mass media, institutions and the mechanisms that produce them.



Chicago-based gallery Document, hosted by Marinaro Gallery, is showing works by artists John Opera, Mary Helena Clark and Sterling Lawrence. Opera combines a deep interest in the visual characteristics of natural and scientific phenomena with a rigorous experimental approach to the techniques and apparatuses by which photographs have been defined and produced in, while Clark's work uses the language of collage, often bringing together disparate subjects and styles that suggest an exterior logic or code, to explore dissociative states through cinema. Lawrence reconstructs forms and images that belong to an aesthetic of everyday objects and backdrops whose purpose is to "streamline" and "enhance" our environment. In doing so, Lawrence's work speaks to how bodies connect and relate to constructed spaces and designed objects exploring psychological, economic, and political histories.



Presented at Metro Pictures by Koppe Astner is a solo presentation with Colombian painter and sculptor Miguel Cardenas. Cardenas' landscapes are painted from an impossible point of view, distant and near, flat and spatial, alive and static. Flora and fauna meet depictions of archeological objects on a stage that at once feels like an elaborate, metaphysical recreation of the outside world and a visit to a personal museum. His sculptures draw together the iconography of the ancient Pre-Columbian era with that of European modernism. Through the use of abstract pedestals that deconstruct the animal body yet support a recognisable head, Cardenas conjures up the anthropomorphic qualities of animals and conveys the mimetic element implicit in our fascination with a more primal understanding of the world.



The full list of participants at Condo New York 2019 include:
56 Henry, 56 Henry St hosting Reyes Finn Detroit
Bortolami, 39 Walker St hosting Galerie Jocelyn Wolff Paris
Bureau, 178 Norfolk St hosting Standard (Oslo) Oslo
Chapter Ny, 249 E Houston St hosting Emalin London
Company, 73 Allen St, 3rd Fl hosting Commonwealth And Council Los Angeles
Foxy Production, 2 E Broadway, #200 hosting Project Native Informant London & Gregor Staiger Zurich
Jtt, 191 Chrystie St hosting Adams And Ollman Portland
Lomex, 134 Bowery, #3s hosting O-Town House Los Angeles
Lubov, 5 E Broadway #402 hosting El Apartamento Havana
Marinaro, 1 Oliver St hosting Document Chicago
Ortuzar Projects, 9 White St hosting Park View/Paul Soto Los Angeles
Queer Thoughts, 373 Broadway, #C9 hosting Dépendance Brussels
Simone Subal Gallery, 131 Bowery, 2nd Fl hosting Instituto De Visión Bogotá & Ivan Gallery Bucharest
Simon Preston Gallery, 1 Rivington St hosting Sé Galeria São Paulo
Franklin Parrasch Gallery, 53 E 64th St hosting Mother's Tankstation Dublin/London
Petzel Gallery, 35 E 67th St hosting Edouard Malingue Gallery Hong Kong/Shanghai
Metro Pictures, 519 W 24th St hosting Koppe Astner Glasgow
White Columns, 91 Horatio St hosting Visionaries + Voices Cincinnati


Feature image: Installation view of Tromarama: Panoramix at Edouard Malingue Gallery, Hong Kong. (via Edouard Malingue Gallery)