Though there are undeniable visual similarities between European Brutalism and the concrete structures that have sprung up throughout the equatorial nations, there are underlying differences. While incorporating the characteristic use of concrete, rigid geometry and cavernous interiors of their antecedents in colder climates, Brutalism of the tropics was largely born from a newfound place of freedom, wealth and optimism. Between the 50's and 70's, during the time when many European countries faced economic depression and dealt with the end of colonisation, the nations they had once oppressed entered into a new chapter of prosperity, for example in Latin America, or independence, as seen throughout Asia and Africa.
Constructed from low-cost and widely available materials, equatorial Brutalism was accessible and practical, as well as emblematic of a new phase in society. Buildings that appeared unsympathetic and intimidating against London's grey skies and tarmacked roads, once penetrated by verdant foliage and softened by the humidity of the tropics, became transformed into dynamic and lush spaces. Concrete exteriors harboured colonies of moss, while the glass windows necessary in cold weather were either eradicated or regressed from plain sight, encouraging natural ventilation and a greater sense of openness. Highlighting a diverse edit of the architectural style from varying periods, Something Curated takes a closer look at five examples of tropical Brutalism.



Shodhan House, Ahmedabad, India || Le Corbusier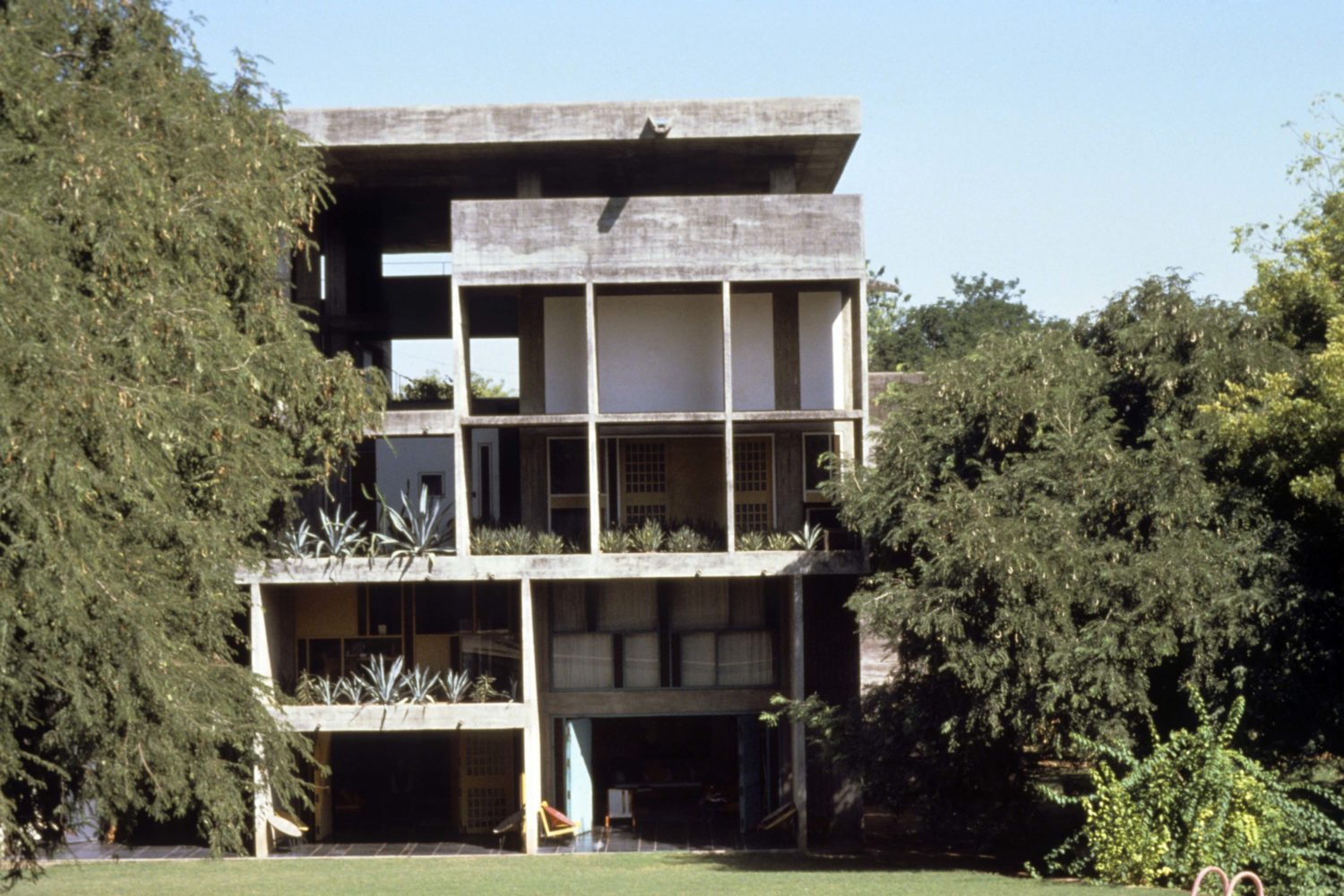 The plans for Shodhan House reveal an evident structural simplicity, but also, countering this, a wonderful plasticity in the handling of the rooms in their form, their dimensions, in the shadows of the brise-soleil on the façades and of the roof parasol, and, moreover, in the hanging gardens swept by an orchestration of beneficent air currents. This plan recalls the ingenuity of the Villa Savoye of 1929-30 at Poissy, placed here in a tropical and Indian setting, as well as in Le Corbusier's post-1950 style. The raw concrete of the façades, showing the imprint of the wooden formwork, is purposely left unfinished. Above, the accommodations are disposed in the space of a hanging garden, on several levels, constituting three apartments, separate and yet in contact with one another.



Tomie Ohtake House, São Paulo, Brazil || Ruy Ohtake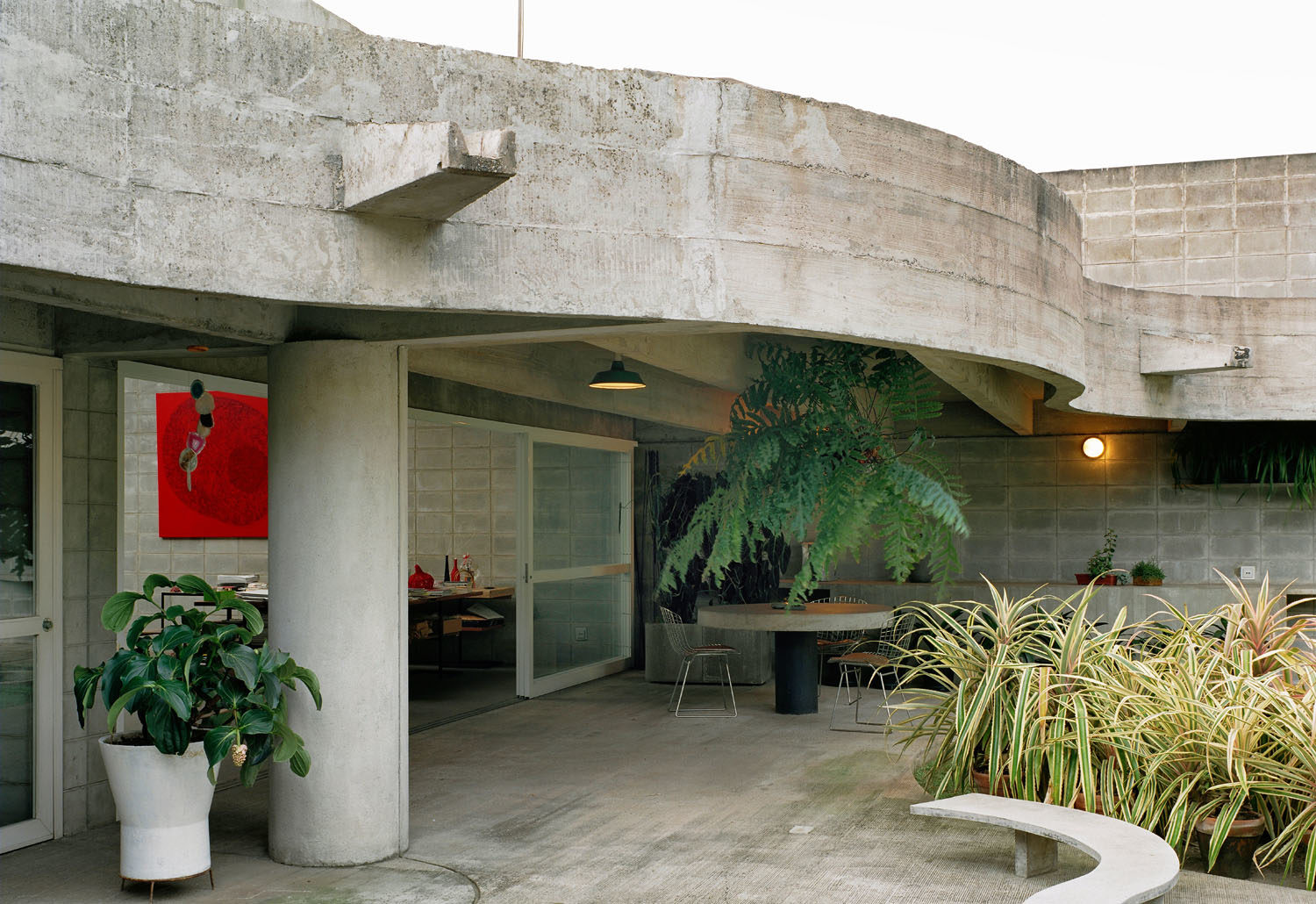 Japanese-born, Brazilian artist Tomie Ohtake is celebrated for her large-scale public art installations and abstract paintings, characterised by strong, monochromatic colour streams. Designed in the '60s by Ohtake's eldest son Ruy Ohtake, her Brutalist home was declared a monument of cultural heritage in 2014. Incorporating a studio and residence in one, Ohtake's living quarters are decidedly monastic, reflecting her simple tastes. Upon entering, the ground floor is organised around an open-plan layout and relies on architectural cues to define the different living, study and studio spaces. Outside, the minimalist lines of the house extend into the lush garden, composed of tropical species and an impressive collection of sculptures.



Casa Millán, São Paulo, Brazil || Paulo Mendes da Rocha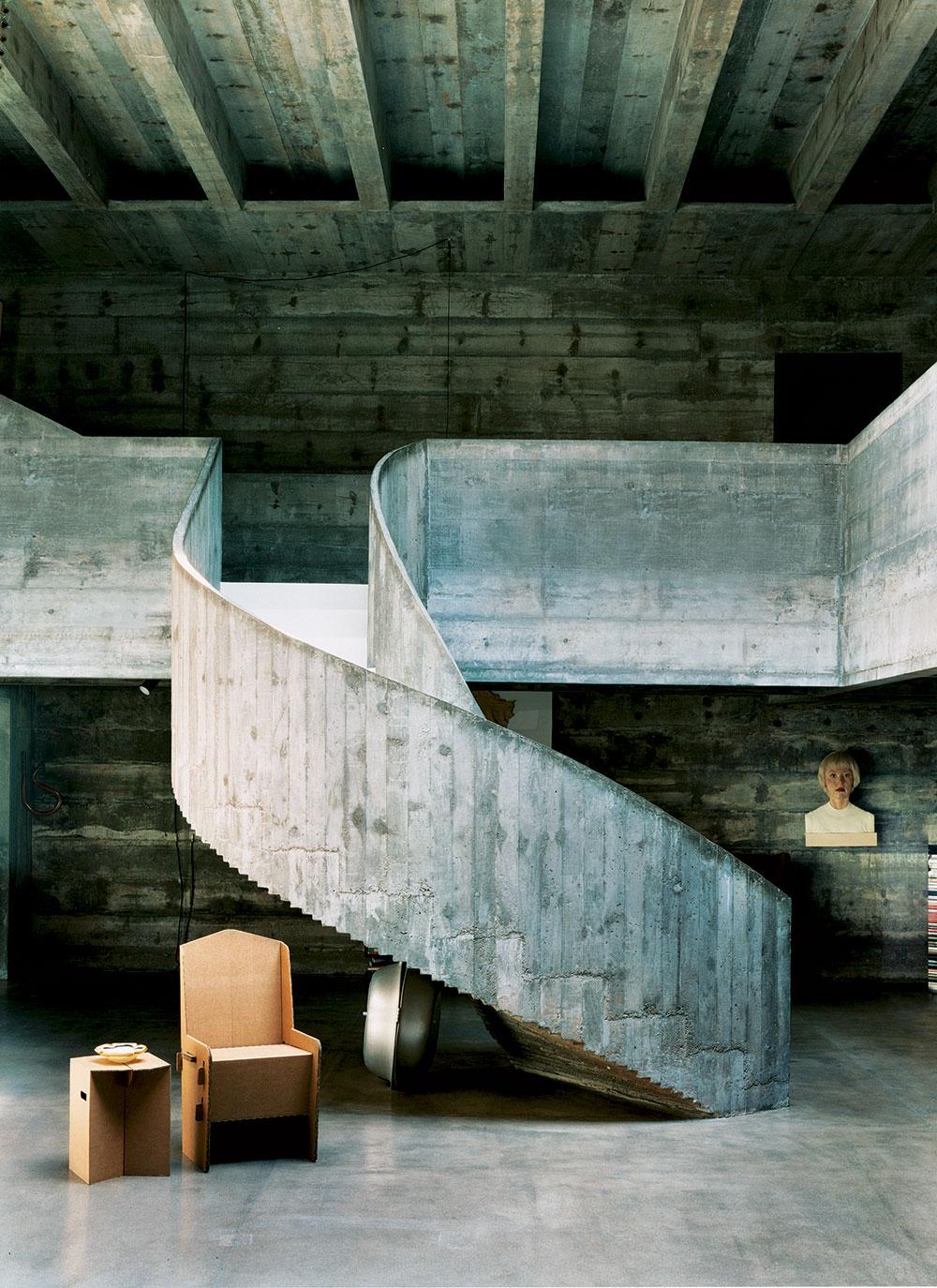 Located in São Paulo, Brazil and completed in 1964, this house was designed by Paulo Mendes da Rocha, a pioneer of Brazilian Brutalism. Art dealer Eduardo Leme commissioned the Brazilian architect to design both his house and art gallery in São Paulo. The property overlooks a quiet local park teeming with monkeys and super-sized vegetation, and has a swimming pool in the garden. The living room displays some of Leme's favourite artworks, from the hanging bones by British artist Paul Hosking to the tyre by Mexican Betsabeé Romero. Leme made the dining table himself, while the 'Spaghetti' dining chairs are by Italian designer Giandomenico Belotti.



Brutalist Home, Bali, Indonesia || Studio Patisandhika & Dan Mitchell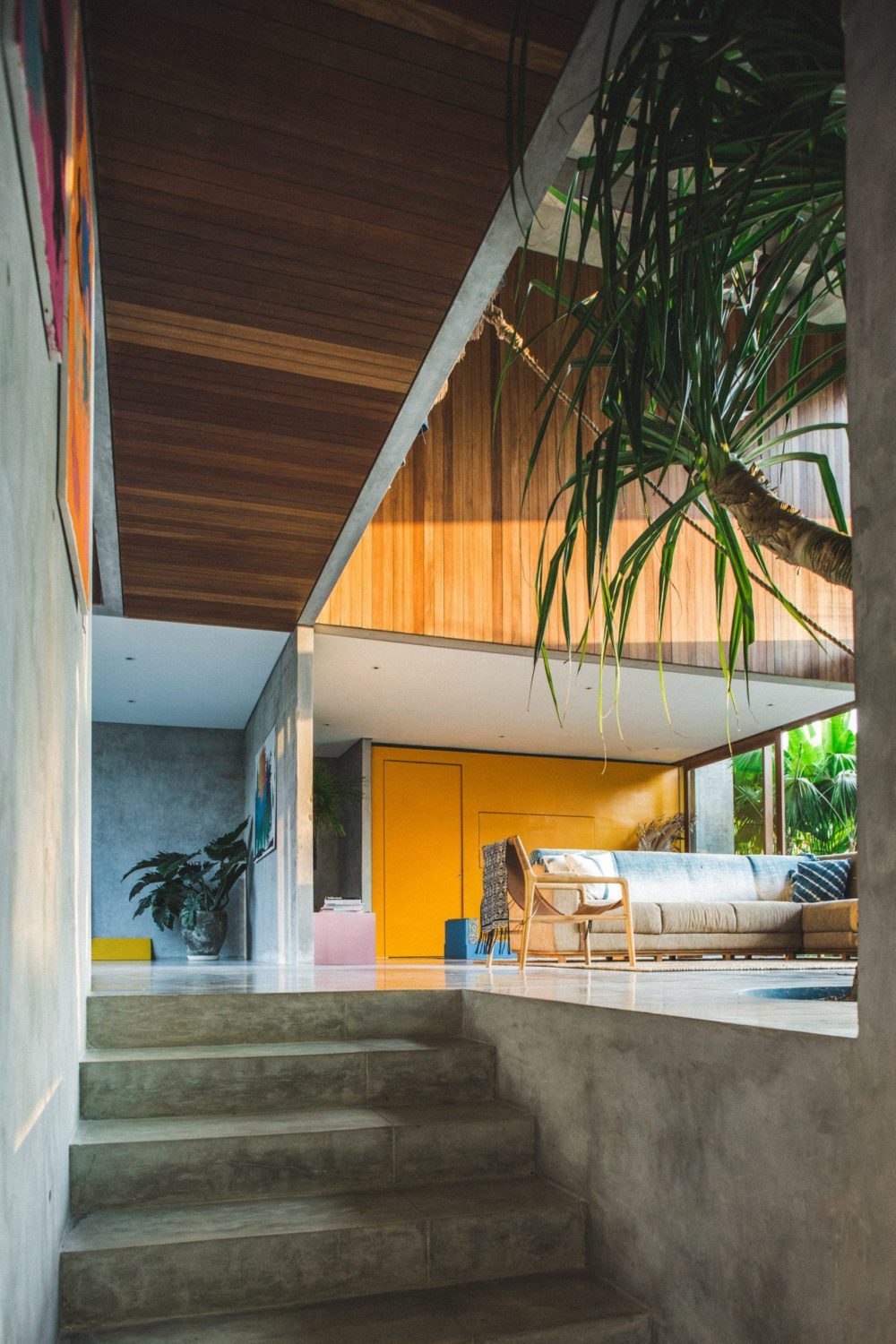 A double-height living room, modelled on Kappe Residence in Los Angeles, stands at the centre of this Brutalist house, completed by architectural studio Patisandhika and designer Dan Mitchell in Bali, Indonesia. The 512-square-metre home is located in a small valley nestled within rice fields on the south coast of the island. It has exaggerated structural slabs that extend horizontally from its exterior, designed by Patisandhika and Mitchell to shade its living room. The kitchen-diner is designed without walls, connecting directly with the outside to enhance natural ventilation and create a sense of outdoor tropical living throughout the property.



Bahia Exhibitions Center, Salvador de Bahía, Brazil || João Filgueiras Lima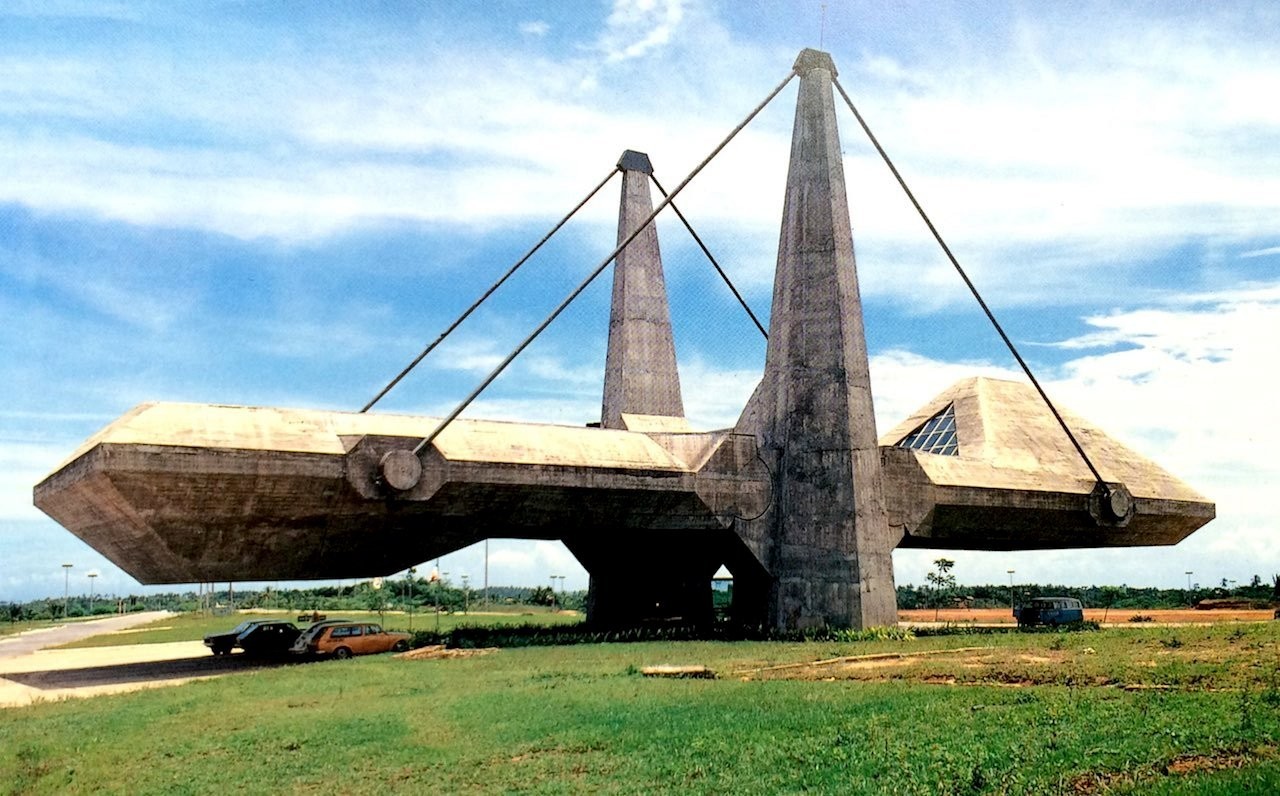 Completed in 1974, Bahia Exhibitions Center is entirely suspended five meters above the ground. It is set in two identical side towers, from which protrude risers that contribute to the stability of the building. In each tower there is a cylindrical void with a diameter of four meters; one of the towers houses the staircase and in the other is installed a lift, which works by hydraulic system and supports forty people per trip. João Filgueiras Lima's building houses an exhibition hall in the east and an amphitheatre at the west end. The exhibition hall has a pyramidal roof, which illuminates the room through a skylight. The building was made of cast-in-place reinforced concrete and has a rectangular plan fifty-two metres long and nine metres wide.



Feature image: Home designed by Paulo Mendes da Rocha, São Paulo, Brazil (via Pinterest)