Barbican Commissioned Artist Toyin Ojih Odutola's Narrative Drawings Rewrite History
From 11 August 2020, Barbican Art Gallery hosts A Countervailing Theory, a site-specific installation for The Curve and the first-ever UK commission by Nigerian-American artist Toyin Ojih Odutola. An epic cycle of new work unfurls across the 90-metre long gallery, exploring an imagined ancient myth conceived by the artist. An immersive soundscape by renowned conceptual sound artist Peter Adjaye fills the space in response to Ojih Odutola's work. The exhibition will be accompanied by a publication featuring a new text by acclaimed writer Zadie Smith and an interview with the artist.
Executed in pastel, charcoal and chalk, the installation features a series of 40 drawings, each work acting as an individual episode within an overarching narrative. Ojih Odutola encourages the viewer to piece together the fragments of the stories she presents. Set within a surreal landscape inspired by the rock formations of Plateau State in central Nigeria, the works depict the tale of a fictional prehistoric civilisation, dominated by female rulers and served by male labourers. Drawing on an eclectic range of sources, from ancient history to popular culture, Ojih Odutola investigates the power dynamics at play within this community.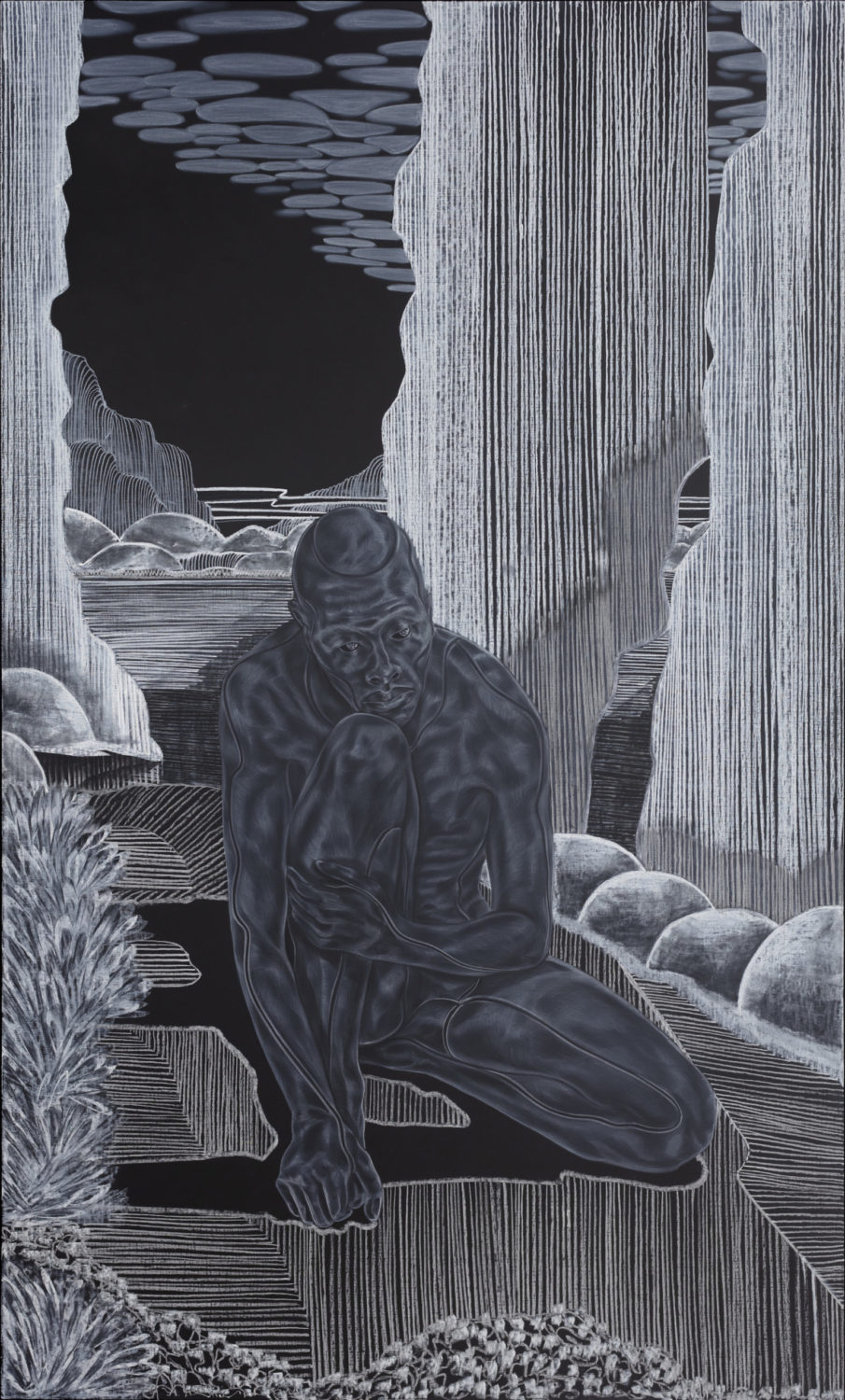 The artist tells: "Walking into The Curve for the first time was an enchanting experience of having a space unfold as you travel through it, not quite knowing what will come around the corner. The feeling of possibility it provides to create and exhibit a story one can meander through in real-time gifted so much promise in how to engage with an audience. The opportunity to share a new project with the Barbican in London is a huge honour and I cannot wait to share that feeling of enchantment with everyone who visits. I hope in the process of experiencing A Countervailing Theory, one finds new ways of engaging with The Curve space, with eclectic forms of storytelling, and all the potential art-making gifts us."
Working exclusively with drawing materials, Ojih Odutola's works often take the form of monumental portraits, which retain a remarkable intimacy despite their scale. Her work is concerned with drawing as a process of storytelling. She weaves speculative tales, which question familiar histories and pose alternative realities. Approaching her practice as an investigation, she intensely engages with the process of mark-making to explore its potential to create new meaning. Ojih Odutola recognises that the pen is 'a writing tool first'; she works akin to an author, often spending months crafting extensive narratives that play out through a series of works to suggest a structure of episodes or chapters.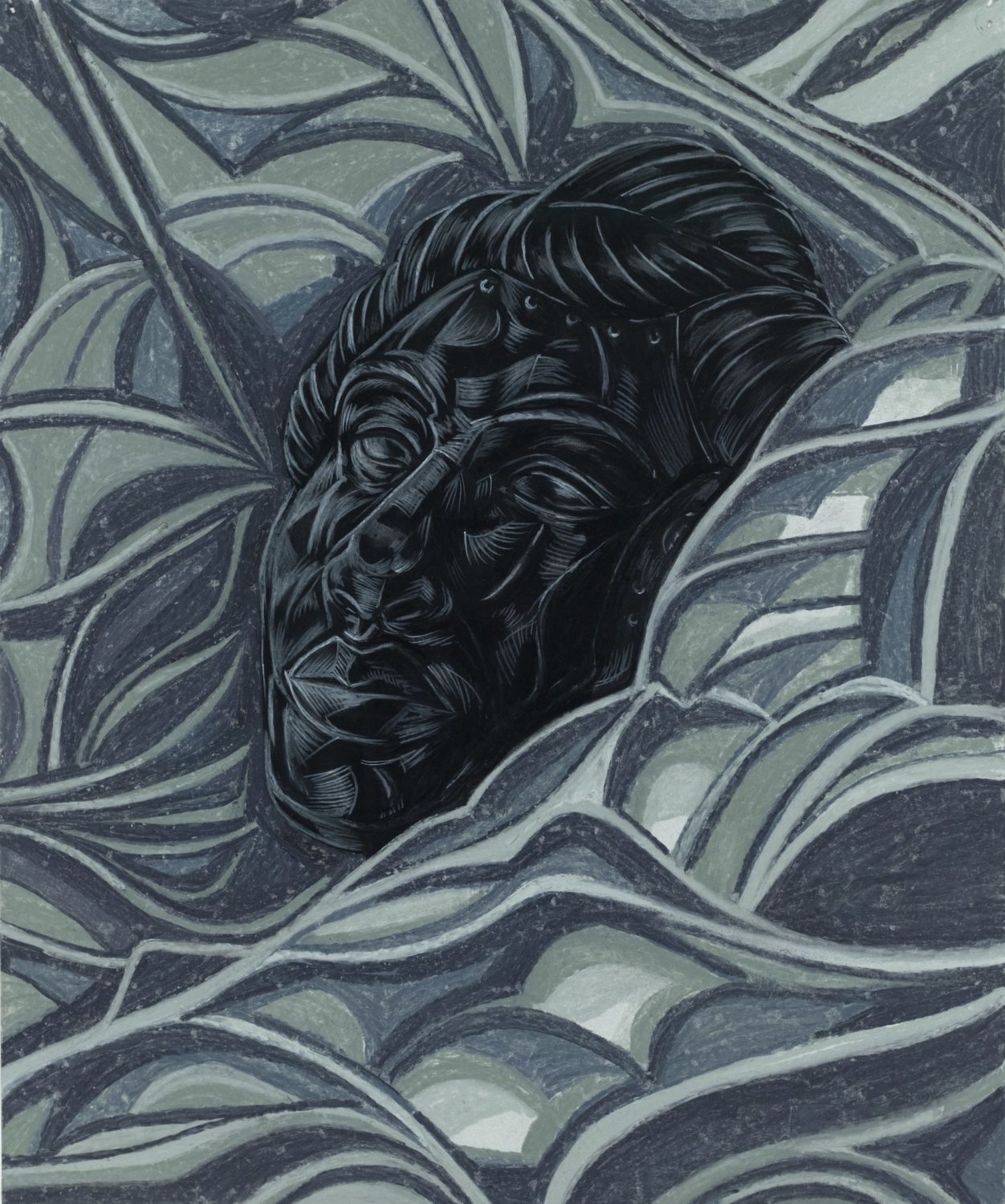 The Barbican's Head of Visual Arts, Jane Alison, says: "I am delighted that we have commissioned Toyin Ojih Odutola to make a new body of work for our free programme of Curve installations. We were almost ready to open just as lockdown happened and now, thankfully, we are finally able to introduce this epic work to audiences in the Centre, as well as creating a video tour of the exhibition for those unable to attend in person. Ojih Odutola's engagement with the space as a canvas for her expansive narratives will undoubtedly be a revelation for many."
Ojih Odutola's previous work has addressed the malleable nature of identity and the role of place in shaping this concept throughout history, in series including Tell Me A Story, I Don't Care If It's True (2020), Scenes of Exchange (2018) and The Treatment (2015-17). Her works have shown a persistent attention to the texture of skin, achieving extraordinary luminous effects through her distinctive techniques of building and blending her drawing materials. The topography of the flesh, as well as that of landscape and domestic interiors in recent series, conveys the nuanced histories of her subjects. Ojih Odutola's works play with the grand tradition of portrait painting by elevating the medium of drawing. Investigating images through the lens of aesthetic, conceptual and emotional principles, her works create an intimate viewing experience.



Toyin Ojih Odutola, A Countervailing Theory at The Curve, Barbican Art Gallery (11 Aug 2020 — 24 Jan 2021)



Semblance of Certainty from A Countervailing Theory (2019) © Toyin Ojih Odutola. Courtesy of the artist and Jack Shainman Gallery, New York