Interview: Pioneering British-Indian Artist Sutapa Biswas On Her New Film Commission 'Lumen'
Artist Sutapa Biswas works in a wide range of media including drawing, painting, photography, moving image, installation and performance. In the 1980s, Biswas was a vital contributor to the Black Arts Movement in Britain. Her work first came to prominence in the landmark exhibition The Thin Black Line curated by the artist Lubaina Himid at the Institute of Contemporary Arts, London in 1985. Interested in exploring the often complex relationships between colonial histories and gender, race and class, Biswas investigates both personal and historical narratives, disrupting, challenging and reimagining the canon of Western art history. Renowned art historian Griselda Pollock has said that it was Biswas who "forced us all to acknowledge the Eurocentric limits of the discourses within which we practised." From 26 June – 20 March 2022, BALTIC Centre for Contemporary Art is set to present a solo exhibition by Biswas, showcasing the artist's extensive career alongside a major new film commission titled Lumen. To learn more, Something Curated spoke with the artist.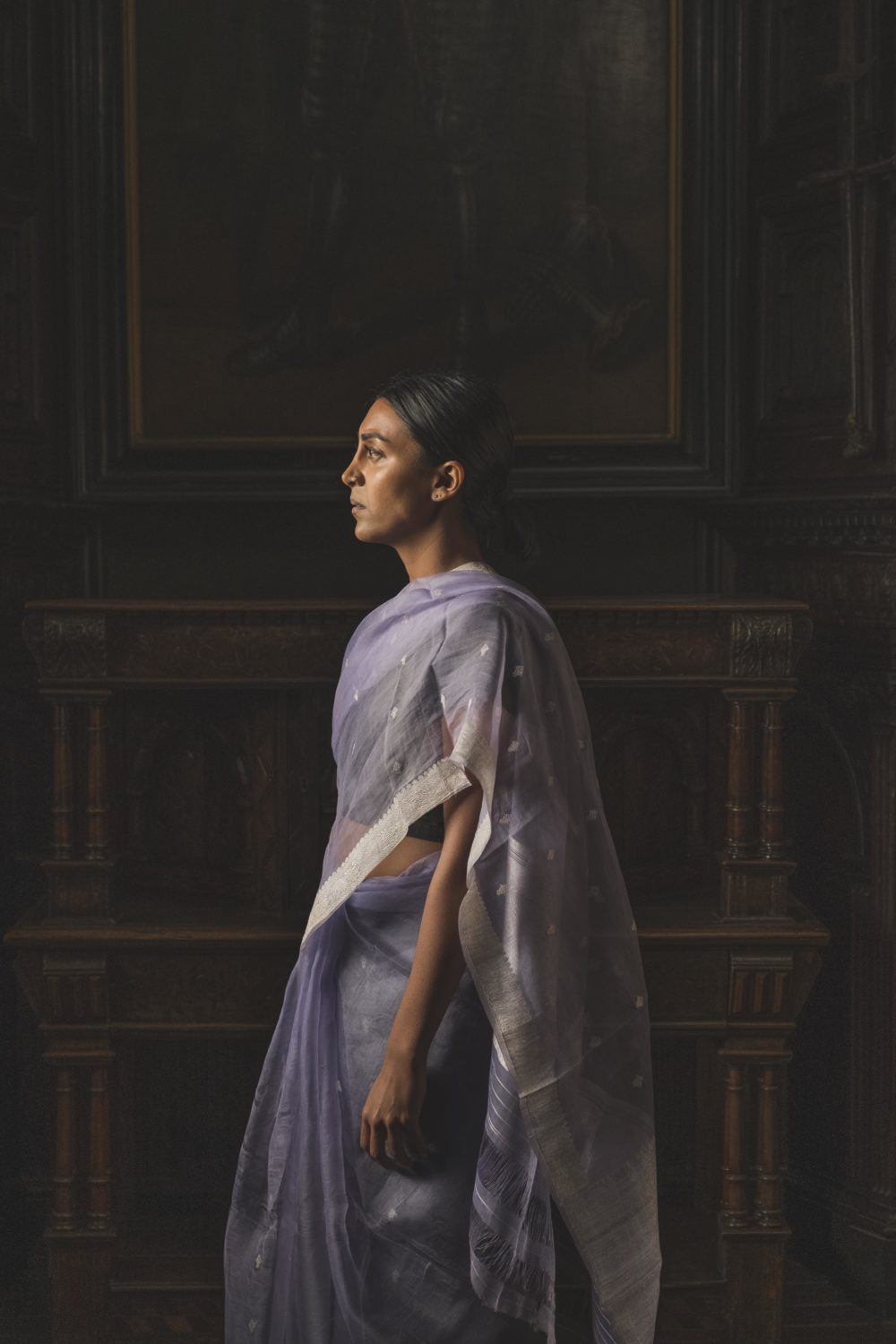 Something Curated: Can you give us some insight into your background and how you first became interested in art?
Sutapa Biswas: I was born in Santinikethan, India, where my father was teaching at one of the universities that is part of Tagore's Institute which is regarded by many as being the seat of the birth of Modernism in India. It is a place that, at the time, brought the study of arts, humanities and sciences together. So I was exposed to the arts, drama, dance as well as the sciences through my father. My father was in many ways both a Marxist and a romantic. A phrase he often used to describe the beauty and essence of life was 'dance, music and play'. It is often assumed that in post-Independent India everything was suddenly fine overnight following partition. But recent research reveals that West Bengal's proximity to China and Russia was a concern for western economic and political interests, prompting a covert presence of western intelligence. If, as in my father's case, you were a Marxist and at odds with new government policies with which you disagreed, life was made difficult.
In around 1963/64, my father won a scholarship to undertake his doctorate at Chicago University. It was a generous award that also allowed him to relocate with his wife and we children. All the papers came through just as the Civil Rights Movement riots were taking place. My father's family were afraid that he would join the Civil Rights Movement and possibly be killed for his activities, and concerned for the well-being of my mother and we children were this to happen, so somehow persuaded my father to give up his scholarship and stay in India. It's possibly the only time my father ever listened to his family. Ironically, in the following year life in India continued to be difficult for my father under the scrutiny of the government. In 1965, almost overnight, my father left India for England assisted by his cousin who at the time worked at the Indian High Commission.
About six months after my father left, my mother and we five children followed in his footsteps taking a ship from Bombay to Genoa via the Suez Canal – one year before the Six Day War of 1967 between Egypt and Israel. From Genoa we took a train to Calais, and from there a boat to Dover where we were met by my father before taking a train to London. Both my parents were born in what was prior to Partition, British India, and then became East Pakistan, and today is Bangladesh. So they were displaced as a consequence of partition. It must have been an incredibly terrifying journey and experience for my mother to leave her home, her family and her country, and travel alone with five children – albeit very well behaved – to the very country whose ruling elite had over 400 years of colonial exploitation and one hundred years of the British Raj in India, had effectively twice displaced my mother and her family.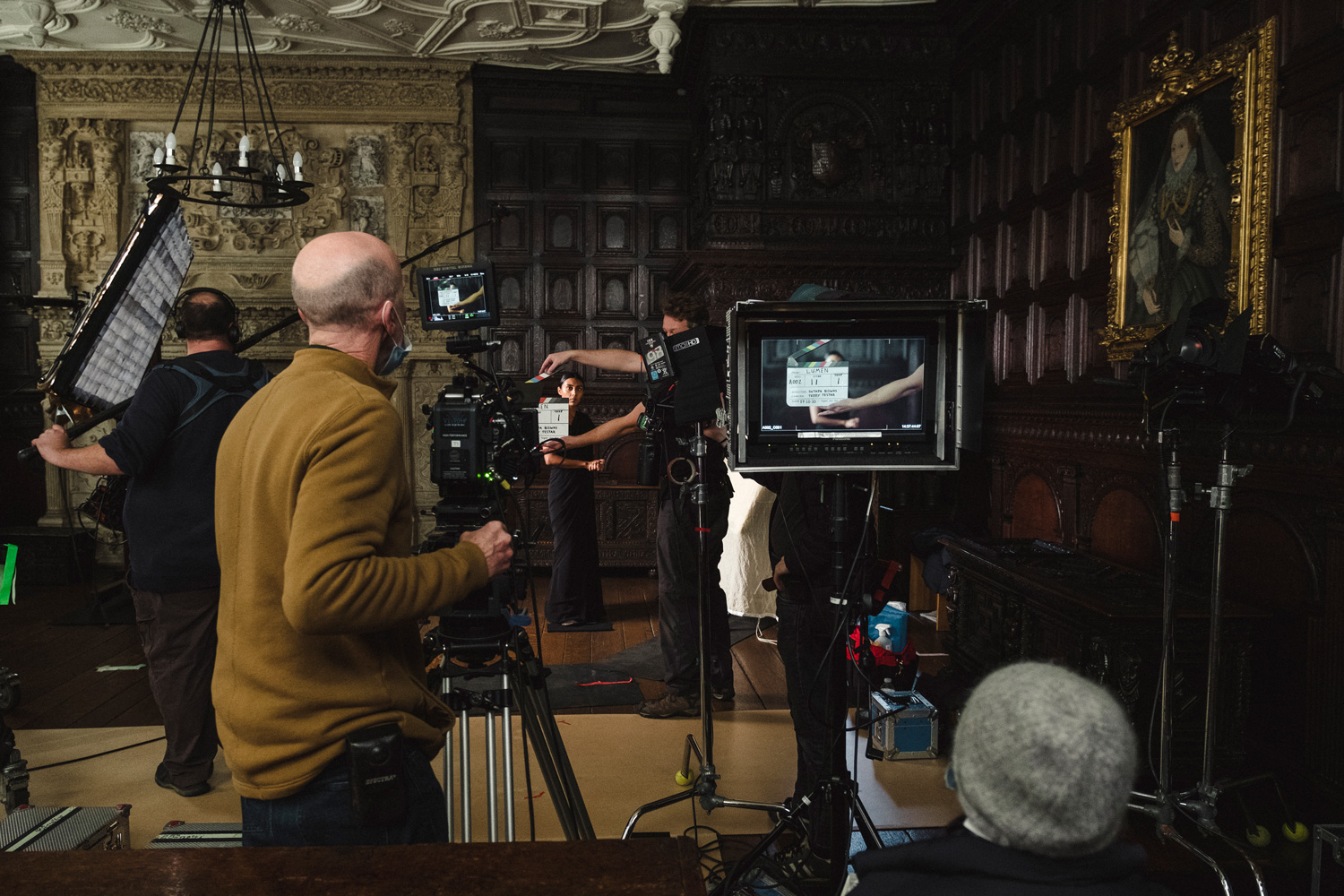 I think that this experience of displacement and migration coupled with my early upbringing in Santinikethan, may well have laid the seeds of my desire to be creatively expressive. I had a love of drawing and painting from a very early age so becoming an artist was always present. The first painting that I remember vividly as a child aged five was a reproduction of Vermeer's painting 'Woman in Blue Reading a Letter', 1663. It was a formative moment in that the painting reminded me of watching my own mother reading letters from home written on blue aerograms framed by the light entering the windows. On one occasion wearing a fine blue silk sari that she had brought with her from India when we left, she wept as she read the letter in her hand. That vision never left me and years later as an undergraduate student of Fine Art and Art History at the University of Leeds, I came to read the symbolism in Vermeer's painting differently – in particular the presence of the map on the wall behind the female subject. Painted by Vermeer at a time of Dutch colonial expansion, it was also a period during which the Dutch East India Company was founded. I realised that the result of over 400 years of European colonial exploitation and rule in India – Portuguese, Dutch, French, British – had ultimately resulted in the displacement of my parents from their place of birth. These early life experiences in different ways came to inspire me to make art.
SC: What is the thinking behind the selection of works included in your upcoming exhibition at BALTIC Centre for Contemporary Art?
SB: I am interested in the human condition and my works explore questions of time and space in relation to histories. A key component of my BALTIC exhibition centres around my new film 'Lumen', 2021, realised in collaboration with Kettle's Yard, University of Cambridge and co-commissioned with Film and Video Umbrella and Bristol Museum with the generous support of the Art Fund UK through the Moving Image Fund for Museums. This programme is made possible thanks to Thomas Dane Gallery and a group of private galleries and individuals. The commission has been additionally supported by Autograph and supported by Arts Council England.
'Lumen' which is also the title of these exhibitions, means a unit of light. It is also an anatomical term for a bodily cavity or conduit, such as an artery, along which blood flows. Both meanings poetically underpin my new film 'Lumen' which explores the human condition in relation to trauma, desire and loss, consequence of the impact of capitalism, colonial histories and racial capitalism – especially in relation to the female subjective space. These are some of the key concepts that I have explored more broadly in different ways within the oeuvre of my works over the past almost 40 years. The BALTIC exhibition brings together a collection of new works alongside selective earlier pieces from 1987 to the present that are conceptually framed by this set of questions.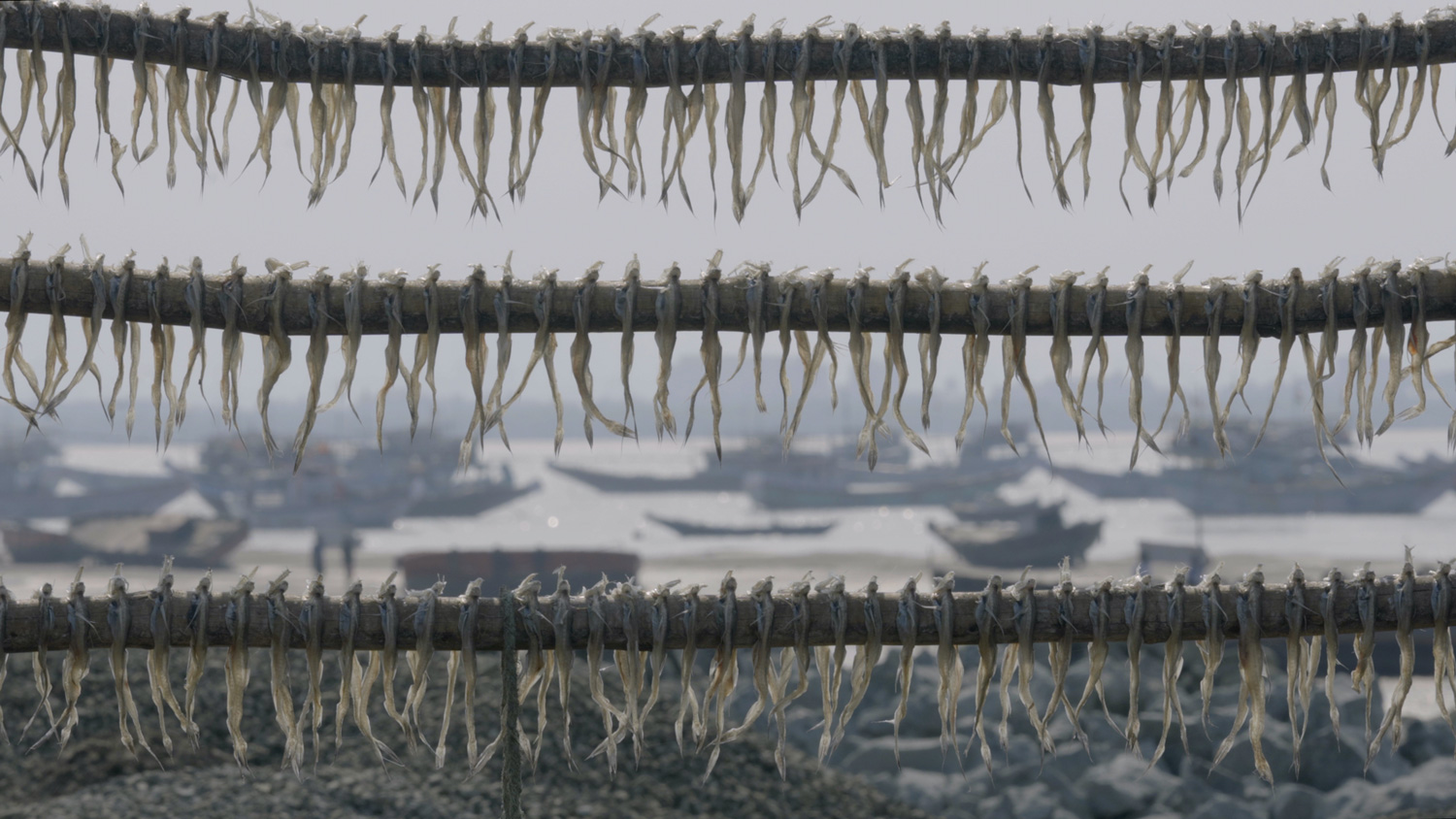 SC: Can you expand on your exploration of migration through Lumen; what motivated you to make this film?
SB: In making 'Lumen' I wanted to draw on the matrilineal stories that the dominant grand narratives of history so often exclude. It is a semi-fictional narrative work that explores the matrilineal journeys and migration of three women – my mother, my grandmother and myself. These women (myself included) have been displaced consequence of the long shadow and impact of colonial exploitation and colonial rule in India for over 400 years; in particular under the British Raj. In 'Lumen', we move back and forth in time through a monologue that is spoken by my key actress, Natasha Patel, who plays the part of all three women. It was filmed in several locations on the west coast of India and at the Heritage site Red Lodge in Bristol, UK. Excerpts from historic archival footage shot in India by the British Raj during the period from around 1920 to Indian Independence in 1947 are incorporated into the fabric of 'Lumen' for the first time alongside archival images and references from the historic colonial archives relating to the British Raj in particular housed in the Yale Centre for British Art, Yale University, where I was a Yale Centre for British Art 2019-20 Scholar, Yale University. My scholarship at Yale supported a substantial body of research for my work 'Lumen' and informed my writing of the monologue.
In terms of the monologue 'Lumen' was written to sound like the reading of a piece of prose. Shakespearean in places, I deliberately incorporated this vernacular as it references my parents' experience of being educated in what was at the time British India in English and British literature and poetry. During their schooling my parents by law were forbidden from speaking in their own mother tongue. So alongside historical archival sources, and decolonial critical literature around colonial histories and philosophical writings relating to questions of trauma, I have also been inspired by novels such as by Arundhati Roy and Jhumpa Lahiri, Virginia Woolf, and a range of poetry from Sylvia Plath to Percy Bysshe Shelley. I have been told that in places the monologue is like the chorus of a Greek play which I can see is the case.
Formally as a film 'Lumen' draws influences from film makers such as Agnes Varda, Chantal Akerman, Satyajit Ray, Andrei Tarkovsky, Fellini and others. There are three moments that visually reference and pay homage Satyajit Ray's 'Pather Panchali' and 'The Music Room', Tarkovsky's 'Ivan's Childhood' and Fellini's 'La Strada'. These four films are important in that they in different ways explore the human condition and questions of trauma in relation to the violence of fascism, colonialism and capitalism. The filmic space was one of my earliest loves and what I hope Lumen achieves is to lend insight into the deeply psychological impact of colonialism on the lives of my female semi-fictional characters, told through a decolonial feminist lens.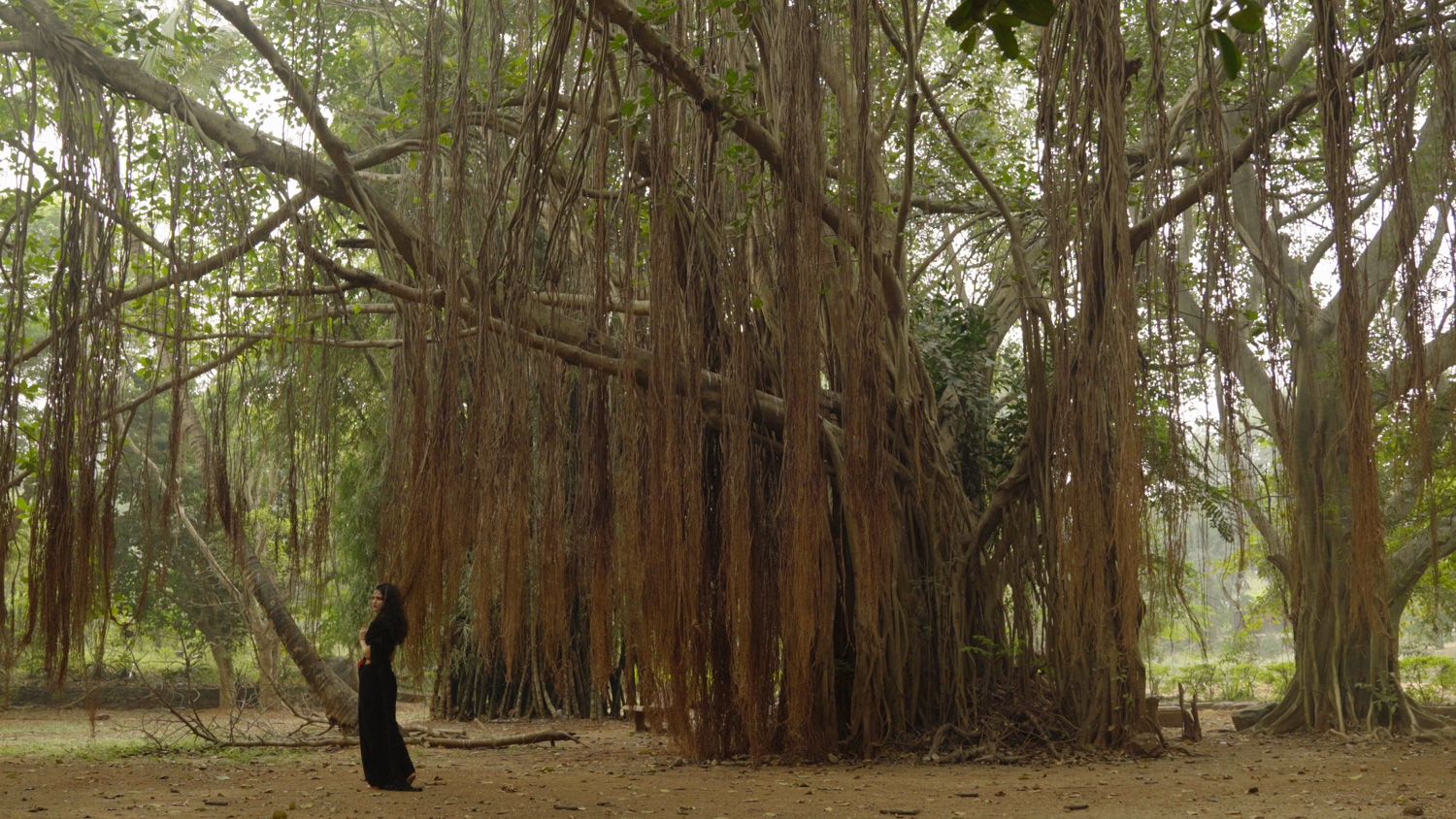 SC: Could you tell us about your seminal involvement with the Black Arts Movement in Britain?
SB: I was an undergraduate student of Fine Art and Art History at the University of Leeds from 1981 to 1985 in a department that was led by the world renowned social art historian T. J. Clark. It was a course that was deeply immersed in creating strong interconnections between studio practice and critical art theories, the most interesting component of which was its Marxist, post-structuralist, feminist deconstruction of the discipline of art history and fine art practice. Whilst it was a brilliant course in many ways, and I feel incredibly fortunate to have been exposed to many of the brilliant scholars – art historians and practising artists – who taught there; having the background that I do in terms of my family experience and history, from day one from encountering images of for example Turner's 'Slave Ship' projected on cinematic scale but with no decolonial contextualisation of the subject matter and why and what and who were those bodies in the sea, I began to ask questions about what was missing from the taught syllabus and from the discipline of art history itself.
I began to demand that my tutors including Griselda Pollock, John Tagg and others decolonise the curriculum. Following a course trip to Paris and Versailles in the summer of 1982, between 1982 and 1983 I began to make art works that challenged these Eurocentric art historical narratives by incorporating visual imagery and references into my artworks. Preparations in making my video work 'Kali', 1983-84 which is now in Tate's Collection, and that I started making in 1982 encouraged by my tutor the art historian Fred Orton who very kindly lent me his personal books on the Happenings and Fluxus, allowed me to consider how performance and questions of temporality could offer a route by which to challenge the dominant discourses of art history. I began to make my now iconic painting 'Housewives with Steak-knives' in 1983.
My research for my undergraduate thesis which was begun in 1983 prompted by an encounter whilst an undergraduate in 1982 during a studio critique, begins with a critique of the failure of art historical writings of that time by T. J. Clark to read the symbolism of Édouard Manet's 'Olympia', 1863, not only in terms of capitalism, but in terms of racial capitalism. It was subsequently that Griselda Pollock raised this in her writings regarding 'Olympia' which subsequently and rightly led to Clark re-visiting and revising his own critique of Manet's 'Olympia'. In 1983 following reading Edward Said's seminal book 'Orientalism', the book 'The Empire Strikes Back' edited by Paul Gilroy, Screen Magazine's 'Screen, Incorporating Screen Education: Racism Colonialism and Cinema, and attending an extraordinary South African play by Maishe Maponye, 'The Hungry Earth' at the University, a section of the sound track from which was with permission incorporated into my work Kali, 1983-84, I began consolidating part of research in preparation for my undergraduate thesis the title of which was called 'One Hell of a Big Subject': Contemporary Black Women Artists in Britain'.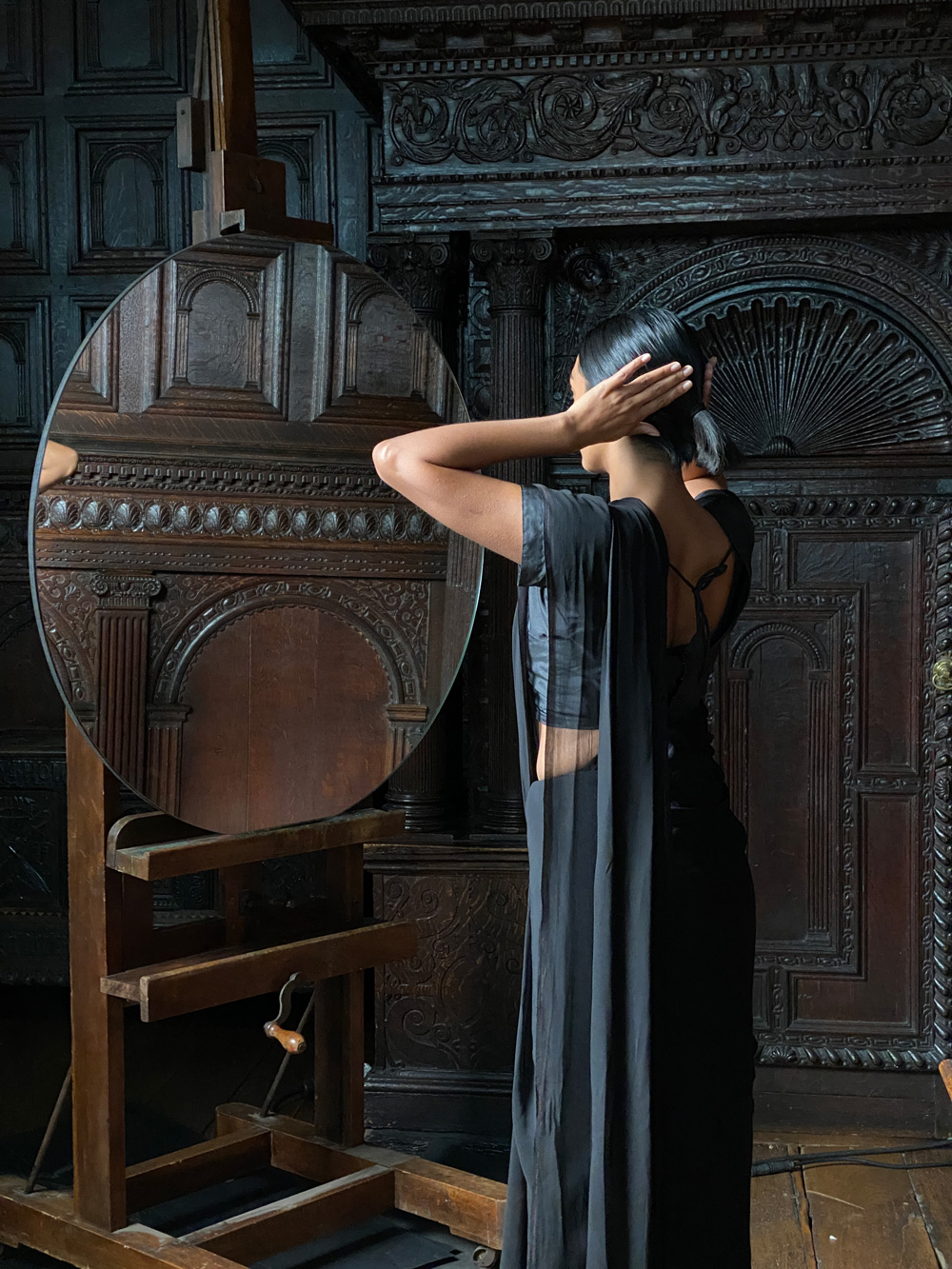 In the late summer of 1984, by chance I found information about a symposium being held in Sheffield's Mappin Art Gallery as part of an exhibition titled 'Into the Open: New Paintings, Prints and Sculptures by Contemporary Black Artists' hosted there which was curated by the artists Lubaina Himid and Pogus Caesar. I went along and introduced myself to Lubaina asking if I could interview her for my student thesis which she was happy for me to do. This is how I came to know Lubaina better. Around spring 1985, I invited Lubaina Himid and Sonia Boyce to come and do a talk in my department at the University of Leeds. It was during this time that Lubaina and Sonia saw my video work 'Kali', 1983-84, which was by then completed, and 'Housewives with Steak-knives' which was also more or less completed by then. A short while after Lubaina asked if I would send her images of both works for consideration of inclusion in her landmark exhibition 'Thin Black Line' that she curated at the ICA, London. I received confirmation from Lubaina that this work would be included in her show on the day that I received my undergraduate results. I also met Lina Gopal of Black Audio Film Collective at a conference in Sheffield in 1984. She was a brilliant speaker and super smart.
Following my graduation, in the build-up to the ICA exhibition, Lubaina hosted gatherings in her home on a regular basis of the artists whom she included in 'Thin Black Line'. This was how I initially came to meet many of the Black British Artists including Claudette Johnson, Ingrid Pollard, Marlene Smith, Veronica Ryan, Brenda Agard, Chila Kumari Burman, Jennifer Comrie and Maud Sulter. After this exhibition, I met Eddie Chambers, Rasheed Araeen, David Medalla, Donald Rodney, Pratibha Parmar, Mona Hatoum, Isaac Julian, John Akomfrah, Martina Atilla, Allan deSouza, Keith Piper, David A. Bailey, Sunil Gupta, Lesley Sanderson, Amanda Holiday, Rita Keegan, and many others who were all very much part of the Black Arts Movement in Britain.
SC: Do you perceive a decided shift away from Eurocentric perspectives in the art world in recent times?
SB: Yes. It's long overdue and necessary. We need to re-evaluate everything and with urgency because just look at the dire state of the world today – not least in terms of what we have witnessed over this past decade with the incremental rise of fascism.
SC: What are you currently reading?
SB: I am reading three books in tandem presently, turning to each of them in different ways. They are 'Looking for Lorraine: The radiant and Radical Life of Lorraine Hansberry' by Imani Perry, 'Every Day I Write The Book' by Amitava Kumar, and 'Jack Whitten: Notes from the Woodshed' published by Hauser & Wirth.



Sutapa Biswas: Lumen at BALTIC Centre for Contemporary Art | 26 June 2021 – 20 March 2022



Feature image: Sutapa Biswas, Lumen, 2021. Film Still – Three Women. © Sutapa Biswas. All rights reserved, DACS 2021.