Try Making Gunpowder Founder Harneet Baweja's Mustard Malai Broccoli At Home
Harneet Baweja and his partner Devina relocated to London from Kolkata back in 2014. Enamoured with the city's diverse and dynamic culinary offering, the couple decided to open a restaurant of their own in the capital. In 2015, Gunpowder was born. The home-style Indian restaurant, which wholeheartedly embraces the small plate, reimagines traditional favourites through a contemporary lens. Following the success of their first outpost in Spitalfields, Gunpowder now also has bustling locations in Tower Bridge and Soho. As temperatures continue to creep up over the coming months, Baweja shares with Something Curated the recipe for his deliciously summery Mustard Malai Broccoli. He tells SC: "I grew up in Kolkata, where we use lots of mustard seeds in our cooking. It's generally used in fish dishes, but at Gunpowder we took the same traditional cooking style and adapted it for vegetables. Broccoli is not only a great seasonal choice for the summer, but it also takes on the sharp flavours of the mustard really well. The Malai sauce is specific to Bengal and Bangladesh, where it's eaten so regularly that it's often used as a dipping sauce for fried snacks – I have strong memories of that heat and acidity."


MUSTARD MALAI BROCCOLI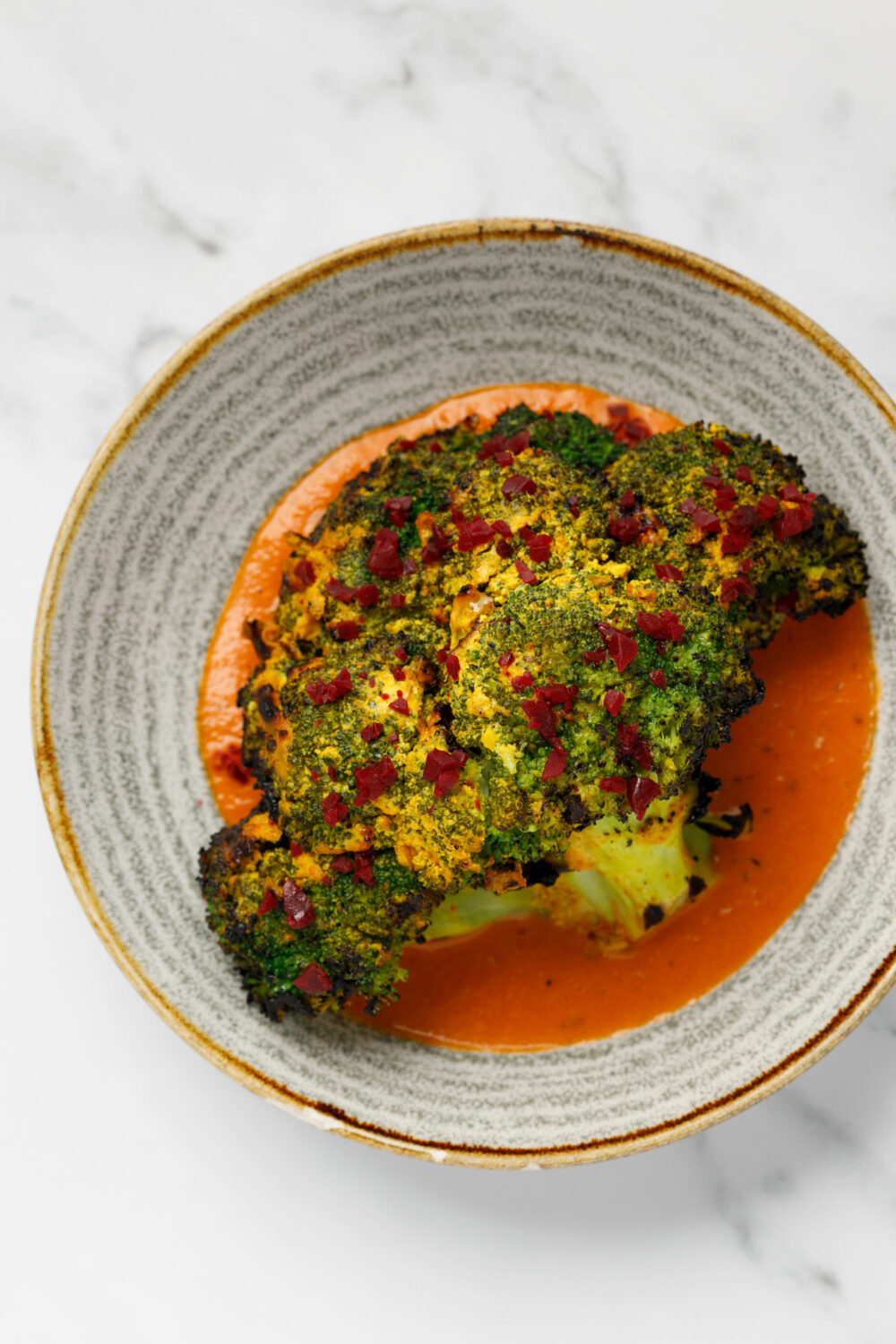 INGREDIENTS:
BROCCOLI
300g Greek Yoghurt
100g Full Fat Soft Cheese.
80g Whole Grain Mustard.
1 tsp Chili Powder
1 tbsp Turmeric & Chaat Masala
2 x Whole Broccoli
1 tbsp Coriander Powder
1 tsp Kasoori Methi
60ml Mustard Oil
1 tsp Cumin Powder
10g Salt (as per taste)
MAKHANI SAUCE
2 tbsp Vegetable Oil
4 Green Cardamom Pods
3 Cloves
2 Bay Leaves
1 Cinnamon Stick (2 inches)
3 tbsp ginger and garlic paste
2 tbsp Kashmiri Red Chilli Powder
2 Green Chillies (cut in half)
1kg Plum Tomatoes Purée
200ml Double Cream
250g Unsalted Butter


METHOD:
FOR THE SAUCE
1. To make the sauce, heat the oil in a heavy bottom saucepan over a medium heat, add the whole spices and allow them to infuse in oil for 30 seconds or so before adding the ginger and garlic paste, chilli powder and green chillies.
2. Cook for a couple of minutes, then turn the heat down to medium-low.
3. Add the tomatoes, then cover and cook for about 30 minutes until the sauce has reduced by one-third and the oil has separated from the tomatoes.
4. Remove the whole spices, then add the cream, butter and dried fenugreek leaves. Season to taste with honey and salt.
FOR THE BROCCOLI
1. Marination: add all the ingredients except broccoli mentioned above in a bowl and mix to make a complete marination.
2. Broccoli head: cut into half and blanch for 3mins in hot boiling water, remove and hold under cold water.
3. Squeeze the water completely and apply the marination to each piece and rest it for half-an-hour into the marination.
4. Take a skewer and grill the broccoli head on a robata grill by applying butter to keep it moist.
5. Serve into the round deep bowl with Makhani Sauce (creamy tomato sauce) on base and sprinkle pickled beetroot on top.



Feature image: Mustard Malai Broccoli. Courtesy Gunpowder