Guilia and Gabriele Giacalone On Bringing 40 Colori to Shoreditch
40 Colori's Giulia Giacalone and Gabriele Giacalone are injecting classic, bold Italian style in London: they are menswear entrepreneurs to watch and have been surrounded by bespoke Italian fashion and textile technique since—quite literally—the day they were born. While they only recently graduated from school, the 40 Colori team has a heritage in Italian fashion design, 35 years worth of artisan textile know-how, in fact. The brother-sister duo decided to take the business further and start with opening two locations in 2015 in both Milan and London's trendy east, Shoreditch, of course. To them, a "gentleman deserves accessories which embody the tradition of Italian craftsmanship, top notch quality, and avant-garde style." Something Curated interviews the duo on what style really means in menswear, how London's fashion scene is changing, what they are creating to make the menswear category even more dynamic and how to make it in the fashion retail business—a hard industry to crack into.
Something Curated: Tell us about your career path. How did you start your career in textile and fashion design? Which international fashion brands have you worked with in Italy and around the world?
Giulia Giacalone: "Well we are both newly graduated thus we are really just starting our career paths. But we have been exposed and involved in textile and fashion design since we were both born. Our family-owned factory was created by our Grandma Santina who built it from the ground up. Since the creation of the factory our entire family has worked within the textile and fashion trade. I spent a large majority of my childhood in our factory, helping in any way I could. Artisanal tie manufacturing has always been a part of our lives and this only inspired us more."
Gabriele Giacalone: "Recently, I graduated from LSE with a master in Development Management.  I spent a large part of my childhood in our factory working, playing, helping, and making messes. But I guess this inevitably lead to my interest in textiles and fashion and ultimately led to our decision to take on something as big as creating our own family brand."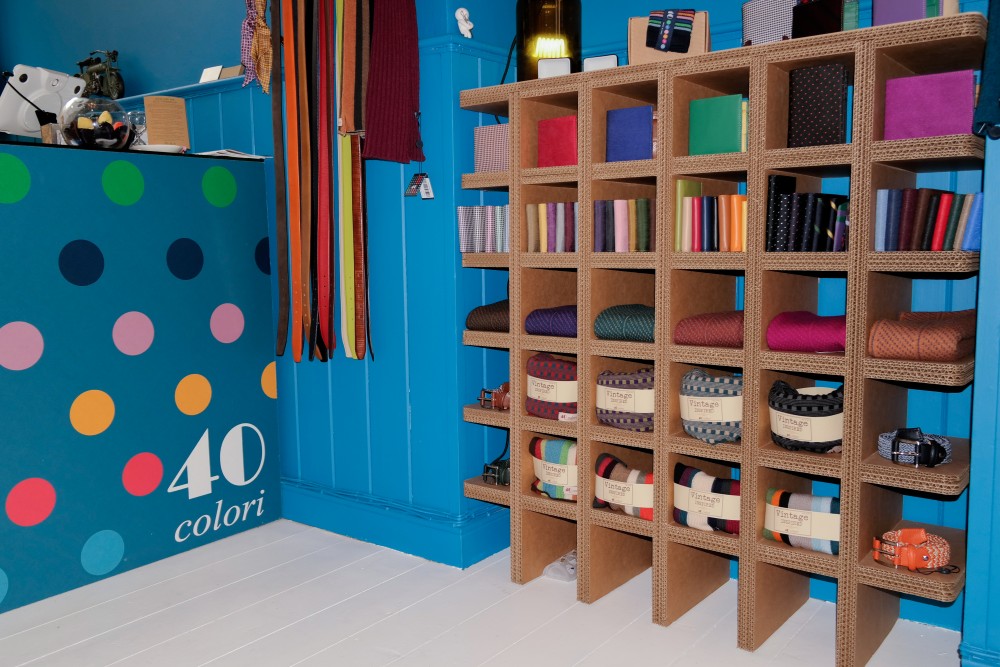 SC: Tell us about your personal approach to the design process and what steps you take to create a successful line of accessories. Does it start with the fabric or colour?
Giulia  Giacalone: "We always start with the fabric. We search high and low for the best top quality materials we can find in the surrounding cities near Lake Como, where our factory is based. Through our family business, we've cultivated some great relationships with top local suppliers and this allows us to find and use truly great materials with the confidence that we are really getting the good. Then, we try to select as many colours as possible. Our goal is to always push the boundaries in a daring yet tasteful way to create a piece that stands out. Our products are made for the modern man—a man who doesn't want to blend in. We get to explore new avant-garde colour and texture combinations. We are lucky enough to have been brought up surrounded by menswear design so having that knowledge of the essential basics and codes of men's fashion allows us to try new things and be creative in our designs while also honoring the classic staple rules of men's fashion."
Gabriele Giacalone: "We always tend to start with the basic rules of men's fashion—then we can explore how we can make something really pop or stand out from there. Our shop is located in Shoreditch which is a very fashion-forward neighborhood of London. We're constantly inspired by the creative people that live here.  We try to take our bespoke customer service  a step further than other brands. We talk to our customers and try to get feedback. What's great is that we have the freedom to call our factory and relay this information—not many brands have the ability to do that."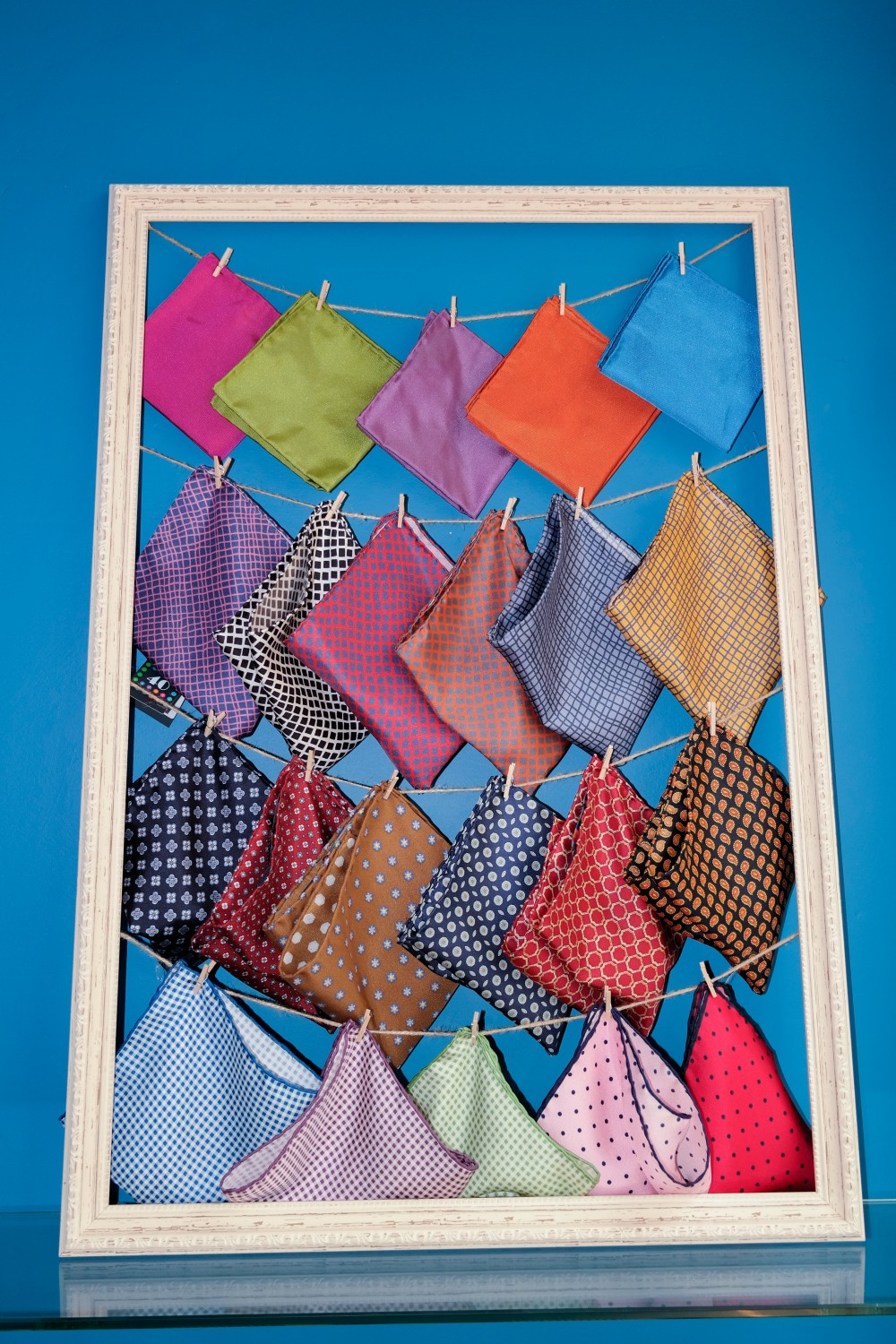 SC: What are the challenges of starting an independent fashion brand in London?
Giulia Giacalone: "What weren't the challenges of starting an independent fashion brand, let alone in London! The biggest challenge was definitely finding a shop location. We searched in multiple neighborhoods for about a little over six months. As we were really so new to everything it was incredibly hard to get any landlord to give us a shot or believe in us. I guess it didn't help either the fact that we are younger than the average tenant a retail landlord would come across. This actually got our team's moral down for a bit as we put down a fair amount of offers and truly would have been a great candidate but we continually were getting beat out by the other bigger named applicants."
Gabriele Giacalone: "Finding the right place was hard but there were other challenges while we built our brand. We were continuously learning things along the way, preparing documents that we had never heard of before quickly in order to stand any chance. We continually had to catch up as newcomers to the independent retail fashion world in order to ensure our brand was going to be and was being respected as a realistic and attainable competition or fellow independent brands."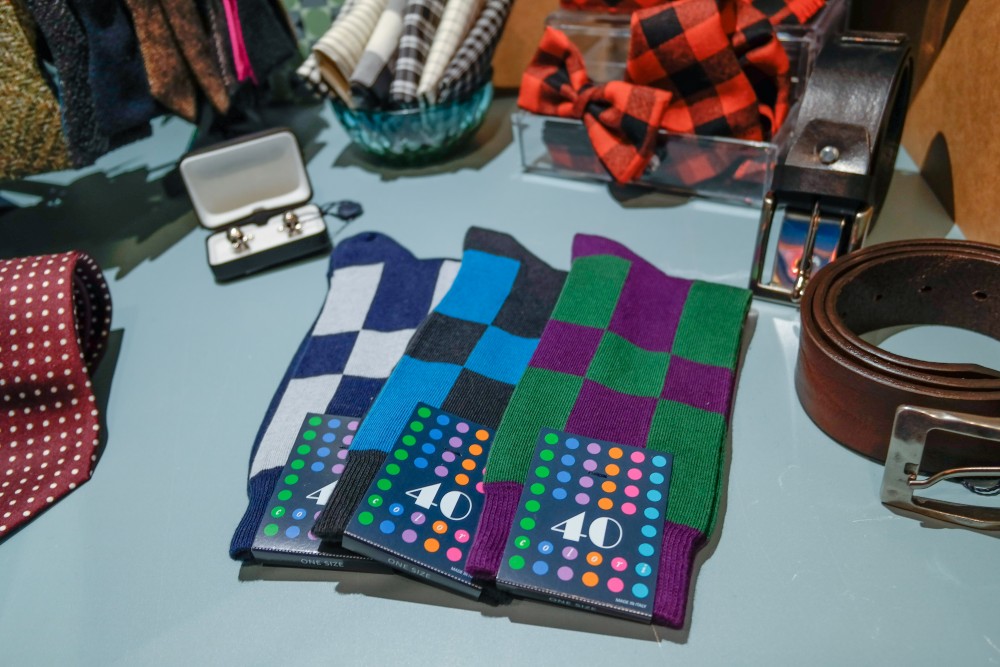 SC: What is 40 Colori all about? What is unique about the brand within the world of men's fashion and generally?
Gabriele Giacalone: "We're all about bold designs. Eye-catching accessories without compromising on quality details and ensuring every modern gentleman can find his next favourite Made in Italy top quality accessory. If anyone was to hear of 40 Colori we would want them to think immediately of high quality products as that is incredibly important to our own work ethic and beliefs and this is something we pride our brand on. It's not often you can step into a shop and trust that everything is honestly crafted where it is advertised, maybe half of the products or just a selection but with 40 Colori there isn't a single product we sell that isn't crafted in Italy."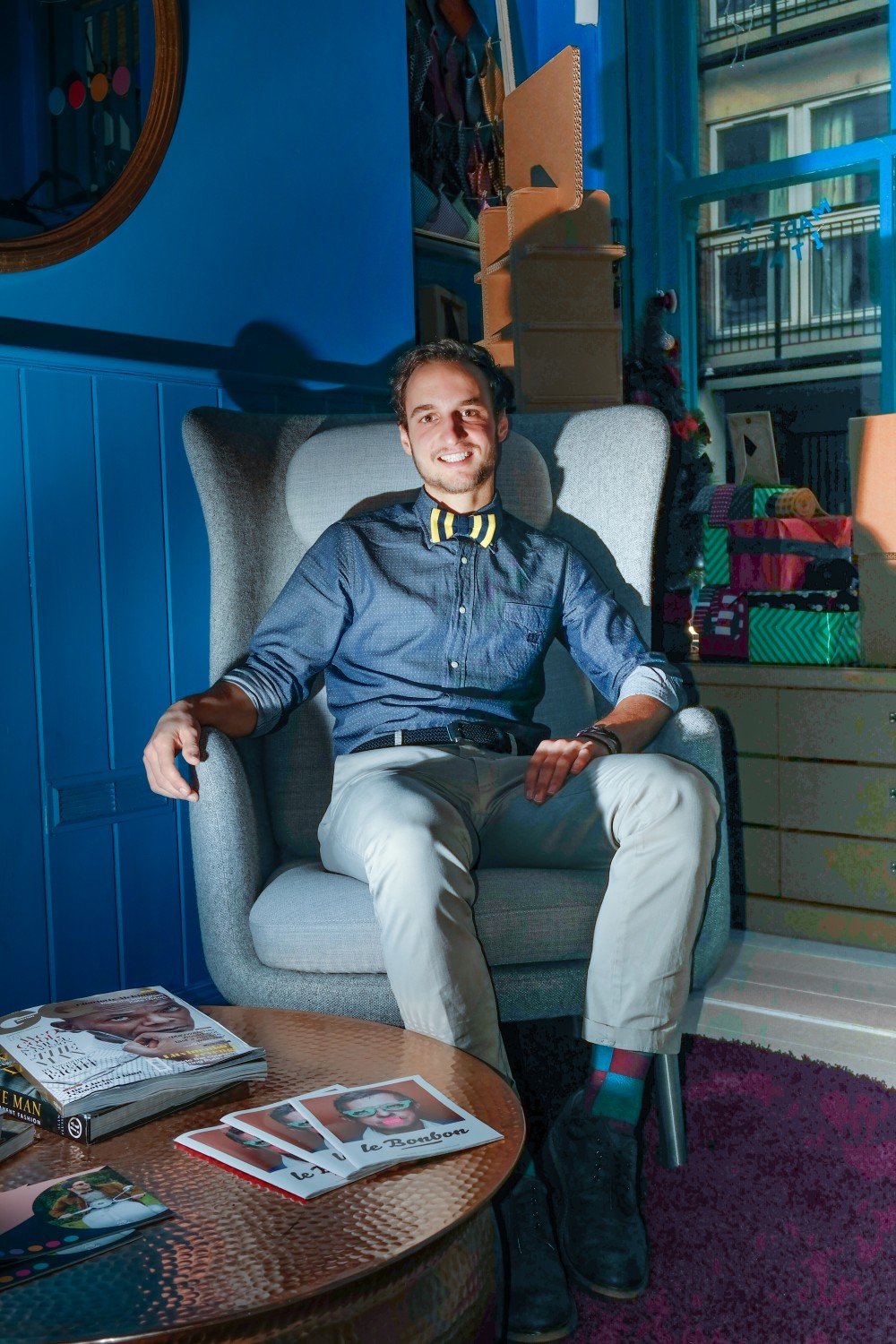 SC: What is your favourite fabric and colour palette at the moment?
Giulia Giacalone: "We have been crafting some stunning bow ties and ties in thick and interesting wool combinations. I'm inspired by Fall colours without a doubt—rich burgundy, deep hunter green, caramel brown. I love these colours on men. Fall is really the top season for menswear. What we never use is acrylic and I think that makes us stand out as a brand. Acrylic is a much cheaper material and we're all about using quality fabrics.
Gabriele Giacalone: "I would have to agree with Giulia—the Fall colour palette is also my favourite. These colours are very friendly with basic men's fashion and it's really almost impossible to go wrong with a rich burgundy! My go to hues would have to be navy blues and reds, these are colours that work so well with the most simple basic navy and black suits yet can still make a statement."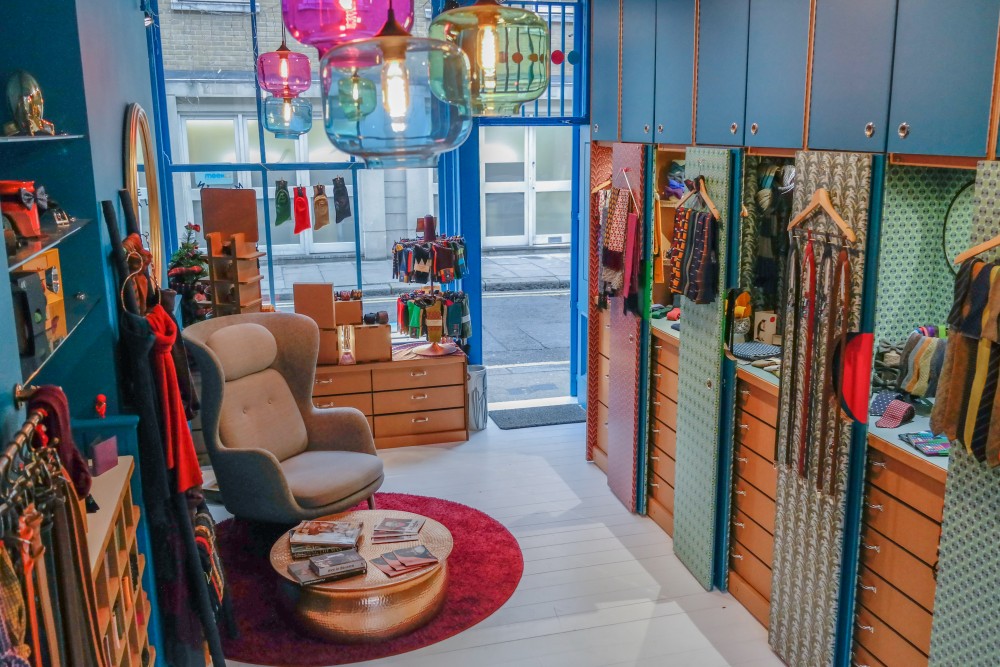 SC: Did you design you store or did you work with a designer? How does the store design fit in with the story of your brand?
Gabriele Giacalone: " The interior design process was really fun for us. We were lucky enough to find a design agency here in London, Finch Interiors, who believed in us and loved what 40 Colori represented as a brand. Once we met the team from Finch Interiors they created some great designs and layouts. We than took their amazing designs and put the store together ourselves. The inspiration for the design of our shop was inspired from the question of who would wear our brand. Finch Interiors had the genius idea to introduce The Sapeurs of The Congo as our ideal customer. They dress up flamboyantly and dapper with super bright stunning colours as the base of their outfits. Seeing their colourful and bold culture we took this inspiration and thought out the concept of creating a Sapeur's dream wardrobe. This is how our wardrobe display came to life."
Giulia Giacalone: "We also worked really hard to figure out a way to include an expression of our eco friendly commitment as a brand and we were able to do this with our recycled cardboard furniture. We worked with an Italian cardboard company, Nardi Mobili, which was able to craft a made to measure furniture for our entire shop. This allowed us to be completely free with design and make something that really expressed 40 Colori while introducing eco-friendly design into the mix."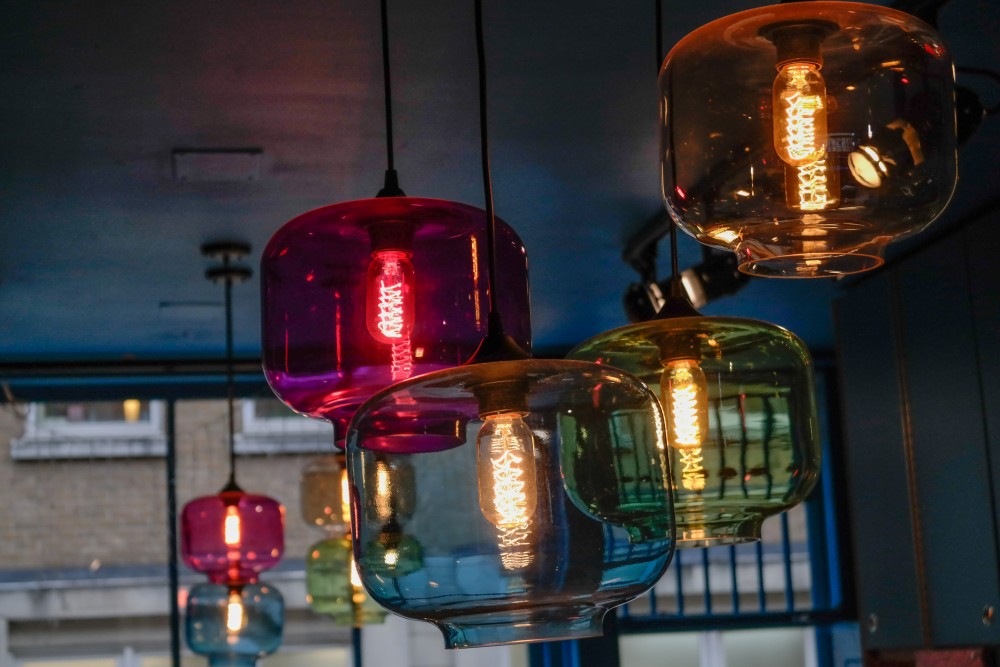 SC: How does fashion change the way people feel? Tell us how you feel good fabrics and colour affects people in a positive or negative way.
Gabriele Giacalone: "Fashion helps you express yourself without words. Fashion gives you new-found confidence, especially if the person feels great in the clothing they wear. Any extra confidence a person can grab through an artistic expression such as fashion is something special."
Giulia Giacalone: "I've always enjoyed the artfulness and patience it takes for a man to tie a bow-tie in the morning—it's a daily ritual and taking that moment for himself is important. It also builds a sense of confidence. Taking a moment to pay attention to the personal details of his bow tie can be a relaxing moment for the gentleman in his chaotic life and I love the thought of our bow ties potentially being part of that moment of reflection for him."
SC: What timeless items should every man have in his closet to look put together and prepared? Tell us about the kind of man that shops at 40 Colori.
Gabriele Giacalone: "I personally think that a man should have at least one tie for every season. It is essential that a wool tie isn't worn in the summer season. Proper formal accessories—formal silk tie or even a classic self tie bow tie—is also essential. I actually think a self-tie bow-tie is also a closet staple. I know many men don't agree with but it's a timeless accessory which really never fails to finish off a dapper look."
SC: Which art galleries, fashion stores and design spaces are you fond of around the world? What make their interior design beautiful/groundbreaking? Why Shoreditch for your first store location and why London for the first location outside of Italy?
Gabriele Giacalone: "Shoreditch for us was our ideal neighborhood to open our first shop in as we felt our target audience would be easily reached in this neighborhood. I personally lived in Shoreditch while I was studying at London School of Economics and Political Science and was able to get a good impression of the area. We felt that this was a neighborhood we felt we could get someone to appreciate our brand's story and history and they would appreciate us pushing boundaries."
SC: Tell us about places you've travelled around the world. Which are your favourites and why? What beautiful design elements from these places inspire your textile and fashion work?
Giulia Giacalone:  Our family has been very lucky to travel many places together. We have been to South Africa, America, Canada, much of Europe, South East Asia, Australia. Within our travels we got great amounts of inspiration for our design with the varied cultural fashions but as well the architecture within these places. It's actually very surprising how many different things are able to spark inspiration while traveling. For example a temple in Bangkok I saw had stunning red walls and simple gold accents on the ceilings and this sparked in my mind inspiration for a new colour pairing for the future. There is so much in this world that has captured my eye and really taught me about the beauty within culture."
Gabriele Giacalone: "I loved the colourful houses on the coast of South Africa. We were surrounded by these colourful houses which didn't hold back in their shades and hues and we absolutely loved this."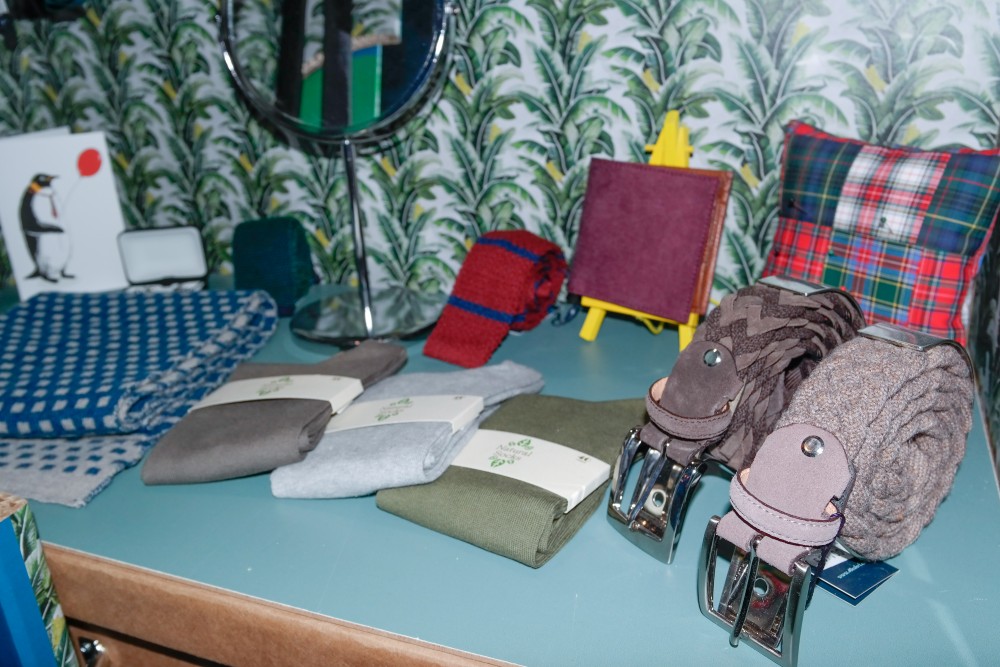 SC: What habits or hobbies do you do to keep yourself inspired? Tell us about something you do for yourself or for friends that keeps you happy and gets you going.
Gabriele Giacalone: " We love to people-watch. This is something that can easily inspire us as we can take a look outside at the fashionable people of Shoreditch and see where fashion is directly with the customers. What colours are being worn, who stands out, what's catching my eye? We do as well keep an eye out on social media for the passing trends and to see what boundaries are being pushed and this inspires us and reassures us of how our designs can work for so many gentlemen.
Giulia Giacalone: "I agree—people watching is a great tool for us and having such a creative community here in Shoreditch. We are lucky enough that we get to ask our friends to be our models as we try to use real people to portray our brand. We really try to find life and work balance outside of the business but it's often hard with such a small team at the moment. But I personally do make time to play football and enjoy the London life as much as I can."
SC: What art exhibits have you seen recently and what music are you listening to (if any) that put you in the right mood to create? What's on your current playlist?
Giulia Giacalone: "Well actually on our latest trip back to Italy we had the chance to go to the World Expo! It was crazy packed but we were able to see a large amount of the different countries pavilions. There was so much to see it was a bit overwhelming to be honest. This expo was something we were lucky to see and it gave a beautiful taste of the world—so many cultures there and this experience really inspired our designs. We try to visit major museums (V&A for example) here in London leave room for us to get constant inspiration which is great."
Gabriele Giacalone: "We're always streaming the 'Indie Mix' on Spotify and somehow that playlist always knows exactly what we want to hear. It's crazy how different music changes our mood in both inspiration and design stages. When we want to change up the feel in the shop we play the 'Feelin' Good Playlist' which features classics like Stevie Wonder, Al Green, Aretha Franklin, and Marvin Gaye. There's no way to listen to these playlists and not feel upbeat."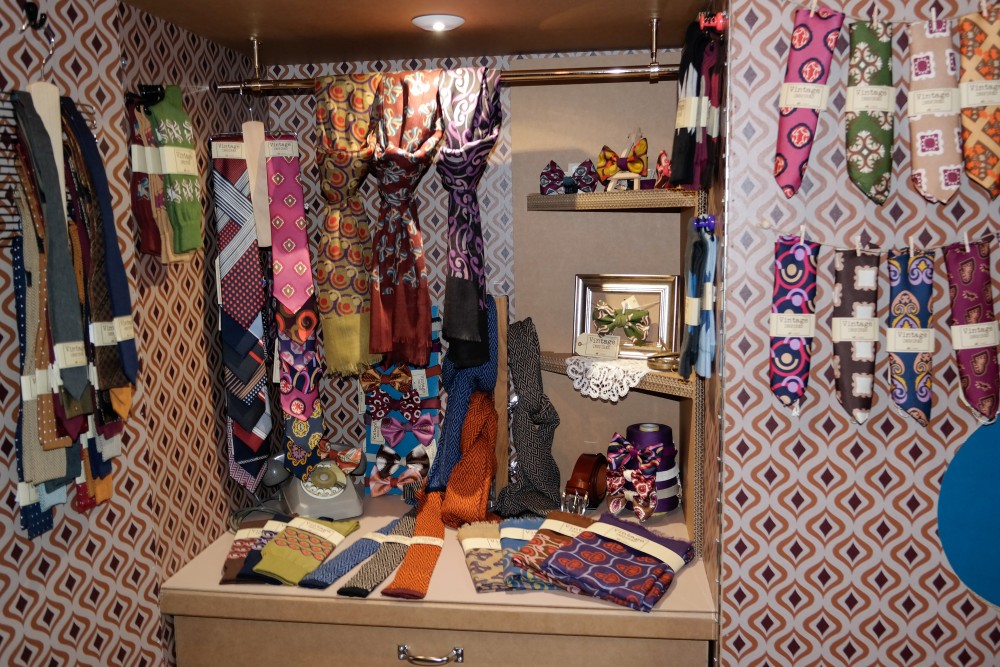 SC: Where do you live in London? Where are your offices? Why those locations?
Gabriele Giacalone:  "I live in Peckham, which is south of the river but still in the East. It's a fun neighborhood with a good artistic community. It's also not too far for us to get to Shoreditch, as we are all cyclists here we were lucky to find a shop in a neighborhood which is as well in East London. Our offices are conveniently located underneath our shop which acts as our in stock room basement, kitchen, wholesale office and company HQ. It's a tight fit but we make it work."
Giulia Giacalone: "I live in Stockwell. It's south west London and a nice quite area. It's a fair distance for me to bike every day to work which is a nice way to start my day and to end it actually."
Text by: Glynnis Mapp
Images: Andrey Uverskiy