First Aid Box: Chris Edwards and Dave Tregenza on Designing Taste
In a business where tradition runs the game, cocktail connoisseurs Chris Edwards and Dave Tregenza are giving a bit of bite back to libations in London.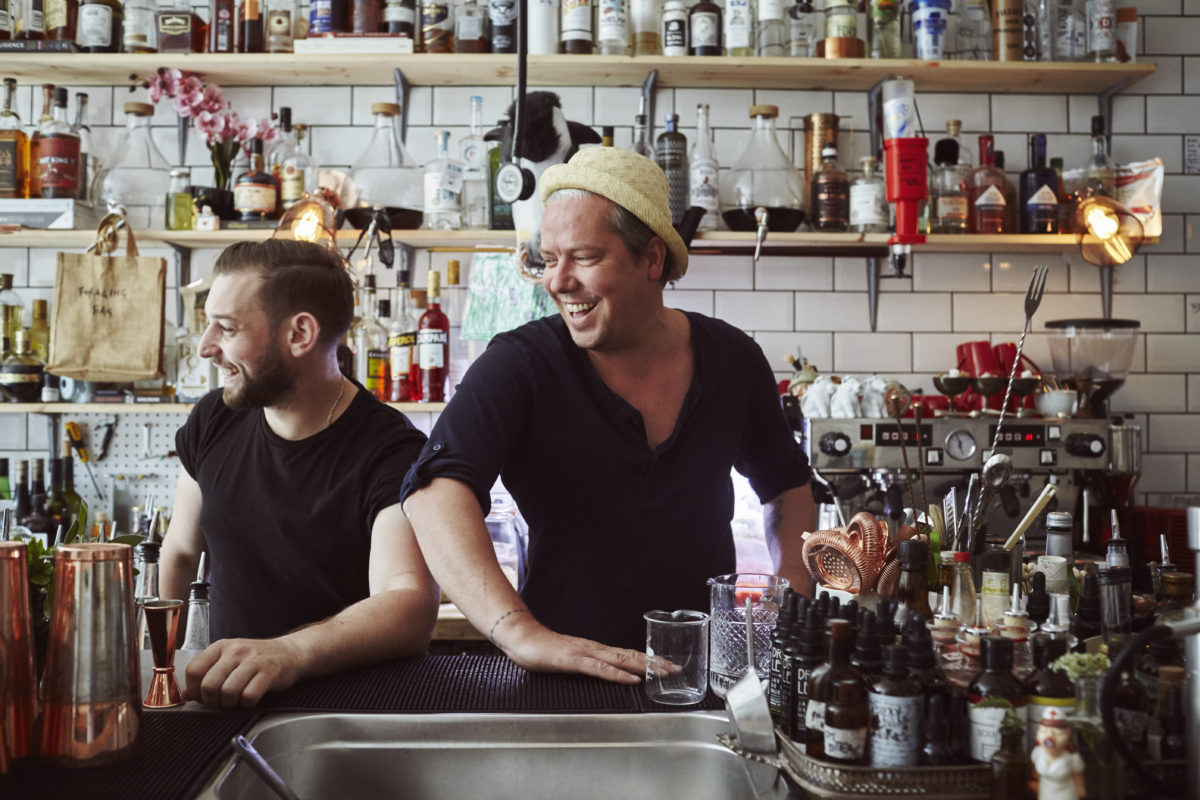 Borne from their chance meeting almost a decade ago are two of London's most distinguished restaurant-bars: The Shrub & Shutter in Brixton (2015) and more recently, First Aid Box in Herne Hill (Winter 2016). In both venues, Chris and Dave bring a wealth of experience and passion stemming from their own cocktail consultancy company, a discerning eye for designing in-house experiences, and a fearless attitude toward innovation and experimentation when it comes to their visionary culinary creations.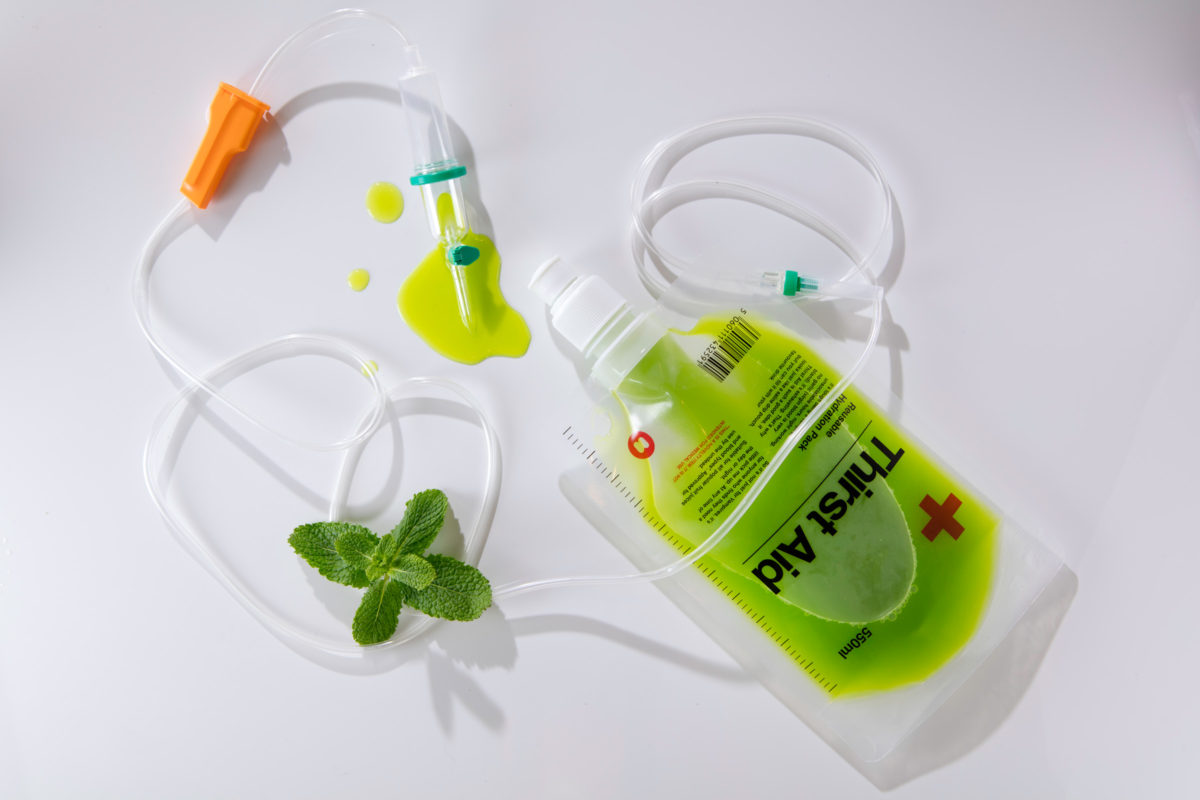 Their cocktail and dinner menus are constantly transforming to reflect the duo's newest ideas, which pull as readily from pop culture (like Back to the Future) as well their own life experiences (like hunting deer in Scotland). While other watering holes in the city stick to serving up conservative cocktails and maintaining rigid distinctions between food and drink, Chris and Dave are challenging convention with their creations, which often straddle the line between food and booze.
With their new bar-within-bar, Blinder, set to open this week in the back of First Aid Box in Herne Hill, we sit down with the duo and explore the vision behind their craft. We also take a look at the history of their partnership and the design inspiration behind both venues while unpacking their guiding philosophy on the mash-up between dining and drinking.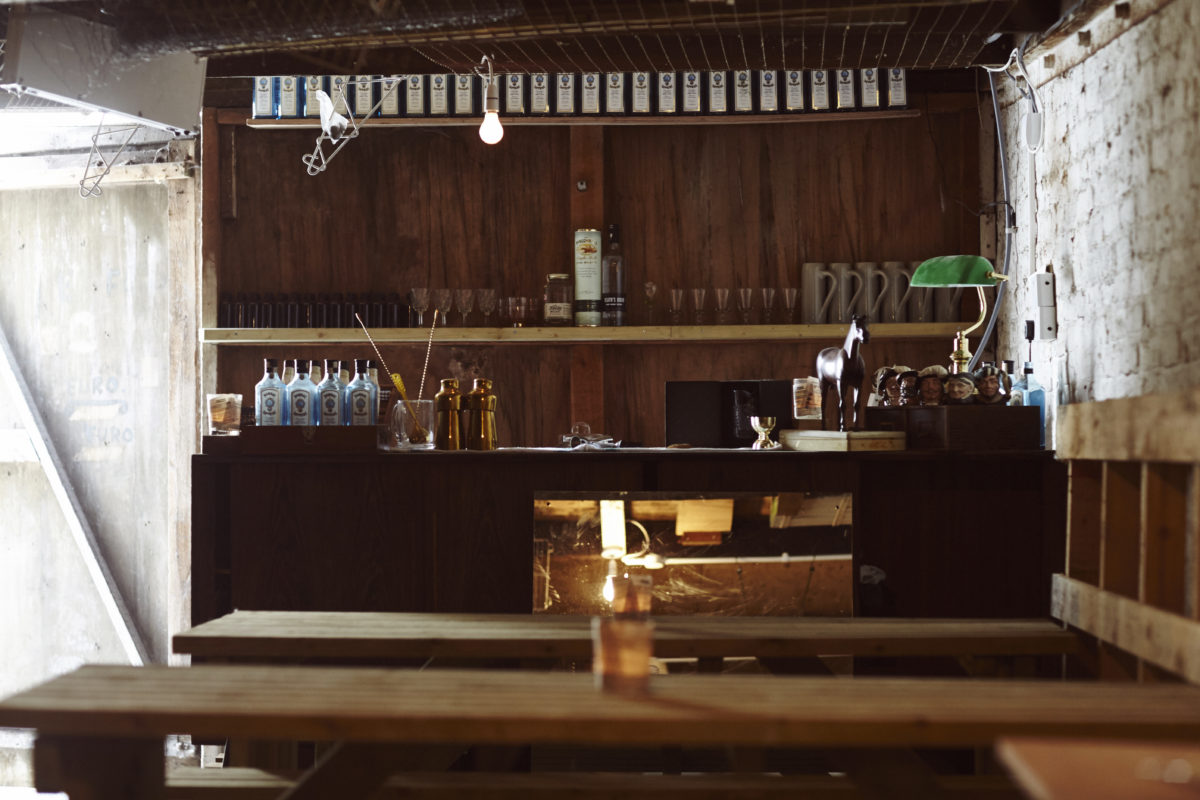 Something Curated: How did you both meet?
Dave: I had just moved to London and was desperately hunting for a job. I spent all day going 'round the most horrible spots of London – near Trafalgar square, all the horrible pubs – and at the very end, having spent all day searching, I stopped off at the Tate for a meal. Afterwards, I crossed the river from the Tate Modern, and arrived at the North Bank, a restaurant near St. Paul's that Chris was running at the time. He opened the door, welcomed me in, and pretty soon it was sorted: like, "you start tomorrow." We met 9 years ago, and we've been in business together ever since.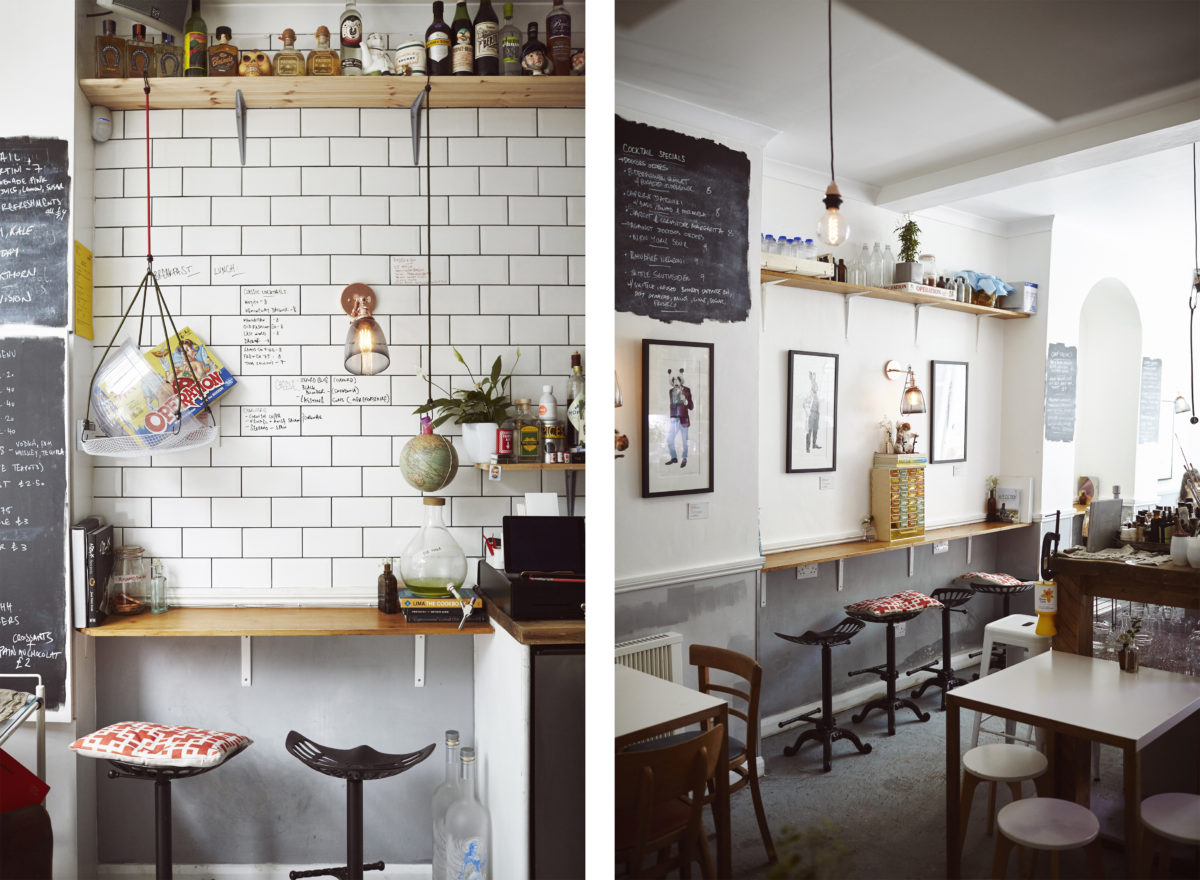 SC: So how did Shrub and the Shutter come to be?
Dave + Chis (D+C): We initially started our business partnership through founding a cocktail consultancy company called Salts of the Earth. Drake and Morgan, the hospitality company run by Jillian MacLean that operates a cluster of restaurant-bars throughout London, were our first clients in January 2014. So we did lots of work with them: one of our most infamous drinks was called 'Goldfish in a Bag'…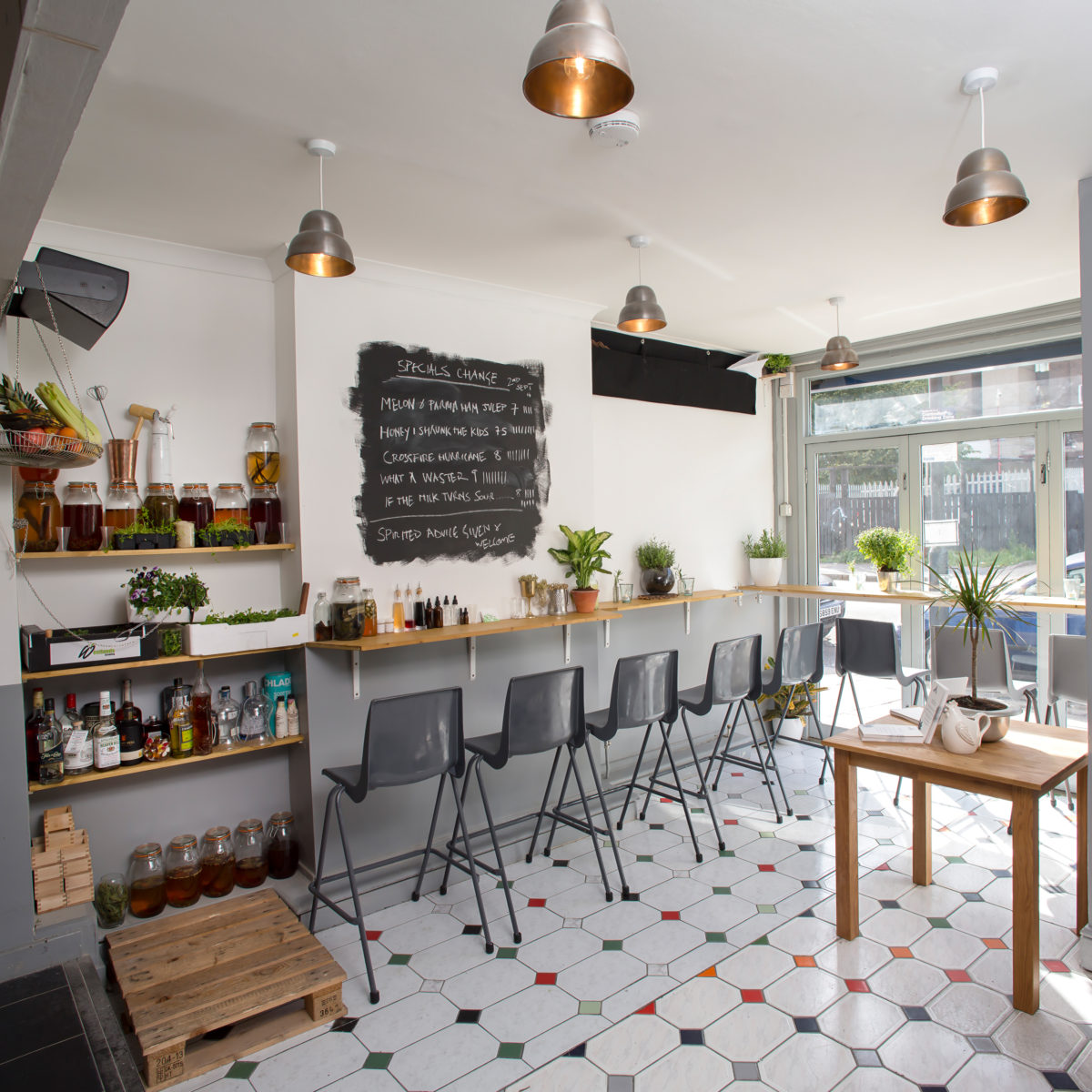 SC: Wait, was there a real goldfish?!
D+C: No. [laughs] But it was a very cool cocktail.
SC: So with Drake and Morgan, you were working basically all over London?
D+C: Yeah, Drake + Morgan had 7 sites when we left – we worked in Bank, Monument, Canary Wharf especially – it had this massive outdoor venue, mental in the summer with the tennis on flatscreens outside – within the new development in Kings Cross, still others. There are now at 8 or 9, plus they're going to Manchester and Edinburgh soon. What they were doing was very cutting edge at the time, with their focus on both food and drinks, they were big, sure, but very stylish – the first people to do beer cocktails in London.
SC: But the move to Brixton was important, then, going south of the river.
DC: Yeah, it was definitely a question of money, but opening up on a pretty derelict road with relatively no other businesses – at least ones operating out of a storefront [laughs] – was really meaningful to us too.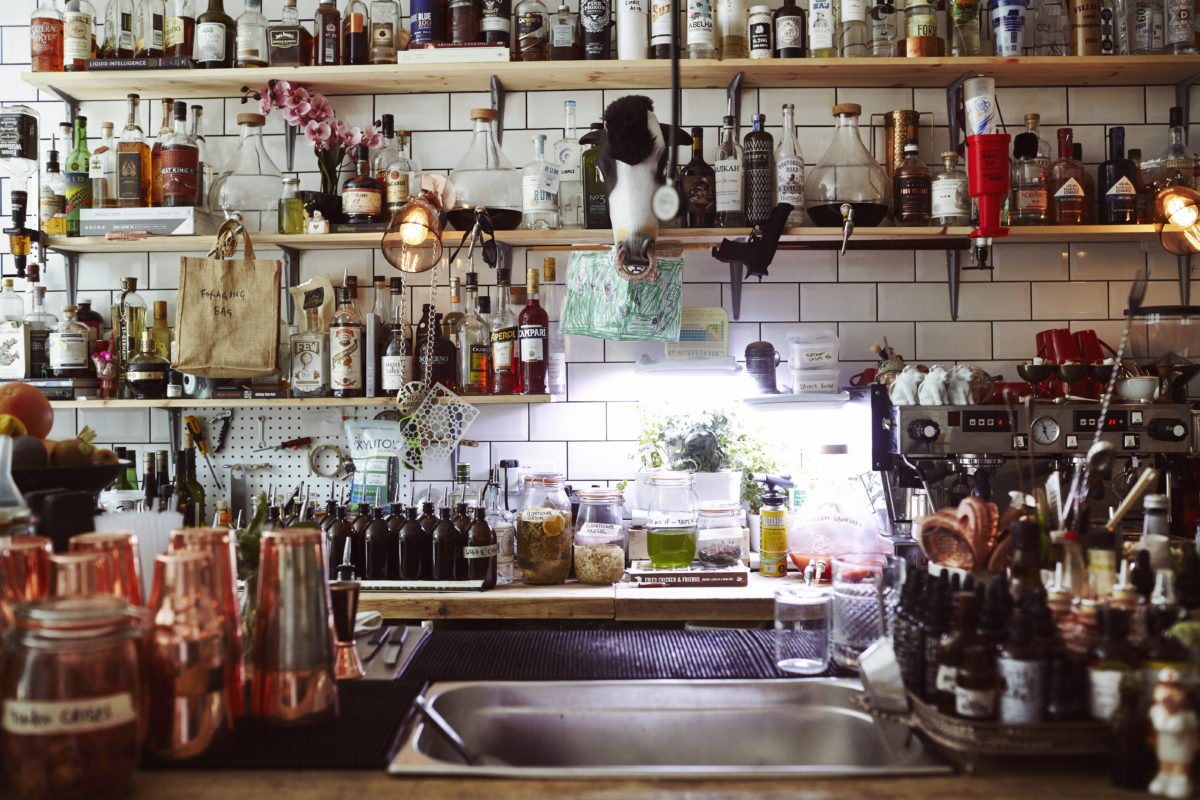 SC: Can you walk us through the experience of building up The Shrub & Shutter together? It doesn't sound easy. What kind of challenges did you face?
D+C: We put in a bid for a space in Brixton and it took 9 months to get the actual site. But in 3 weeks, 28 days, we had torn the whole place apart – found machetes in the wall, to say the least – we had some characters coming in whilst we were ripping the place up, telling us, 'Oh, you don't wanna move in here.." but we were like, "Try us – we've got machetes!" [laughs]
Then we opened in September 2014, as a cocktail bar with light dishes, ceviche, tartar, etc. We found a very loyal chef Joe Knowlden who's has stayed with us. And since it's sort of evolved into an award winning restaurant.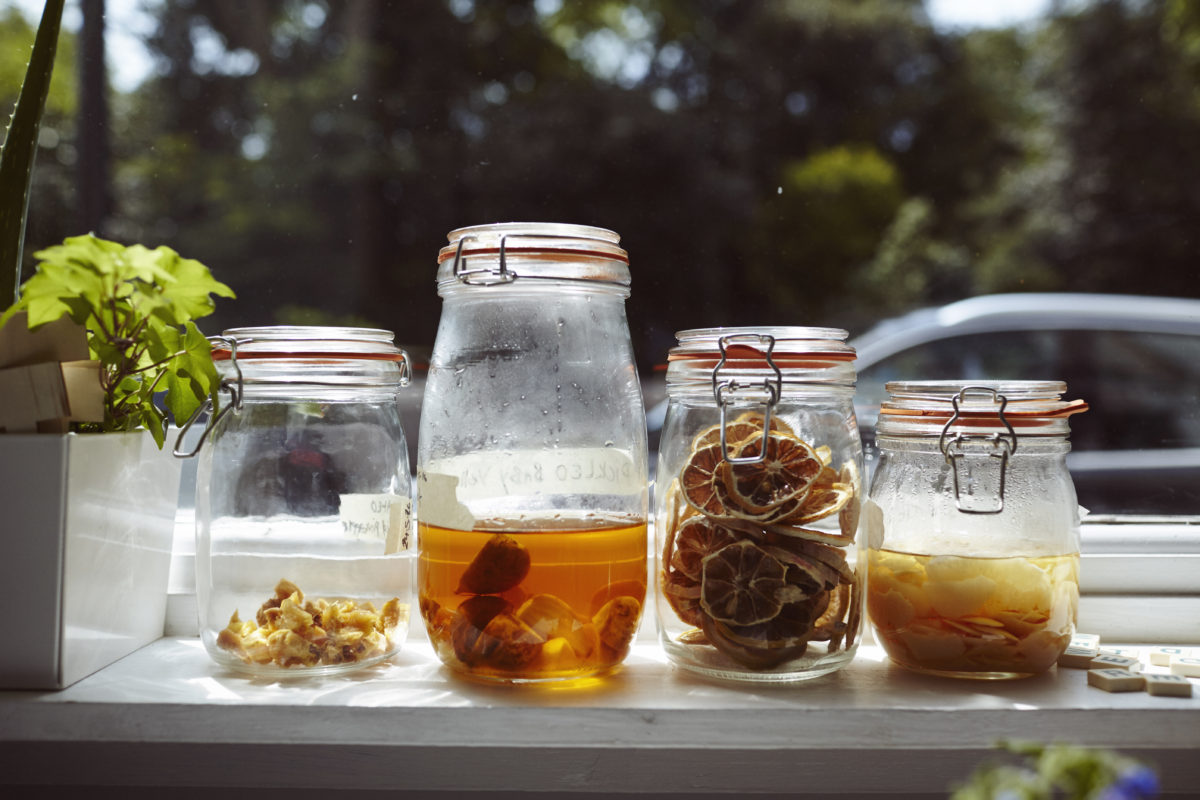 SC: And even after you opened, the area was still pretty desolate, right?
C: Four different places have opened up after us on this street. Basically, you had about 200 yards for the market but no one wanted to go past that stretch from Brixton to Loughborough Junction. Now we get people coming in asking us if we're doing all right, and we take bets on which of them is going to open up next here [laughs]. A new theatre is opening up nearby, which is going to kick up the area massively. There's a shopping place behind us near the arches, and then there's also Brixton East nearby, a lovely space.
D: Pop Brixton is also sewing together the whole of Brixton Station to Loughborough Junction. Meanwhile, we're extending that bridge here; hopefully we've made this strip a little bit better.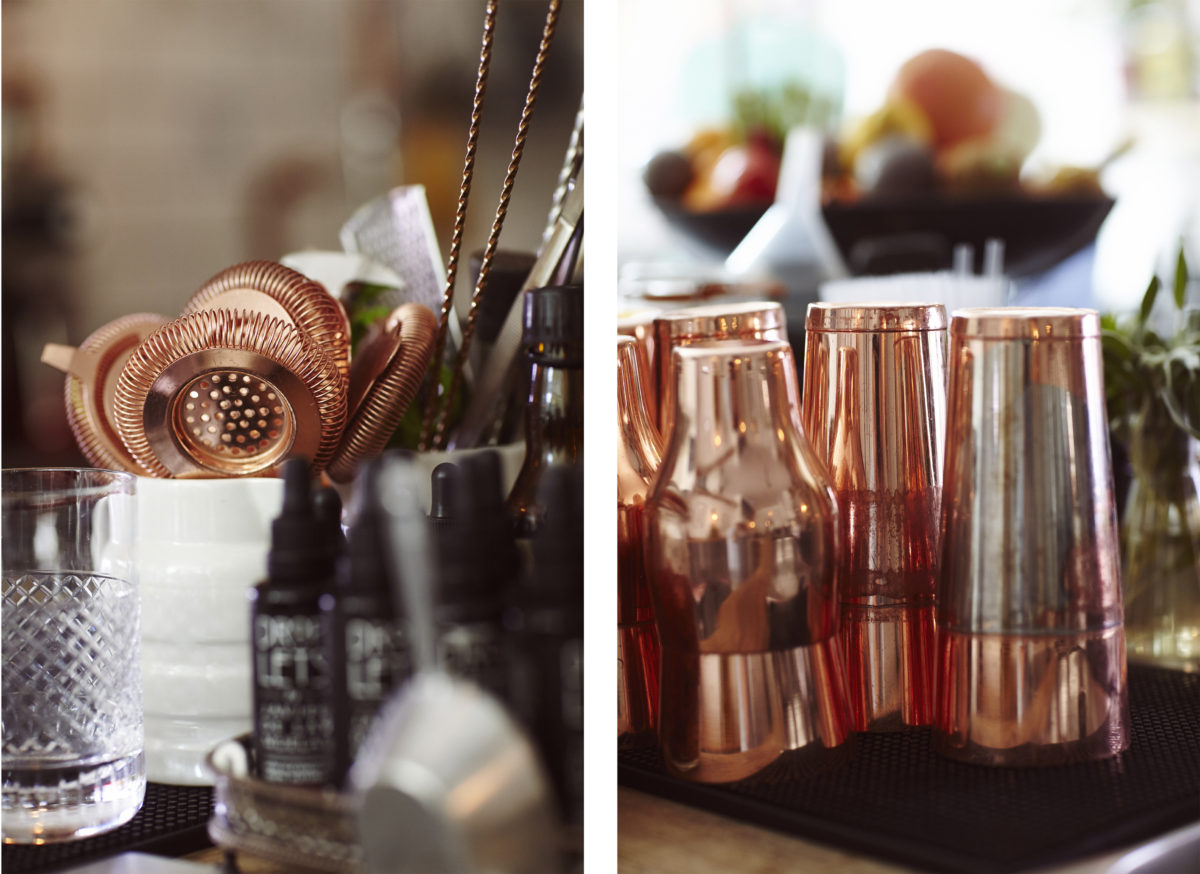 SC: What about First Aid Box, your newest venture together?
D+C: We opened here [First Aid Box] in Herne Hill this year, January 2016. And we're opening up a new bar in the back, a kind of 'cowboy off-duty' barnyard deal with its own set of specialty drinks and definitely its own aesthetic. It'll be mostly for private hire, open only for the evenings whereas First Aid Box is a café by day. On nights where it's not occupied, we'll give people the option of sitting where they please, given the kind of experience they're seeking. We like the idea of having two unique spaces operating under the same roof.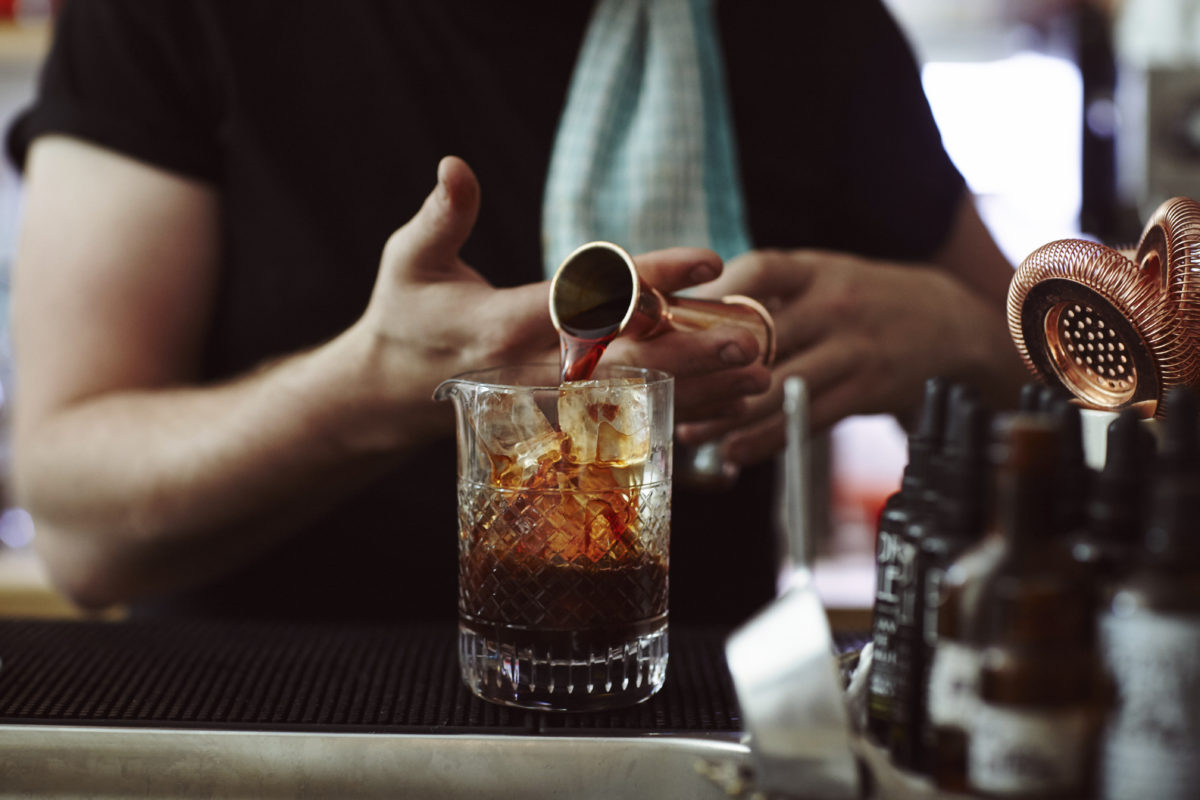 SC: It's interesting because Herne Hill is not far from Brixton but the vibe is so different. How do you make each establishment work toward its local environment and clientele?
D+C: The crowd we get here to there is light years apart: people tip here; they don't tip over there. There's more of a market vibe in Brixton, it's more aimed at a 'get in, get out' service; a stop off, of sorts.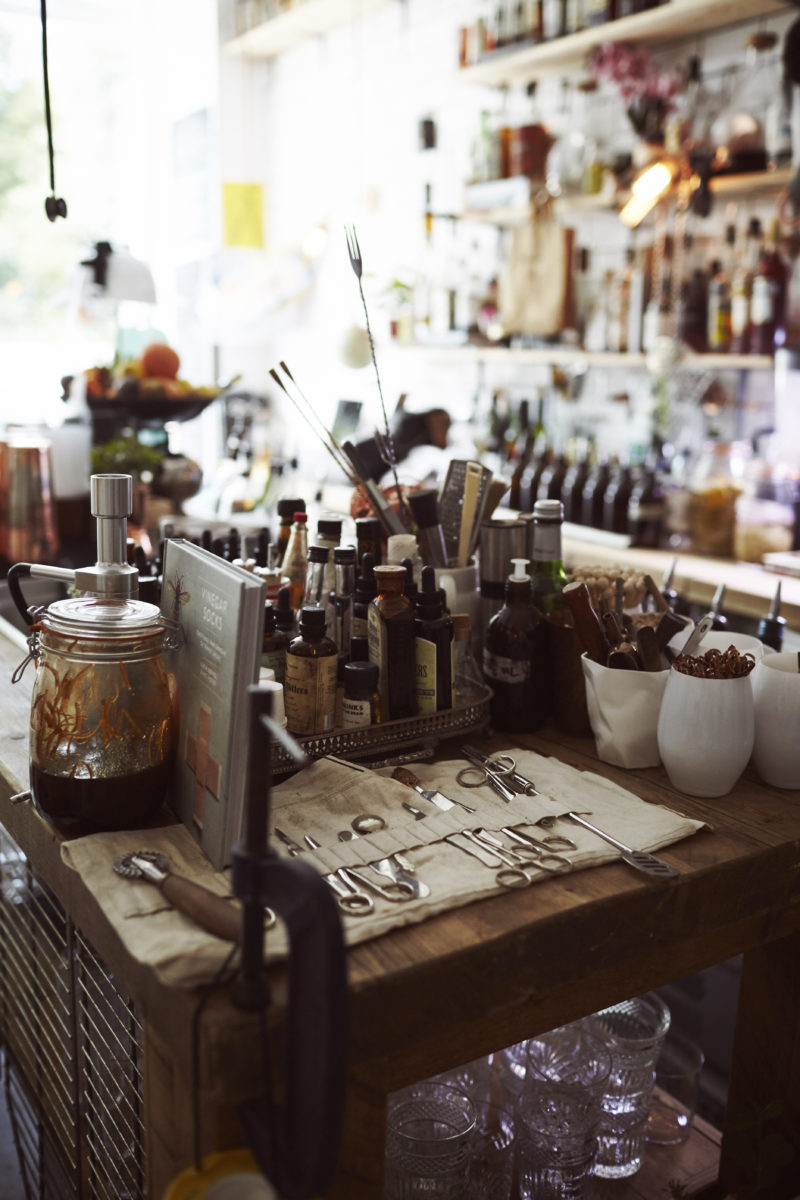 SC: Yeah, the retractable shutter you have at the S&S in Brixton really communicates that, where you can literally step through the front of the restaurant and hop in, hop out.
D+C: Definitely. Whereas for First Aid Box, we're very much still figuring our clientele out. It's more family oriented for sure, and with the park nearby we have joggers coming in at the crack of 12 o'clock, when we open, as well as professionals who stop off right after work, and the group who drops by around 3 to 5 pm Fridays for that early weekend cocktail. Actually, we're still trying to figure out that 3-5 PM demographic. Oh, and with the park, we're waiting for a license to serve take-away drinks…. a little, uh, "care package." Yeah, if we do that, we'll get a little bike and ride around selling cocktails in the park. [laughs]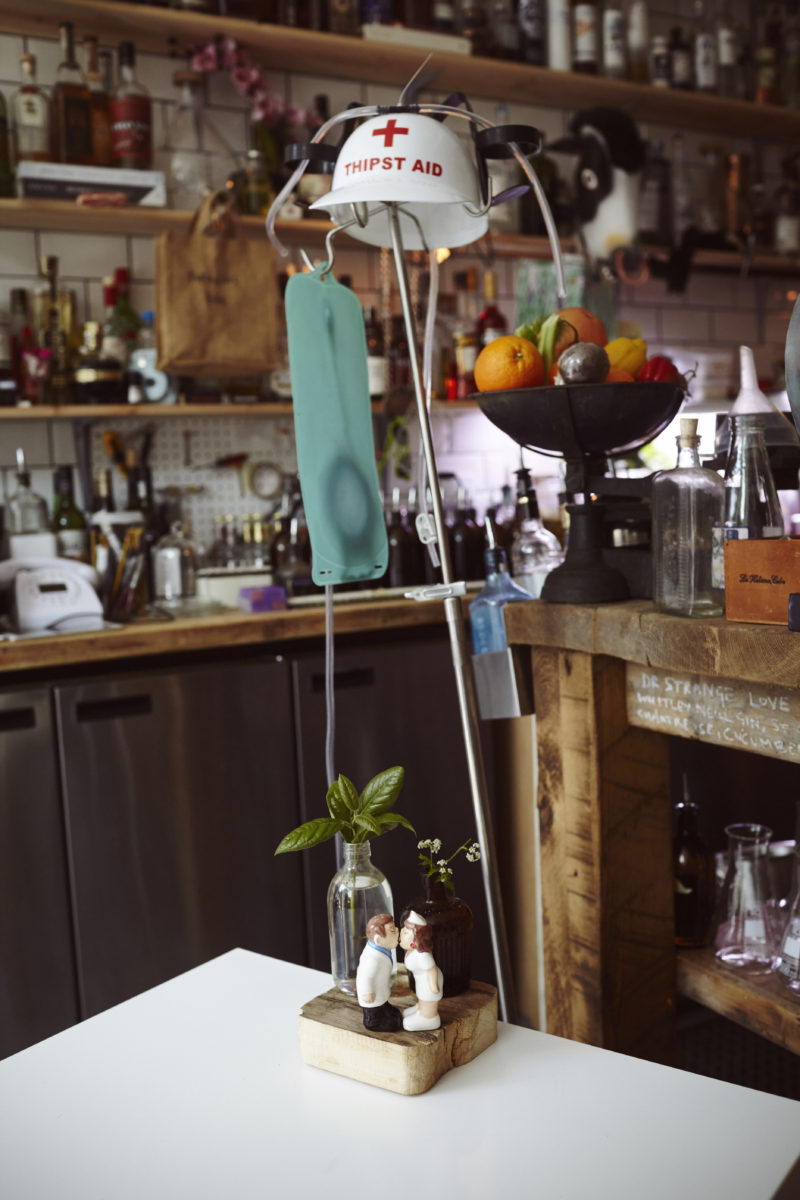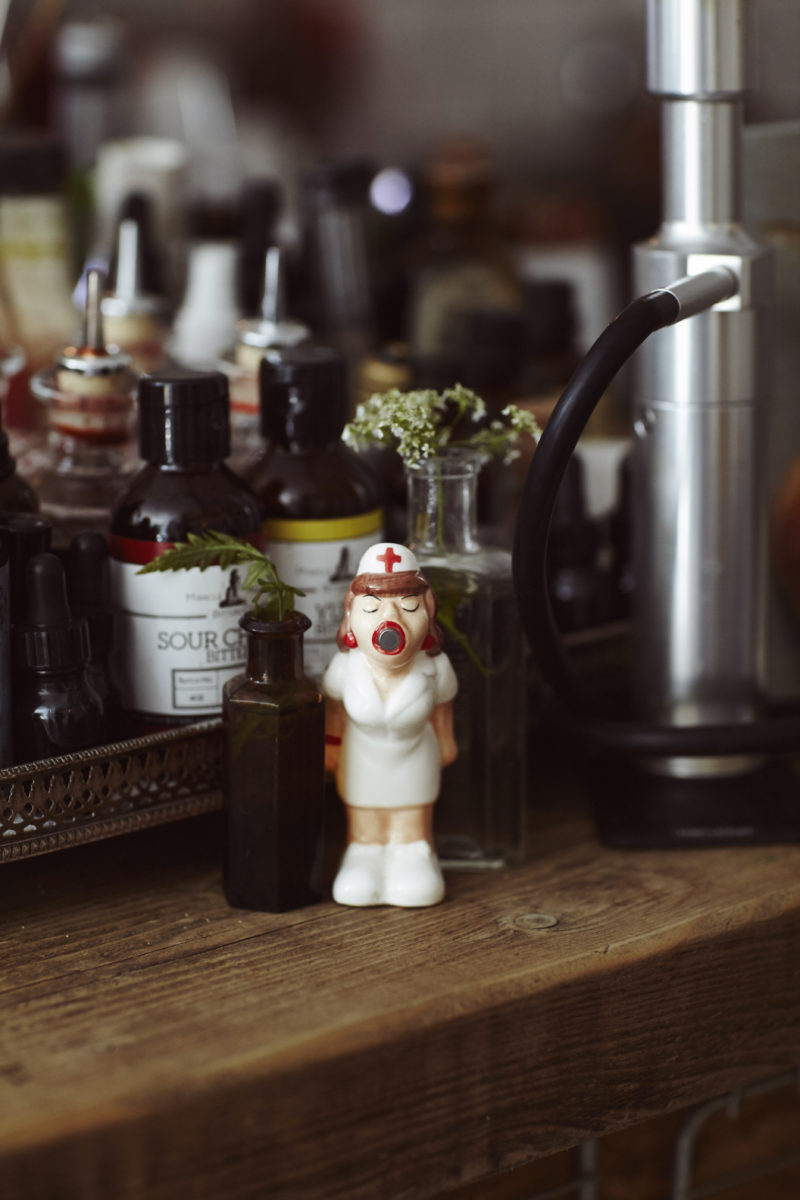 SC: Genius. Pure genius.
D+C: But yeah, it'll still be more of a winter venue. You can't drag people out of the park to sit inside. But hopefully with people slightly older, in their 40s and 50s, they'd want to come inside for a cocktail… but we're putting out a few tables and chairs and just seeing how that'll go for the summer – it was quite nice, we did that the other night and just had a few people enjoying their drinks outside. It's our first summer season in Herne Hill so we're curious to see what will work out!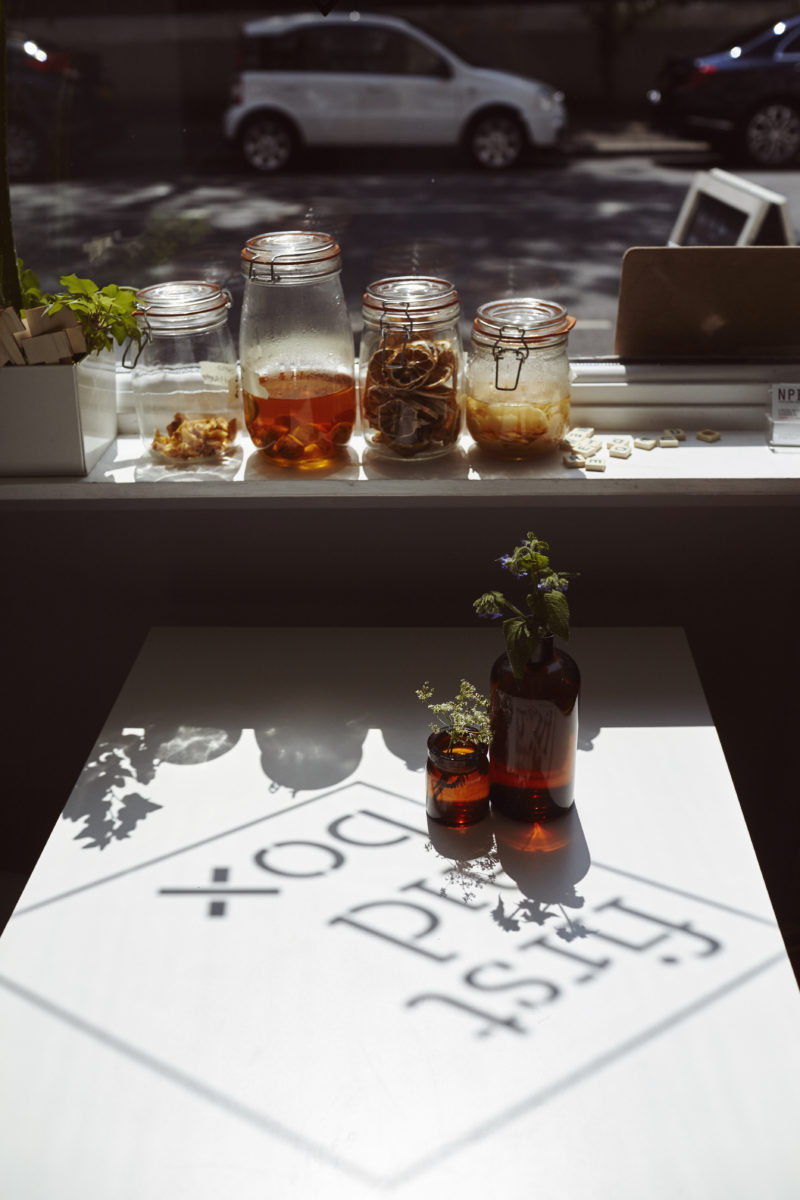 SC: Can you talk about the aesthetic of both venues? From the rustic inners of The Shrub & Shutter to the taxidermy-cum-hospital– er, veterinarian? – thing you have going on here [at First Aid Box], how does it all come together?
D: With The Shrub & shutter, we liked the idea of a shrubbery, which spurred on the idea of a hospital or apothecary with stuff in jars. But The Shrub was all about having greenery, a nice, clean, organic aesthetic, lean meats, fresh herbs – It was really influenced greatly by food, actually. Nice light colours, which we kept for here as well – with the tiles and blackboards.
C: We have a herb garden on the roof at the Shrub. It's Jungle-y, herbaceous, with the blackboards changing all the time. Interaction was a word heavily used whilst conceptualizing the venue… Exciting and interactive – with food, drinks, specials changing every day – tables changing, jars moving, just so you'll never see the same thing twice. You won't get bored of it, basically.
D: We do specials nights, like a Back to the Future special. Some really deliriously stupid specials – when you're hungover, they all sound brilliant. [laughs] The element of change definitely carries over. Here, there's a little bit of taxidermy, it's clean but still a bit rough around the edges: the bar opening out back will really cultivate that aesthetic. Out front, there are elements that look a bit beaten up – like with the flooring, we didn't change it – the idea being that the more people stepping on it, the more worn it will become. But this building was originally a plumbing shop, so that's where the white tiled walls come in – which do definitely channel the medicinal vibe. With the Shrub, we really wanted it to feel like a pop-up. And people still come in at the Shrub and ask, "So, when is it closing?"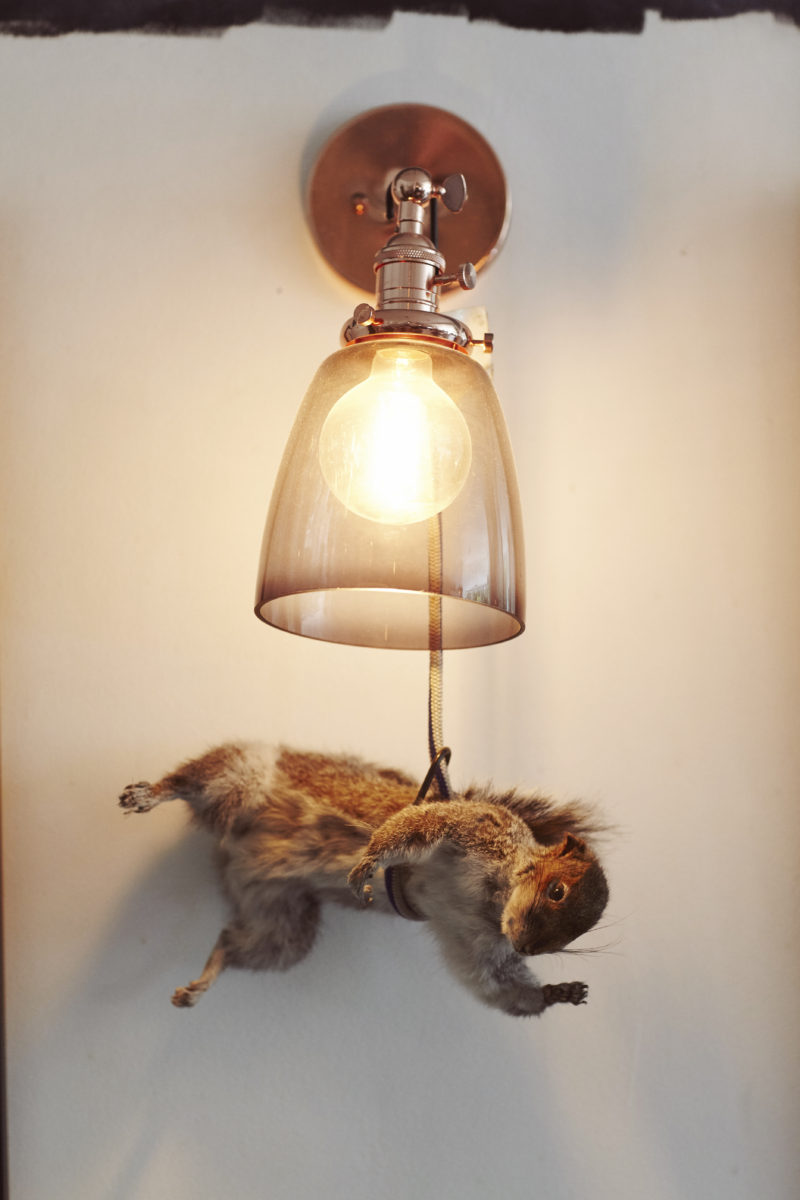 SC: And how will the new bar-inside-bar at First Aid Box compare?
D+C: Blinder, opening on the 10th of June, is something of a mix of loose post-World War aesthetic, with hints of betting, horse racing, old style, secret society – a bit of '20s prohibition era speak-easy vibes, Very strong drinks. Oysters. The people working there will be decked out in our own Blinder uniform. Nice and clean out here, and rough as fuck out back.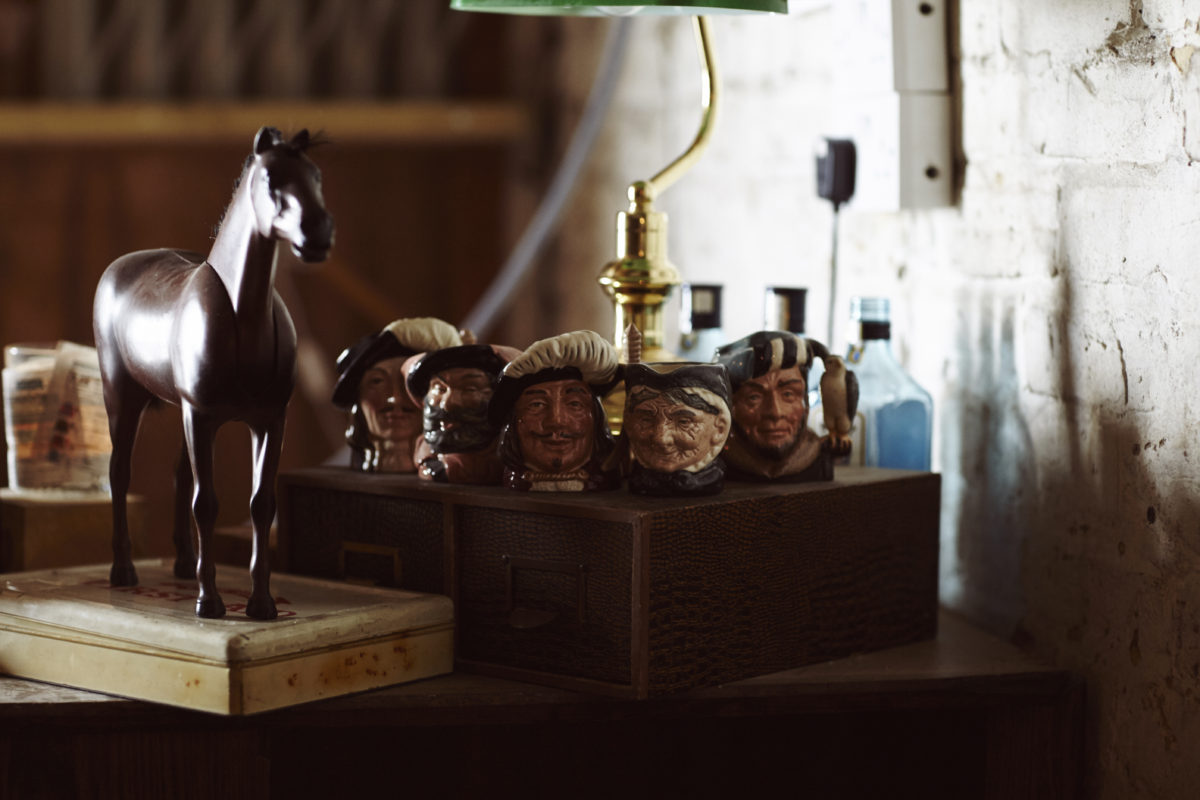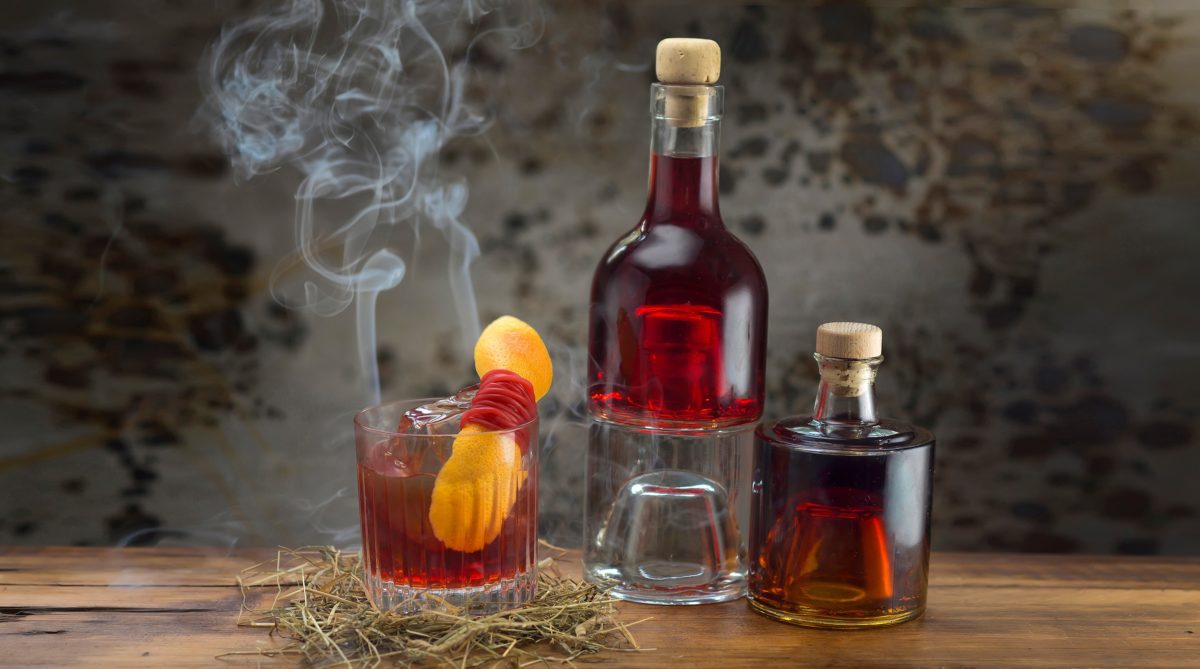 SC: What's your philosophy on the relationship between food and drink?
D+C: It's very rare in London to find a good cocktail and good food, where you can sit for hours and have good drinks, good food, good dessert and dessert drinks, the whole shebang. Ever since we opened up we wanted to match food and drink. People generally approach it in a really restrained way, tending to focus on infusions and matching flavour notes and all this kind of beating around the bush bullshit. We're straight shooting: actually putting food with cocktails. Like with fish, or a meaty Bloody Mary.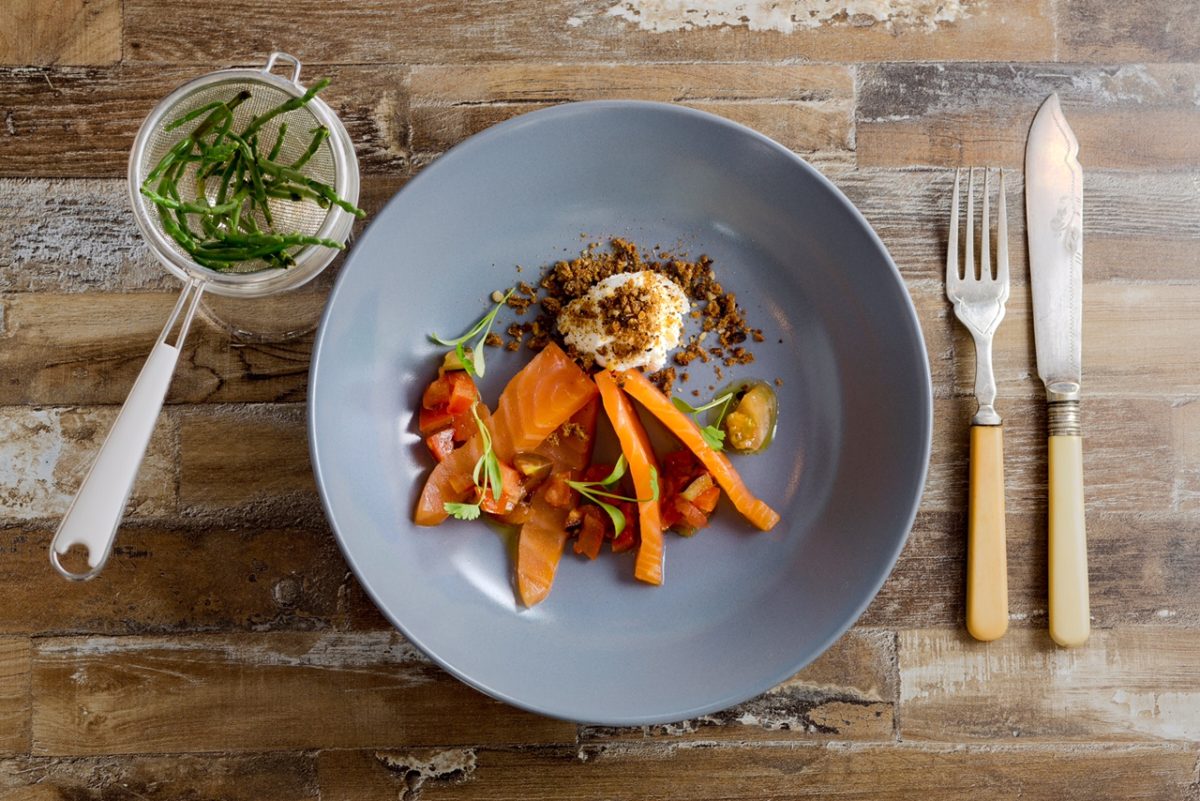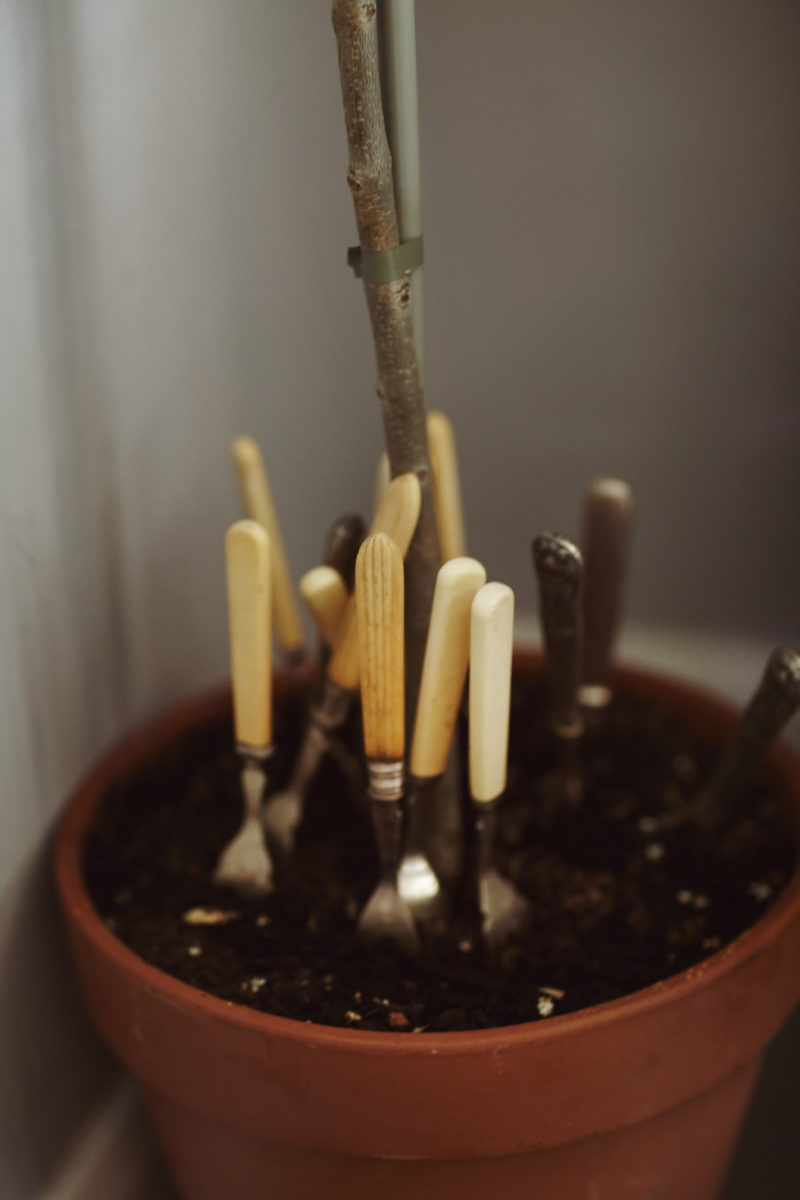 C: A lot of our cocktails at the Shrub actually have food in them. When we first opened up we had a cocktail called the deerhunter. Before we opened, we went deerhunting in Scotland, and there we had the idea: cigars, whiskey, and deerhunting. And we put it into a cocktail, and that was it. As simple as that.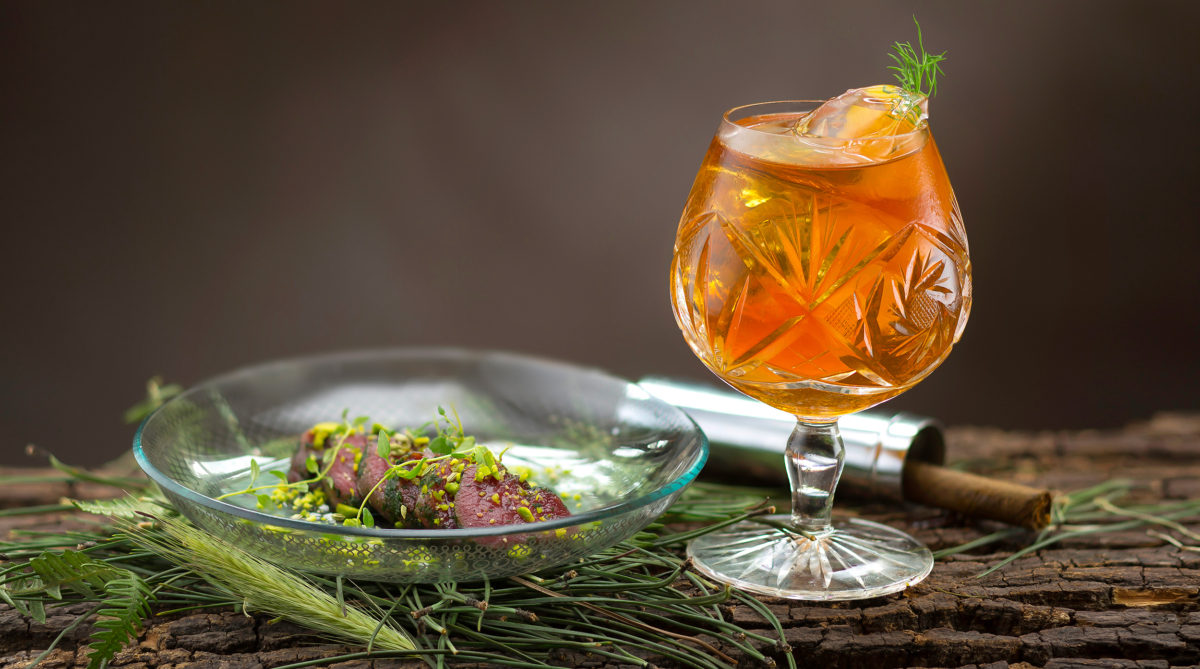 D: Does A Bear Shit in the Woods was another one. Just imagining a bear catching a salmon: we had this amazing gin, St. Georges from California with a bear on its label and that was it – a booze cured salmon. A guy in Camberwell made the salmon cured to the flavour of the drink, and that was one of our signature drinks.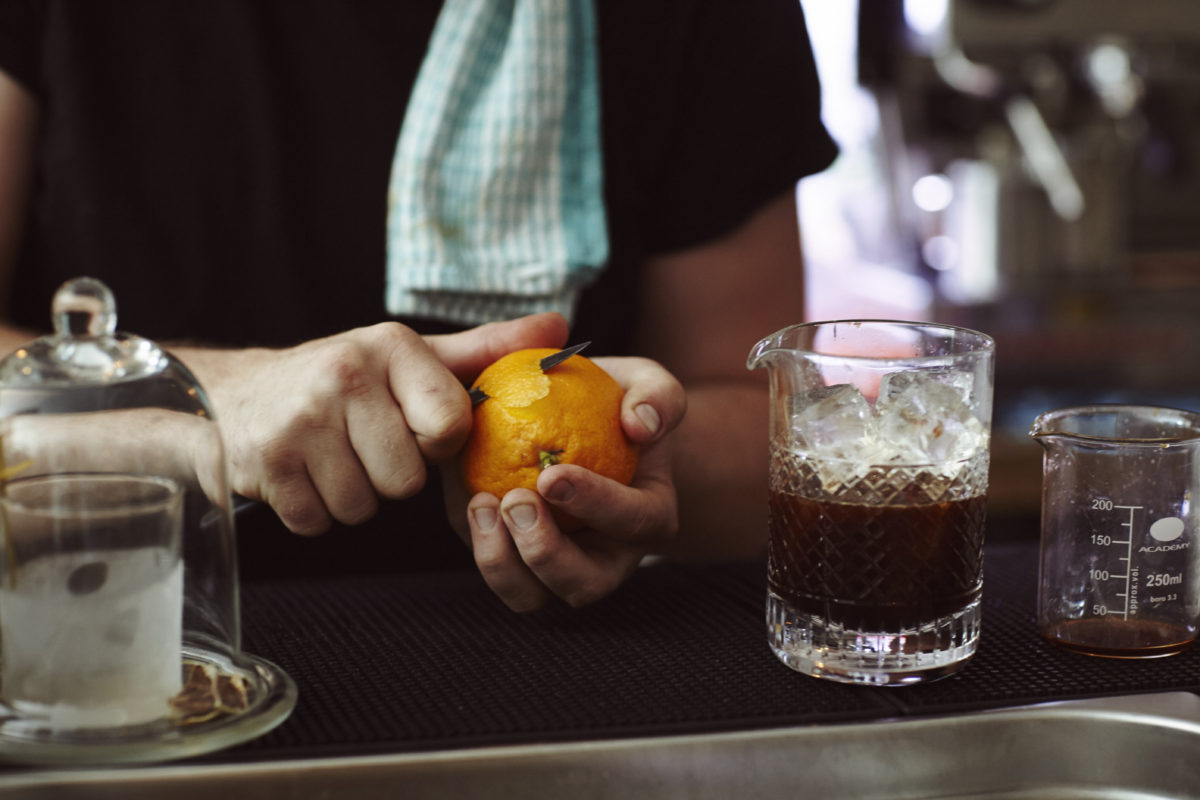 SC: A lot of people in the cocktail business seem keen on pigeon-holing the entire thing into a really secretive or specialist "mixology," while you're pioneering all these creative twists while remaining open and unpretentious.
D+C: That's our philosophy: to cater to the masses, so that there's always something for everyone, no matter what they're looking for. And that was really key in Brixton, where we had many people who were very skeptical at first. But if you can get them to come in, and they have a good cocktail – if you can show them that this place is for them, that's a game-changer.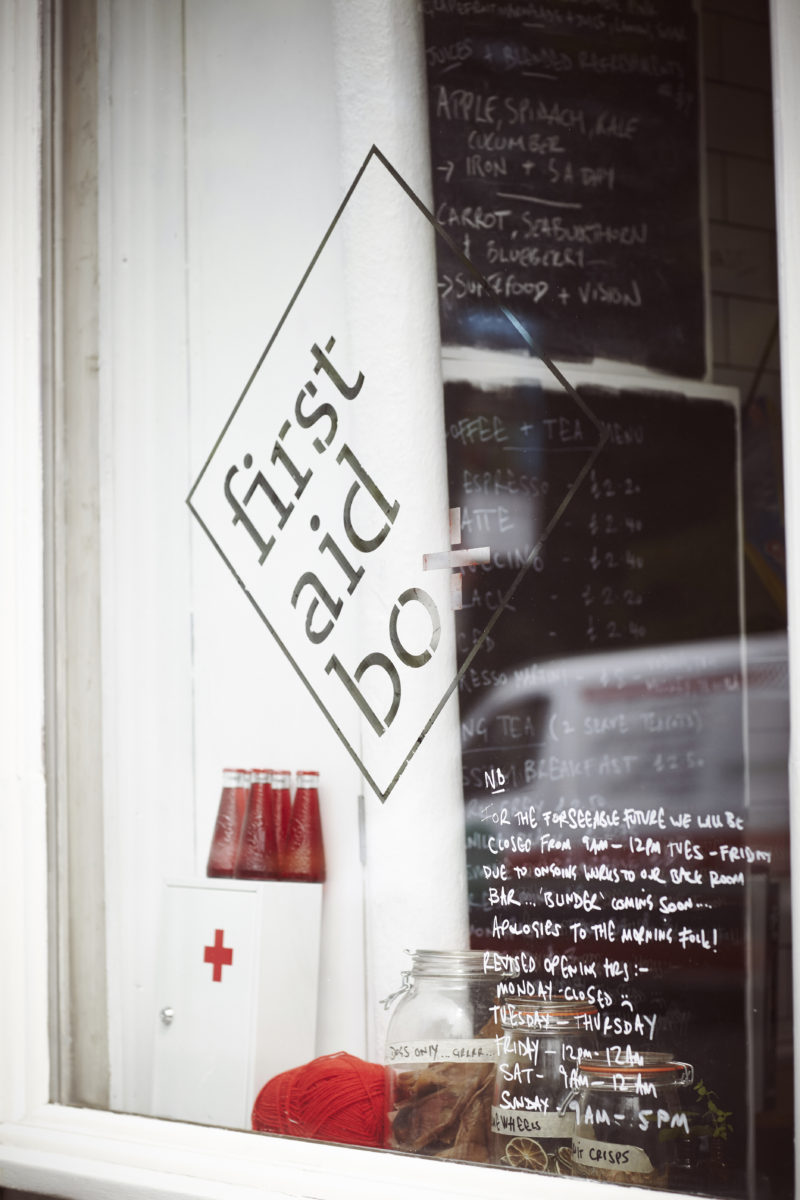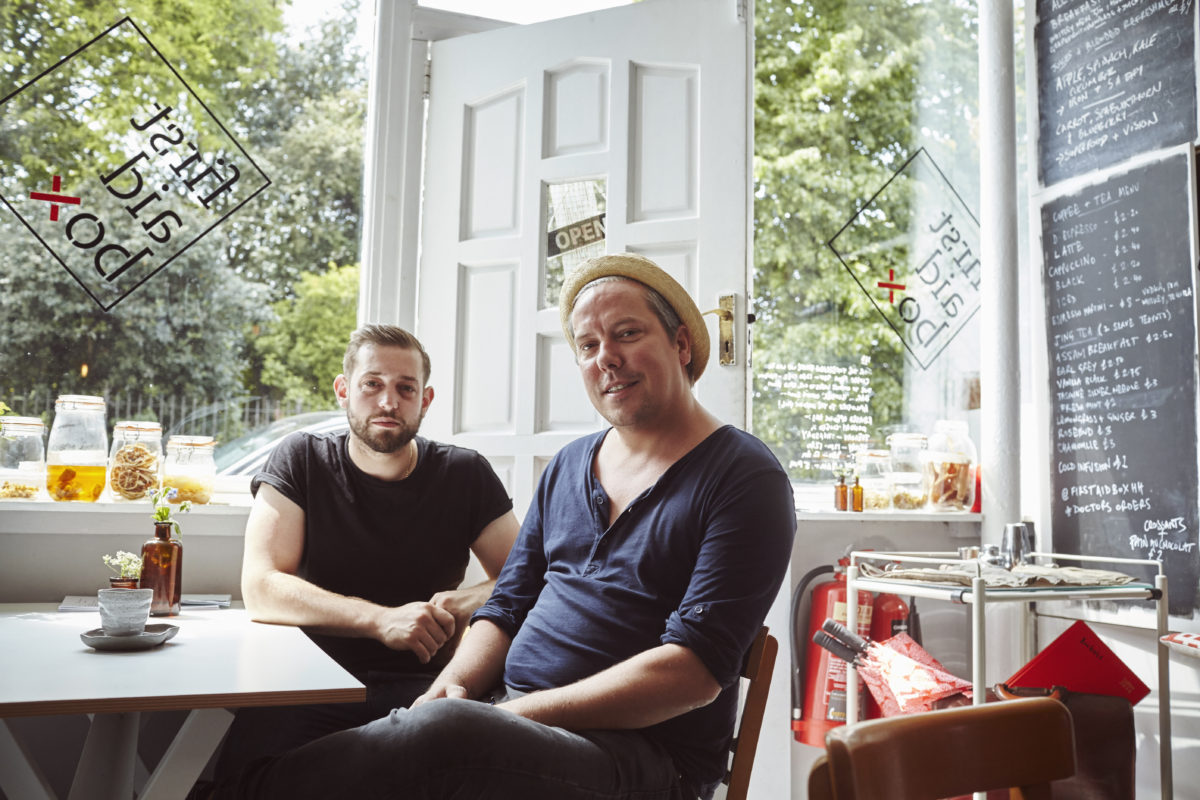 SC: What bars do you think are good in London? Have you been impressed by anything in particular?
D+C: There are so many that people rave about which are just doing the same thing that was cutting-edge five or six years ago, and they're quite stuffy about it. It's difficult to find newer more experimental stuff that's going with the times.
C: I really like the Blind Pig on Poland Street, it's above the Social Eating House in SoHo, by Jason Atherton.
D: All his places are really good, like 7 Tales, his new place in Clerkenwell in the basement of Sosharu. Oh and Nightjar, off the Old Street roundabout, they've just released a new cocktail. And Pollen Street Social, Jason Atherton again, but I remember when it first opened I went there and just had a meal and cocktails and was there for hours, it was amazing.
C: The more underrated ones are a bit more organic, a bit more fun, they don't take themselves too seriously and they're not in the top 100 list or whatever, there's less pretense because there's less to prove.
C+D: The Sun Tavern in Bethnal Green is quite cool. It's like something we'll eventually do: get a pub, keep it real dirty, like a proper English boozer, and then serve amazing cocktails, and nice pub food. No salads here.
SC: Surprise everyone. [laughs]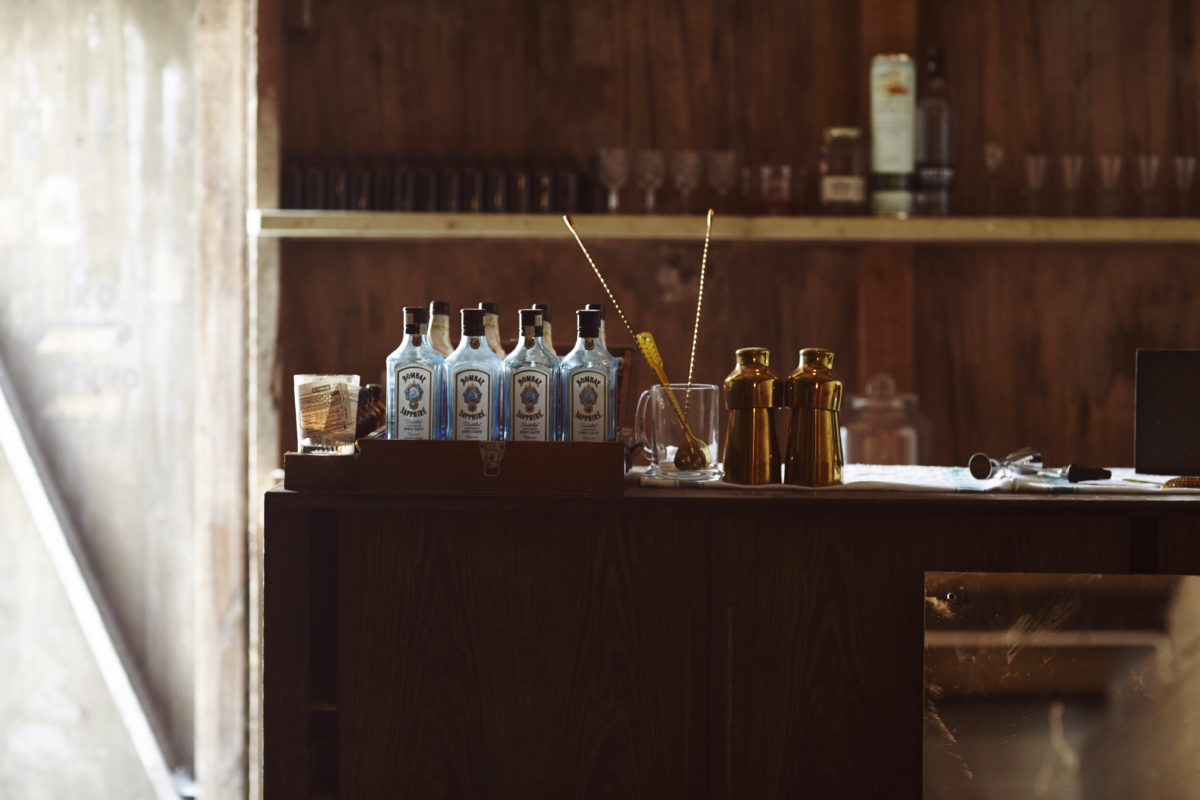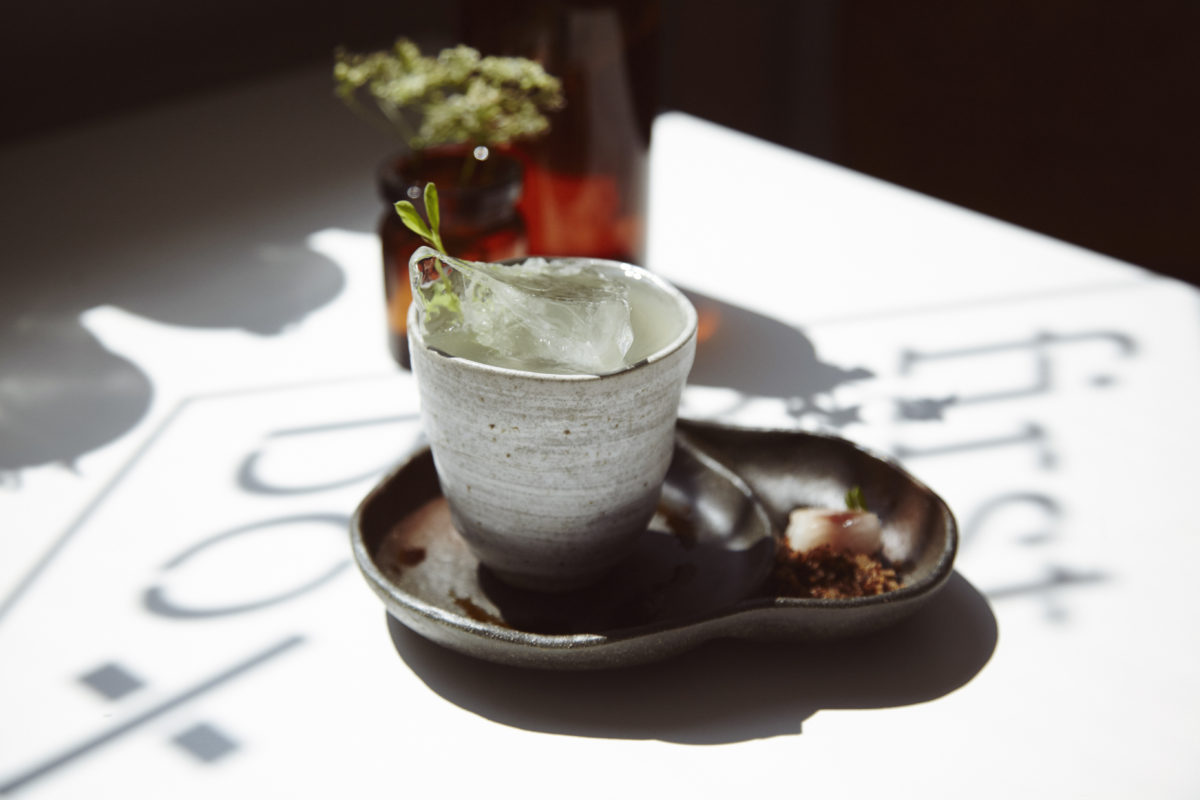 Photography by Elliot Kennedy for Something Curated, unless otherwise stated.