Artangel: Producing Innovative Art In Unexpected Spaces
For over thirty years, and since 1991 under the direction of Michael Morris and James Lingwood, Artangel has produced extraordinary art in unexpected places throughout London, across the UK and around the world. After working at London's Institute of Contemporary Arts as Director of Performing Arts in the 80s, Morris established his own production company, Cultural Industry, to develop and present the work of leading international artists, before going onto join Artangel as Co-Director.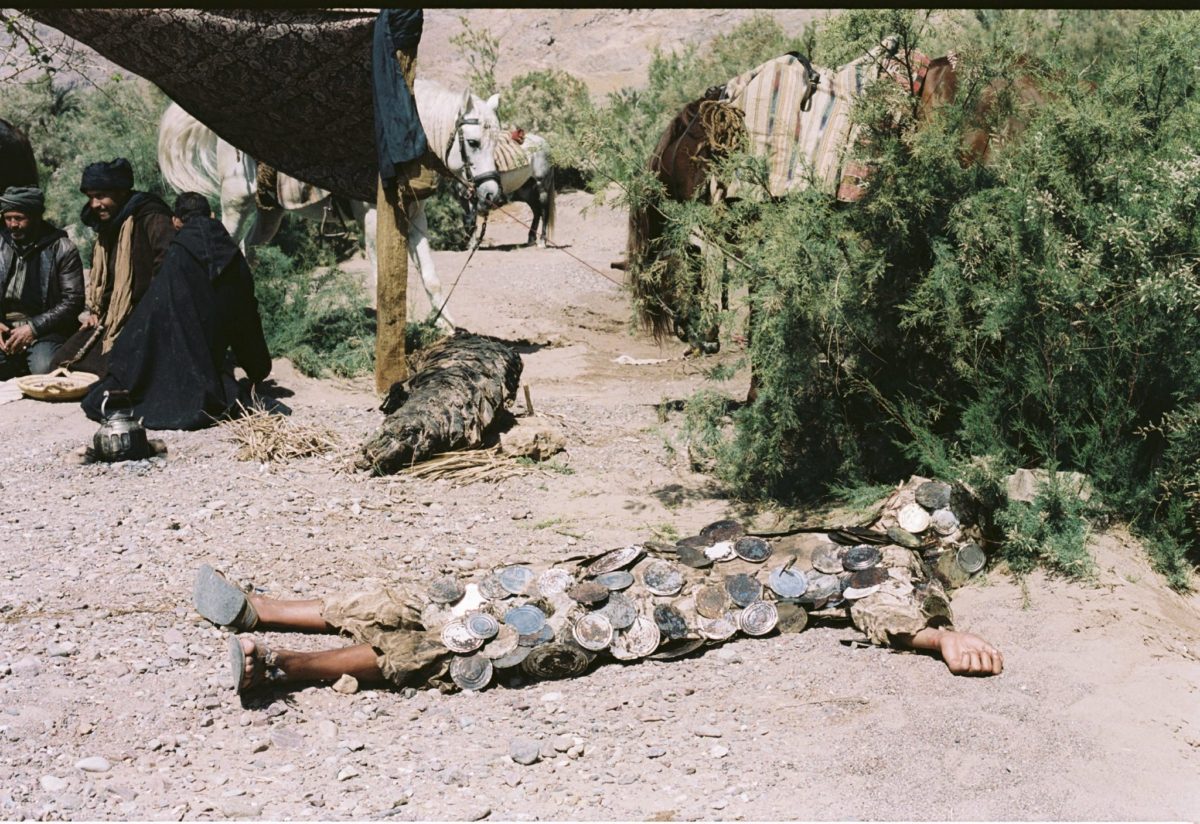 In addition to his work with the organisation, Lingwood has a venerable history in curation, working on a number of exhibitions for arts institutions internationally, including major shows with Susan Hiller, Juan Muñoz and Thomas Struth. The duo have built Artangel into a significant international commissioning and producing organisation, working with creatives across the visual arts and performance as well as forging pioneering collaborations with film and new media.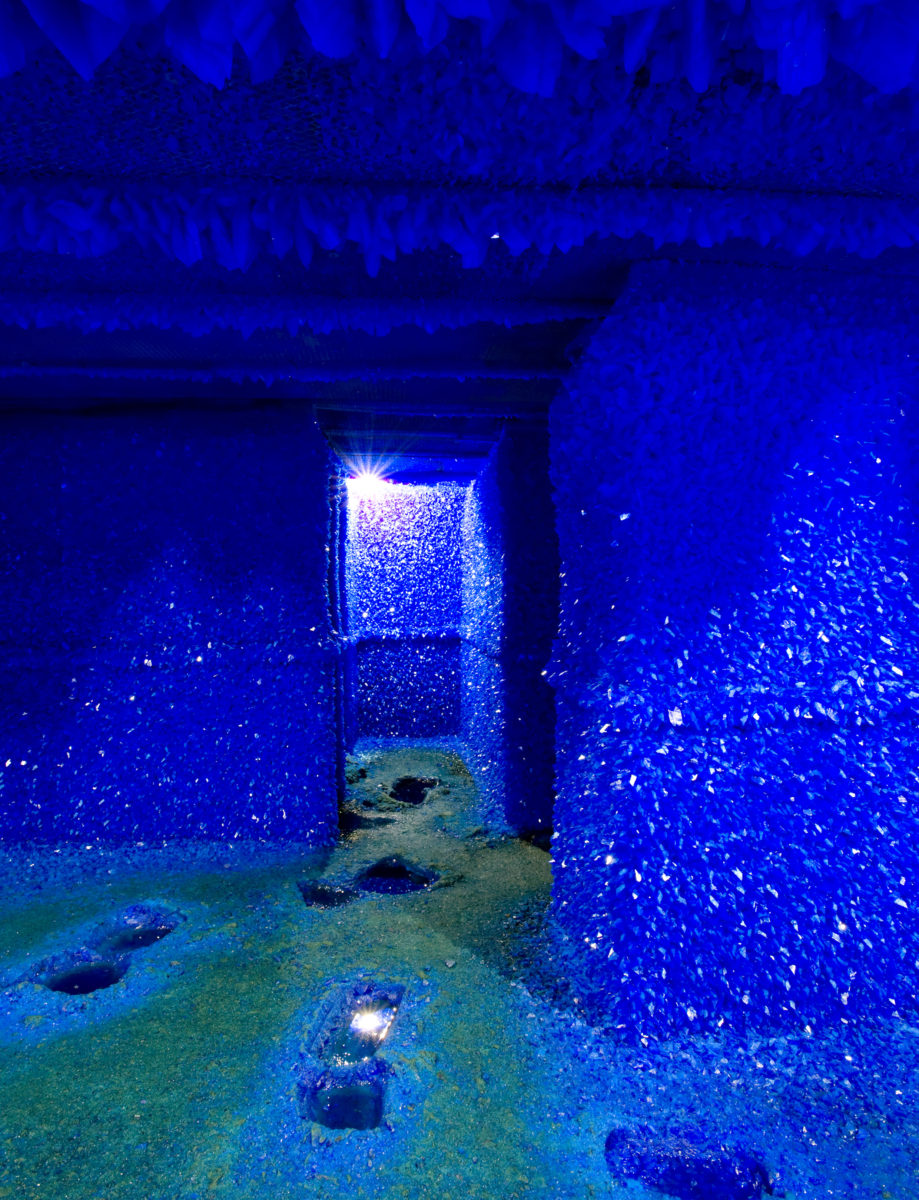 Celebrated past projects include the Turner Prize-winning 'House' by Rachel Whiteread (1993), a concrete cast interior of a Victorian terraced house in East London, 'Break Down' by Michael Landy (2001), a project which entailed the artist gathering and destroying all his possessions at a former C&A branch on Oxford Street, and 'Seizure' by Roger Hiorns (2008–2010), an abandoned South London council flat lined with a thick layer of glistening copper-sulphate crystals, also nominated for the Turner Prize. More recently, Artangel worked with innovative filmmaker Ben Rivers, filling the soon-to-be demolished BBC Television Centre at White City with a series of immersive video installations.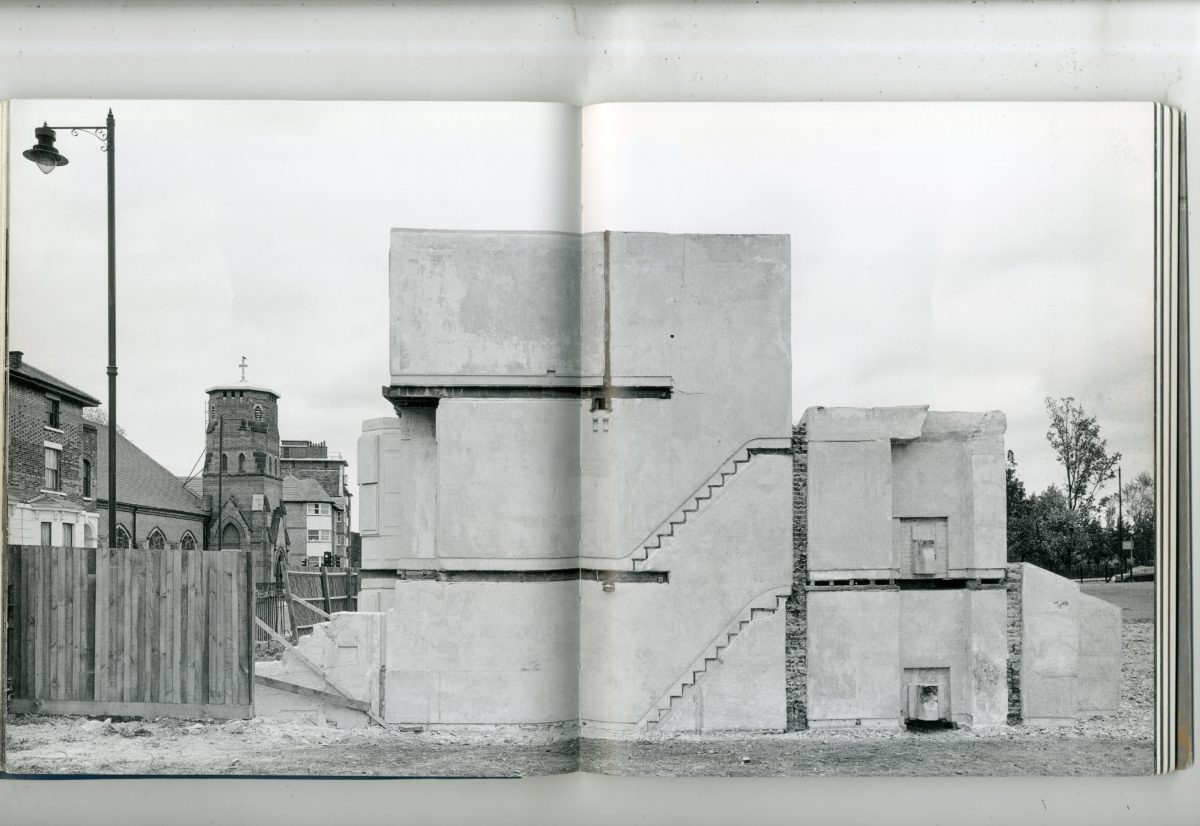 Most Artangel projects are created for a specific location and therefore usually appear only once. This results in the conception of unique works which challenge perceptions of what art can be, offering audiences something that wouldn't be possible within the confines of a gallery. A number of film and video works are also regularly on display at UK galleries and museums. As a charitable organisation, Artangel is funded by trusts, foundations, Arts Council England, as well as individual patrons.
Current and upcoming projects:
.
The Ethics of Dust – Jorge Otero-Pailos
Westminister Hall, Palace of Westminster (Open till 1st September 2016)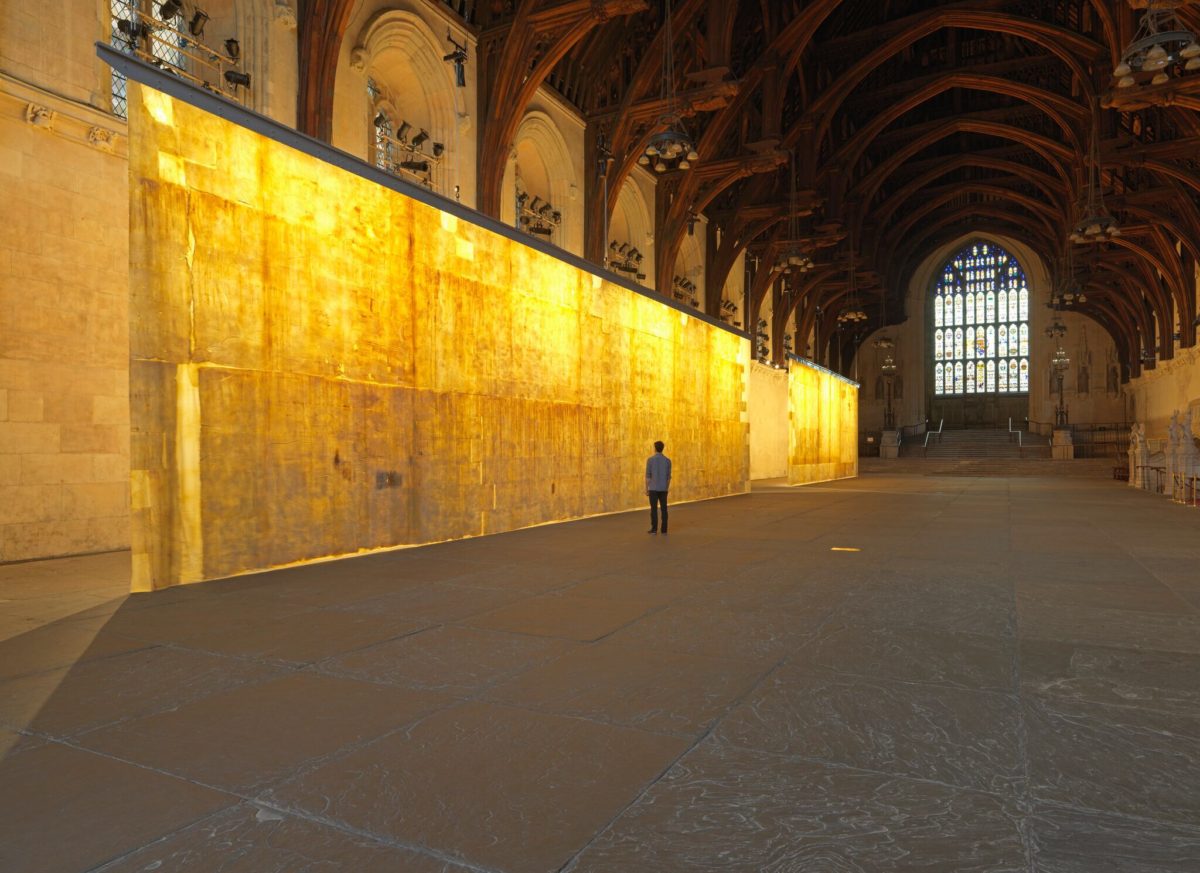 The project, the largest artwork ever allowed to be installed in the Houses of Parliament and an undertaking described by Artangel as its "most ambitious" yet, took almost six years to get approval. The Ethics of Dust is installed in the oldest existing building in the Houses of Parliament. Over 50 metres long, this cast of Westminster Hall's east wall contains hundreds of years of surface pollution and dust held captive in translucent latex. The material absorbed the dust over three days before being peeled off in small sheets that have been woven together into what Otero-Pailos refers to as a "skin of history". Suspended from the roof and hung parallel to the east wall, backlit and further illuminated by natural light from the hall's high windows, the amber glow of this sculptural installation commands a moment of consideration.
The Colony – Dinh Q. Lê
133 Rye Lane, Peckham (Open till 9th October 2016)
The Colony is a new film installation by Vietnamese artist and filmmaker Dinh Q. Lê on the site of one of London's earliest cinemas, Peckham's Electric Theatre which opened in 1908. Lê's films immerse the viewer in the desolate environment of the Chincha Islands off the coast of Peru. Home to huge colonies of birds, by the middle of the 19th century the islands had become mountains of guano. Discovered to be a potent fertiliser, guano quickly became one of the world's most valuable natural resources. British merchants controlled its trade, using indentured Chinese labourers working under brutal conditions.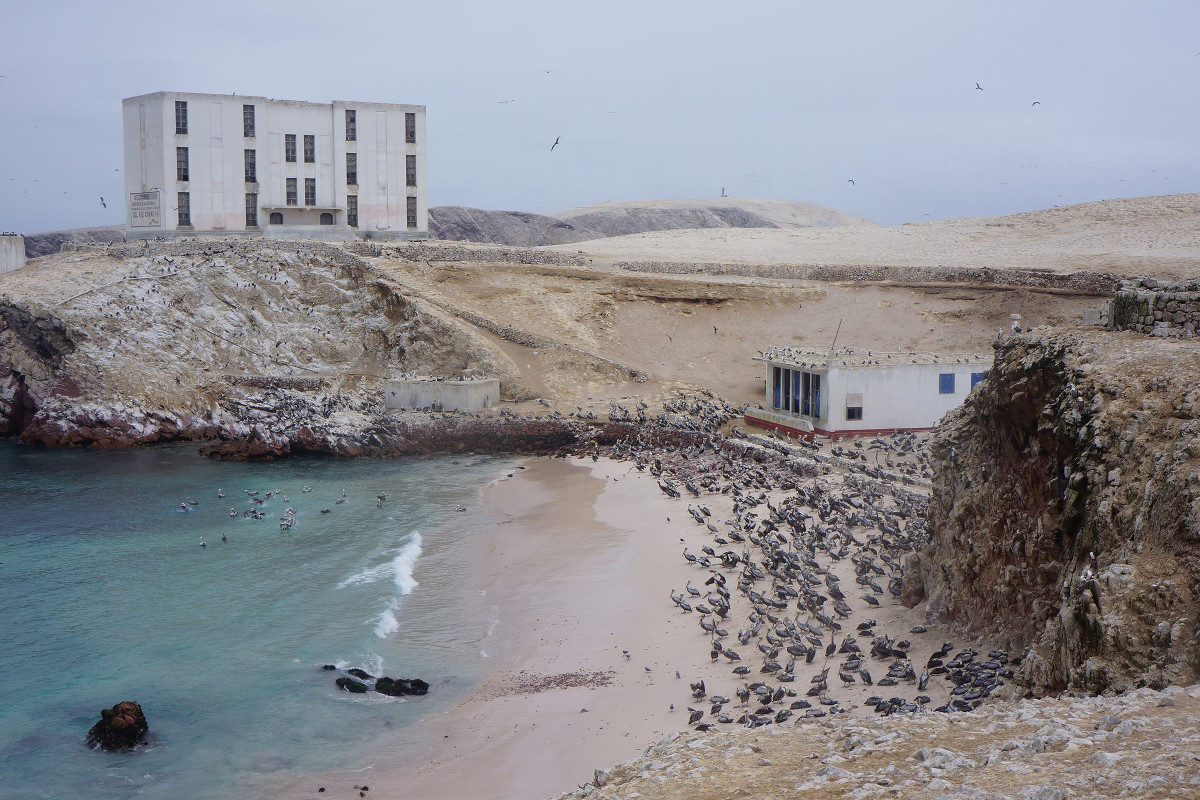 Meanwhile Spanish, American and Peruvian forces scrambled for control of the islands and war broke out. Once chemical fertilisers were developed at the start of the 20th century, the trade of guano collapsed, and the islands were recolonised by birds. Accompanied by Daniel Kramer's melancholic soundtrack, Lê films from a boat approaching the islands, cameras on the ground and drones circling above to capture a bleak landscape haunted by its brutal past.
Artists, Writers, and Readers
HM Prison Reading, Reading (4 September – 30 October 2016)
HM Prison Reading opens for the first time to the public as artists, writers, and performers respond to its most notorious inmate, Oscar Wilde. Incarcerated in solitary confinement he wrote De Profundis, an extended letter to his lover Lord Alfred Douglas; on release he produced his last work, The Ballad of Reading Gaol. At this resonant site, the penal regime Wilde suffered is explored through archives, leading through to the installation of new works by artists such as Nan Goldin, Marlene Dumas, and Steve McQueen in the previously inaccessible cells and corridors.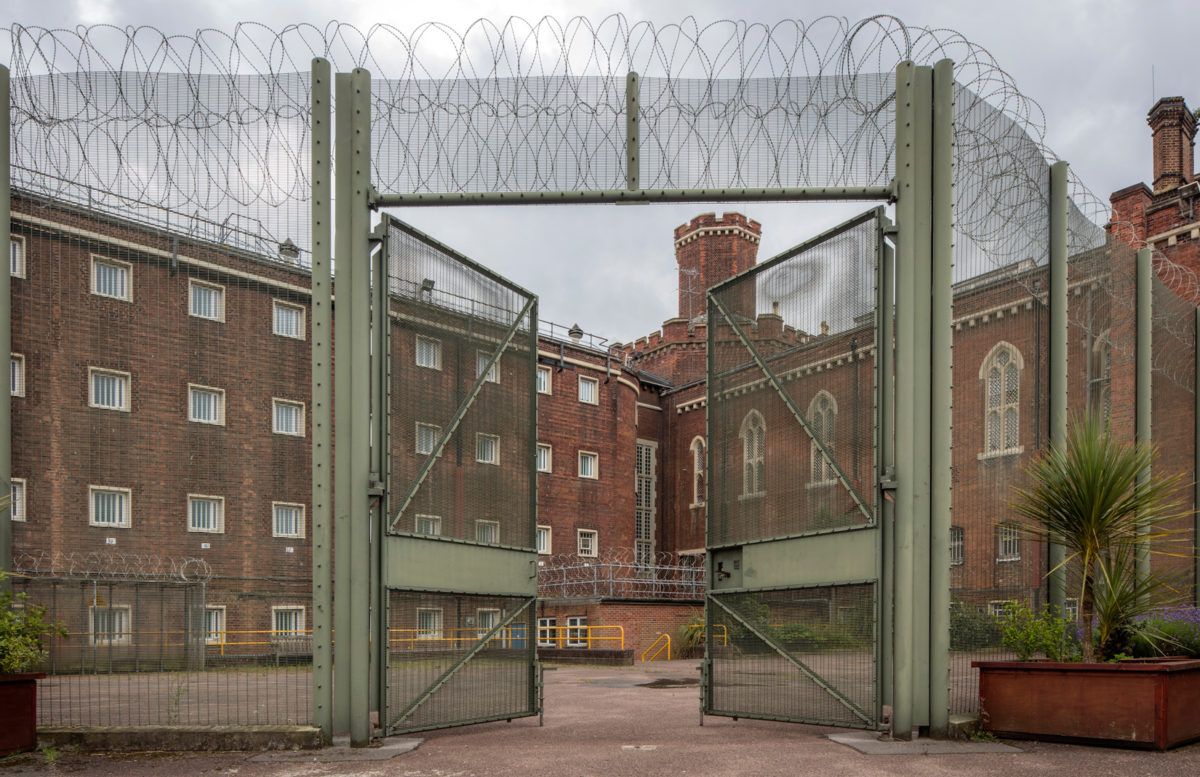 In some cells, visitors will find letters on the theme of state-enforced separation from around the world by writers including Binyavanga Wainaina, Ai Weiwei, and Anne Carson. Each Sunday throughout the exhibition, Wilde's harrowing and heartfelt De Profundis will be performed live in the former prison chapel by readers including Patti Smith, Colm Tóibín, and Ben Whishaw.
Text by Keshav Anand