Interview: Philip Juma, Founder of JUMA Kitchen
London-based chef Philip Juma founded JUMA Kitchen in 2012, offering his contemporary take on Iraqi cuisine to diners in the form of pop-up events and supper clubs. Reflecting his English-Irish-Iraqi background, Juma's food encompasses influences from Middle Eastern and European cooking, utilising both traditional Iraqi and local seasonal ingredients. As a self-taught chef, Juma gained experience in the industry working for names including Ishbilia, The Savoy, MAZE, and, most recently, Ottolenghi's NOPI. The chef now works fulltime on JUMA, and writes a fortnightly food column for The Evening Standard. Something Curated sat down with the talented chef to learn more about Iraqi cuisine and what JUMA Kitchen has planned for the future.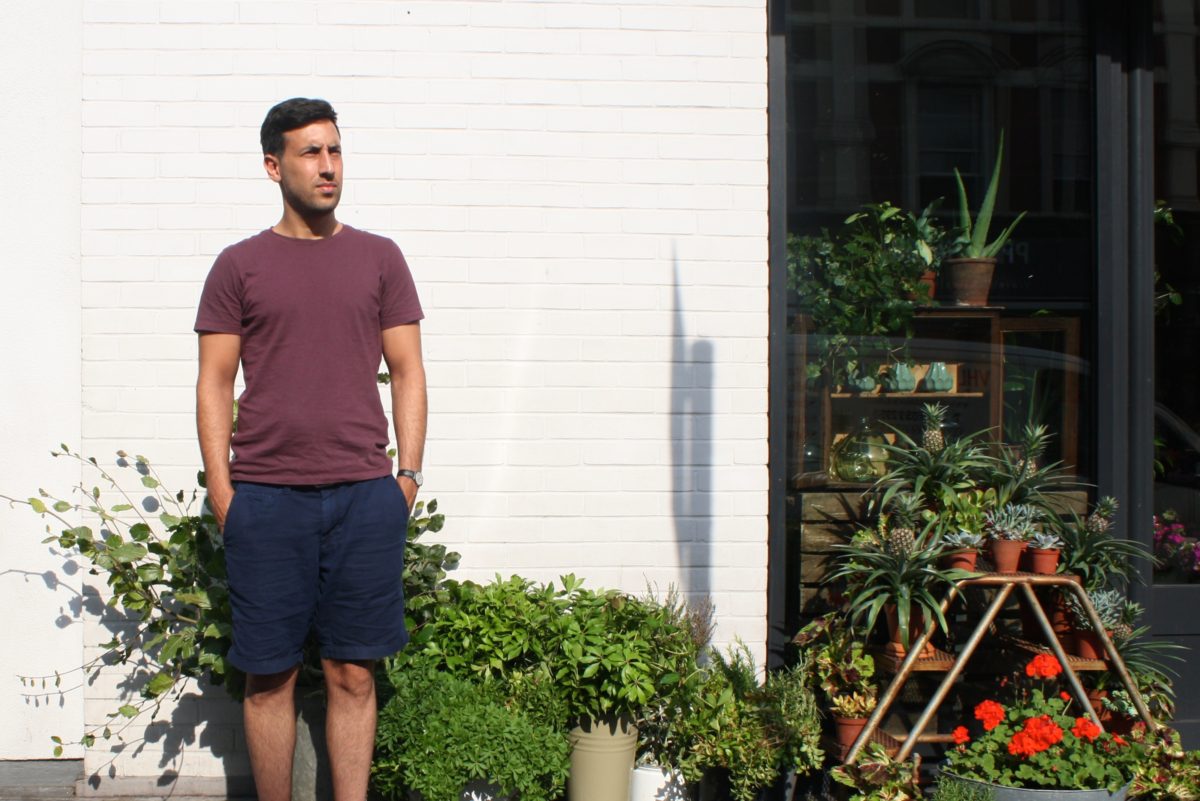 Something Curated: Could you tell us about JUMA Kitchen, the vision and ethos behind the project?
Philip Juma: JUMA Kitchen began as a pop-up concept – it was all about hosting supper clubs and using these types of events as a vehicle to get Iraqi cuisine out there. It started in 2012 as a project whilst I was holding down a full time job in the city. My aim is to celebrate the best of Iraqi cuisine with a contemporary influence.
SC: Clearly your English-Irish-Iraqi identity informs your cooking – could you tell us more about the ways in which it does and how you combine various influences?
PJ: My Dad is the Iraqi side and my Mum is English-Irish, and growing up, the traditional dishes that my father cooked were just amazing – but nowhere to be seen in London. Iraqi cuisine is very communal in its nature with lots of sharing platters, and a "help yourself" type feel to it. I knew I could translate that communal feel into a pop-up setting but I wanted to take it a step further, and see if, from the various influences I had growing up, I could modernise the cuisine. I was having so much fun doing that. Some people liked it, others didn't. Obviously, the traditional Iraqis thought, "No, this is not how you serve our masgouf!" But that's what makes it quite interesting I think, ruffling a few feathers isn't always a bad thing, and it's good if it gets people's attention. So it was really about taking the contemporary food scene and injecting that into old classic Iraqi dishes.
SC: Do you find Iraqi people enjoy JUMA's food?
PJ: When I first started out, as a self-taught chef, my standard of cooking was not where I wanted it to be, but we all have to start somewhere. And even today, I am in no way the finished article; there is so much I am continually learning. When I began, it was all about introducing the cuisine to people that didn't know about it – Westerners, Europeans, non-Iraqis – and now, we fast forward three/four years on, and the JUMA name is known amongst the Iraqi communities in London and they have welcomed it.
They always know best, and they'll say, "Nan does it better," and I used to think that I was doing it wrong, and that maybe I should change my way, but now I'm very comfortable and confident in my style of cooking, and it's just inevitable that someone will say "Nan" or "Mum does it better." But it's great that the Iraqi community are acknowledging what I'm doing, and they support me in a way that's genuinely uplifting. Now with social media and the easy access to an international audience, I get emails and messages, pretty much daily these days, either thanking me, or encouraging me to keep going, maybe something positive around Iraq, and it's such a lovely feeling. So, originally, it wasn't really there for Iraqis but organically they've gotten wind of it and they're coming and they love it.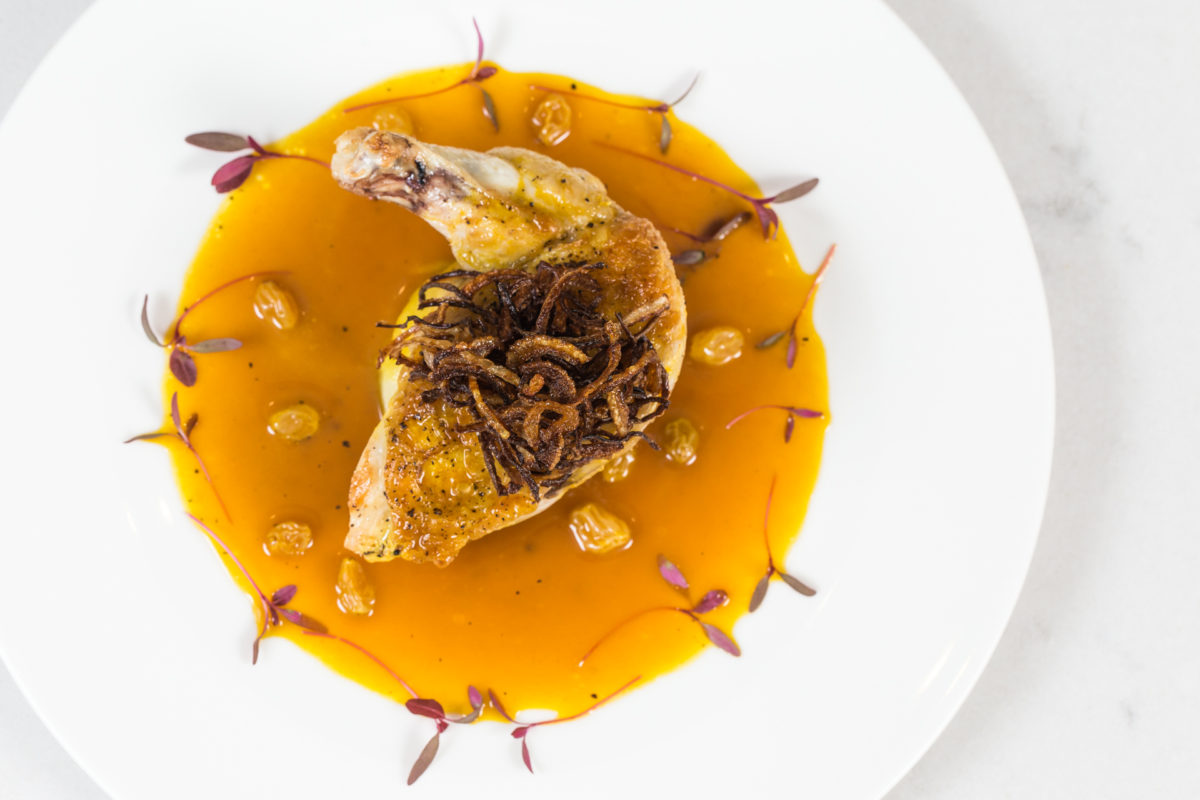 SC: How do you go about finding platforms to share your food, and what do you find interesting about participating in residencies?
PJ: Firstly, I have to give a massive shout out to Billetto, they're an online ticket platform, who have been there for me since the start. Alexa from Billetto has really helped with the development of the brand right at the start, giving me guidance, direction and support. That's now grown into other platforms as well, like Grub Club – these are the go to places for people looking to eat something alternative. One thing I found with the pop-ups was that there was just so much work going into one-off days. There's all this build up for one evening and then you're done, and often you're left wanting more. So now the next step for me is residencies. I want to be cooking somewhere for a long period so that if you can't make it that day or that week, I'll be there the week after. I think without doing the pop-ups it's difficult to get to the residency level – you need the CV to show a venue what you've done. It pretty much involves you reaching out to these people.
With the one coming up at The Cuckoo in Islington, the manager there, Henry, came to eat at a pop-up, loved the food, and said, "I want you in my pub." So that was a very organic collaboration. Another residency I have coming up in October in Clapham at The King & Co, has rollover chefs changing monthly, and they've been on my radar for quite sometime and I've been on theirs. As pop-up chefs and start-up foodies it's a really close network and it's all love. Everyone who I've come across has been supportive – I think we all know what each other is going through and we're all there to help one and other. It's a really nice community feel.
SC: What are your plans for the future? Does JUMA have intentions of setting up a permanent site?
PJ: Absolutely. I'm encouraged by the routes that I have seen some of the people that I look up to having taken. For example, Som Saa, they were a Thai pop-up concept in Hackney, and their residency was meant to be something like three months and it ended up becoming a year. They raised money, over £750k within three days, and have gone onto open a restaurant. I think, for me, following the residency period, if I do well and people enjoy the food, 2017 is the year for the restaurant.
I don't want it to be this one-man-band – I want to build something that inspires people and offers a vision for future Iraqi chefs. If I can create a platform where people step up and make their version of Iraqi food their way, I'm all for that. It's not like I'm on my own out here, it's more about getting the cuisine the recognition it deserves.
SC: Who has influenced or inspired your work, from your field or elsewhere?
PJ: Ottolenghi has been a big inspiration. I did a week in the kitchen at Nopi and the head chef, Ramael Scully, was an absolute legend. Ottolenghi's right hand man, Sami Tamimi, has become a friend and mentor of mine. To have someone who has been there, done it and achieved so much and for him to be a phonecall away, to offer advice and talk through stuff, is amazing – I'm really grateful. They're figureheads that I really look up to. Also my fellow cooks on this journey – Som Saa, Smoke & Salt, Asma Khan, Palestine on a Plate, and so many others that are out there. I think when sharing a similar journey, everyone is inspiring each other.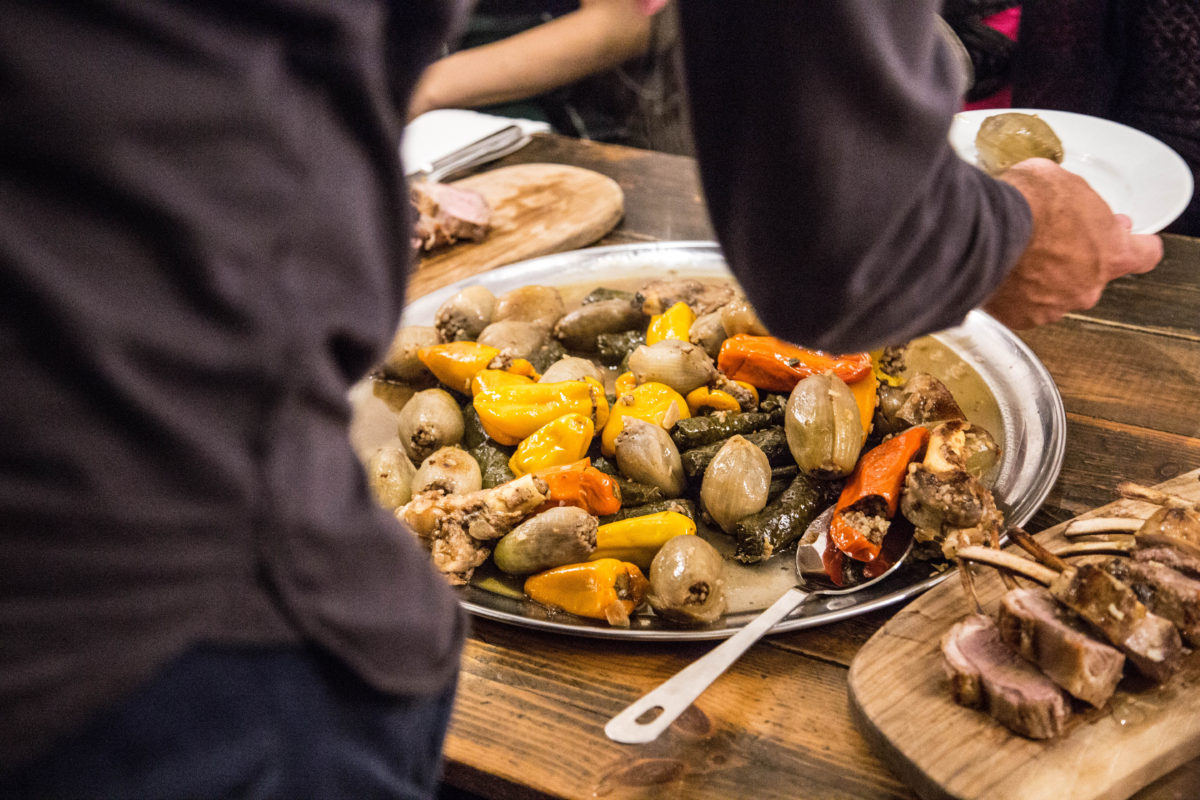 SC: We would be interested to learn a bit more about Iraqi cuisine. Could you give us an idea of some of the prominent ingredients and flavours featured on your menu?  
PJ: Iraqi cuisine, historically, is the oldest cuisine recorded. One of the first recipes ever found is an Iraqi recipe, from Mesopotamia, so it's really thought to be the first cuisine of civilisation. I think that deserves some clout and respect. I can only describe it as the Levant – so we've got Lebanese, Turkish and Iranian, with an Indian influence. It's very lamb focused, and spices such as cardamom, cinnamon, coriander and cumin are all prevalent.   
SC: How do you think about presenting dishes? 
PJ: When we look back at some of the traditional dishes, similar to what's happened with Indian food, with places like Trishna and Gymkhana, and what Atul Kochhar is doing, these are real giants of Indian cooking, they have taken dishes like the kebab and found ways to present them really beautifully, while using prime cuts of meat. Whether it's a salad or bowl of rice, colour and texture is so important. If colour isn't truly a part of the original dish, I'll just put it there and I won't be frightened of that. It isn't just about making it look nice – I'll always make sure there's a good salt, sweet, sour balance in a dish.
For me, going back to Iraqi cuisine, it can be quite stewy with mountains of rice and lots of meat – I love it but as a contemporary chef, I've got to be careful of that, and make sure that not every dish has lamb. Sometimes it's hard to move away from that but you need to be aware of the people you're cooking for. It's about staying true to the dish but also being open to substitutes that work well. I'm always careful to not make things too heavy. That has a big impact on how I plate the food and how it tastes.
SC: What makes a perfect dish in your opinion?
PJ: At the moment, some of the tomatoes that are in season are absolutely beautiful. And I think, how can I create a dish to celebrate that? One that I thought of was a heritage tomato tabbouleh – so you've got all of these different coloured tomatoes mixed into a parsley salad – and it just looks like heaven. I think the perfect dish needs to utilise seasonal ingredients, making most of produce when it's at its prime. Flavour does come first but there should be a wow element with the look – something memorable.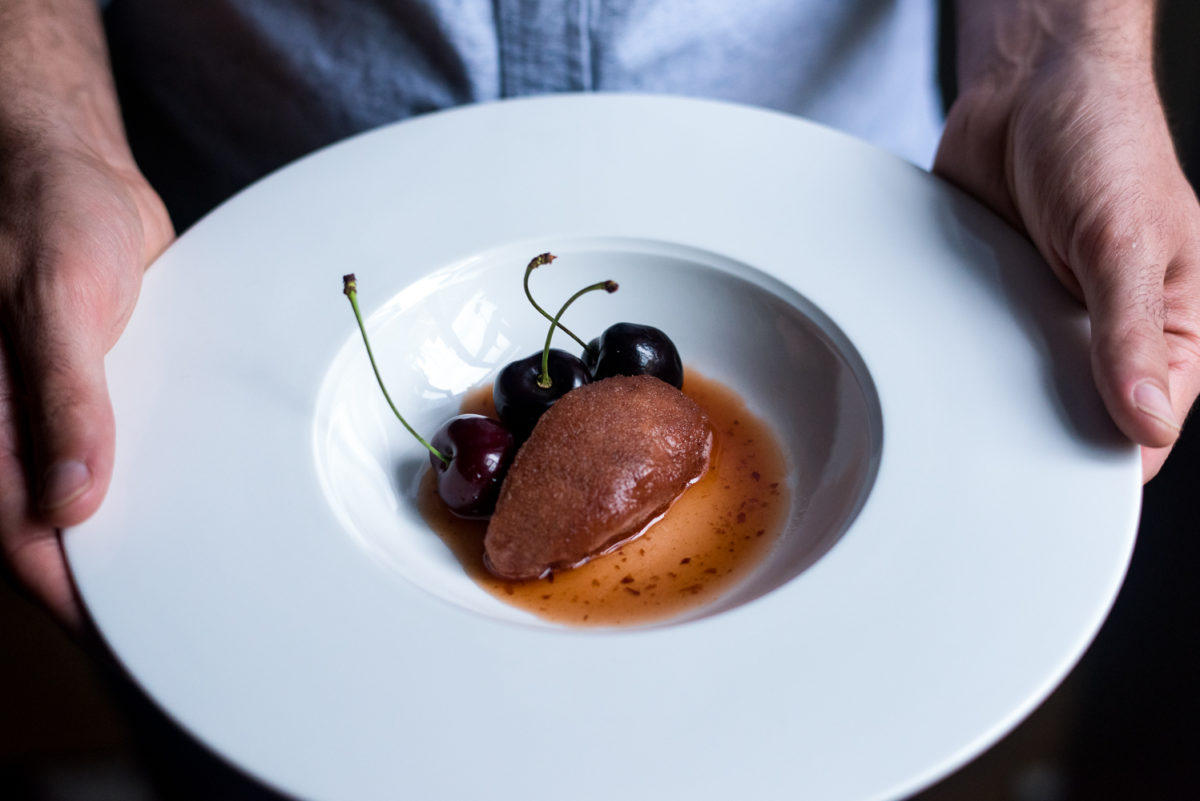 SC: Could you tell us a bit about your process, in terms of sourcing ingredients?
PJ: I lived, for most of my life, in south west London, and there's quite a big Middle Eastern community there, and there are two particular specialist shops that I did all my shopping at. Now I've moved to Finsbury Park where there's an incredible Turkish community with all these amazing shops in Green Lanes. So I'm having a look at various suppliers at the moment; I can't go all the way down to Wimbledon every time I need something!
When it comes to meat, I have a toss-up between halal and non-halal. I've never been brought up with halal meat as I'm Christian-Iraqi but for a lot of Iraqis who are Muslim, it's a requirement. I'm yet to find a halal butcher that is on the level of the organic, free-range butchers that are non-halal in London. I do think the quality of the produce is more important but I wouldn't want to cut-off my Muslim customer base. That's a tough balance I'm trying to figure out at the moment. I never want to cut-off anyone – I want everyone to eat my food.
SC: You have been involved with various philanthropic organisations, including the AMAR Foundation – how did this come about and has working with charities been something you've wanted to do for a long time?
PJ: I've always done voluntary work and I find it's very rewarding. I think it's important to realise that when we see problems in London and around the world, it really is up to us to do something. If we're in a position of health, or we have knowledge, or something else we can offer, it's up to us to provide that and contribute. Without action, we don't have access to change. If I can help or make an impact on a group whilst doing something I love, it's a double win. For example, Second Chance, a charity I work with, provides teenagers, who've had troubled upbringings and poor educations, with GCSE's and employment. One of the work experience programmes they provide is in hospitality, and there was just a clear synergy there with the experience I have. So of course I want to pass on the skills I've learnt, and in the process I'm learning and developing too.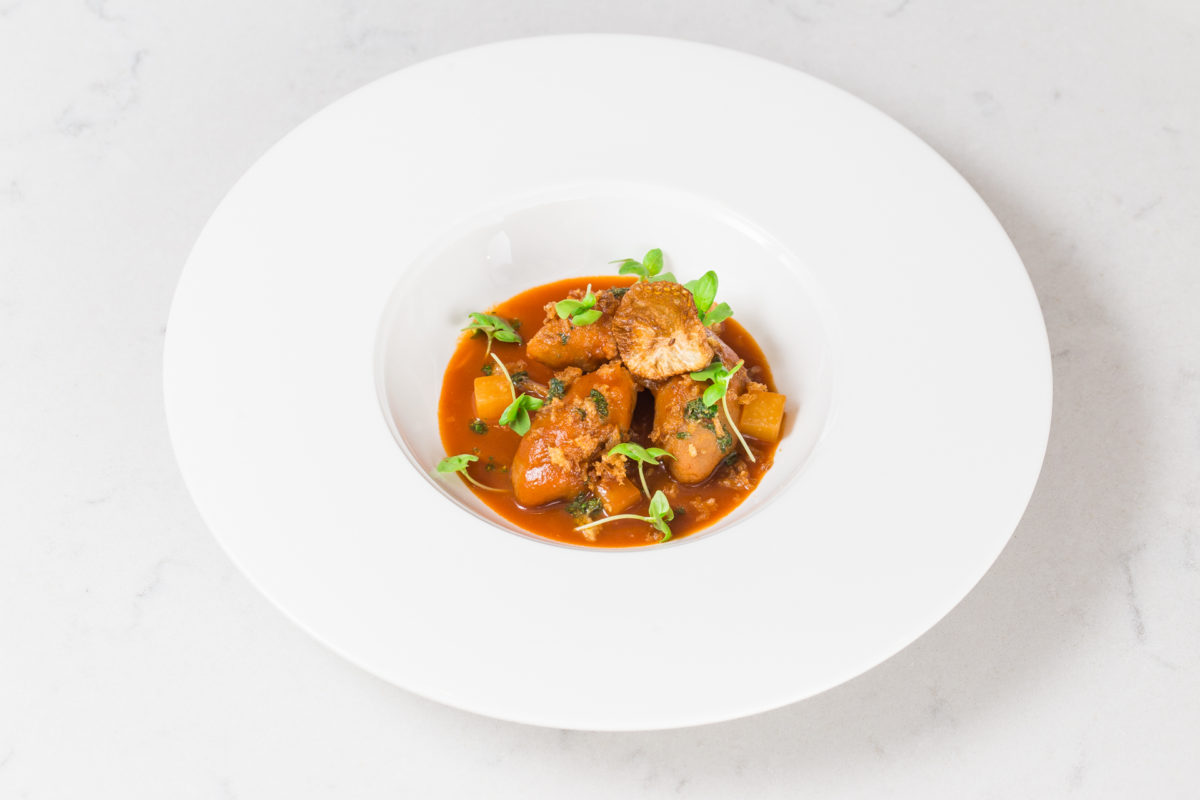 SC: What are your favourite places to eat and why?
PJ: I'm a big fan of Bao. The whole JKS group really – everything Karam Sethi touches is gold. I was lucky enough to meet him a few months ago and I left the meeting so inspired. I really got his commitment to food and service. He makes it look like it isn't hard – if you do everything the right way and don't take shortcuts, you've got it. If you look at Trishna, Gymkhana, Bubbledogs or Lyle's, they really are some of the best restaurants in London. Going back to inspirations, he's someone I really admire. Also, Ishbilia in Knightsbridge – for me, it's the best Lebanese restaurant in London. The chefs there are incredible – no shortcuts there, everything is done right. And finally, Taberna Etrusca in the city. It's an amazing family-run, Italian just off Cheapside; they've been there nearly fifty years.
SC: Is there a particular course that you feel you excel at?
PJ: Looking back, I think dessert; the knafeh has been the biggest hit. It's won the hearts of so many people. The knafeh is basically like a baked cream cheese tart made with filo pastry, and I garnish it with pistachios and rose petals, served with an orange blossom syrup. I've had some great feedback on that and it's always a lovely finish to a meal. I'm developing so many new dishes as well, and with the residency coming up, they're going to be launched for the first time.
SC: Have you noticed any trends in the dining scene in the recent years, and which do you feel are fads, and which have longevity?
PJ: Sharing plates have been massive over the last few years. The starter, main, dessert is there but nowadays every restaurant is doing sharing plates. It's amazing but I'm a fan of the personal plates too. Iraqi food is for sharing but I like to give individual plates – you can feel the love and care that has gone into your plate of food. There's a personal relationship between the chef and diner that's important and it shouldn't be forgotten. But I think with the sharing plates, there's definitely longevity there. We all want to try a bit of everything.
SC: What do you think could be done to support upcoming chefs in London?
PJ: From what I'm seeing, there is so much opportunity out there for chefs to reach out to restaurants and do a stage for a week or a month. There's so much out there – London is brimming with unbelievably diverse food, and there's no reason that anyone who wanted to get into the game couldn't tap into that. Where I do feel there could be change is the hours. I think a lot of big chefs have already expressed their views and said that it's not sustainable that we work the chefs the way we do, day in and day out. I'm not here saying that I'm a sixteen-hour per day chef, I haven't gone down that route, but I know plenty of chefs that have.
It's pretty brutal, and it leaves your shelf life a bit shorter. I think a few more breaks or rethinking the hours needs to happen, and it is being looked at already, which is great. Positive working environments are really important. It's great when top chefs empower staff – for example, the head chef might say, "Here are your ingredients. Whoever comes up with the tastiest dish gets it on the specials board." Opportunities like that really allow chefs to grow, as oppose to just being a prep-machine.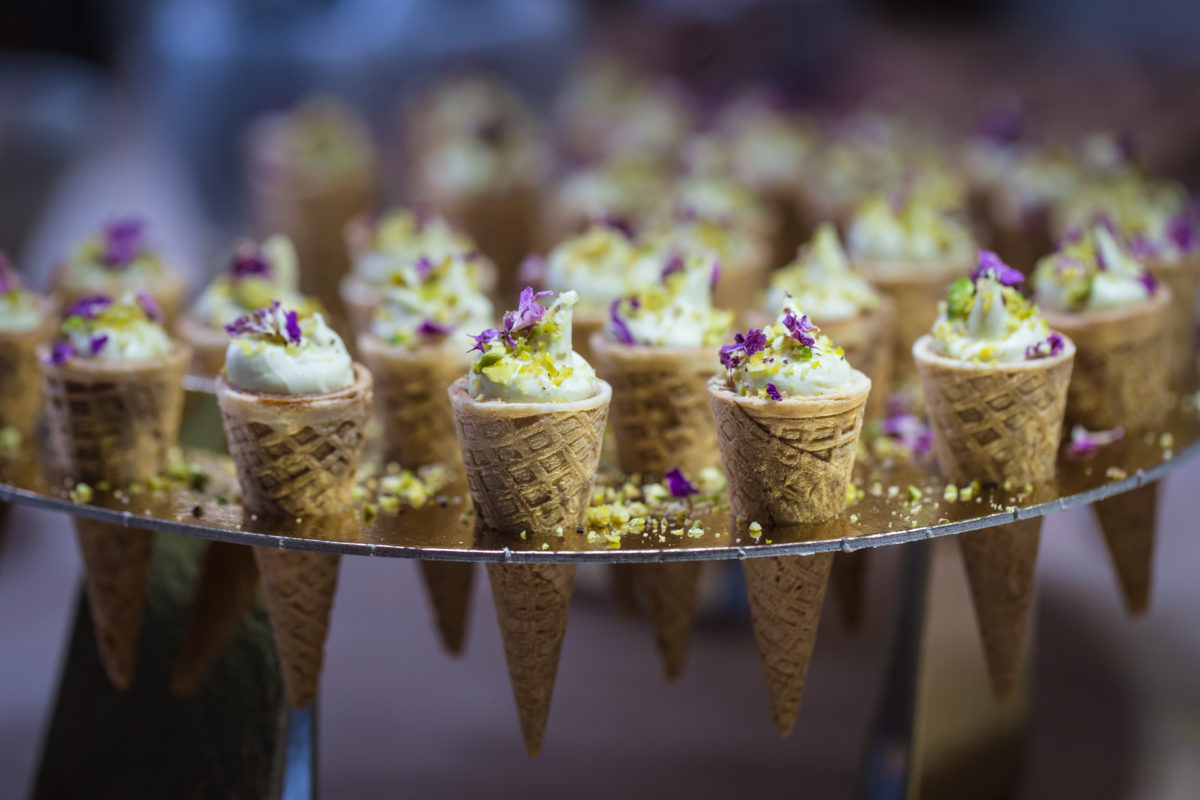 SC: What is a piece of advice you would give to an aspiring chef?
PJ: There are lots of people doing well with not such a great product, and there are lots of people struggling with a great product. I guess that's life but it's important to know the industry from all different angles. Of course quality food is number one but don't be shy to promote yourself and reach out to people. Commitment and integrity are also so important – you need to take the time to master your craft and take yourself seriously.
SC: How did you get into this field? What was your journey?
PJ: I did the finance thing in the city, and talking of integrity, mine was so out of sync doing that job. Ethics and values weren't really present and it bothered me. I was questioning what I was a part of, and with the financial downturn in 2008, I felt like I was contributing to this mess. Everyone could see how happy I was doing my food on the weekends, working on street food and doing festivals, and I'd use my holidays to work for free at a restaurant. After I left the city, I didn't have the balls to go all in so I ended up getting a job in energy consultancy, but that did give me some more free time to work on a pop-up, and then I realised that I had to go for this. The main thing that brought on JUMA was a self-development course I did called the Landmark Forum in London – it gave me a whole new way of looking at my life. It was a real pivotal moment for me.
SC: Which area of London do you live in and what drew you there?
PJ: I live in Finsbury Park – my girlfriend drew me there. I'm a south west London boy at heart but north London is winning me over. I'm really enjoying it there. The vibrancy of the Turkish community is amazing, and being closer to everything is great.
SC: When you open a permanent location, what would be the ideal place for you to launch JUMA Kitchen?
PJ: The dream would be Soho. Somewhere central where I could really showcase Iraqi cuisine and the JUMA brand in a fun and modern way. I'd like to work with Iraqi artists, there are some amazing ones out there, and musicians, and really encapsulate various aspects of the culture in a building.
SC: Favourite place to relax? 
PJ: Vagabond coffee shop in Finsbury Park.
SC: Favourite place to shop? 
PJ: Soho Knives.
SC: Favourite holiday destination or where would you live if not London?
PJ: Ibiza – I was just there and saw a whole different side to the island.
JUMA Kitchen is currently in residence at the The Cuckoo N1 till 1st November.
Images courtesy of JUMA Kitchen