KESH: Multidisciplinary Artist, Designer & DJ
Born and raised in the suburbs of London, artist and designer KESH moved to the city at the age of seventeen, beginning by selling her custom clothing on MySpace. She quickly amassed a following for her monochrome graphic designs, and was commissioned to create looks for London-based grime artists Jammer and Dizzee Rascal, and shortly after, Kanye West. Of Malaysian and Trinidadian heritage, Kesshia KESH Kumari had a longstanding interest in the arts, noting she knew she wanted to be a designer as a young child.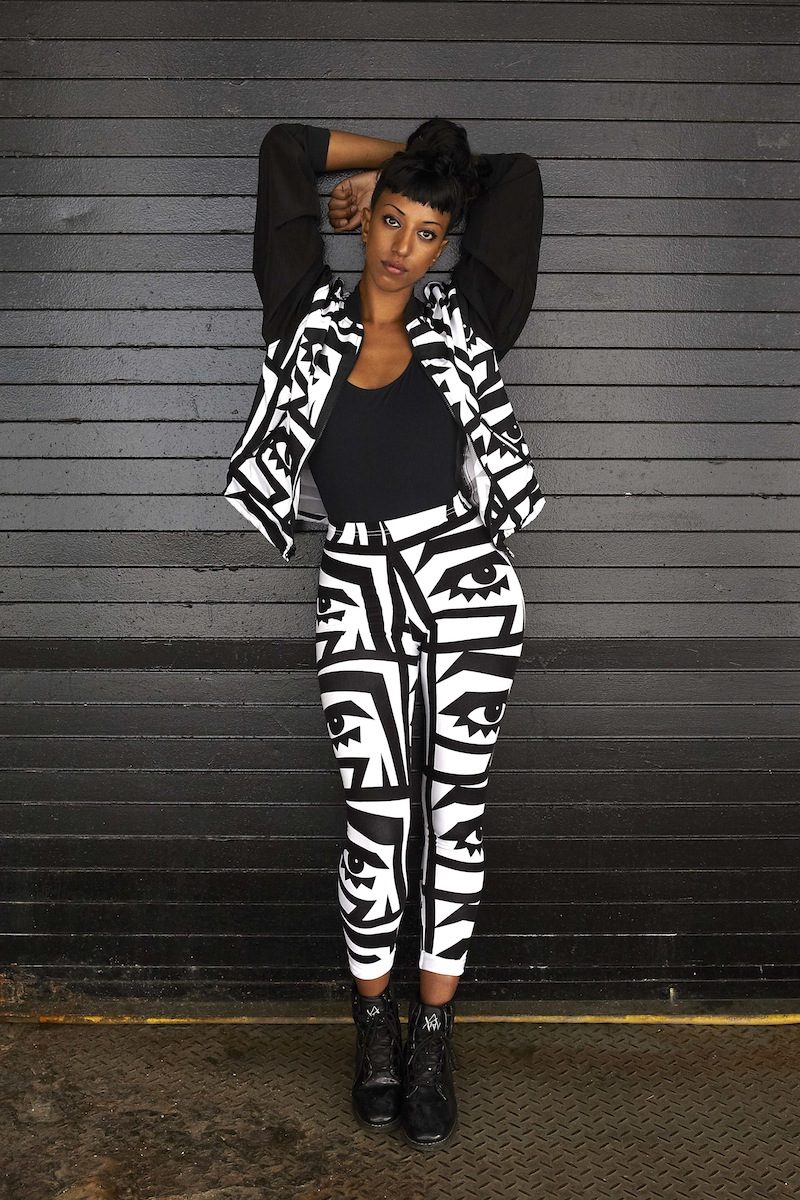 Proceeding to take on a role as Fashion Editor at SuperSuper Magazine, KESH developed her eye for styling. In 2006, she was one half of the DJ duo, The Coconut Twins; performing at events and parties in London and around the world, KESH solidified her position as an instrumental figure in London's New Rave scene. As her work in the worlds of fashion and music continued to overlap, KESH was invited to design a capsule collection for Topman, showcased at London Fashion Week. Received with acclaim, the artist moved to New York, launching her second collection, which she presented at Anonymous Gallery.
https://www.instagram.com/p/kG44SDj2cc/?taken-by=kesh&hl=en
Further broadening her canvas, in 2009, working in collaboration with artist David Burrows, KESH created the first artist-designed bottle for French cognac makers Hennessy. The following year she relocated to Los Angeles, setting up her own artist's sanctuary, which she refers to as, "the cave." Developing a series of limited edition prints during this period, the artist focused solely on her practice undisturbed in her forest retreat. Notably, the entire body of new work she created during this time, consisting of 424 prints, quickly sold out.
Following her participation in Poland's AYS Art Fair and the presentation of an installation, which she created for the W Hotel in Paris, KESH held her first independent art show entitled ME. ME. ME. in Los Angeles, featuring fourteen self-portraits. The event was broadcast live online and viewed by her thousands of followers across the world. In 2013, she collaborated with American Apparel, creating a limited edition line of clothing; the focus of the collection was her signature bold eye graphic, which featured on leggings, tanks, jackets and more. Last year, Versace released a similar design, selling near replicas of the artist's work for $650 per t-shirt. Keeping artwork accessible is of crucial importance to the artist, hence her interest in creating clothing, as well as unique works of art. KESH took the Italian luxury label to court, settling earlier this year.
Recently, the artist presented her LJUS2 exhibition at the Catherine Ahnell gallery in SoHo, New York. KESH lived inside the project space for a month prior to the opening, transforming the gallery into a functioning studio, where she not only lived but also produced the works for the exhibition. The pieces she developed were digitally manipulated from over 1,200 images, collaged and warped over Perspex allowing light and shadow to fall through. Despite her diverse source material, certain elements, such as the graphic black-and-white eye, as well as numerical artwork titles, consistently occur in her practice.
https://www.instagram.com/p/BGKxUzRD2b9/?taken-by=kesh&hl=en
Continuing to work in Europe, America and Asia, the London-bred creative posted images earlier this week of a new project at 1.1 in Basel, Switzerland. She notes: "The installation was the final section of the KOM56 tour which consisted of several live performances of the experimental sounds and visuals that I've been creating in secret over the past 5 years." Debuting her first musical artwork, which she made downloadable on her site, the artist performed her latest offering within the striking room she designed at the Swiss gallery.
On democratising art:
"A lot of people admire and appreciate art, but I know not everyone can afford a $16,000 piece of work. I mean, almost no one can afford that. I want to make sure I keep things inclusive." – Interview, 2016
On the influence of the Internet:
"I was a child of the internet. Social networks were already a big thing, so sharing my experiences through the Internet seemed natural. It turned out that a lot more people were interested than expected. I was experiencing freedom. No rules." – i-D, 2013
On her time working in isolation:
"I was terrified. I was scared of the dark – scared of the woods, scared of isolation. But I faced my fears and got over each of those things separately along with a multitude of other things. Fear is the enemy – it will hold you back. And I wanted to move forward." – Elle, 2013
On how she defines herself:
"Artist is the best way to describe what I am, what I do. The mediums may vary, but at the end of the day it's all art." – Cool Hunting, 2011