Interview: In The Studio With Scott Ramsay Kyle
Scott Ramsay Kyle makes work that is simultaneously abstract and figurative, provocative yet delicate. With a background in Fashion and Textiles, studying firstly at Glasgow School of Art and continuing to pursue a Masters at Central Saint Martins, Ramsay Kyle specialises in hand-embroidery and has worked in collaboration with many designers. In 2014 he embarked on a PhD from which his recent series of work began. These works make evident his eye and skill in fashion and textiles but are equally indebted to his playful nature and his ability to discuss personal matters with openness and honesty. La petite mort comes to mind when viewing his works, with their intoxicating mixture of sex, beauty, flowers, melancholy and pain.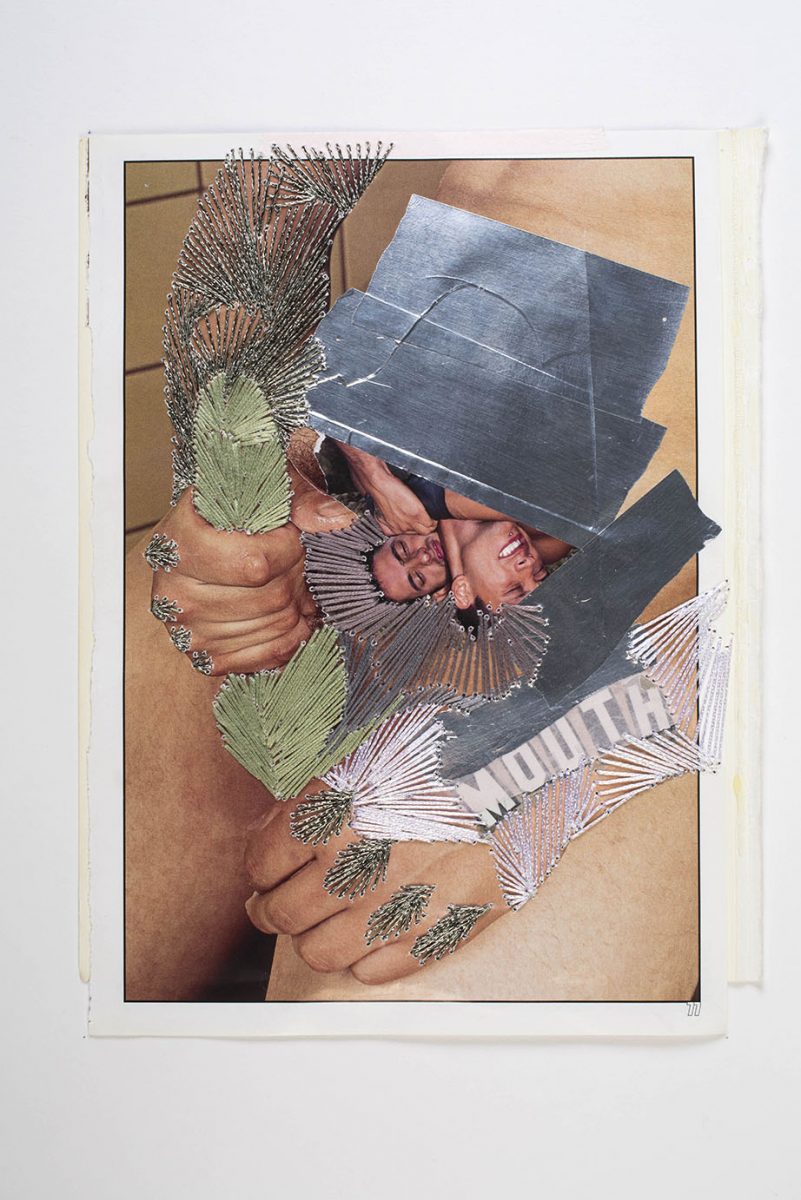 Something Curated: Your current collage and embroidery work came about during your PhD, however you decided not to continue with your studies. What inspired this shift in thinking?
Scott Ramsay Kyle: I was doing a practice-based PhD, and that's where I started making these works that I'm doing at the moment. I thought why am I reading so many dense academic texts that are completely confusing and undecipherable when it is the physical work that I enjoy making? As I was reading many texts on philosophy and working methods, I was applying to do different conferences and talks, and writing papers, and to begin with I was focussing on sex but I ended up talking about masturbation and how it is so procedural.
It puts strain on the body and torso, the hand, the posture, but then after you get a release that feels great, you think, "Oh, I could do that again." To me, it is so similar to the action of embroidery – it's quite an emotional, physically enduring task. You have to really put your back into it. I'm right handed, so when I work on a big project or have a rushed deadline coming up usually my right side, my right peck and arm will be bigger than the left one for a while – it looks like I've worked out on one side because I've been doing this repetitive action 500 times an hour, 8 hours a day for as long as the project requires. I can be a masochist in the ways of making my work.
SC: Where do you source your images in order to make the collages?
SRK: I had all these old porn magazines that I had brought down to London because I didn't want them left at my parents' home back in Scotland, and I didn't want to chuck them out as they were so important when I was a kid, like 14, 15. So I had them in this massive holdall in the cupboard. I didn't want to look at them any more but they have always followed me around London in this bag. So I started looking through those publications, and thinking they're so gorgeous; some of the images are so beautiful because they're dated, they have a definite 80's and 90's look, and not digital in their quality. So I started cutting and sewing into them to see what would happen.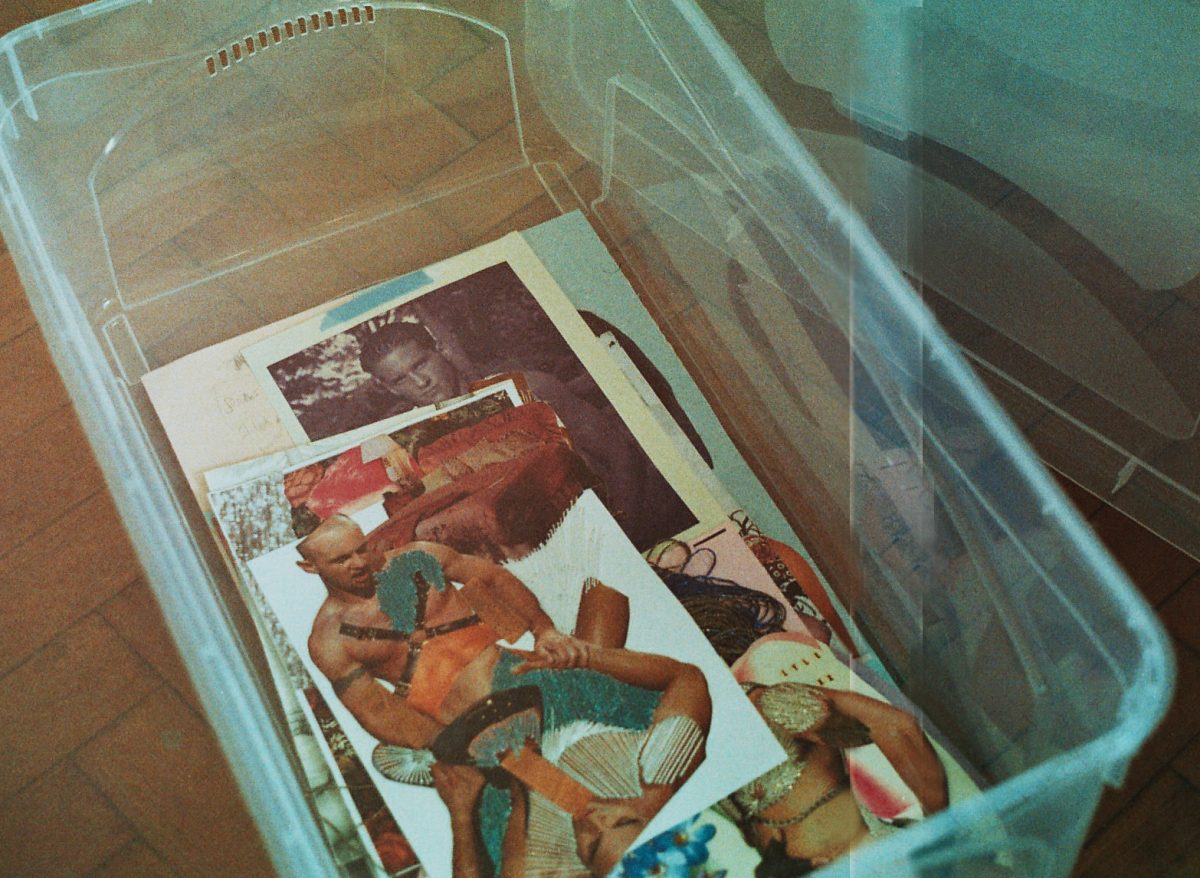 SC: Once you have depleted your stash do you think the work will have to move on, or go in a different direction, if you are using less personal source imagery?
SRK: I think so, I've already started to play with new materials, reprinting and compositing new ideas – the works I made during the PhD were only using originals from those magazines because it was important that I was using this personal printed matter and was re-appropriating it. I've started to introduce new elements and viewpoints, because otherwise I find it a bit boring and too repetitive for the rest of my life. I get bored quite easily so like to keep my work moving forwards.
SC: How would you describe your working process?
SRK: Often it is over-embellished, over-worked, I put a lot of strain into things, I think as I expect a lot from myself and work really hard I need to push my practice; I have always had this, it is an in-built Scottish Presbyterian trait I guess with some catholic guilt thrown in, the Island definition of Ramsay is literally to "work and pray". I can feel a bit manic and over-stimulated at times – focusing my head and hands to make something beautiful allows me to ease up. In general, if there's a paid deadline, it's a different way of working because you're up against the clock, and its money. But if I am doing my own personal work and self-developing I move between lots of different things; so nothing feels complete, but that's quite nice as well because you can come back to things and add aspects or layer up, I'm really drawn to layering techniques and hidden meanings.
The one thing I try to do when making work is to find the juxtaposition, to make it more crass or subverted or humorous as that is what fashion taught me. To take something old and reinvent it, make it more luxurious or unique which for me makes it more personal. I have always enjoyed embroidery; it is like painting with the needle and the thread is like the ink and paint. I like the idea of creating my signature within the stitch marks. I know that my stitch, the way I work the needle, and work the thread, and the direction, is personal to me. I have seen people try to emulate that, but it doesn't have my energy, there is a kind of graphic anger to it, tension and scratchiness.
Anyone can trace Picasso, but Picasso had his moments of intimacy – I'm not comparing myself to Picasso in anyway – but there's vibrancy, an emotion to my mark making and control. One of my tutors at art school told me to always keep drawing; it took Picasso 30 years to find that one stroke. But once you find that stroke, or in my case stitch, you must take ownership. You know yourself when you make that movement in a sense. I don't think I've done any work to date that's that great, I don't really like what I do. I do the odd piece where I think, "Oh, that's quite nice." But I always feel like I want to move on from it and do better, there is a linear process at play in my creative work.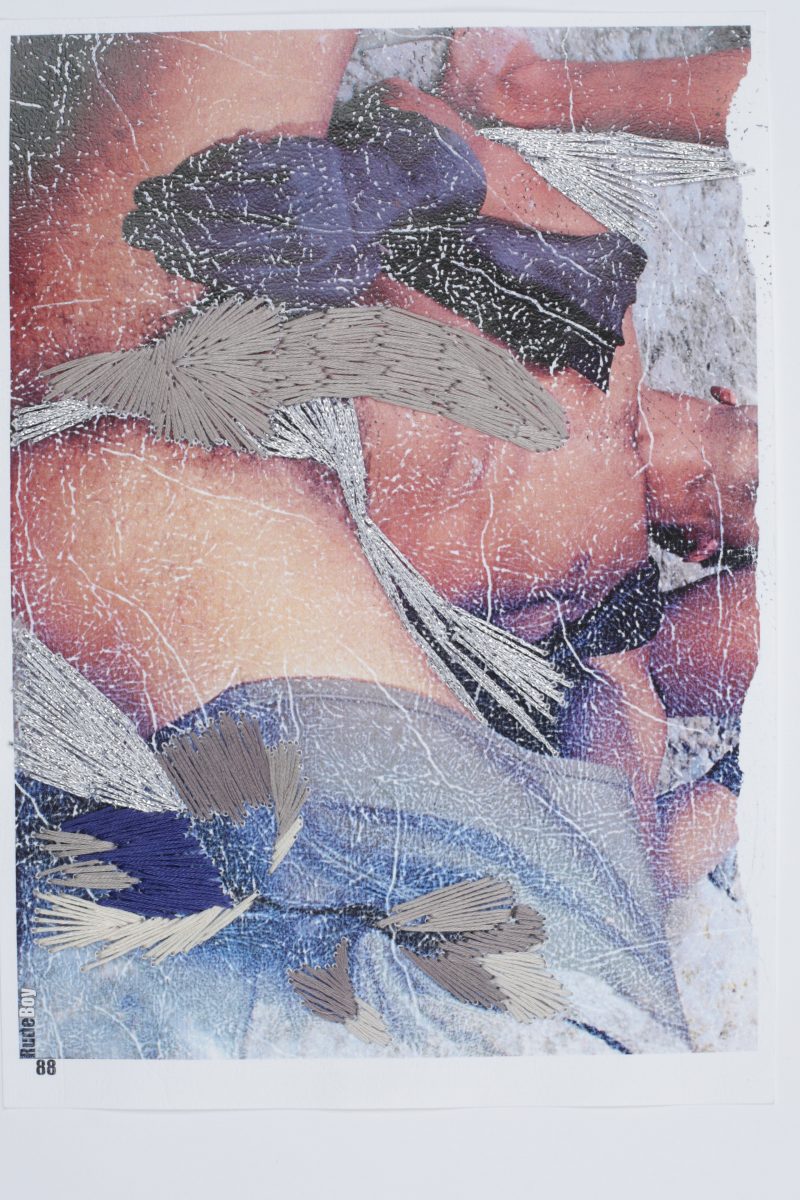 SC: There is something about your work that so reminds me of The Smiths in that they are funny, brutal, melancholic, political and personal all at once.
SRK: They're always personal. Of course I want to have humour in my work within the layering and play, a curator once said, "I always find your work so funny, I had such a good laugh looking at it," which I found interesting, both as an insult and a good reaction as I didn't value her opinion or rate what she contributes. I think the porn collages are quite funny initially, but they're not light-weight. Although it's kind of raunchy at first glance, I think there is both beauty and sadness to them. There's investment of time within my work – it isn't disposable. There's investment, craft and beauty.
SC: Given that the works are so personal to you, and you make work as part of your daily routine, do you think of them as a visual diary?
SRK: It's really personal, and I do keep diaries, it's really important to me. I've kept diaries since 2002 religiously. They get quite dense and layered, because when I find things I cut and paste them in, and I've kind of always done that. I was reading pages from my diary of last year, and I thought, "God, I do feel different," but still there are a few things I've not confronted yet, both personal and work things. I do try to confront, but I am in my head a lot – aren't we all? If you're creative you can be your own worst enemy, especially when I am sat for hours on end sewing.
SC: In late 2016 you had an exhibition with fashion designer Louise Gray. What was the thinking behind the show?
SRK: Yeah, we did our show together last September time. My works were heavily embroidered on mixed media, and Louise worked with many vintage mirrors and text. We had this huge big space in De Beauvoir; it used to be the old Hackney Archives but now it's a gallery. Louise had around 20 gorgeous mirror pieces that hung as a really powerful installation and I had my work hanging amongst the mirrors; the reflections of my work in hers was really nice to see and felt like a celebration of our friendship as we studied at GSA and CSM together and shared friendship groups ever since.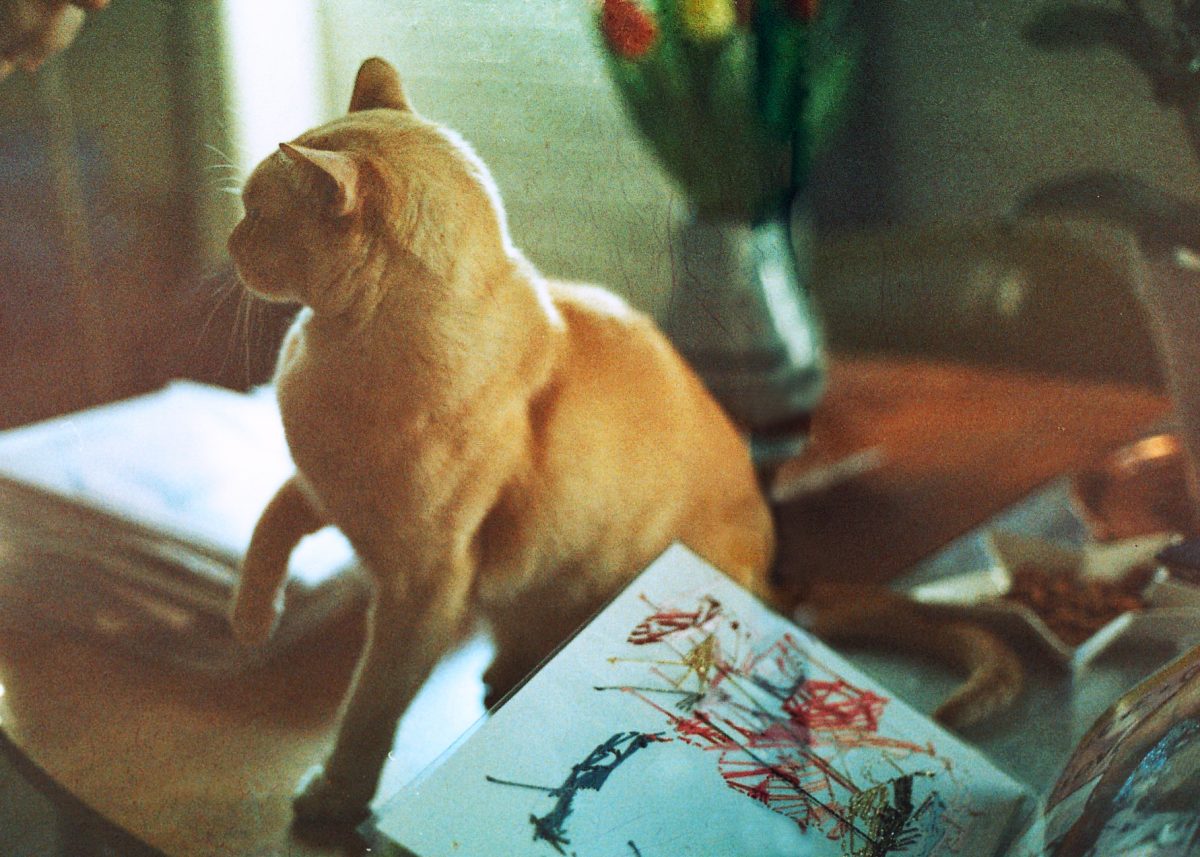 SC: To me your work sits between the worlds of fashion and art, do you feel both are present in your practice?
SRK: One of my tutors came to the show at Archive Gallery, which we just talked about. He was my past textile tutor, and said I always had a nice touch to build an iconic-looking composition which I thought was a lovely compliment. He said that I could always make an image look like it belonged on the page, which is quite sweet for him to think that so many years on. I think I learnt so much from my years at Glasgow, as so much of the training is focused on drawing and mark making, they teach the Bauhaus style so I am drawn to both art and design practices. Glasgow School of Art was a proper art school, and Central St Martins taught me about the industry and the reality of living a creative life fully and all encompassing.
SC: You still make fashion work, having recently collaborated with Henry Holland. How did you find this experience?
SRK: Yeah, we worked together last summer, and that was really fun, it was lots of denim work, really abstract, really gorgeous stuff based on 90's rave culture. He gave me a pile of research, and I produced work and then it was literally placed onto garments. They did both prints of my collages and embroidery. I really like to collaborate and cross disciplines and learn from other creative people, it is exciting to feel challenged, and gain new ideas and ways of contributing.
SC: You seem very attached to Haggerston …
SRK: I've got a lot of good friends around me. I think in London you have to create a family for yourself – you can't survive without. As I'm getting older I'm becoming quite flaky, and because I live on this main street and Haggerston is such a hub which has almost everything I need and it's central to everyone, my flat which is also my studio is the come-to for my mates as a meeting place. My friends joke I don't leave Kingsland Road unless I really have to. Maybe I'll go half a mile either side, which is not that true as I work all over London but when I am on the down low I like staying local. I've been here in this building for 5 years, and I was in Bethnal Green before that. I have lived in east London almost 12 years now so it is definitely home.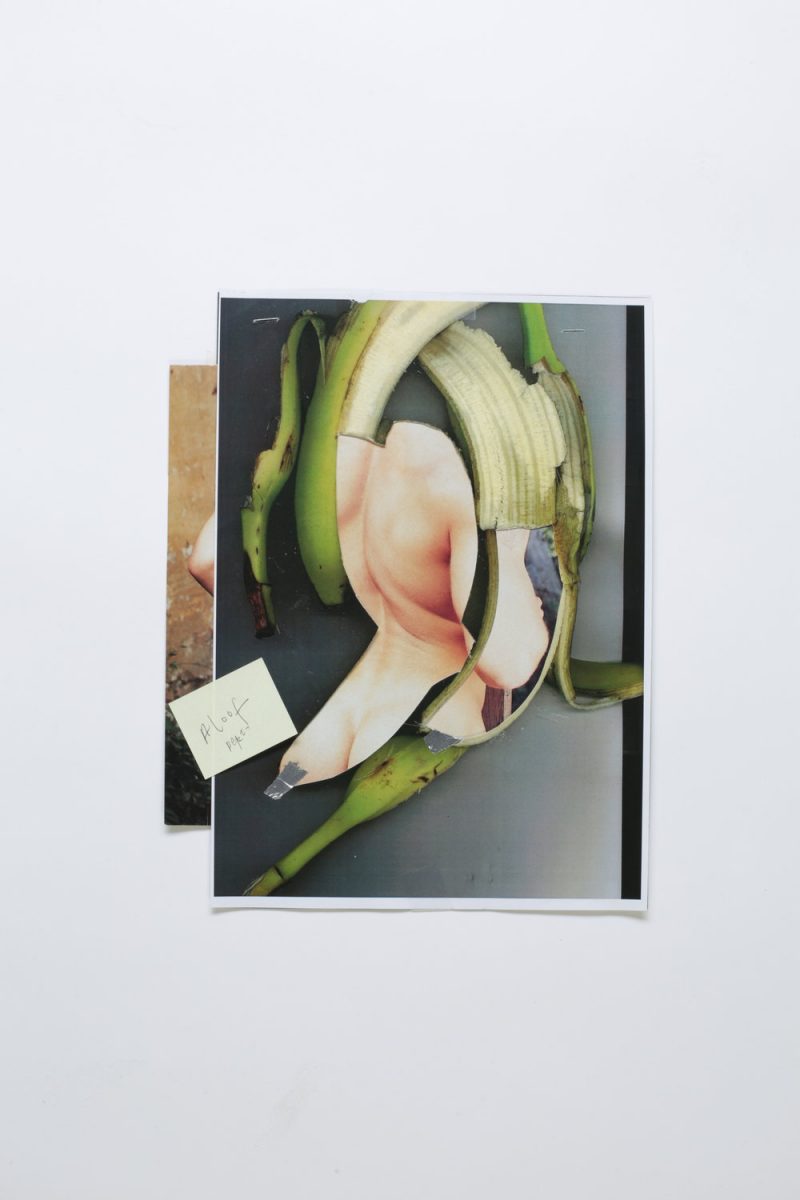 SC: What collaborations do you have coming up?
SRK: I've got this animated film that I'm making in collaboration with visual artist Melanie Coles. We are creating a collage, stitched film based around the Mario Testino book Kate Moss. Our deadline is to have the film rendered and complete to show during LFW. The developments are already looking beautiful and it's turning into a visceral and empowering ode to the model.
SC: Favourite artists?
SRK: So many! Louise Bourgeois, Tracey Emin, Prem Sahib and Cary Kwok are all brilliant. Design-wise, and for menswear Raf Simons, Cottweiller and Christopher Shannon – love what they do. Some of my good friends such as artist Michael Crowe and his film work, we have collaborated on a piece before, and Jodie Ruffle for bespoke embroidery that is beautifully artisanal.
SC: Favourite gallery or museum?
SRK: I spend a lot of time at the Barbican as it's such an immersive experience. I also like going to the V&A and RA – they are so out of this world beautiful. I like other smaller galleries and try to see shows when I can. Outside of London, both the New Museum and Artist Space in New York are favourite places.
SC: Favourite restaurant?
SRK: I like many: Hoi Polloi for Sunday brunch, Morito on Hackney Road, The Hackney Pearl, and I recently discovered Netil House which was nice. I prefer low-key and stripped back but expect good quality.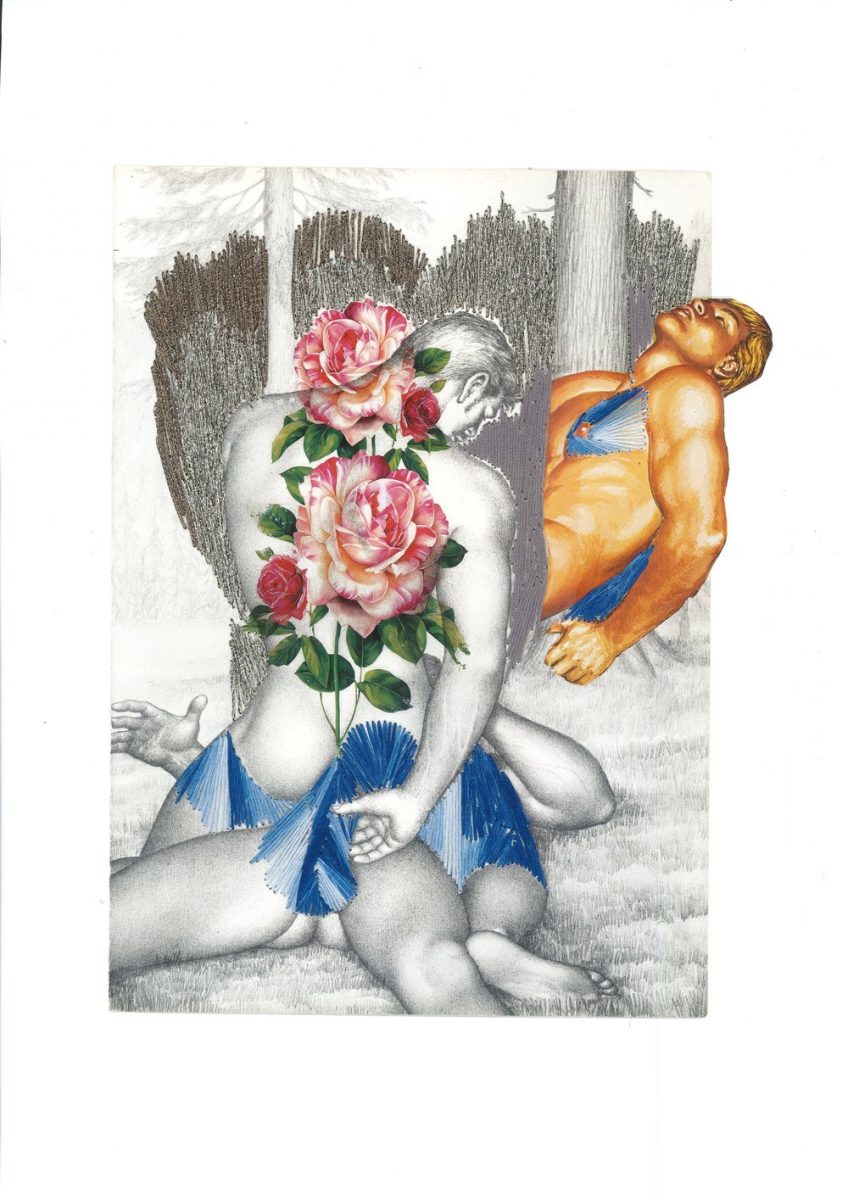 SC: Favourite shop?
SRK: I don't like shopping really – I try and do it all online. In saying that if I am in town I do like to visit Dover Street Market as it is just the most beautiful building and the overall experience is inspiring, seeing the collections and artworks. And Liberty's, I buy most of my embroidery materials in their haberdashery, I always have and do treat myself to some nice menswear.
SC: Favourite places on Kingsland Road?
SRK: The Glory and Dalston Superstore for drinks, dancing and fun, Mangal 2 for Turkish and Gilbert & George, RIO cinema at least once-a-week, Curio Cabal and Tin Café for really good coffee, Haggerston and The Fox for a pint, Ridley Road Market Bar is just off Kingsland Road and always full of atmosphere and serve spice girl themed pizza which is funny, and Ruby's for cocktails. I also get my haircut at Muku Hair across from the big Oxfam; it's taken me a decade to find the right hairdresser. Also, the charity shops are usually really good too.
SC: Where do you like to holiday?
SRK: I am more of a city break person not so beachy, so Berlin, Barcelona and similar are good places for me. I find lying in the sun boring. I really want to visit Canada and LA next.
Interview & Photography by Rosie Robertson