Interview: Secundino Hernández At Victoria Miro Gallery
Madrid-based visual artist Secundino Hernández's diverse painting practice resists easy categorisation. His work features intricately structured compositions that mix strong linear elements and rich eruptions of colour. Meaning 'step', the exhibition title, Paso, refers to a series of movements through abstraction and figuration. At Victoria Miro, Wharf Road, where Something Curated met with the artist, Hernández is showing abstract works that continue his investigation into gesture and form while extending the innovative techniques of accumulation and removal for which he has become widely known. Simultaneously, in the gallery's Mayfair site, the artist shows more figurative forms, conjured from a dynamic interplay of lines and marks. We spoke with Hernández, in the hours before his east London show opened, to learn more about his practice, his relationship with Victoria Miro, and what he has planned for the future.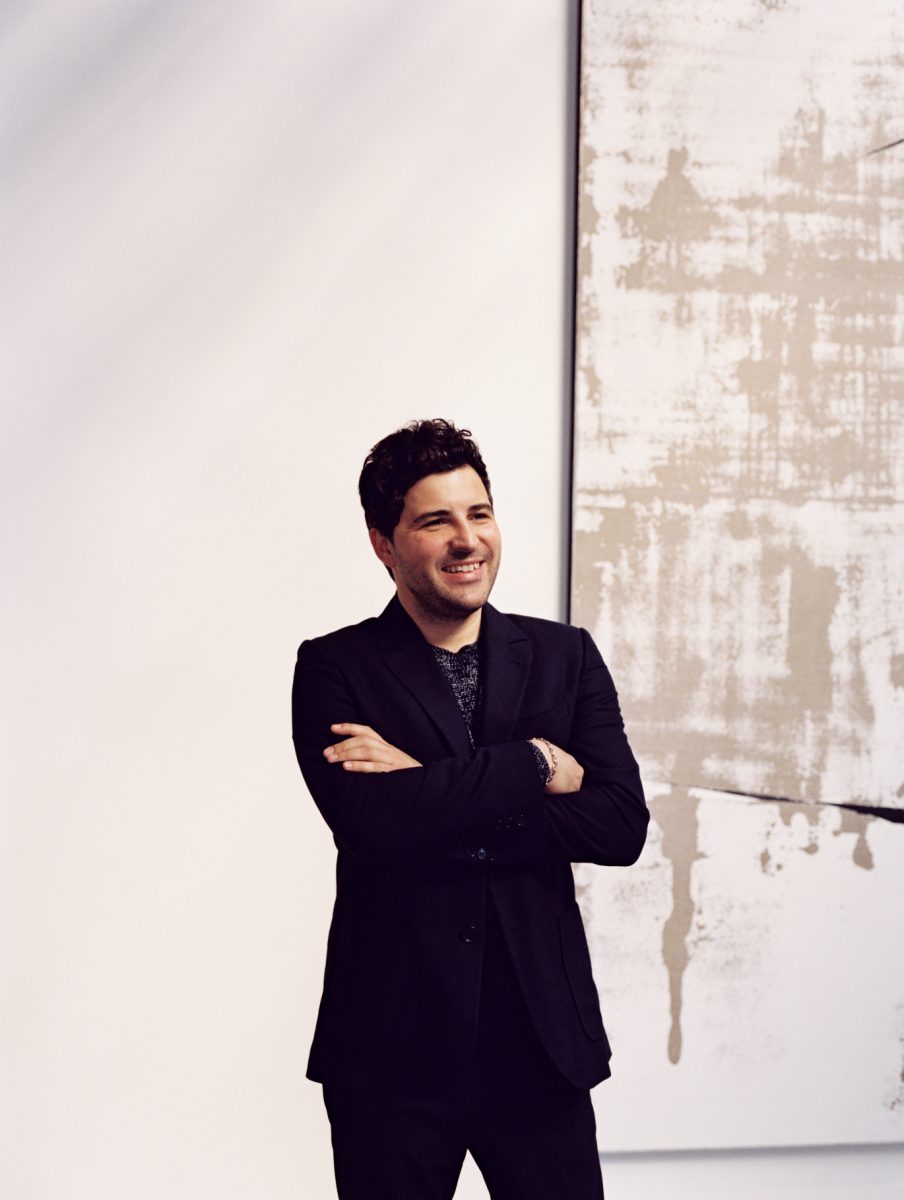 Something Curated: Broadly speaking, could you tell us a bit about your practice? Would you say there is a narrative that connects the various paintings in this exhibition?
Secundino Hernández: This is my second solo show here in London, and I wanted to continue to introduce people to my practice. So at Wharf Road, on the ground floor you'll find three paintings based around the primary colours and a black and white palette, which are more my signature works that people can easily recognise. And then these are combined with something I've been working on for the last year – a new series of monochrome paintings, which I'm showing in combination with a largescale, colourful palette work. I felt it was the perfect opportunity to show my new, figurative works in Mayfair, because it's a completely different, more intimate space. For me, the goal was to have a show in three different spaces, each with their own character, that speak about different aspects of my practice.
SC: How did you get into this field?
SH: I studied fine arts in Madrid and finished my studies in Milan. I studied art because I thought it was the only thing I was able to do. I decided to be a painter and live through painting, which made it easier to follow the flow. I can't necessarily control what's happening to me, but I can control what's happening in the studio in front of the canvas.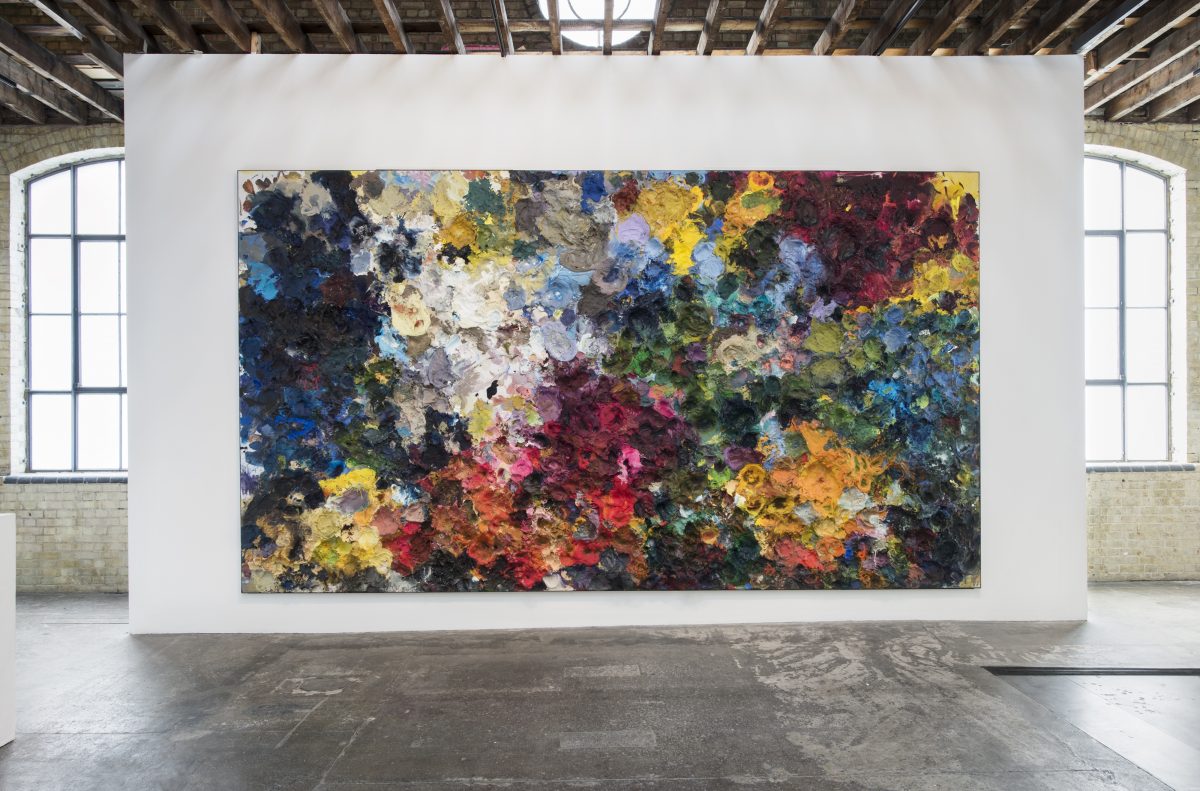 SC: Did you have any family members that were involved in the arts?
SH: No, it was very spontaneous. It was my decision, but the miracle was that my parents respected it. They never pushed me to study something else. Mainly because I was a pretty bad student, so when I decided to be a painter they said, "Okay, go on."
SC: Your work often appears process-oriented. Could you talk a bit about your interest in this?
SH: I've been very much against process-oriented painting, but it's true that you need a process in order to arrive at a final result. So the more I'm fighting against being a process-oriented painter, the more I've become one. I don't know why. Especially with the new process of washing the paintings and breaking the surface and going through the primer into the pure canvas. This is something I like to relate to the palette works, because it's kind of the opposite — what's happening with the palette works is about adding all the time, which is more the natural process of painting, and in the washed paintings, you're peeling the surface, which is like carving. Both are very sculptural in a way. So if my painting is process-oriented, it's because it's very conceptual. I need the process to end up with something, of course, but I would say it's more conceptual than process-oriented.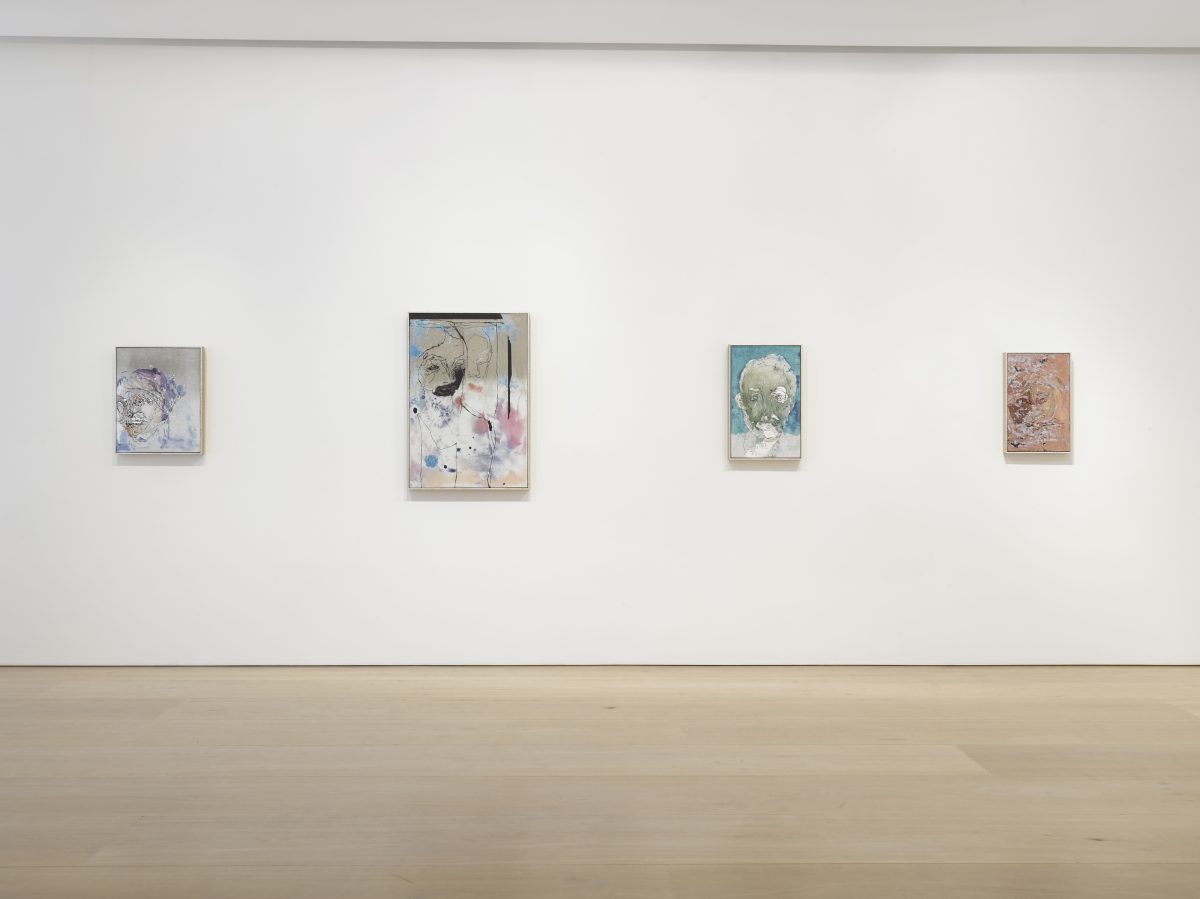 SC: Could you expand on some of your key influences?
SH: I'm always very influenced by my own tradition. My roots, in a way: Spanish painters. I always wanted to learn from their ambition and their experience as Spanish painters. For me, it was a way to understand all the typical questions that an artist asks: where do I come from, why am I here, where do I go? Now I can find influences from artists from elsewhere, but in my case, I at first decided to stick to my country, or to Europe at least. It's something that's closer to me that I'm able to understand better.
SC: How did this show come about and what was the process like preparing for it?
SH: I've been working with Victoria Miro since 2013, so this is the fourth year. We first collaborated on a group show, and then this is my second solo exhibition. This time they gave me a chance to use both spaces in Mayfair and Wharf Road. The challenge for me was to find a connection between both spaces and to offer a different perspective on my practice.
SC: How long did it take you to make the work for this show?
SH:  To me, it's important for me to have a major idea for starting a show. Then once I have a concept in my head, it's easy to go to the studio and find a way to follow through with the process. I've been working on this show for around a year.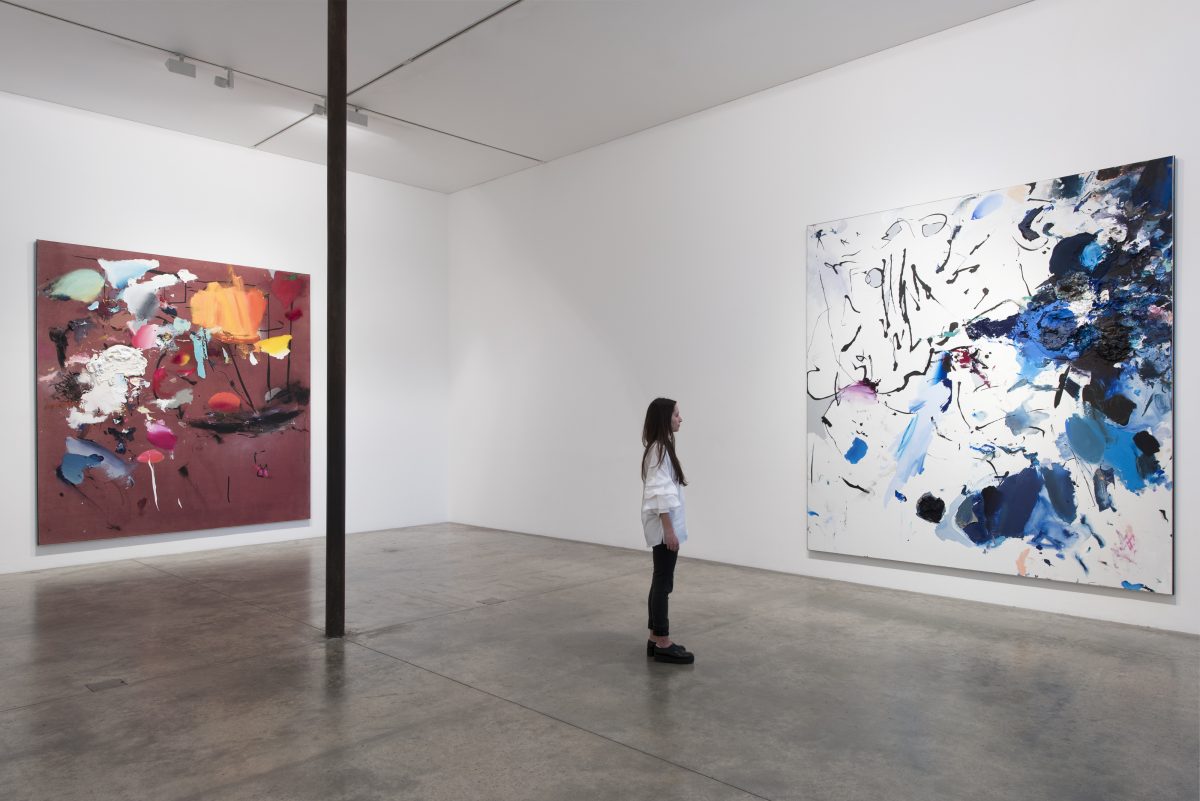 SC: Could you talk a bit about your use of colour?
SH: I always use a very varied palette, and it's not something that I plan much in advance. Especially with the palette works. These are a memory of the process of life in the studio, so they just grow. You cannot control it too much because it's a surface where you mix colours and you discard what you want. It's nice in a way, because they are generators. They are alive in the studio. Normally they're laying down on the floor or benches, and then I use them to make other works, so they share colours.
SC: Are there other projects that you're currently involved with that you could tell us about?
SH: Next year I'm going to prepare a couple of shows in Spain at the CAC Málaga and at the Kunsthalle Helsinki Finland, and this is going to be the first time that I'm going to be able to show my work in a more didactic way. Not as a retrospective, but I'll have the chance to exhibit in different rooms where I can better explain my work across different time frames.
SC: Could you tell us about some of your most memorable or favourite exhibitions that you've worked on in the past?
SH: I think this show is very important to me. From the past, I have of course my first gallery show when I was a student in Spain, and my first international exhibition in Vienna too. I've had very good experiences, I've learned a lot here and there, but I'm still excited about what is happening around me, and what the future has in store. It makes me feel like everything is alive and I will always try to improve and work harder. Everything is still very open.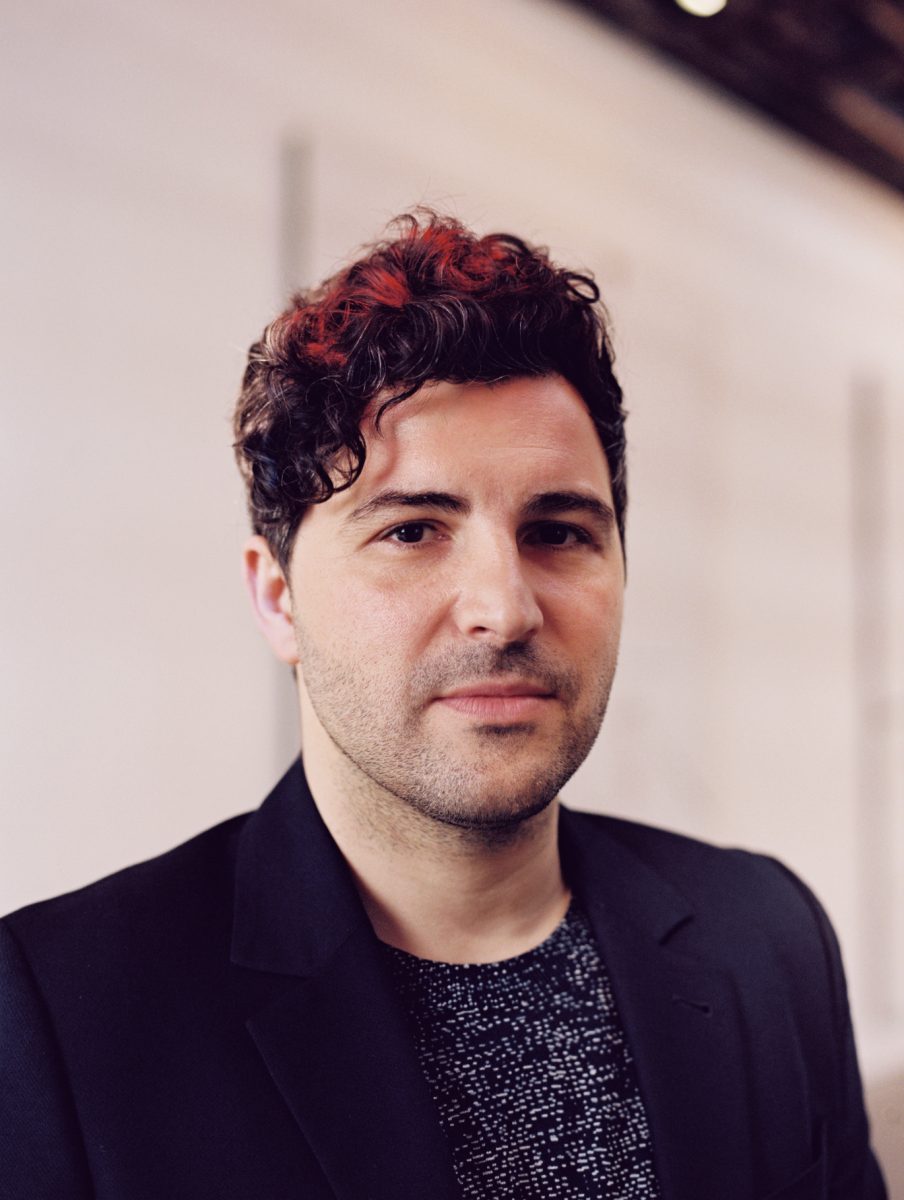 SC: What do you think is unique about London's art scene?
SH: London, as everyone knows, is a very dynamic and open-minded city. It's amazing to have such a strong art scene. It's something I'd love to have in Madrid. It's good to be able to confront your art in different places, with different artists. Visit studios, know different people. It's important to be stimulated in this way.
SC: Which area of London do you like to stay in when you're here?
SH: I have no clue. Every time I come, it's more about working at the gallery. I know the Mayfair area very well but I don't know London so well. When I moved to Berlin in 2007, I thought about London as well, but it was so expensive. I don't regret it, I really like Berlin, but every time I come to London, I think how different my career would be if at that time I'd decided to move to London instead. But honestly, I know London like a tourist; I know places, but it's not a city that I've lived in. That's why I've never been worried about being orientated or knowing where I am. I feel like I take the hand of whoever I'm with and go like a little child.
Secundino Hernández: Paso open till 6 May 2017 at 16 Wharf Road, London N1 7RW & 14 St George Street, London W1S 1FE
Interview by Keshav Anand | Photography by Lillie Eiger