Ib Kamara: The Cross-Cultural Stylist Reassessing Masculinity
Creating arresting visuals imbued with diverse references, London-based stylist Ibrahim "Ib" Kamara champions equality and freedom of expression through his work. The cultural osmosis present in Kamara's output is shaped by his formative years; born in Sierra Leone, he grew up in Gambia before moving to London aged 16, where he later studied at Central Saint Martins. Whether he's styling the youth of Nigeria for Kenzo or working on a short film with Sampha, Kamara's narratives always uphold a strong sense of cultural and sexual empowerment. Using the moniker "The Sensitive Thug" for his popular Tumblr account, the young stylist determinedly explores and subverts stereotypes.
One-time assistant to the late Buffalo collective member and stylist Barry Kamen, Kamara is carving out his own futuristic signature whilst paying homage to stylists of the past. For his body of work, 2026, which began life as a project in his final year at university, and ended at Somerset House as part of the group show Utopian Voices Here and Now, the stylist collaborated with photographer and friend Kristin-Lee Moolman. Showcasing Kamara's unique styling and art direction, the exhibition received much critical acclaim. Kamara's creations are distinctly African but explore masculinity and menswear in a maverick way.
The collaboration between Kamara and South African Moolman imagines what menswear might look like in just a decade. Through editing and reworking fabrics from rubbish skips and thrift shops in Johannesburg, the photographic series creates an inquiry into the fragile relationship between menswear and masculinity, and how fashion relates to the sexuality of black Africans. Crotchet doilies and kitsch florals ordinarily connected with an effeminate aesthetic adorn the bodies of black men. Yet there is a striking juxtaposition with the rawness of heavy gold jewellery, evocative of a more accepted fashion deriving from American Rap culture.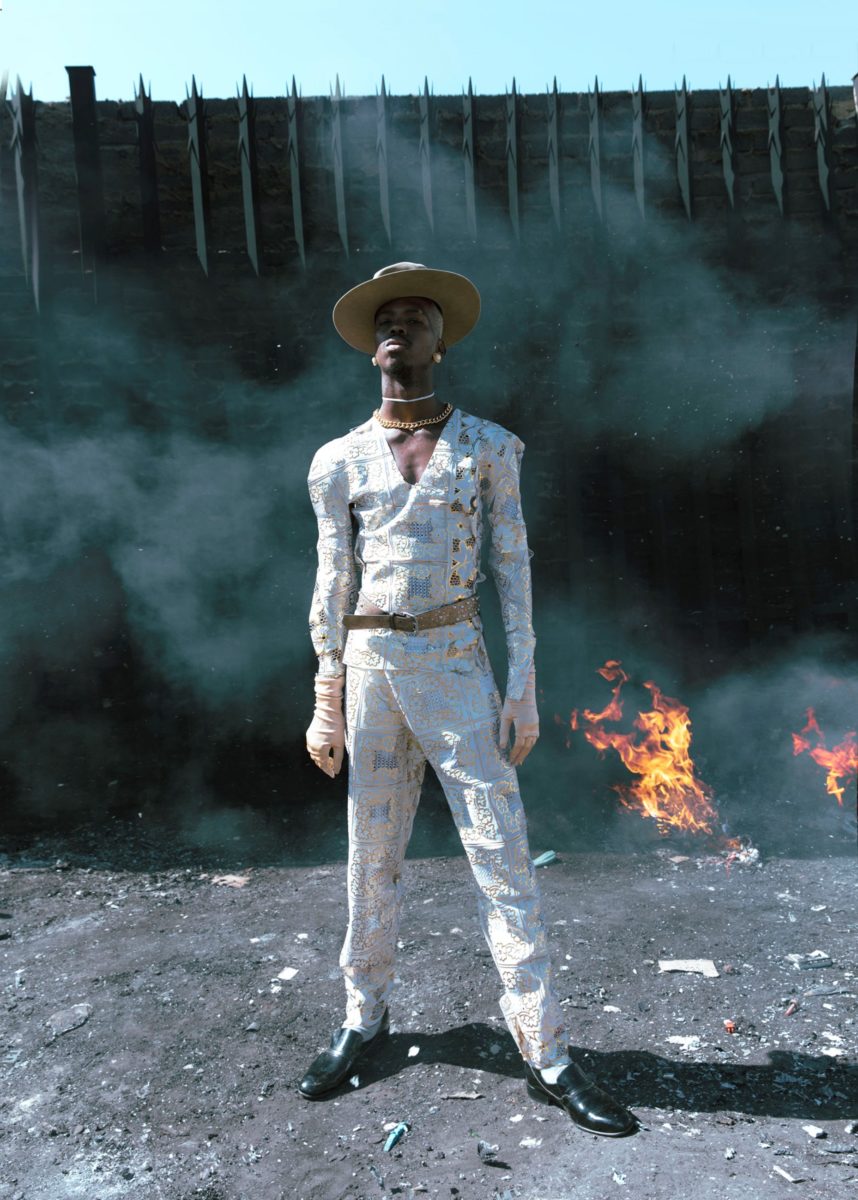 As well as styling for numerous photoshoots, Kamara created costumes and styled the film Process for musician Sampha last year. Drawing on his own diasporic experience, Kamara made connections between Sampha's life in south London and his parents' in their hometown of Freetown, contrasting traditional Sierra Leonean ashobis and reimagined Western clothing like wedding dresses and 70s suits.
Most recently, the Tate held the latest edition of Late at Tate Britain, titled Stance. Centring on the "reclamation of cultural identity through fashion and style," the institution invited artists and designers into the space to explore its collection of 16th-century portraits. Inspired by the portraits, frequent collaborators Moolman and Kamara, along with stylist Gareth Wrighton, produced a new zine entitled Coachie, a term which borrows from Kamara's childhood nickname, interrogating the boundaries of fashion, gender, and race. With upcoming exhibitions at MoMA and Red Hook Labs, New York, and a number of collaborations on the horizon, be sure to keep a close eye on Kamara this year.
On the future of men's fashion:
"I hope in the future there is no policing of men's fashion. A world where a man can be who-ever he chooses to be and not restricted by the norms of his environment." – Polyester Magazine, 2016
On borders:
"Borders mean imagination to me; when walls are built up, we as humans have the ability to imagine what's on the other side, which can speak to a generation and influence culture." – Glamcult, 2017
On misconceptions on style and Africa:
"People have an idea of what visuals look like before they have seen them, based off things they've seen in media. It's quite problematic because Africa has progressed so much sartorially, and what continues to be spread in the media isn't an accurate reflection of what is going on presently. There is so much more." – The Fader, 2017
(Feature image via Ib Kamara)