10 Of London's Best Immersive Art Experiences From 2017
Exploiting the transportive qualities of light, colour, smell and sound, among other mediums, these immersive works often require an element of physical participation, engaging viewers in unexpected ways. Highlighting ten of the best experiential works presented in London in 2017, Something Curated takes a closer look at the artists, designers and curators behind the projects.
Chamber for Endogenous DMT (Collapsing the Wave Function), Zabludowicz Collection || Haroon Mirza
This new commission, open until 17 December, is designed for individual visitors to spend time inside a light-locked anechoic chamber and investigate the human potential for hallucination. With support from Greenwich University and Imperial College, Mirza has installed a laser projecting through a slotted lens onto a small screen. Simulating a double-slit experiment, it asks if participants can, through observation, consciously influence the behaviour of light, which can act as both a wave and a particle.
test pattern [N°12], 180 The Strand || Ryoji Ikeda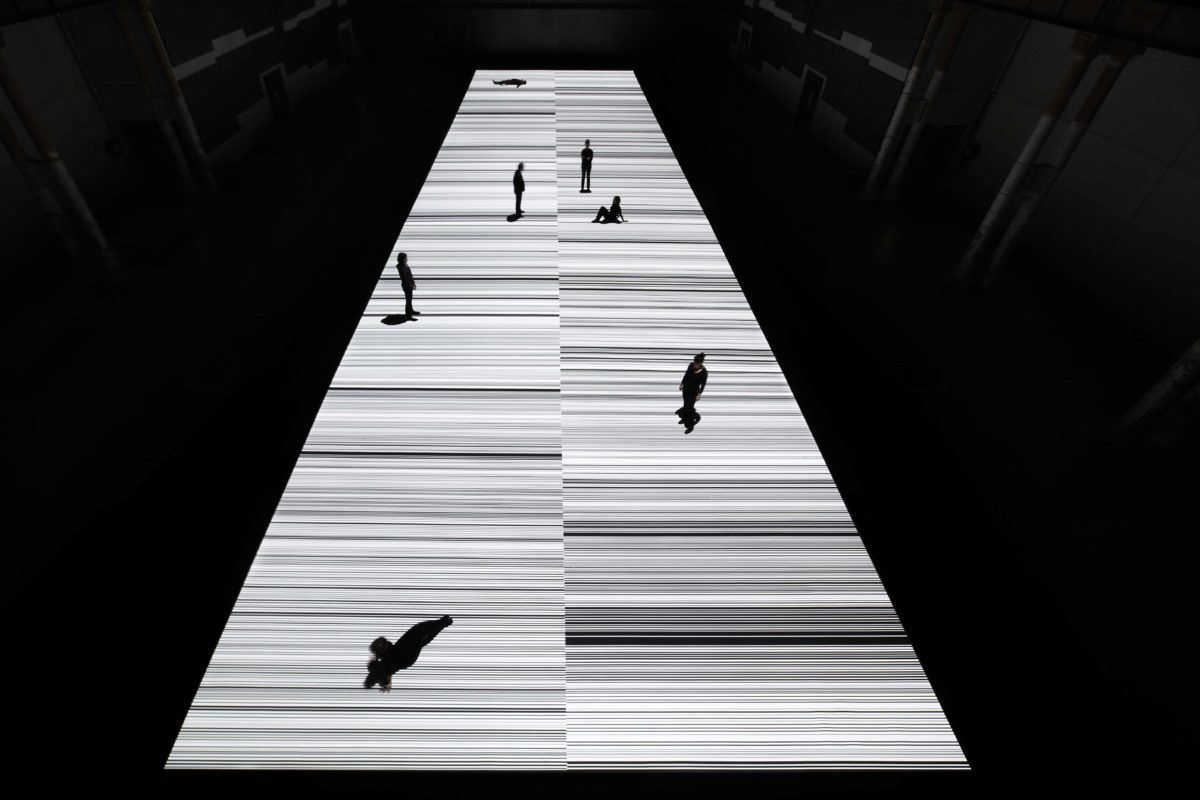 Japanese artist, composer and arch data manipulator Ryoji Ikeda unveiled a new, immersive audio-visual artwork at Store Studios this October. Open until 14 December, test pattern [N°12] is the latest iteration of Ikeda's project, begun in 2006, in which the artist converts data from music, sound, photo and video into monochrome binary patterns that are generated in real-time and envelop the viewer in a disorientating, highly-charged kinetic environment.
London Fog #03779, Tate Modern || Fujiko Nakaya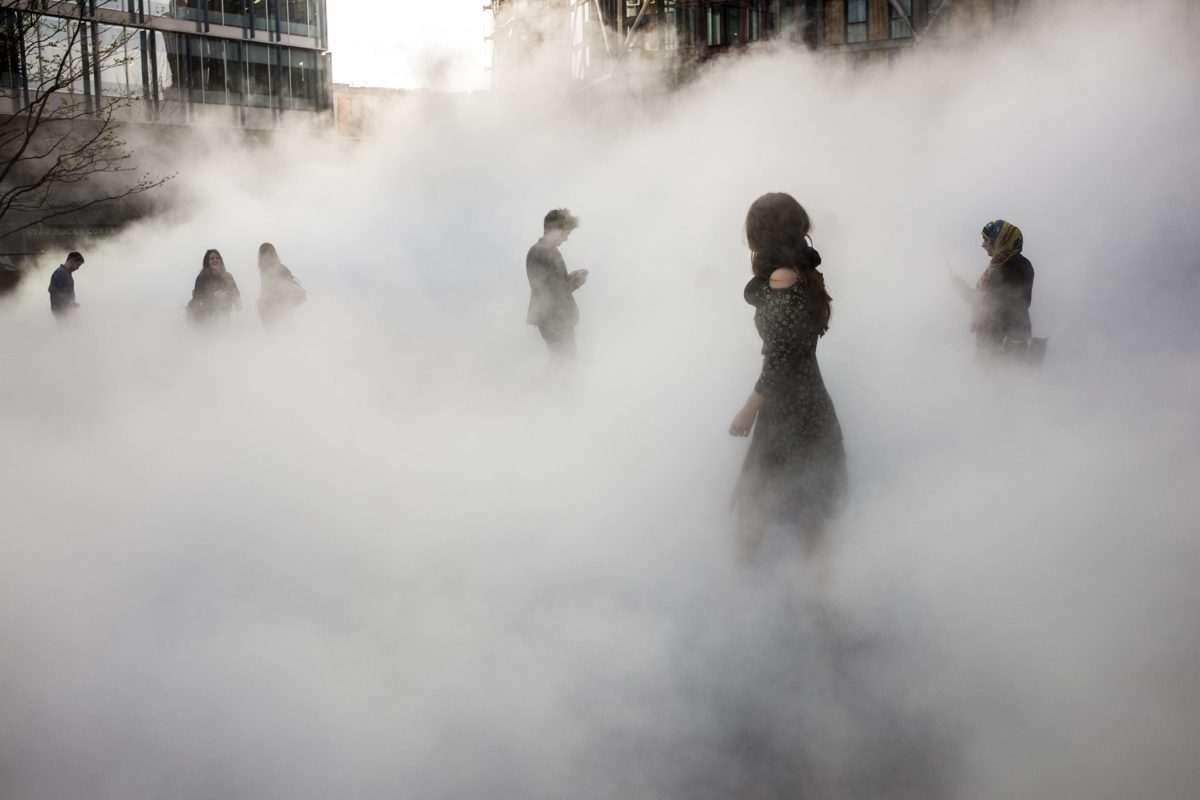 Japanese artist Fujiko Nakaya transformed the South Terrace of the Tate Modern for the first time this year, with an immersive fog sculpture, animated by a light and soundscape made in collaboration with Nakaya's historic collaborators, Ryuichi Sakamoto and Shiro Takatani. Over her 40 year career, the artist has been installing her signature fog sculptures throughout the world, in fields and forests, in public plazas, atop parking garages and in children's parks, among other sites.
Room for One Colour, National Gallery || Olafur Eliasson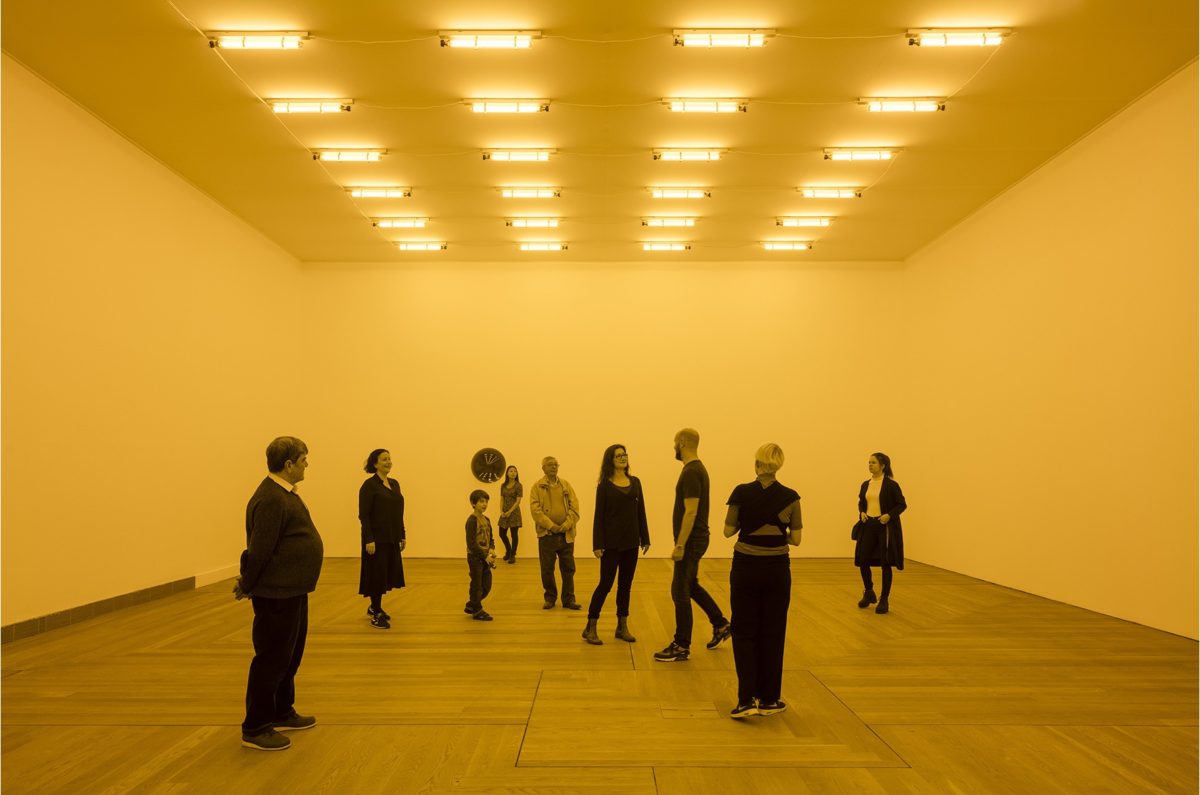 Showing more than 50 works painted on glass, vellum, ceramic, silk, wood, and canvas, the National Gallery's group exhibition Monochrome, currently open, explores the tradition of painting in black and white over 700 years, from its beginnings in the Middle Ages through the Renaissance and into the 21st century. As part of the show, Olafur Eliasson's immersive light installation Room for One Colour (1997) brings an unexpectedly mind-altering conclusion to the exhibition.
Physical Capacity, Assembly Point || Viktor Timofeev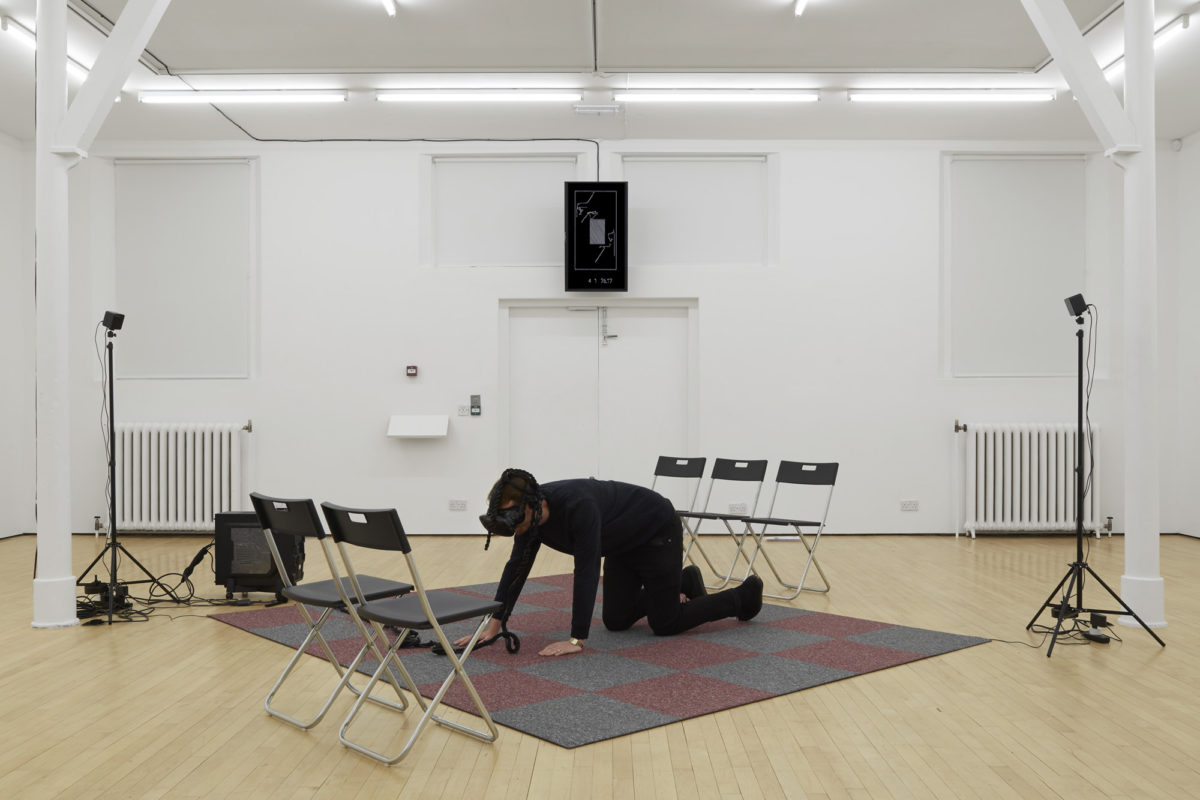 Included in Future Fictions, an exhibition curated by Mattia Giussani at Assembly Point, Viktor Timofeev's Physical Capacity explores the immersive realm of virtual reality. Speaking of his interest in video games as an artistic medium, Timofeev told AQNB: "In terms of strength, I think games give anyone a chance to remodel or re-stage a world in any way they desire. Accessibility of game engines make it easy to draft up a space with non-realistic physics, scripted behaviour or a rich narrative following an idiosyncratic logic entirely of one's own making … This aspect of it is something I find really exciting and empowering."
Passage/s, Victoria Miro || Do Ho Suh
Do Ho Suh's exhibition at Victoria Miro earlier this year featured new fabric sculptures conceived especially for the galleries, including a walk-through configuration of Hubs, and a range of his works on paper. Inspired by his peripatetic life, Suh has long ruminated on the idea of home as both a physical structure and a lived experience, the boundaries of identity and the connection between the individual and the group across global cultures.
Transcending Boundaries, Pace Gallery || teamLab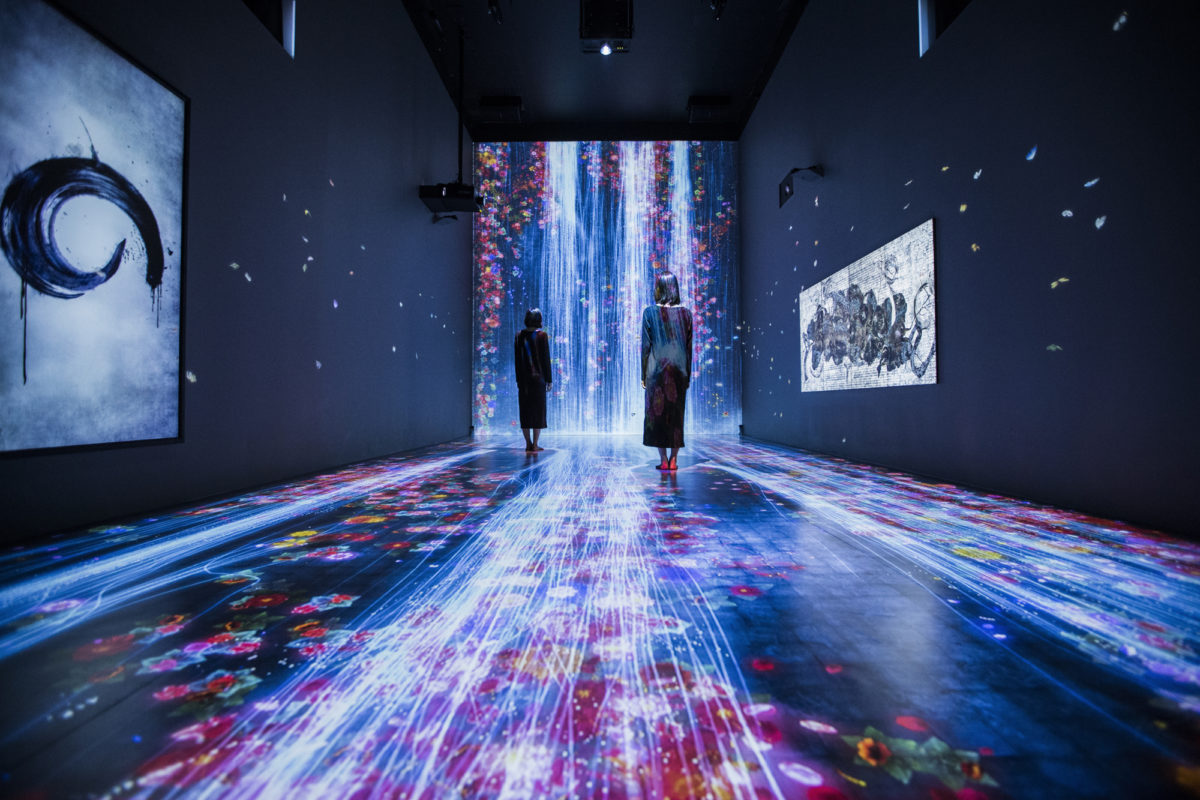 teamLab, founded by Tokyo-based Toshiyuki Inoko, is an interdisciplinary group whose collaborative practice seeks to navigate the confluence of art, technology, design, and the natural world. Rooted in the traditions of historical Japanese art, teamLab operates from a distinct sense of spatial recognition that they call Ultrasubjective Space. Their show at Pace Gallery this year explored the role of digital technology in transcending the physical and conceptual boundaries that exist between different artworks, with imagery from one work breaking free of the frame and entering the space of another.
Androgynous Egg, Frieze Projects || Georgina Starr
Over the past 25 years, British artist Georgina Starr has shown a breadth of video and aural works, performance pieces and installations, at venues including the Museum of Modern Art in New York, London's Tate Modern, and the Venice Biennale. As part of Frieze Projects 2017, curated by Raphael Gygax, the artist created an immersive, musical performance, her first in London for 10 years. Entitled Androgynous Egg, the piece channelled themes from her novel Empress 66 99, plunging audience members into a multi-layered theatrical experience.
Ruin, Store Studios || Ben Kelly & Virgil Abloh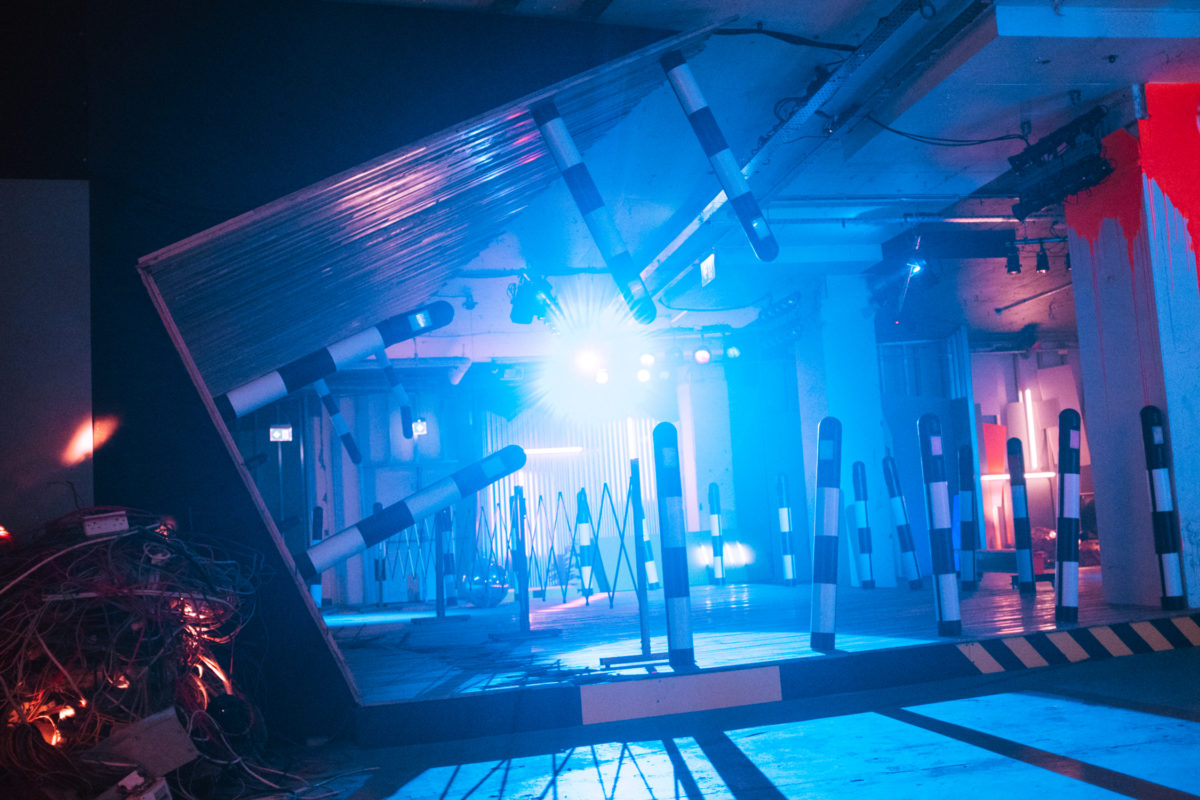 Off-White creative director Virgil Abloh and designer Ben Kelly have collaborated on a new installation, Ruin, at Store Studios, piecing together fragments of abandoned nightclubs, iconic discos and cut-ups of dance music history. A continuation of their collaborative work, the installation combines Kelly's experience as one of the UK's most influential designers, and the mind behind iconic Manchester nightclub The Haçienda, and Abloh's history in architectural design.
Perfume, Somerset House || Claire Catterall & Lizzie Ostrom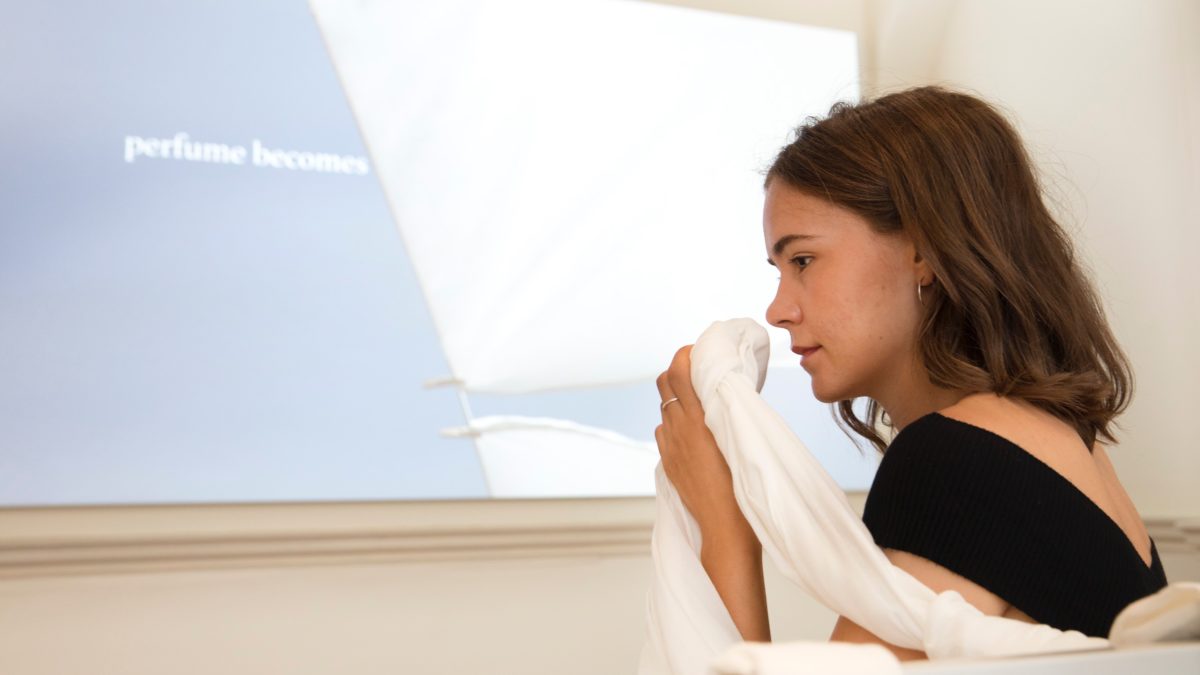 Hosted at Somerset House in June, Perfume was a multi-sensory exhibition featuring ten unique fragrances and their pioneering creators, who have radically changed our perceptions of perfume over the last two decades. Senior curator Claire Catterall and scent writer Lizzie Ostrom showcased the scents in immersive and arresting ways, inviting visitors on an olfactory journey through a series of rooms designed to reflect the inspirations of the scents.
Feature image: Fujiko Nakaya, London Fog #03779 (via Tate Modern)