Rita Ackermann: Exploring Anthropomorphism & Femininity
New York-based Rita Ackermann is a contemporary Hungarian-born American painter, celebrated for her abstract, corporal works touching on notions of anthropomorphism and femininity. Often featuring nymph-like women and allusions to fairy tales, her paintings examine adolescent ennui through a particular language of gestural mark-making. Born in 1968 in Budapest, Hungary, she studied at the Hungarian University of Fine Arts and the New York Studio School.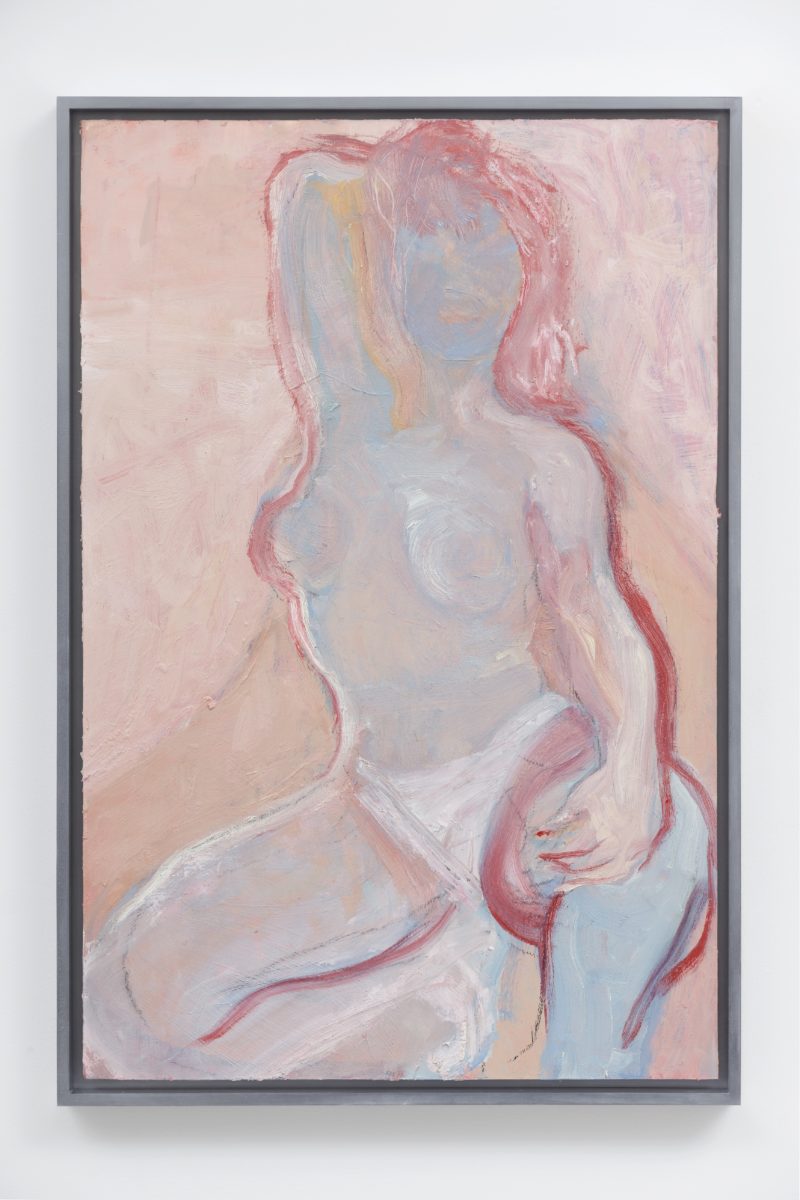 She explains, speaking with Artnet: "Sometimes I like when the gestures disappear – the brushstrokes, and gestures disappear – and it's more just a well-conducted chaos of stains." In recent years, Ackermann has exhibited with Andrea Rosen Gallery in New York, and has been the subject of solo exhibitions at Hauser & Wirth in Zurich, the Swiss Institute in New York, and the Ludwig Museum in Budapest, among others.
On her arrival in New York back in the early 1990s, critics were quick to challenge her paintings displaying images of fleshy nymphets in various states of undress, which some perceived as paedophilic imagery. "I immediately received a lot of attention," she told The New York Times. "But attention was what I wanted." Ackermann quickly grew a following not just among the art-world but among the fashion community whose interest helped cement her position among the then rising artists and influencers, like the filmmaker Larry Clark, the late photographer Corinne Day, and actress Chloë Sevigny.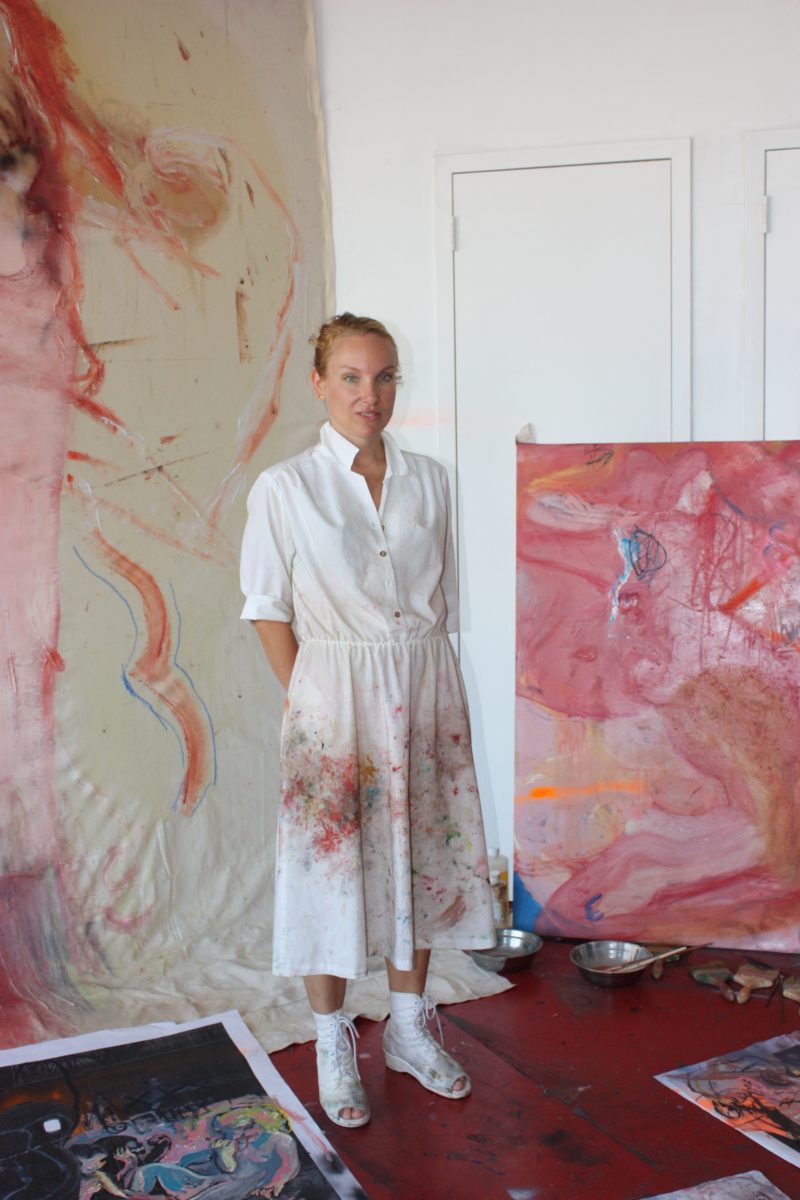 In the past, Ackermann collaborated on a variety of fashion projects, creating fabrics for United Bamboo, performing in a simulated screen test for the designer Adam Kimmel, and working on a series of projects with Olivier Zahm of Purple, the fashion magazine. The artist has also created window displays for Macy's and even designed a limited edition lingerie line. Her 2016 book, Jezebels, features mixed-media pieces using images of nude armed women taken by photographer Richard Kern, layering them with her own textured brushstrokes. The images critique modern vices such as social media, radicalism, as well as the complex post-9/11 rhetoric.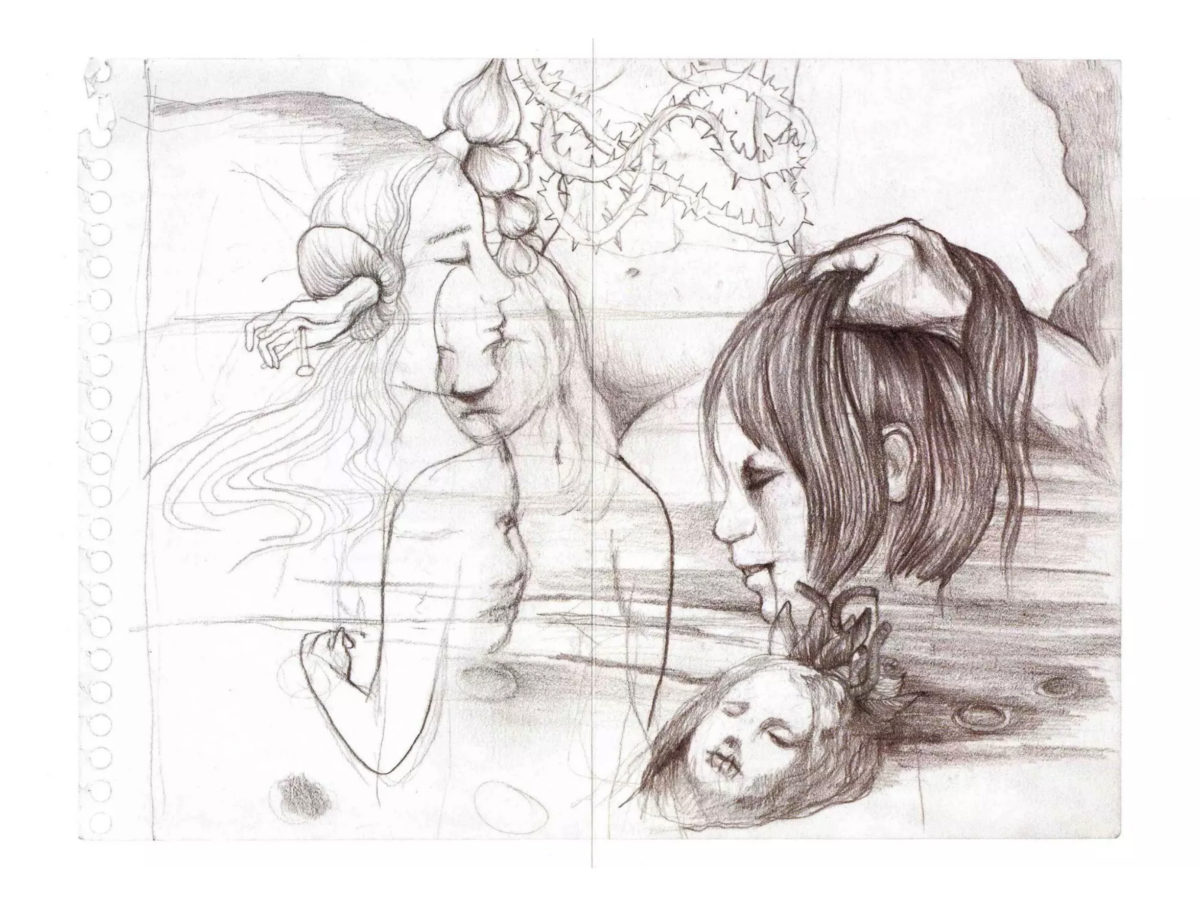 Ackermann's distinctive imagery, an amalgamation of drawing and painting, collage and ballpoint scribbles, is the subject of a monograph published by Rizzoli, with accompanying essays by Bonnie Clearwater, the executive director and chief curator for the Museum of Contemporary Art, and the filmmaker Harmony Korine, with whom Ackermann collaborated previously on a series of collages.
In more recent years, the artist's politically and erotically charged works have included images of society women portrayed as monsters, complete with talons. Other paintings point to the sociocultural climate she found in her adoptive country, with dregs of car crashes, homeless figures, sneering cowboys, and scenes of mass mayhem such as the devastating Oklahoma City bombing.
On her approach to painting:
"Each painting must be treated as one gesture. I can't and never could work in details. If one part of the painting is messed up, I have to remake the entire surface with the next gesture, otherwise it feels like cheating. One take means everything or nothing, like in Russian roulette. And sometimes, for days and weeks, I can't tell if a painting is dead or still alive." – White Hot Magazine, 2018
On being personal:
"Everything we do is personal, no? Even if you try to fake it 'til you make it, you'll end up slipping on a banana peel in a hotel lobby, and that's accidentally going to be a truly personal experience. So just by nature, my art is personal." – Artspace, 2014
On her distinctive pallet:
"The chalkboard colors are only green and black. Like in school. The chalk is white, and then there are the colored chalks or pastels to draw on the boards and to be wiped away with water. I chose to limit the chalkboard to aim for absolute freedom in painting. I was curious what I would make out of this challenge. I'm still working on it." – Purple, 2015
Feature image: Rita Ackermann (via KARMA)