Inside Frida Escobedo's Serpentine Pavilion
Standing inside this year's Serpentine Pavilion, which is open to the public from 15 June, visitors are canopied by a curved mirrored roof, where warped reflections of the space's walls and blurred glimpses of the lush surrounding park appear. Hailing from Mexico City, Frida Escobedo is the 18th and youngest architect to design a temporary pavilion on the Serpentine Gallery lawn in Kensington Gardens, and only the second solo woman to be selected since Zaha Hadid designed the first pavilion in 2000.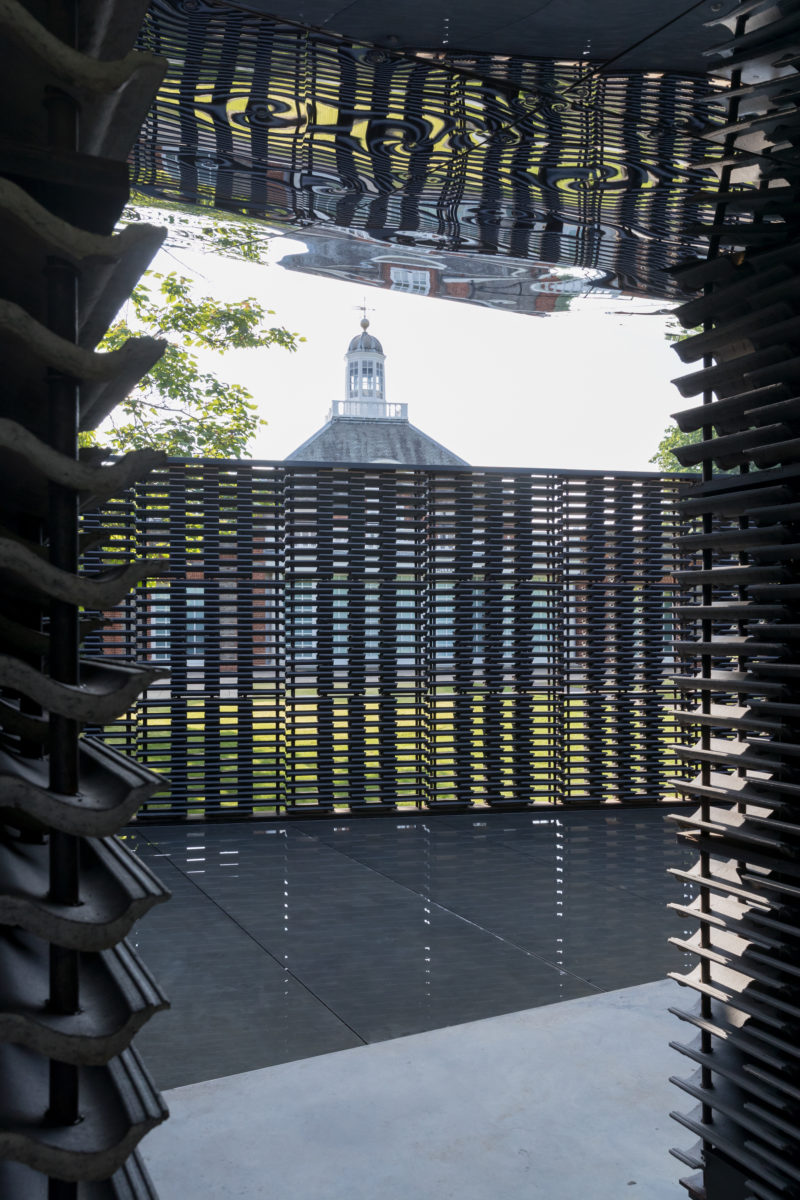 "The design for the Serpentine Pavilion 2018 is a meeting of material and historical inspirations inseparable from the city of London itself and an idea which has been central to our practice from the beginning: the expression of time in architecture through inventive use of everyday materials and simple forms. For the Serpentine Pavilion, we have added the materials of light and shadow, reflection and refraction, turning the building into a timepiece that charts the passage of the day," Escobedo said.
Serpentine Galleries Artistic Director Hans Ulrich Obrist and CEO Yana Peel selected this year's architect, with advisors David Adjaye and Richard Rogers. Illustrating a harmony of Mexican and British influences, the structure's perforated walls, or celosias, are a reference to the breeze walls characteristic of Mexican architecture, while the standardised English roof tiles are tied to the London context.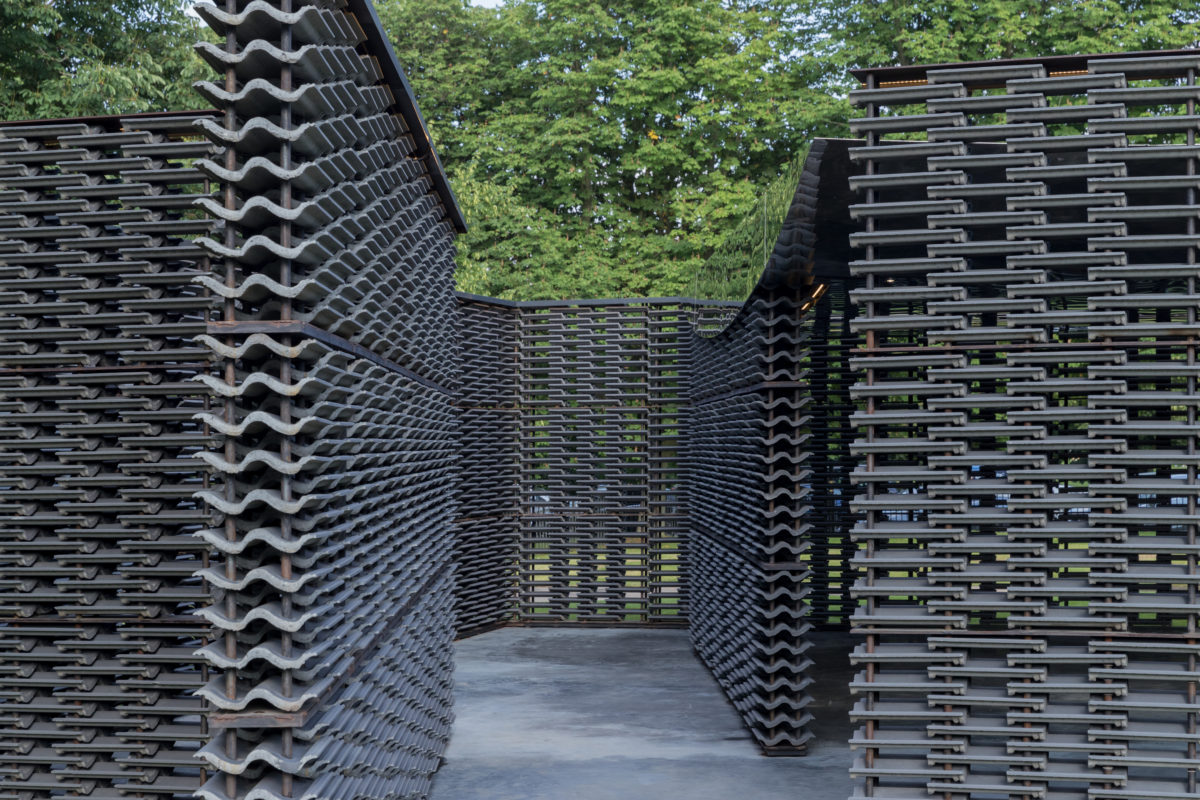 The Mexican architect's pavilion takes the form of an enclosed courtyard, comprised of two rectangular volumes positioned at an angle. Internal courtyards are a common feature of Mexican domestic architecture, while the pavilion's pivoted axis refers to the Prime Meridian, which was established in 1851 at Greenwich and became the global standard marker of time and geographical distance.
"Just rearranging this industrially produced concrete tile creates a kind of weave that will let the sun and the light come in," she explained to Dezeen. "This is very common in Mexico because of the weather, but actually it works beautifully in the gardens because you can see the green filtering into the darker space that is the pavilion."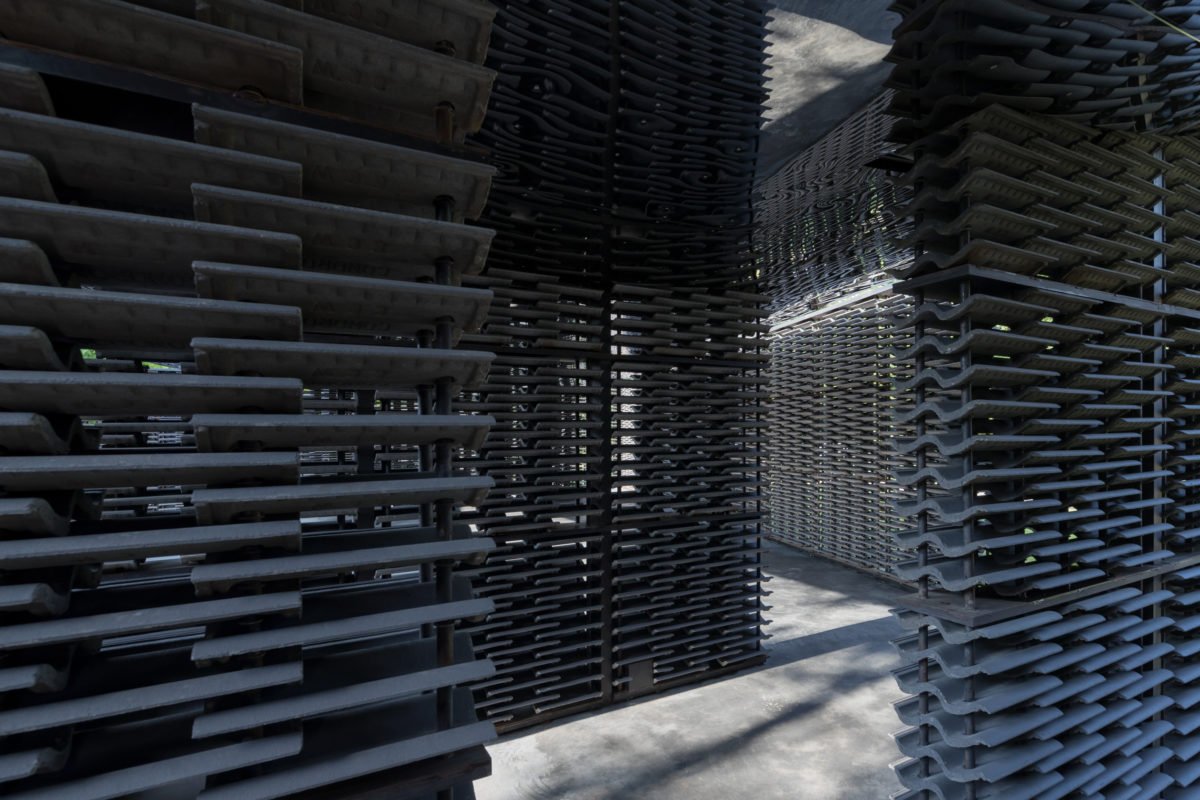 A triangular water pool cast into the pavilion floor traces its boundary directly beneath the edge of the roof, along the north axis of the Meridian, activating a network of wet footprints on the surrounding grey surface as visitors move from the liquid to dry ground. As the sun moves across the sky, reflected and refracted by these features, visitors may feel a heightened awareness of time spent in play, improvisation and contemplation over the summer months.
Images: Serpentine Pavilion 2018, designed by Frida Escobedo, Serpentine Gallery, London (15 June – 7 October 2018) © Frida Escobedo, Taller de Arquitectura, Photography © 2018 Iwan Baan