Art, Performance & Film Not To Miss In NY This July
Looking at the month ahead, Something Curated highlights some of the most exciting exhibitions, performances, screenings and events taking place in New York over July.
Exhibitions
David Wojnarowicz: History Keeps Me Awake at Night, at the Whitney Museum of American Art | David Wojnarowicz (13 Jul – 30 Sep)
This retrospective showcases an array of work by artist David Wojnarowicz, including photographs, paintings, essays, experimental collage and film. Wojnarowicz's expansive body of work communicates the artist's deep fascination with the outsider as a subject, as well as his refusal to resign himself to a single technique. Concerned primarily with themes of sex, loss, and love, Wojnarowicz's art imparts feelings of anxiety and fearfulness during the AIDS epidemic and culture wars of the late 1980s and early 1990s.
Orientation, at Jack Shainman Gallery | Sol LeWitt, Richard Serra & More  (Until 10 Aug)
During the months of June and July, The Racial Imaginary Institute—founded by writer Claudia Rankine in 2016—has invited cultural institutions to "question, mark, and check whiteness" in their programming in support of TRII's inaugural Biennial. The Jack Shainman Gallery has championed this invitation in its exhibit Orientation. In its examination of whiteness and its implications, Orientation presents the work of nearly two dozen artists (most notably minimalists Sol LeWitt and Richard Serra). The exhibit—in conjunction with a host of other cultural institutions—offers an engaging reflection on how whiteness manifests itself in institutions.
Devotion to Drawing, at The MET | Eugène Delacroix (17 Jul – 12 Nov)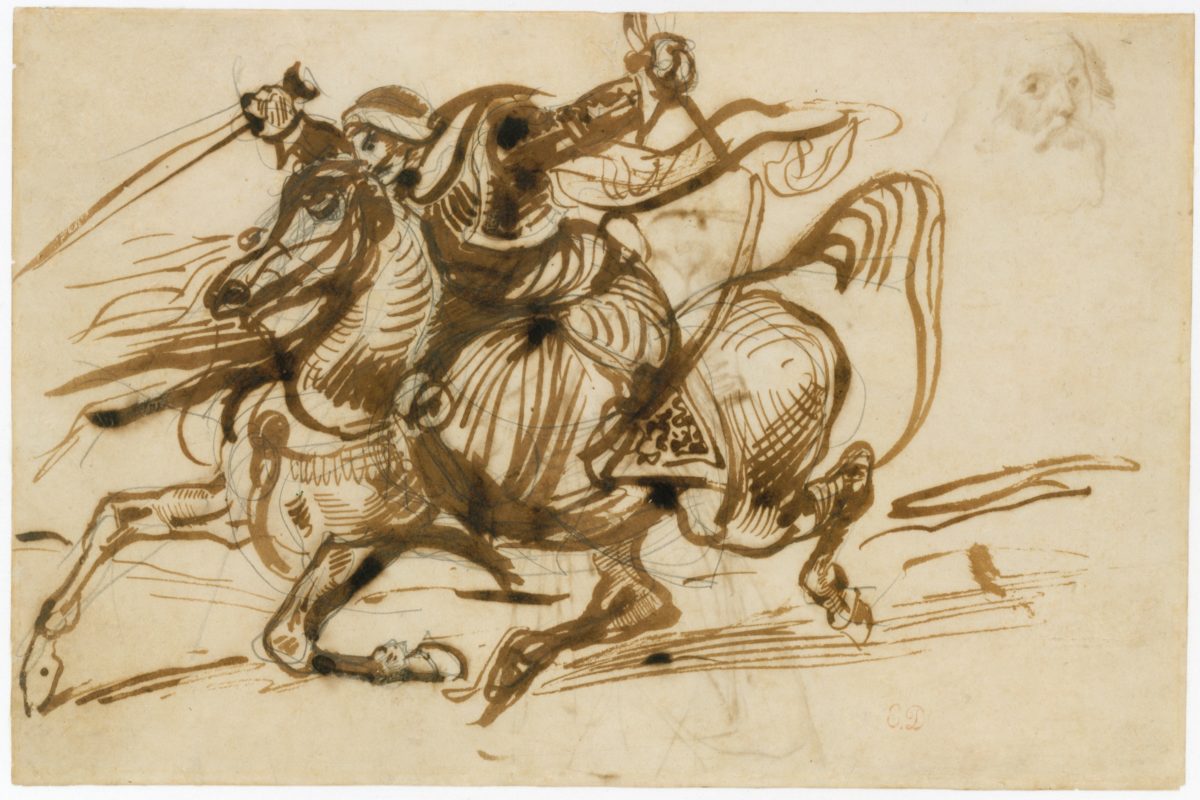 Today, Eugène Delacroix is recognised mainly for his influence on French Romantic painting. Lesser-known is the artist's extraordinary draftsmanship. In its display, the MET offers an intimate view into the renowned painter's meticulous and inventive work as a draftsman. Featuring Delacroix's watercolours, sketchbooks, prints, and drawings, the exhibit reveals the intrinsic value of drawing to the artist's practice.
This Is Not a Prop, at David Zwirner | Alec Smyth & Cristina Vere Nicoll (Until 3 Aug)
This Is Not a Prop connects a diverse group of artists—unalike in age, voice, technique—to their mutual interest in the relationship between body and object. Notable artists in this exhibit include Franz West—known for engaging audiences with his unconventional objects and furniture—and the widely influential photographer Wolfgang Tillmans. Interaction is a key component to this exhibit, which encourages viewers to physically engage with the works. In curating a social experience, This Is Not a Prop relates an object's function to human experience.
Depth Perception: James Turrell & Neon in Daylight: Francois Morellet, at Lévy Gorvy | James Turrell & François Morellet (Until 18 Aug)
In its SUMMER LIGHTS programme, Lévy Gorvy includes two exhibits, each of which deals with the confluence of light and perception. Depth Perception showcases James Turrell's mesmerising 1974 installation Wedgework V. In this immersive installation, the viewer enters into a dark room and is soon confronted by a glowing red light, which challenges their perception. Neon in Daylight, featuring five neon sculptures by François Morellet, has a similar effect. Morellet's sculptures play with the viewer's perception by invoking works of Duchamp, Manzoni, and Monet.
35 days of film, at Mitchell-Innes & Nash | Monica Bonvicini, Pope.L & More ( 9 Jul – 22 Aug)
Until late August, you can enjoy five decades—spanning from 1965 to 2018—worth of film at Mitchell-Innes & Nash at the gallery's Chelsea location. The gallery offers a linear screening of a wide variety of films, including No Head Man by Monica Bonvicini and Reenactor by Pope.L. Unconcerned with connecting the films by style or content, 35 days of film aims to showcase the relevance of communication via film in an age when social media dominates communication.
Putting Out, at Gavin Brown Enterprise | Sophia Al Maria, Philip-Lorca diCorcia, Hal Fischer & More (Until 11 Aug)
Gavin Brown Enterprise currently displays Putting Out, a group exhibition featuring an array of artists including, but not limited, to Sophia Al Maria, Philip-Lorca diCorcia, and Hal Fischer. With its focus on themes which span from the Industrial Revolution (1760-1840) to the sexual revolution of the 1960s, Putting Out is an eclectic and surprising showcase indicative of the gallery's work.
Performance & Film
Straight White Men, at The Hayes Theatre | Anna D. Shapiro & Young Jean Lee (Opens 23 Jul)
Making its Broadway debut in July, Young Jean Lee's play Straight White Men—set in a white, middle-class home on Christmas Eve—presents a sharp, hilarious take on privilege, family, identity, and American values. The production includes several notable firsts. The playwright is the first Asian-American playwright to be produced on Broadway. Several cast members are also making their Broadway debuts, most notably Armie Hammer (Call Me By Your Name) and Josh Charles (The Good Wife).
Collective Imaginings: Legacies of the Black Audio Film Collective, at New Museum Theater | Coco Fusco, Tobi Haslett, Kara Keeling, Ashley Clark & More (12 Aug at 7pm)
In this panel discussion, participants examine the relevance of filmmaking by the Black Audio Film Collective. From 1982 to 1998, this collective of Black British artists created films inspired by the works of postcolonial writers, and social theorists which articulated the experience of being Black in Britain. In today's political climate, the collective's work—specifically its promotion of marginalised voices through documentary film—holds great significance and feels particularly worthy of emulation.
Head Over Heels, at the Hudson Theatre | Michael Mayer & James Magruder (Opens 26 Jul)
Opening in late July, Head Over Heels is a much anticipated musical comedy directed by Michael Mayer and adapted by James Magruder, featuring the music of the all-female, pop rock band The Go-Go's. The band's hit songs "We Got the Beat," "Our Lips Are Sealed," and "Vacation" will certainly be featured. The production is comprised of a team of renowned creatives, who brought hits like Hedwig and the Angry Inch, American Idiot, and Spring Awakening to the Broadway stage.
The New York Woman, at the Quad Cinema | Charles S. Cohen & C. Mason Wells (Until 19 Jul)
This July, the Quad Cinema is running a film series, exclusively featuring films that have female protagonists and are set in New York City. Comprised of fifty films, the series features a wide range of genres and includes hits like Working Girl, Breakfast at Tiffany's, Rosemary's Baby, and Tootsie.
HBO Bryant Park Summer Film Festival, at Bryant Park | HBO (9 Jul 20 – 20 Aug)
Until late August, you can visit Bryant Park for one of New York's most popular movie festivals. Sponsored by HBO, the series presents hit films ranging from The Philadelphia Story (1940) to Little Miss Sunshine (2006) every Monday at 5pm. Arrive early to ensure you a get a good spot at one of New York's most popular film events this summer.
Words by Olivia Williams | Feature image: Hal Fischer, Handkerchiefs, from Gay Semiotics, 1977 (via Pinterest)