The Philistine: The Very Best Of London Culture This December
Here's your monthly round-up of the best things to do in London this December, including art, performance, film, and festive fun!
Exhibitions
Christian Marclay: The Clock, at Tate Modern | Christian Marclay (Until 20 January 2019)
Christian Marclay's addictive 24-hour long video work splices together thousands of images of clocks, watches and time-telling devices from across cinema and television. The result is a curiously entrancing montage that veers from thrilling to mundane, and plays out in real time. This is one of those wonderful pieces of work you'll want to visit again and again – and you really ought to. Grab a seat in one of the numerous sofas and stay for as long as you can.
Njideka Akunyili Crosby: The Beautyful Ones at The National Portrait Gallery | Njideka Akunyili (Until 3 February 2019)
Figurative compositions from Njideka Akunyili Crosby's ongoing series, "The Beautyful Ones", which includes portraits of young Nigerians, members of Akunyili Crosby's family, and combines artistic, historical, political and personal references, are on show in this display. Akunyili Crosby, who was born in Nigeria in 1983 and moved to the United States as a teenager, has created new works especially for this exhibition, which are being shown for the first time.
Anni Albers, at Tate Modern | Anni Albers (Until 27 January 2019)
This is the first major UK retrospective of German textile artist and printmaker Anni Albers, chronicling her time studying at the Bauhaus to the Black Mountain College, where she was head of the weaving department. The vast looms she used to weave pepper this 320-strong collection of wall hangings, small-scale 'pictorial weavings', prints and drawings. The Guardian's art critic Adrian Searle commented in his glowing review: "It is rare to come from an exhibition so buoyed up, so ravished and so covetous."
Home Futures, at The Design Museum | Ettore Sottsass, Studio 65, Ugo La Pietre & SO-IL (Until 24 March 2019)
Home Futures is a fascinating survey of the history of yesterday's visions of 'homes of the future' – from a bizarre and brilliant Boxing Ring bed designed by the Memphis Group to an inflatable, portable office and the Domestic Transformer; a plan for a small Hong Kong apartment with sliding doors to facilitate 24 different room arrangements. The exhibition charts how key technological advances, and social changes have changed the surface of the homes we live in.
Survey, at Jerwood Space | Lindsay Mendick, Joe Fletcher Orr, Rae-Yen Song & Anna Raczynski (Until 16 December 2018)
Works by 15 early-career artists show in Survey, at Jerwood Visual Arts in South London. It is, according to JVA, its largest and most widely discipline-spanning review of contemporary art practice in its 12 years of programming. Exhibiting artists include Chris Alton, Simeon Barclay, Hazel Brill, Flo Brooks, Emma Cousin, Joe Fletcher Orr, Tom Goddard, Ashley Holmes, Lindsey Mendick, Nicole Morris, Milly Peck, Anna Raczynski, Will Sheridan Jr, Rae-Yen Song and Frank Wasser.
Living With Buildings, at Wellcome Collection | Rachel Whiteread, Andreas Gursky, Martha Rosler, Erno Goldfinger & Berthold Lubetkin (Until 3 March 2019)
Living With Buildings examines how the structures and buildings that surround us impact our mental and physical health, for good and bad. Works of art by Rachel Whiteread, Martha Rosler and Andreas Gursky feature, alongside as buildings designed by Erno Goldfinger, Berthold Lubetkin and Alver Aalto, exploring how architects, planners and designers have shaped the way health and self-esteem is viewed within society.
Performance
Noetic, at Sadler's Wells Theatre | GöteborgsOperans Danskompani, Sidi Larbi Cherkaoui & Antony Gormley (1 December 2018)
Led by artistic director Katrín Hall, Swedish contemporary dance company GöteborgsOperans Danskompani's repertoire focuses on original works, specially commissioned from both renowned and emerging choreographers. 19 black-clad dancers, elegantly dressed by fashion design duo Les Hommes, manipulate pliable carbon fibres, designed by Cherkaoui's regular collaborator, the sculptor Antony Gormley. This exploration of noetic (from the Greek "noesis" meaning intellect) philosophy features live music by Szymon Brzóska, performed on stage by singer Miriam Andersén and taiko drummer Shogo Yoshii.
The Convert, at Young Vic | Danai Gurira & Ola Ince (7 December 2018 – 26 January 2019)
Black Panther star and Tony-nominated writer Danai Gurira's striking play explores if faith has a cost and if so, when is that cost too much? It's 1896 in what is modern day Zimbabwe and Jekesai, a young woman fleeing forced marriage finds herself working for devout Catholic priest, Chilford. He relishes the opportunity to mould his new convert but Jekesai's salvation has a price.
Events
The Monocle Christmas Market 2018 (1-2 December 2018)
In the first weekend of December, Midori House will be transformed into a winter wonderland for the seventh year running. Expect internationally inspired food and gifts from around the world, as well as live music. There will also be stalls run by some of Monocle's favourite global brands, carefully handpicked from Scotland to Stockholm and beyond.
Launch Party of Protection, at Coals Drop Yard | Riposte Magazine, Juno Calypso, Mona Chalabi, Nathalie du Pasquier & Lotte Andersen (10 December 2018)
This month Riposte Magazine hosts Protection, a new art exhibition marking the 70th anniversary of the declaration of human rights, and raising money for Amnesty International. 30 prints by 30 artists, including the likes of Juno Calypso, Mona Chalabi, Nathalie du Pasquier and Lotte Andersen will be on display and available to buy. It all kicks off with a launch party on December 10, which is also Human Rights Day. Protection runs from 10-16 December, alongside talks, workshops and a dinner. Watch out too, for the specially-printed newspaper that coincides with the exhibition.
Belles x Lyle's x Fried Chicken Party, at Lyle's | Morgan McGlone & James Lowe (4-5 December 2018)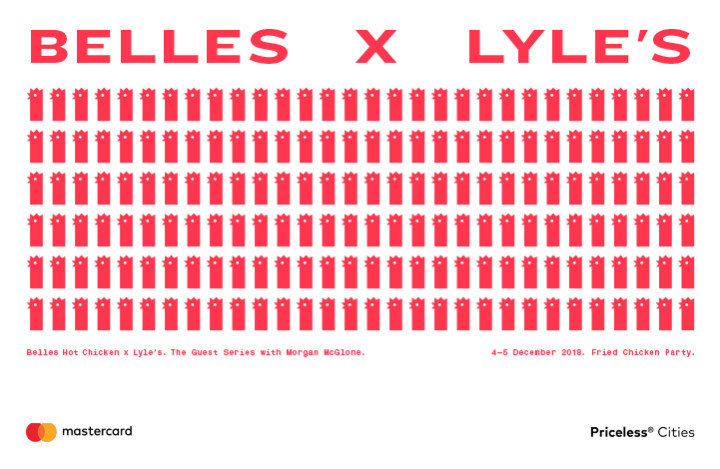 For two nights this month, Lyle's welcomes Morgan McGlone of the legendary Aussie fried chicken restaurant Belles Hot Chicken for a good old fashioned knees-up – with plenty of hot sauce. Nashville-inspired Belles classics are on the menu, with Johnny Cakes, oysters with Belles hot sauce, and family style birds served up with braised greens, mashed potato with chicken skin gravy and Belles pickles.
Words by Stevie Mackenzie-Smith | Feature image via The Design Museum