The Philistine: The Very Best Of London Culture This April
Something Curated highlights the unmissable arts and culture happenings taking place across the city this April, from an exhibition examining the power of cosmetic objects to a dance show featuring near-naked dancers performing on a flooded stage.


Exhibitions:
Cite Your Sources at Chisenhale Gallery | Mandy El-Sayegh (12 April – 9 June 2019)
Mandy El-Sayegh's paintings, drawings, prints and sculptures will be on view at the Chisenhale Gallery as of 12 April. These works explore themes of representation, abstraction and subjectivity. Pages from The Financial Times are applied onto areas of the gallery space, reflecting the artist's interest in complex interactions between bodies and the political, economic and linguistic structures that contain them.

Prabhavathi Meppayil at Pace Gallery | Prabhavathi Meppayil (26 April – 25 May 2019)
Questions of modernism and minimalism take center stage at Prabhavathi Meppayil's new exhibition at Pace Gallery. The artist's practice draws on traditional craft, and values the truth of materials and tools as well as simple forms, colours and shapes. Combining artisan practice and modernist concerns, Meppayil often uses recurring features like walls and floors on which she repeats lines and intermissions.

Hypnotic Poison at London Ely House | Sylvie Fleury (2 April – 11 May 2019)
Sylvie Fleury's first solo exhibition since the 1990s, Hypnotic Poison at London Ely House features three works including her make-up palettes, a neon sign referring to Dior's fragrance, and a soft rocket which defies the sleekness of typical spaceships. The codes of femininity and masculinity are at work here, as Fleury questions the structures of desire and power attached to cosmetic objects.

The Power of the Line at Hauser & Wirth | Geta Brătescu (Until 27 April 2019)
As Geta Brătescu explains in her diary excerpt from 2008: "When I draw, a tell a story about forms." Featuring works from the past decade, this collection of the artist's work focuses on the line as a structuring principle. Two film works, 'Linia (The Line)' (2014) and 'The Gesture, The Drawing' (2018) will also be screened in the centre of gallery to complement the show.

Ed Fornieles: Cel at Carlos/Ishikawa | Ed Fornieles (Until 20 April 2019)
British artist Ed Fornieles is known for works that respond to the movement of information. Spanning film, social media, sculpture and installation, much of the artist's portfolio deals with the interaction of relationships, language and subcultures of the 21st century experience. His latest exhibition, Ed Fornieles: Cel is hosted at Carlos/Ishikawa and runs through 20 April.

Full Take at Sprüth Magers | Reinhard Mucha (Until 11 May 2019)
German artist Reinhard Mucha studied at the Düsseldorf Academy of Art, developing his complex artistic language and going on to host a variety of influential installations in Europe in the 1980s and 1990s. Prevalent in his work are themes of collective identity and nationalism, as well as the psychology of architecture and power. Full Take runs at Sprüth Magers for the full month of April, concluding on 11 May.

AIDOL 爱道 at Sadie Coles HQ | Lawrence Lek (17 April – 18 May 2019)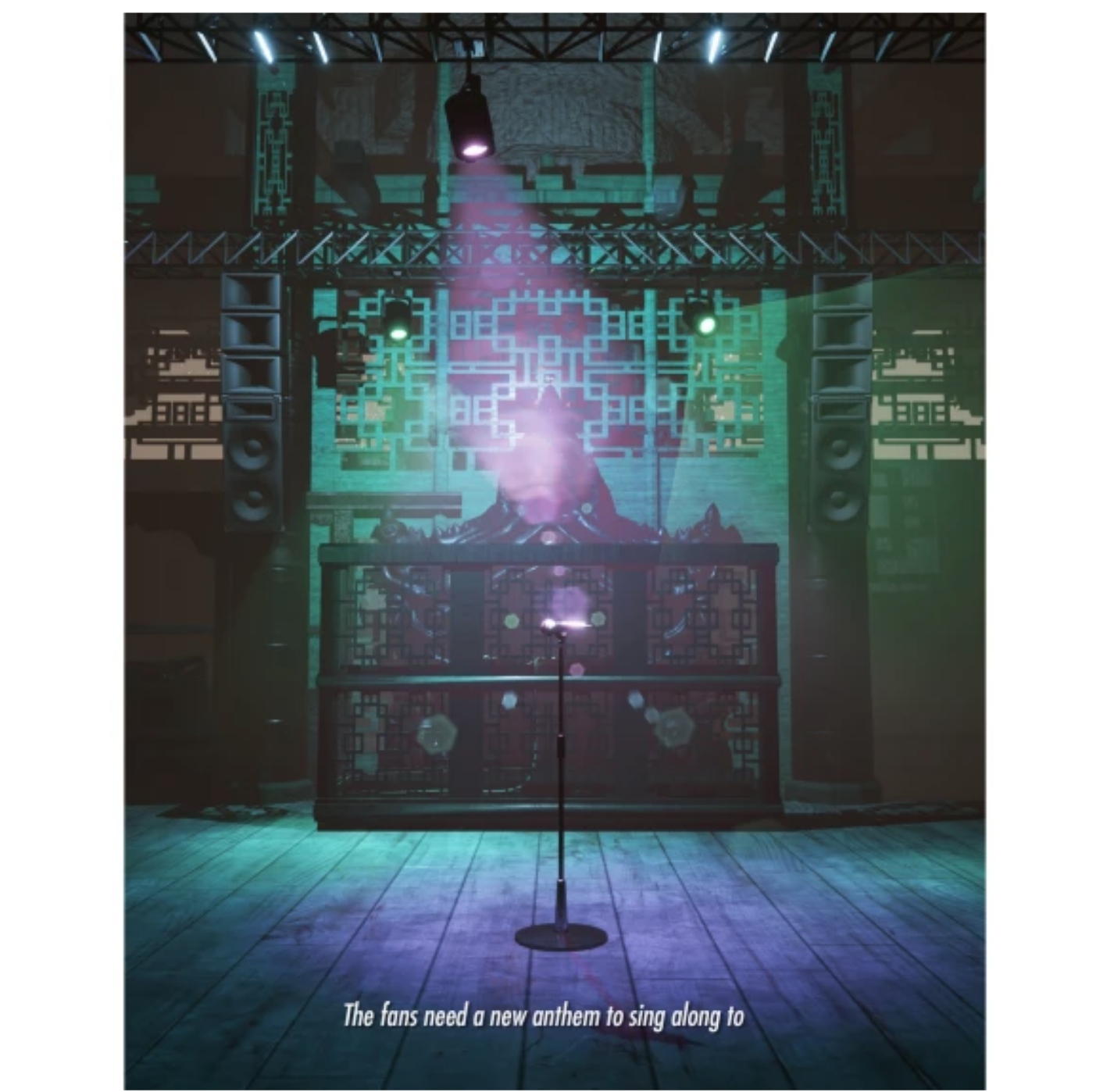 A feature-length CGI film, Lawrence Lek's first solo show at Sadie Coles follows a fading superstar enlisting an AI songwriter to mount a comeback performance. The work explores virtual worlds and simultaneously tests the boundaries of music.

Performance & Film:
Vessel at Sadler's Wells | Damien Jalet & Kohei Nawa (16—17 April 2019)
Damien Jalet, the choreographer of Hussein Chalayan's Gravity Fatigue in 2015, and Kohei Nawa, Japanese experimental sculptor, are collaborating this month on a one-of-a-kind performance at Sadler's Wells. Near-naked dancers take over a flooded stage, reflected and hidden by the mirror-like surface. The seven beings in the performance will form a new type of entity in the visually arresting cycle of life and death.

Gürcan Keltek: Gulyabani at Tate Modern | Gürcan Keltek (10 April 2019)
These two short films by Gürcan Keltek, never before screened in the UK, explore memory and resilience as the viewer journeys through Turkey's natural and industrial landscapes. The first film, Gulyabani, details the story of Fethiye Silent from Izmir, Turkey, whose diary entries and letters to her estranged son relay her survival from abuse, kidnapping and torture. Overtime [Fazlamesai] provides glimpses into the lives of marginalized young Muslim workers in Istanbul.

Apparat + Káryyn at Barbican Hall | Apparat (27 April 2019)
Electronic musician Apparat's set at Barbican Hall will bring together old and new material from his forthcoming album LP5. The musician began his career by making club-oriented techno music, but has moved on to experiment with ambient electronica and drone. At the heart of Apparat's music is his ear for memorable melodies.

Events:
Nourishment Supper Club at Guest Projects | Anousha Payne & Sasha Szceka (6 April 2019)
Hosted at Guest Projects, this group exhibition, including works from George Rouy and Lewis Hammond, and supper club is in aid of Prasanth Children's Home, a centre for children between the ages of 5 to 18 in India. A South Indian and Sri Lankan feast will be on offer, with all funds from the tickets going directly to the home. A tamarind mojito or passion fruit belini will be served on arrival, and mains include options like black dahl with caramelised onions and Sri Lankan beef curry, with a mango mousse and coconut sorbet for dessert.

Jerwood Lates: How to Talk to People you Don't Agree With at Jerwood Lates | Keep it Complex (26 April 2019)
The artist collective Keep It Complex invites occupational therapist Georgia Twigg to facilitate a workshop at Jerwood Lates on staying positive. Twigg will help attendees build skills of resilience and verbal reasoning in the face of disagreement. Keep It Complex hopes to provide solutions for dealing with difficult things in the world, like "Brexit, Trump, climate change, male violence, cultural hegemony, islamophobia, terrorism, populism – the list goes on."

Performing Image at the Institute of Contemporary Arts | Isobel Harbison with Catherine Wood, Ligia Lewis & Erika Balsom (24 April 2019)
This roundtable discussion led by critic Isobel Harbison will examine the intersection of performance and moving image in artistic practice since the 1960s, and will also look at how this work anticipates our changing relations to images in the internet era. On hand for the discussion will be Catherine Wood, senior curator at Tate Modern, Ligia Lewis, choreographer and dancer, and Erika Balsom, film scholar and author.


Feature image: Reinhard Mucha, Düsseldorf, Germany (via Pinterest)