Fluxus was an international, interdisciplinary community of artists, composers, designers and poets, prolifically practicing during the 1960s and 1970s, who engaged in experimental art performances which emphasised the artistic process over the finished product. Founding member and the central coordinator of the movement, Lithuanian American artist George Maciunas wrote a manifesto, explaining that the purpose of Fluxus was to "promote a revolutionary flood and tide in art, promote living art, anti-art" and to "purge the world of 'Americanism'!"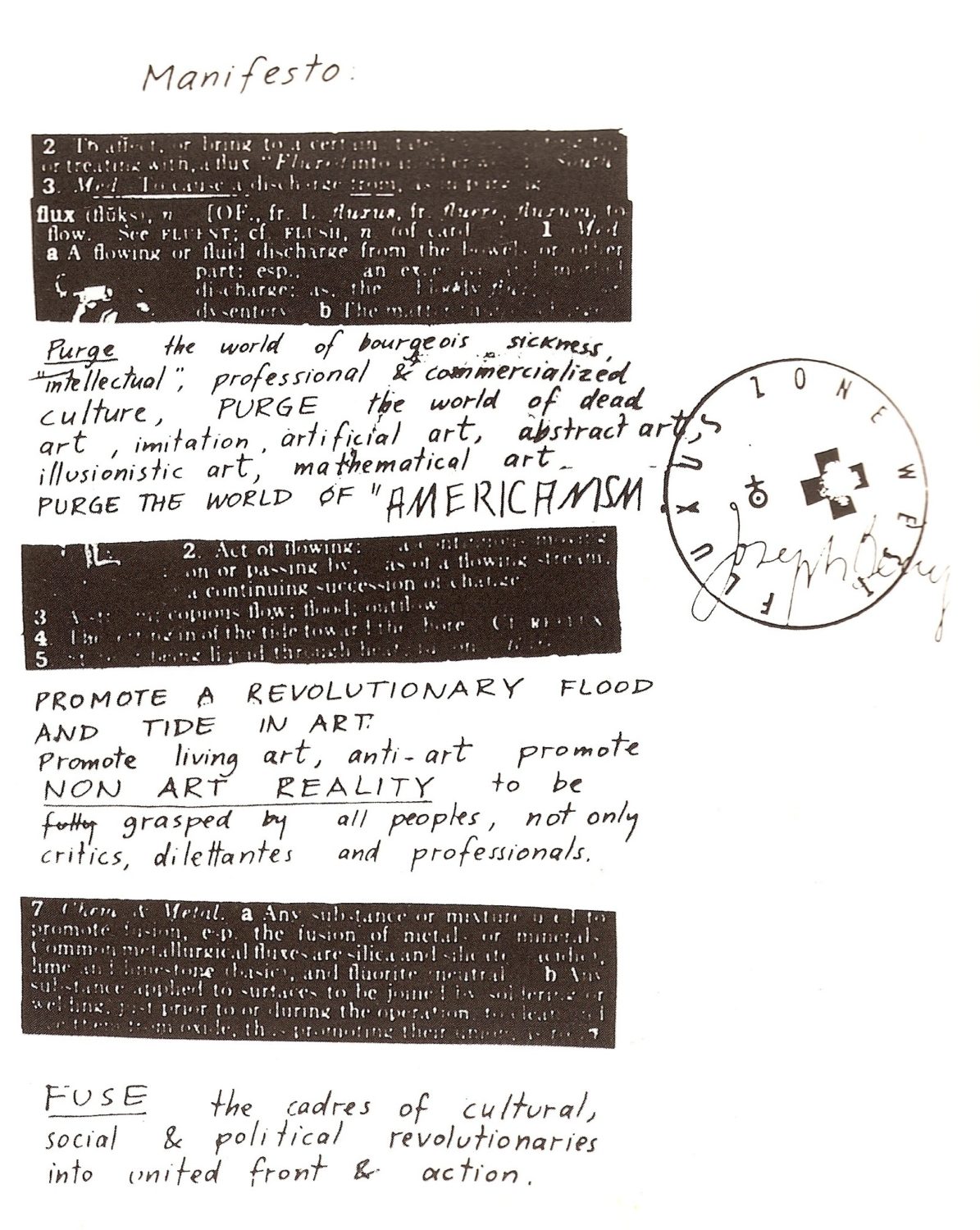 Sook-Kyung Lee, Senior Curator of International Art at Tate Modern, tells Something Curated: "Fluxus was a term coined by the Lithuanian born American artist George Maciunas in 1962, to highlight fluid and open attitudes towards arts. Artists such as Alison Knowles, Dick Higgins, Joseph Beuys, La Monte Young, Charlotte Moorman and Yoko Ono organised and participated in Fluxus events in the USA, Germany and Japan in the 1960s and 1970s."



The Latin word Fluxus means flowing, in English a flux is a flowing out. Maciunas used the word Fluxus to describe a wide range of his activities, from a published call for a common front of artists against culture to a New York artists' housing association, as well as a publishing concern that produced ephemeral interactive multiples and staged live events called Happenings that were precursors to performance art, video art, and other progressive art forms.
Fluxus played an important role in opening up the definitions of what art can be. It has profoundly influenced the nature of art production since the 1960s, which has seen a diverse range of art forms and approaches existing and flourishing side-by-side. Donna Gustafson, Curator of American Art at the Zimmerli Art Museum, expands: "A radical, experimental, and intermedia movement of the mid-twentieth century that continues to influence contemporary art, Fluxus focuses on the unpredictable, ordinary, and ephemeral moments of everyday life. Fluxus has been described as a spirit, an attitude, and a philosophy of life; it includes poetry, music, film, performance, printed matter, found objects, games, and puzzles."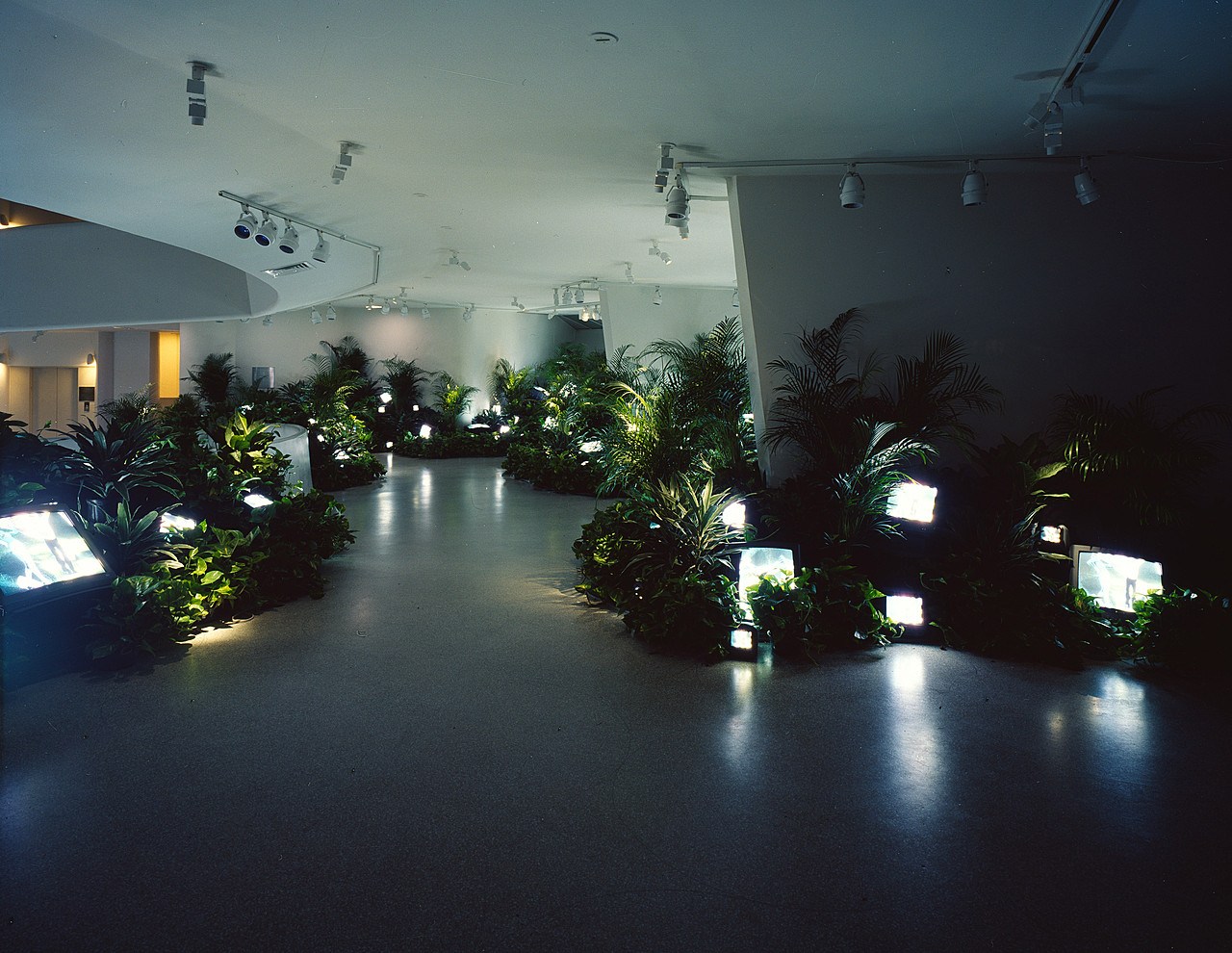 Opening this autumn, London's Tate Modern is hosting an exhibition of seminal Fluxus artist Nam June Paik's work, running from 17 October 2019 – 9 February 2020. The exhibition serves as a major retrospective full of bold sounds and sights. It will feature work from throughout the artist's five-decade career, including robots made from old TV screens and immersive room-sized installations such as the impressive Sistine Chapel from 1993. Showing his collaborations with artists like Joseph Beuys and John Cage, the exhibition will demonstrate how Paik's global trajectory shaped the transnational network of Fluxus artists.
"Nam June Paik was a key figure who personally connected artists from these places and developed the movement's transnational network," says Sook-Kyung Lee. "Fluxus activities centred around events that staged score-based actions, in a similar manner to the format of musical concerts or festivals. Their cross-media, collaborative, ephemeral and participatory actions were instrumental in the emergence of intermedia and conceptual art as well as relational and performative artistic practice that privilege experiments and engagements."


Feature image: Joseph Beuys, I Like America and America Likes Me, 1974 (via Pinterest)