Inside The British Pavilion At This Year's Venice Art Biennale
For the 58th Venice Art Biennale, the British Council presents a new body of work by Irish artist Cathy Wilkes, open from 11 May until 24 November 2019. Upon entering the space, the room is dominated by a low rectangular structure, enveloped by a semi-transparent textile, akin to a sepulchre of sorts. Sporadically spread dried flowers and foliage lay atop the edifice, appearing like caring offerings. Moving through the rooms there are a number of sculptural figures, including strange swollen-bellied infants and a woman in a green toned dress.


The unadorned architecture of the British Pavilion plays host to the interrelated series of floor-based sculptural installations, paintings and prints by Wilkes. The Belfast-born, Glasgow-based artist is known for her meticulously arranged and uncanny scenes, featuring compositions of solemn and ethereal figures placed alongside salvaged articles from routine life. For her British Pavilion presentation, Wilkes has adapted the building so that all its six spaces are bathed in evenly distributed natural light, contributing to an atmosphere of subdued expectancy. The evocative environments are intended to be experienced as an unfolding progression that flows from room to room.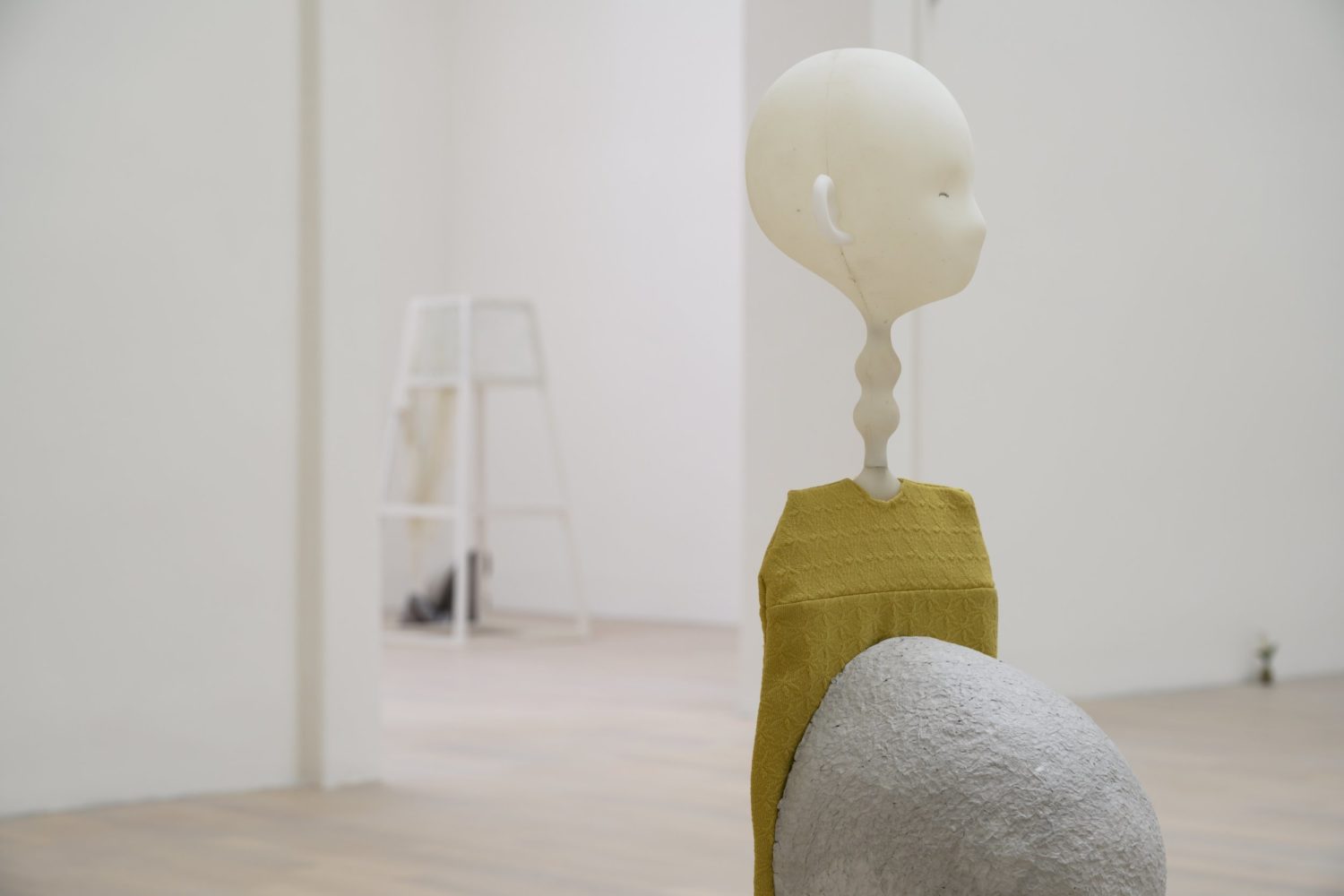 On the walls hang a series of abstract paintings that echo the labour Wilkes' three-dimensional works require. Accumulations of pigment are repeatedly rinsed away on canvases, re-applied and then removed again, leaving bleached traces and stains, simultaneously revealing many layers. Wilkes' mysterious characters, ghostlike in their presence, only possess a vague hint of recognisable features. The matter that surrounds them, whether textiles, ceramics or a range of commonplace household objects, seem either heavily worn from repeated use or to have fallen into a state of decay. Through disappearance and dematerialisation, the exhibition offers a clouded vision of a site of loss, ruminating on ideas of tenderness and affection, as well as, inevitably, mortality.



The exhibition is curated by Dr Zoé Whitley, Senior Curator at Hayward Gallery, Southbank Centre. Dr Whitley is the first open-call curator to be selected by the British Council to work alongside the artist on a British Pavilion exhibition, presenting a significant international opportunity for mid-career curators. The 58th Venice Art Biennale opens to the public on 11 May, offering a whirlwind world tour of contemporary art. New national pavilions to be inaugurated this year include those of Pakistan, Madagascar and Ghana, and Saudi Arabia returns following a break.


Feature image: Cathy Wilkes | Untitled, 2019 (detail) | Mixed Media | Dimensions variable | Installation view, Cathy Wilkes, British Pavilion, Biennale Arte, Venice, 2019. © British Council. Courtesy of the Artist, The Modern Institute/Toby Webster Ltd, Glasgow and Xavier Hufkens, Brussels.