Relational Art Trailblazer Rirkrit Tiravanija Installs A New Communal Sake Bar At The ICA
Thai artist Rirkrit Tiravanija, born in 1961 in Buenos Aires, Argentina, currently lives and works between New York, Berlin and Bangkok. Tiravanija's practice largely concerns itself with the individual's experience of the communal, where socialising is a seminal element. His installations frequently take the form of stages or rooms with large architectural structures for playing music, sharing meals, cooking or reading. Offering a functional yet generous ambiance, he invites the viewer to take part in his work; this unrelenting ability to physically engage his audience propelled the artist to international repute.
Early next month, on 7 June, London's Institute of Contemporary Arts is set to unveil a newly commissioned permanently sited work by Tiravanija. Creating environments that reject the primacy of the art object, and instead focus on use value and the bringing of people together through simple acts and environments of care, Tiravanija's work challenges expectations around labour and virtuosity. Open to the public and situated within the ICA's lower bar, untitled 2019 (the form of the flower is unknown to the seed) comprises a sake bar with communal seating and tables set within a painted sunrise and sunset. Purpose-built for the ICA, the work includes crockery hand-crafted in Tiravanija's Chiang Mai studio and lighting created in collaboration with artist Rafael Domenech.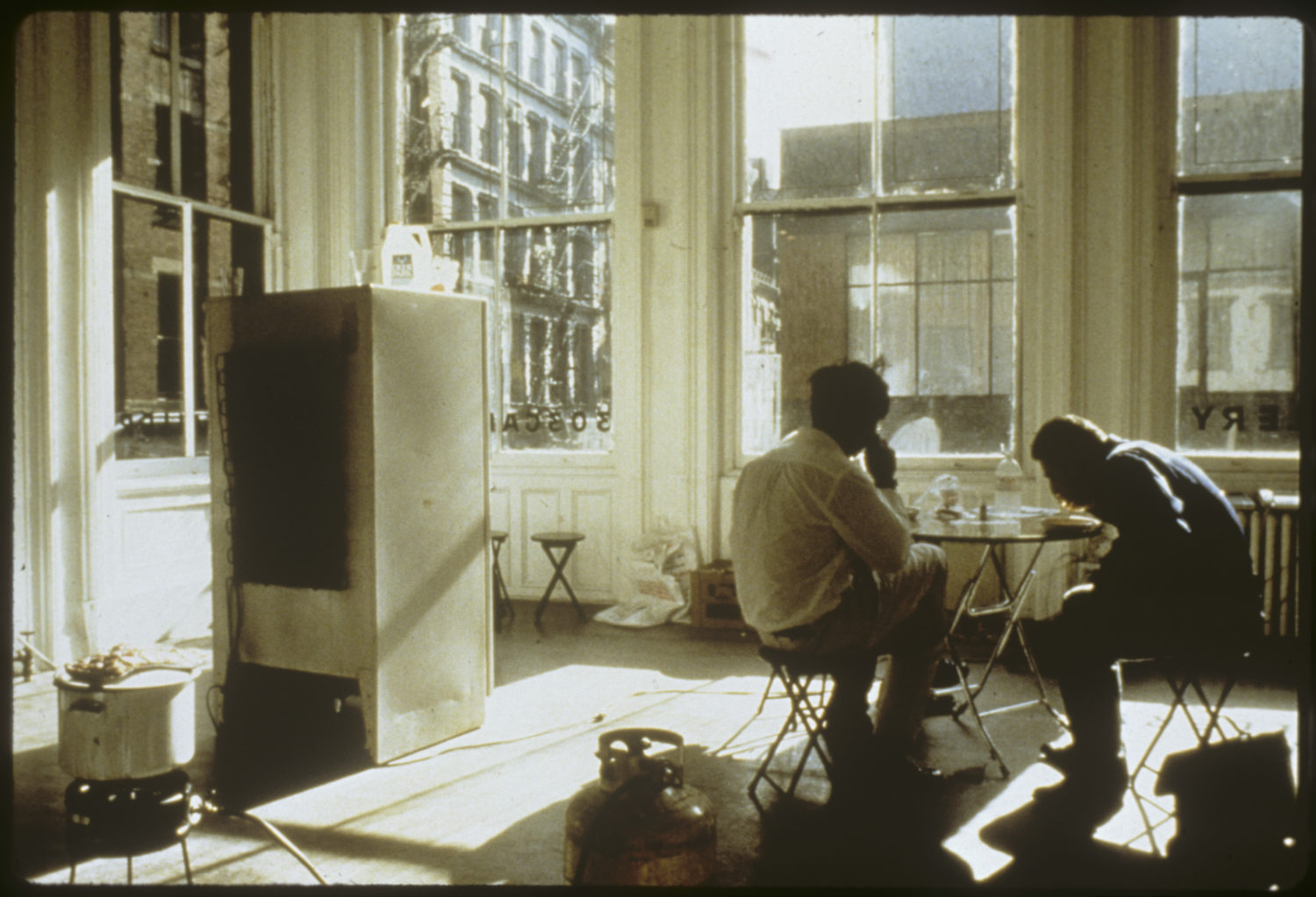 Tiravanija studied at the Ontario College of Art, Toronto, The Banff Centre School of Fine Arts, Banff, and the School of the Art Institute of Chicago, and is currently on the faculty of the School of Visual Arts at  Columbia University in New York. Much of Tiravanija's early work involved cooking in an art related space such as a museum or gallery, for example, his first famed solo show, Pad Thai (1990) at the Paula Allen Gallery in New York. Tiravanija notes one of the motives for his cooking and offering of food is to challenge possessiveness, and inevitably greed, characteristic of modern times, through a democratising experience. In a similar vein, more recently at the Tate Modern, Tiravanija turned to filmmaking to explore the lives of Thai labourers.
Nicolas Bourriaud's idea of relational aesthetics well describes Tiravanija's practice. Inseparable from the concept, Bourriaud expanded on the term in his 1998 book, Relational Aesthetics, defining the movement as: "A set of artistic practices which take as their theoretical and practical point of departure the whole of human relations and their social context, rather than an independent and private space." The significance of encouraging social interactions between people, through art or food, or perhaps sake, underlines the continued appeal of Tiravanija's works.


Rirkrit Tiravanija's untitled 2019 (the form of the flower is unknown to the seed) opens at the ICA from 7 June 2019

Feature image: Rirkrit Tiravanija, Untitled (Free), 1992, Installation view: 303 Gallery (via 303 Gallery)