Interview: Jeweller Joanne Burke On Adapting Ancient Symbols For Contemporary Times
British-born, Italy-based jeweller Joanne Burke's eponymous label grew from a desire to create her own enchanting world. Having long been an avid collector of antique jewellery, she started making pieces for herself that were quickly in demand from friends and family. Following eight-years in the US, the self-taught jeweller found herself in Rome. The influence of the historical city appears in her practice at times like recently excavated relics. Crafted in gold or yellow bronze, the intricate pieces proudly bear the mark of their maker, often depicting mythical scenes and primordial symbols. Ahead of Burke's new collection launching early next month, Something Curated spoke with the talented artist to learn more.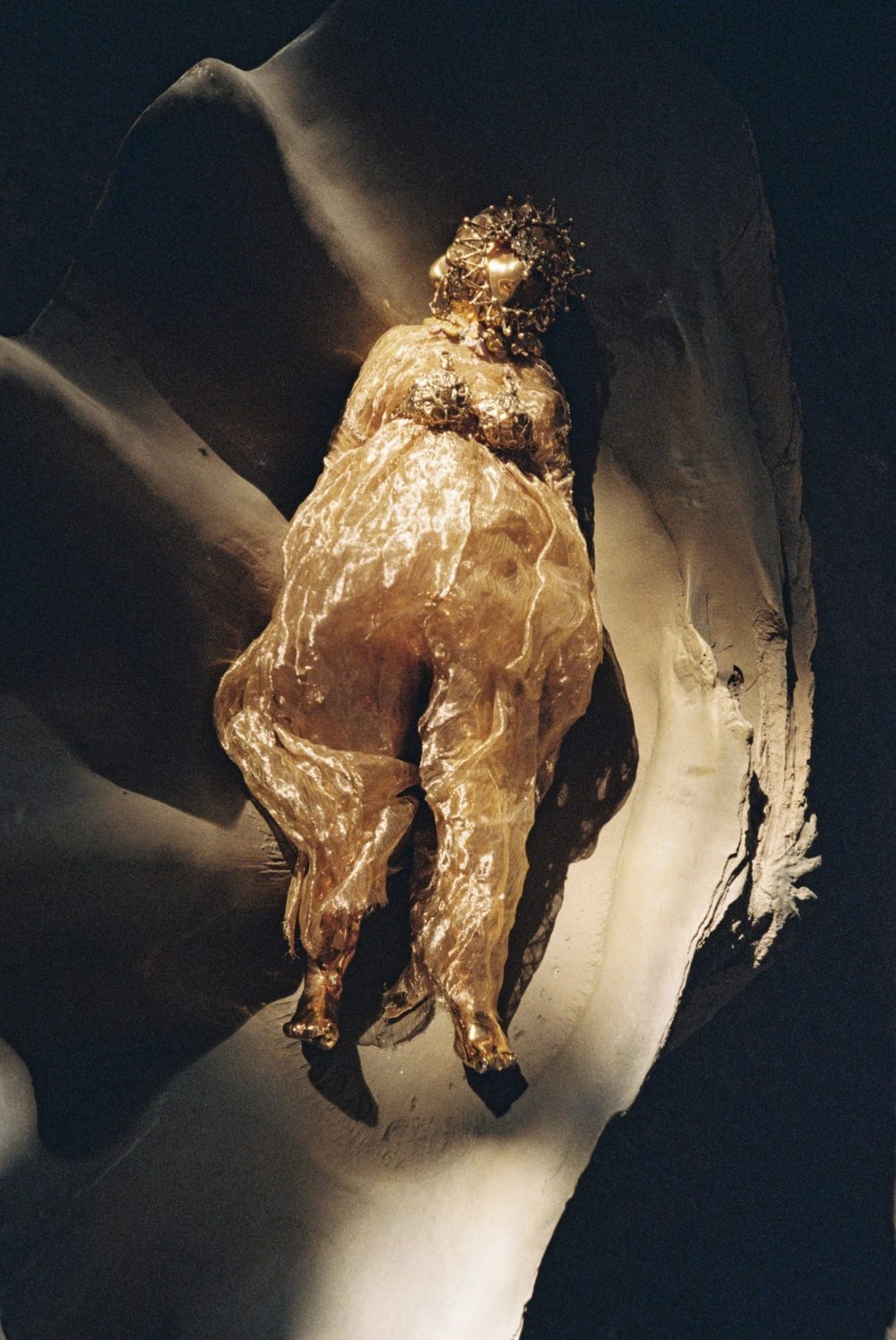 Something Curated: Can you give us some insight into your background? How did you enter this field?
Joanne Burke: I have been making adornments and decorative art since I was little. I couldn't find the kind of jewellery I wanted so I decided to just try and figure out how to do it and it turned into this big love.
SC: How would you describe the aesthetic and ethos of your work?
JB: I would describe it as wearable sculpture. It is very tactile and emotional. It looks like something from the past a little bit but it's all about the future. It is quite rough and a little bit awkward. There is always something grotesque as well. My collections are genderless and for everyone who would like to wear it. Everything is handmade by myself in my studio at home. I can't think of anything worse than seeing my jewellery being sold in too many places so I try to keep my editions limited so that the pieces keep their integrity and my buyers have something special to treasure.
I try to protect my work in that way by keeping it limited and perhaps a little difficult to obtain. I believe that the people who really love my work will always find a way to find me if they really want to purchase a piece. I want to make jewels that bring a new perspective to the kind of jewellery that is already available today. There's a lot of pretty jewellery in the world so I don't really see any point in clogging up the planet by making any more so I try to make something with meaning and purpose and not just because it looks good.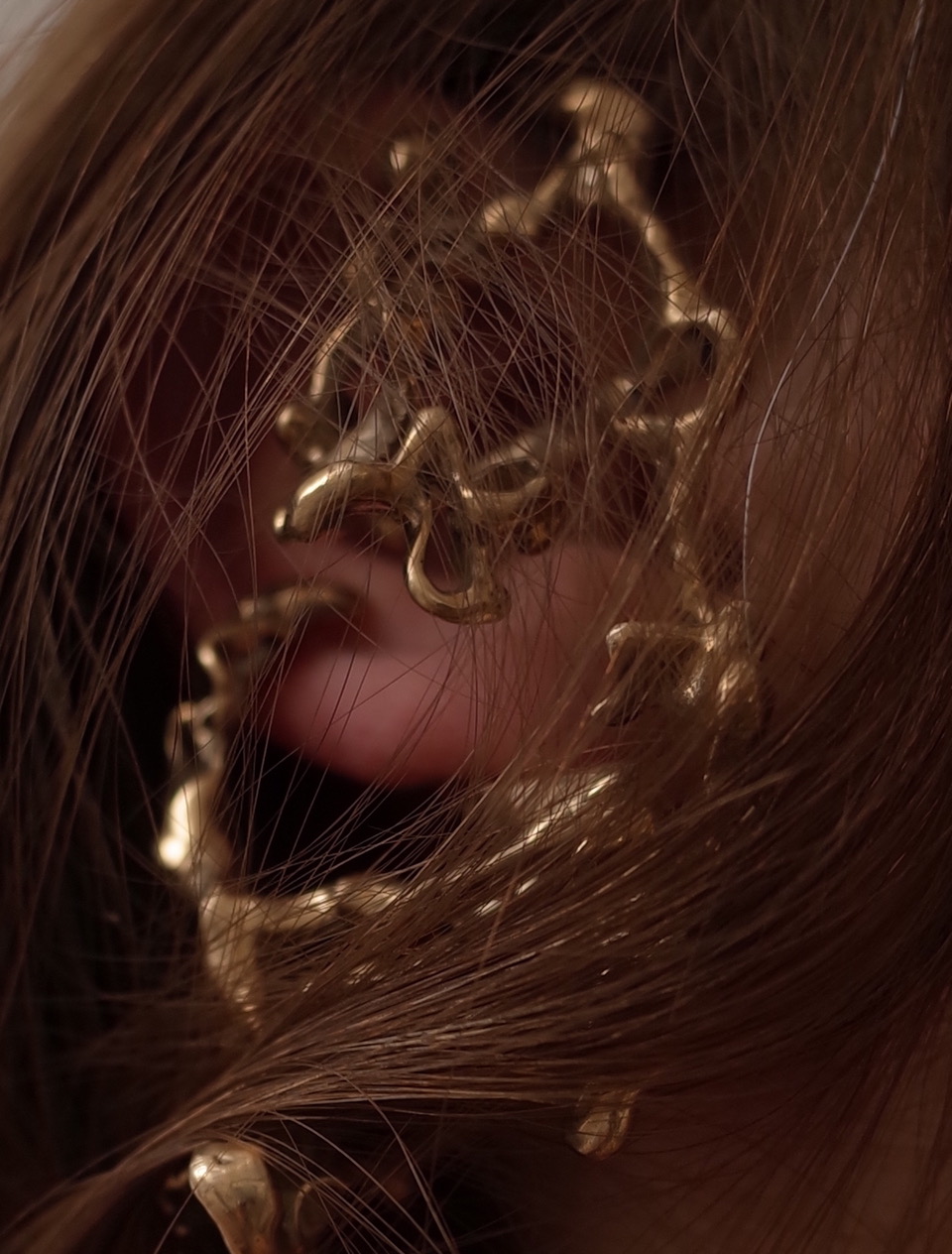 SC: Can you tell us about your latest series of pieces, the inspirations and narrative behind them?
JB: We are going through such a terrifying and surreal moment environmentally. Everything is changing so fast around us so I have been thinking a lot about metamorphosis and transformation in nature and taking extra time in life to pay close attention to those movements. I have been admiring slime moulds, watching footage of corals war for space or plants fighting each other for sunlight, nutrients or territory just as humans and animals fight for advantage; watching how the world destroys itself over and over again. Seeing my friends and loved ones go through their changes.
Observing all the ways of my cat and the way we manage to talk to each other. Admiring strangers' dogs on the street and how they behave; the behaviour of people going about their business in life. Seeing myself get older – that is so weird. I guess all my pieces are about watching the changes happening and appreciating that there is still beauty in the world despite everything, in all nature and to pay attention to what it is telling you while it is the way it is.
SC: What attracts you to the lost-wax casting process, which you've become well known for working with?
JB: The tactility and ability to be spontaneous and fluid. I love the feeling of guiding the wax along and learning how to control the flow with the most delicate touch or heavy hand to make a gesture. It's really satisfying. Sometimes I move wax in my dreams or when people are talking to me in the same way people move bricks in their minds after playing that computer game Tetris.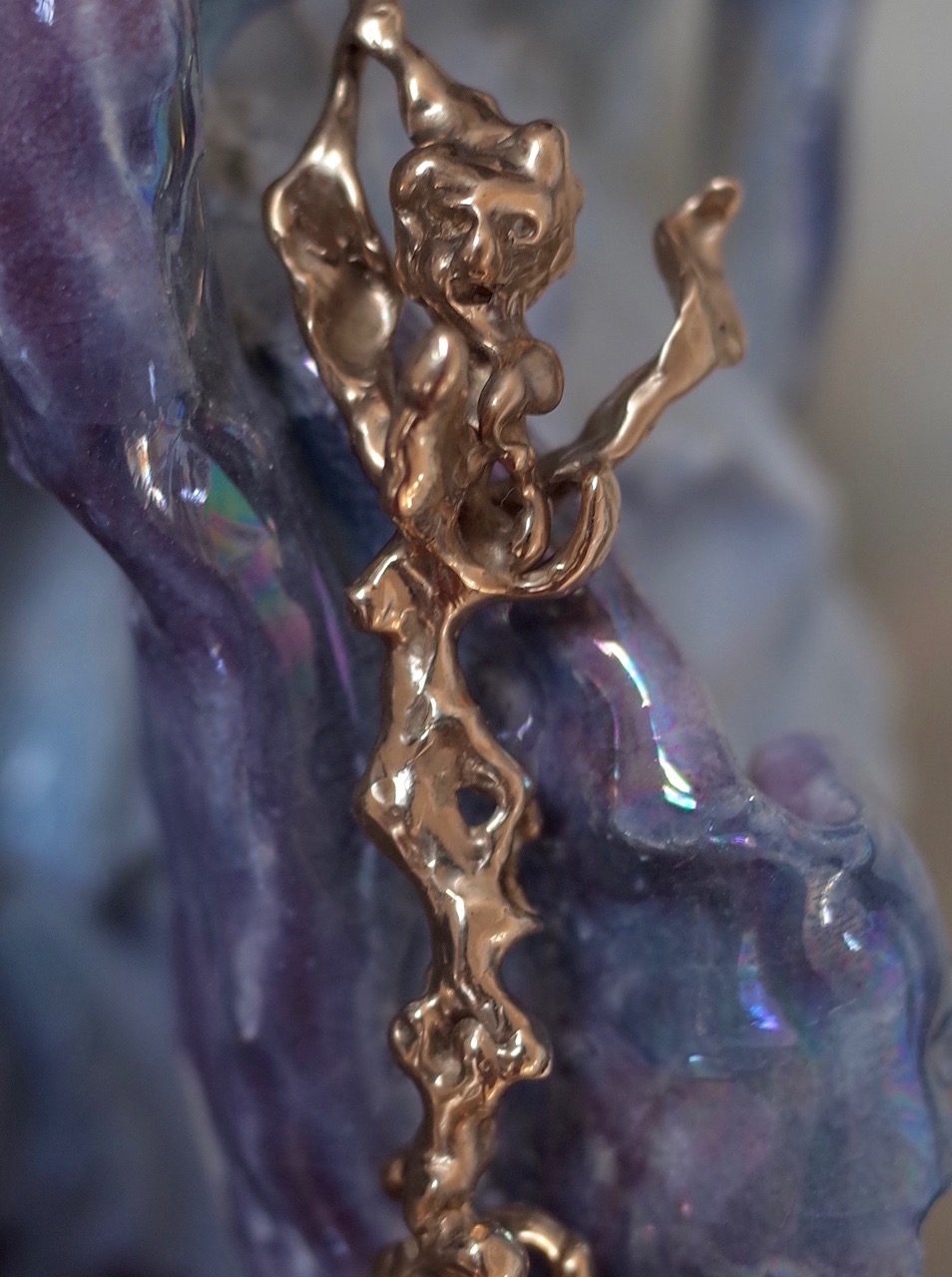 SC: Several of your pieces seem to nod to visual tropes of the Medieval period – could you expand on this?
JB: Well sometimes I like to take something like an older motif and adapt it to make a new more relevant-to-me one. So for example, I take the figure of the Faune from mythology who is depicted as a half man, half goat, pleasure seeking creature chasing wild nymphs around … but I'll give him also female characteristics so he is somewhat either, or, or anywhere and everything in between so he just becomes a symbol of pleasure that everyone can relate to in some way. I like playing around with their meaning and collaging them into new ones so they are more significant to me and the world I live in.
SC: What are you currently working on?
JB: I am just finishing my new collection of work and currently working on a small book which documents some of my old and new jewel editions.
SC: I understand you have studied dance history and dance yourself – has this experience been an influence on your jewellery practice and if yes, how so?
JB: I didn't go to school to study that I studied it at home just as a fascination. I am interested in all kinds of communication and dance is another more mysterious language that I just got into. I love the sets, the music, the costumes, the stories and all the hard work and dedication that goes into it. I think the evolution of dance and theatre is an amazing study on language and form and so many things and of course whatever I've gotten into over the years has formed the person I am, and therefor always finds its way in my work. Jewels are another language to me too. I use them to communicate to others who I am and what my feelings are in the same way a dancer tells a story.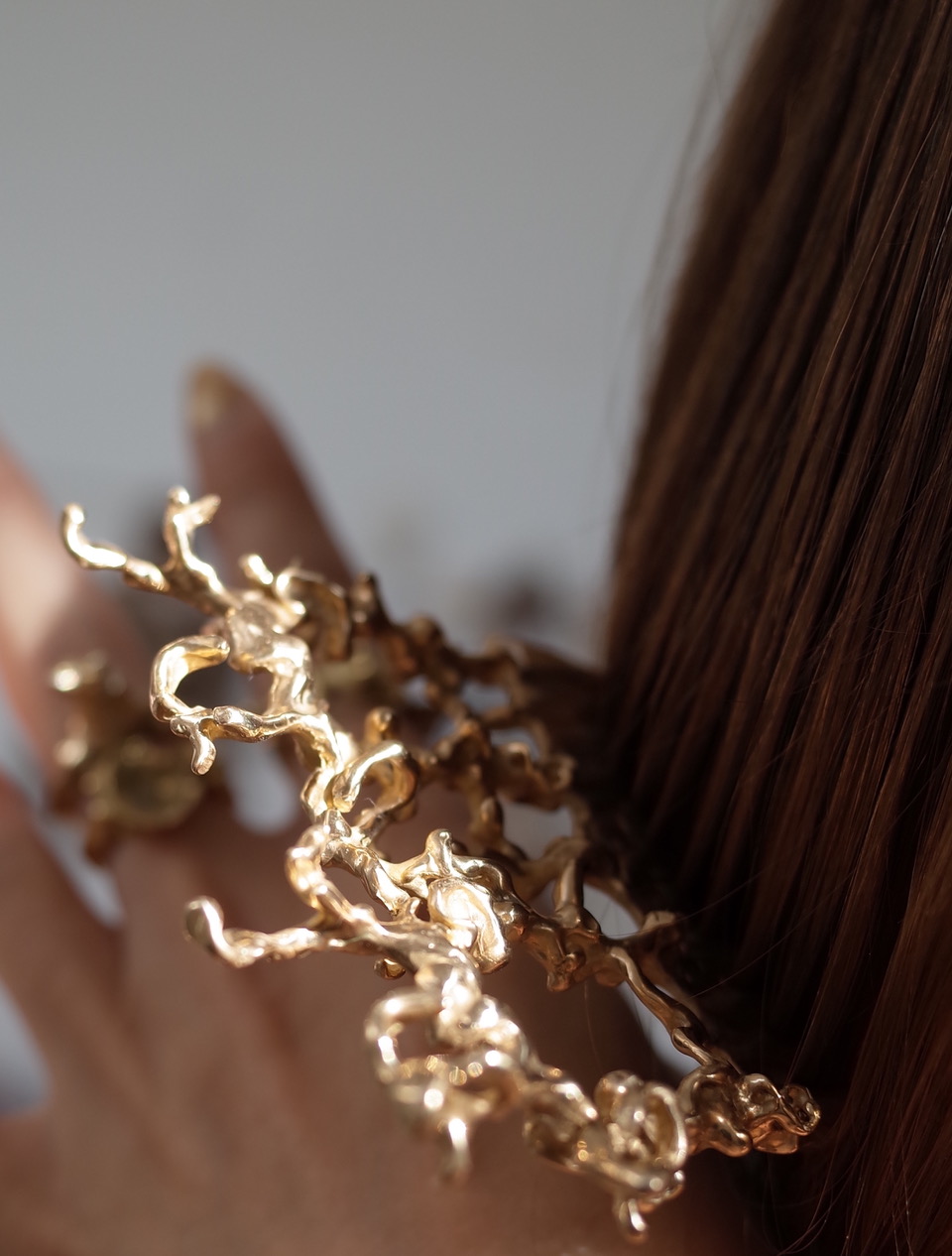 SC: What inspired your move to Rome?
JB: I moved to Rome from the USA but I am actually British. I moved here to be closer to my Roman sweetheart and study all the art and history that I love so much in Italy.
SC: How do you enjoy spending your time in Rome, when you're not at the studio?
JB: Well, I work and hang out a lot at my studio because it is a really special place that I share with my boyfriend who is also an artist. We have a lot of fun trying to work so that is really my favourite thing to do in Rome but I also love just hopping from one cafe to the next meeting friends and talking, watching people, thinking. I love museums of course or taking the train outside Rome to little obscure spots to look for grottos or hidden beauties. I like making my own clothes when I have the extra time so I am always looking for special fabrics too.
SC: Are there any jewellers, artists, or figures from other fields who have particularly influenced you in your career?
JB: There are so many I have no idea how to choose but the figures that have stayed with me most through the years that I constantly revisit are: Leonor Fini, Manly P Hall, Bernardo Buontalenti, Queen Elizabeth 1, Unica Zurn's writings, Hans Bellmers writings, Leonora Carrington, Max Ernst, The voice of Dagmar Krause, Pontorno, Boticelli, Gustav Moreau, Romeo Gigli, Danilo Donati, Paradjanov, Pasolini, Fellini, Ken Russell, Luigi Ontani, Marchesa Casati, and Leon Bakst.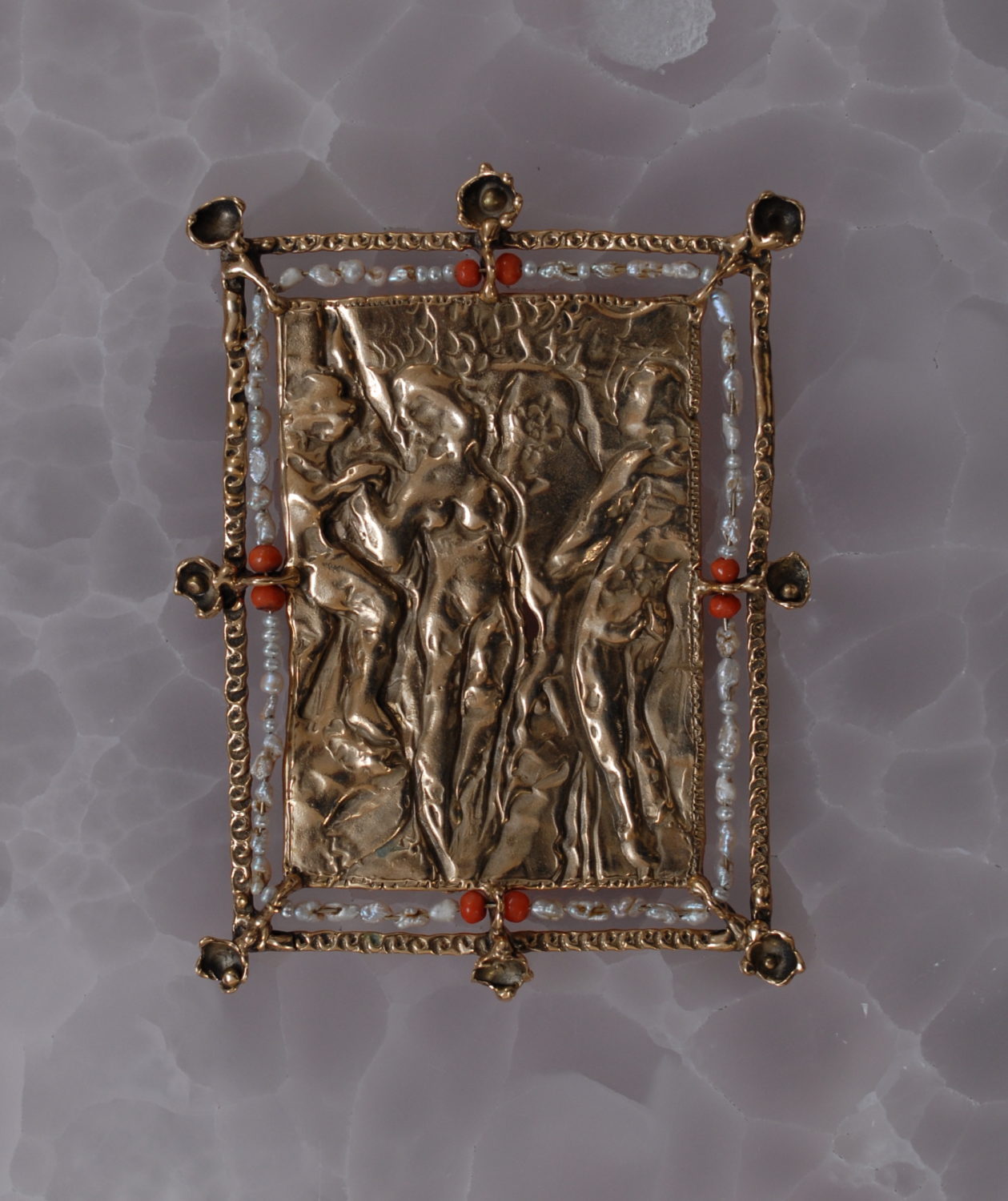 SC: Preferred work attire?
JB: I have been collecting vintage Romeo Gigli since I moved to Italy so I am usually wearing his clothes or things I have made myself but if I'm doing my dirty machine work then I use old scraps of clothes I don't mind to destroy.
SC: What are you currently reading?
JB: Remedios Varo – Letters, Dreams, and Other Writings. I would have loved to have been friends with her and Carrington cooking up ideas in the kitchen and playing tricks. They had the best horrible humour too which is my favourite thing about anyone.


Interview by Keshav Anand | All images courtesy Joanne Burke