The Artist Who Planted A Wheat Field In Manhattan's Financial District
Born in Budapest, Hungary in 1931, artist Agnes Denes was raised in Sweden and educated in the United States. A primary figure among the conceptual artists who emerged in the 1960s and 1970s, Denes is known for works created in a diverse range of mediums; a pioneer of several art movements, she is difficult to categorise. Investigating science, philosophy, linguistics, psychology, poetry, history, and music, Denes' artistic practice is distinctive in terms of its aesthetics and engagement with socio-political ideas. As a forerunner of environmental art, she created the work Rice/Tree/Burial in 1968 in Sullivan County, New York which, according to art historian and curator Peter Selz, was, "probably the first large scale site-specific piece anywhere with ecological concerns."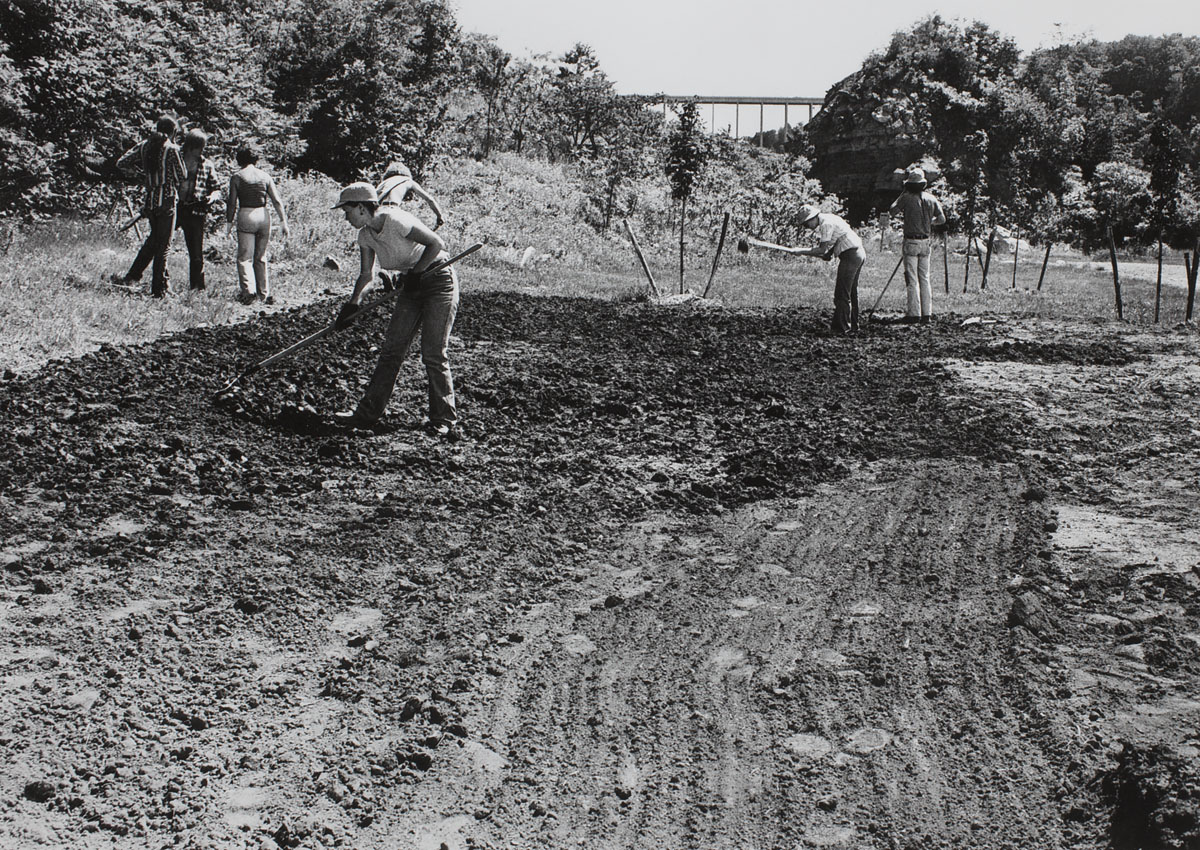 Wheatfield – A Confrontation is perhaps Denes' best-known work. It was created during a four-month period in the spring and summer of 1982 when Denes, with the support of the Public Art Fund, planted a field of golden wheat on two acres of rubble-strewn landfill near Wall Street and the World Trade Center in lower Manhattan – now the site of Battery Park City and the World Financial Center. Two hundred truckloads of earth were brought in and 285 furrows were dug by hand and cleared of rocks and rubbish. The seeds were sown by hand and the furrows covered with additional soil. The field was maintained for four months, cleared of wheat smut, weeded, fertilised and sprayed against mildew fungus, and an irrigation system was set up. The crop was harvested on August 16 and yielded over 1000 pounds of healthy, golden wheat.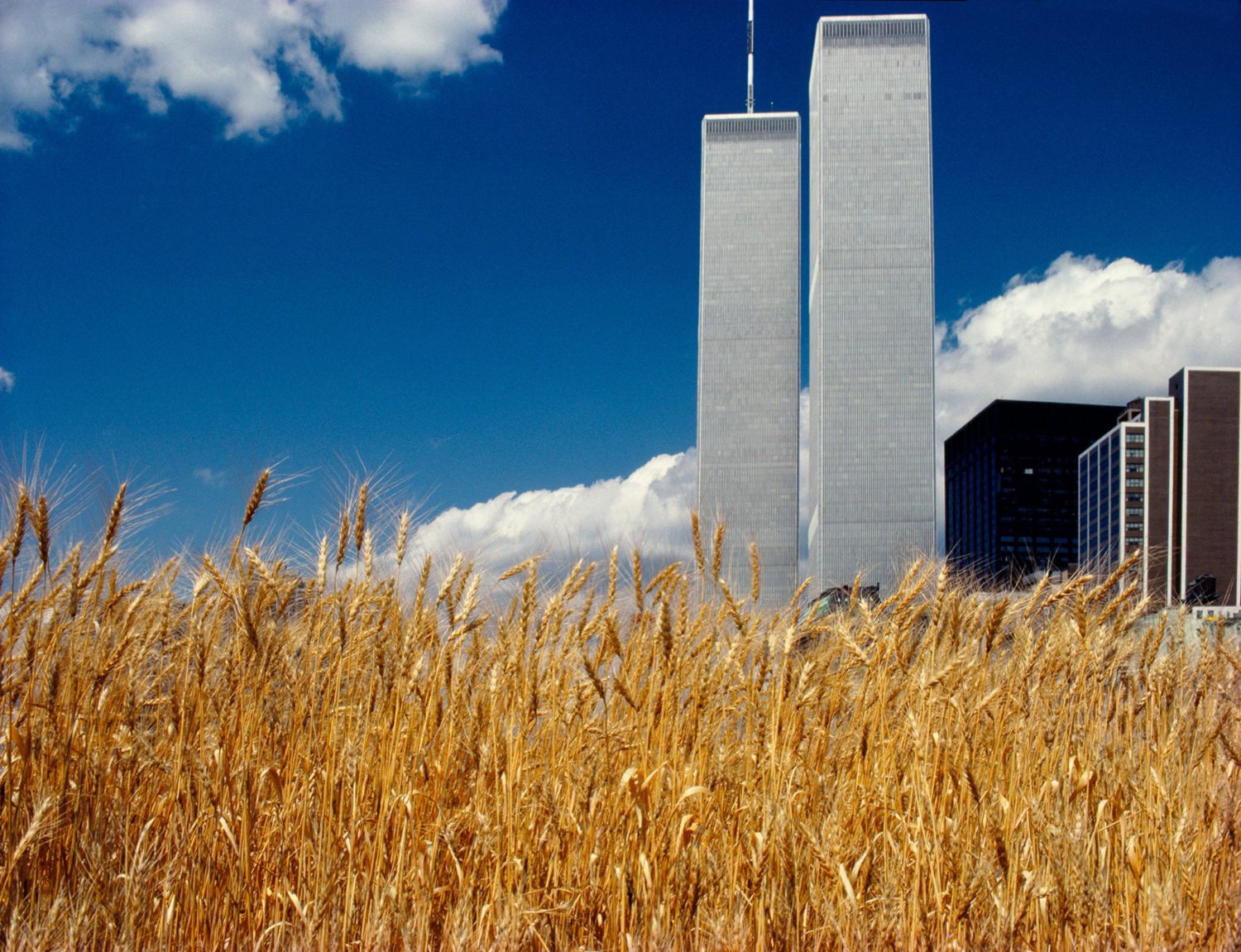 "Doris Freedman started the Public Art Fund. She was a wonderful woman and she loved my work. The Public Art Fund invited me to do a sculpture in a park—I wanted to plant a field of wheat instead. And she said to go ahead and do it. They first wanted to first put me in Queens. Doing a wheat field there would not have had the power that a wheat field had two blocks from Wall Street and the World Trade Center facing the Statue of Liberty. It had to be positioned there for the power of the message. I held out, and it took about a year until I got the site," Denes told Artspace in a recent interview.
Planting and harvesting a field of wheat on land worth $4.5 billion created a powerful paradox. Wheatfield was a symbol, a universal concept; it represented food, energy, commerce, world trade, and economics. It referred to mismanagement, waste, world hunger and ecological concerns, calling attention to misplaced priorities. The harvested grain travelled to twenty-eight cities around the world in an exhibition called The International Art Show for the End of World Hunger, organised by the Minnesota Museum of Art.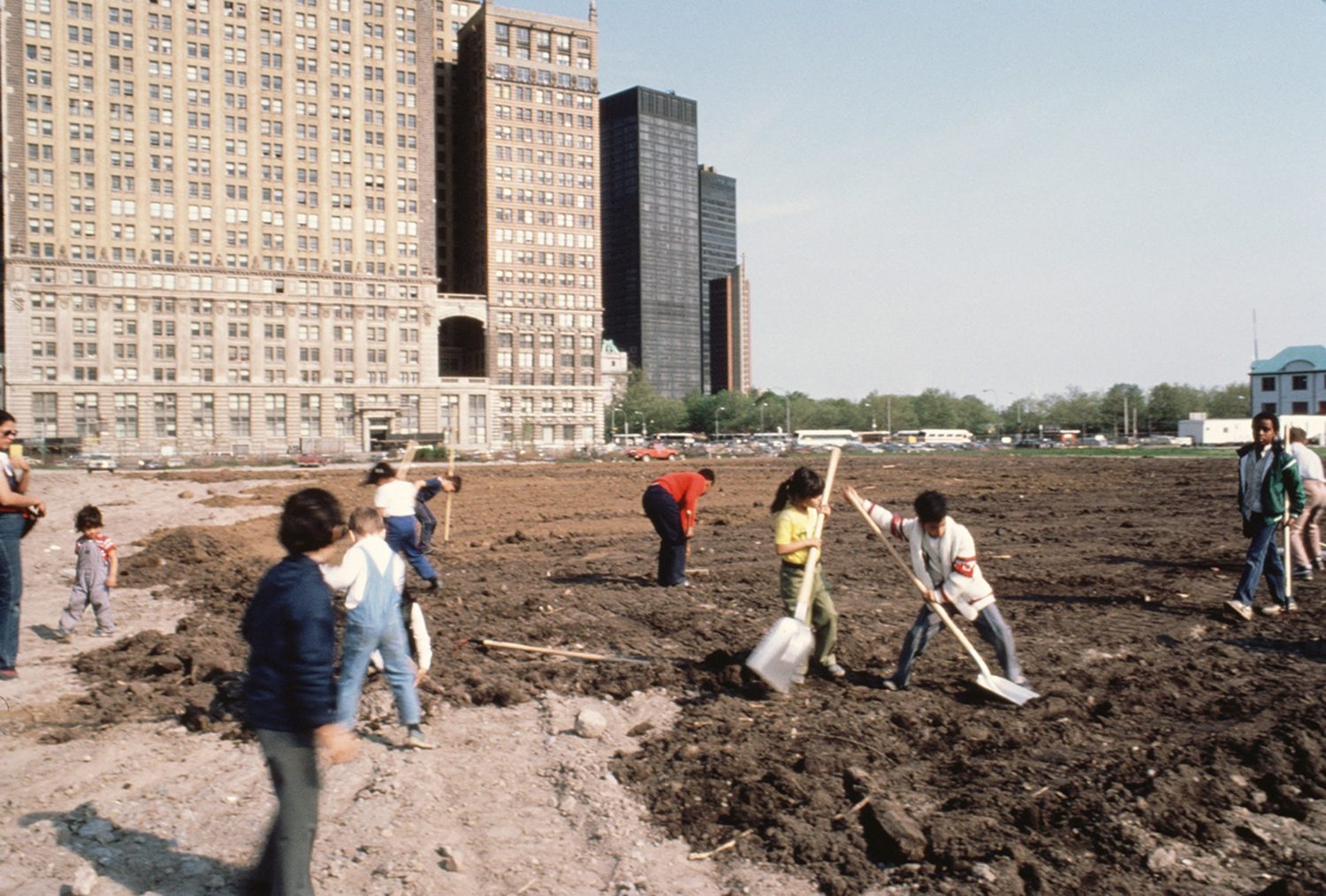 Among Denes' many other artistic achievements is Tree Mountain–A Living Time Capsule, a monumental earthwork, reclamation project and the first man-made virgin forest, situated in Ylöjärvi, in Western Finland. The site was dedicated by the President of Finland upon its completion in 1996 and is legally protected for the next four hundred years. Denes holds honorary doctorates from Ripon College and Bucknell University and has had fellowships at the Studio for Creative Inquiry at Carnegie Mellon University and the Center for Advanced Visual Studies at M.I.T. She lectures extensively at colleges and universities throughout the United States and abroad and participates in global conferences. She is also the author of six books and her writings are featured in numerous other publications on a wide range of subjects in art and the environment.


Feature image: Wheatfield – A Confrontation, 1982. © Agnes Denes (via Agnes Denes)