Into The Blue: The Origin & Revival Of Britain's Swimming Pools, Public Baths & Lidos
Spanning Roman baths and Victorian bathhouses to modern-day swimming pools, this summer the V&A + RIBA Architecture Partnership explores the architectural, cultural and social significance of swimming pools and lidos in the UK, with an exhibition hosted at the Victoria & Albert Museum until 19 April 2020. At one time crucial for providing public access to washing and laundry facilities, many communal bathing areas were designed for more than swimming. They became community centres where people could socialise or just relax, while experiencing the positive physical and psychological effects of bathing.
With the restoration and regeneration of historic pools becoming a focus for many communities, this well-timed exhibition looks at how for centuries architects have designed inventive places for bathing, and what the future holds for this building type. The 'Great Bath' at the site of Mohenjo-Daro in modern-day Pakistan is widely considered to be the first designed swimming pool, dug during the 3rd millennium BC. Ancient Greeks and Romans built artificial pools for athletic training in the palaestras, for nautical games and for military exercises.



These early baths formed the archetype for the bathhouses that emerged in Britain from the 17th century onwards; it was these sites that led to the modern pool. The Compleat Swimmer, published in England in 1658, was pioneering in teaching readers techniques of swimming, complete with woodcuts illustrating different strokes. Due to the activity's requirement of sparsely clad or nude participants, often swimming near one and other, the practice quickly became discouraged by society leaders, and in particular, by the church.
The Victorian movement against "dirtiness" largely propelled the Baths and Wash-houses Act of 1846, which founded a host of public bathing buildings in British towns and cities. Crucially, dirt was thought of as damaging to the workforce, and so naturally, with the go-ahead from those in power, swimming slowly grew in popularity. With social and economic shifts, the advancement of the swimming pool became closely linked with urbanisation and the advent of recreation for the masses. Pastel-toned lidos popped up across the English coastline, including Saltdean and Plymouth's Tinside, featured in the exhibit.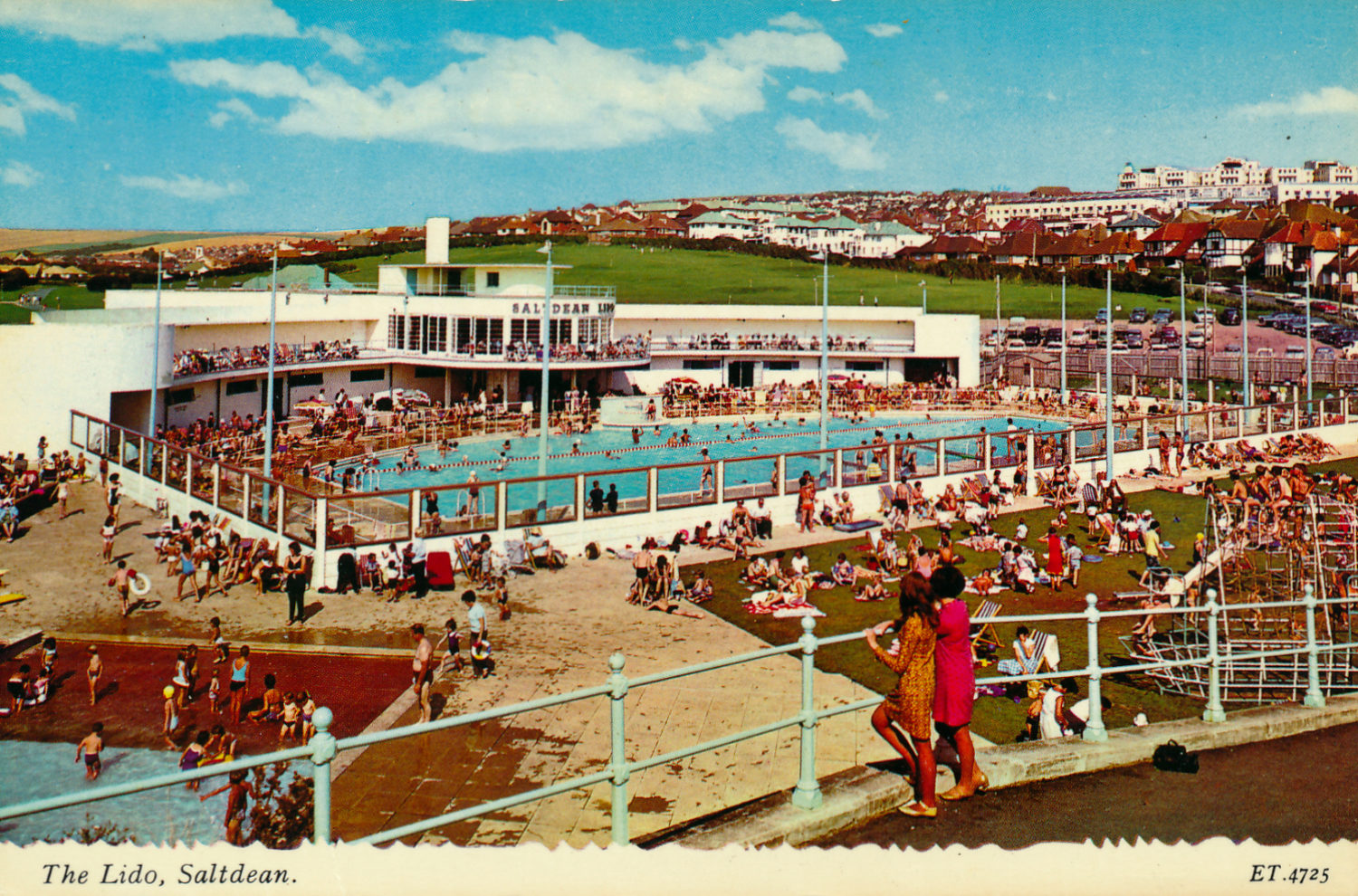 Post-war, the practicalities of reconstruction returned the public pool to something more functional. Dollan baths in East Kilbride is typical of the time, its profile inspired by Japanese modernist Kenzo Tange's National Gymnasium for the 1964 Tokyo Olympics. Today, Britain's public swimming pools face local cuts and the challenge of preserving old buildings, but the V&A + RIBA show decidedly highlights a more positive side of the matter. Jubilee Pool in Penzance has just reopened its doors following a refurbishment by Scott Whitby Studio, harnessing geothermal energy to heat part of its pool, enabling its use through the winter for the local community and tourists alike.


Into the Blue: the origin and revival of pools, swimming baths and lidos | Until 19 April 2020 at V&A+RIBA Architecture Gallery, Victoria & Albert Museum, London SW7 2RL


Feature image: Guildford Lido, 1971 (via Pinterest)