Interview: In The Studio With Pioneering Jewellery Artist Wallace Chan
Jewellery artist and material innovator, Wallace Chan's insatiable curiosity has led to the creation of numerous inventions including: The Wallace Cut, an illusionary three-dimensional carving technique conceived in 1987; the mastery of titanium in jewellery making; a patented jadeite luminosity-enhancing technology; and most recently, The Wallace Chan Porcelain, a material five times stronger than steel. For Chan, jewellery is more than adornment – it is a storyteller, a carrier of heritage, and a reflection of the times. From 14-17 September 2019, London's Asia House will be hosting the artist's first solo show in the UK, SHAPESHIFTER: The Multiverse of Wallace Chan. Ahead of the show's launch, Something Curated spoke with the illustrious creator to learn more about his fascinating work.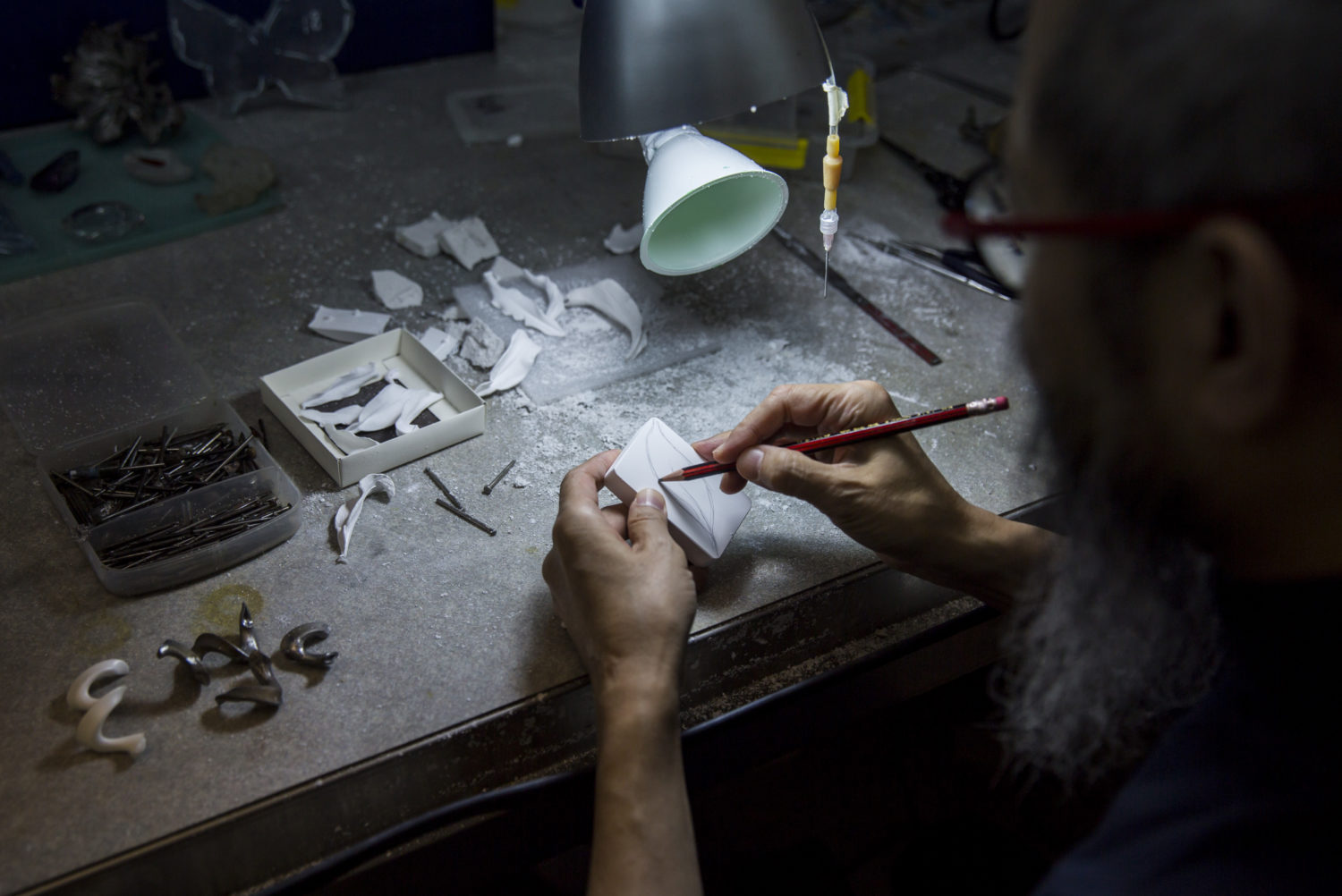 Something Curated: Can you give us some insight into your background? How did you enter this field?
Wallace Chan: I began as a gemstone carving apprentice in 1973, when I was 16 years old. Poor and uneducated, I knew that I had to acquire a skill to earn a living. At that time, after Nixon's visit to China, Chinese artefacts became hugely popular in the Western market, and for that reason, Hong Kong was an important portal for Chinese artefacts. The industry of gemstone carving flourished. I got a job as a gemstone carving apprentice at a workshop. I worked there for nine months, with coral, jade and malachite. But it also suffocated me to work without creativity or change, and so I decided to leave. I set up a folding table and two chairs by the fire escape of the building I lived in, and there, I founded my own workshop.
SC: Is there an aesthetic approach or ethos that ties together the various strands of your diverse practice?
WC: Love. Love is key to my creations. Love for people and all things in the universe. I grew up in a rather loveless family, and when I discovered love in gemstones, when I realised that, through creating and communicating with the stones and other materials, I could travel to a better world, and bring home magic, I felt more love than I had ever felt in my life. I have explored different religions. I am interested in all kinds of things. I enjoy cross-disciplinary practices. But it must all be about love – love for the universe. Without love, there is no creation. And love is also what I want people to feel, when they see and touch my creations, and when they hear the stories of my pieces.
Can you tell us about some of the pieces you are exhibiting at Asia House – the inspirations and narratives behind them?
WC: This exhibition is my first-ever solo exhibition in London. In addition to launching my latest jewellery creations featuring The Wallace Chan Porcelain, a material five times stronger than steel, in Europe, I will also showcase a number of large-scale titanium sculptures.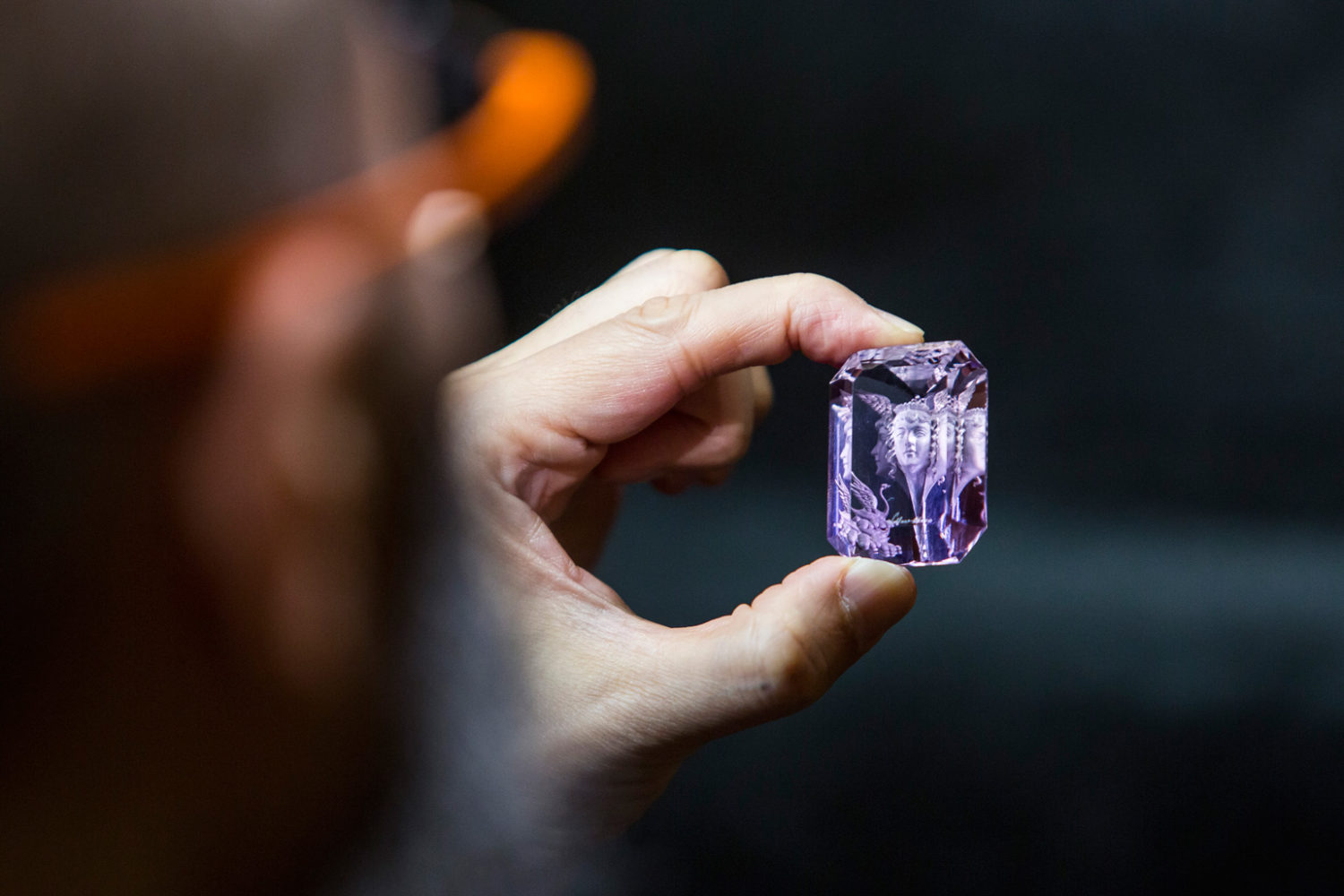 The Garden of Dreams brooch shows a face created with blue porcelain, carved by hand. On top of the hair a lily blooms. The pure white petals are, again, carved by hand and created with my porcelain. This captures how I feel when I am in the process of creation. The process of creation is a difficult process to put into words, and so I put it into a brooch. You could see how peaceful and satisfied the face is, in the garden of dreams. I have always said that to create is not to water one single plant, but to sow many different seeds and wait for the right time. I have countless projects in hand, and I begin new projects every day. When I have a new idea, I don't let it slip away. I hold on to it and work on it, for months, or years – sometimes a decade. The creative process is also a process of patience.
Among my titanium sculptures, there will be a piece titled Lotus Children. It is a two-metre tall lotus flower. Across the gallery where it will be placed, there will be another titanium sculpture in similar scale, a peony titled Rise of Heart. The two flowers are like sisters, but with very different characters. Lotus Children is about being calm and pure, and Rise of Heart is passionate and spontaneous. Titanium is a difficult metal to work with, but it brings about so many possibilities.
SC: What attracts you to working with porcelain? And could you give us some insight into your innovative technique to fortify the material?
WC: My history with porcelain is very long. It goes back to when I was five years old. To leave out the details, I broke a porcelain spoon at the dining table and got punished for it. I only thought to myself – if only the spoon didn't break. Fast-forward to seven years ago, I had already spent decades of my life observing and admiring porcelain and its history. After titanium, I set out to create a new type of porcelain. To achieve the results I desired, I spent a great deal of time studying, researching and experimenting. I needed to discover the right techniques, and the right materials – ingredients, tools and kilns.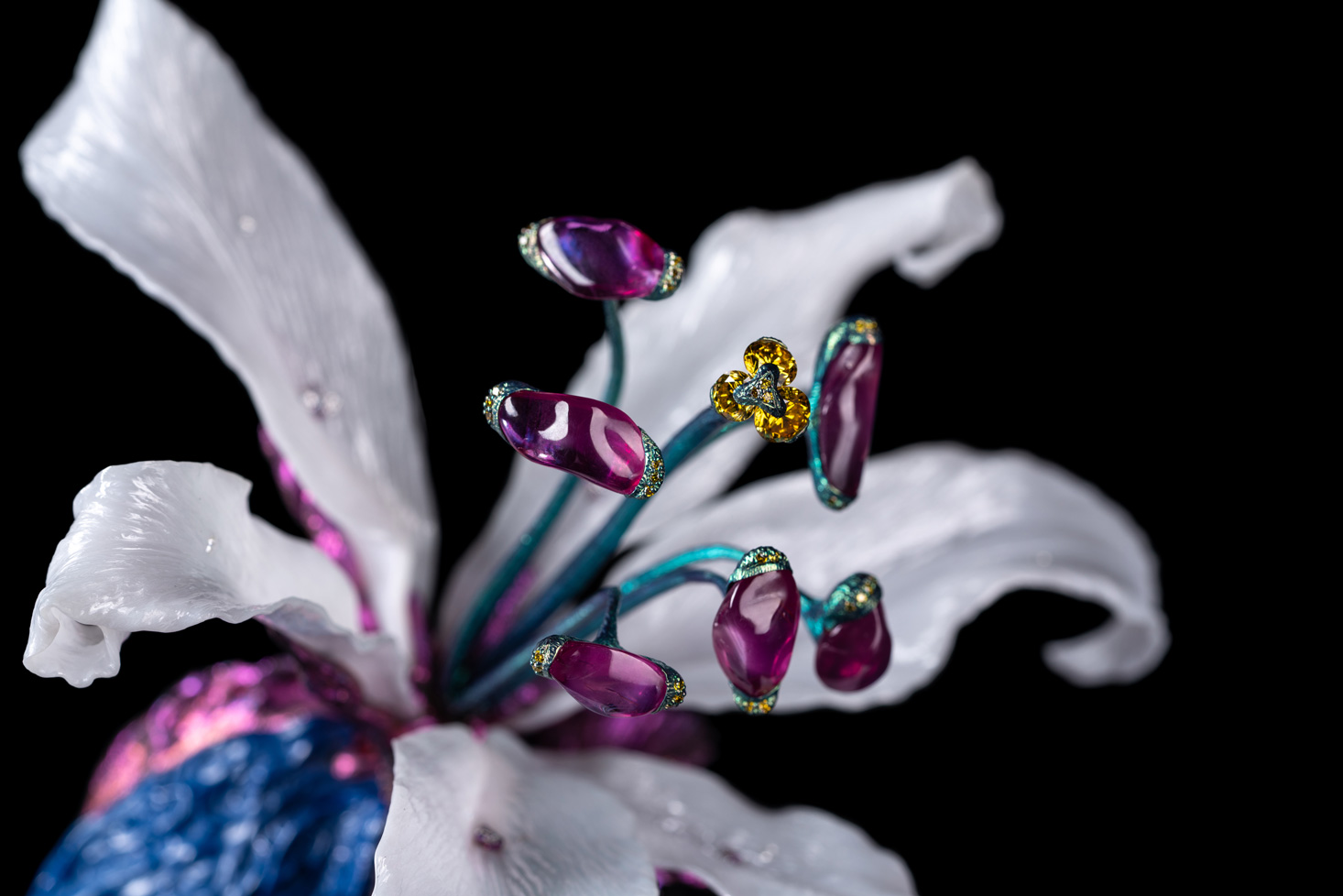 Generally, porcelain is fired to a maximum temperature of 1400°C; my porcelain is fired to temperatures between 1550°C and 1650°C. The material's endurance for higher temperatures, and its ability to remain stable and consistent throughout, ultimately allowed for a stronger, harder and more lustrous porcelain. I travelled to several countries in search of manufacturers who could build kilns to my very specific requirements. I eventually found two German manufacturers with whom I built my custom kilns.
I approach jewellery creation as an art, but that is not to say maths and science do not play a role. Precise calculations are key to a successful creation process. For example, the kilns have to be a certain size, in order to allow for more stabilised heat and also so I can standardise and regulate the kiln's temperature to my exact specifications for every creation. It is also important that I obtain the absolute finest ingredients. Even an impurity of 0.001% could impact the porcelain's ability to endure the high heat in the kiln, and ultimately affect the strength and quality of the end result.
The Wallace Chan Porcelain would not be able to achieve high complexity and new aesthetics in jewellery creation without carving. Each piece is repeatedly carved and fired before it becomes the ideal structure for a creation. In a way, it is my way to redeem my childhood. Today, I have created a porcelain spoon that is five times harder than steel. Even if I drop it, it will not break.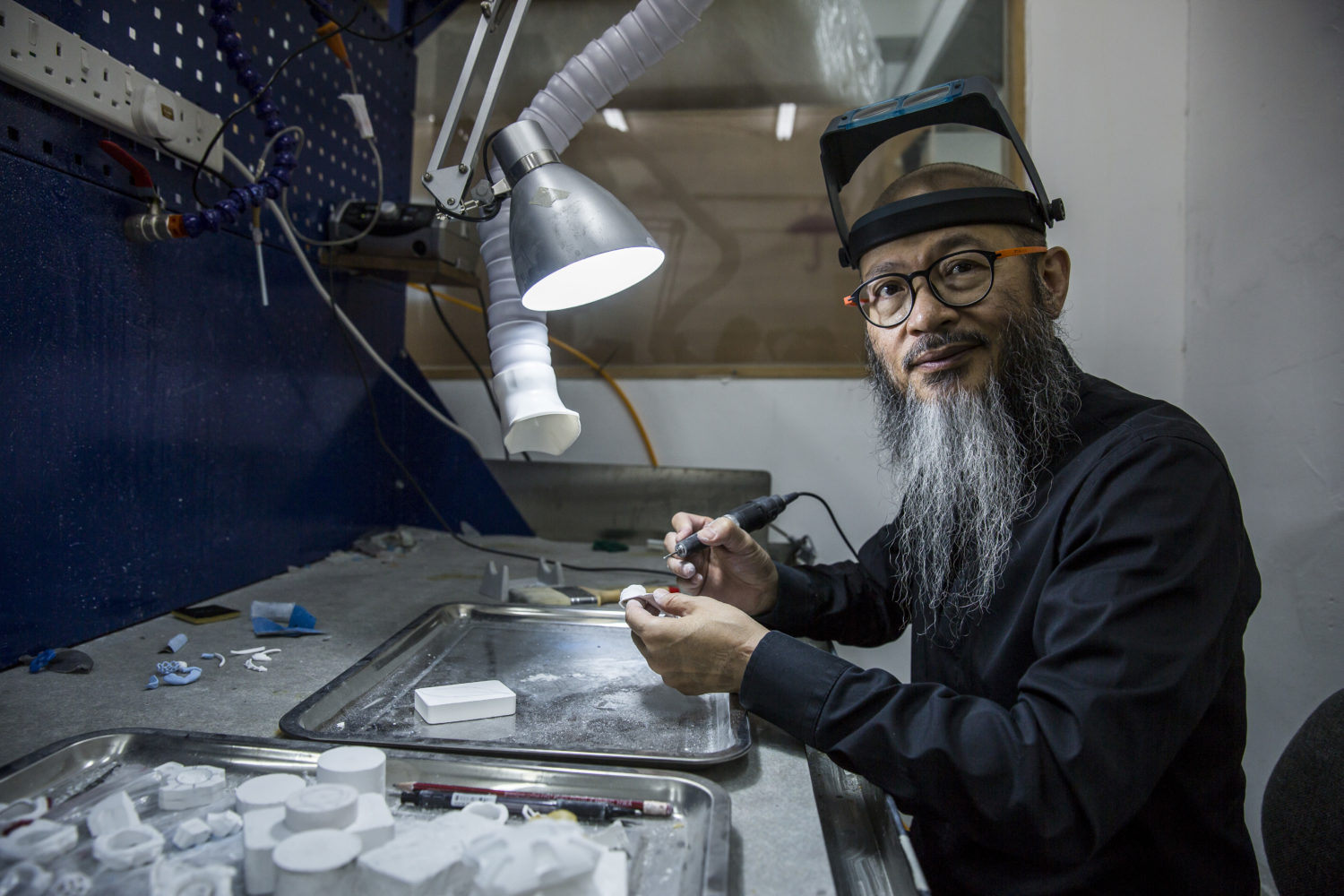 SC: When did you start working with titanium?
WC: It was in the year 2000. One day, I read about a pacemaker in a newspaper. It was created with titanium – a metal that is hard, light, strong, biofriendly and colourful. A space-age metal, titanium embodies and reflects the spirit of our times. It is a symbol of technology. I decided that it can be the bones that support the flesh and blood of my jewellery.
Titanium is not easy to tame though. It is a very stubborn metal. When you bend it, it bounces back. When you heat it up to its melting point, 1668 °C, it stands square until you give it the slightest push, then it falls apart and turns into powder. As the melting point of titanium is so high, I needed a material with a melting point high enough to contain it. Porcelain was my solution. I carve on titanium using diamond tools, and get the colours through the combination of electrolyte liquid and voltage. However, it takes years of experience to know the metal's nature and limits, and create gradient in all its colours.
SC: What interests you in exhibiting your sculptural works alongside jewellery?
WC: I want to show how materials can evolve if we continue to explore their potentiality. In 2007, when I first launch my jewellery pieces created with titanium, not everybody was impressed. Today, titanium is a popular material in the jewellery field. But I do not want to just stop there. I feel that there is so much more for it to embody. People know me often as a jewellery creator, but the fact is, I have never stopped carving and sculpting. To me, creating is creating, no matter what I create. But sometimes it also feels like there is a multiverse, where jewellery and sculpture exist in parallel universes. I feel that the two different art forms could spark some interesting conversations in the spaces provided by Asia House.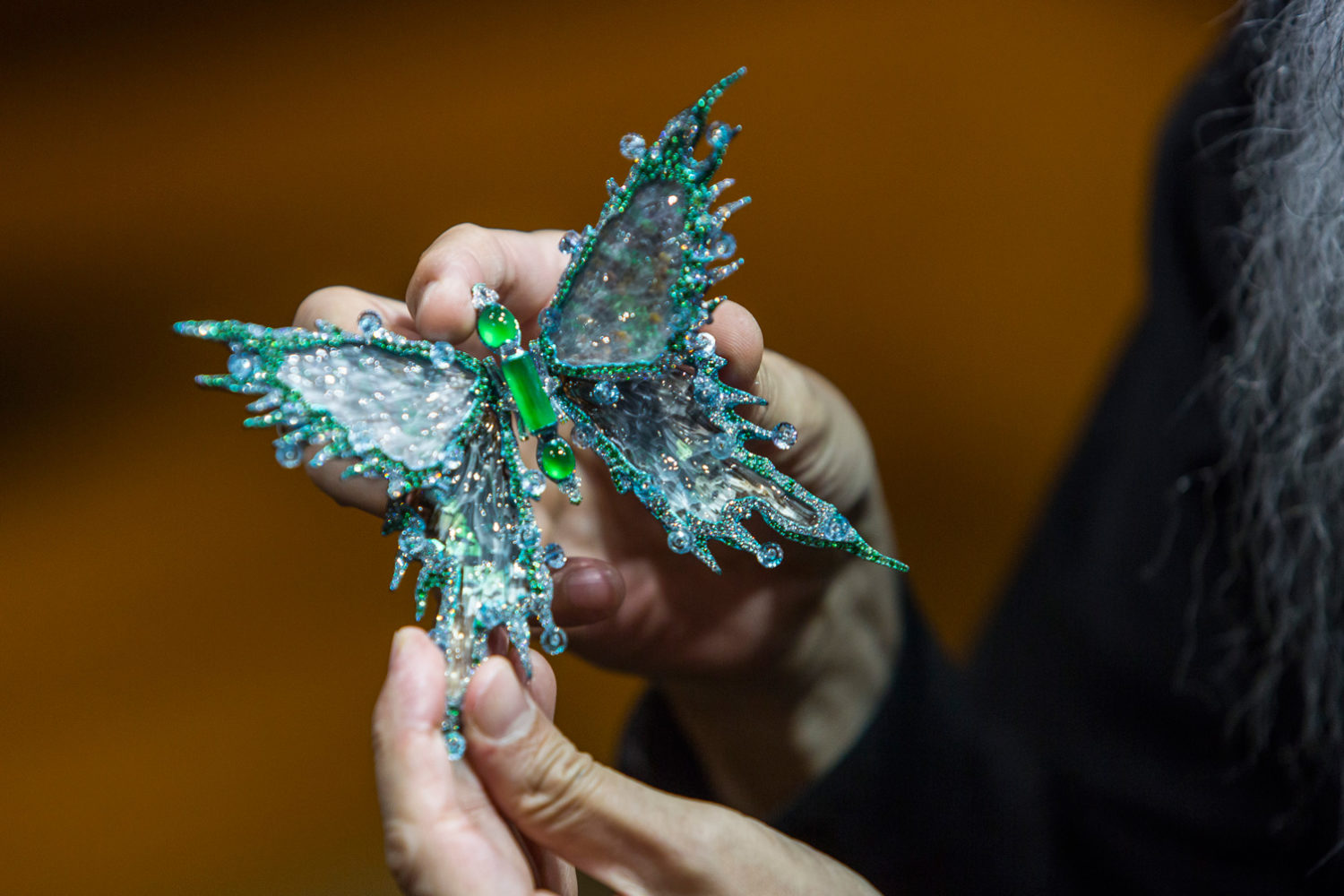 SC: Broadly speaking, how do you consider your practice has evolved over the past four decades?
WC: I force myself to evolve. I am thirsty for knowledge, and for improvement. And I am always curious. I began as a gemstone carver using mainly opaque stones and carving traditional Chinese motifs in the 1970s. In the 1980s, I began working with transparent stones like crystal, and was exposed to Western carving and mythologies. In 1987, I invented The Wallace Cut. In the 1990s, I worked mainly on Buddhist carvings and sculptures, and created The Great Stupa for Fo Guang Shan, Taiwan. After that, I became a monk for six months. Returning to the earthly life, I found myself without any resources. At that time, I began creating sculptures using affordable materials such as concrete, copper and stainless steel. I began creating jewellery in the 2000s. All these years, the materials I use changed; the subject matters, techniques and stories also changed, but all these changes only happened for one goal – my goal to create and to never stop creating.
SC: Do you have a favourite restaurant in London?
WC: Last time when I was in London, I dined at The Franklin Restaurant by Alfredo Russo and I enjoyed it very much.
SC: What are you currently reading?
WC: I am a slow reader because I tend to stop and think when I encounter interesting words or sentences, and daydream myself away. Lately, I have been reading the Chinese version of From Dawn to Decadence: 500 Years of Western Cultural Life.



Interview by Keshav Anand | Feature image: Cicada Brooch. Courtesy Wallace Chan.