Ant Farm: The Dissident Architecture Collective That Challenged The Values Of 70s America
A San Francisco-based collective of architects and artists practicing together from 1968 to 1978, Ant Farm's activity was distinctly interdisciplinary, uniting architecture, performance, media, happenings, sculpture, and graphic design. Kidnapping Buckminster Fuller, crashing a Cadillac through a wall of burning television sets and restaging JFK's assassination in Dallas were some of the more provoking actions undertaken during the group's ten-year collaboration.
Founders Chip Lord, Doug Michels and Curtis Schreier shared a utopian agenda and a love for radical architecture. Trained as architects, the group was often joined by other artists and collaborators, including Doug Hall and Hudson Marquez, to carry out projects and stage events. With works that operated on various levels simultaneously – as visual art, social critique, and anthropological experimentation – Ant Farm reflected on the culture of post-World War II America and became forerunning in addressing television's ubiquitous, and problematic, place in daily life.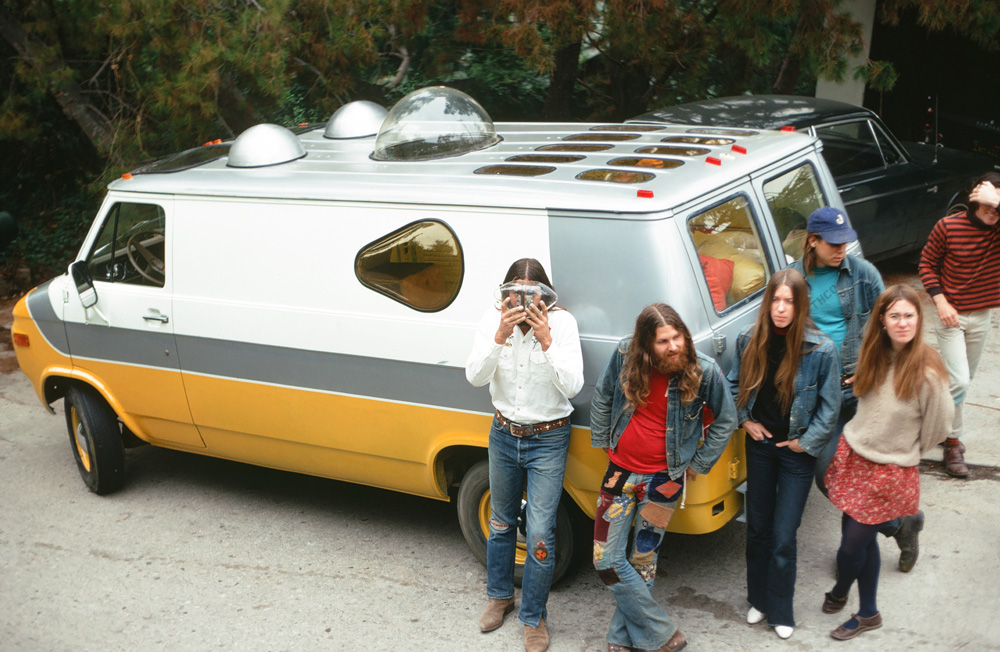 A year after the group was founded, the Sony Portapak, a battery-powered, self-contained videotape recording system, reached the market, becoming a critical tool for the collective. Recording their travels and experiments, they embraced the youth counterculture of the time, which spurred their desire to work outside the formal art world. Their significant projects include the air-filled vinyl Inflatables (1969–72), performances such as Citizen's Time Capsule (1975), the Cadillac Ranch (1974) installation in Amarillo, Texas, and videos such as Media Burn (1975).



Their mesmerising early Inflatables started life as experiments with parachutes and became giant inflatable air "environments," in which people could relax inside or play on top of. Ant Farm set-up their nomadic architecture in a variety of diverse places such as deserts, parking lots, concerts, and college campuses. In the communal culture of music festivals, venues would become temporary cities, and the collective's inflatables invited people to imagine new architectural possibilities.
In 1975, Ant Farm organised Media Burn, in which two "artist dummies" dressed as astronauts "drove" a customised 1959 Cadillac renamed the Phantom Dream Car at full speed into a wall of flaming television sets. Using the car as a cultural icon, Ant Farm addressed the pervasive presence of television in everyday life, affronting the same media they had invited to cover the event. The video is styled after news coverage of a space launch, including melodramatic pre-stunt interviews with the members of the group and an inspirational speech by a John F. Kennedy impersonator.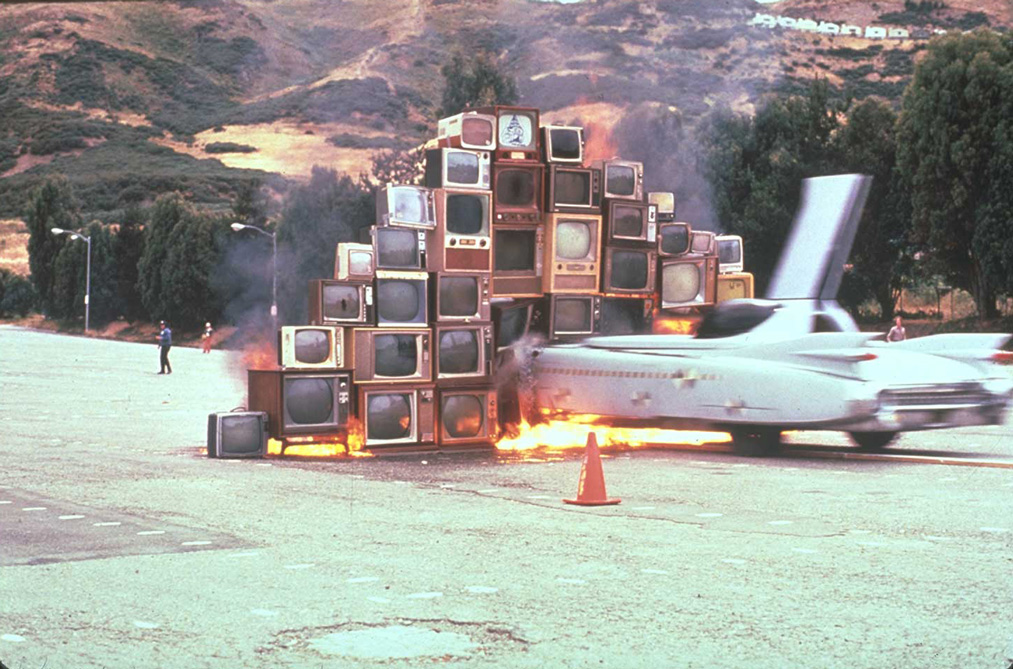 Three years after this seminal work, in 1978, a catastrophic fire started in Ant Farm's studio, and sadly much of their documentation was destroyed. This, along with the departure of the hippie era, heralded the end of Ant Farm. Fortuitously, not all of their material was scorched, and several of their images have now been digitalised at the Berkeley Art Museum. Reflecting on the audacious political critique and sharp comedy of Ant Farm, a renewed knowledge of their practice in our own uneasy and politically polarised era seems fitting.



Feature image: 50 x 50' Pillow, 1970. Temporary installation at Saline Valley, California, 1970. Photography by Curtis Schreier. University of California, Berkeley Art Museum and Pacific Film Archive.