British Indian Poet Nisha Ramayya Investigates Love, Divinity & Diaspora In Her Debut
Hailing from Glasgow, London-based poet and academic Nisha Ramayya's diverse pamphlets include Notes on Sanskrit, Correspondences, and In Me the Juncture, as well as Threads, co-authored with Sandeep Parmar and Bhanu Kapil. This autumn, the poet published States of the Body Produced by Love, her first full-length book. Love is a many-headed snake in Ramayya's debut poetry collection, twisting its way through devotion, sacrifice, and bliss.



Seeking a way home, Ramayya discovers that homecoming, the impossible return, is a process of make-believe and magical thinking across Britain, India, and the infinite expanse. Ramayya's visionary poetry traces an opalescent, treacherous world by way of heritage, ritual, and myth. Thousand-petalled lotuses bloom inside skulls, goddesses with dirty feet charm honeybees, strains of jazz standards bleed into anti-national anthems. Meditating on diasporic identity and relationships, her writing roams the Indo-European language family, finds consolation in genealogies of decolonial and anti-racist resistance, and roots itself in the movements between ancient Sanskrit texts and contemporary feminist prose poems.
In Ramayya's hands, the body assumes many forms as love produces many states: attraction and repulsion, excitement and exhaustion, selfishness and the dissolution of self. Desire, eroticism, and care contain the possibilities of shame, fury, and destruction. Moving towards and away from love, being translated and transformed by love, suffering under love and refusing its power, the poems in this book never leave love's hold.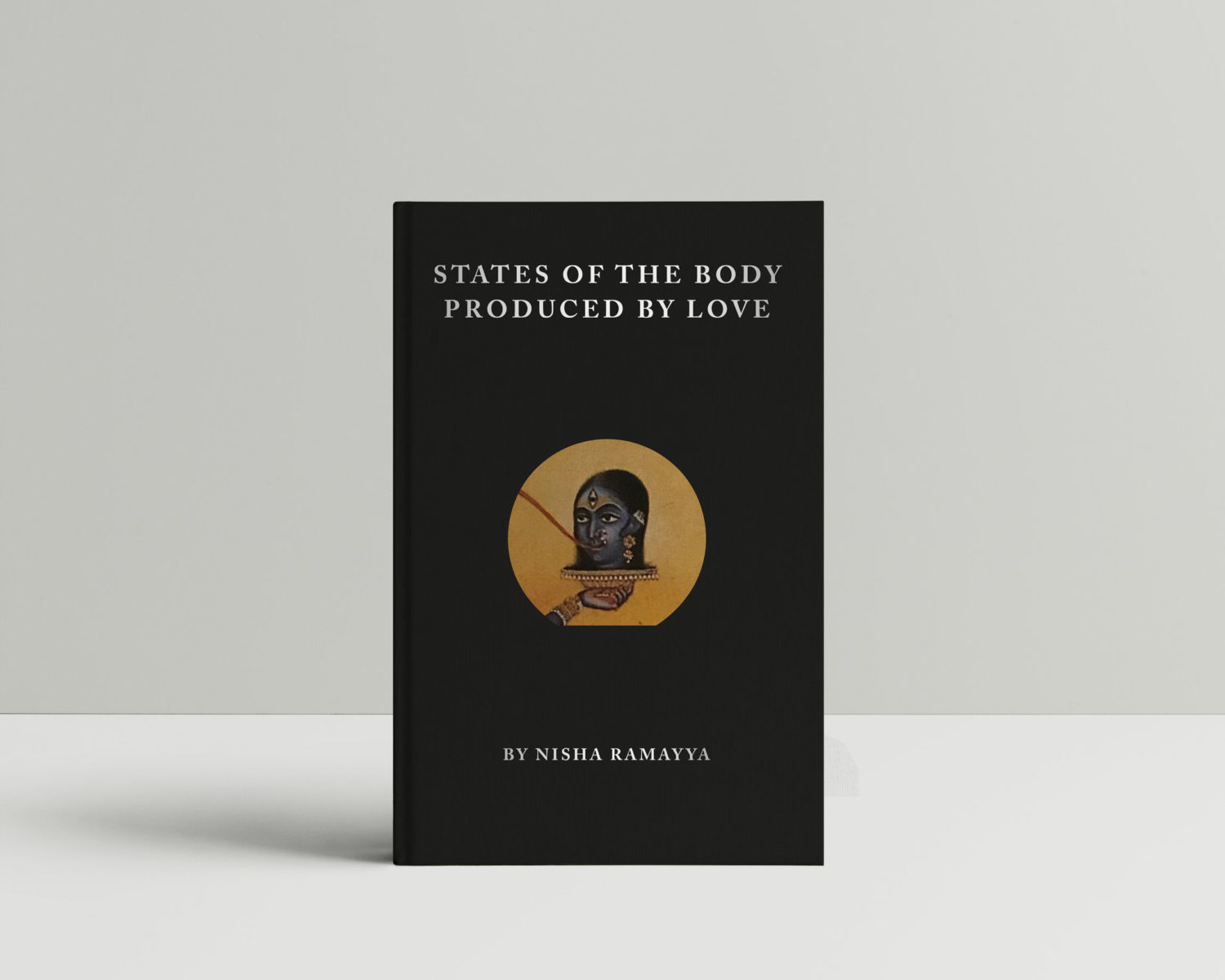 On Friday, 25 October 2019, at London's ICA, poets CAConrad and Ramayya explore the themes of mysticism and ritual in their work through readings followed by a conversation with publisher and curator Sarah Shin. The discussion will consider: what is the relationship between love, divinity and abjection? How, through decolonial and feminist lenses, can we bring the infinite expanse into contact with present crises so that the mythic reckons with material conditions of oppression? And, what strategies for survival and transformation can collective and personal ritual practice offer this moment of ecological emergency, violent borders and increasing intolerance? Book tickets here.   



States of the Body Produced by Love at ICA, London | 25 Oct 2019