Frances Waite On Re-Appropriating Voyeurism Through Drawing & Her New Show At Cob Gallery
Running until 16 May 2020 and curated by Cassie Beadle, London's Cob Gallery presents its debut online exhibition Escape Fantasy, a selection of original works on paper by Frances Waite. Best known for her subversive approach to photorealistic graphite drawing, Waite's practice explores the conflicts that arise at uncomfortable intersections between truth and fantasy. Waite's unnervingly "near-truth" alternate realities are, more often than not, designed to be published to her online audience, and questions our ideas of authenticity and verisimilitude, unpacking the vulnerabilities which underpin how we interact and identify with one another virtually.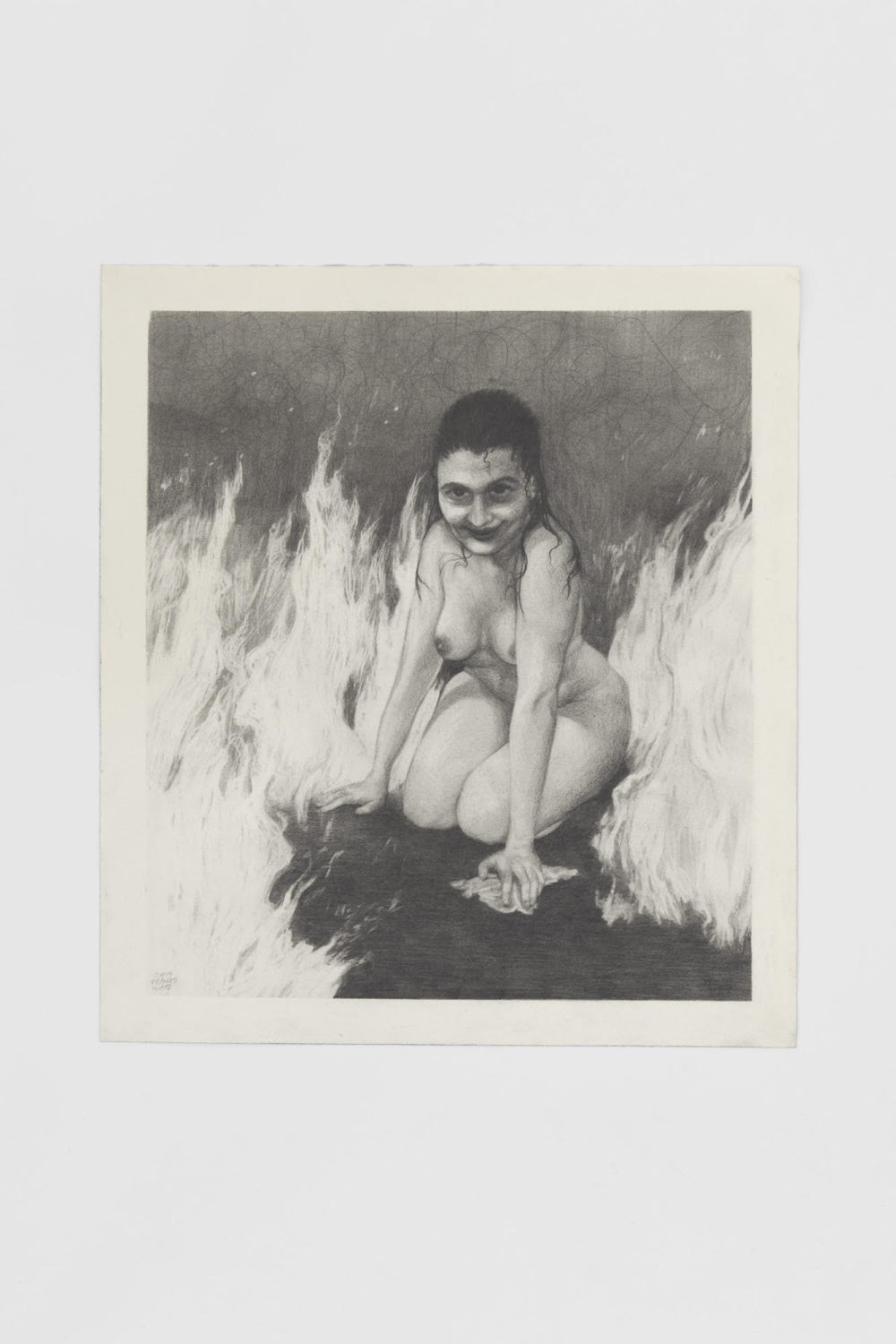 To learn more about Waite's practice, the new exhibition, and how the present pandemic is affecting the way she is working, Something Curated spoke with the artist. Offering insight into the works included in the new show, Waite tells SC: "All of the drawings in Escape Fantasy were created over the last year. To give a little bit of a backstory as to the conception of the work, in early 2019 I had been living in Los Angeles, California for about a year and a half. Until the move, I had lived in New York state my entire life. Moving to California was a shock to the system in a lot of ways but most significant and overwhelming for me was my sudden proximity to the intense ever present threat of natural disaster. Thinking about wild fires, drought and earthquakes became a big part of my daily life. I mourned my past life of relative environmental safety in New York and became totally consumed with dread and fear about all of the things that could, and likely would, go wrong while I was in Los Angeles."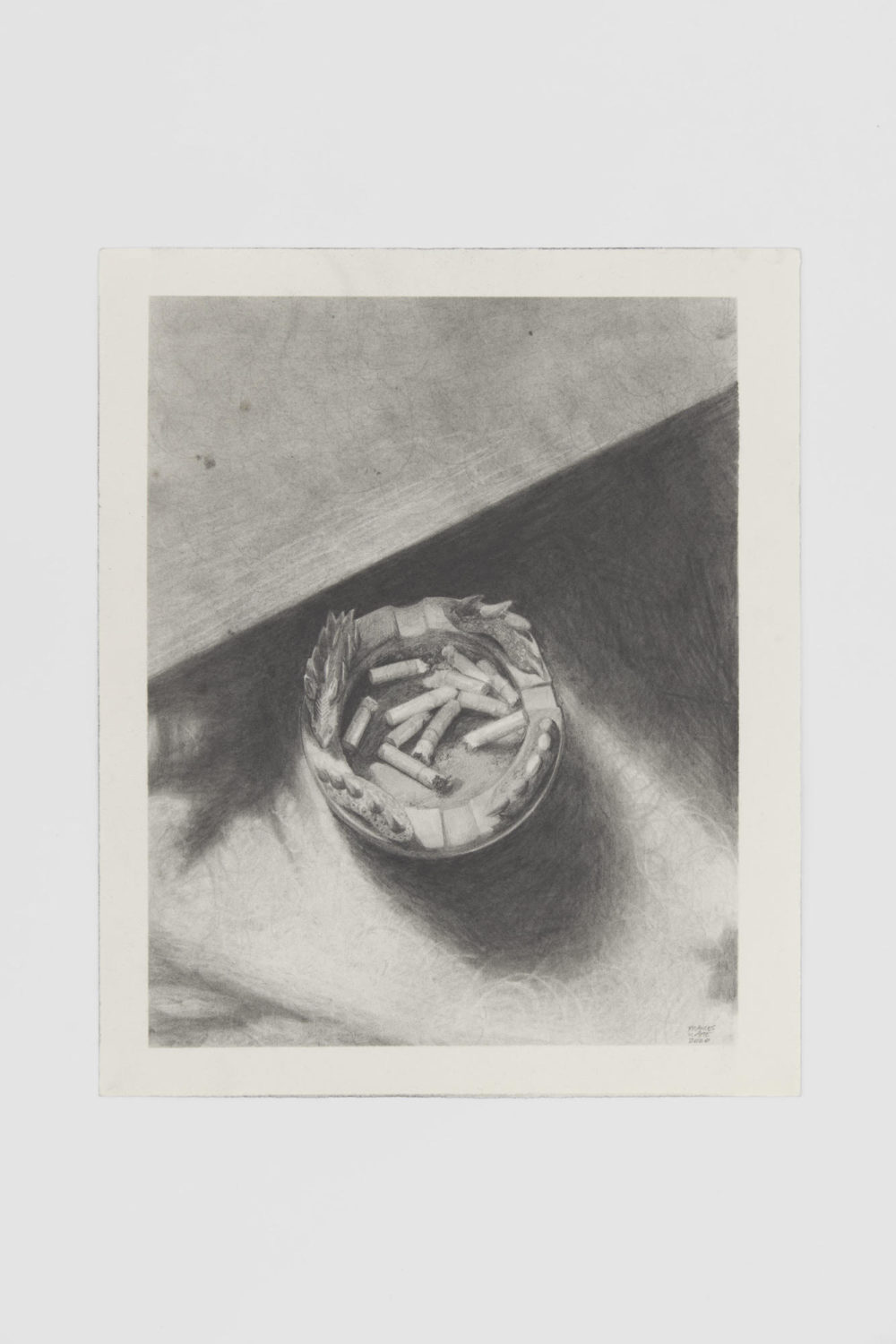 "Shortly after I had moved to LA I got a part time job teaching oil painting at a small community art centre in Santa Monica. I lived on the east side of LA so it was a long hot drive, often in gruelling traffic – a very authentically Californian experience. When the fire season starts and there are fires surrounding Los Angeles, some days the air in the city is thick with smoke. It's smelly and so dry and everything becomes a different colour. I remember constantly wondering, if the earthquake happens right now, while I'm at work, how will I get back home? I won't be able to drive. The earthquake will start hundreds of small fires throughout the city. I'm not wearing the right shoes to walk 13 miles. And on and on and on. I'm an intense worrier to begin with so if you can imagine, I was completely consumed with this horror fantasy," Waite continues.
"In the midst of my mental chaos, bits and pieces of my worries started to make their way inside the studio, as they always do. At this point in time I was nearing the end of a series of oil paintings on paper, landscape/cityscape paintings of highways and cars, that specific garbage you see on the side of the road when in a traffic standstill. I was spending so much time sitting in the car that I thought, at least I can use this time for something. I made a few drawings of fires that I could see in the outskirts of LA. One in the hills of Griffith Park, one viewable from the highway on the way home from visiting the World Pinball Expo, a palm tree across the street from my house. Then Notre Dame in Paris caught on fire, and I drew that."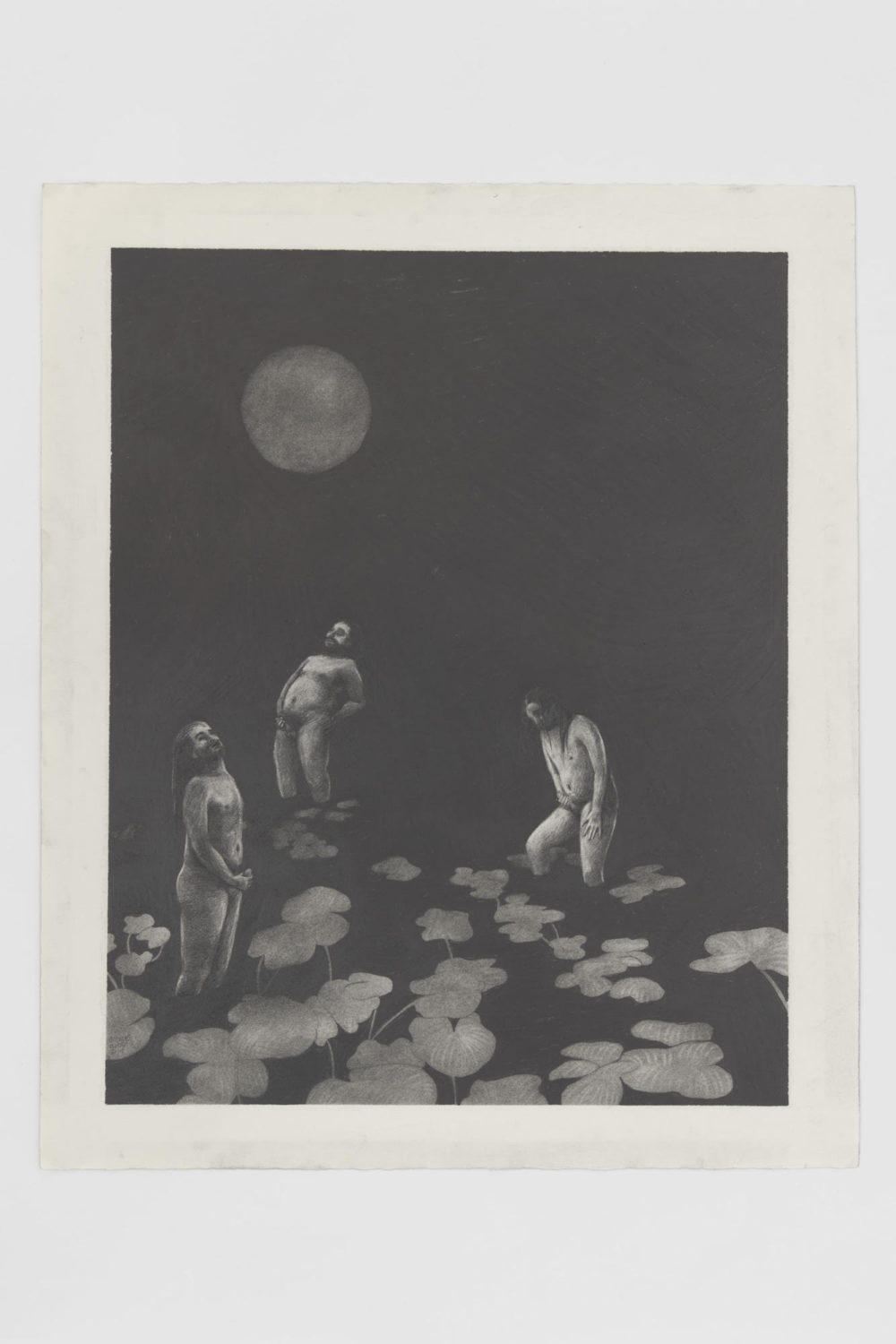 Expanding further, the artist goes on: "In observing my "real world", everything I could see was terrifying. I felt like the epicentre of a marathon of fears. And when I would read about the state of our world as a whole, it seemed like it could only ever get worse. I noticed that when people (myself included) try to articulate this crippling future-terror, they often came forward with sarcastic absolutes: "It's the end of the world." And what I found perhaps the most terrifying, is that it really wasn't the end of the world. If only things got sort of bad and then game over. Instead we have generations upon generations to come that will have to contend with this burning, scary planet. We will have to live with the history we've created, that we knew about it and didn't do enough. That money today was more important than the future. That as things get worse, some people will have it easy and some people won't have a chance.
And so, in an attempt to graduate from my fear and turn it into some kind of action, I made drawings. But really, I wanted to create worlds where the future had options other than endless Boschian fire torture. Where there is no oil and no movie theatre but there are still rites of passage. Still first kisses, still realising "I'm gay", still going swimming and thinking "this is amazing". And ultimately, beyond the silliness, there is still serious drama happening. I am so curious what power looks like when there is no big white house and no big white man with special powers. What does co-dependency look like when the house is on fire? What does love look like? Or companionship? I created these characters and these worlds just to imagine any future other than "the end". And in doing this, these inhabitants of these spaces I've drawn are us."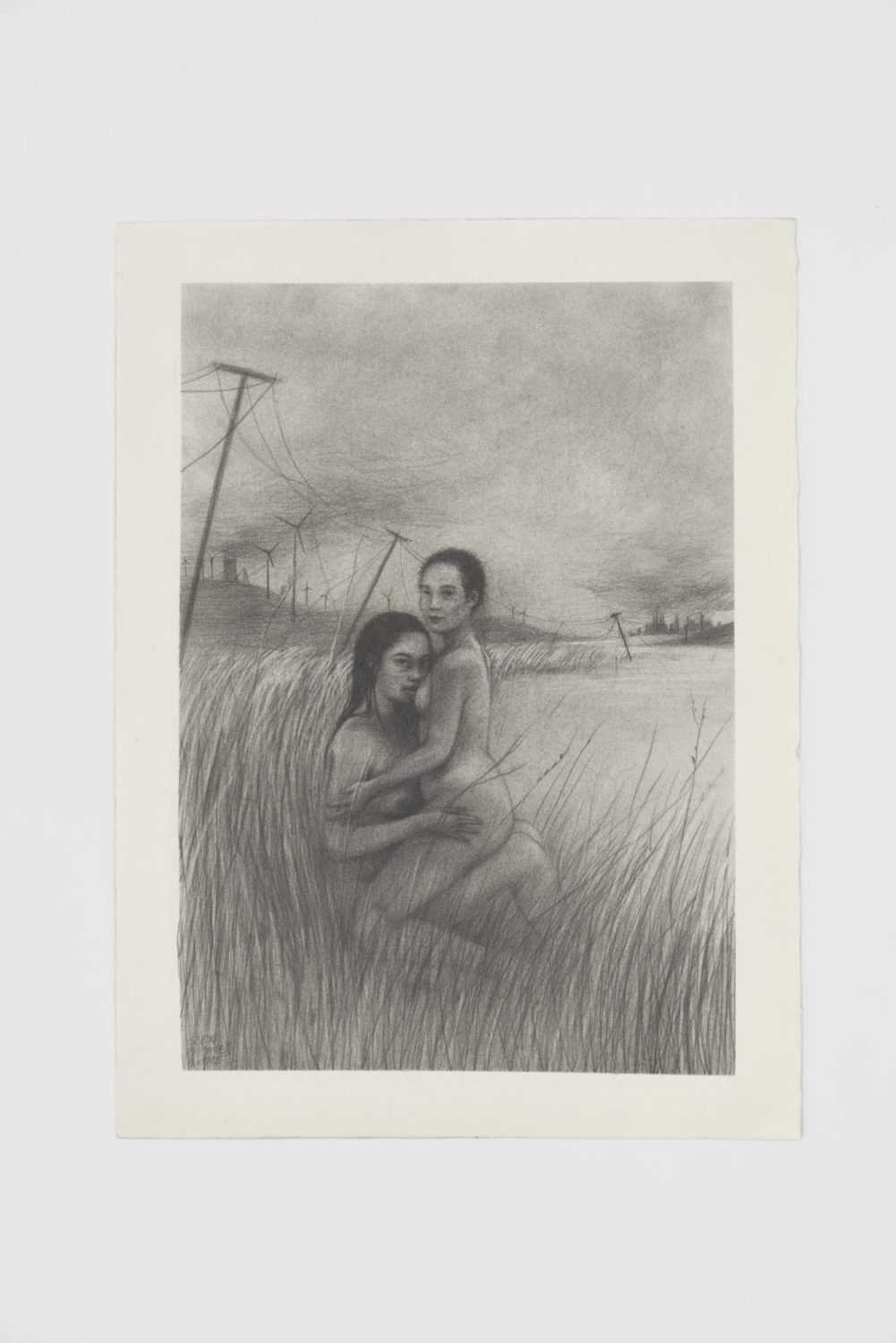 Discussing her drawings' re-appropriation, and subsequent weaponisation, of voyeurism, Waite explains, "For me, an important part of building space for this future was to look at this world as we look at our own world. In this way, women especially cast a knowing gaze into the "camera" that is the drawing. The framing and posing of the figures can come from nothing else but my personal and not unique experience of growing up on the internet. Sometimes to describe this I'll point out that I have a few close friends, when I think of them I see a picture they took of themselves. From Instagram or Facebook or whatever. It's like I've stolen their memory and made it mine. You can add looking at oneself and the age of self photography to my list of inescapable terrors. For me, drawing these subjects as they would photograph themselves for Instagram is like punching my fist straight into the void. It as once deeply comforting that no matter the circumstances, we all seem to just like broadcasting ourselves, and deeply troubling that we may never be free of these same self obsessive tendencies. In this way, I suppose my voyeurism is weaposnised in that "it looks like fun, but it's actually horrible". No matter how pretty I imagine the future, it's still one that is suffering, and it can only be our fault."
And in light of the present health crisis, Waite notes, "In regards to how the pandemic is affecting my working – there is uncertainty and pressure within daily life that is difficult and I want it to be over. It's interesting for me, I've been thinking so much about these end times for a year, and now to be thrown into an entirely different world with this pandemic … I can't say that I feel anything other than deep confusion and I guess a little bit of amusement at my own individual mental circumstance. I'm drawing the most boring things in the world. Trying to squeeze water from a stone. And I started smoking again, because you know, end of the world."



Discover Frances Waite: Escape Fantasy at Cob Gallery's online viewing room until 16 May 2020.



Feature image: Frances Waite, SQUISH, 2019 / All images courtesy Artist & Cob Gallery, London