An architectural collective formed in the 1960s, Archigram's remit was unrelentingly experimental, neo-futuristic and flamboyantly pro-consumerist, drawing inspiration from technological advances to conceive new and speculative worlds which existed only as theoretical projects. Born within the Architectural Association in London, the core members of the group were Peter Cook, Warren Chalk, Ron Herron, Dennis Crompton, Michael Webb and David Greene. Their pamphlet Archigram I was published in 1961, outlining the group's concerns, which focused on a high-tech, lightweight, infrastructural approach to living, centred on technology. Proposing a glamorous imagining of a futuristic machine age, the group experimented with modular machinery, mobility through the environment, space capsules and seductive consumerist imagery.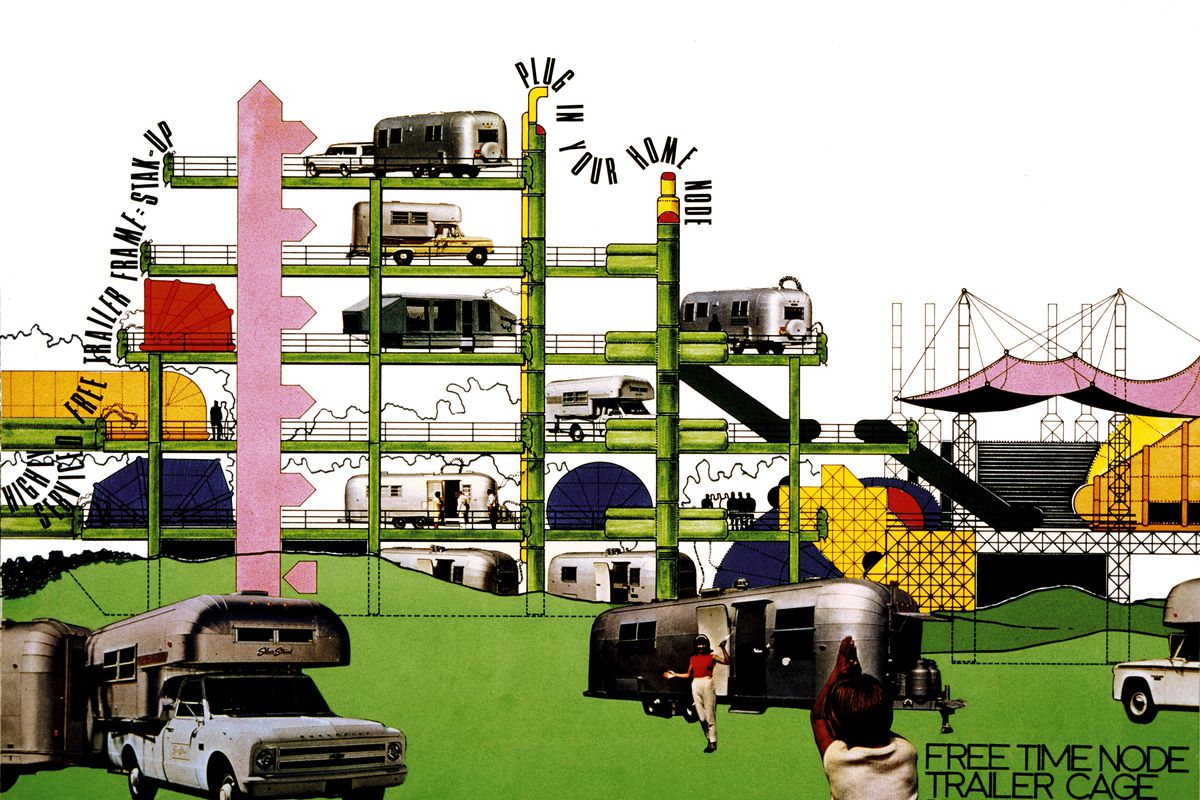 Seminal projects included Plug-in-City, a mega-structure with no buildings but instead an enormous framework into which dwellings in the form of cells or standardised components could be fitted. Later came Ron Herron's 1964 The Walking City, comprising intelligent buildings or robots in the forms of giant, self-contained living pods that could roam freely. Appearing like something straight out of a Studio Ghibli film, the form derived from a combination of insect and machine and was a literal interpretation of Corbusier's aphorism, "A house as a machine for living in." The pods were independent, yet parasitic as they could plug into stations to exchange occupants or replenish resources, not totally unlike today's urban car sharing services.



Another standout concept is Instant City, a mobile technological event that drifts into dreary towns via air balloons housing provisional performance spaces. The whole endeavour is intended to eventually move on, leaving behind advanced technology and new ideas in its wake. Collage had rarely been used as a device in architectural design until Archigram made it a characteristic part of its work. The collective actively disturbed the status quo with the aim of preventing modernism from becoming a sterile and safe orthodoxy. Unlike ephemeralisation from Buckminster Fuller, which assumes more must be done with less material because material is finite, Archigram controversially relies on a future of endless resources, which led to much of their criticism.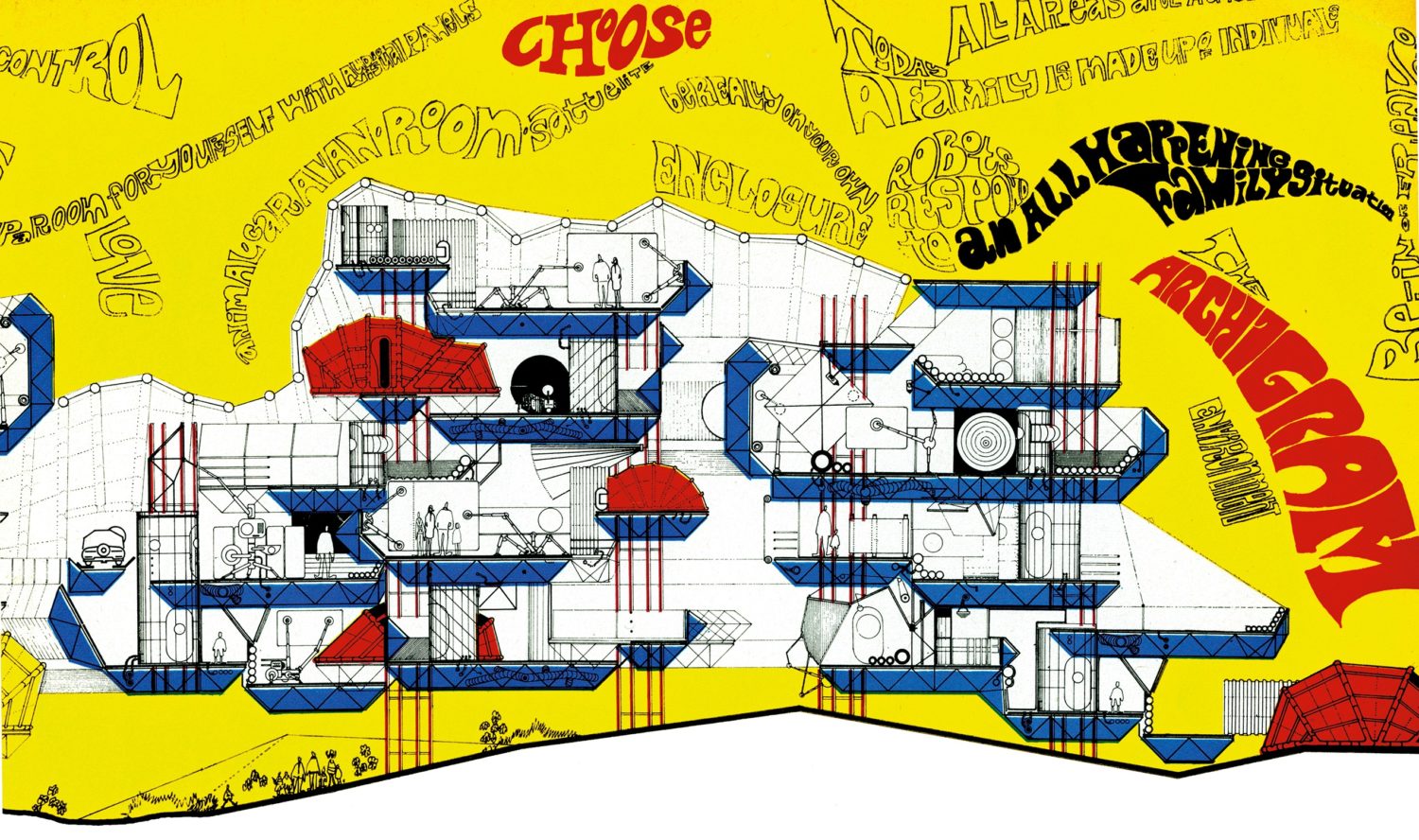 Designer and magazine editor Theo Crosby is often talked of as the "hidden hand" behind the group, affording them crucial coverage in the publication Architectural Design. This exposure brought them to the attention of the Institute of Contemporary Arts in London, where, in 1963, they presented an exhibition called Living City. Archigram has served as a source of inspiration for numerous celebrated works, such as the Centre Pompidou by Richard Rogers and Renzo Piano, and early Norman Foster projects, among others. By the early 1970s, the group's approach had changed. In 1973, Crosby wrote that its members had "found their original impulses towards megastructures blunted by the changing intellectual climate in England … They are now more concerned with the infiltration of technology into the environment at a much less obvious level."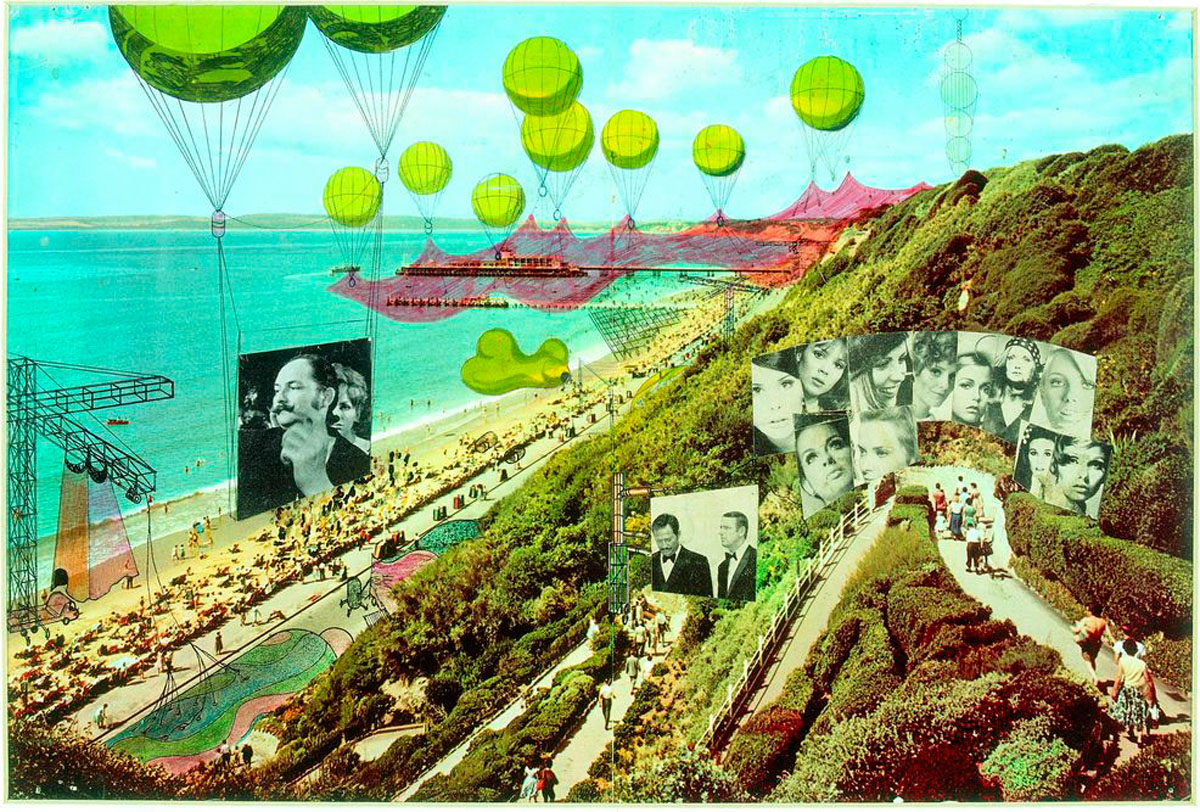 Over the years, the group's work was monetarily supported by several commercially successful architects, including David Rock of BDP, who nominated Archigram for the RIBA Royal Gold Medal, which they received in 2002. The radical collective's spontaneous and optimistic approach to design and image making, playful use of colour and bold form, brought a joyful aspect to architecture, one that was entirely unafraid of newness. While their practice may arguably be unfounded in a sense of reality, certainly in regards to sustainability, their experimental approach to grappling enormous change is one that remains extraordinarily relevant today. In 2019, the M+ museum in Hong Kong acquired Archigram's entire archive, with plans for an eventual pop-up project in the city to be confirmed.



Bibliography:
Charles Holland, Archigram – the band that still plays on, RIBA Journal, 2019
Dennis Crompton, Concerning Archigram…, Archigram Archives, 1999
Peter Cook, Archigram, Princeton Architectural Press, 1999
Simon Sadler, Archigram: architecture without architecture, MIT Press, 2005
Archigram: The Walking City, Living Pod and the Instant City, V&A Museum, 2008



Feature image: Archigram's unbuilt concept for the foyer of the Batiment Public project in Monte Carlo, 1967 (Photo: Archigram Archives)