5 Times Female Artists Subverted The Dining Table
While representing the domestic has long been a point of fascination for artists throughout history, a marked change in Western attitudes, largely stemming from the 1960s and the beginning of second-wave feminism in the United States, saw a number of women artists explore the concept of the home as a site of destabilisation. Numerous influential female artists have since navigated this territory in their practices. With a particular focus on re-examining rituals of eating, Something Curated takes a closer look at five contemporary female artists who have ingeniously appropriated and subverted the dining table in their work. 



VB52, Castello di Rivoli, Turin, 2003 || Vanessa Beecroft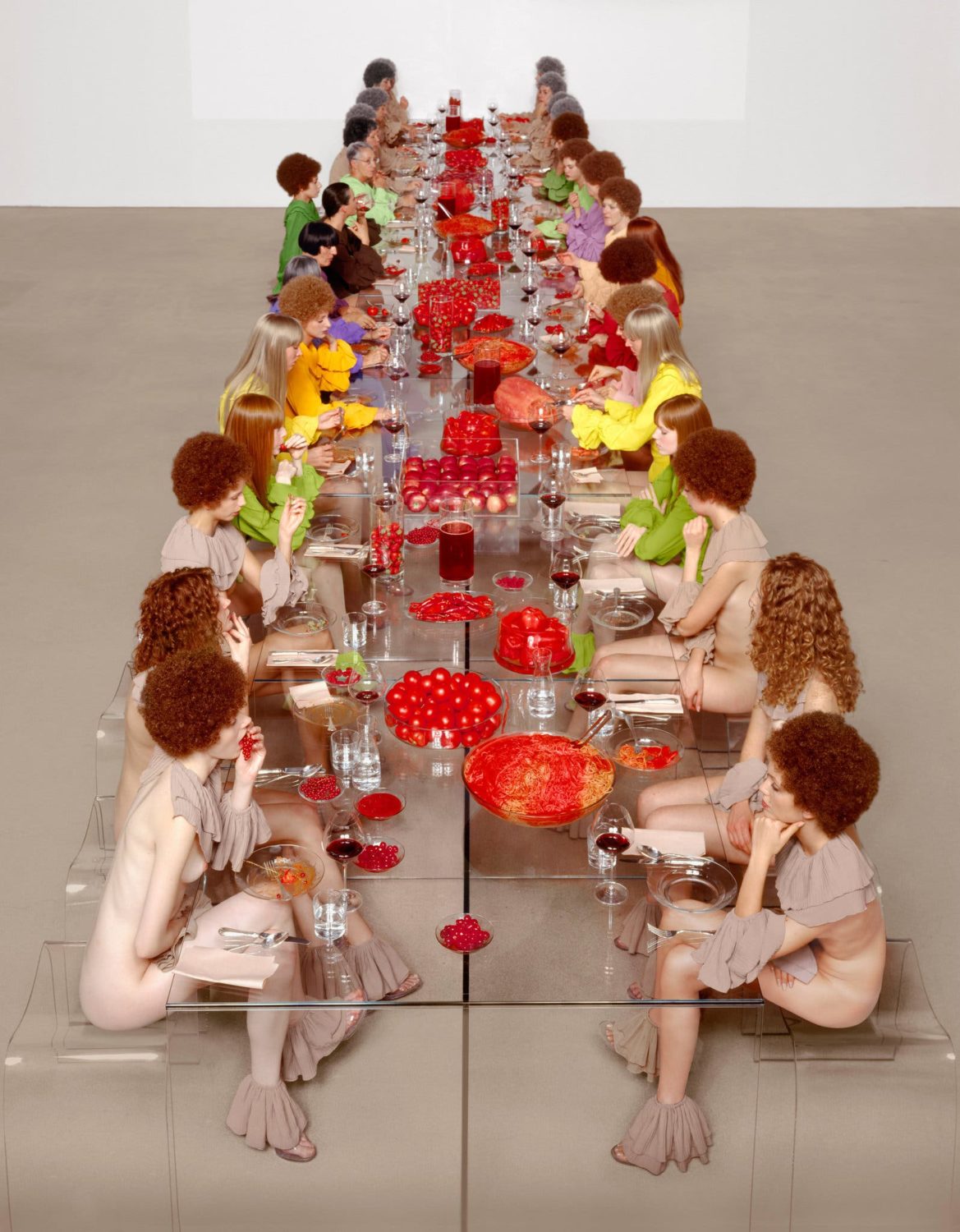 Known for her striking and highly choreographed performances using large groups of plainly dressed or nude women, the Italian-American artist Vanessa Beecroft described the details of her performance work VB52, Castello di Rivoli, Turin, 2003: "At a glass table sat a group of 30 women, nude models, veterans from previous performances, women related to the castle or local aristocrats. The women, following my diet, ate for three consecutive days food served and divided by colors: yellow, orange, red, purple, brown, white, green, brown and multicolored. The audience, which wasn't allowed to eat, watched the group and their interaction with the food." Much of Beecroft's work is informed by her personal struggle with an eating disorder and she consistently explores issues of body image and femininity in contemporary culture.



The Chromatic Diet, 1997 || Sophie Calle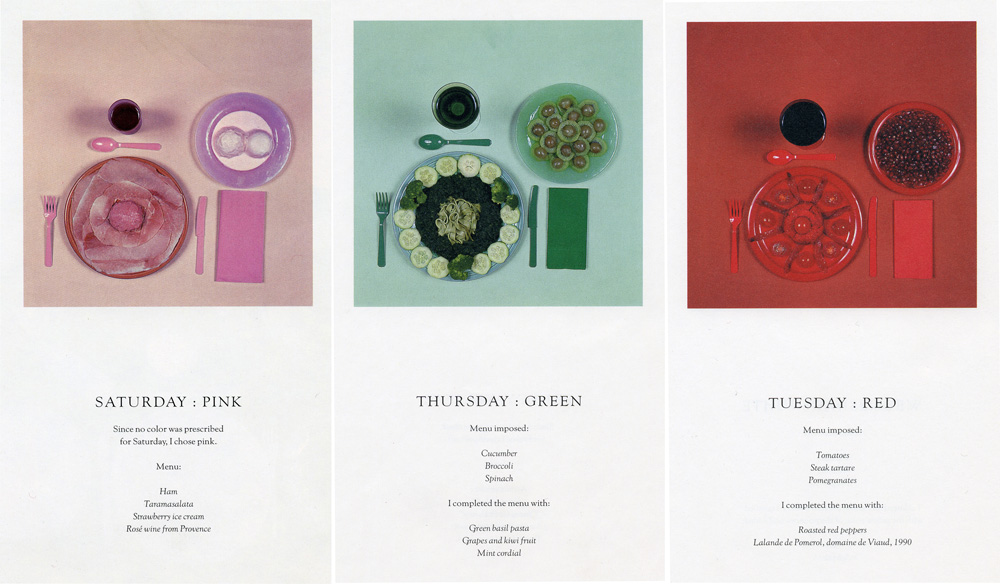 Sophie Calle is a French writer, photographer and conceptual artist. Her work is distinguished by its use of arbitrary sets of constraints, and evokes the French literary movement of the 1960s known as Oulipo. In the early 90s, Calle challenged author Paul Auster to "invent a fictive character" whom she would "attempt to resemble." Maria, a photographer absorbed with the boundary between fact and fiction, was the result. Auster's consequent book, Leviathan, introduced Maria to the world. However, it was Sophie Calle who ultimately brought her to life through a series of exercises, which were recorded and compiled into a publication titled Double Game. One important peculiarity Auster assigned to Maria was her need to restrict her foods to one colour on any given day. In order to connect with the character, Calle recreated The Chromatic Diet in a joining of photography and performance art.



The Dinner Party, 1974–79 || Judy Chicago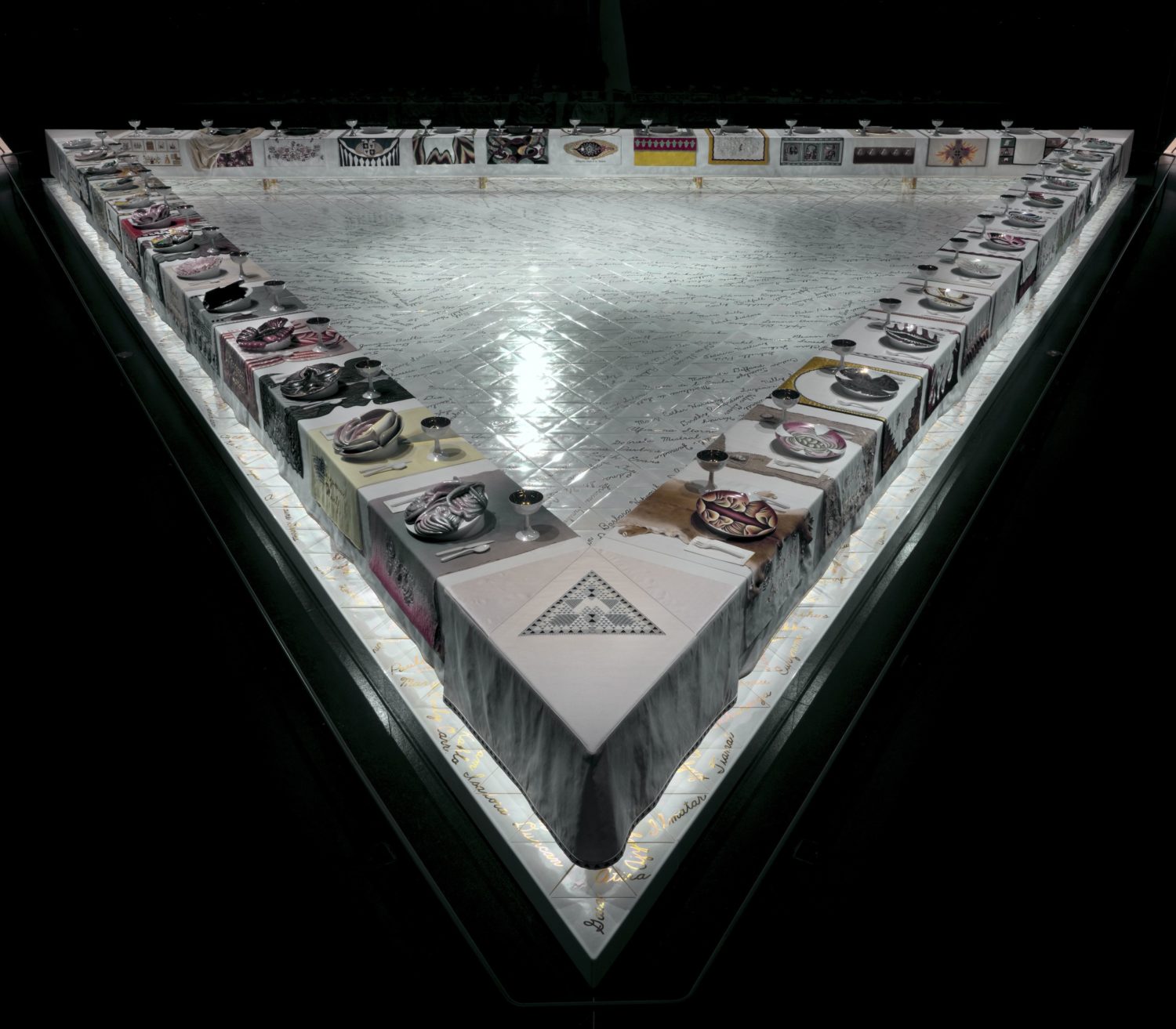 Judy Chicago'sThe Dinner Party, today a part of the Brooklyn Museum's collection, is an important icon of 1970s feminist art and a milestone in twentieth-century art. The work comprises a massive ceremonial banquet, arranged on a triangular table with a total of thirty-nine place settings, each commemorating an important woman from history. The settings consist of embroidered runners, gold chalices and utensils, and china-painted porcelain plates with raised central motifs that are based on vulvar and butterfly forms and rendered in styles appropriate to the individual women being honoured. The names of another 999 women are inscribed in gold on the white tile floor below the triangular table. Over the decades, through an unprecedented worldwide grass-roots movement, The Dinner Party has been exhibited in 16 venues in 6 countries on 3 continents to a viewing audience of over one million people.



Printed Tablecloth, 2019 || Linder Sterling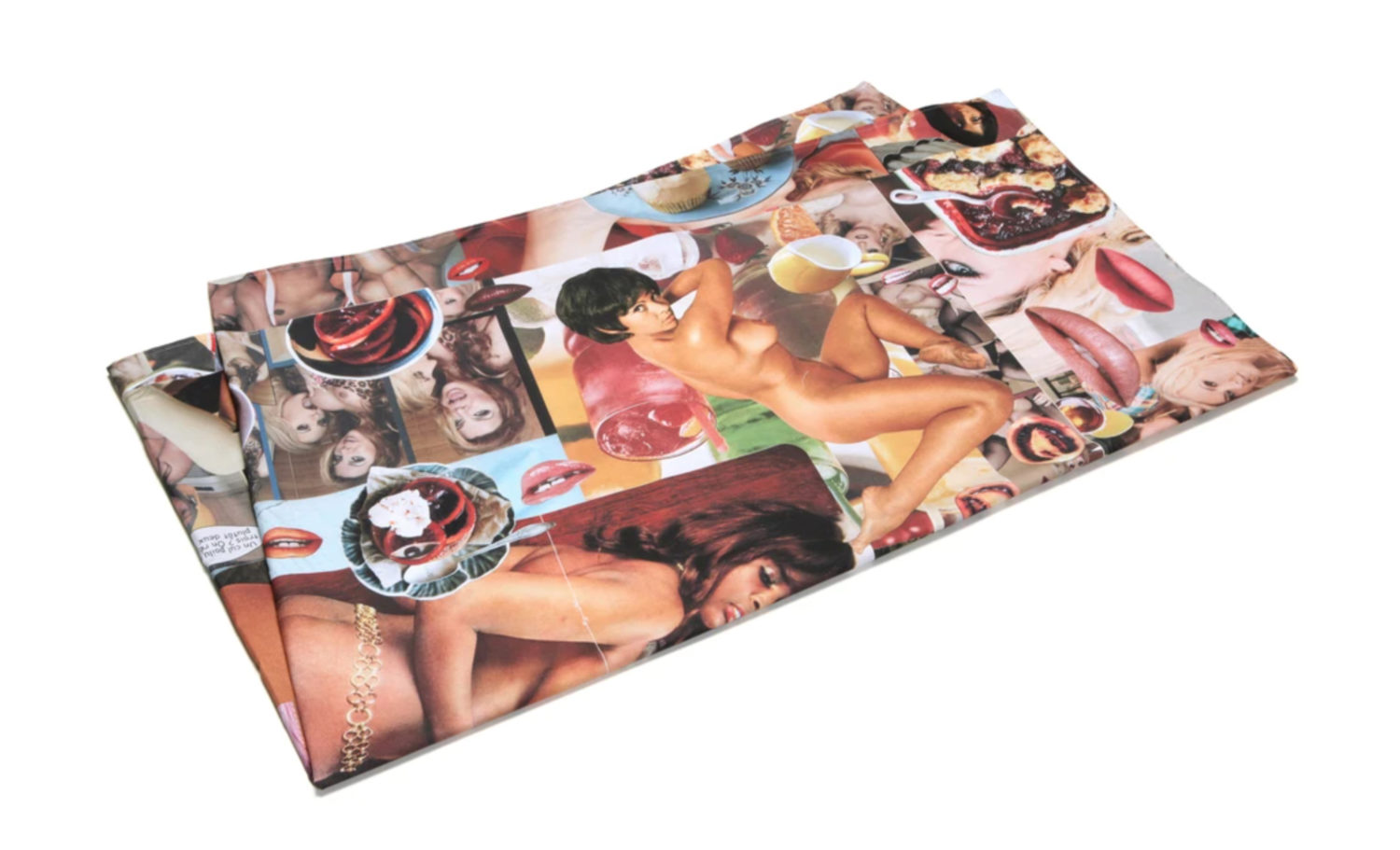 Linder Sterling, born 1954, is a British artist known for her photography, radical feminist photomontage and confrontational performance art. Emerging from the Manchester punk and post-punk scenes in the 1970s, Sterling focuses on questions of gender, commodity and display. Her highly recognisable photomontage practice combines everyday images from domestic or fashion magazines with images from pornography and other archival material. Cut and collaged by hand using a scalpel and glue, the juxtapositions recall a rich art history harking back to Hannah Hoch and the Dadaists. Exploring stereotypes of the domestic contrasted with overtly sexual pornographic material, this tablecloth created by the artist for House of Voltaire epitomises her approach.



Missing Pieces From a Fall of Corners Pretzels, 2019 || Samara Golden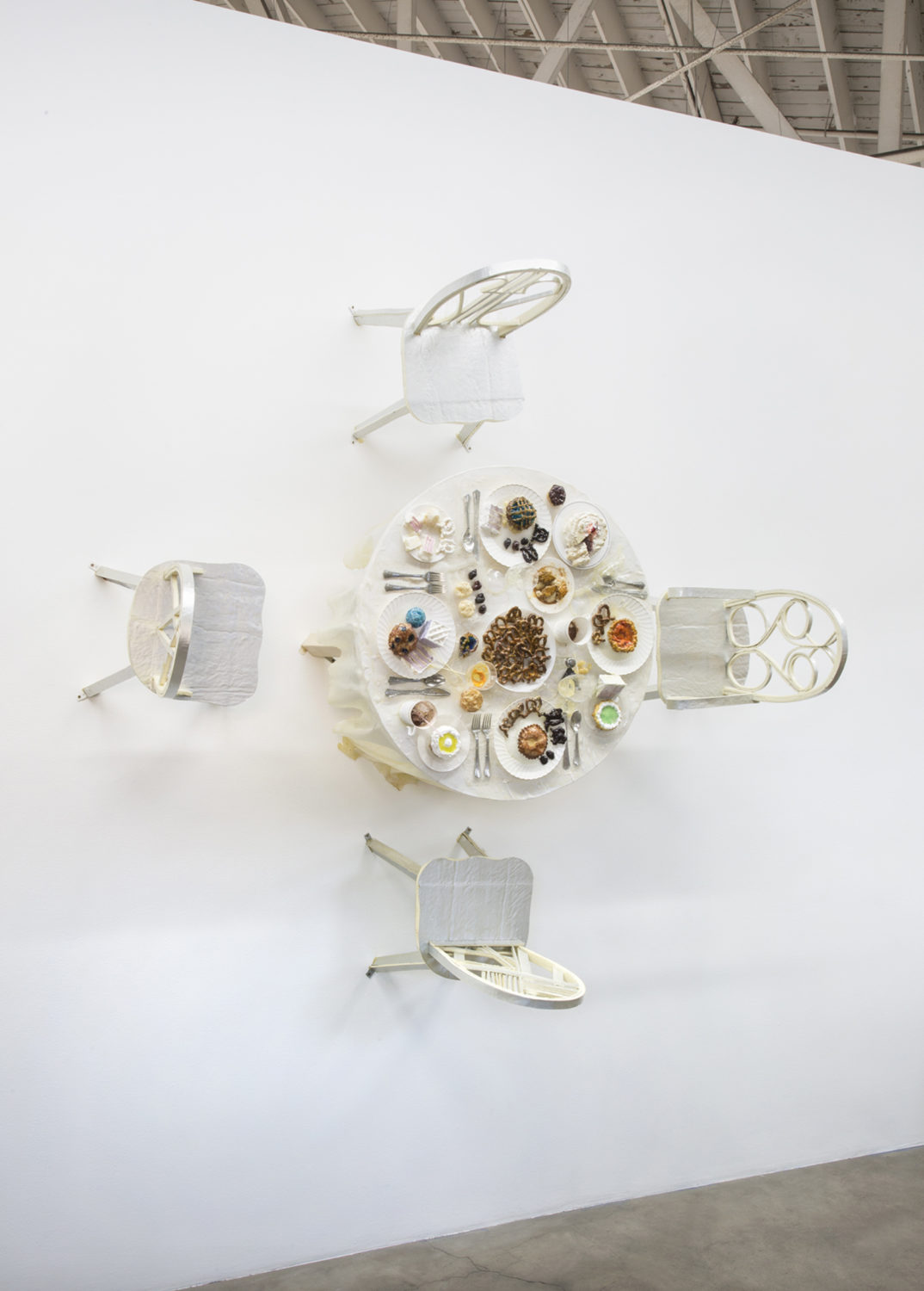 Samara Golden endeavours to channel the overwhelming nature of experience through art she describes as "emotional spaces." These spaces, often sprawling assemblages that take over entire rooms, allude to television or movie sets. Based in Los Angeles, Golden's alluring and puzzling installations draw on the practices of artists like Paul McCarthy and Mike Kelley, and seek to reveal both different states of consciousness and the subtle tensions between varying social groups. In Missing Pieces From a Fall of Corners Pretzels, the floor appears to have tilted 90 degrees, becoming the wall of the gallery. The gravity-defying table is busy with oddly coloured confections, including creamy cakes and pastries decorated with lurid blue and green icing, alongside a centrally positioned plate of pretzels.



Feature image: The Chromatic Diet, 1997 by Sophie Calle (via Pinterest)