6 Contemporary Practitioners Blurring The Boundaries Between Dining & Art
Italian poet, editor, art theorist, and co-founder of the Futurist movement, Filippo Tommaso Marinetti was a forerunner in considering the preparation and consumption of food as art. Conceived by Marinetti and his peers in Milan in 1909, Futurism embraced all aspects of the industrial age, from cars and planes to manufacturing systems and urban planning. They placed cooking and dining, a part of daily life, at the centre of their visionary ideals. Cementing this outlook, in 1932, Marinetti published The Futurist Cookbook, intended as a manifesto for the movement. Expanding on this tradition, modern and contemporary artists, from Dieter Roth and Antoni Miralda to Rirkrit Tiravanija and Vanessa Beecroft, have continued to diversely explore food in their practices. Taking a closer look at a selection of contemporary examples, Something Curated highlights six practitioners working today, blurring the boundaries between art and dining through their output.



Amanny Ahmad
Amanny Ahmad is an artist, chef, writer and food activist based in New York. Born in Utah to Palestinian immigrants, Ahmad spent her early life traveling back-and-forth between the southwest and her family's village in the west bank, where her interest in foraging began, evolving as a way of preserving the culinary traditions of her family. Since then, Ahmad, who is a self-taught chef, has studied culinary traditions and wild food ways in Italy, Mexico, Palestine, and North America, in an effort to record and help preserve indigenous culinary traditions and methods of survival. Ahmad's work earned her a month-long residency at Dimes in NYC during the summer of 2017, where her menus, musical playlists, and installation details reinterpreted Palestinian food and culture.



Spiral Theory Test Kitchen
Helmed by New York-based artists Bobbi Salvör Menuez, Quori Theodor, and Precious Okoyomon, Spiral Theory Test Kitchen (STTK) was born a little over a year ago. The collective has swiftly established a cult following for their opulent and theatrical dinner parties, at which guests are confronted with extraordinary edible innovations spanning Nigerian cassava poached in Sichuan peppercorn butter, served over a coriander labneh and topped with burnt ghost pepper croutons, or a rose-water aspic suspending a flurry of stringy corn fibres, spilanthes, and lovingly scooped papaya spheres. Experimenting with colour, texture and form, via a breadth of processes from fermentation to fruit carving, STTK's work challenges expectations of what a shared meal can be.



Jennifer Rubell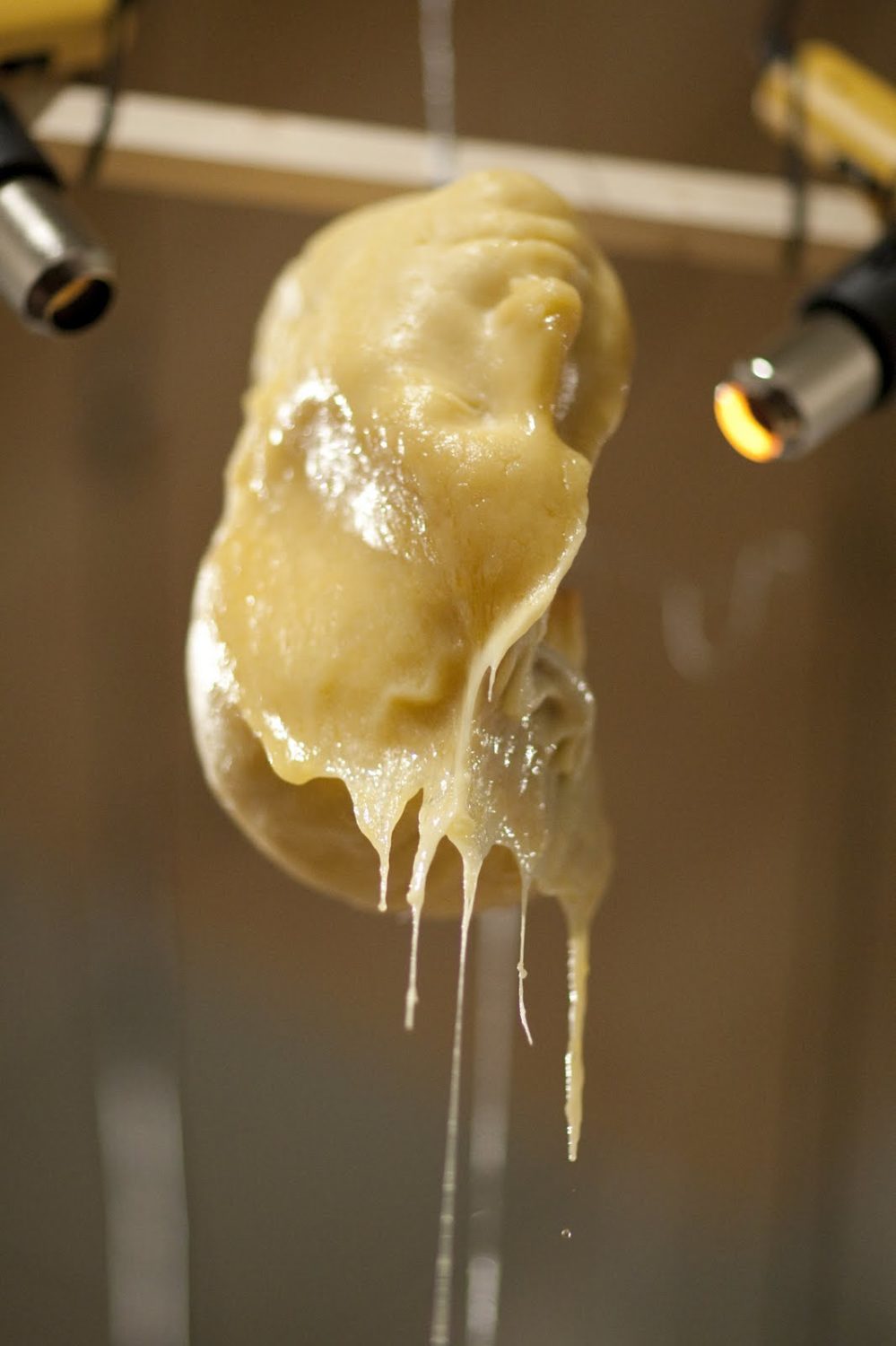 Jennifer Rubell chose to study food in her pursuit to become an artist. Following her bachelors in Fine Arts at Harvard University, she attended the Culinary Institute of America. Before diving into her artistic practice, she wrote about food for over a decade during which time she published Real Life Entertaining. Rubell creates hybrid, participatory artworks in a variety of media including sculpture, painting, video and performance. Her works are often provocative and violate the traditional boundaries of art institutions by openly inviting viewers to touch, engage with and even eat the works.



Sharona Franklin
Garnering a following for her mesmerising jelly sculptures, posted to the Instagram page @paid.technologies, Sharona Franklin's complex gelatine works encase and suspend everything from delicate botanicals and fresh fruit to medical equipment and found objects fraught with symbolism. Exploring her personal mythology of disability, gender, class, bio-citizenship and botany, the multidisciplinary artist, writer and activist's practice spans ceramics, textiles, writing and meme making. Living with a rare degenerative condition, Franklin's diverse work explores her personal relationship with healing and wellness, as well as broaching matters such as the ethics of biopharmaceuticals, the use of animal cells in medicine, and disability visibility.



Laila Gohar
As the most ancient carrier of culture, food can be utilised as an ice breaker which allows people to come together and bond over an intimate moment in time. Laila Gohar designs unique eating experiences that take place in non-traditional settings all over the world. Using food as both an artistic medium and a tool for communication, she explores the nature of human interaction by creating convivial, multi-sensory edible events. Her work draws upon historic methods of food preparation, and as a whole, food's role in society. Laila's studio creates installations and pop-ups in conjunction with art, design and fashion events. She is based in NYC and works internationally.



Alex Paganelli
Having carved himself a niche position in the industry, straddling the culinary, art and fashion worlds, London-based Alex Paganelli works simultaneously in a number of capacities under the name Dead Hungry, oscillating between a food stylist, menu designer, product developer and photographer. With Italian and British heritage, Paganelli lived in France and Switzerland growing up, where he picked up, respectively, interests in French cuisine and chocolate making. Developing unique food concepts for commercial consumption, sets, editorial use and exhibitions, Paganelli has worked with the BBC, Bottega Veneta, and Selfridges, among others.



Feature image: Icons, Jennifer Rubell at Brooklyn Museum, 2010 / Photo: Kevin Tachman