Interview: Artist Cedric Mizero On Curiosity, Celebrating Women & Life In Rural Rwanda
Born and raised in a small village in the Western Province of Rwanda, self-taught multidisciplinary artist Cedric Mizero's work embraces the exchange of ideas and meaningful collaborative relationships, celebrating the voices of many diverse fellow artists and artisans with the intention of drawing attention to the people of the rural and poor areas of Rwanda. Traversing numerous mediums, from paint and textiles to, most recently, film, the artist's fascinating practice utilises garments as a means to tell complex stories. Mizero was selected to participate in the BFC's International Fashion Showcase in 2019, hosted at London's Somerset House, and is currently exhibiting his body of work, A New Life in the Village, at The Store X. To learn more about his practice, upcoming projects and how he is handling the pandemic, Something Curated spoke with the artist.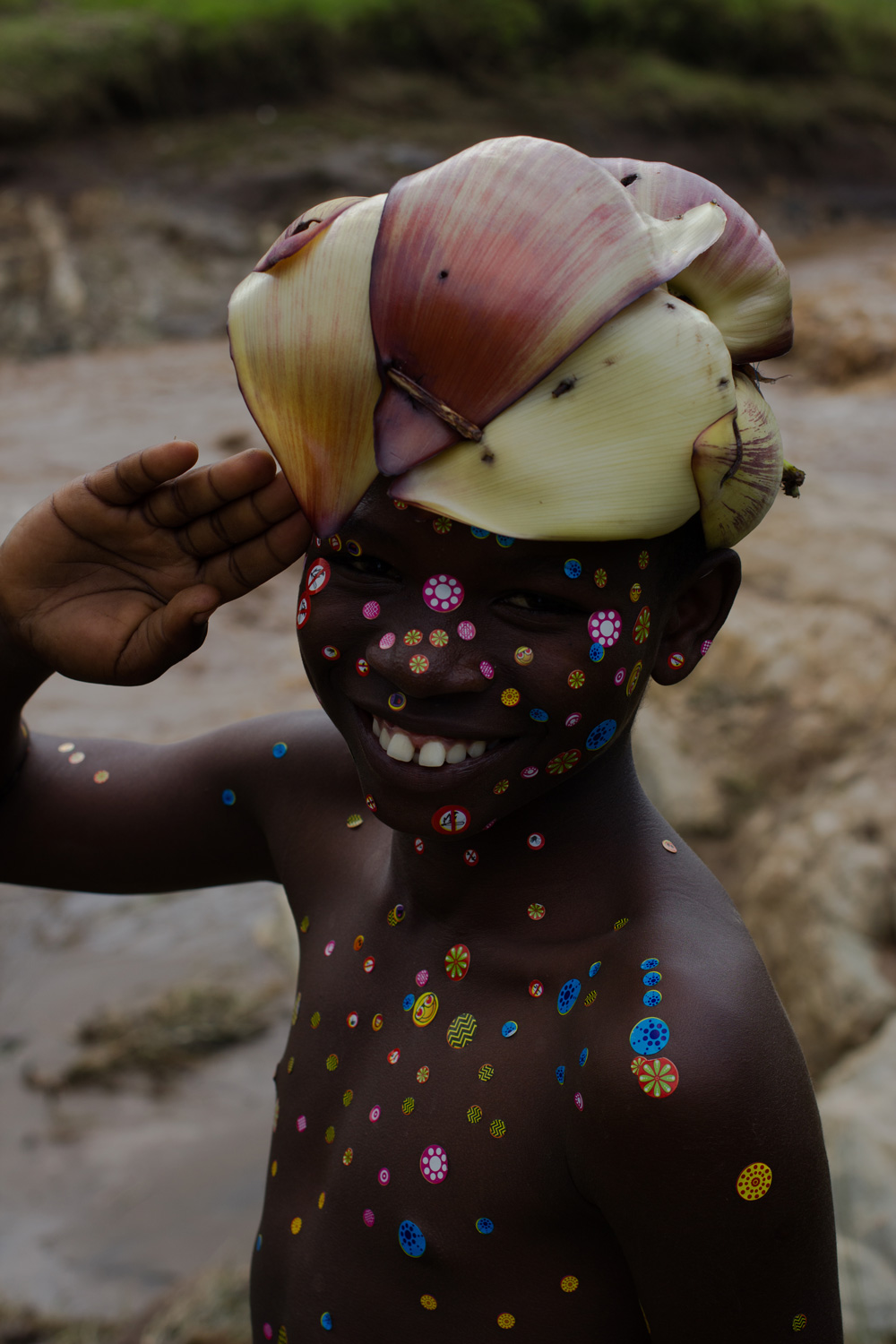 Something Curated: Can you give us some insight into your background; how did you enter this field?
Cedric Mizero: It was a matter of curiosity – I remember seeing my mother often doing something with cloth (not fashion); I would approach her and ask her things about it. All my work is deeply related to my memories in the village and the nature that surrounded my childhood. I was always inspired by the women living in the village, their lives, their habits, their memories and stories. All of my works have been related to women and the stories behind them.
SC: What interests you in using clothing as your medium?
CM: For me, it was the best and most natural way to capture people's attention. Once the attention is on it, the story and the message will be easily transmitted.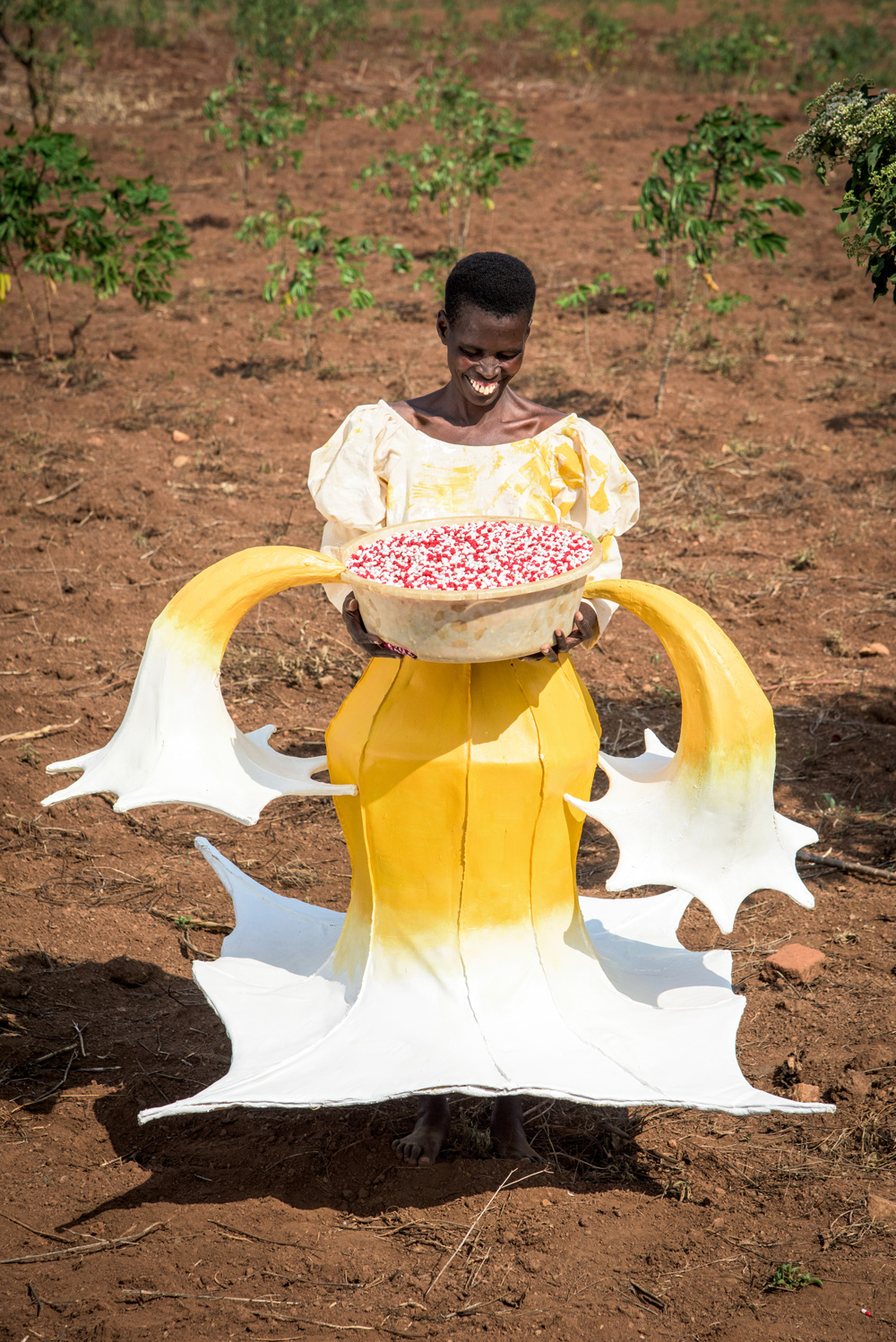 SC: Can you expand on the thinking behind the selection of works included in your exhibition, A New Life in the Village, at London's The Store X?
CM: A New Life in the Village was a continuation of my work with women in the rural areas to attract public attention to some of the issues surrounding their reality. It highlights some of the challenges and responsibilities women have to face within their relationship with medicine. The exhibition shown in London (November 2019) is intended to question what the medicine revolution has meant for people living in rural areas, and what are the challenges and responsibilities that are left for the women acting as the family cornerstone.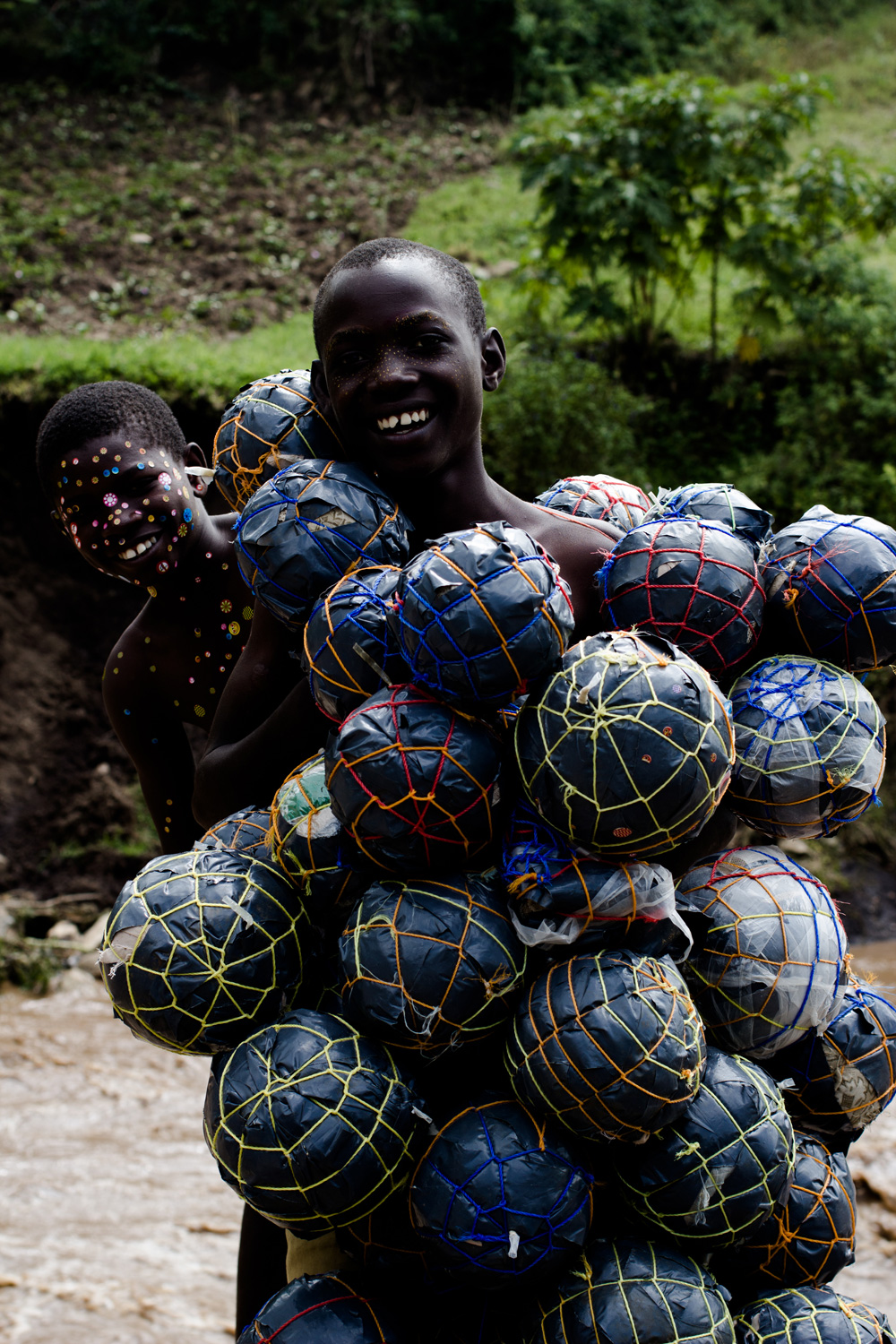 SC: What are you working on at present, and how is the pandemic affecting the way you're working?
CM: Before COVID-19, I was working on my first film, which I started shooting in December 2019. It's going to be a 12-15 minutes film of just art. My goal is to finish the film in the next few months and hopefully screen it before the end of the year. During confinement, I was in a small village away from everything, surrounded by nature and by things that brought many memories of what my childhood was. Having conversations with kids, and sharing what I use to do and what they do inspired me to create a small project with them that you can see here; and the second part, called Marriage colors, can be seen here. I am also starting to develop two new ideas/projects. One is a very long runway through Rwanda and the other is a collaborative work with 10 women from the village who have been weaving for all their lives using an ancient technique and material.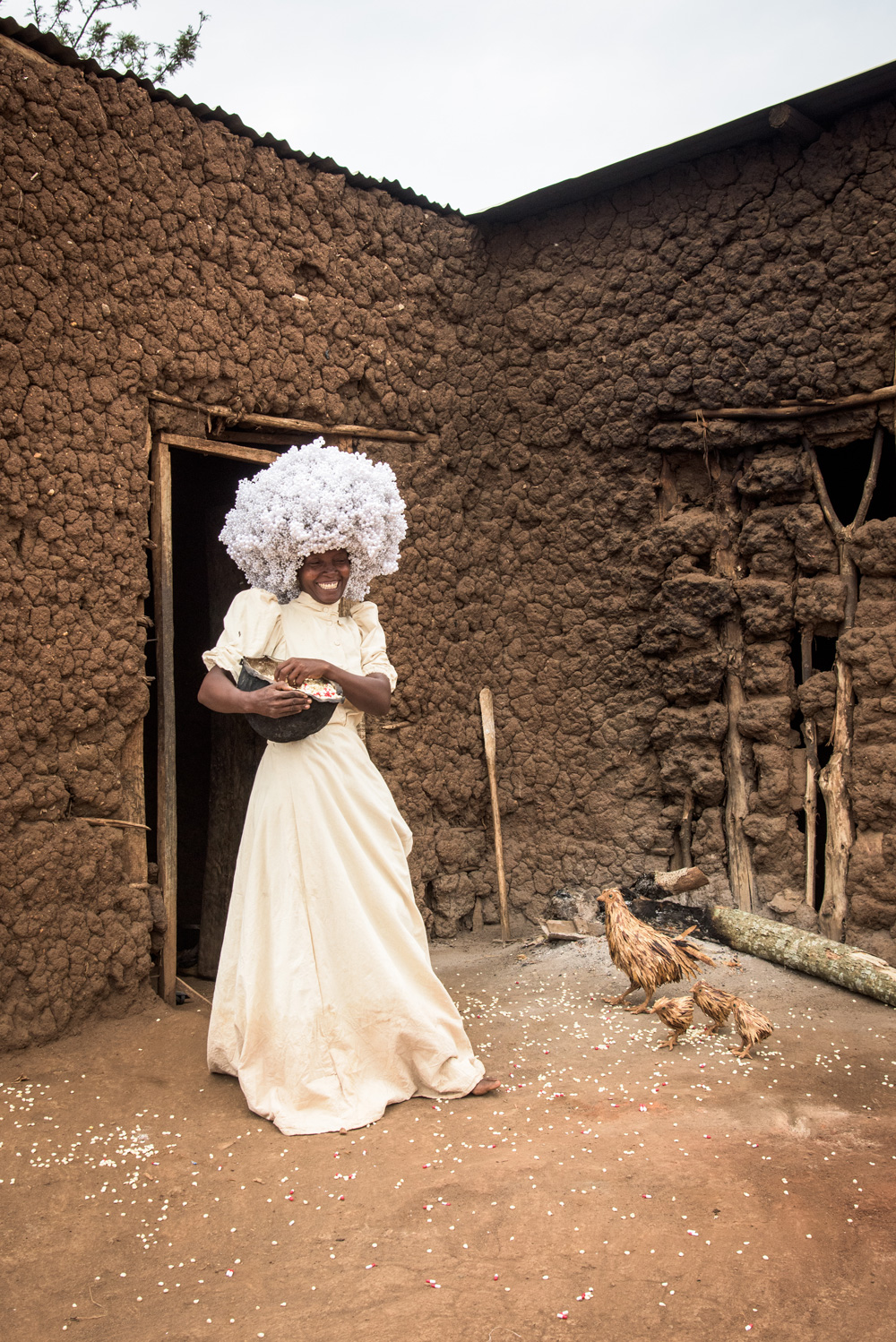 SC: Are there any materials or processes that you're particularly enjoying exploring right now?
CM: As mentioned, one of the projects I am working on is using the technique of weaving. I have been learning and discovering this "world" while collaborating with 10 women who are currently in my studio working with me.
SC: What do you want to learn more about?
CM: I want to keep learning about people's lives, especially women; my work always tells a story and has become the voice for many that haven't had the opportunity to express themselves. With my work I aim to open a discussion on people's approach to different things and to be more conscious of all the things we do and the repercussions they bring. Disciplines like music, dance, poetry, films, art, ways of personal expression, etc., have always been an inspiration for what I do. Once I am allowed, I will most probably travel to Kinshasa for several months to learn and experience their culture.



Feature image: A New Life in the Village, Cedric Mizero, 2019. Commissioned by The Store X The Vinyl Factory