Mambow Chef Abby Lee Xin Pei Shares Her Favourite Nyonya Recipes To Try At Home
Born in Singapore to Malaysian parents, chef Abby Lee Xin Pei grew up watching her grandmother cooking Assam Pedas, a classic Malaysian stew dish translated literally as 'sour spicy', and eating coconut pancakes and wonton noodles from the local street stalls in her parents' hometowns of Taiping and Cebu. Aged 15, Abby Lee moved to London to explore pastures new; it was at university that her passion for cooking really came into fruition. 2017 saw the burgeoning chef gain her diploma at Le Corden Bleu, where she honed her cooking skills before moving to Italy to cook at Michelin-starred Pashà Ristorante near the city of Bari. Abby Lee returned to London in 2019 with the idea for Mambow, a home-style Malaysian 'mama's kitchen' in the heart of Shoreditch, which opened on Commercial Street in February this year.
The chef tells SC, "Growing up in Singapore, I was able to discover all the different parts of Malaysian cuisine. I also spent a lot of time at my family's bakery where I learned the importance of beginning every recipe with quality ingredients and cooking nutritious food with soul at its heart. Lockdown gave me the opportunity to do a lot of cooking at home, which ultimately led to the development of my new Mambow At Home menu, which is a reflection of the flavours and food I grew up around." Marrying the best of Malaysian, Chinese, Indonesian and Thai cuisines, Nyonya cooking – which comes from the Peranakans, descendants of early Chinese migrants inter-marrying local Malays – is a unique and flavoursome combination of tangy, spicy, herby and aromatic. To mark the launch of Mambow At Home in London, Abby Lee shares with Something Curated two of her favourite Nyonya recipes to try at home. The below are her words.





Nyonan/Peranakan dishes are typically tangy, with lots of herbs, spices and coconut flavours involved. There are some very key ingredients which are integral to Nyonya /Peranakan cooking: shallots, chillies, kerisik, belacan (fermented shrimp paste), fragrant lemongrass and galangal, southeast Asian herbs like kaffir lime leaves, Thai basil and coconut milk for sauces. Last but not least, if you are lucky enough to have tasted Bunga Kantan (a torch ginger flower), then I'd say this is probably the soul of Peranakan cooking. It is what gives the dishes I grew up with their distinctive flavour i.e. assam laksa, nasi ulam, nasi kerabu. I have omitted bunga kantan from the nasi ulam recipe above as it is impossible to get hold of in the UK, but if you do manage to find it then it really does change everything! The same goes for the Calamansi lime, which grows abundantly outside my house in Singapore but is equally hard to find here. I've tried to replicate it with a mix of lime and orange juices. And don't be afraid of belacan (fermented shrimp paste). It may taste and smell pungent on its own, but it's like the way Italians use anchovies to secretly give a dish an extra layer.
The Nyonya dressing for the first recipe is usually served simply with steamed okra and some extra dried shrimp. I've used aubergines instead, as they're in season at the moment and I find it takes on the dressing really well. The dressing is key – a balancing act of the crisp sourness, spiciness, sweetness, savouriness and fishiness of belacan/fish sauce/dried shrimp. The second recipe – nasi ulam – is an iconic Nyonya dish, usually served with various sides such as Sambal Udang (prawn sambal). Sambal Udang is very fiery and an altogether flavour explosion.



Roasted aubergines with Nyonya style dressing & crispy dried shrimp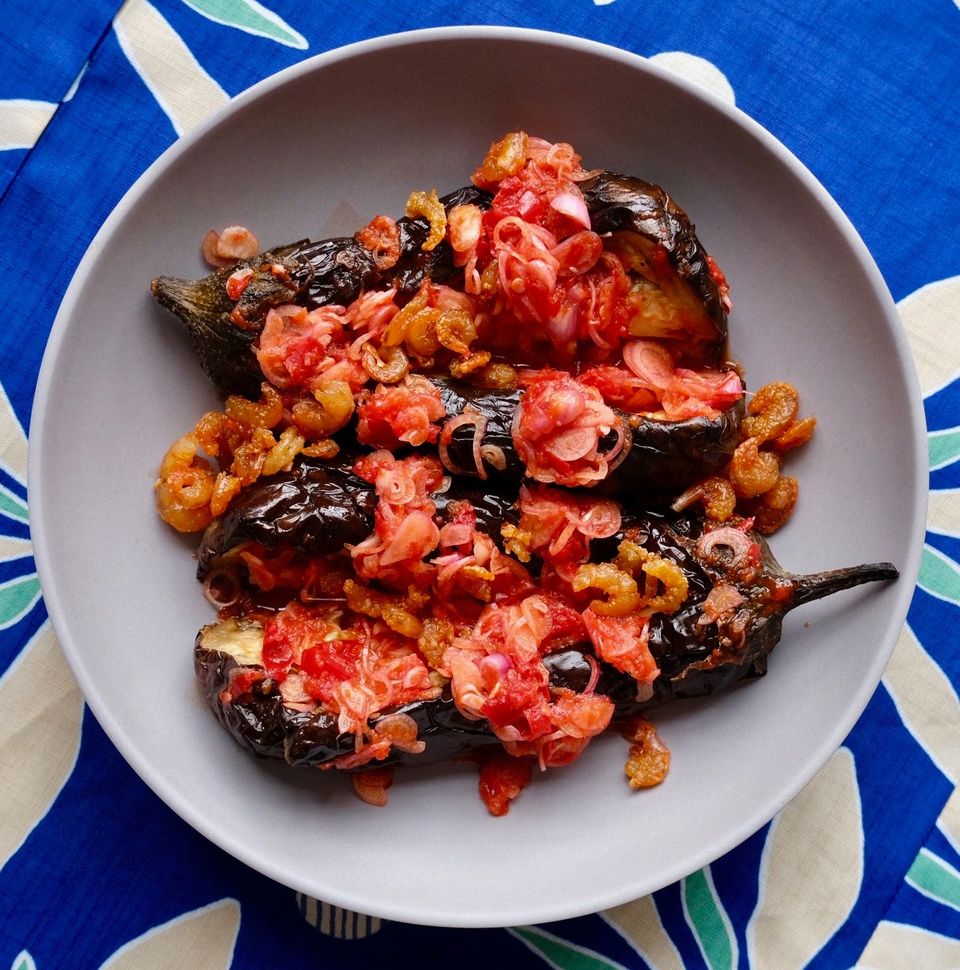 For 2 people
2 aubergines 
Rapeseed oil
Sea salt and black pepper 
3 tbsp dried shrimp -soak in boiling water for 15 minutes
Handful of coriander – chopped 
Dressing:
2 long red chilli
1 red Birdseye chilli
3 garlic cloves
Juice from 6 Calamansi limes or 2 Limes and 1/2 orange 
6 small shallots
2 tsp sugar
1 tbsp fish sauce
2 tsp Belacan (shrimp paste, optional) 
Roast Aubergines:
Preheat the oven to 220c gas/200c fan. Line a baking tray with parchment paper. Slice aubergines into thick slices (about 2cm). In a bowl, toss the aubergine slices with a generous drizzle of rapeseed oil, salt and pepper. Spread the aubergines out evenly on the tray. Roast for about 15-18 minutes – until soft and charred on the outside. Flip them halfway through the cooking time for an even caramelisation. Leave to cool.
Prepare the dressing:
Make the long chilli, birds eye chilli and garlic into a paste. I like to do this in a pestle and mortar, or a hand blender, or you can just chop it up very finely. Get your base paste into a bowl and start adding to your dressing. Slice the shallots very thinly. With the belacan, you need to toast it in a dry pan while breaking it up with a spoon, until fragrant, about 5 minutes. You'll be able to smell that fermented aroma! To the dressing bowl, now add the shallots, toasted Belacan, lime juice, sugar and fish sauce. Give everything a good stir and taste to achieve a balance of citrus, spiciness and savouriness from the Belacan and fish sauce.
Drain the dried shrimp and pat dry. In a pan with a good glug of rapeseed oil, shallow fry the dried shrimp until crispy.
Serve the aubergines with lots of the shallot dressing on top, crispy dried shrimp and the extra shrimp oil and chopped coriander.



Nasi Ulam (Mixed herb rice salad)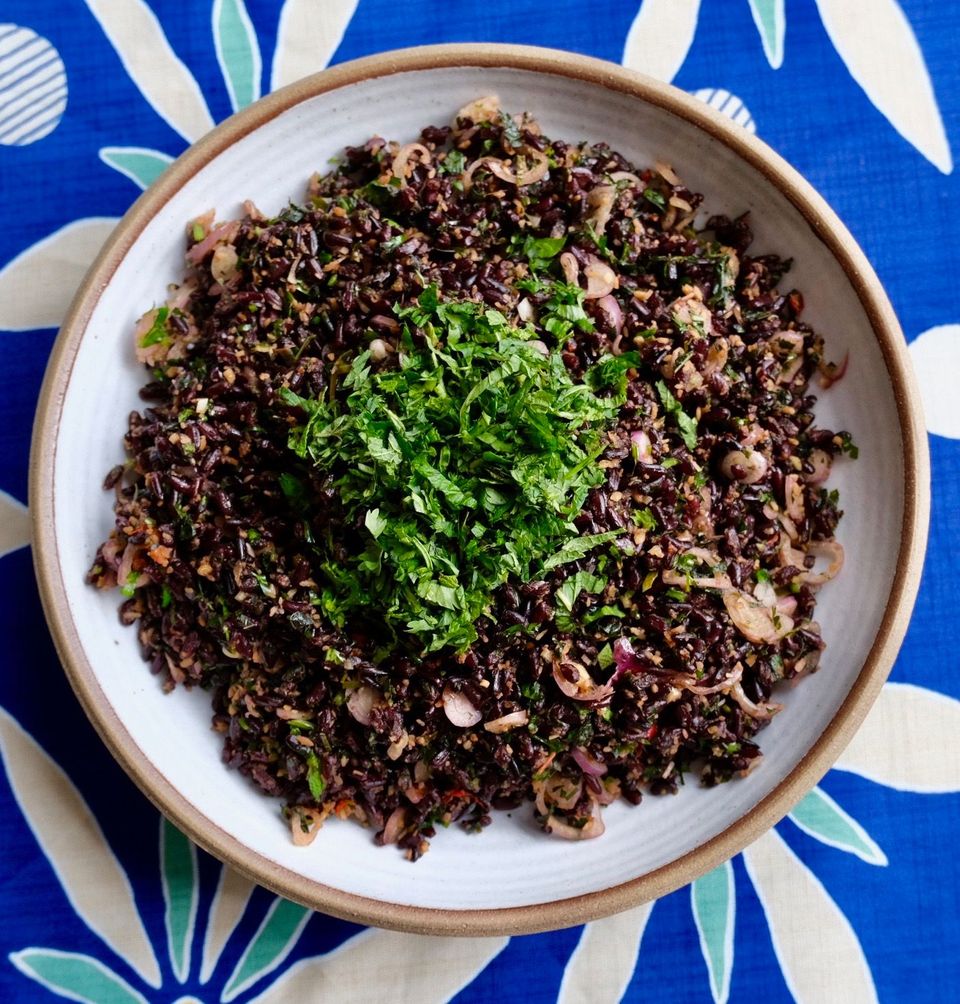 For 2 people
1 cup black rice 
Rapeseed oil  
4 small shallots 
1 lemongrass – discard outer layer and green top
5 Kaffir lime leaves
Handful each of herbs that you can find i.e. Thai basil, Coriander, Mint 
4 tbsp desiccated coconut 
Dressing:
5 tbsp tamari
Juice from 4 Calamansi lime or 1 lime 
160g sambal (homemade, Mambow brand or store-bought sambal Belacan if you are not veggie)
Sea salt 
Cook rice:
In a pot, cover black rice generously with cold water. Add a pinch of salt. Bring the pot to boil, bring down to a simmer, cover and let it go for about 25 minutes. Drain the rice well, let it cool in a bowl or a tray and drizzle lightly with rapeseed oil to lightly coat.
Make kerisik:
In a dry pan, toast desiccated coconut until a caramel brown. Transfer to a pestle and mortar or a spice grinder and pound the coconut to get a paste that smells like caramel heaven.
Make dressing:
Whisk all ingredients together except salt. Taste and season with salt if necessary.
Very thinly slice the shallots, lemongrass, kaffir lime leaves. Finely chop your herbs.
In a mixing bowl, mix the rice, kerisik, dressing, sliced herbs and shallots. Taste for seasoning and if you want to, add more kerisik and sambal – I usually do! Serve with more mixed herbs on top. 


And if you want to make things simpler, try out the Mambow At Home kits. Abby Lee explains, "You will be provided with all the dressings and sauces, different chopped herbs, vegetables and fruit, homemade pickles of the week (depending on what I get from the vegetable farm), marinated meat, dessert of the week, and a funky ass instruction booklet. As all dressings, sauces and herbs are finished, it is simply a matter of assembling a dish together, reheating and glazing dishes. There is a little bit of cooking involved, such as charring the courgettes for your rojak/kapitan curry."



Feature image: Chef Abby Lee Xin Pei / Images courtesy Mambow