Director Dan Mitchell On The Artist Self-Publishers' Fair's First Online Edition
The Artist Self Publishers' Fair (ASP Fair) will return for its 6th edition on Saturday 26 and Sunday 27 September 2020 with over 100 international and UK artist self-publishers. ASP Fair seeks to highlight the practice of self-publishing and provides a platform for artists wishing to present work that circumvents the market mechanisms and constraints of the contemporary art world. Due to restrictions around COVID-19 ASP The Sixth will be presented online at www.aspfair.uk. The online event reimagines the fair within the current situation to present ASP 6 as a streaming bazaar – a 2-way cable TV experience with 100 channels of live artists. To learn more about the event and what we can expect from its inaugural online edition, Something Curated spoke with ASP Fair Director, Dan Mitchell.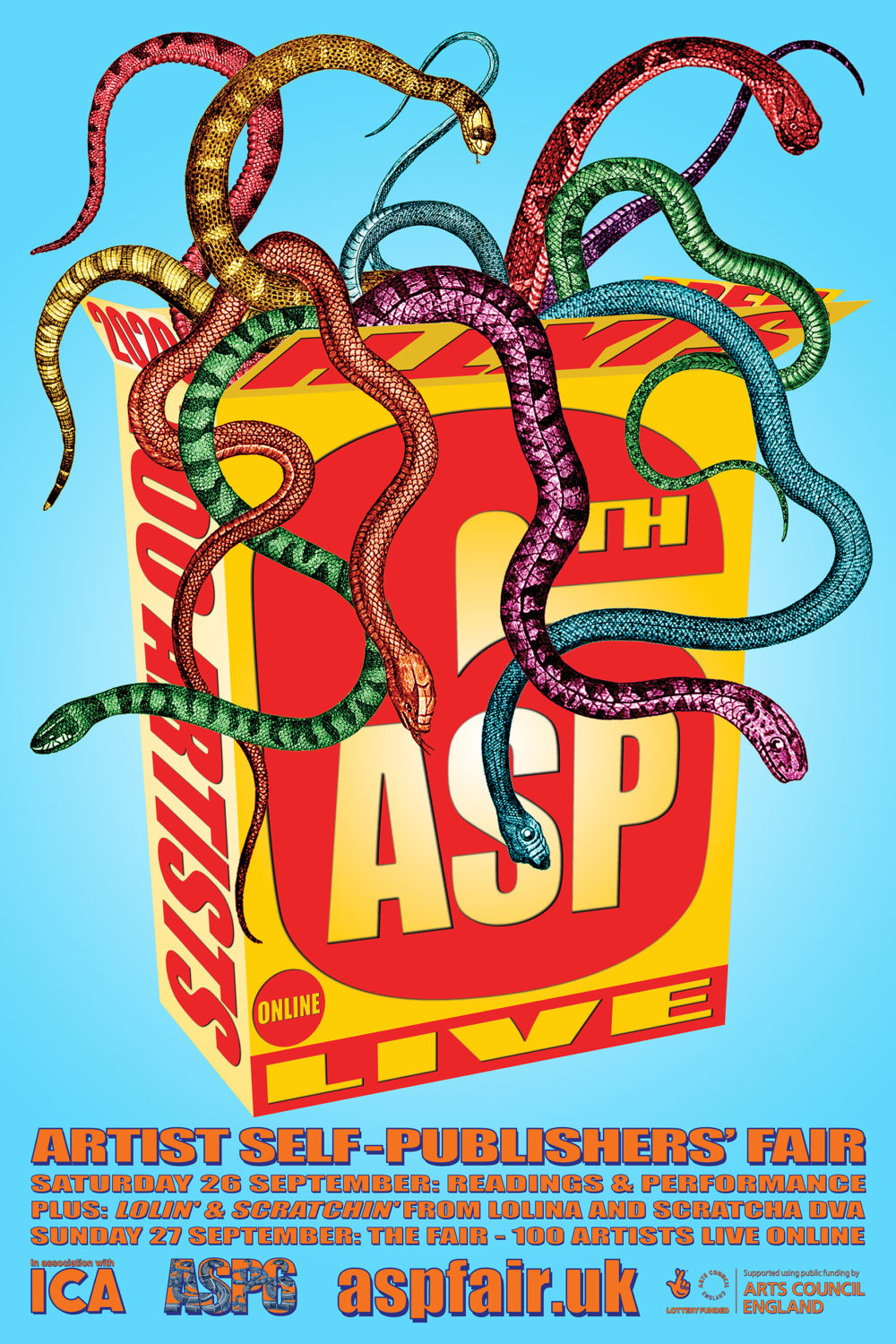 Something Curated: What can we expect from ASP Fair – The SIXTH?
Dan Mitchell: We want to preserve the key 'meet the artist live' experience that in many ways sets ASP apart from other fairs. That COVID-19 tossed a spanner in the works of openings and fairs is putting it mildly. So the answer to the problem had to maintain the access to a one to one engagement between the audience and the artists. Video conferencing and streaming offers us opportunity, but adds a further and hopefully exciting dimension, in that, we are hoping the artists taking part in ASP Fair – The SIXTH will use the medium of the 2-way video link to transform their home/studio into a TV set, and broadcast; screenings, interviews, music guest slots etc., some may even build sets with props.
The exciting thing is we shall see, and with 100 artists to choose from we hope there's going to be more than enough to keep the audience delighted. The fair itself is on Sunday 27th September, and on the day before we will host a an afternoon of streaming specials from artists: Richard Sides, Ruth Angel Edwards, The Right Lube, R.I.P. Germain and Lola Bunting. And rounding off with a very special broadcast; Lolin' & Scratchin' from Lolina and Scratcha DVA. So it'll be a very full weekend, as one of the artists said it will be like a streaming bazaar of QVC meets Hollywood Squares.



SC: How have you thought about creating an engaging online experience?
DM: To be honest we are leaving 100% of the content up to the artists, very much like we do with the fair, what the artists choose to put on their stalls is up to them, we only ask that there should always be some new stuff if possible. We will have to issue a statement on our website, basically a warning that some of the content maybe unsuitable for fragile eyes. The idea of moving the fair online came from a couple of older cultural examples, Hitchcock's Rear Window and the quote* from JG Ballard where he talks about people becoming their own TV programmes. From our side we are going to make the process of browsing the list of artists as simple as possible, as people are so used to looking through Instagram feeds and Google image searches we won't make it anymore complicated than that.
SC: Are there any new participating publishers that you are particularly excited about this year?
DM: We keep ASP as a very flat non hierarchical event, so have resisted naming individual artists in the past. However, as COVID-19 has changed things somewhat we have had to shift the idea of what self-publishing is to include digital only 'publications'. Plus the lack of geography that the internet gifts us means we are trying to expand our reach way beyond the UK. So we are looking forward to all of the artists presentations this year, but amongst those new to ASP are The Right Lube, Fuck Zines, Black Lodge Press, R.I.P. Germain, and Uhm! zines. Plus we will have a host of old friends who will be bringing some new publications to dazzle us with, Nervemeter, Buried, Adam Gallagher and Friends of the E.A.R.F., Behind the X, and many more.


*The coming of satellite and cable TV is something which fascinates him. "It's going to be a problem, because TV produced a set of sustaining myths which kept this nation going. I think there will be a kind of inward collapse. But that's when things might start to get interesting. It's quite possible that deregulation of the airwaves will lead to a deregulation of the imagination. I've always believed that ultimately every home will be transformed into its own TV studio. We'll all be simultaneously actor, director and screenwriter in our own, soap operas. People will start screening themselves. They will become their own TV programmes." – i-D Magazine, Issue 53, November 1987



ASP Fair – The SIXTH / 26–27 September 2020