Interview: Toby Ziegler On Expanding Painting & The Subjectivity Of Algorithms
Running until 14 October 2020, London's Simon Lee Gallery presents The sudden longing to collapse 30 years of distance, Toby Ziegler's sixth solo exhibition with the gallery, in which the artist explores the complex relationships between experience and memory, image and data, through the twin lens of figuration and abstraction. The exhibition can be experienced in two dramatically different states. The gallery is lined with a group of large geometric, non-figurative works on paper, reminiscent of Ziegler's early works, juxtaposed with a group of smaller more figurative oil paintings on aluminium. Periodically though, the tranquil space of the gallery is transformed into a multi-projector video installation, in which a barrage of projected images covers the walls and overlays the 2D works, to a soundtrack that oscillates between melody and noise. To learn more about the London-based artist's work and his new show at Simon Lee Gallery, Something Curated spoke with Ziegler.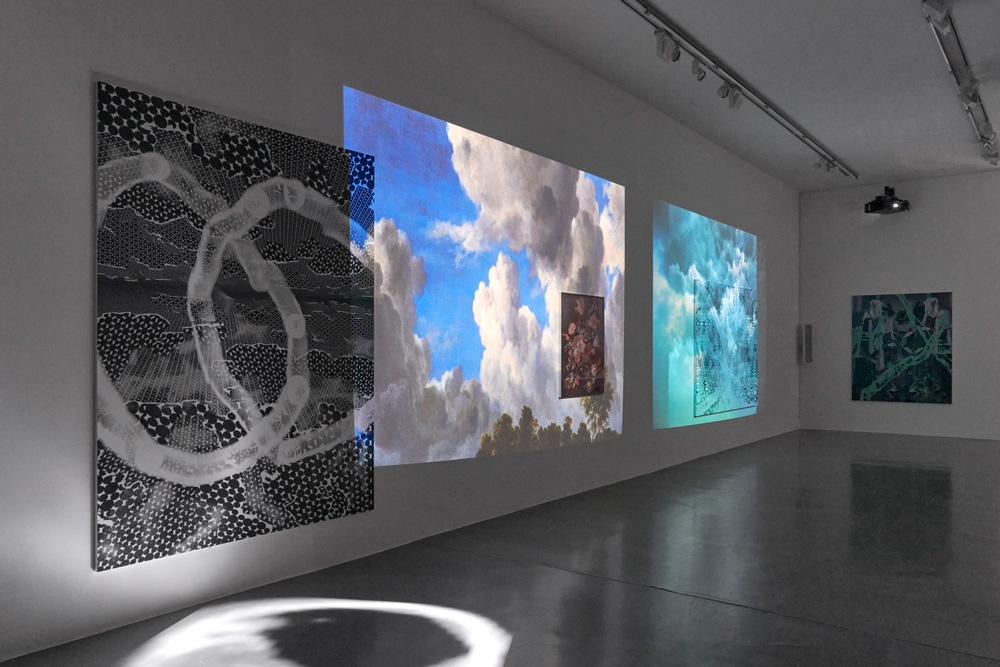 Something Curated: Could you expand on the works on paper you created based on recently retrieved digital images?
Toby Ziegler: 25 years ago I finished my painting degree and had a complete loss of faith in painting. There was so much machismo, and weight of history, that I found it impossible to make a gesture. I was essentially a luddite but bought my first computer and taught myself to make some basic 3D models, starting with an apple and some still lives. I then modelled a series of landscapes rendered with geometric pattern, and started using them as templates for hand-made but very mechanical paintings. I was ultimately frustrated by this purely schematic process so tried to develop a more hybrid approach, and I gradually moved away from the landscapes. When my original computer died many of the landscapes were lost, despite periodic half-arsed attempts to retrieve them.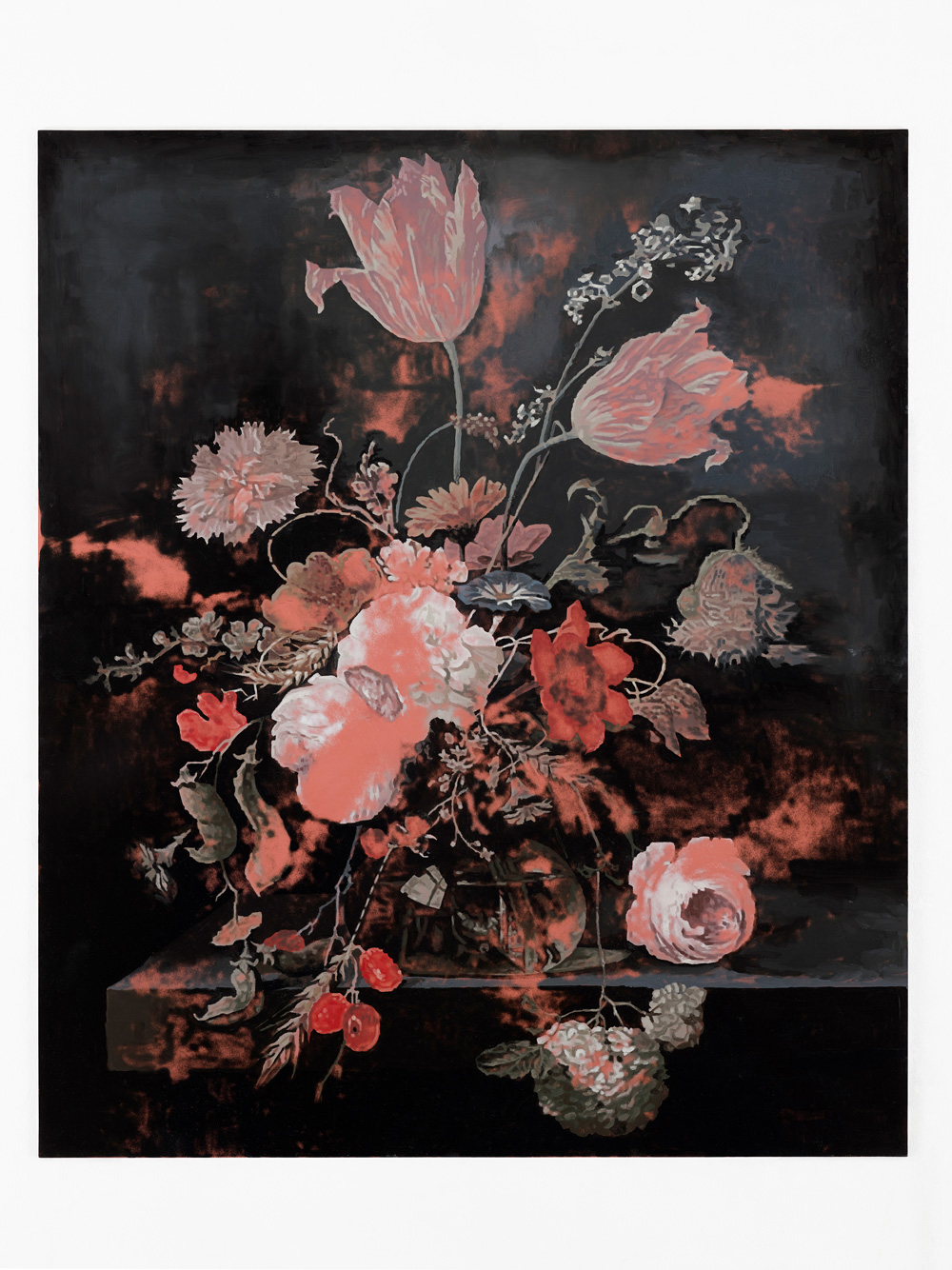 However for ages I've wanted to revisit them, and I got increasingly keen to juxtapose them with the more figurative paintings I've been making in the last few years. The process I've been using lately, slowly painting a figurative image and then erasing it, felt like it might provide the answer to a question I was asking 20 years ago. I have a new assistant working in the studio who is good at these things, and he took the dinosaur computer apart, ordered a few bits from China and managed to get it talking again. I've been using these ghost files to make very large inkjet prints which I then work into with a rotary sander. I can only control the sander to a certain extent so it creates these luminous, slightly clumsy gestures that are etched into the print, but appear to float in front of the landscape.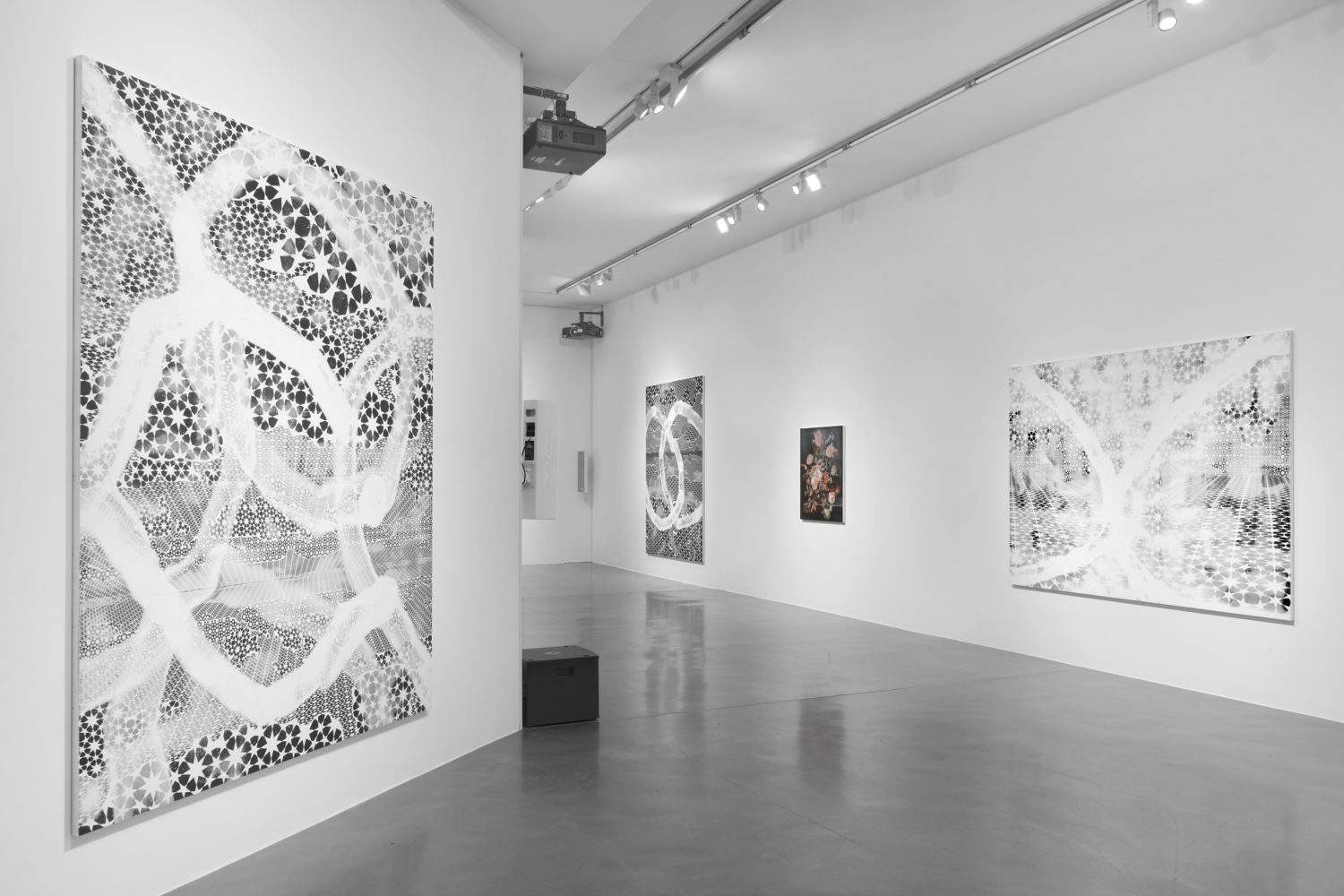 SC: What interests you in the similar image search tool you have utilised to make the new video diptych?
TZ: About ten years ago I was looking for a particular photo of a Palaeolithic stone carving (a very abstracted fertility symbol). I stumbled across an online similar image search called GazoPa which mainly categorised images by colour, and to some extent composition. So though the resulting images all looked similar, they showed wildly incongruous subject matter including cats, samurai, porn, zombies and more cats. I noticed my inclination to find some hidden connection between the images, and there did seem to be a poetry there. Since then I've been making sequences of images and films thrown up by similar image searches, and tracking the technology as it gets more and more sophisticated. Something I find interesting is that the algorithms powering these things have to treat figurative images as totally abstract, and draw conclusions by asking thousands of formal questions, in relation to colour, tone, pattern, line, texture, and eventually subject matter.
The places where the algorithm gets it wrong are most revealing about how our brains work. Sometimes I feel like I'm consulting the oracle, and it's tempting to think of the algorithms as objective, but of course they are originally programmed by a person and can be used to manipulate us. It is a form of machine learning informed by what we look at and the associations we make, so the results can vary from day to day triggered by world events and the news, appearing like a glimpse of some sort of collective unconscious. There are problematic instances of racist algorithms which reflect the bias of the programmers and the users the AI is learning from.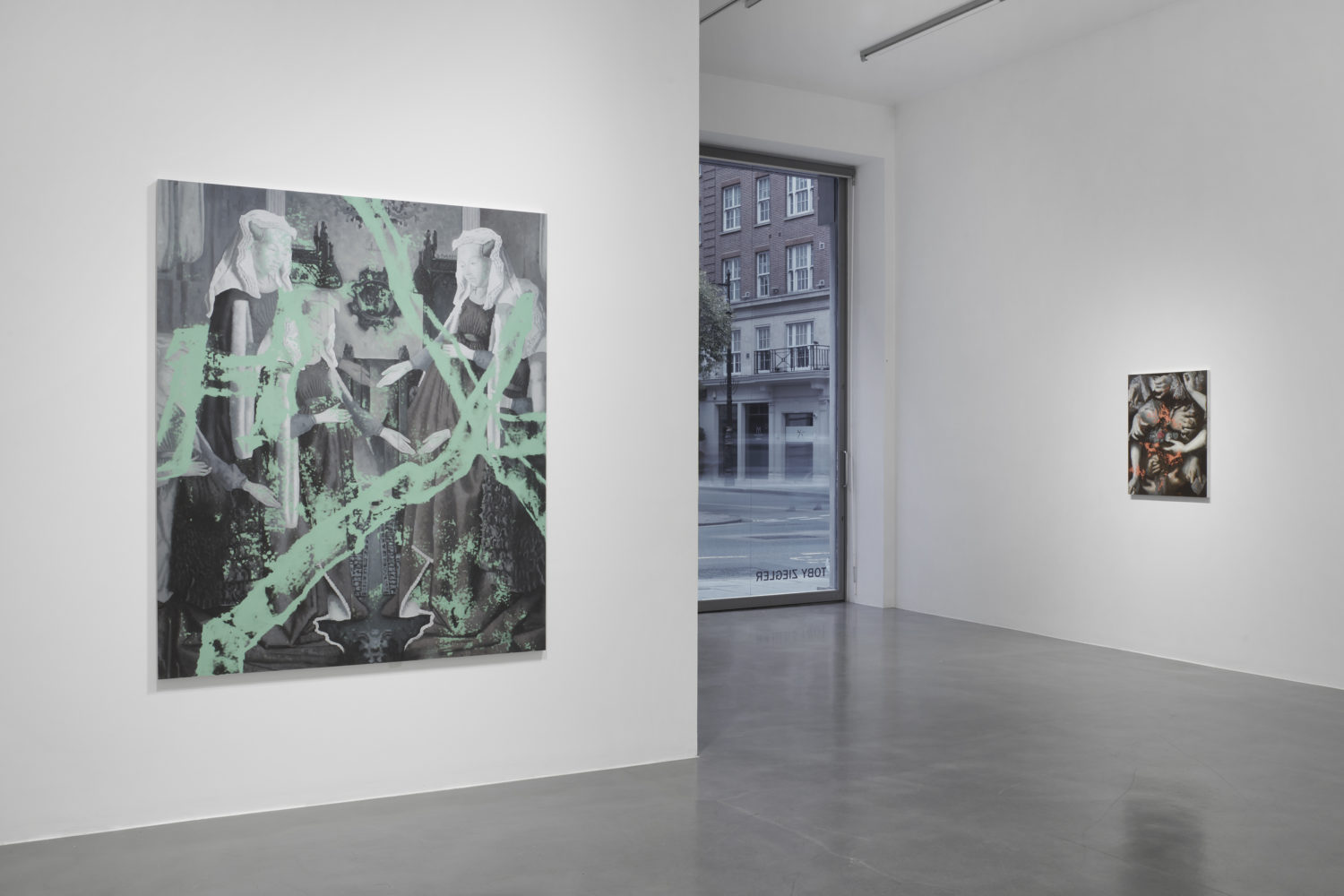 SC: What is the thinking behind the title of your new show at Simon Lee Gallery, The sudden longing to collapse 30 years of distance?
TZ: I'm interested in the way we form memories. I remember hearing a neurologist say that each time we remember an event, we're actually remembering the last time we remembered it, with added layers of distortion each time. Therefore our most cherished memories might be furthest from true events. When I decided to use this title I was thinking about a particular acid fuelled night during my teens, which nearly resulted in my early demise. The retrieved 3D files were partially a response to that night, and a childhood spent playing computer games. But as the show developed I realised that it contained a concertina of memories and could have been called the sudden longing to collapse 18 years, or 1 year of distance.



Toby Ziegler. The sudden longing to collapse 30 years of distance. Open until 14 October 2020 at Simon Lee Gallery, London.



Feature image: Toby Ziegler, The sudden longing to collapse 30 years of distance. Installation view courtesy the artist and Simon Lee Gallery. Photo: Ben Westoby.