Interview: Artist Jewyo Rhii On Her New Exhibition At The Korean Cultural Centre UK
The Korean Cultural Centre UK (KCCUK), along with Locus+, presents a new solo exhibition by Seoul-based artist Jewyo Rhii, running from 28 October 2020 – 23 January 2021 in London. Entitled Love Your Depot, the show comprises a towering, modular steel structure occupying the central exhibition space, boasting an array of paintings and drawings, which hang from adjustable racks, and fragmented sculptures judiciously positioned on tiered shelving. Designed as a prototype storage space for the artist's work, the structure acts as an experimental system which belies the conventional norms of an archive by both housing and exhibiting artworks. Here, Rhii disrupts the traditional art world cycle by proposing a new lifespan for works of art beyond museum cabinets and archives. Foregrounding intersections between public and private spaces and those liminal spaces that lie between the two, Rhii's work exposes what often remains hidden behind gallery walls. To learn more about the upcoming show and Rhii's fascinating practice, Something Curated spoke with the artist.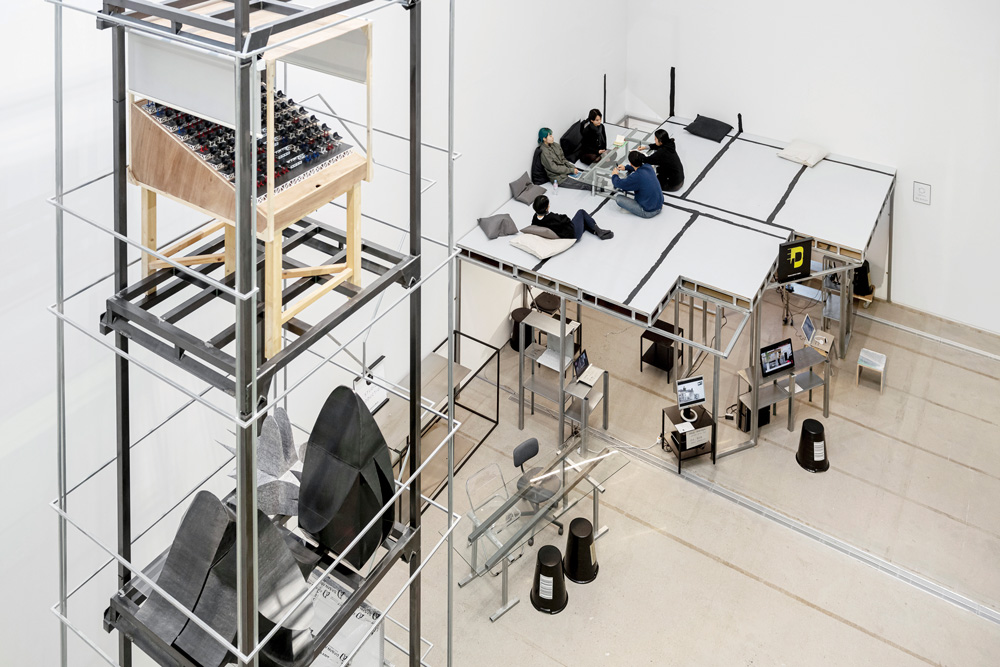 Something Curated: Can you tell us about the thinking behind Love Your Depot at KCCUK?
Jewyo Rhii: "Where does the work go after the exhibition?" With this question, my Depot project was first realised last year in the MMCA (National Museum of Modern and Contemporary Art, Seoul). I stored and presented my colleagues' no-where-to-go works in the middle of the MMCA exhibition space for five months, and placed large crates that contained the past 20 years of my works next to them. My works had been scattered and stored in warehouses across Europe and the United States, and so they were gathered and transported to Seoul for my Depot. The Depot members and I practiced a simple principle: "Keep talking to live like Scheherazade." The destiny of the works in Love Your Depot can be changed with the stories that arise from the exhibition and the people who visit. Due to cost issues, there were missing crates and works that I was unable to invite, so I am coming to London to unfold the stored works here, continuing the next chapter of the Love Your Depot story at KCCUK.
SC: What interests you in the intersections between public and private spaces?
JR: The process of organising exhibitions in the public is accomplished through the collaboration of many professionals in various roles. Currently, the opinions of the curator and the decisions of the institution are deeply linked to the birth of the work, under the name of a "commission". The question of "Where does the work go after the exhibition?" refers to an area that cannot be reached by the public nor any art professionals. A life circle exists in each work, and once the works have a physical body, their life will always come to an end. Only a few works remain through generations, for various reasons. A huge number of artists face a difficult situation where they must discard the work before deciding its importance in their art practice.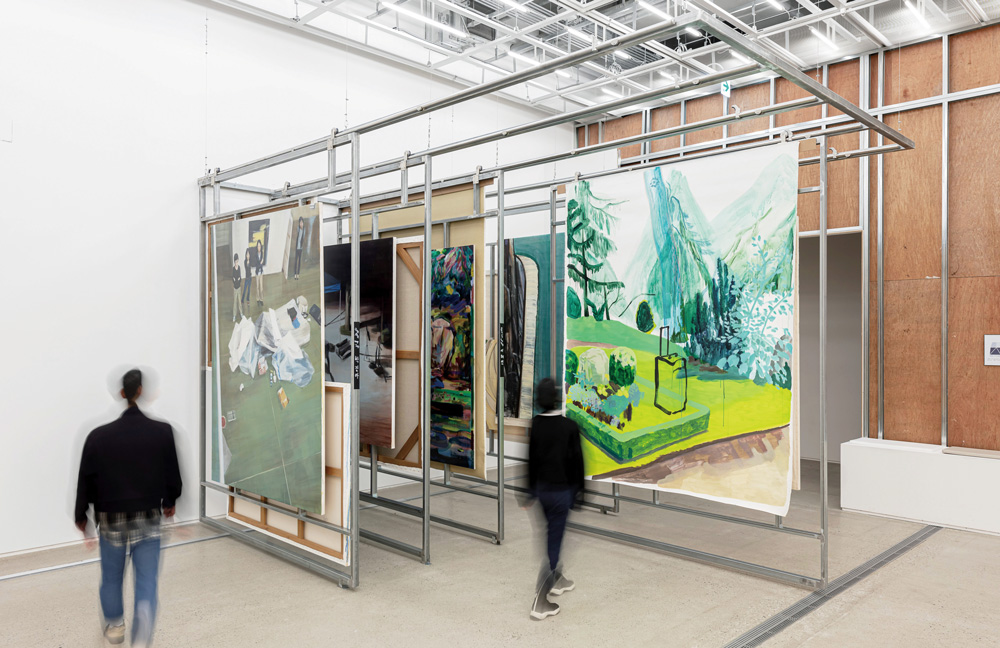 It is extremely difficult to sustain making work after witnessing the precious works thrown away with all kinds of trash after the light of the exhibition goes off. When an exhibition is produced with an enormous budget, it almost becomes a business venture of some institution or someone in the art world, and it is left to the artist to handle the fate of the artworks that leave the exhibition space. My project has started from a critical perspective which seeks to question whether the afterlife of artworks, and the fate of artworks after a show, should become a public issue (by way of entering the public sphere), in turn suggesting the lively storing and respectful discarding of the works.
SC: How have you thought about expanding the exhibition to the digital sphere?
JR: Love Your Depot is comprised of two key elements. One is Depot, a storage room which acts as a place to store actual works of art, and the other is a digital storage room created by "Team Depot" featuring a group of young artists. These young artists study and interpret stored artworks and diversify ways of archiving these works. Creations such as texts, videos, performances, publications, cartoons, and animations produced by Team Depot will be released through the digital platform. This includes on-site broadcasting, such as online conversations and discussions between invited authors, as well as other content which will be distributed throughout the exhibition run, allowing people across the world to access and discover the exhibition via this platform. Through such initiatives, Love Your Depot will be transformed from a dark and dusty storage room, to one which reproduces and constantly grows like a living organism.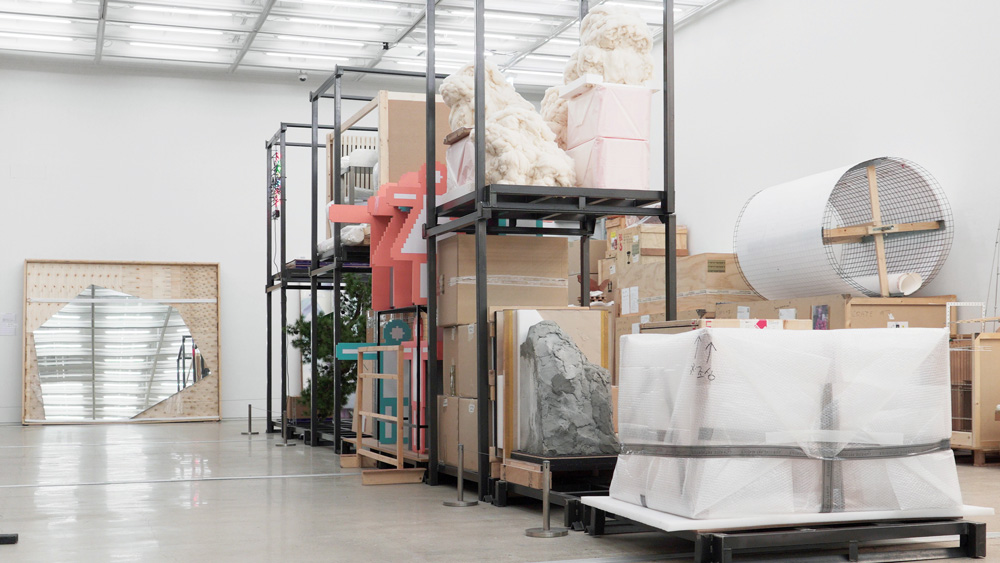 SC: Could you offer some insight into how the pandemic has affected your way of working?
JR: I spent a lot of time in front of Zoom following the outbreak of Covid-19. My fellow artists and I scattered around the world have long discussed the physical legacy of mankind in this "broken" era, and the way we deal with "physical properties." Traditionally, art is based on some kind of physicality, but now the genre called visual art faces a dramatic change. The debate on this subject was so real, contemporary and desperately needed. In this chaotic time, we need room to breathe, like a pause button, and now more than ever, artists have boundless imagination and stories to tell.
SC: Going forward, what do you want to learn more about?
JR: Accepting and dealing with changes in life are inevitable, and the things I need to learn to sustain life can still be far more than I imagined. After the past six months of such weird experiences of the pandemic and everything else alongside, I have to reflect on my "student-self" (i.e. being open to new knowledge), whilst also wrapping up my teaching at art school.



Feature image: Jewyo Rhii. Installation view of the Pallet in Love Your Depot at the National Museum of Modern and Contemporary Art, Seoul. Works by Minouk Lim (left), Woojin Jeon (top-center), Seunghye Hong (right).